The increasingly popular modern trend is the open space, a housing solution that allows you to have more space and brightness even in small apartments and also to save energy, both in terms of lighting and heating.
Given the premises, a distinction must be made with respect to the loft, since, both being unique spaces, they are often mistakenly used as synonyms.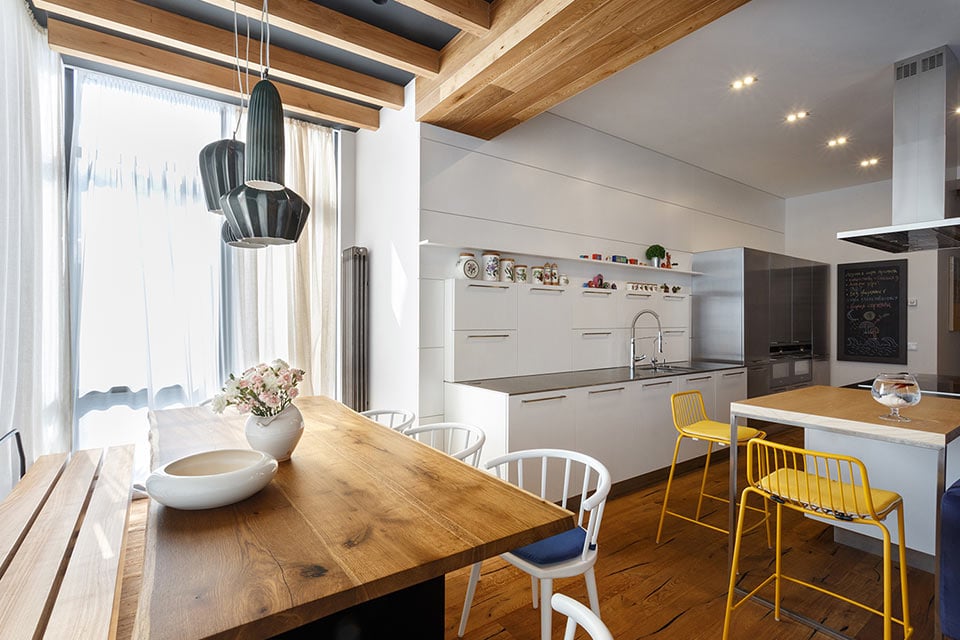 Sahara
What is the difference between a loft and an open space?
An open space is an apartment or a house that differs from the traditional architectural style because it is characterized by some united rooms, not divided by walls.
The loft, on the other hand, is a large space from which a private home is obtained, characterized by the almost total absence of partitions, from ceilings with a higher height than standard buildings for residential use, around 4 or 5 meters high, and taller and wider windows. The lofts are equipped with particularly comfortable and personalized hygienic-sanitary installations, and the systems are often exposed and without finishes.
In the loft, the bricks, plaster, baseboards, and anything else are neither finished nor decorated. This type of solution, which looks like a large studio apartment, is particularly suitable for one type of furnishing: the industrial style.
Some solutions to illuminate an open space
The open space, as we have seen, is not a studio apartment but an area of the house that combines different environments, such as the living room with the dining room and the open kitchen, a combination that represents the most typical case of an open space. As a result, it creates a large living area that gives a more convivial and sociable atmosphere to the home, as those in the kitchen can talk directly with those who are lying on the sofa or setting the table, without the inconvenience of shouting to make themselves understood and not seeing each other because of the walls that separate them.
This solution also allows you to save energy since you can also use a single source of lighting to have general light in the whole space.
Although it is comfortable and practical to have an open space, you need to keep in mind some aspects before proposing this solution to your client. Having a kitchen that opens up into the living room allows bad smells to spread throughout the living area, which is what can also happen with the spread of noise from an appliance, elements that can disturb those who are watching TV or reading on the sofa.
To avoid these drawbacks, you can provide a retractable or sliding door that, when needed, can separate the kitchen from the rest of the living space. By closing it during the preparation of meals, you can limit the spread of smells and noises.
In addition, by using a retractable glass door strategically, you will not lose points on the quality of lighting.
Let's take a look at some tips for the various open spaces that you may find yourself illuminating in an original way in your project.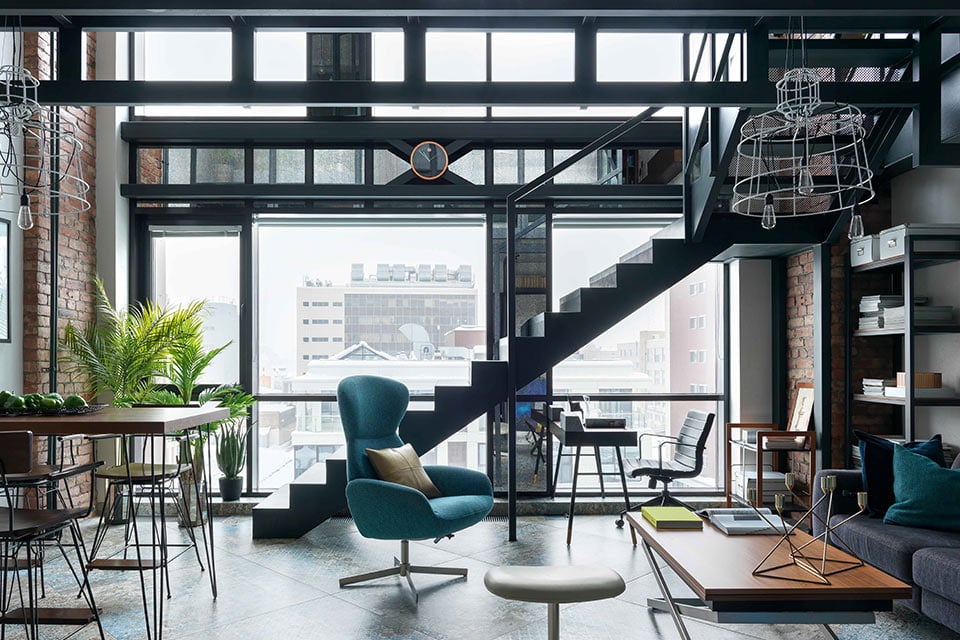 Sisma
Types of open spaces and how to operate in each of them
When you need to illuminate an open space that includes the kitchen and living room, which will involve your projects in most cases, you need to study lighting that allows you to carry out culinary activities better and adapts to the various areas of the room.
Set up several light points
Due to the rather large surface, it is always better to avoid a single light point, first of all, because a single light would not be sufficient and, secondly, to have more than different types of light depending on the function of the illuminated area.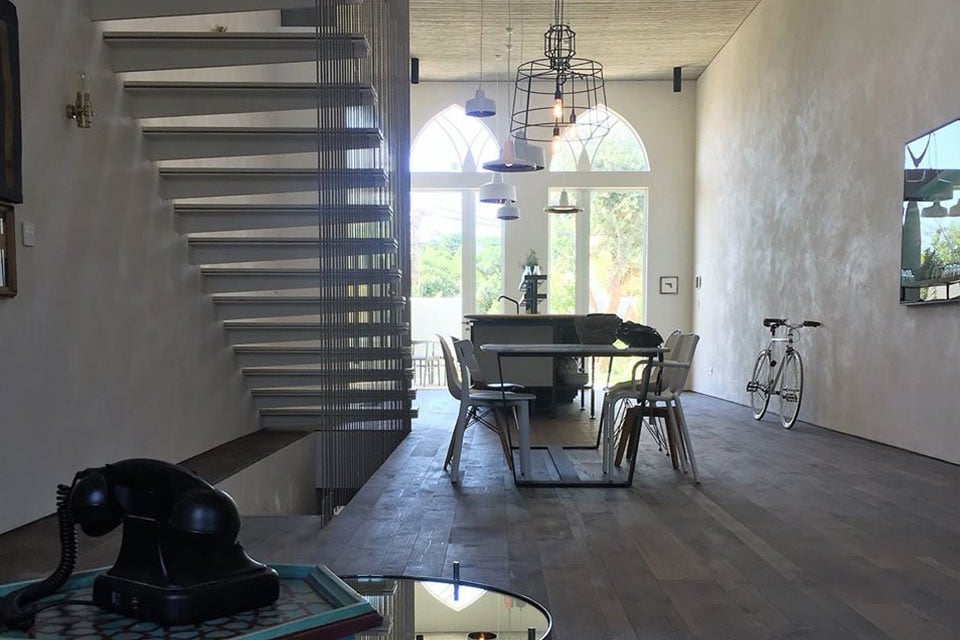 Sisma and Gangster
Install different types of lights
Between the kitchen and the living room, you may need to install different types of lamps, where you will certainly be able to use a direct and powerful light, which allows you to perform the different tasks without visual effort.
However, in the living room, to watch TV or read, it is sufficient to install a more diffused and less intense light.
The use of different lamps can make your project effective, but you have to choose installations that are in harmony with each other.
For example:
For the area that concerns the kitchen, choose suspension lamps or spotlights: they are more powerful and direct light solutions and allow you to assemble excellent combinations between different types of lamps, with a solution of continuity.
Installations, on the other hand, that are not suitable for this area are appliqués, as they illuminate less intensely and, with the vapors deriving from the cooking area, tend to get dirty more easily.
For the living area, you have many cards to play: you can choose from spotlights to appliqués to floor or table lamps. You are really spoiled with choices to illuminate the living room in an original way.
For this area, therefore, you can leave room for your client's taste, provided you do not overdo the brightness.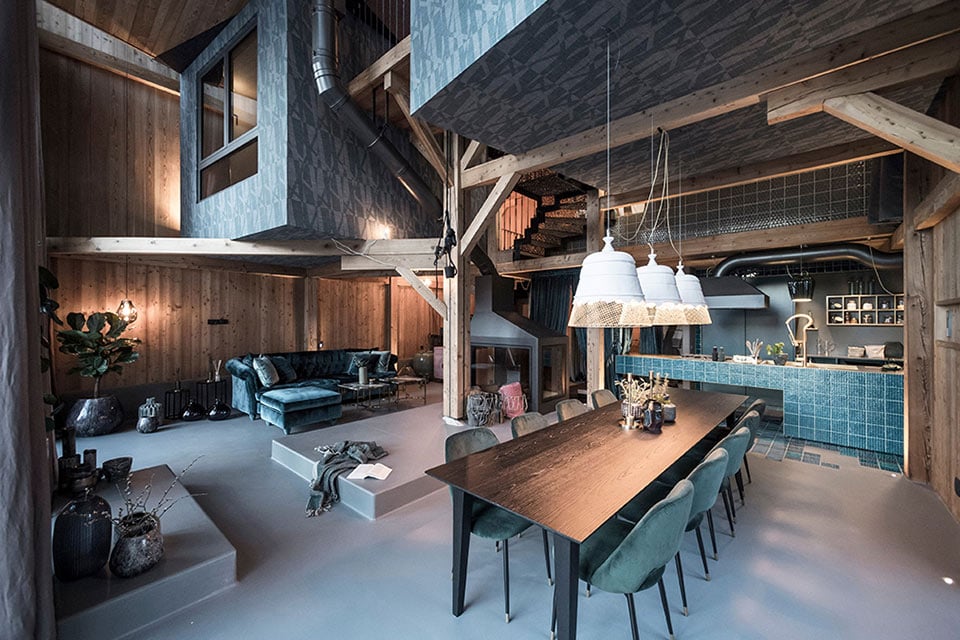 Domenica and Sahara
Being an area used for conviviality, reading, listening to music, and other similar activities, choose a soft light that can create a peaceful and relaxing atmosphere: you can choose lamps with a light intensity regulator so that all your clients' needs are met.
Oriented towards the choice of different lamps but with a design that gives harmony to the environments: this will allow you not to "break" the environments but to offer a luminous continuity that will give an overall visual perception.
You can find lines of lighting design installations that can easily accommodate this need.
If your case includes the lighting of an open space attic, perhaps with a low ceiling, the ideal solution is to have ceiling lights, spotlights, floor or table lamps.
In addition, to enhance the effect of the exposed beams, you can prepare fewer ceiling light points and more appliqués, to obtain an integrated diffused light for the whole environment.
Remember that lighting must always go hand in hand with the furniture in your project, so you can decide to include lighting through the use of a recessed ceiling to obtain a modern style. Among the various advantages of this solution, you can provide light to strategic points, through angles of light, which can be:
Direct emission, by making one or more longitudinal angles in the plasterboard, with the installation of an aluminum channel that will be functional to act as a base for the LEDs. Here, the light source must be directed towards the ground, positioning the LEDs parallel to the floor.
Indirect emission, positioning the LEDs in a hidden point, so the light source will not be visible directly.
Lateral emission, applying angles in the plasterboard, perhaps making the surfaces round, so that they create a parabola of reflected light.
Regarding the last two solutions, indirect and lateral emission, although they generate less light, still have a more pleasant result than direct emission, as the light really seems to spread onto the walls and the floor, embracing the entire space.
You can integrate the angles of light into your project to illuminate the hob in the kitchen, any island or peninsula, and, continuing along the walls vertically, create a very original and pleasant scenographic effect from above.
If you cannot or do not want to use the false ceiling completely, you can create interesting and functional light effects by adding veils or non-recessed profiles to the walls. In this way, you can modernize existing apartments with your project, obtaining the desired effect without having to modify the entire structure.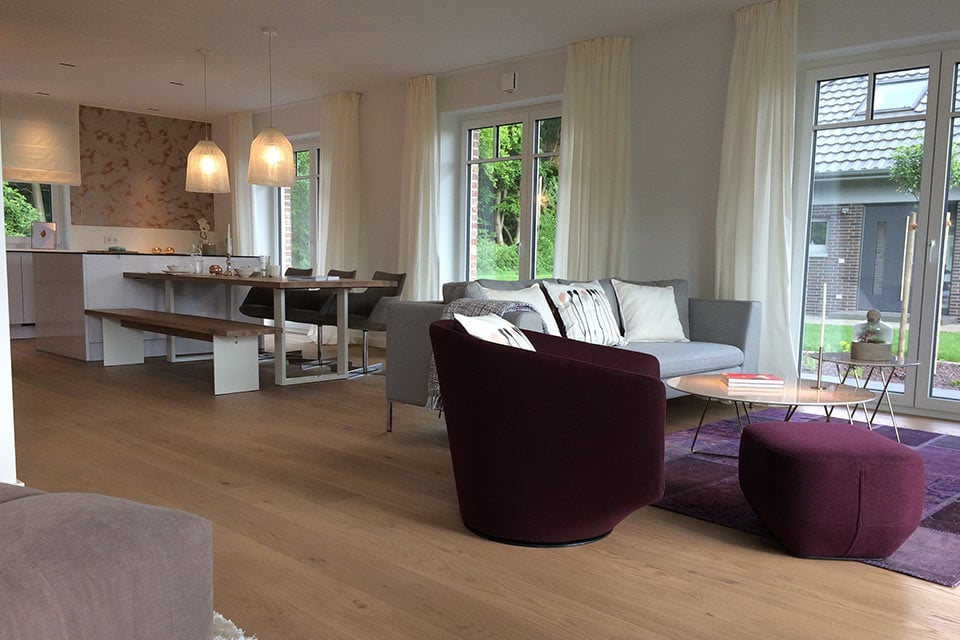 Black Out
Create original solutions to illuminate an open space
The keyword to which you need to inspire to get projects with original solutions for your clients is creativity!
In this article, we have analyzed generic points from which to take inspiration as a basic guideline to show off your creativity fully. In a historical moment in which the involvement of the client in creating the project is an increasingly important element, whether you like it or not, the best thing you can do to create a unique and original project is to get inspired by the personal ideas and tastes of your customers to start your creative process.
Therefore, be careful not to mechanically reproduce something already done and redone, unless this option is expressly desired and indicated by your client.
When you create a project for your clients, always keep in mind that your task is to give emotions through the use of design techniques. Creating, renovating, or changing the internal setting of a home cannot be carried out blindly but must take into account precise guidelines like the ones we saw in this article.
Once this is done, give way to your creative process to give your clients a home that can help them experience all the beautiful emotions of feeling at home.
For more information, support and assistance in choosing the most suitable lamps for your lighting design project, do not hesitate to contact us at this link. We are at your complete disposal.