In every lightning project, the aesthetic component of the lamps is as fundamental as their functionality and performance. The synergy between luminous potential and style will guide you in outlining a setting that lives up to the client's expectations and that is suitable for its use in each location: from restaurants to accommodation facilities, from private homes to commercial spaces and shops.
But is it possible to find the right balance between decorative lighting and technical lighting? The answer is yes.
This article will show you some ideas to help you effectively carry out your lighting design project and find the perfect compromise.
8 tips for finding a balance between decorative lighting and technical lighting
Below, you will find several tips for integrating decoration and functionality into your lighting design:
Let's continue below with an in-depth analysis of each step.
1. Start by evaluating the location where the solutions will be installed
Before you get to the heart of the design, it is necessary to evaluate the type of location where you will create the lighting design composition requested by the customer and identify who, potentially, will use and live in that particular environment.
Restaurants, bars, houses, and hotels have different functional and stylistic needs, so they require different aesthetic and technical interventions.
This step will help you define the entire project's lighting concept according to the client's requests.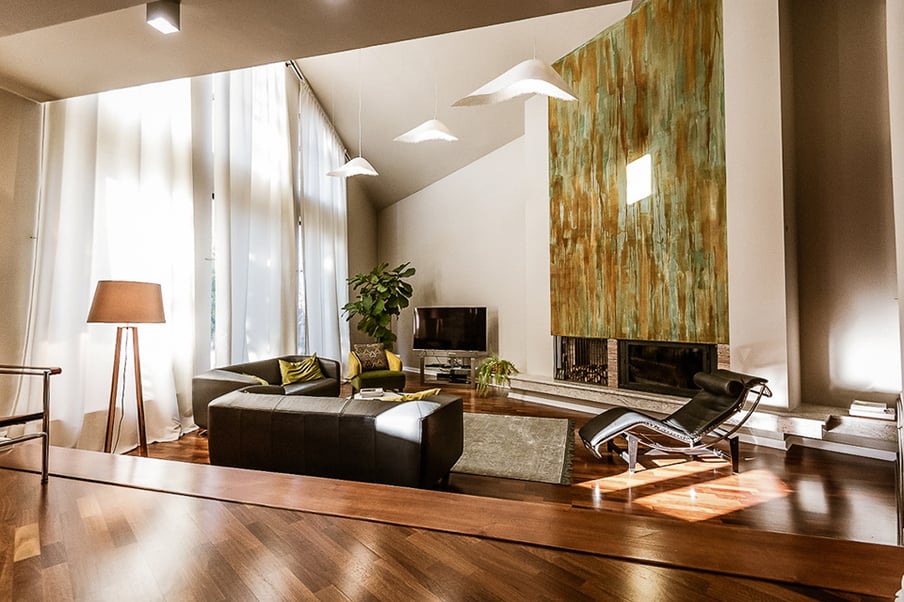 Moby Dick
2. Calculate the energy needs for ambient lighting
The actual design begins once you have calculated the energy needs for the location's lighting. The standard calculation is as follows:
EL,int,s = Wel,ill · Fc · [(td·FO·FD) + (tn·FO)] [kWh]
in particular:
is the electricity requirement for the artificial lighting of an area or environment [kWh].
is the installed electrical power for artificial lighting, calculated by UNI EN 15193 based on the optimal lighting for that room and the type of lamps installed: neon, halogen led, and so on [W].
is a utilization factor of the installed power, which takes into account the presence or absence of automatic control systems [-].
are respectively the duration of the day/night activation periods and consider the hours in which the lighting system is switched on. They vary according to the intended use of the building, with tabulated values for standard calculations [h].
It is the factor of dependence on the occupation of the environment or area, which, always based on the intended use, takes into account the presence and absence of a person inside the premises.
It is the use factor of natural light, which takes into account the number, type, and characteristics of the building's windows and how much each room is able to exploit natural light and, as a result, reduce consumption of artificial lighting [-].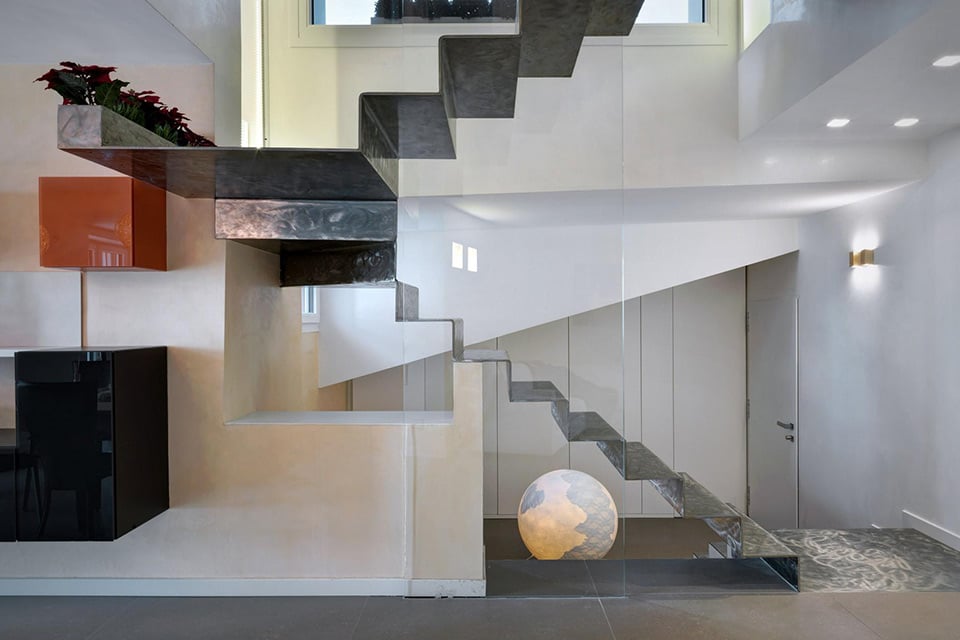 Ululì Ululà
3. Introduce the main lighting levels
Ambient lighting, task lighting, and accent lighting are essential in a project with the aim is to find a balance between decorative lighting and technical lighting.
Your main goal should be to install the right type of solution in the most suitable position. You want the area to be fully functional, but you don't want to sacrifice style.
In particular:
It is a type of uniform, clear, and well-distributed lighting that aims to ensure visual comfort and create a specific environment or atmosphere.
This degree of brightness is used in work areas or at task stations (desks and bedside tables, studies and offices, a hotel lobby and information desk, or a cash desk in a shop).
In this case, we are referring to all the focal points of light designed to illuminate and highlight architectural details, ornamental details, and furnishings.
4. Let natural light play its part
It is essential to include natural light in your lighting design project since the synergy between this degree of brightness, which is softer, and artificial lighting, which is more energetic, can give life to luminous choreographies of great visual impact.
Therefore, for natural light to be integrated in the best possible way, it is necessary to evaluate the potential access points of sunlight and then decide where you should place the designer lamps chosen by the client.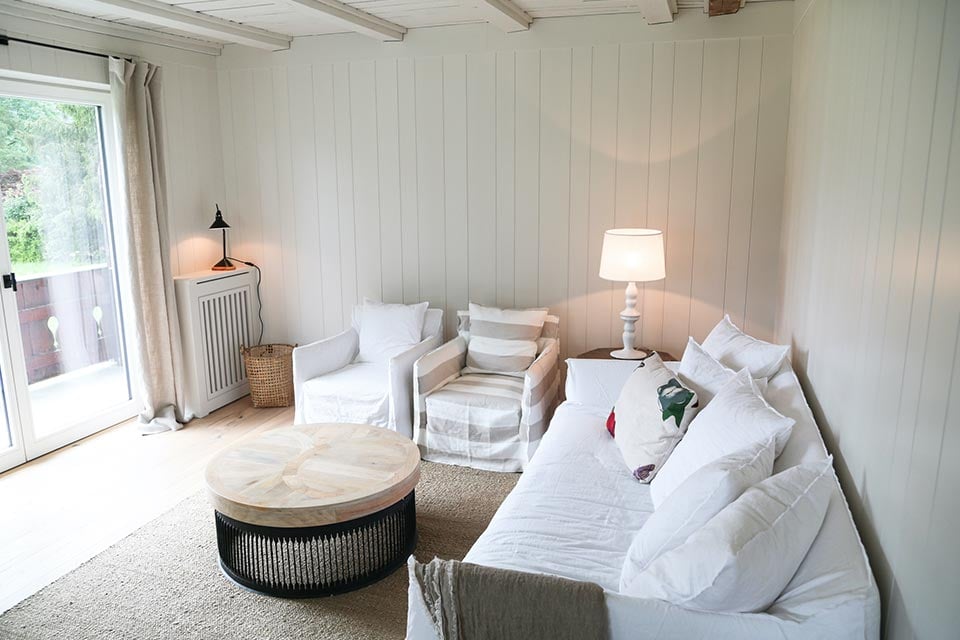 Alì e Babà
5. Consider the furniture concept
In addition to considering the factors listed above, you should pay close attention to the furniture concept designed for that specific location, where the various lamps will be installed, to create aesthetic harmony between lighting and furniture.
6. Evaluate the correct positioning of each lamp based on its use
To introduce the main functional lighting levels ad hoc—see point 3—not only must you select the most appropriate models but also find the most suitable position to ensure excellent visibility and comfort for various activities.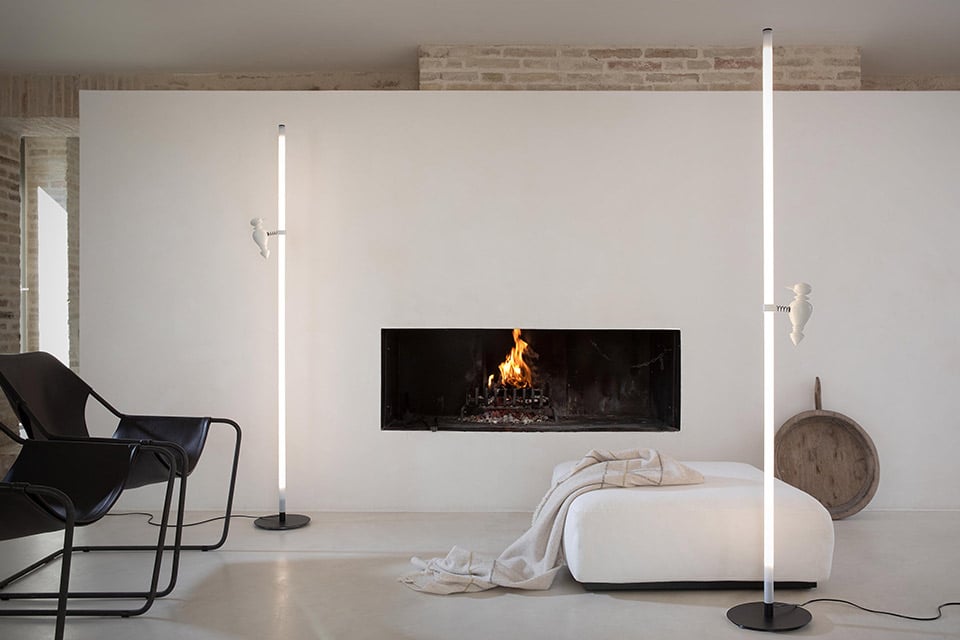 Accipicchio
7. Take into account the floor, ceiling, and walls
Consider the floor, ceiling, and walls, so every area is illuminated.
These are "three dimensions" that coexist in the same environment and that, if properly illuminated, will make the setting more welcoming and visually more pleasing and captivating.
Evenly illuminating the ceiling and the walls will make the spaces seem larger and help reduce eye strain.
8. Opt for a remote control system
Lastly, we recommend that you opt for the installation of a remote lighting control system. This type of technology has a series of significant advantages in terms of increased practicality, reduced consumption, and energy savings.
In fact, lots of energy is often wasted in larger living spaces as well as in hotels and restaurants with large capacities simply by leaving the lights on when not needed.
The fully integrated lighting control systems allow you to easily determine where the lights are on and control them from a central location. Automating the switching on and off of lights also saves money.
Thanks to a remote control system, it is possible and easy to set the degree of lighting in the various rooms. The integration of a lighting system on an iPad allows the user to stay in one room and dim or turn up the lighting channels in any room.
Designer lamps: the perfect combination of style and performance
The main lighting contexts of shops, restaurants, and accommodation facilities share a balanced integration of natural light and the three degrees of lighting: ambient lighting, task lighting, and accent lighting.
To achieve the perfect combination of style and performance, we recommend selecting creative designer lamps and installing them in the various rooms of each location, naturally taking into account the client's preferences and the furnishing context.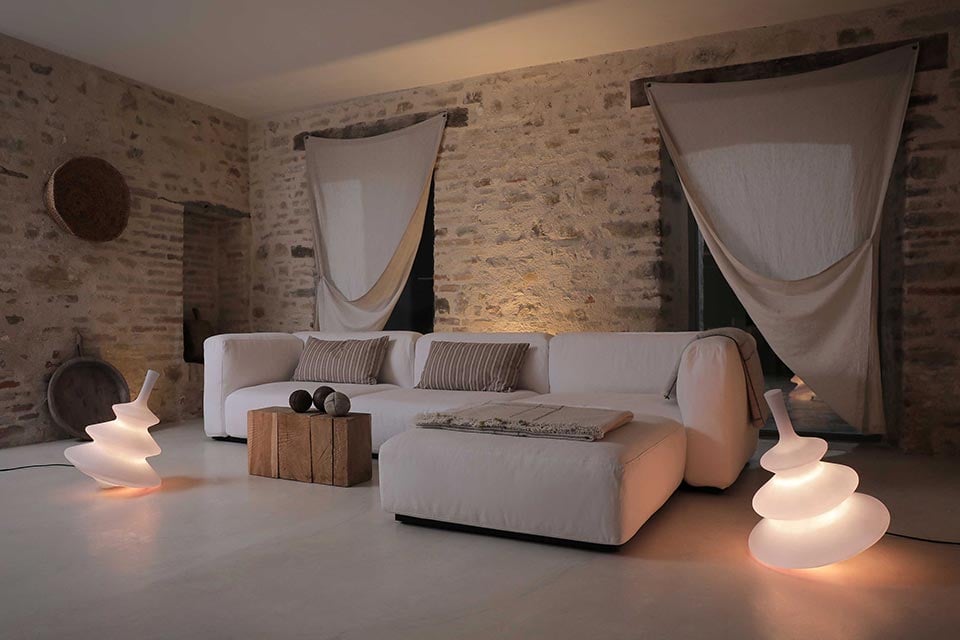 Pirla
Illuminating the interior of a home
Here are the solutions you could choose from to illuminate a home:
Now, let's closer look at each one.
Au Revoir: perfect for entryways
A chandelier like Au Revoir is an original solution that is ideal for welcoming guests in the entryway. It immediately creates a pleasant atmosphere of hospitality.
It is a composition of arms with unique decorations in white frosted glass. Its unusual and original shape will impress guests and optimally illuminate more points within the space.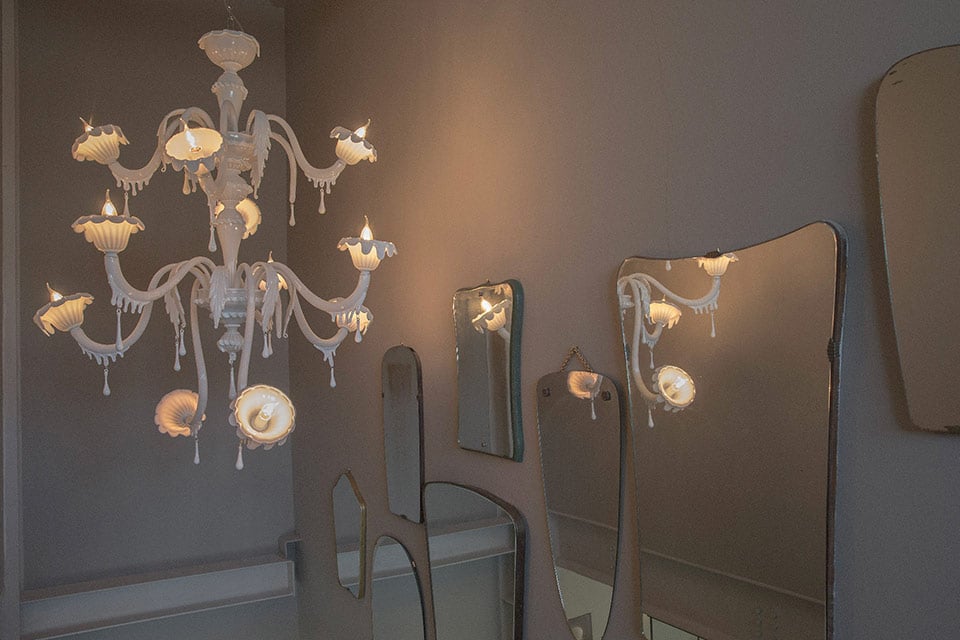 Au Revoir
Snoob's minimal style decorates the living room
The living room is a common area where family often gathers to relax and spend time together, and it is also used to receive guests. For these reasons, it needs an elegant lighting solution suitable for any occasion and activity.
Once again, a chandelier would be suitable for providing ambient lighting by creating a focal point of impact in the room. For these interiors, you could choose Snoob: a suspension lamp with grandeur that recalls the silhouette of ancient chandeliers that have been renewed with clean and sinuous lines.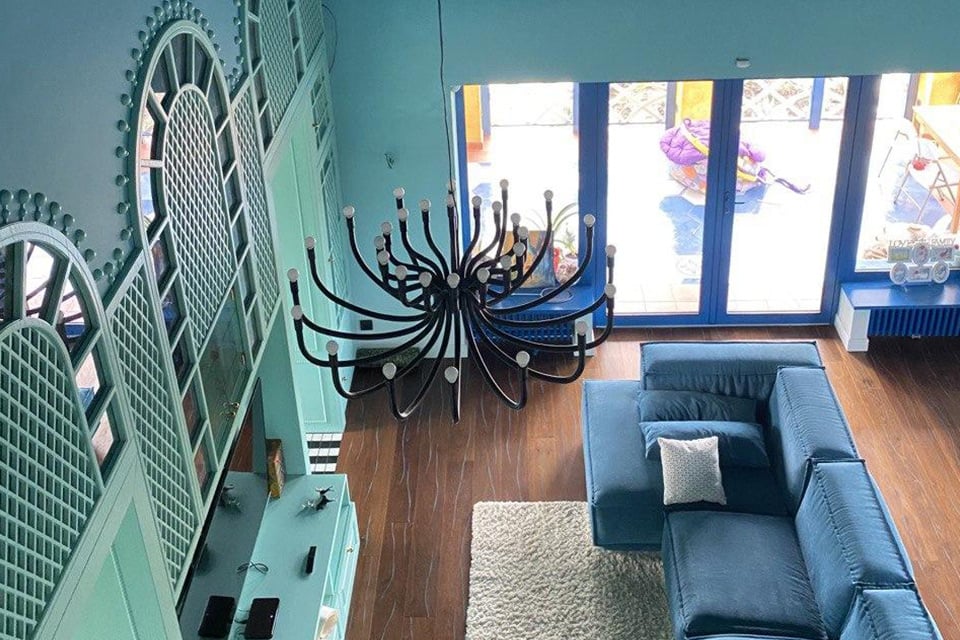 Snoob
Ceraunavolta: refined and versatile
Illuminate the entire area by installing Ceraunavolta: picturesque and unique, a cluster of suspension lamps in blown glass—transparent or tiffany—able to capture everyone's gaze, giving the environment new color and dynamics.
It is suitable for illuminating tables and shelves where different activities take place and many people gather because it fills the room with soft and warm light and can be positioned at any height.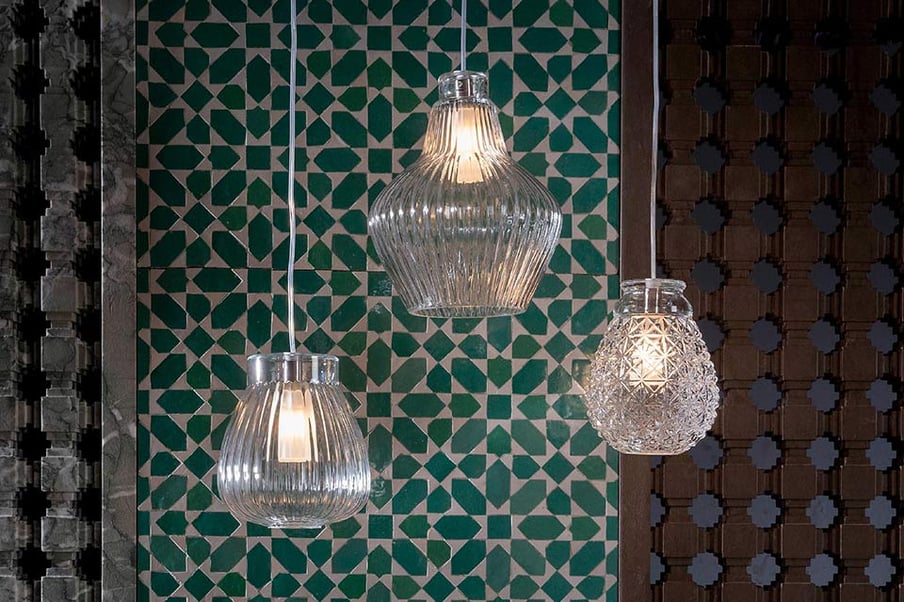 Ceraunavolta
Déjà-Vu: the right decorative touch in transit areas
For a private home's corridors, a lighting fixture capable of merging practicality and decoration is a must. In this case, you could opt for an alternating arrangement of wall lamps.
For example, Déjà-Vu, also available as a wall lamp, could be one of the most suitable solutions to illuminate corridors with a touch of originality.
The sobriety of white, the particularity of the floral decorations, the natural simplicity of linen: the structural elements that make this lamp a refined and timeless model.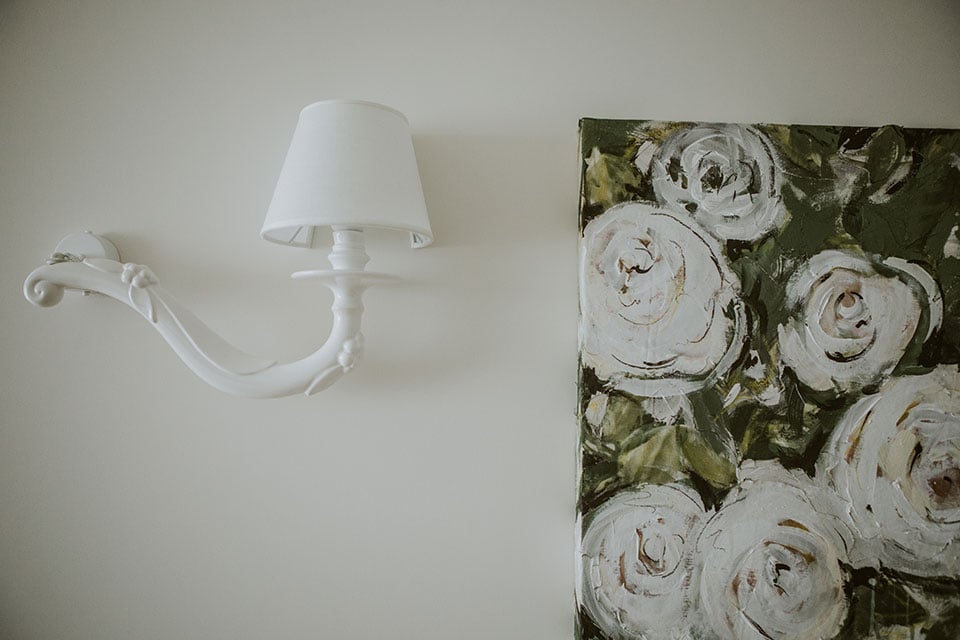 Déjà-Vu
Notredame and Alì e Babà: elegant and evocative even in the bedroom
Bedrooms are for intimacy and privacy, so it is vital to instill a relaxing atmosphere through lighting. For this reason, you should choose lamps that can guarantee visual comfort and remain faithful to the room's quiet atmosphere.
For this environment, we suggest installing dimmable ceiling lights—such as Notredame—above the bed that provide different gradations of ambient lighting.
Notredame has a characteristic and defined geometric cut that follows the articulated lines of the ancient Gothic rose windows. At the center of the structure made of white technopolymer, or gold, there is a luminous heart that guarantees well-diffused and soft lighting.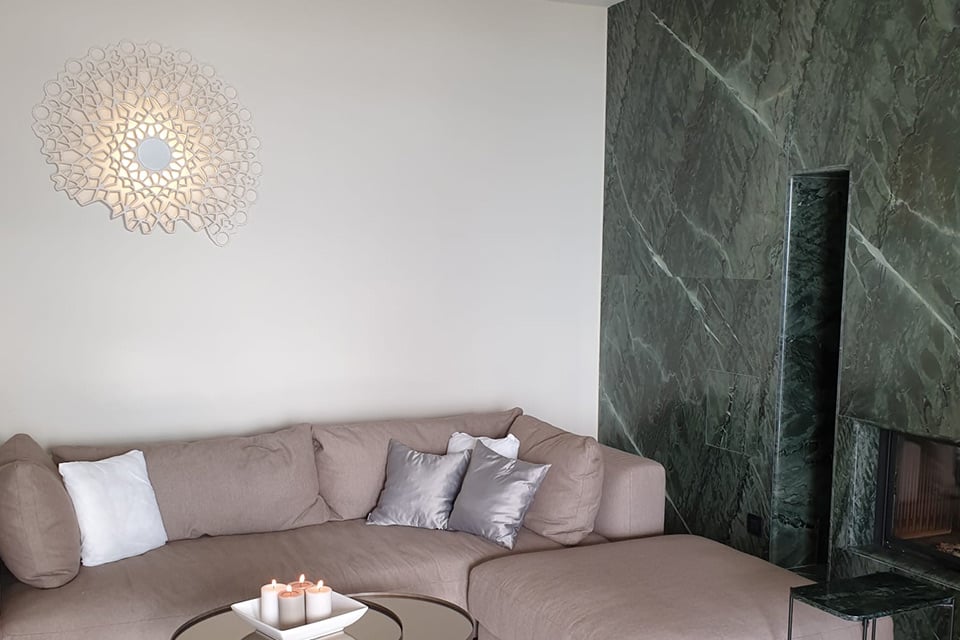 Notredame
Remember that a good level of task lighting is also required in the bedroom to facilitate other activities, such as reading, studying, or simply changing comfortably.
Therefore, a good idea would be to place wall lamps on the sides of the bed, or table lamps on the bedside tables, to make the space more function. Alì e Babà is available in both solutions, with a matte/glossy white ceramic structure or a white linen lampshade.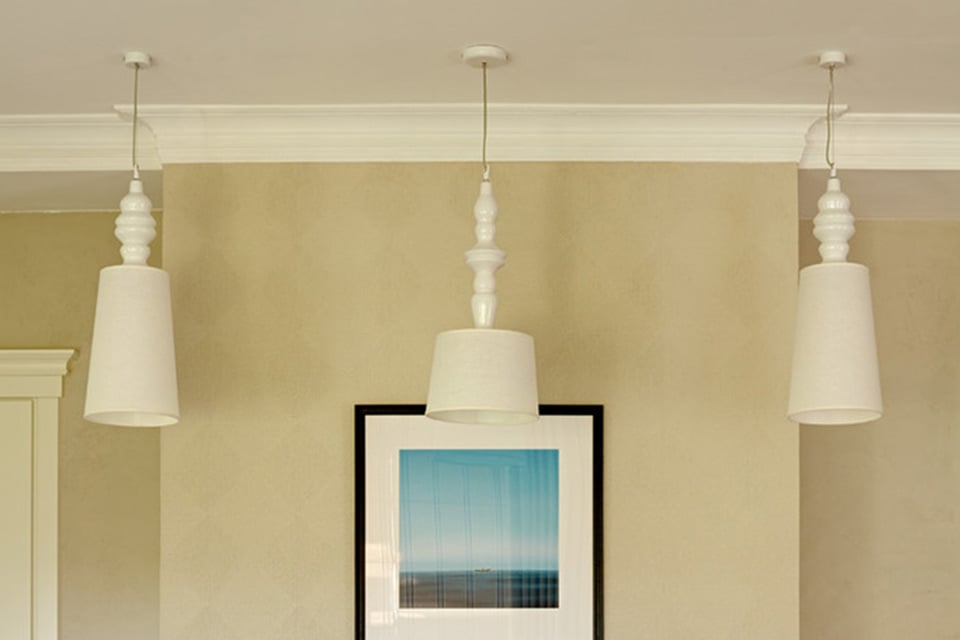 Alì e Babà
Illuminate the main areas of a store
Below is a list of the designer lamps designed ad hoc to illuminate the main areas of a commercial space:
Let's study the characteristics of each lamp more closely.
Domenica: contrasting textures and materials
Domenica is a suspension lamp consisting of a plaster structure completed by a tightly meshed wire netting.
It is ideal as a source of task lighting and ambient lighting that emits streams of energetic light into the environment and offers an unmistakable signature style thanks to its material contrast.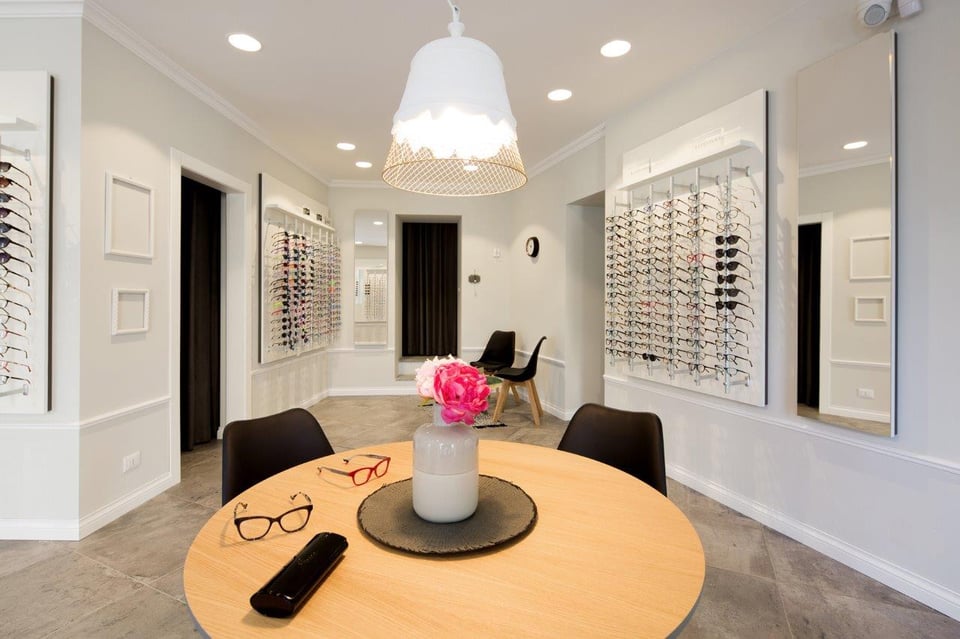 Domenica
The evocative traits of Cubano
Cubano is great for combining decorative potential and functional lighting. Thanks to its evocative design, it is a creative designer lamp that fits perfectly into the Karman zoo family.
Perfect alongside coat hangers and displays, this opaque white ceramic wall lamp has curious features that echo the features of a toucan with a luminous and penetrating "look".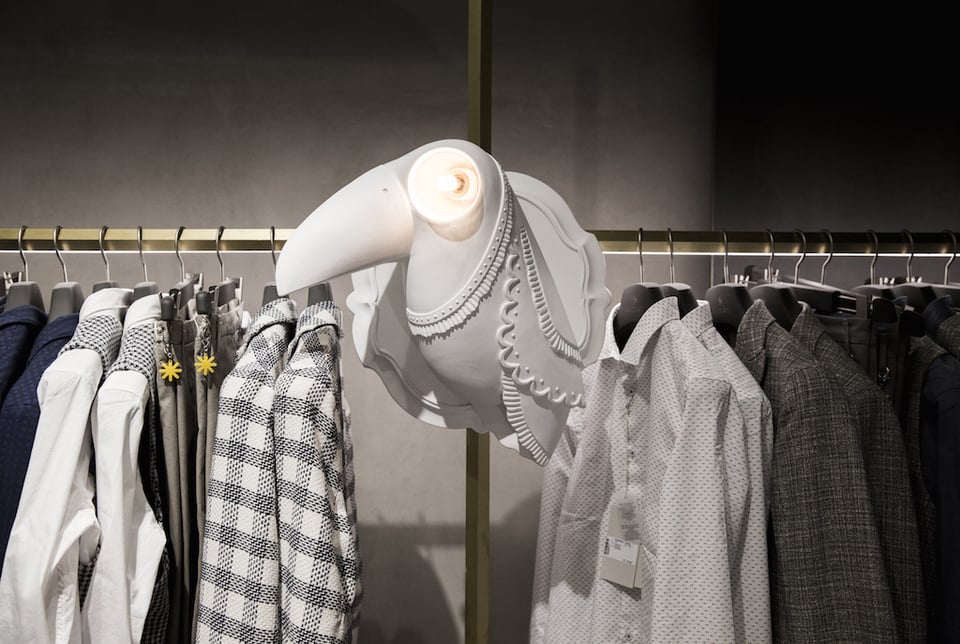 Cubano
The transparency of glass meets the power of light with Ginger
Ginger is a glass suspension lamp with a retro taste and a versatile design, features that make it suitable for lighting contexts in the most fashionable shops.
With its graceful and elegant stage presence, it is an excellent solution to give a decorative touch to the store's display spaces without sacrificing functionality.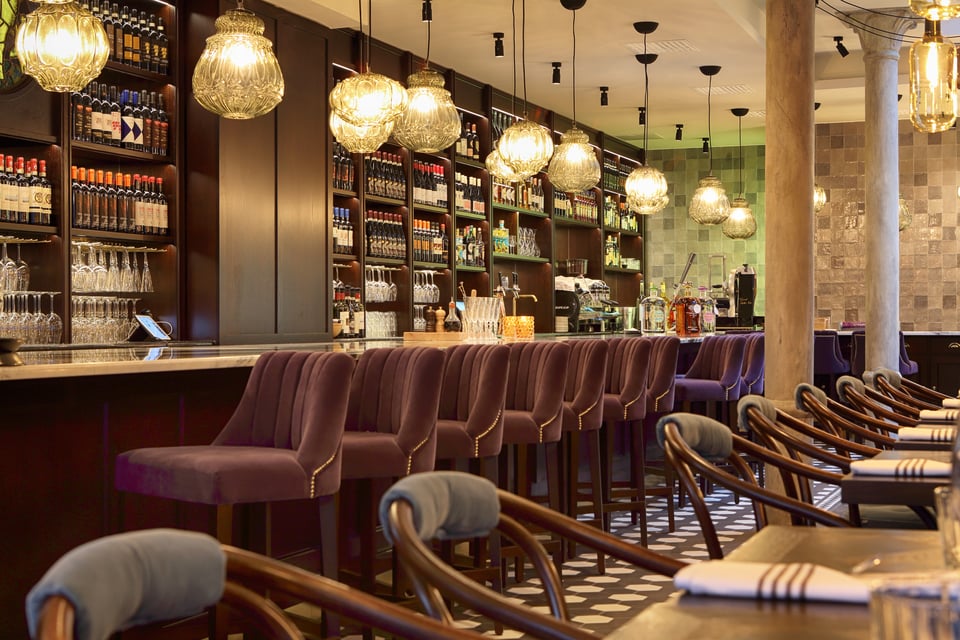 Ginger
24 Karati: bright and shiny like a precious stone
24 Karati is a transparent straw-colored glass lamp with a refined and well-defined geometric cut like that of a diamond.
Thanks to the glass lampshade's transparency, the light is free to spread evenly throughout the room, effectively illuminating every corner.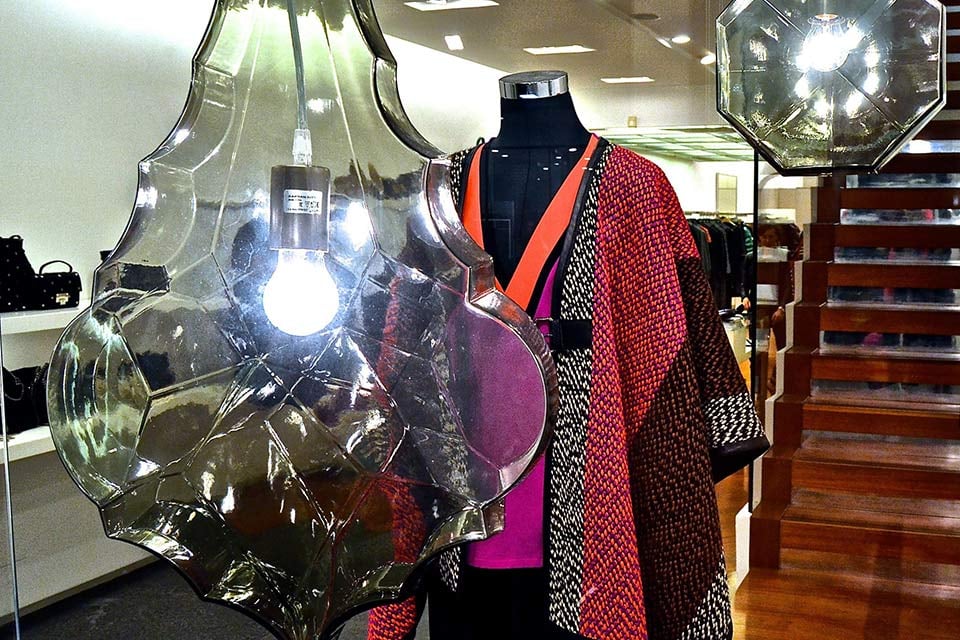 24 Karati
The simple and sophisticated silhouette of Le Trulle
Le Trulle could be the perfect solutions to illuminate shop windows, for example, or to illuminate different spaces with the shop.
These are suspension lamps made with natural ceramic lampshades and metal wires that create gentle and soft lines—simple but still impactful.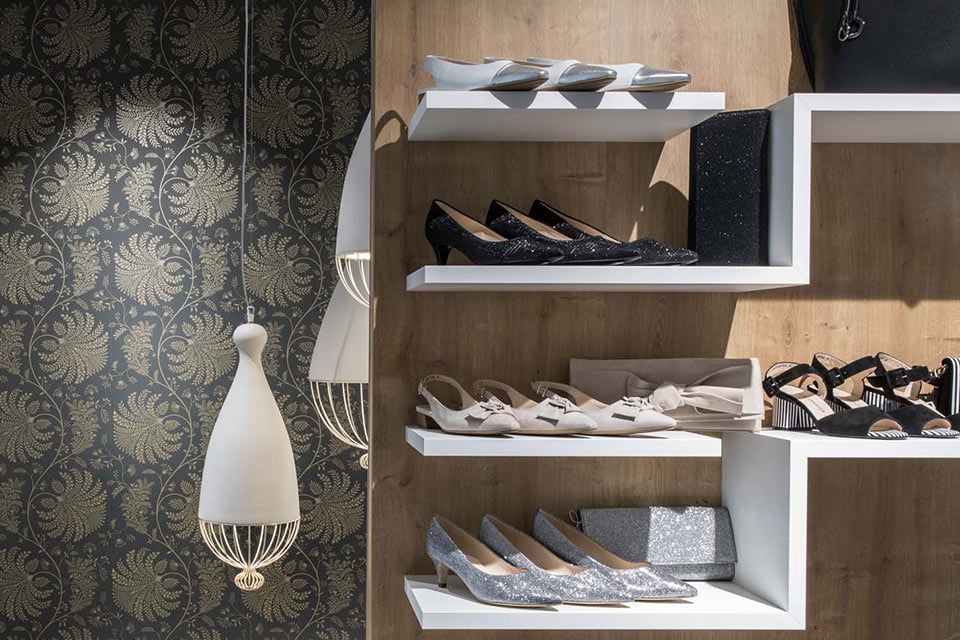 Le Trulle
Settenani Collection: the materiality becomes pure elegance
To ensure cleverly distributed light points and directional lighting, opt for a composition of suspension lamps such as the Settenani Collection.
It is a collection made up of seven lamps of different shapes and aesthetic characters, with a single point in common: a raw concrete structure.
This family of ad hoc lamps can be used to illuminate the store's various departments. The models and shapes vary but still maintain a certain aesthetic continuity.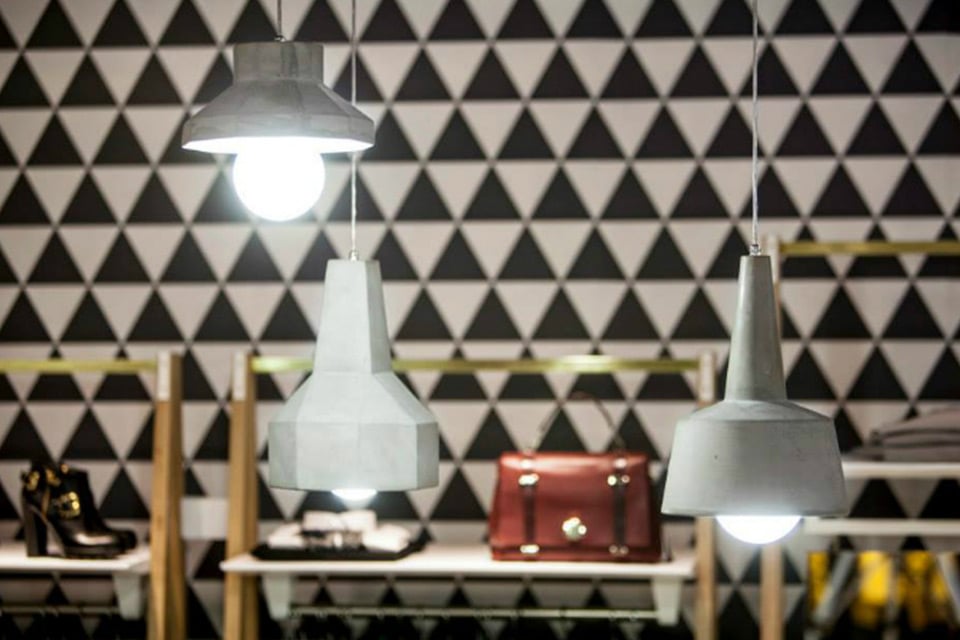 Settenani Collection
Lighting for hotels and accommodation facilities
Let's see which contexts these lamps fit in best.
Sisma: minimal taste and welcoming light
Mood and a welcoming atmosphere are the calling card of a hotel. For this reason, attention to the lighting in the hall is essential to impress visitors and welcome them immediately with the right light.
For the entrance, you should opt for chandeliers, ceiling lights, or a composition of suspension lamps capable of providing directional lighting to the workstations and generally manage to instill an immediate sensation of warmth and comfort.
For this area of the hotel, you could opt for a sober and elegant solution like Sisma: a suspension lamp with a strong industrial character but a minimal soul.
Its structure is totally bare of a lampshade or diffuser and is characterized by a skeleton in ribbed metal rod painted with a natural color. And the lights hang from black cords, which you can twisted and fix based on your preferences.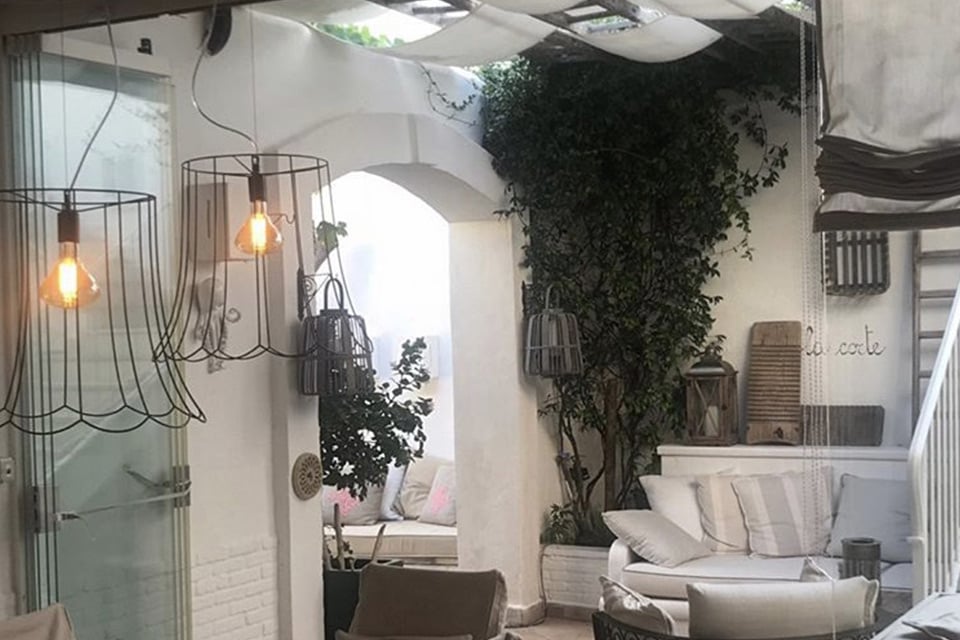 Sisma
Functionality and style in a single model: Black Out
The reception are is one of the most important workstations, as this is where the staff interacts and welcomes customers. We recommend that you choose solutions that can offer both task lighting and ambient lighting to this area.
In this case, Black Out may prove to be the right choice. We are talking about a suspension lamp made with white fiberglass wire to be completed at the customer's complete discretion with a white ceramic candle holder.
It is a designer lighting fixture capable of giving functional brightness to the information desk and completing the furniture set-up.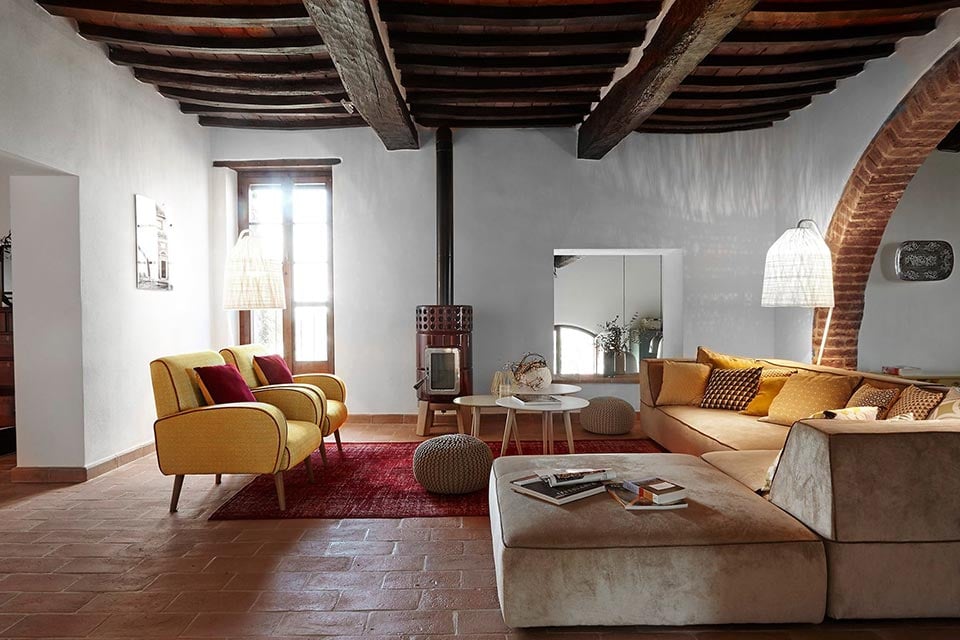 Black Out
The industrial-chic style lights up with Work in progress
Bathroom lighting should always ensure visual comfort, free movement and instill a relaxing atmosphere.
For this environment, it is advisable to choose indirect light sources and soft shades to maintain a certain intimacy and avoid blinding yourself.
Work in progress could be the most suitable solution because it is perfect for illuminating this environment. Totally devoted to industrial-chic aesthetics, its silhouette evokes an old construction site lamp, made more elegant and graceful thanks to its floral bas-reliefs.
Furthermore, the diffuser allows the light to spread directionally and uniformly onto the surfaces. It is the right compromise between aesthetic components and functionality.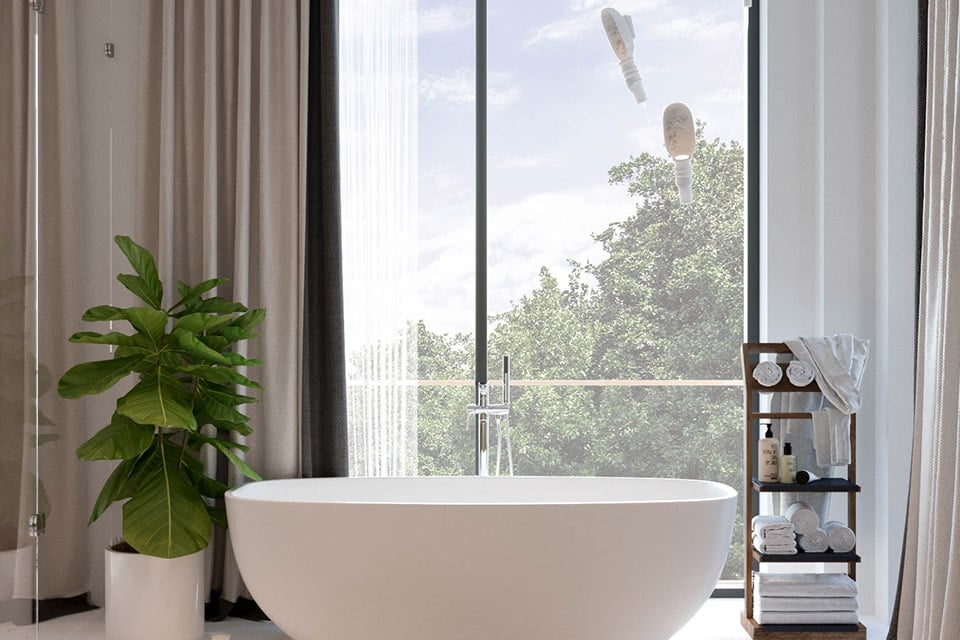 Work In Progress
Ugo Rilla and Ti. Vedo for bedrooms with a captivating concept
To transform bedrooms into real oases of relaxation, it is necessary to focus on a type of lighting capable of giving a familiar and comfortable look to the environment, obviously without sacrificing functionality.
Therefore, we suggest you place suspension lamps in the center of the ceiling and install wall lights above the bedside tables to provide both ambient lighting and task lighting focal points on the sides of the bed.
If the customer wants lamps with a simple and clean concept, we recommend choosing Alì e Babà or Au Revoir in the wall lamp model; otherwise, for a more impactful, animal style, choose Ugo Rilla and Ti. Vedo.
These are two wall lamps with a strong visual impact that respectively echo the animalistic features of a gorilla and an owl. They are fascinating and original lamps in white and opaque gray ceramic and are suitable for the most daring furnishing contexts and perfect for illuminating the hotel bedrooms.
Furthermore, if there is one or more desks in the room, place table lamps on them to ensure proper lighting for work and reading activities.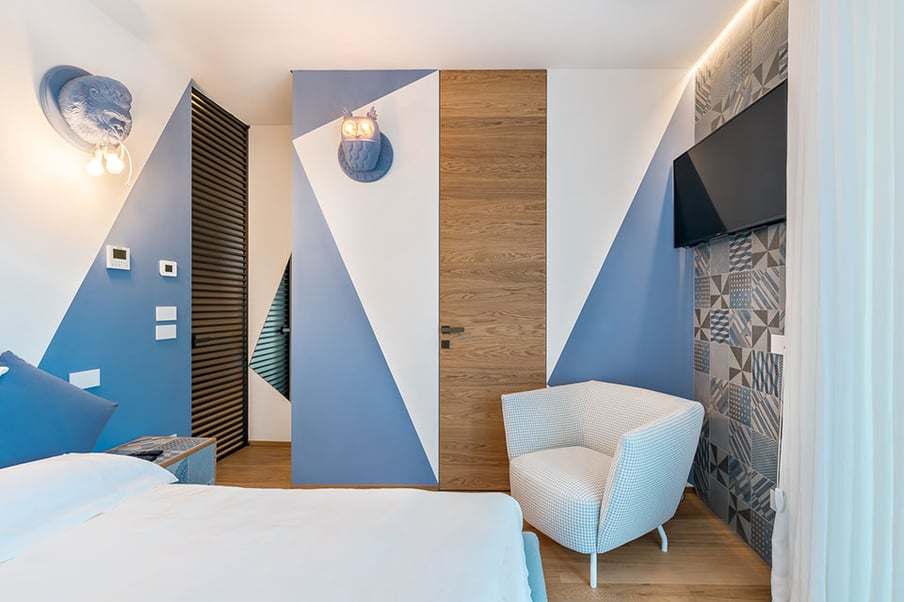 Ugo Rilla e Ti. Vedo
Cell: the beauty of simplicity
In the refreshment areas, guests should immediately perceive an atmosphere of conviviality and relaxation. Adjust the lighting of the bar and restaurant according to the hours of service.
To illuminate the room and, in particular, give optimal brightness to tables and workstations, choose Cell. It is a suspension lamp with a minimal charm made of a white metal wire structure and white linen lampshade, finished with a white silk tassel: a touch of class for a modern and refined lamp.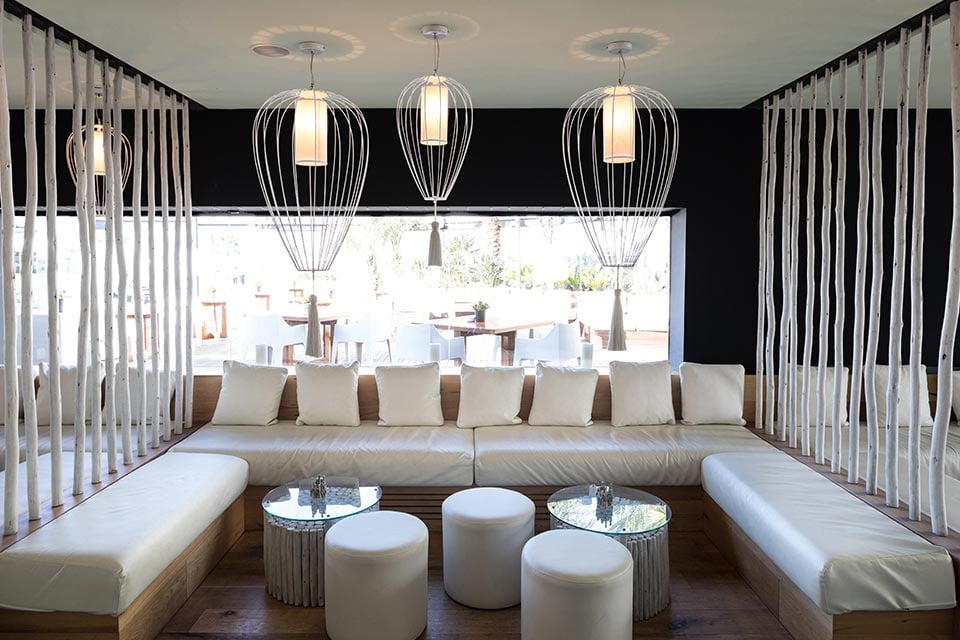 Cell
How to combine decorative lighting and technical lighting
You will know that you have found the right compromise between style and functionality when the entire lighting system is more efficient and, above all, more attractive in an aesthetic sense.
The best designs—in which technical lighting is integrated with decorative lighting—add a touch of style to the interior design complex and, above all, guarantee visual comfort, making it easier to move around and carry out activities anywhere.
It is precisely in the search for this balance that a lighting design project's success lies. Offer solutions capable of combining performance and aesthetics, as well as an impeccable final product customized according to the client's needs.
For more information, support, and assistance in choosing the right lamp models for your decorative lighting project, do not hesitate to contact us at this link. We are at your complete disposal.