Faced with the question "how do you illuminate a store?" There are just as many questions concerning the correct lighting of shop windows and the entrance, as well as the main rooms of a commercial space. In reality, due attention must also be paid to other technical aspects.
But don't worry, in this article, we will provide you with the answers you are looking for through useful style tips and technical suggestions for the correct realisation of the lighting project for the retail environment you are designing.
We begin by stating that illuminating a shop does not only mean giving light to items and goods on display, but it is a matter of outlining the atmosphere and therefore the aesthetic character of the room. A well-lit shop attracts the public and new potential customers.
Communicating through lighting and creating the atmosphere in a store may seem challenging, but not impossible. To do this correctly and without making false steps, it is necessary to pay attention to different functional and aesthetic factors.
Let's find out how to illuminate a store, analysing the main design mistakes to avoid.
7 errors to avoid when illuminating a store
The best retail design lighting projects do not make mistakes. For this reason, we have selected the 7 most common design errors that you should avoid for a truly successful project:
Lack of accent lighting
Contrast of neutral lights and low visual impact
Incorrect lamp positioning
Gradations and light temperatures not suitable for the context
Inconsideration of natural light sources
Poor lateral and floor lighting
Incorrect consideration of lamp materials
1. Lack of accent lighting
Store lighting is often designed to ensure generic visibility but not focused on specific points. In fact, in addition to ambient lighting, accent lighting sources also play a fundamental role in creating the mood of the store.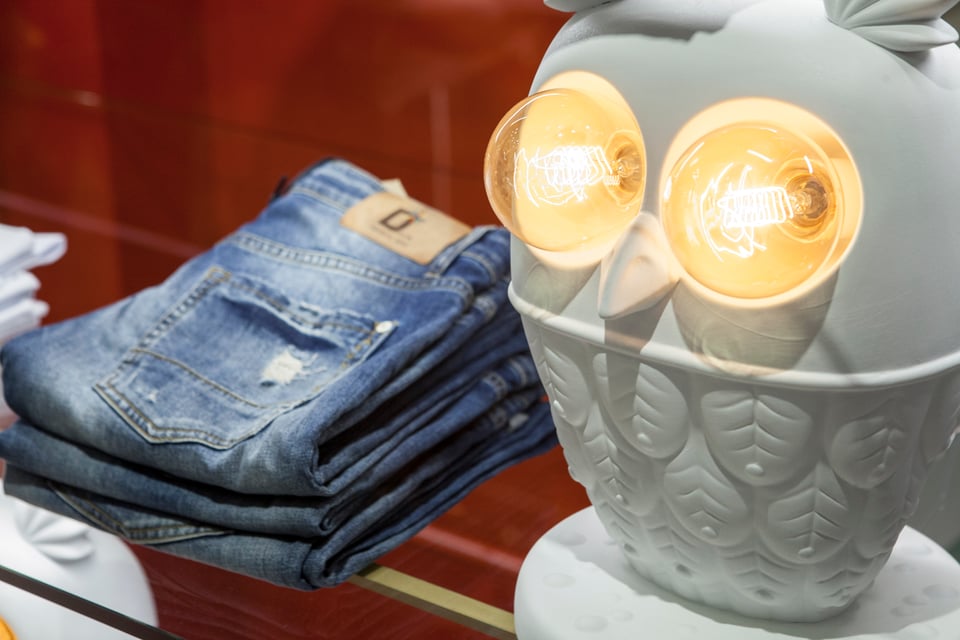 Ti Vedo
Lighting points wisely distributed in the corners of the room, such as Bacco and Ti Vedo for example, will help to illuminate the entire area better and put the accent on new objects, clothing and accessories placed on shelves and in the window.
The right balance between ambient lighting, well distributed and homogeneous, and accent lighting points, focused in the different spaces, will ensure an excellent view in every area of the store.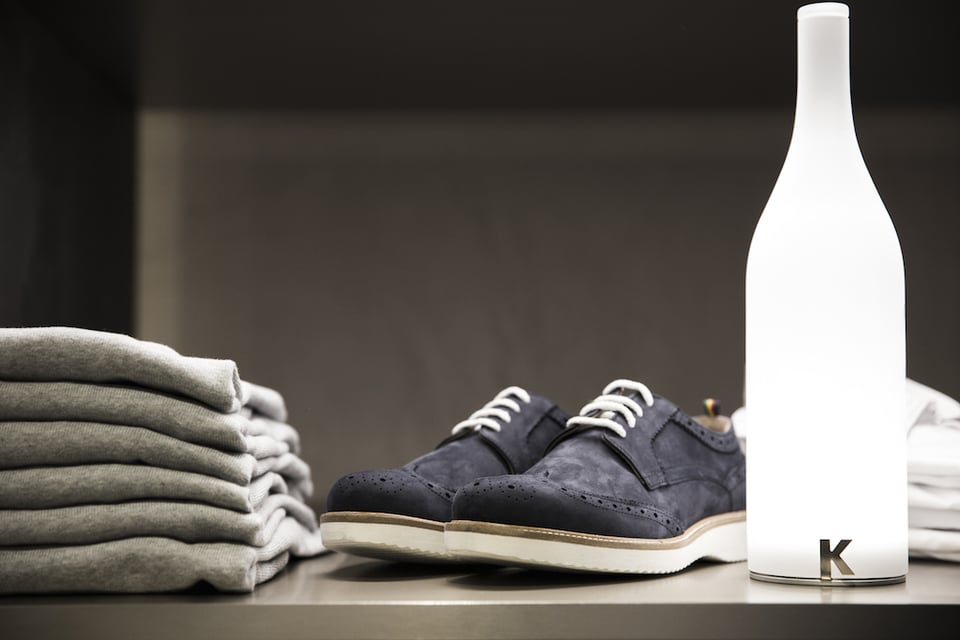 Bacco
2. Contrast of neutral lights and low visual impact
The incorrect lighting of the various departments and the slightly stimulating contrast between warm and cold lights, as a whole, could ruin the atmosphere of the store, making it appear cold and aseptic, and consequently compromising the customer experience.
A dim and dull environment certainly does not invite customers into the store or to make purchases. To attract the public and potential buyers it is necessary to attract the observer's gaze through the lighting.
How?
Playing on the contrast between lights of different gradations and temperatures.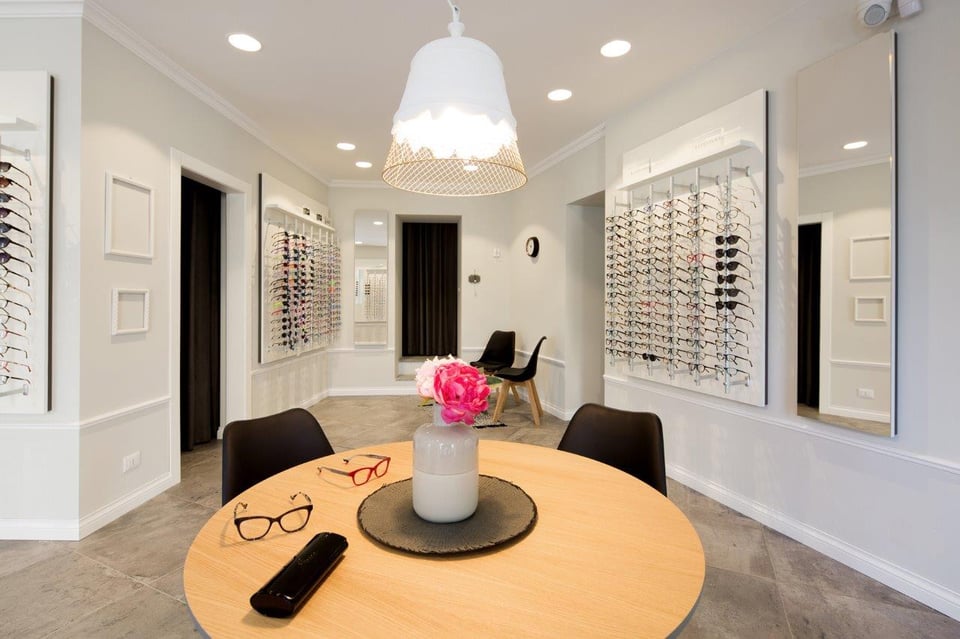 Domenica
A lamp like Domenica, for example, could be the right solution to bring a bright note of contrast into a neutral environment, with bare walls that are poor in colour. With Domenica, the light, with its persuasive yellow shades, becomes a symbol of celebration and serenity radiating through the tight wire mesh, to then free itself beyond the plaster body.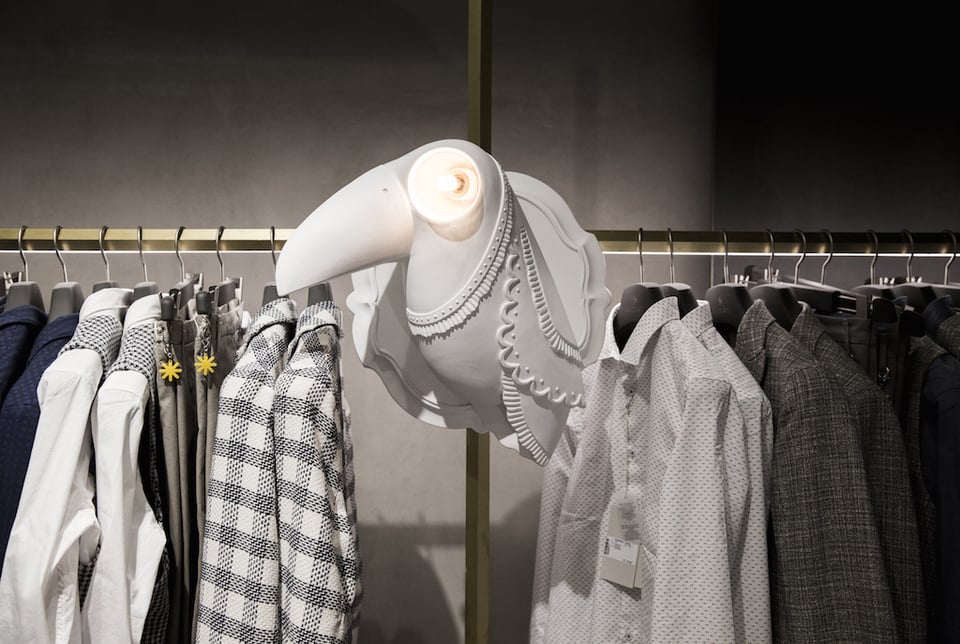 Cubano
To introduce a focal accent point and, at the same time, a creative design accessory, you could apply a lamp like Cubano on the walls or the store displays. It is an opaque white ceramic appliqué that takes on the appearance of a toucan with a luminous and sharp "look", as well as an excellent source of direct lighting.
Alì e Babà
If you want to play both on the luminous and material contrast, Alì and Babà could be the ideal solution. We advise you to combine more suspension lamps than this model, perhaps alternating a lamp with a ceramic shade and another covered in linen. In this way, you will get a composition that has a great impact and excellent aesthetics, providing the environment with both direct and filtered light.
3. Incorrect lamp placement
The success of a lighting project in retail environments derives from the detailed knowledge of the configuration of each department.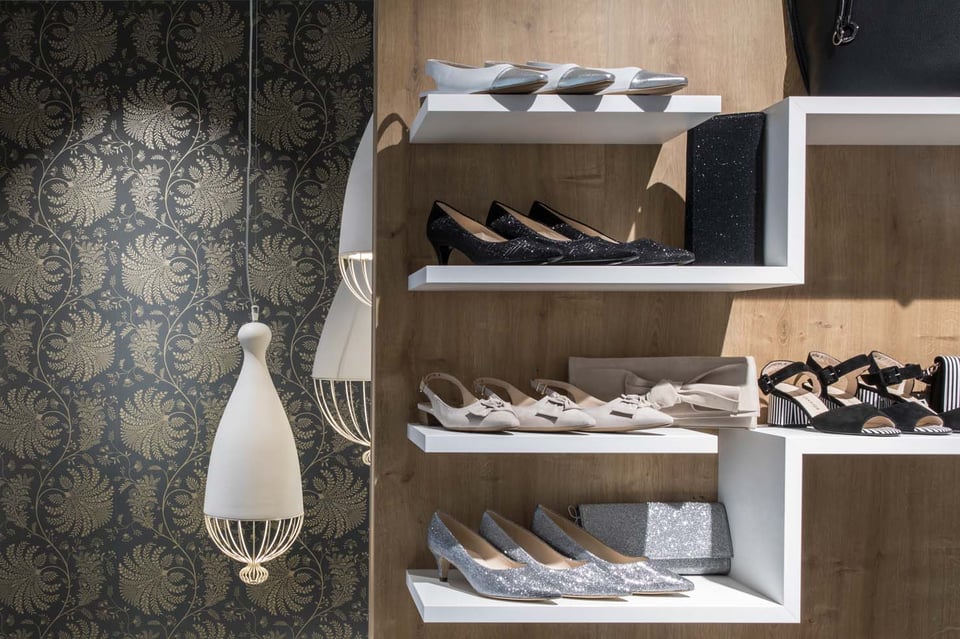 Le Trulle
Making mistakes in the placement of lamps and lighting sources in the store is detrimental in terms of functionality, visibility and free movement.
Lighting points create a luminous path guaranteeing an excellent view of the spaces and outlining a path capable of guiding the customer and facilitating their orientation within the store.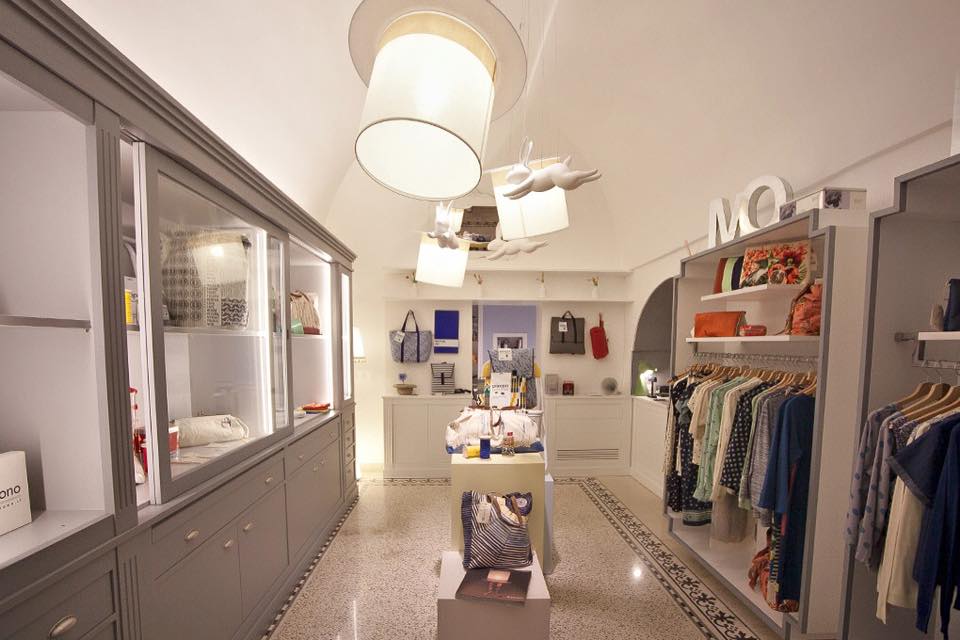 Wow!
Suspension lamps, such as Le Trulle and Wow!, are often installed to carry out this important task as guarantors of directional and homogeneous light, suitable for illuminating and decorating every kind of environment.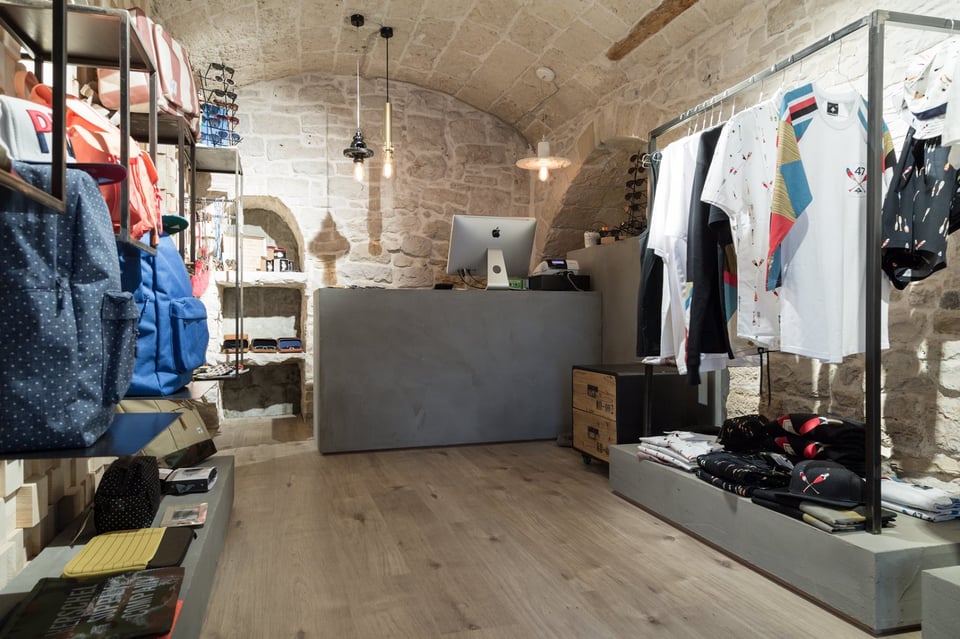 Mek, Nando, Scrivimi
Just like Mek and Nando, who also find their place at the check out, both as lighting sources and as design accessories, are industrial-style suspension lamps that present great light and decorative potential.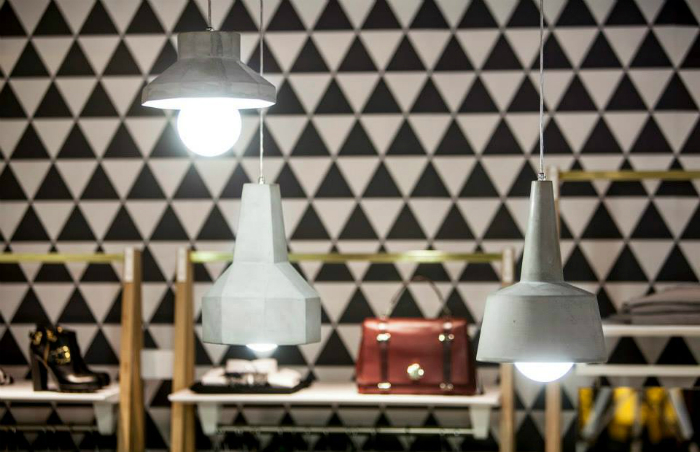 Settenani Collection
A composition of suspension lamps such as the Settenani Collection is able to supply the corridors and departments of a store with reference lighting point, and in the same way, introduce a series of decorative elements with different aesthetic character. This collection is made up of seven different shaped lamps that share a rough, robust and textured concrete structure but are still extremely versatile.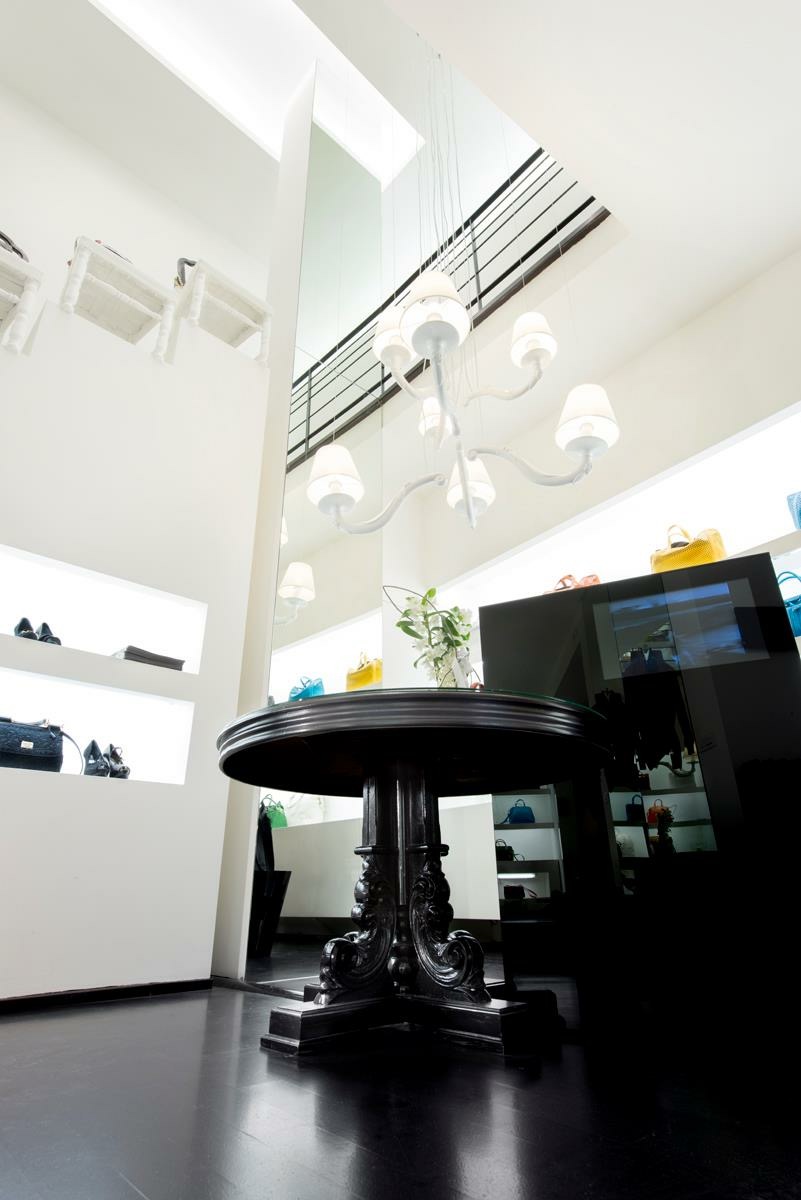 Déjà-Vu
A chandelier with a refined appearance like Déjà-Vu combines decorative character and excellent lighting capacity. Therefore, it is suitable to give light to both large spaces and restricted areas. We are talking about a composition of lamps characterised by curved arms, which give movement to the structure, and lampshades in white linen with a dense weave, from which clear and intense luminous streams are released.
4. Gradations and light temperatures not suitable for the context
Light has the power to connect an observer to a place. The gradations and temperatures of the lighting describe the character of the store with a unique and fascinating language.
Choosing a luminous gradation in contrast with the mood of the environment may not only weigh down the atmosphere but may be aesthetic and visual. Therefore, to understand how to illuminate a store, it is good to be able to distinguish between hot and cold temperature lights, whose gradations have a different influence on the perception of the spaces and the emotional state of the observer.
Cold lights fill spaces with white and bluish tones, outlining a stimulating climate full of vibrations. While sources of warm light emit bright red, infusing a feeling of warmth and comfort.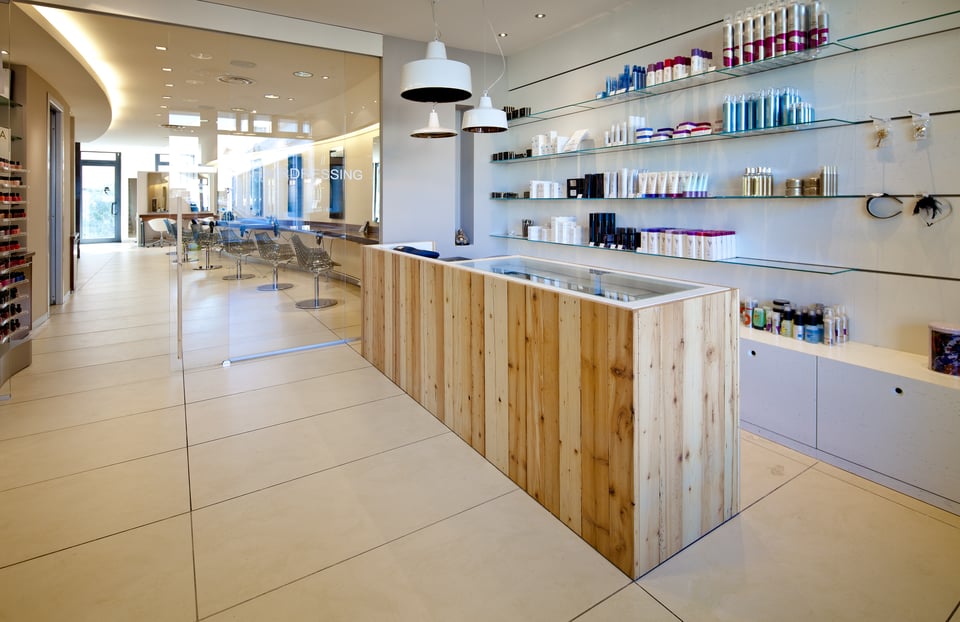 Gangster
The total white look of the suspension lamp Gangster, made of glossy white ceramic (available with a bronze interior), optimally illuminates the spaces, creating an energetic atmosphere.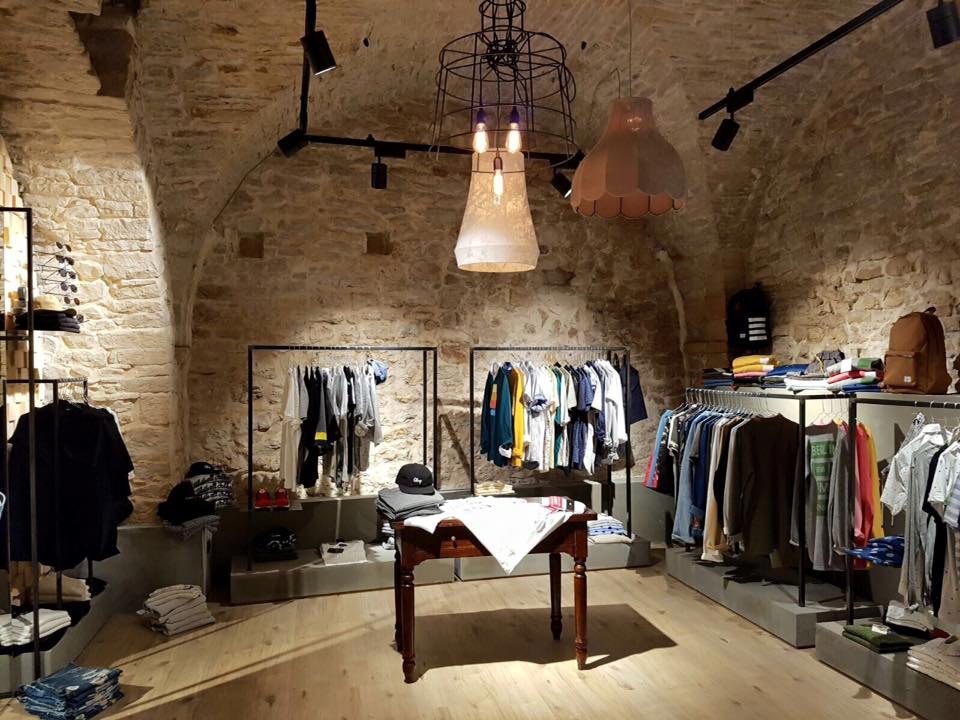 Life, Sisma
While with Sisma, spaces are dressed in warm light and the environment is intimate and welcoming. It is a suspension in metal rod with sharp and clean lines, whose completely bare lampshade houses three bulbs to hang and knot at will, thus creating different lighting effects.
5. Inconsideration of natural light sources
Artificial light illuminates environments without natural lighting.
On the contrary, sunlight adds that fresh and luminous touch that not all lamps are capable of conferring.
If the store already has good natural light, don't go overboard with artificial lamps and lights. However, it is necessary to select solutions that ensure that the store has functional lighting during the dark hours.
In this regard, we advise you to choose a lamp model that, in terms of design and brightness, can interact harmoniously with natural light without weighing down the atmosphere or bothering the eye.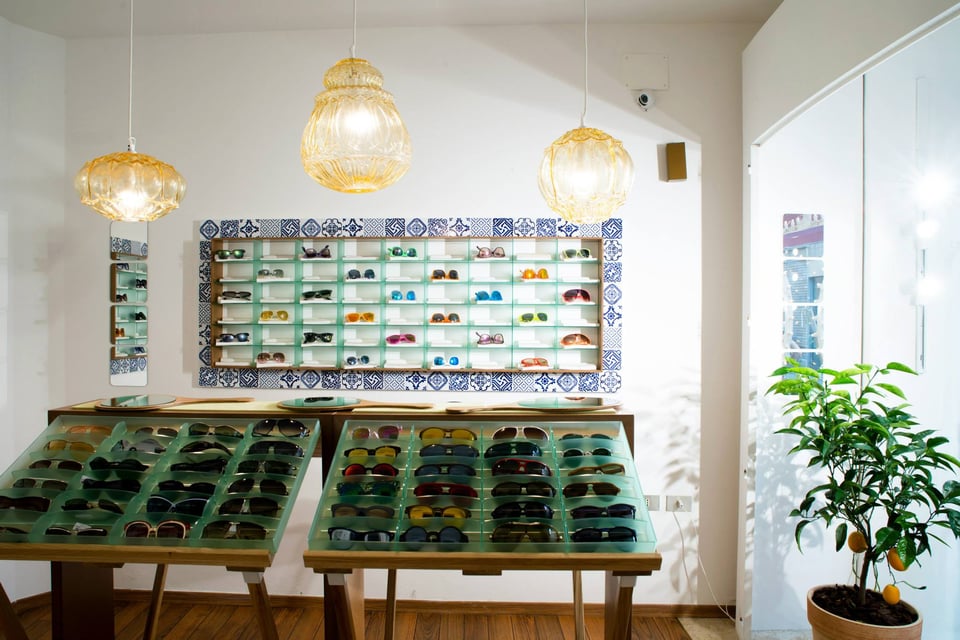 Ginger
A suspension like Ginger, in this regard, could be an excellent solution. It is a glass lamp with a retro taste that fits harmoniously into any environment. It serves as both a decorative element and an excellent source of lighting. With Ginger the light penetrates the glass and dances around the room, providing uniform lighting.
6. Poor lateral and floor lighting
Vertical light guarantees optimal gradations of ambient lighting throughout the store, while the sources of lateral and floor lighting are ideal for accent lighting.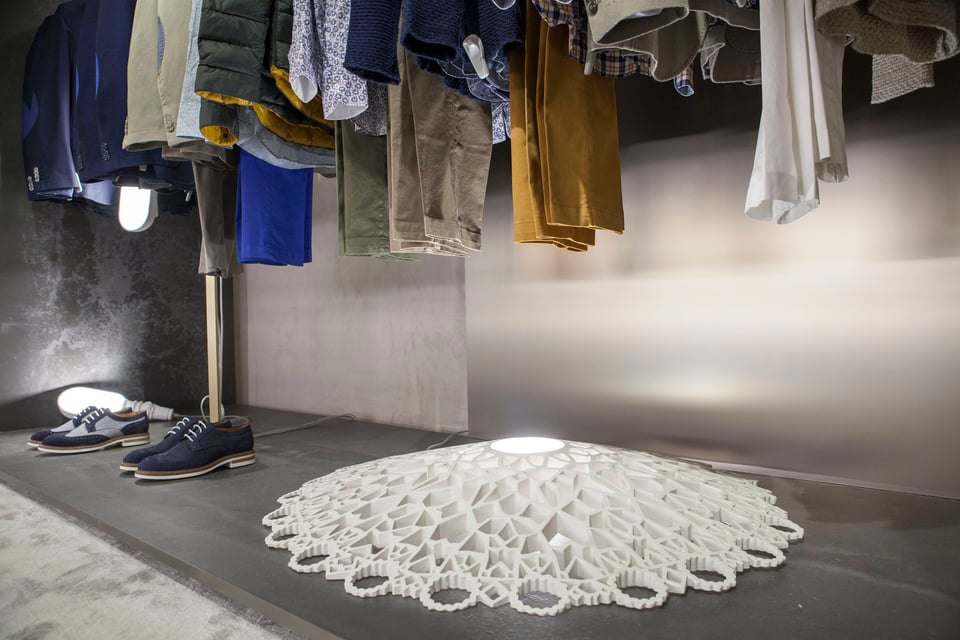 Notredame
Not introducing solutions of this kind means giving up the essential visual components for the aesthetic and functional rendering of the store.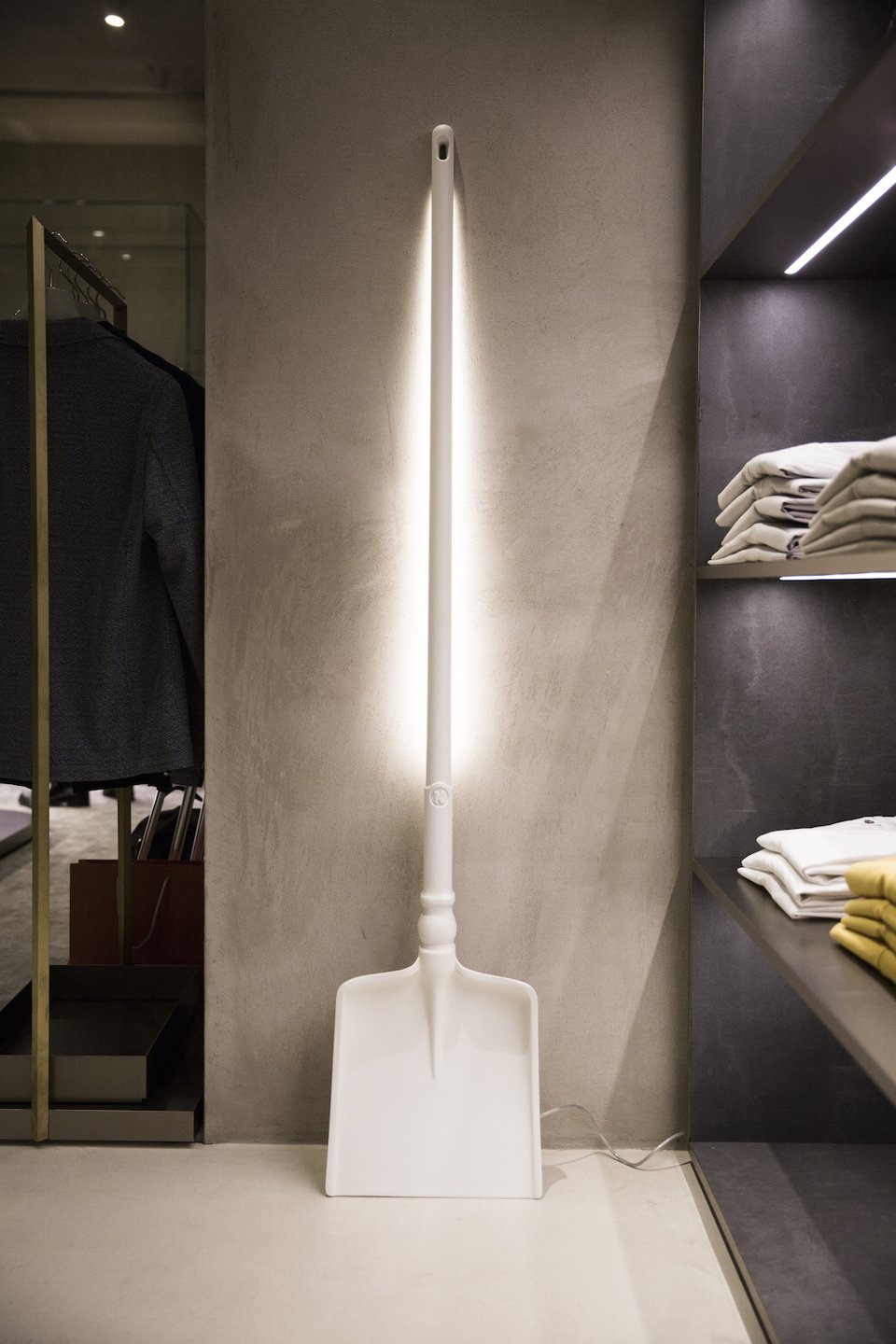 Tobia
In this sense, Notredame or a floor lamp like Tobia, for example, or an appliqué lamp like Work in Progress, would be able to replenish spaces with lights concentrated on more points and decorate the shop as authentic creative design elements.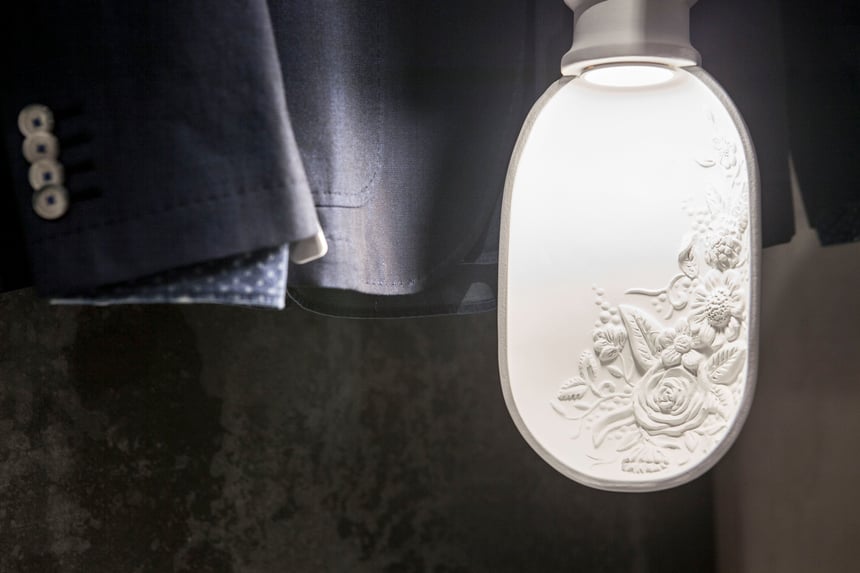 Work In Progress
7. Incorrect consideration of lamp materials
The luminous capacity of lamps depends both on the bulb temperature and the material with which the lampshade was made.
Do you want the store to enjoy direct brightness or soft and filtered light?
In order to not make mistakes and risk illuminating the areas of the room incorrectly, we advise you to consider the materials that cover the structure of the selected lamps to illuminate the store you are designing.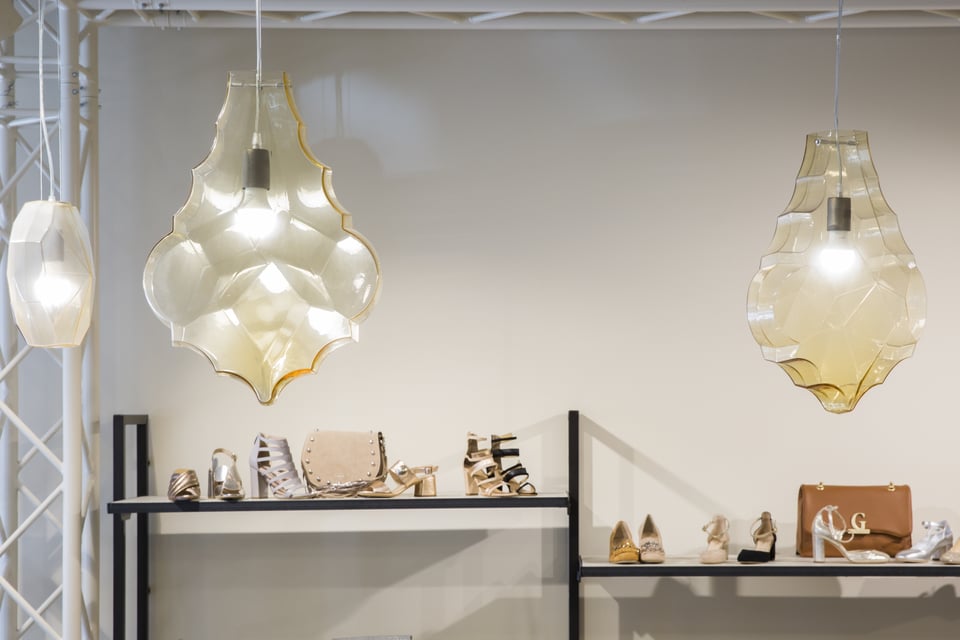 24 Karati
Lamps with glass lampshades (such as 24 Karati) or fabric allow light to filter through, while more compact and robust materials such as ceramic and cement "cage" or reflect light directing it onto surfaces. You can find proof of these effects with Life and Scrivimi.
Life has a metal wire frame covered in denim fabric with a vintage finish. In this case, the light passes through the shade, freeing itself vertically and at the same time filtering through the tears and wear along the fabric, continuously creating new and fascinating luminous designs.
With Scrivimi, the light is reflected onto the flat shade made of glossy white ceramic, with an unmistakable texture similar to the folds of paper, illuminating the spaces clearly and directly.
How to illuminate a store: aspects to consider
Realising a lighting project for retail spaces means taking care of the aesthetic and functional aspect of the entire environment in detail, combining stylistic concept and technical value in lighting design solutions with a decorative and performing character.
To avoid making trivial design mistakes, follow our advice. In this way, you will ensure comfort and a new personality at the store you are designing.
The result will be surprising.
For more information, support and assistance in choosing the right lamps for the store you are designing, do not hesitate to contact us at this link. We are at your complete disposal.