When design meets lighting, new and surprising lighting ideas for spaces are always born. Lighting design solutions can illuminate spaces with originality, communicate through style and transmit emotions with the charm of enchanting light. All this is possible if no mistakes are made in the realisation of the lighting project.
To err is human, but when it comes to planning an interior lighting design, care must be taken in every aspect. This is because choosing lamps that are not suitable for the design environments you are planning could ruin the visual experience of the observer or in any case those who often occupy these spaces.
The first impression is what counts, for this reason, the primary objective of the designers is to surprise the observers at the first impact, to impress them with original solutions capable of arousing unique and unexpected sensations through lighting.
However, aspects of functionality and style that are fundamental for a correct interior lighting design are often neglected, which on the contrary deserve careful evaluation.
To make mistakes in this sense is very easy, so how can we avoid this?
Discovering the mistakes made in the majority of interior lighting design projects will help you to avoid similar ones.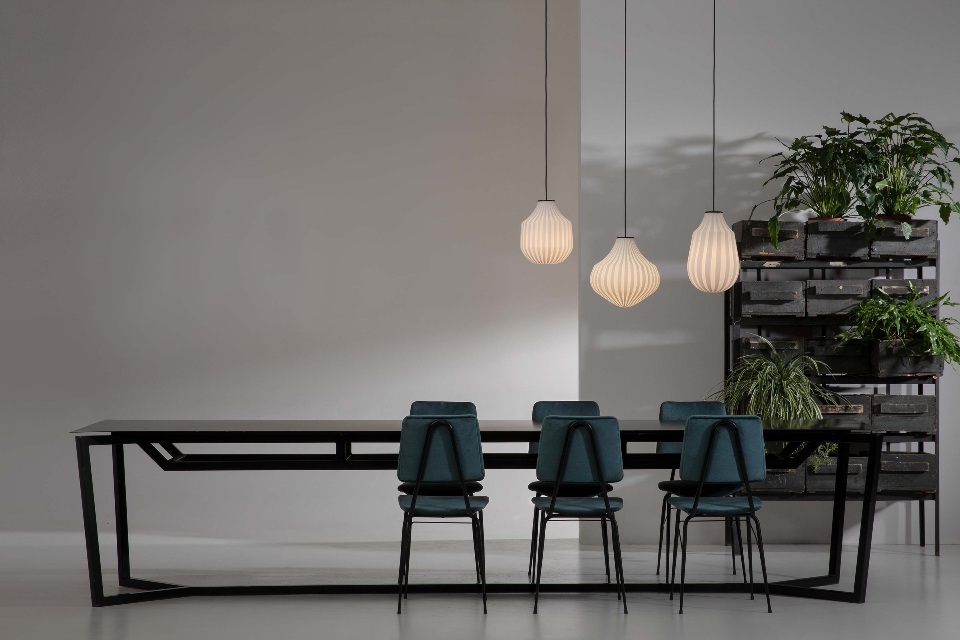 Circus
Interior lighting design: 5 mistakes to avoid
We have decided to draw up a list of the most common interior lighting design mistakes that should be avoided in order to realise a successful project.
1. Excessive or insufficient sources of light for the environment
It is clear that every room needs to be illuminated in the best way possible. Less obvious is the right amount of light to be introduced in various environments.
The intensity of light sources is not always calibrated ad hoc. In fact, often lamps whose brightness is inadequate for the spaces are used.
First of all, think about the dimensions of the space to be illuminated. Next, choose the type and number of lamps needed to give light to each room.
2. Layered light
In many cases, we do not think about the distribution of light on different levels. Gradations of ambient lighting, task lighting and accent lighting (respectively ambient, activity and accent lighting) contribute to increasing the overall lighting quality of the environment and ensuring greater visual flexibility within the room.
We suggest aiming for quality and comfort by using more solutions to better illuminate the spaces, in such a way to provide layered lighting in your interior design.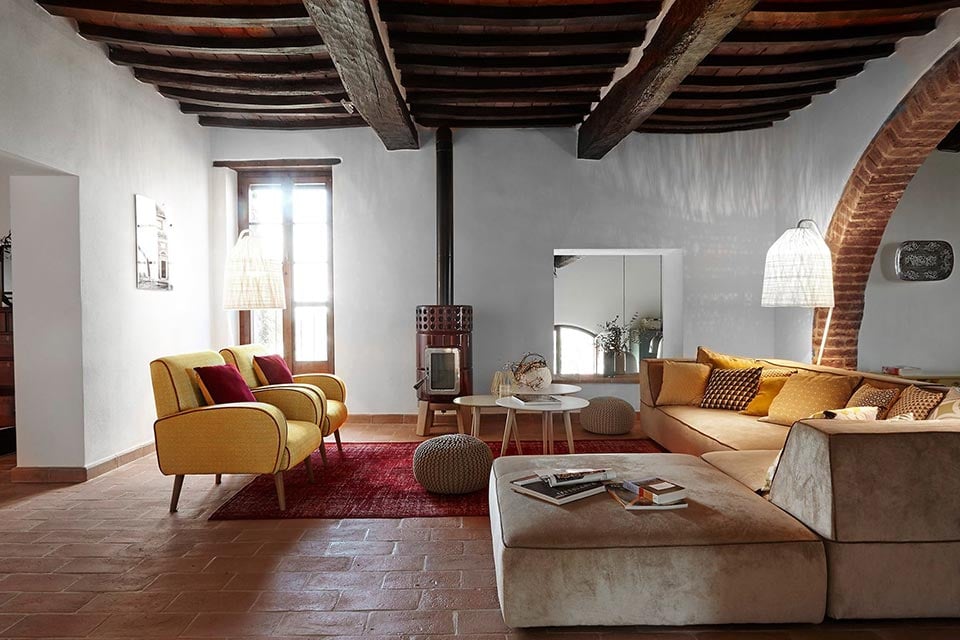 Black Out
3. Incorrect and non-functional arrangement of lamps
Angles that enjoy optimal lighting and others obscured by low light points are the consequences of the improper positioning and use of lamps.
Let's assume that you are dealing with the design of a studio. You decide to install table lamps on the desk which, guaranteeing high levels of task lighting, will allow you to read, write and work in total comfort. But, on the other hand, the whole room lacks ambient lighting, so moving around becomes impractical.
This is a concrete example of an impractical lamp arrangement that is unsuitable for illuminating every corner of the room. To avoid making the same mistake, we recommend that you do not give up on lighting solutions targeted for each activity and location.
4. Wrong sized lighting systems
This is a mistake made by many. The ideal lighting for interior design should commensurate with both the spaces and the elements of furniture.
For example, choosing to match a lamp of considerable size with furniture objects already rich in aesthetics could overload the atmosphere and make it suffocating.
The same result could derive from the introduction of a solution that is too large in a small and intimate space since it would be too unwieldy.
5. Same type of lamp used for rooms with different uses
In each room different activities are carried out, so different lamp models are needed, useful for each workstation and ideal for creating unique atmospheres.
Giving light to every room with the same solution will make the room or the structure you are dealing with cold and aseptic, overall lacking in personality.
Want to find out how our lamps were positioned in some lighting projects for private homes? Download the catalogue below!
The most suitable lamps for interior lighting design
We have just analysed the missteps that often lead to the choice of poor quality and functionality interior lighting design solutions. Let's proceed with the design lamps that are most suitable for interior lighting and see how they can help you avoid previous errors:
Private homes
Restaurants
Hotels
Private houses
Avoid flat lighting that lacks layers. Choose applique lamps: solutions that are ideal for giving ambient lighting to the interior of the home.
In addition, these lamps not only provide task lighting and give light to activity and workstations, they also become excellent accent lighting solutions. You could distribute multiple applique models on the walls to call attention to photos, paintings or a creative design element.
The positioning of the applique lamps depends on the type of atmosphere you want to create and the areas to be illuminated.
Déjà-Vu wall lamps distributed along the corridor walls provide brightness and diffused light to the entire path, thanks to the linen lampshade. In addition, the finely decorated arms with floral patterns act as elegant ornamental details.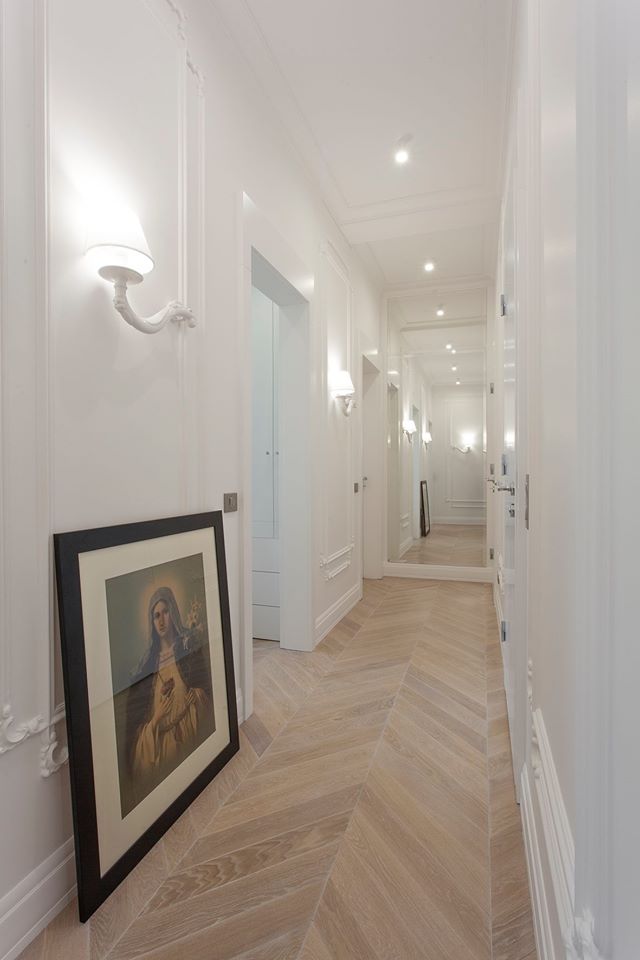 Dejà-Vu
Table and floor lamps (for example, the standard lamps) are ideal for the functional and decorative lighting of large and small bedrooms. In addition to illuminating the rooms, they act as real furnishing objects and are useful for filling the corners of the rooms.
To provide excellent ambient lighting for the kitchen, bedrooms, corridors and stairwell suspension lamps are great.
For open spaces and living rooms, we suggest you opt for ceiling lights, lamps with a cosy and comfortable mood, able to release gleams of soft light into the air.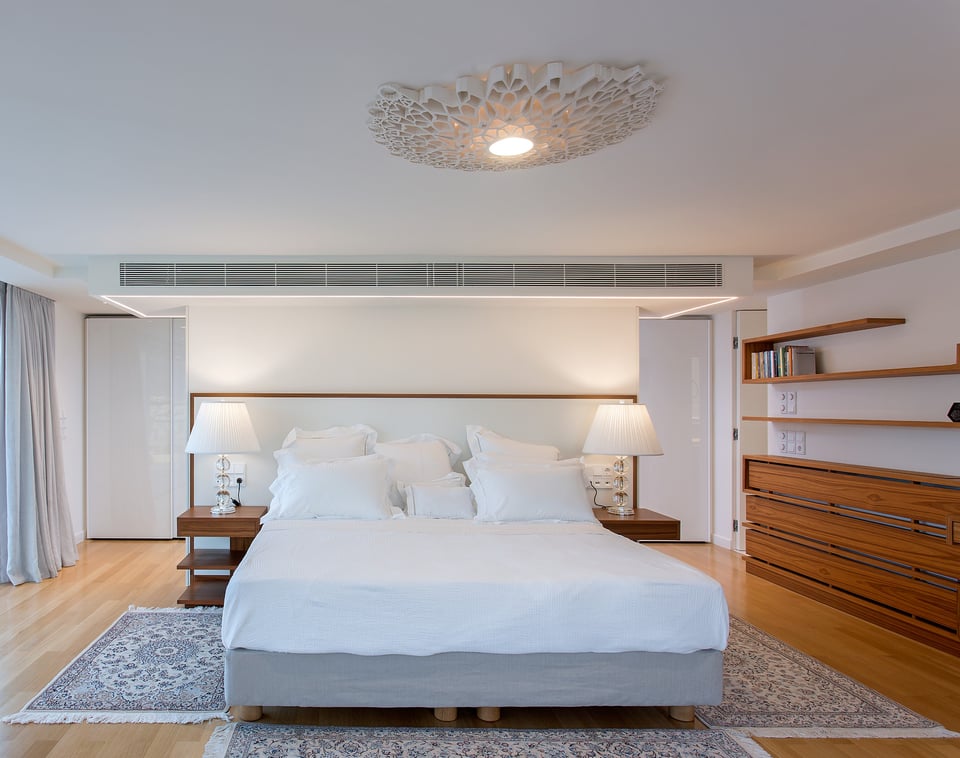 Notredame
Notredame could be the ideal solution for this purpose. It is a ceiling lamp, created by Luca De Bona and Dario De Meo, with a complex design and important dimensions and does not weigh down the atmosphere because it captures the observer's gaze without tiring it, adapting harmoniously to the environment as a decorative element.
For further details, we suggest the article: Decorative home lighting: giving light to every room
Restaurants
As regards decorative lighting for restaurants, suspension lamps are suitable for illuminating the whole dining area and in particular tables and a bar corner.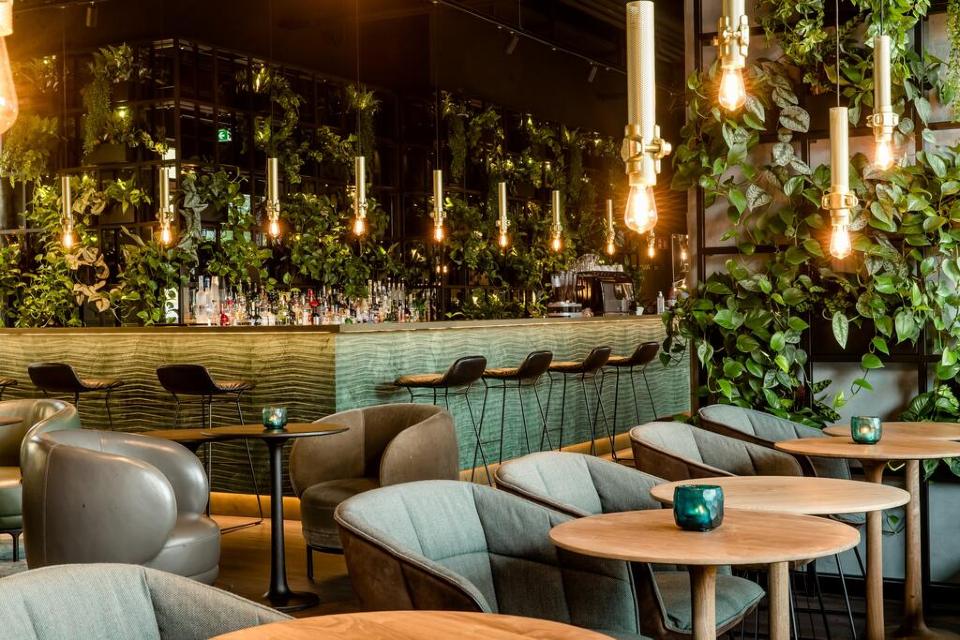 Nando
Suspension lamps are very versatile solutions, also suitable for illuminating transit areas, such as corridors and staircases.
Installing these types of lamps will help you to give homogeneous lighting to every point of the room, thus avoiding concentrating too much light on certain points and leave other spaces dimly lite.
Another tip: To guarantee excellent levels of task lighting place table lamps on the tables. In addition to illuminating the dishes, these solutions will act as focal points guiding the guests inside the hall.
Bacco is a table lamp by Matteo Ugolini, a symbol of the "candlelight" dinner, but in the prêt-à-porter version. Ideal for illuminating foods and dishes, perfect for creating a romantic atmosphere, thanks to the effect of frosted glass that provides soft and delicate light.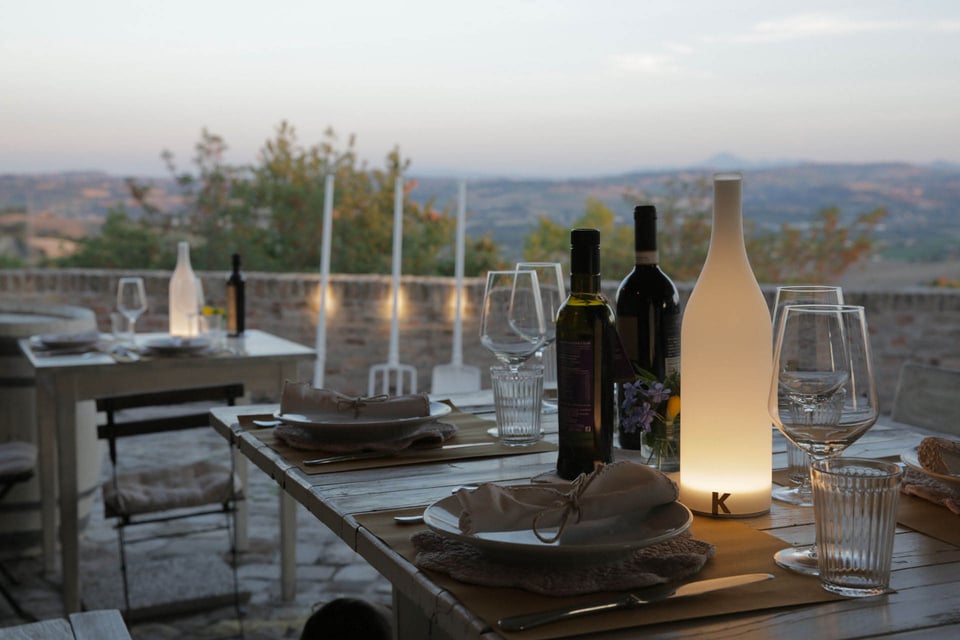 Bacco
You can even use wall lamps in restaurants, perhaps in the bathroom, perfect for instilling a warm and intimate climate.
Do not forget about outdoor lighting, decisive for the image of the room. Rely on the decorative capacity of floor lamps, ideal for embellishing outdoor spaces and creating paths inside the restaurant.
Hotels
Each type of accommodation structure, whether small or large, houses a large number of rooms that need lighting that is suitable and specific for the activities carried out within them.
In your hotel lighting design, you could propose suspension lamps. A model that is always versatile and suitable for every interior, which will also fit in the reception area or hall of a hotel, areas where sensations of welcome and comfort should be perceived immediately.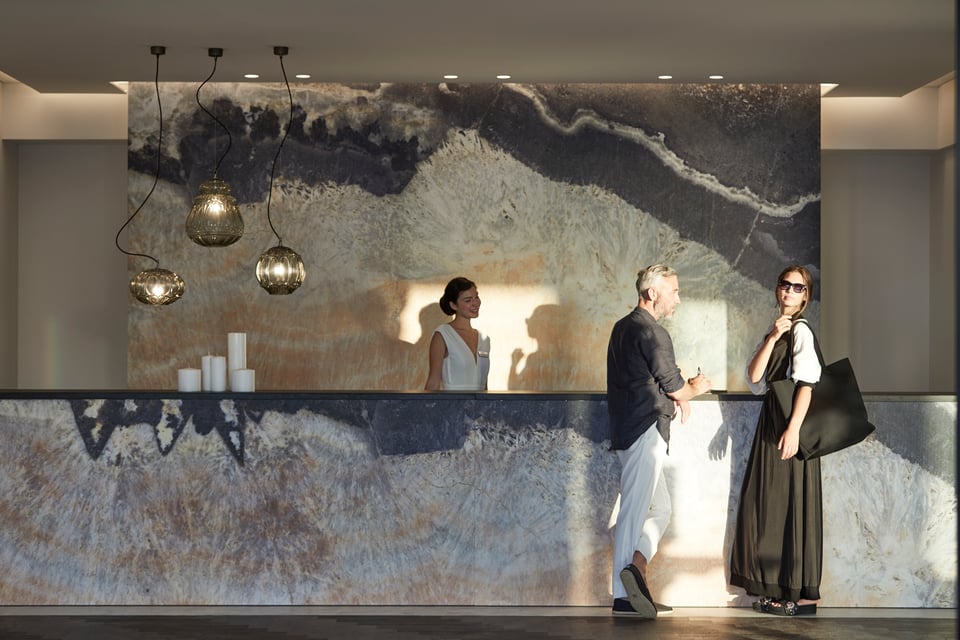 Ginger
Ginger is a suspension lamp in a smoky coloured glass, made by Edmondo Testaguzza, which fascinates and captures the eyes of everyone if positioned in the reception area of a hotel. A small jewel of light with a retro taste, whose light pervades soft and fluid spaces.
In addition to the entrance, the suspension lamps could provide light to other areas of the hotel and ensure the lighting of the hotel room's bathroom or the spa, for example.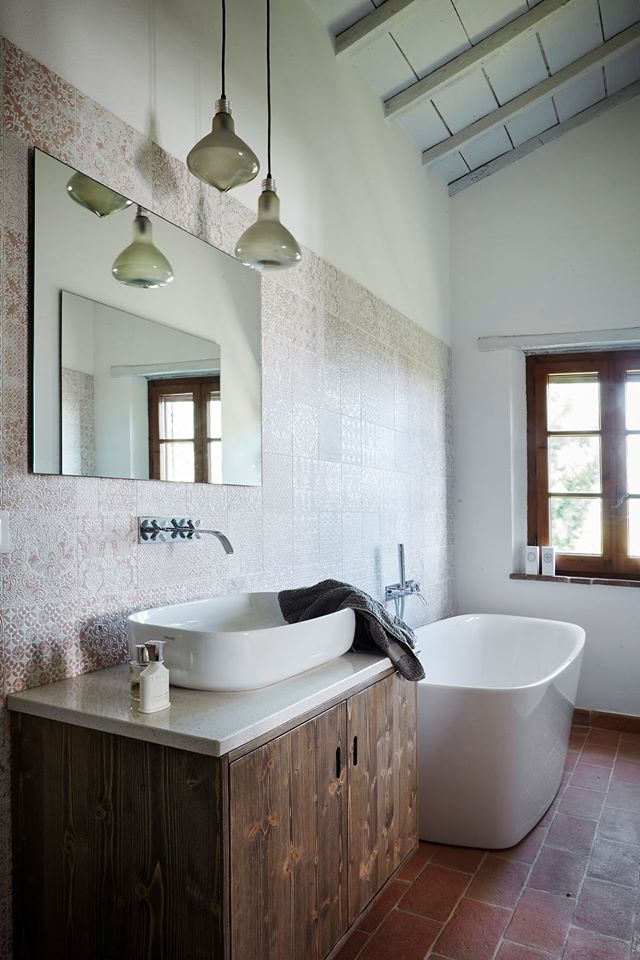 Makeup
Just like Makeup, a suspension lamp designed by Matteo Ugolini, ideal for this area dedicated to personal care. The restyling of the old light bulb has led to the realisation of this lamp in a transparent satin glass, with a simple design and great lighting power.
The ability that ceiling lights have to create sober and functional atmospheres could prove decisive and useful for illuminating the conference room and lounge area, where guests can wait in total relaxation.
Applique lamps could be interesting solutions to illuminate corridors. One trick: place them next to the bedroom doors to guide guests to their rooms and give uniform lighting to the entire path in one shot.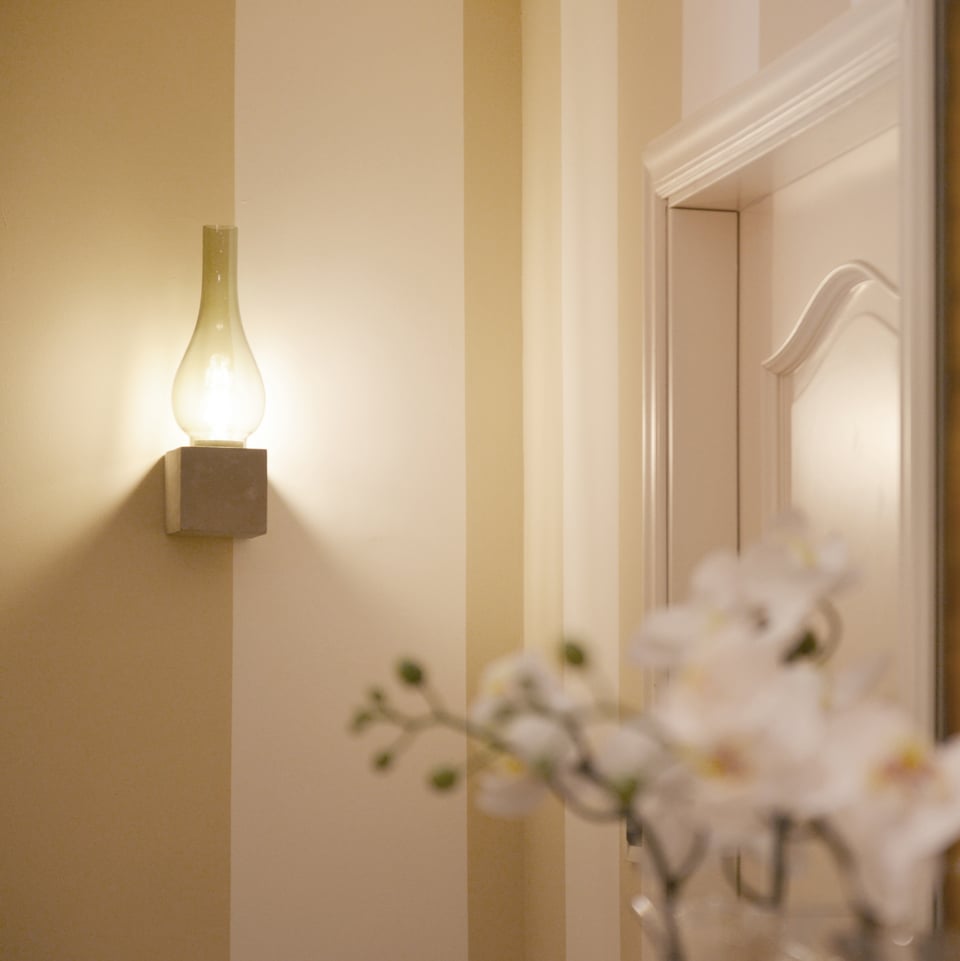 Amarcord
With Amarcord, the flame of the old oil lamps still seems to be alive and dancing, but it is nothing more than true, pure light with a smoked glass shade. This applique evokes the shape and lines of the oil lamp but renews its character on an unpolished or white concrete structure: a touch of modernity and innovation to provide diffused and bright lighting in the hotel areas of passage.
Three different lighting solutions used in one place to give variety to the environment aesthetically and meet the functional needs of each space.


The decisive role of each lighting fixture in interior design
Each lighting solution is essential and decisive in making private homes, restaurants and hotels places that are liveable and functional to the max, without sacrificing style and elegance.
The essential ingredients for a successful interior design lighting project are:
Light calibrated according to the type of room
Lighting levels adapted to the daily activities performed in each area
Lamps with dimensions suitable for the surrounding space
The arrangement of the light sources strategically and relating to the spaces
More lighting solutions to guarantee lighting variety at a visual level and greater visibility
If you follow our instructions for the interior lighting design for an impeccable project, you cannot go wrong.


Want to find out how our lamps were positioned in some lighting projects? Download the catalogue here
For more information, support and assistance in correctly choosing the right impact for your interior lighting design, do not hesitate to contact us at this link. We are at your complete disposal.