Whether it is a private home or in contract contexts, indoors staircases act as important passage areas and connect the different floors of the house, hotel, or club.
Not only. An indoor staircase can also become the true protagonist and confer character and personality.
However, this space needs optimal brightness so that it is possible to combine aesthetic and functional needs and be able to move easily, smoothly, and in complete safety, both during the day and at night.
To guarantee the correct lighting of an indoor staircase, you have to remember that it is as important as illuminating all the other main rooms of the house or accommodation facility.
A lighting design project to illuminate an indoor staircase properly must ensure not only excellent visibility and comfort, but also make this transition area a furnished area that is elevated through lighting capable of highlighting its shapes and materials.
Given the particular characteristics of this area, the lighting requires special precautions.
In this article, we will find out exactly how to illuminate an indoor staircase correctly and which decorative lamps to choose to combine functionality and style thanks to 4 ideas by Karman you can take inspiration from.
In particular, we will take a look at: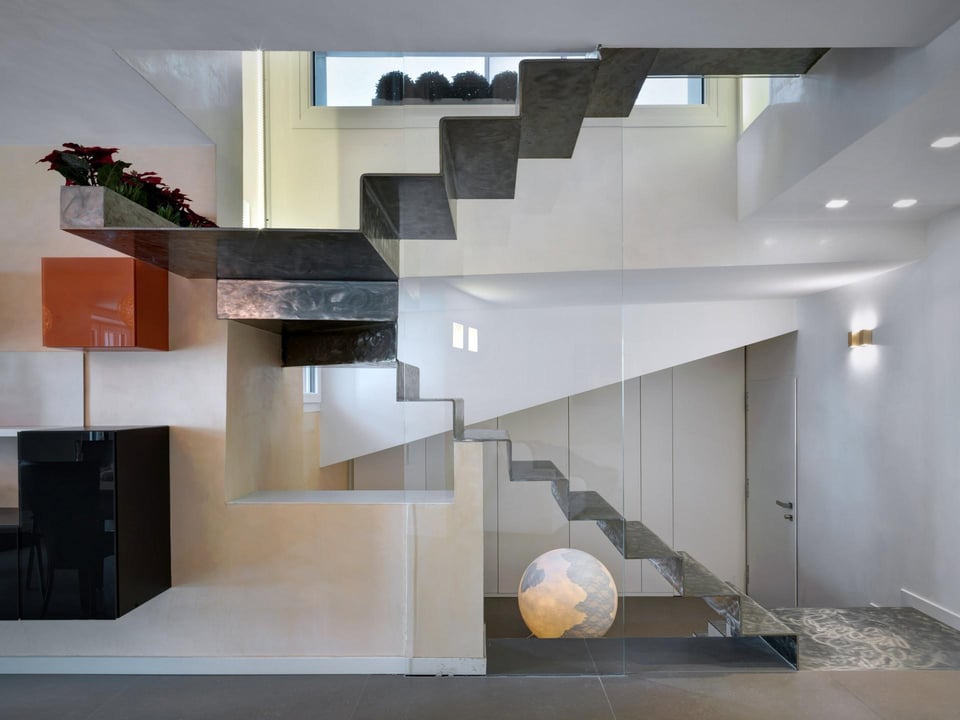 Ululì - Ululà
How to illuminate an indoor staircase: all the factors to consider
There are ideal lamp models and lighting levels to illuminate an indoor staircase.
It all lies in knowing how to set the right mood and select the most suitable solutions, taking into account the overall concept to be developed and the functional role of this area.
Before moving on to choosing the most suitable light sources, there are some key factors to consider, and they must take into account the decisive role of the lighting design of an environment.
The design and development of the staircase
To correctly select the lamps that will illuminate the indoor staircase, it is essential to take into consideration the size and configuration.
Only in this way will it be possible to identify the most suitable and capable solutions, provide optimal levels of lighting, as well as a great aesthetic impact.
There are so many types of staircases. Let's look at some of the main ones.
Open staircases are those with the load-bearing structure in sight. The types of staircases that we will see shortly can be open or, on the contrary, in masonry;
Spiral staircases

are distinguished by

the central structure to which the steps are attached and that creates the spiral shape. They are particularly suitable for small spaces;
"L" shaped staircases

are straight staircases with a turn

(which may be in the center or closer to either end) with a landing attached;
"U" staircases

are formed by

two flights of stairs going in opposite directions

and a large landing that acts as a hairpin bend.
Taking this distinction into account in the lighting design will be essential for deciding how to illuminate an indoor staircase correctly.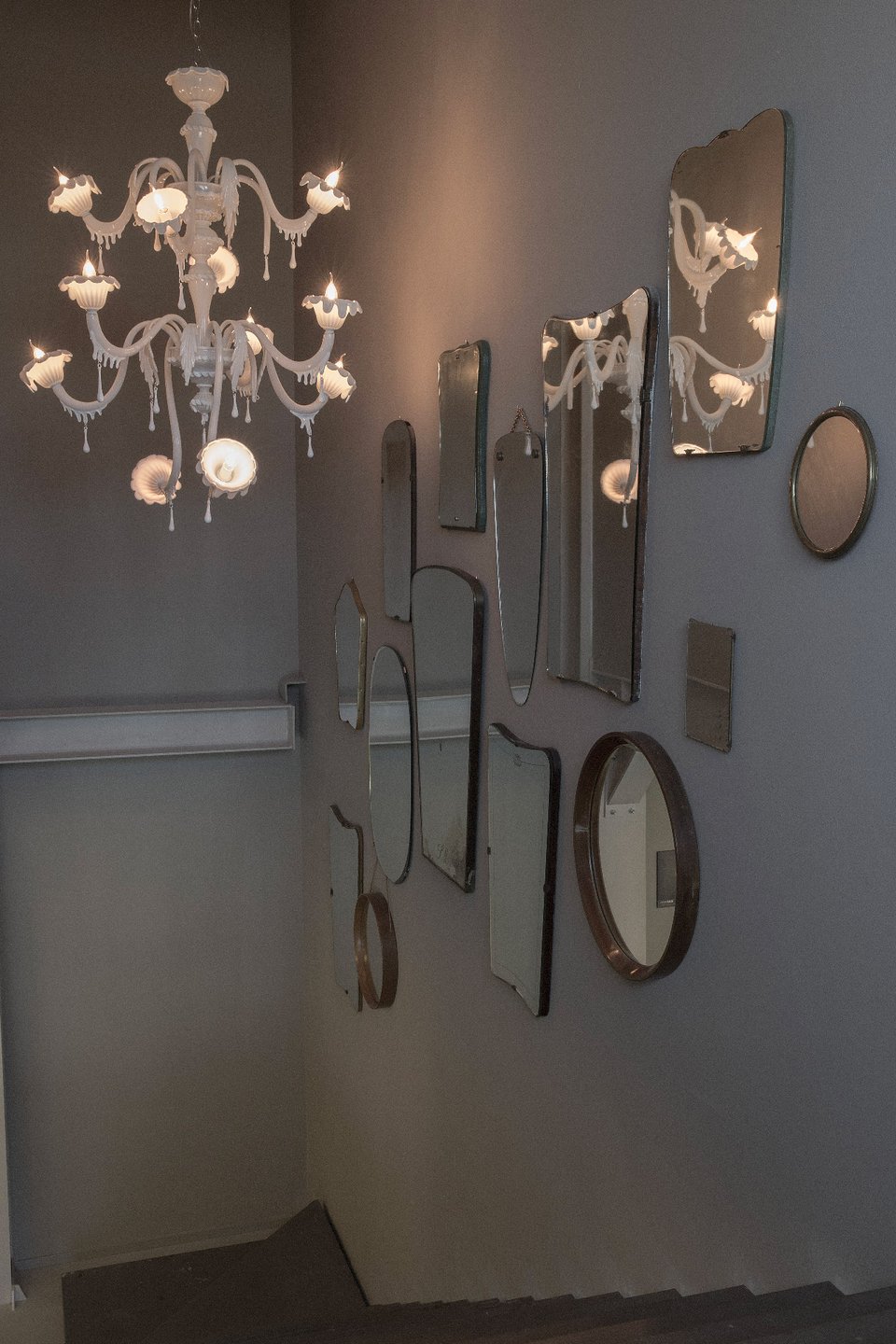 Au Revoir
The color temperature
Choosing the right color temperature is a fundamental step for the success of any lighting design project.
So, one of the questions to ask yourself when wondering how to illuminate an indoor staircase is: warm or cold lights?
The choice will depend a lot on the atmosphere you want to create through lighting as well as the brightness of the environment.
Intense white lights infuse a stimulating and energetic atmosphere, while bright lights tending towards orange and yellow make the atmosphere more intimate and comfortable.
If the indoor staircase is located in a specific point of the home or contract environment in which there are no windows or sources of natural light, or it is located between two masonry walls (which therefore do not let the light filter in), you should use clear, direct, and intense sources of lighting.
In this specific case, the right idea could be to install suspension lamps along the staircase or place a single light point in the center of the ceiling.
A chandelier like Au Revoir by Karman, for example, could be the ideal solution.
Let's talk about a suspension lamp with an eclectic concept, by Matteo Ugolini, able to illuminate the darkest spaces and revive the atmosphere, while ensuring the required visual comfort.
Its unusual and captivating shape moves towards a stylistic direction halfway between the old and the new.
Its opal white glass body and corolla-shaped lamp shades evoke the image of the majestic chandeliers of the past.
The details and the disjointed contemporary arrangement of the arms, by contrast, are an authentic style statement, perfect both to embellish the indoor staircase of a private home and the lighting at a hotel, focusing on sophistication.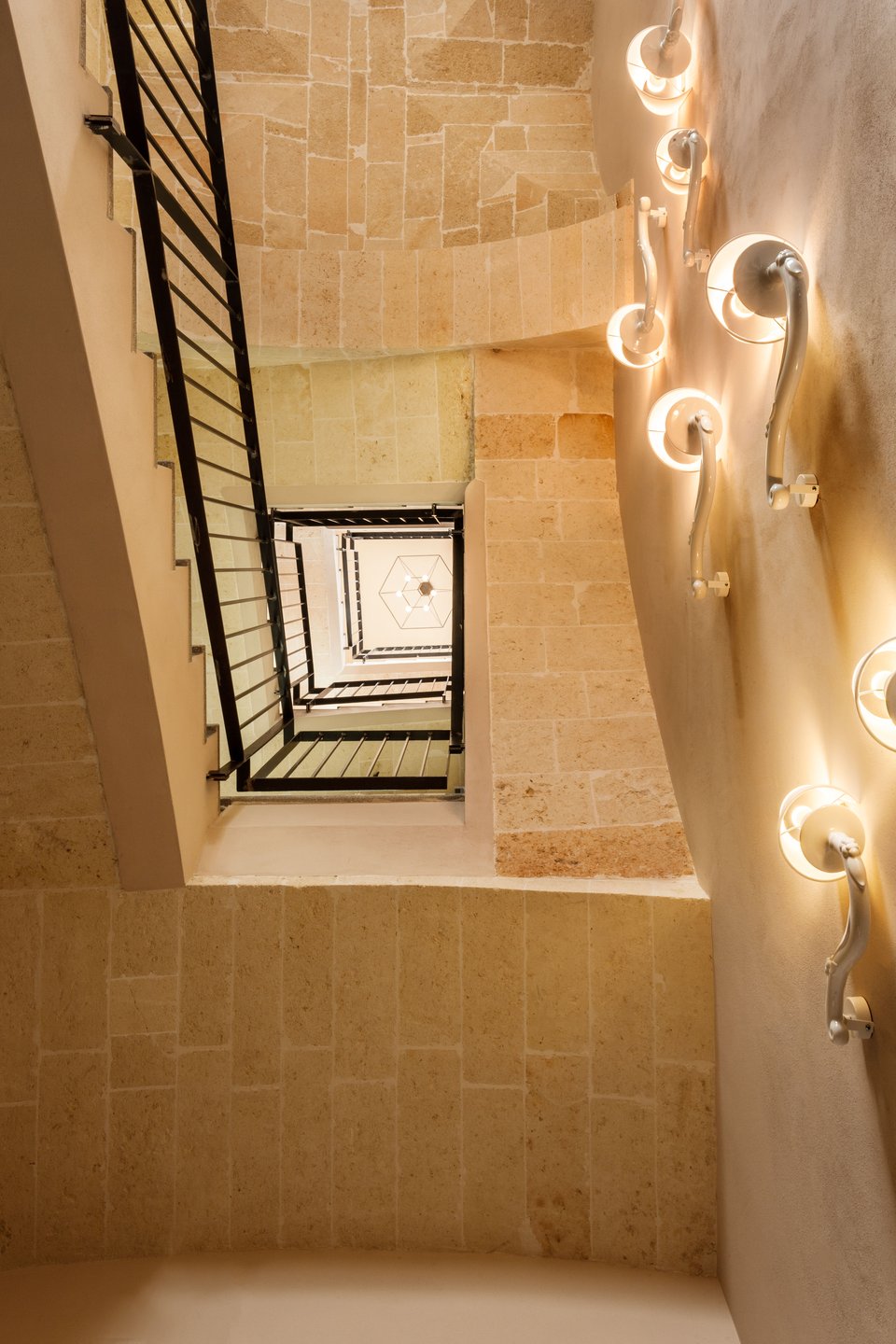 Dejà-Vù
Illuminate without blinding
We have said how fundamental it is to ensure excellent visibility in this important transit area but without blinding.
Installing LED strips below the steps could be a good solution: the direct and well-distributed light highlights the surfaces without being bothersome.
Alternatively, the right idea could be to use wall lamps along the wall.
Wall lamps are excellent sources of task lighting and indirect light.
Moreover, if chosen in line with the overall mood of the location, they decorate spaces like real design accessories and add a touch of glamor which, in a contract context, will remain imprinted in the minds of clients.
Just like Déjà-Vu, a wall lamp designed by Matteo Ugolini, who wears white with refinement.
It's a lamp with a curvy silhouette, decorated with bas-relief floral motifs, and a linen lampshade for diffused and pleasant lighting.
The materials of the staircase
To illuminate an indoor staircase and obtain an impactful aesthetic result, our advice is to match the model and design of the lamps with the staircase's materials.
For example, the total white look of Norma M goes perfectly with any material and enhances its aesthetic charge.
It's a wall lamp, designed by Edmondo Testaguzza, with a matte white ceramic structure and white linen lampshade that allows a soft diffusion of light throughout the environment.
Light points under the staircase as accent lighting
An indoor designer staircase can become the real protagonist of the house and deserves to be enhanced.
To achieve this goal and highlight shapes and materials, a successful lighting design project should include the illumination of the underlying part as well with the use of adequate accent lighting.
You can use floor lamps, which in addition to highlighting the shape of the staircase become charming decor items.
For example, you can create a focal point under the staircase with the lamp Ululì - Ululà, a spherical fiberglass enriched with lace inserts. It is a design solution with great decorative potential that gives spaces soft and filtered light.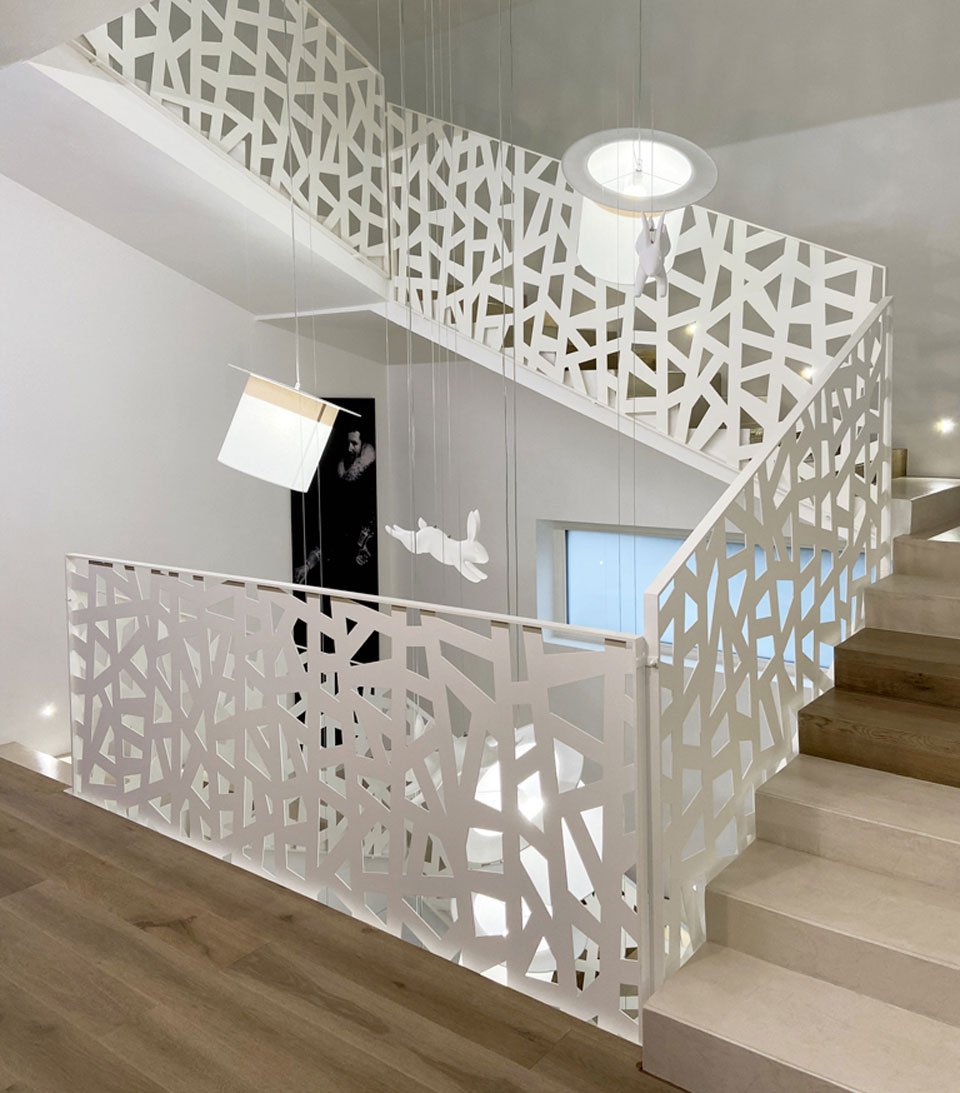 Wow!
How to illuminate an indoor staircase: 4 ideas by Karman
As we have repeatedly reiterated, when illuminating an indoor staircase, understanding the correct level of functional lighting is fundamental, which is true for every other room in the environment that is being designed.
But, in addition to the practical aspect, it is also necessary to pay attention to the design of the lighting sources or find the right balance between decorative and technical lighting.
But is it possible to combine functionality and style in a single solution? The answer is yes.
Using designer lamps that guarantee high performance will provide the necessary visibility and lighting to make the staircase functional, introducing, at the same time, an original decorative element.
Karman designer lamps are capable of adapting to the mood of each location to make it unforgettable.
Let's take a look at 4 ideas you can take inspiration from for the lighting of different types of staircases.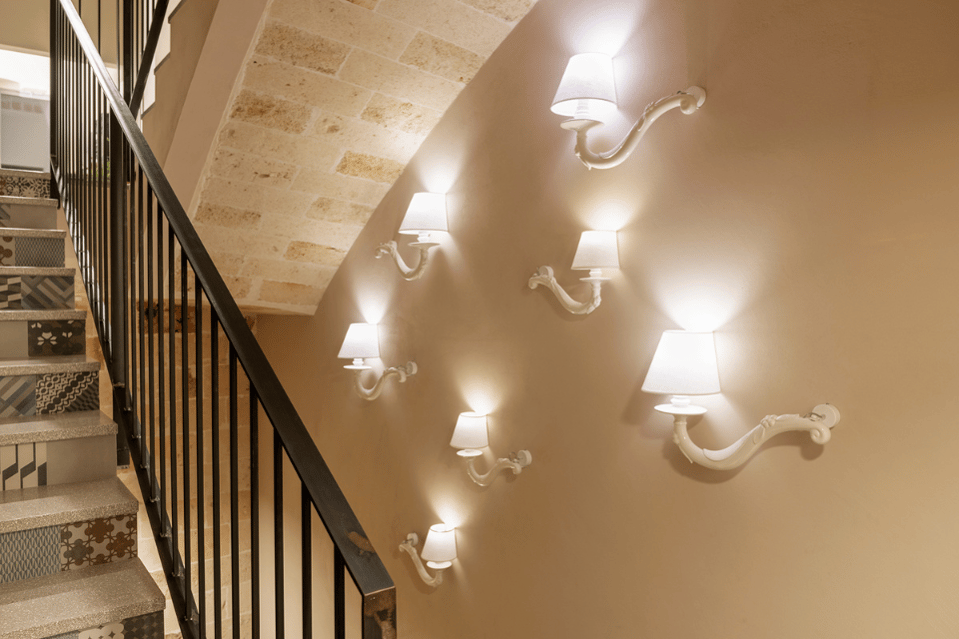 Dejà-Vu
1. Cell: bright lanterns to light up an open indoor staircase
One or more suspension lamps like Cell are perfect for illuminating an open indoor staircase, shining in the center of a high ceiling.
This lamp, in structure and spirit, has the structure of the first Chinese lanterns.
The structure in white or bronze metal wire houses a linen lampshade which allows the light to filter out in a suffused way, giving the environment streams of intense brightness.
The silk tassel? An unmistakable style detail that bears the signature of designer Matteo Ugolini.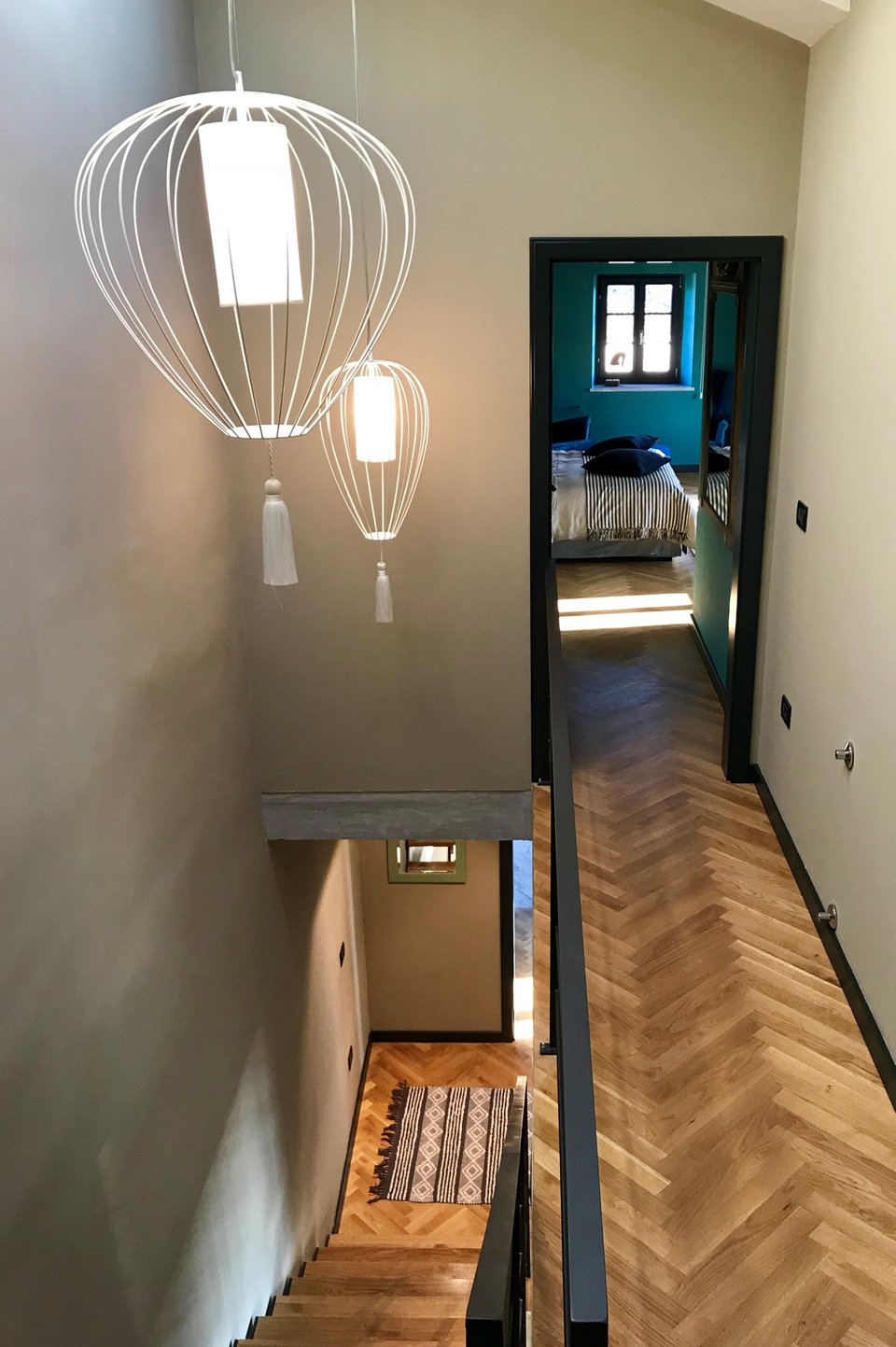 Cell
2. Sisma: illuminate an internal open staircase with a minimal design
Modeled and welded construction site iron that becomes the backbone of the style of the environment.
Sisma is an industrial style suspension lamp able to immediately characterize the environment loud and clear.
This lamp by Matteo Ugolini always offers new light designs and guarantees excellent levels of task lighting.
The structure in metal rod makes this lighting design solution a decorative element that is as essential as it is unconventional.
Perfect for illuminating the indoor staircase of a private home but also for the decorative lighting of a trendy restaurant arranged at different levels.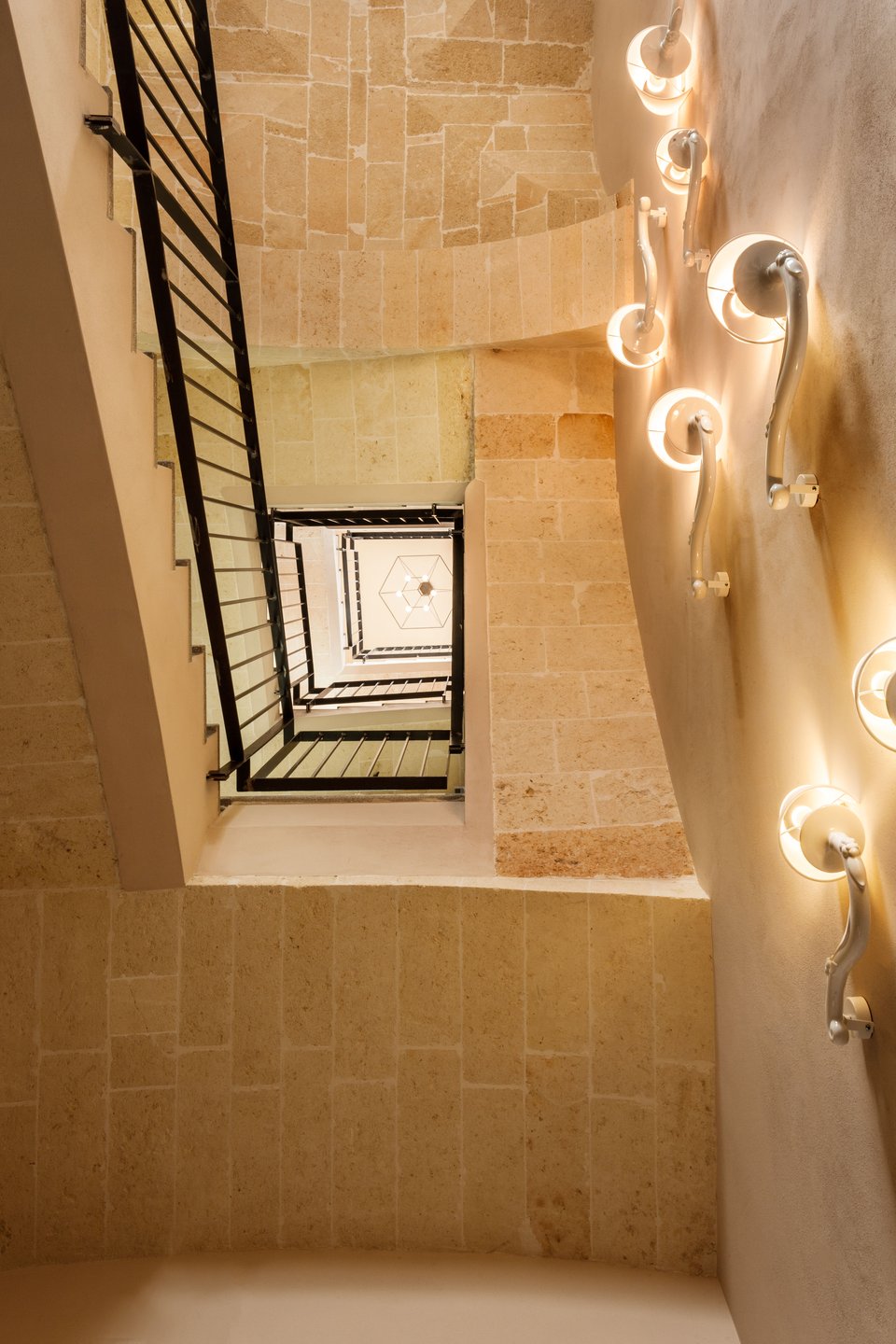 Dejà-Vu
3. Illuminate a spiral staircase with 24 Karati
Spiral staircases are certainly not the most comfortable type of staircase but it satisfies the needs of small spaces and is certainly a design element.
To illuminate an indoor spiral staircase and make it magical, if the height of the ceiling allows it, an unexpected idea could be to opt for suspensions with a scenographic effect.
Like 24 Karati, a collection of elements in straw yellow or smoked transparent glass that will create precious flashes of filtered light.
4. Alì e Babà: the designer wall lamp to illuminate an L or U-shaped staircase
Both L and U-shaped staircases are characterized by the presence of a landing that needs to be well lit and, why not, amaze those who walk up it.
Alì e Babà, a designer wall lamp, made by Matteo Ugolini, is perfect as a light point that uniformly illuminates the landing between the two flights of stairs.
Alì e Babà is as candid as the wall that hosts it, but still manages to stand out thanks to its well-defined silhouette and the glossy reflections of the white glazed ceramic material that makes up the entire structure.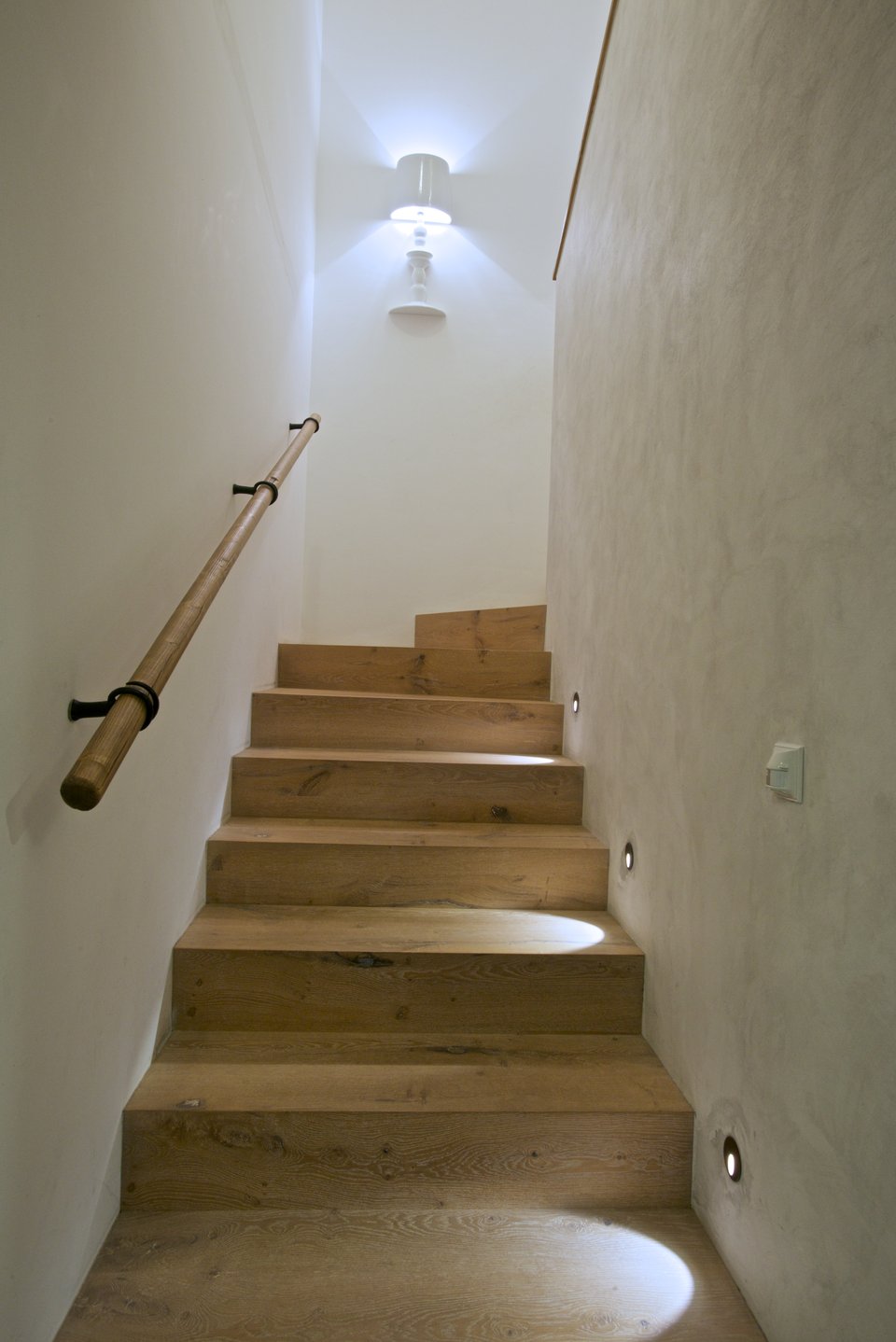 Alì e Babà
How to illuminate an indoor staircase: everything you need to know
We have seen how when it comes to developing lighting projects for private or contract environments, the lighting of indoor staircases should absolutely not be left to chance.
Light plays an important role in these transit areas as it guarantees comfort and safety at every move, both during the day and at night.
But that doesn't take away from the choice of designer solutions that can also give character and elegance to this furnishing element, transforming it into the great protagonist of the location.
In fact, decorative lighting allows you to enhance any environment with style while responding to its functional needs.
By following our advice step by step on how to illuminate an indoor staircase correctly, you will obtain a final result of high technical and stylistic quality.
For more information, support, and assistance in choosing the right lamp models for illuminating indoor staircases and transit areas in private homes or contract environments, do not hesitate to contact us at
this link. We are at your complete disposal.