When you cross the threshold of a room,what immediately strikes the eye and involves the viewer is the lighting. This is because light has always been an indicator of excellence in setting an environment's mood and degree of hospitality.
Beyond this, lighting changes our perception of locations and the atmosphere that reigns there.
Herein lies the reason why today private individuals and interior designers invest their time and money in lighting design projects for private homes, restaurants and clubs, accommodation facilities and hotels, as well as for shops and retail environments.
In this article, we will show you the main reasons why it is worth investing in a decorative lighting project.
5 reasons why the role of lighting in the design of an environment is important
Below is a brief overview that demonstrates how light combined with design is able to make any type of setting and furnishing scenario more pleasant and comfortable, as well as more engaging at a visual and sensorial level.
If installed correctly, lighting can:
Let's continue by analyzing each point.
1. Manage the color
The use of lighting can emphasize or soften the chromatic charge of the colors chosen to paint a room. Darker colors make rooms smaller and narrower, while the light-colored walls give the exact opposite perception.
The illusion of space is defined by the light reflected on the surfaces and walls. Some luminous bodies contribute to amplifying this type of "perceptive illusion", further illuminating the walls.
In addition, directional lighting, for example, track lights or suspensions, can dampen the visual accent of wall colors.
Other valid solutions to manage the impact of colors are recessed lamps, which guarantee a soft and descending glow that tends to give greater brightness to the floors rather than the walls.
To give a touch of additional color to the furnishing context, you could opt for an animal-print applique in matte white ceramic. In this way, in addition to breaking the chromatic continuity of the walls, this type of lamp will introduce a functional light point in the room.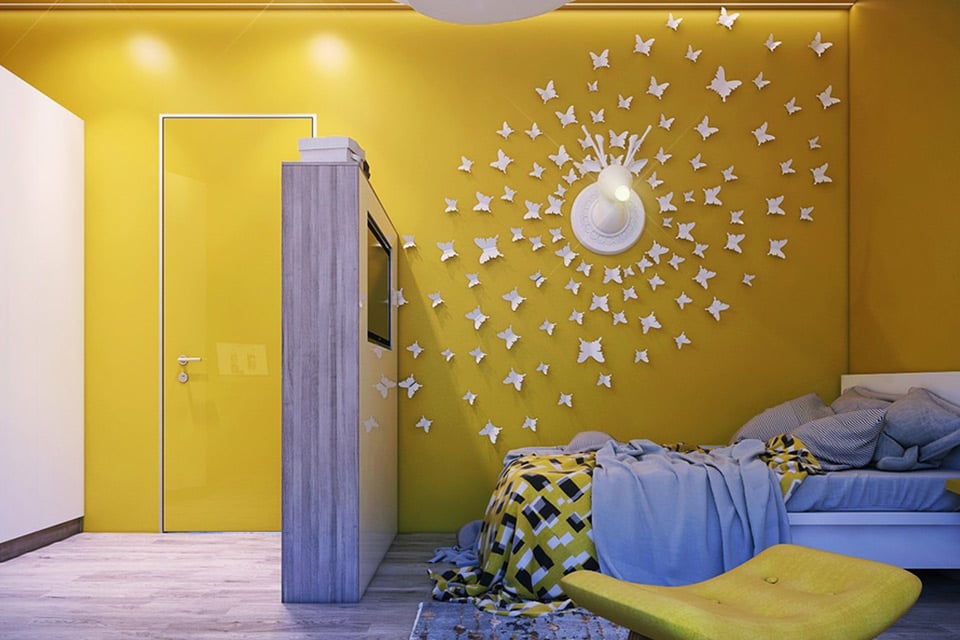 Marnin
2. Ensure functionality and security
As has already been said, lighting plays a key role in interior design in terms of style and aesthetics, but above all, in terms of safety and functionality.
Often, for example, to give greater luminosity and visual impact in large foyers and open spaces, sumptuous designer lamps or precious chandeliers are selected. The important dimensions of these solutions generally imply greater brightness given the amount of light bulbs and light sources that make up the lamp.
These proposals are accompanied by the use of other lighting solutions such as wall lamps, which add length and dimensions, visually, to an entrance hall, in addition to illuminating the passage areas.
To carry out this task, you could also use several built-in solutions with a smoked frosted glass diffuser to create a guiding light along corridors, dormers, or stairs or to add more light to the corners of a large living room already illuminated by a chandelier.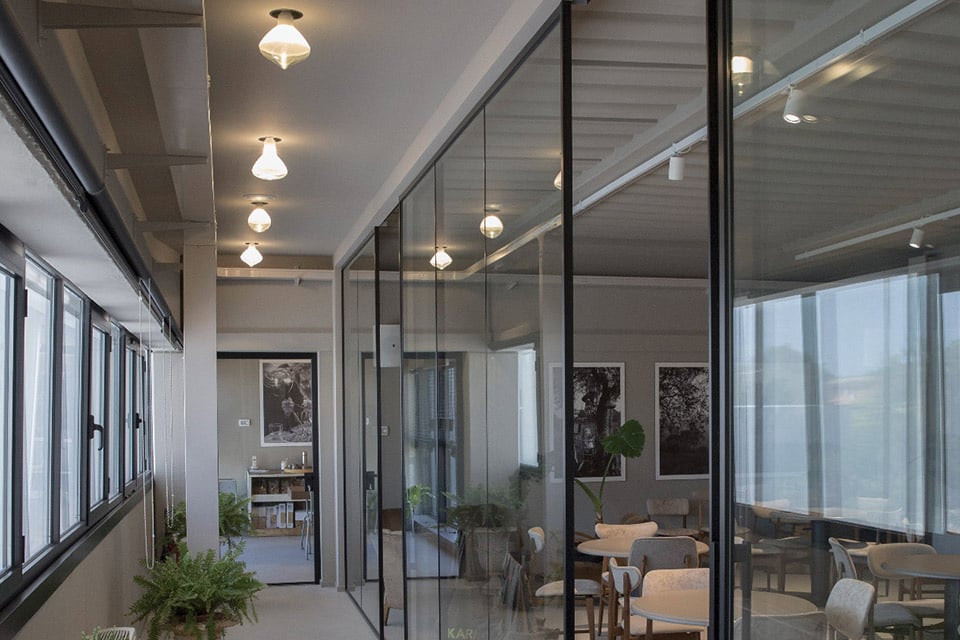 Makeup
3. Expanding the spaces on a perceptive level
Natural and artificial lighting also contribute to changing our perceptive conception of space.
Basically, the sensory, visual, and emotional perception of a room's size and capacity are defined by the light that reflects on the surfaces of the walls and floor. Some types of lamps amplify this feeling more.
For example, if you want to give light to smaller spaces or small rooms, we recommend choosing appliqués and suspension lamps for the center of the ceiling. Both models will help to homogeneously illuminate the entire environment and create a visually wider space.
Indoor areas such as basements or small taverns often lack natural light. Therefore, knowing that natural light plays an important role as much as artificial light, your choice of lighting must better compensate for this lack.
To infuse a sense of natural freshness and lightness similar to that of sunlight, choose ceiling lights, chandeliers, or wall solutions: they will give a central or displaced glow in the various corners of the room, making it larger, brighter, and more welcoming.
Choose a chandelier with a minimal taste in white lacquered aluminum; in addition to completing the furnishing composition, it will give more light to the environment.
If your client wants another type of solution, you could select a ceiling lamp in white technopolymer: a lamp with a Gothic flavor and an elegant geometric design that frames the light source and is capable of illuminating even the most spacious environments.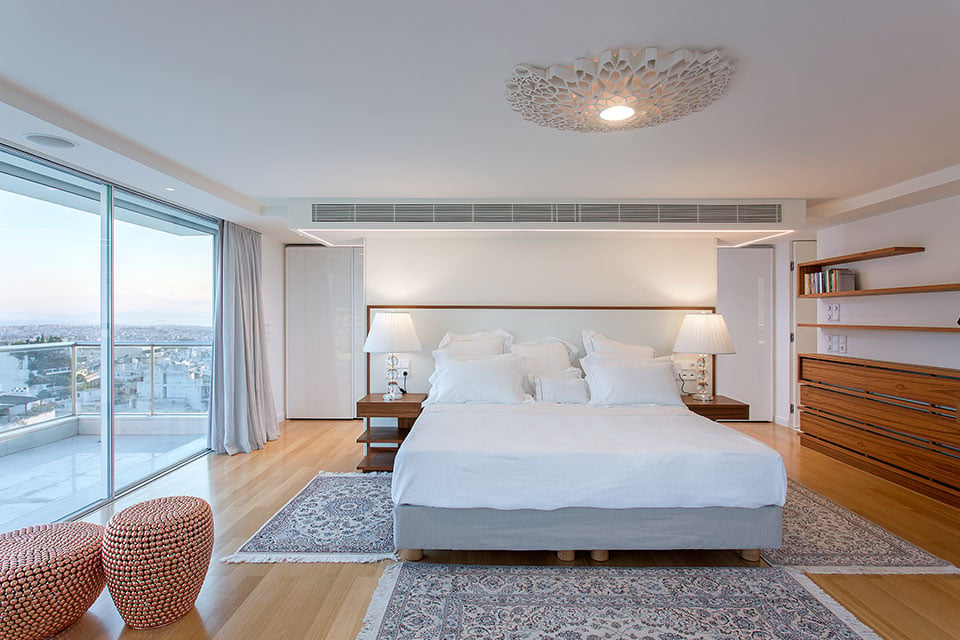 Notredame
4. Ensure directional and homogeneous brightness in each location
Decorative lighting has two main purposes:
Make the furnishing context more attractive and welcoming
Provide homogeneous and directional brightness to the entire room, illuminate task stations, and highlight decorative and architectural accent elements.
In particular, for this last task, it is advisable to use specific lamps for each lighting level, i.e.:
Accent lighting;
Ambient lighting;
Task lighting.
Each of these categories indicates different types of brightness and, therefore, different models of luminous bodies to guarantee functional light in every corner and location of the design scenario.
Accent Lighting
Accent lighting adds drama to a room by creating visual interest. As part of an interior design scheme, it is used to draw attention to decorative elements, architectural details, plants, paintings, sculptures, and other valuable assets.
It can also be used to highlight the texture of a brick or stone wall, window treatments, or the outdoor landscape.
Keep in mind that accent lighting requires at least three times more light on the focal point than the general lighting that surrounds it to be effective.
To introduce accent lighting, opt for wall-to-wall lamps with a linen lampshade. This solution will be able to give softer light that is well distributed throughout the environment, highlighting the closest furnishings and details.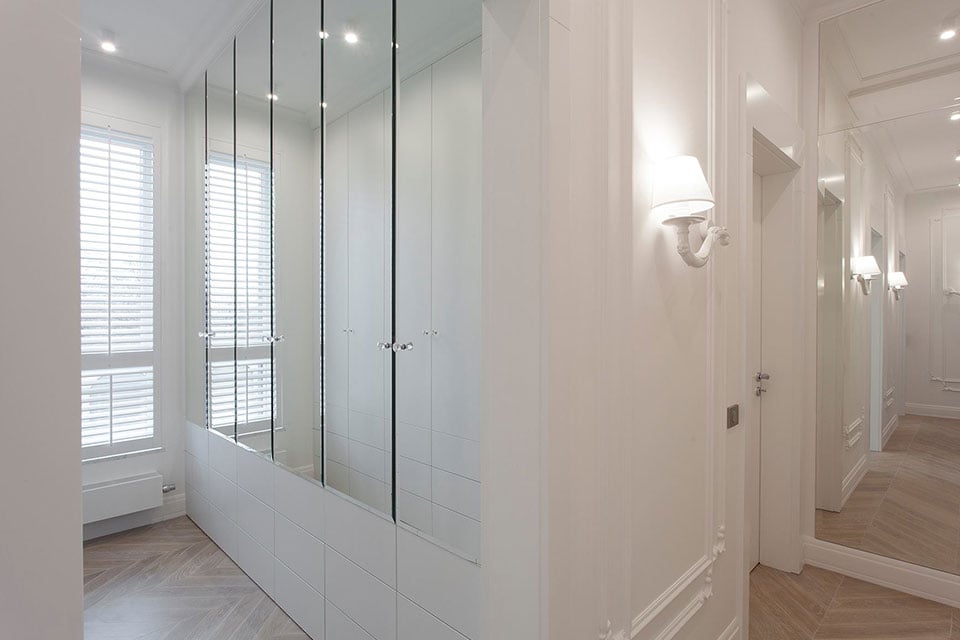 Déjà-vu
Ambient Lighting
Ambient lighting worthy of this designation should provide the entire environment with clear and well-distributed light.
Also known as general lighting, it radiates a comfortable brightness level without glare and allows you to move freely and walk safely.
In general, the most suitable models to carry out this task are suspension lamps, ceiling lamps, and chandeliers placed in the center of the ceiling.
In this case, you could create a composition with industrial-chic style suspensions with a white ceramic structure. You will get a final result with great aesthetic impact and strong decorative potential, as well as a highly functional installation.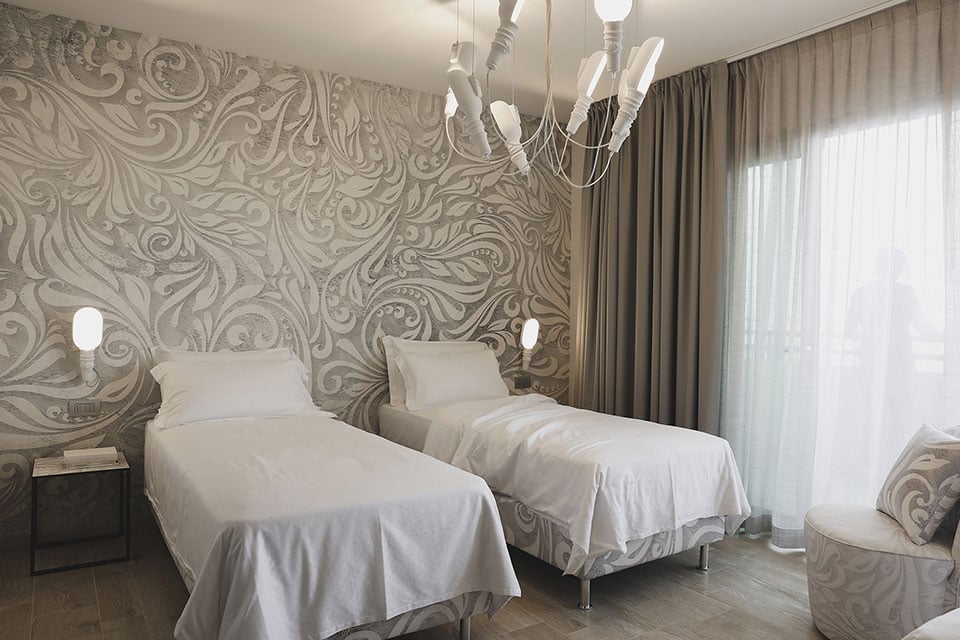 Work In Progress
Task Lighting
Finally, task lighting: fundamental in domestic environments and restaurants, hotels, and shops. This type of lighting helps to carry out specific activities, such as reading, working, preparing dishes and cooking, doing homework, putting on makeup, etc.
For a proper supply, we recommend opting for wall or table lamps, or if you prefer also recessed spotlights and track lights.
Task lighting should be free of reflections and distracting shadows and bright enough to prevent eye strain.
If you want to illuminate spaces functionally and at the same time, introduce a furnishing element, opt for a floor lamp with a handmade fabric shade.
The fabric will allow light to filter through lightly and spread softly throughout the atmosphere without weighing down the look used while reading or perhaps in a moment of relaxation.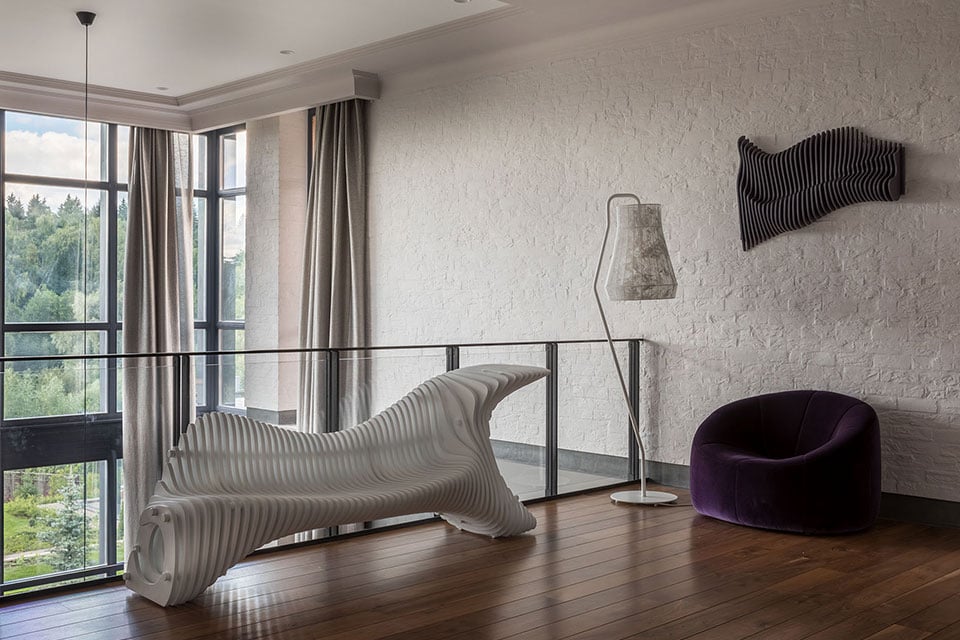 Atelier
5. Change the mood and atmosphere of the environment
Lighting is absolutely fundamental for good interior design, since it influences not only the perceived dimensions of a room but modifies the perception of the atmosphere, the mood of those who experience it and how that particular space is used.
Good lighting offers much more than just choosing an attractive lampshade, with all sorts of elements that must come together in harmony to create a space that really shines.
To infuse the ideal climate for your design context, make sure you choose the right lights: evaluate the color temperature of the light sources.
Color temperature is one of the key parameters to consider when selecting lighting sources for your project, as it defines the climate of the environment and its comfort.
The "warm" lighting, reddish or yellowish, creates a comfortable or welcoming atmosphere. However, cold light differs from the previous one for its dominant white or blue notes and can create a more energetic mood.
If your client wants warm light, it is advisable to purchase light sources with a color temperature below 3.300 K.
While for a more neutral type of lighting, lights with values between 3.300 and 5.300 K are required.
If, on the contrary, your client prefers to instill a stimulating climate, choose cold light sources, with a value above 5,300 Kelvin.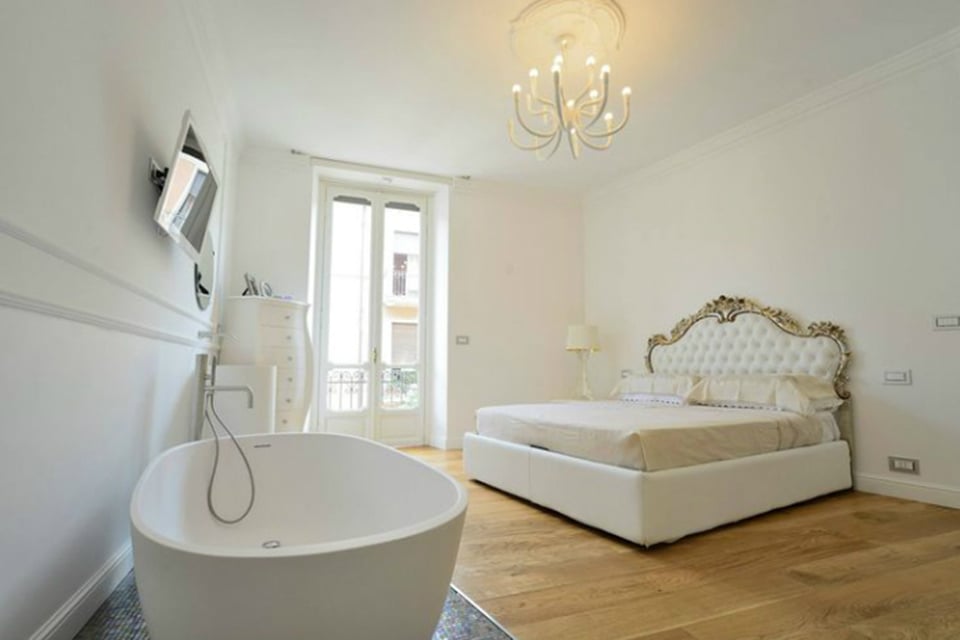 Snoob
Functionality and style: the role of lighting in the design of an environment
In this article, we have illustrated the main visual and perceptual effects that light is able to give to the senses by modifying, and sometimes, amplifying the comfort and beauty of a given place.
The different types of lamps chosen ad hoc for the project and their positioning play a fundamental role in the interior design complex of the location you are dealing with.
Both factors work in combination with the selection of colors, the size of the room, the availability of natural light, and the selection of furnishing accessories.
Lighting gives a new and welcoming look to every environment, and it is able to involve mind and body in a visual and sensorial experience that are always different since each location has a unique and unrepeatable type of atmosphere.
For more information, support, and assistance in choosing the right models of lamps for your decorative lighting project, do not hesitate to contact us at this link. We are at your complete disposal.