Decorative lighting and furnishing styles together represent an inseparable combination in the design world. Changing together with the pace of trends, they make innovation with new lighting concepts and, at other times, propose lighting ideas anchored to the past, refurbished.
On the one hand, we find the light, pure and luminous magic, and on the other, we have the design trends that translate into a continuous rediscovery and search for new techniques and styles of furnishings.
Decorative lighting solutions, always different and original, are the key to giving personality to spaces and infusing unique, unprecedented sensations.
Like lighting design, styles and trends are always reinvented by presenting themselves cyclically and coming back to a renewed vogue to once again give style to homes, structures and local facilities.
The vintage style is concrete proof of a past trend that successfully reaffirms itself in the present. Materials with a worn look and minimal silhouette make vintage an appreciated and highly adopted style.
But this is just the tip of the iceberg. Behind this trend, there is much more to discover.
Vintage and industrial lighting styles: different but closely related trends
"Vintage" is not a simple label, it is a design style that incorporates other trends with distinctive features such as:
Shabby chic
Country
Retro
Industrial, last but not least
Vintage industrial was born in the United States around the 50s and is still one of the most successful and fashionable styles of interior and lighting design. In fact, although it has evolved over the years, the essence of industrial design has remained intact.
Adopting this style requires a particular emphasis on the bare structures, a type of decoration that is clean and free of any excess. Bricks, wood and cement, steel, iron and glass lamps create a typically industrial aesthetic scenario.
These are just some of the hallmarks of this style of furnishing and lighting. Impactful and elegant in all its simplicity, the industrial style deserves to be delved into in detail to fully grasp its particular characteristics.
Industrial style lighting: an idea of modern and versatile light
To better recreate industrial-style spaces, it is necessary to start with lighting. Choosing lamps that recall this decorative style is the key to decorating interiors to the fullest and achieving a uniform and pleasing overall effect to the eye.
Essential colours such as grey, black and white added to the linearity of raw materials such as iron, metal and cement together represent the expression of this style that is not at all heavy because it adapts to any environment and never tires. In fact, industrial-style lighting solutions are able to create a simple and modern atmosphere.
As far as lighting is concerned, today the industrial style is a reinterpretation of vintage taste in a modern way and often comes in the form of suspension lamps to give light to lofts, restaurants and hotels. This lamp model fully embodies the characteristics of this design trend.
Free of frills and devoted to minimalism, industrial style suspension lamps are the ideal solution for lighting up spaces.
But let's go step by step, analysing the places that could accommodate these types of lamps separately.
Karman suspension lamps in industrial style: solutions suitable for any place
Industrial style can be re-proposed through lighting anywhere. Whether it's apartments, accommodations or local facilities, the versatility of Karman industrial style suspension lamps will surprise you.
1. Private houses
Who said vintage industrial is not suitable for the home?
In this case, suspension lamps could be an excellent solution to illuminate the kitchen, dining room and living room, to name just a few rooms.
Although, as mentioned, metal and iron combined with grey, black and white shades are the materials and colours most associated with industrial design, sometimes this style comes in new and surprising shapes.
Atelier
Let's take Atelier for example. An industrial style suspension lamp designed by Matteo Ugolini, with a fabric shade. A material not often associated with an industrial lighting design that expresses the essence of this style through brushstrokes of white paint.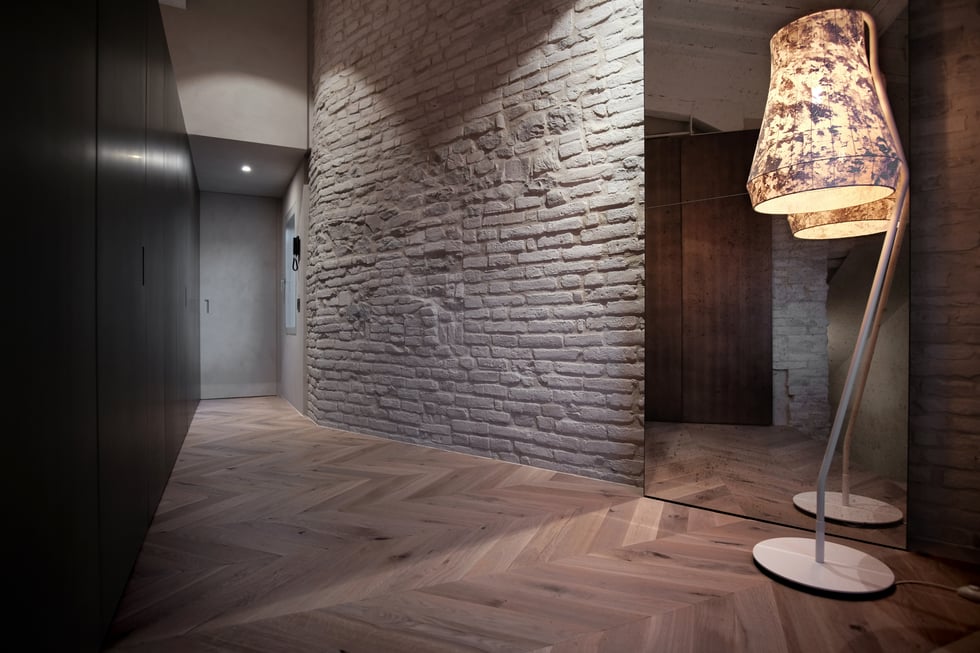 Atelier
These types of details give a new and different look to each lamp, thus offering lighting designs that are original and unique every time.
Atelier has the power to capture the gaze of anyone and in any corner of the house, even in an open space or in an area of passage, for example.
Mek
For kitchen lighting, why not use Mek? This industrial style suspension lamp serves essentiality and typical lines of this design on a silver plate.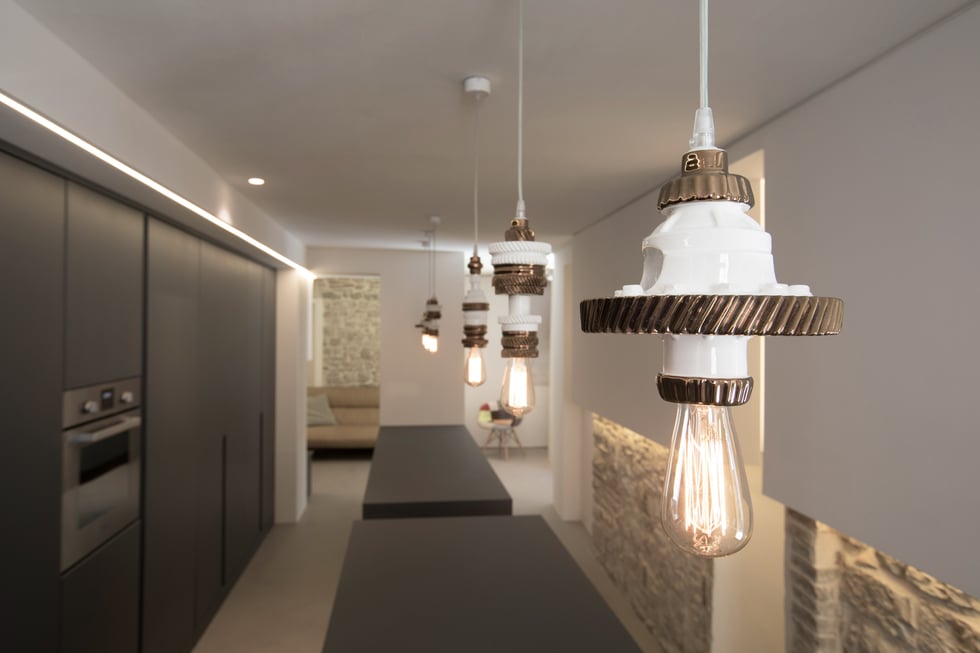 Mek
Fruit of the creativity of Stefano Bizzarri and Claudio Cinti, Mek is a ceramic lamp available in three different shapes that reproduce metal rings of different diameters positioned one above the other; and three colours are opaque white, opaque black or white and bronze.
Now, let's take a look at a type of lighting suitable for the wide spaces of a dining room or a living room.
Sisma
For this area, you need an industrial style suspension lamp that is stripped of any excess: what other lamps if not Sisma?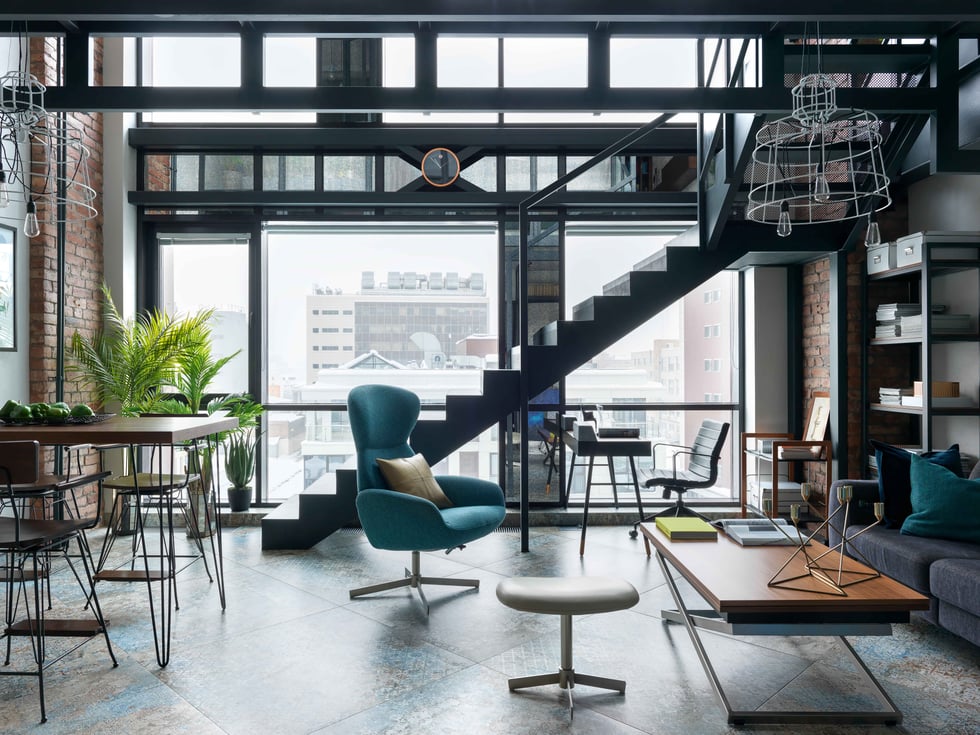 Sisma
Another unique creation by Matteo Ugolini that brings together all the premises under one name to create a special experience capable of radiating deep vibrations at a sensory and visual level.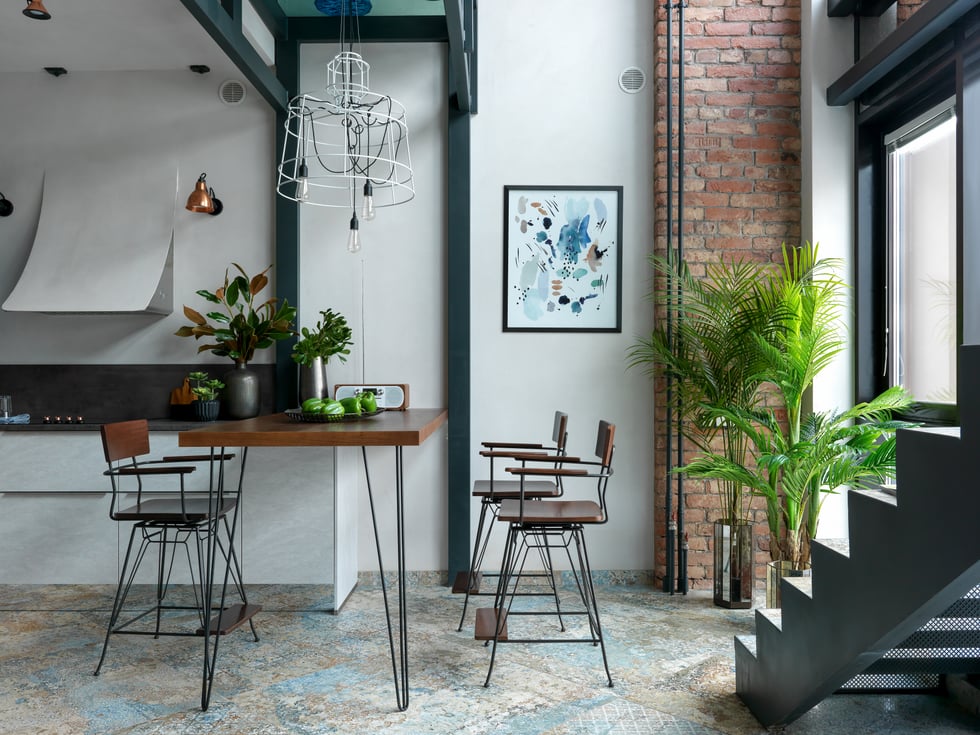 Sisma
An iron skeleton, available in white or black, is what comes closest to the concept of a lampshade, but it is nothing more than a cage left open. In fact, with Sisma, the light has no borders and is free to release itself into the room.
2. Restaurant
In a restaurant, tables and workstations deserve more care and attention in terms of lighting. Here, industrial-style suspension lamps will also be perfect.
Below, we propose a series of lamps designed for Karman by Matteo Ugolini.
Life
With the Life lamp, we find the characteristic worn out fabric with a stone wash. The ripped denim that allows subtle rays of opaque light to escape and instil an intimate and reserved atmosphere in the observer expresses the typical grunge and taste of the industrial style.
Lucilla
Lucilla proposes the contours of Life through a linear structure in rust-coloured iron. This time, however, no lampshade, no constraints; the light is again free to breathe and reach every corner of the room.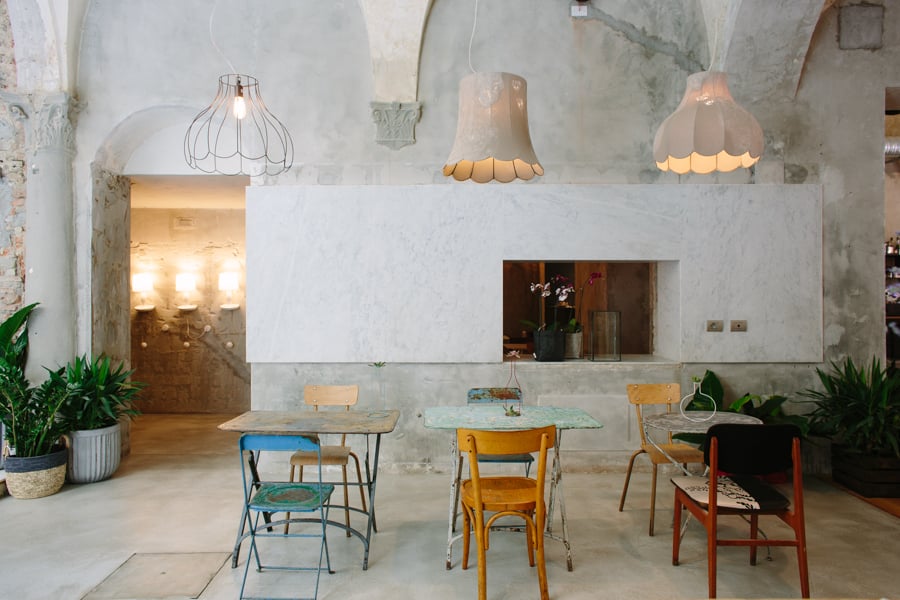 Lucilla and Life
Alì and Babà
If you wish to opt for a type of suspension lamp with new material following the industrial style, but that is still able to express that style in the best way possible, you could rely on Alì and Babà.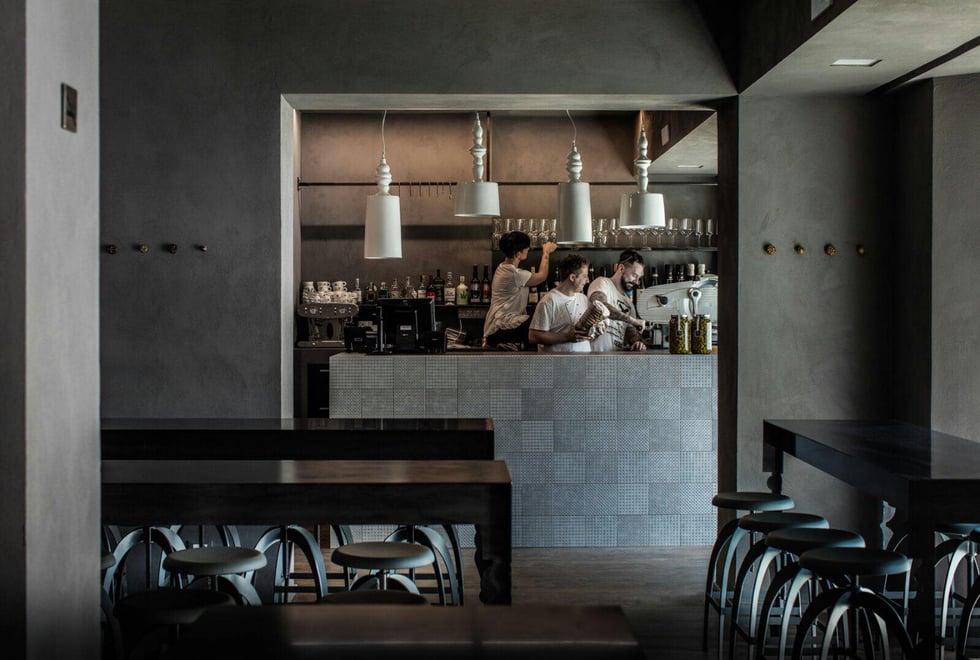 Alì e Babà
This lamp is able to enchant anyone in its suspension version, available with both a white ceramic and white linen lampshade. With this model, once again, ceramics and fabric are reaffirmed as materials capable of expressing the canons of industrial vintage at their best.
Gangster
Gangster was also conceived and made of white ceramic.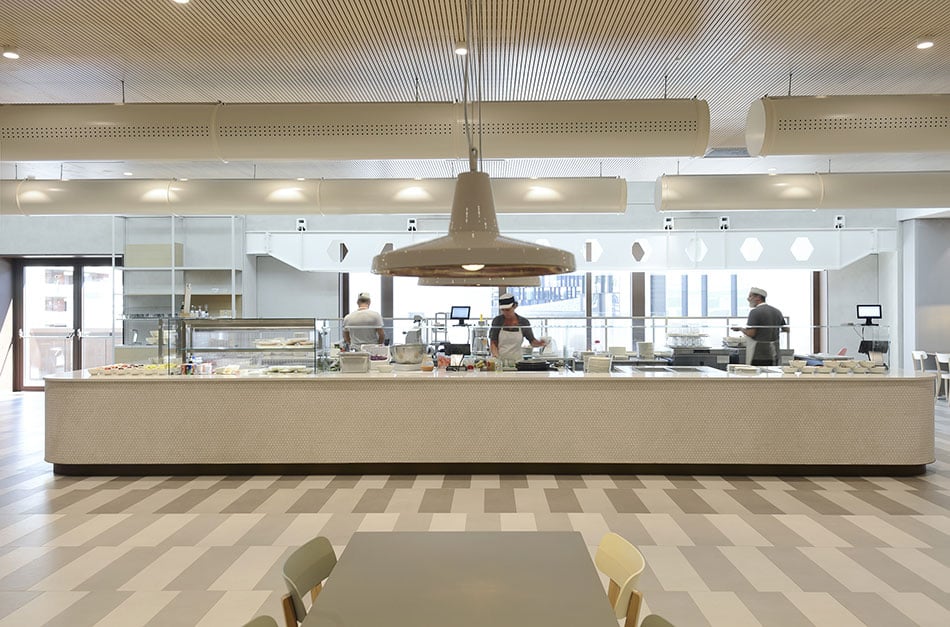 Gangster
This feature gives a vaguely purer appearance to a suspension lamp containing, in all respects, the genes of industrial design, which manifest themselves through the internal copper colouration of the lampshade.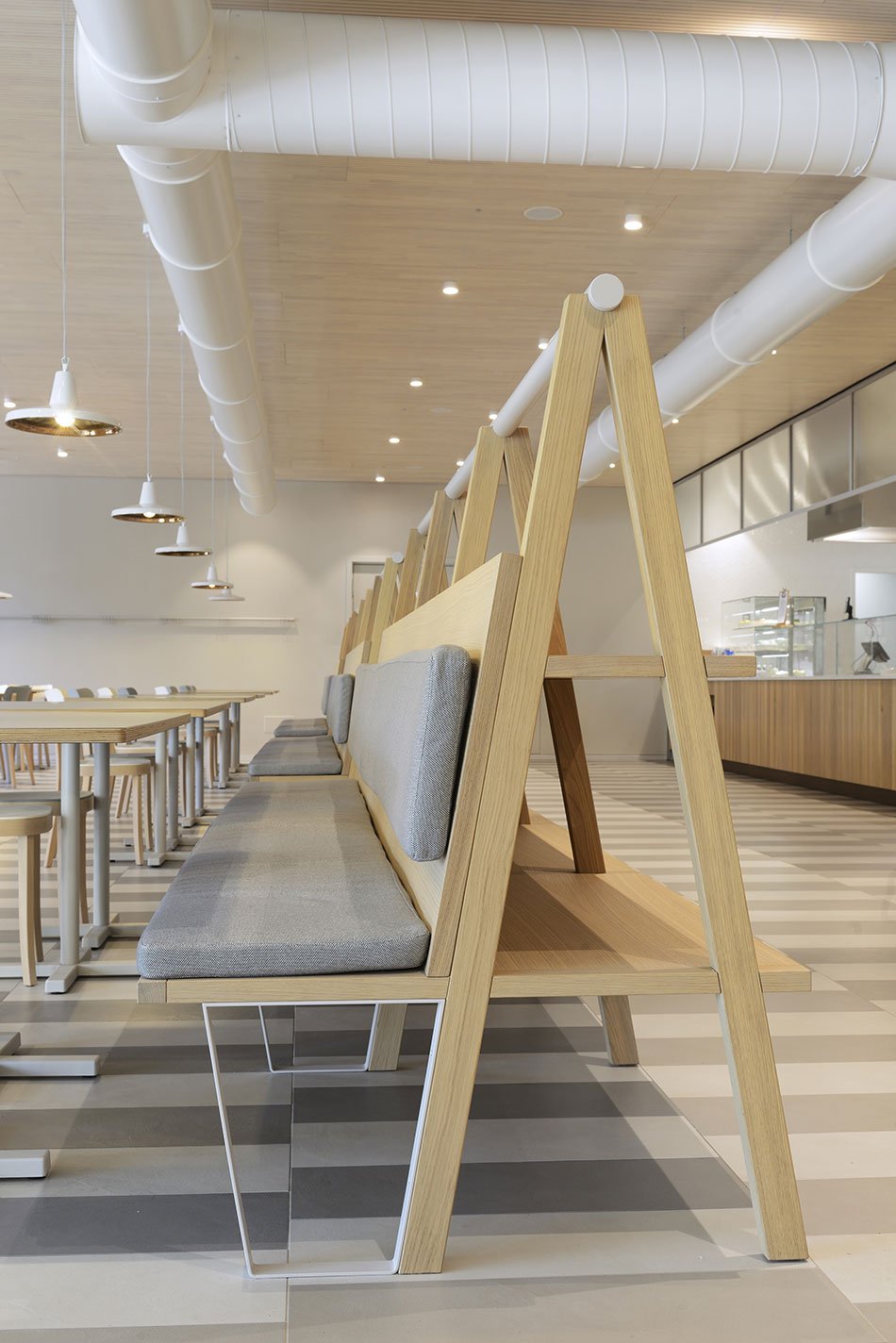 Gangster
Settenani
Last but not least is the Settenani suspension lamps collection.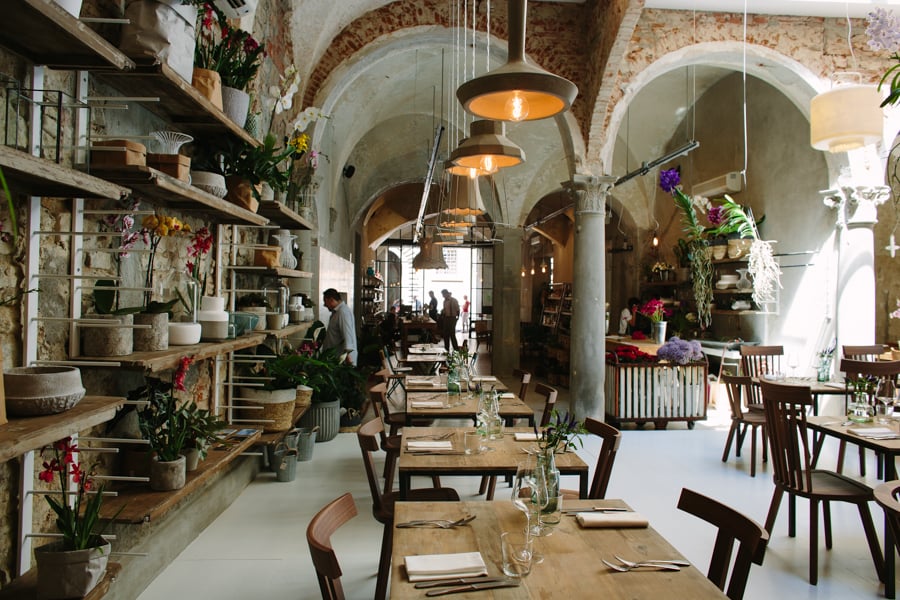 Settenani
The concrete takes on seven different shapes, giving different geometries of light. A composition that exudes industrial essence and provides direct and intense light to the spaces.
3. Hotel
Each accommodation facility has its own personality, often expressed through sought-after lighting solutions located in areas destined for the passage and permanence of clients.
The industrial style also fits perfectly in this context. Industrial style suspension lights will give a touch of dynamism and style to the interior of the hotel you are designing.
Nando
Nando, which bears the signature of Luca De Bona and Mario De Meo, reflects the characteristics of the industrial style communicating, in this case, through gold, black and white shades that cover the multifaceted silhouette of the metal.
This model is able to create an atmosphere that is dynamic and full of life. You could install a Nando waterfall in the corner of a hotel bar, perhaps positioned directly above the counter.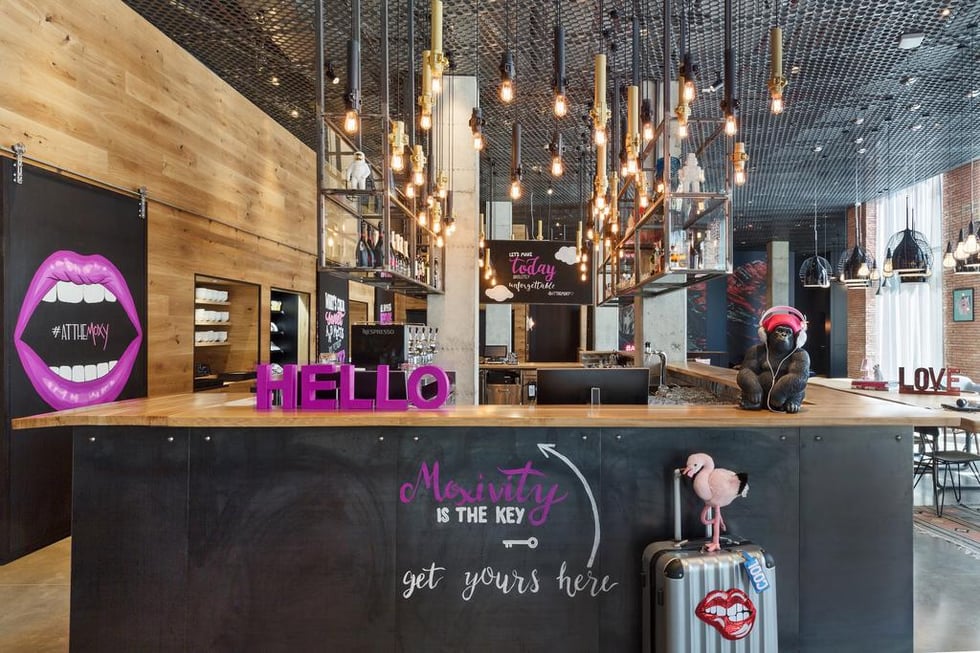 Nando
Why choose industrial style suspension lamps?
Suspension lamps represent the simplest and most essential solution for giving optimal lighting to rooms.
This lamp model also fully satisfies the canons of industrial style.
The industrial-style lighting adopted to light up the interiors of houses and structures gives optimal decorative brightness without weighing down the atmosphere, actually making it more fresh and modern.
Choose this unique typology of unpretentious design, whose final goal is the order and the sober decoration of the spaces.
For more information, support and assistance in correcting selecting the right models of industrial style suspension lamps, do not hesitate to contact us at this link. We are at your complete disposal.