The primary objective of decorative lighting projects for the home is to immediately outline the home's atmosphere and aesthetic character using the right solutions. In this sense, outdoor lighting plays a decisive role.
Just like for interior spaces, defining a design lighting plan for outdoors is essential.
For the project to succeed, it is important to select the most suitable decorative designer lamps for the context, with unique technical qualities and a remarkable visual impact.
To get you started on the right foot, we have developed a list of key suggestions to help you realise your lighting design projects in the best way possible. Let's analyse them together.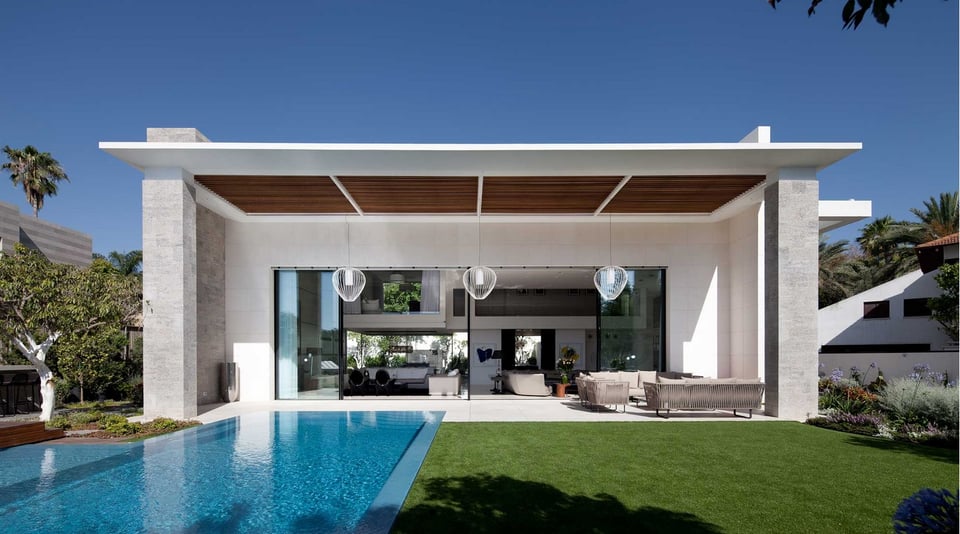 Cell
5 tips to improve your outdoor lighting design project
For your outdoor design lighting project to be well configured in both a technical and aesthetic sense, it is important to follow precise design steps.
Below you will find 5 useful tips to improve your outdoor lighting design achievements:
Set up the lighting layout by evaluating the available space
Map out the territory and decide where to place the lamps
Select the decorative lamps suitable for each location
Do not use the same lamp models for different places
Create the atmosphere by experimenting with lights of varying intensity
We will now analyse each point.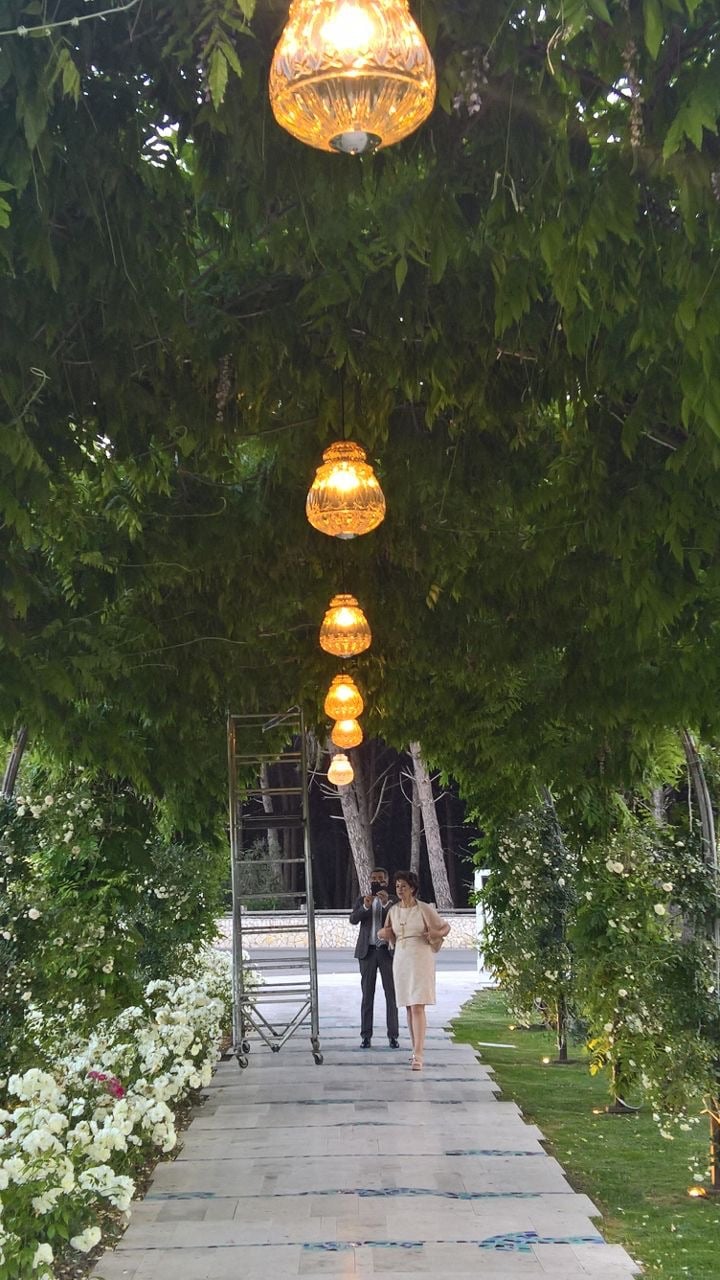 Ginger
1. Set up the lighting layout by evaluating the available space
Evaluate the available space and test the outside perimeter of the house by performing daytime and evening inspections. In this way, you will be able to identify which focal areas should be illuminated: an impressive tree, a picturesque-looking fountain or a statue.
This first step will help you outline the visual and aesthetic character of your lighting project.
Once the key focal points have been defined, it is essential to identify the main places of passage such as cobblestone paths leading to other areas of the property, small bridges, arcades and walkways.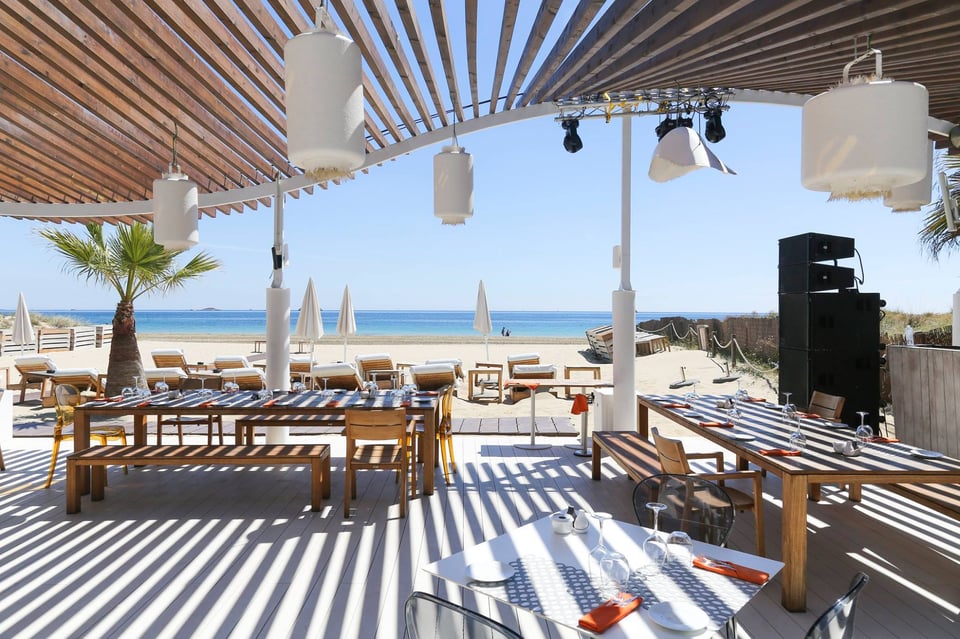 Kimono and Moby Dick
2. Map out the territory and decide where to place the lamps
After the first step, we recommend mapping out the area and deciding where exactly you want to place the lamps.
Start the sketch by drawing a perimeter, adding buildings, bridges, benches, trees, shrubs, vegetation, decorations and architectural elements in the garden.
Finally, it is necessary to highlight all the focal areas defined in the first step, calculating height and approximate length (bridges, passages, paths, etc.).
3. Select the decorative lamps suitable for each location
Once you have mapped out the area and decided on the points where the light sources will be positioned, you can select the lamps that reflect your client's tastes and that comply with the technical requirements of the project.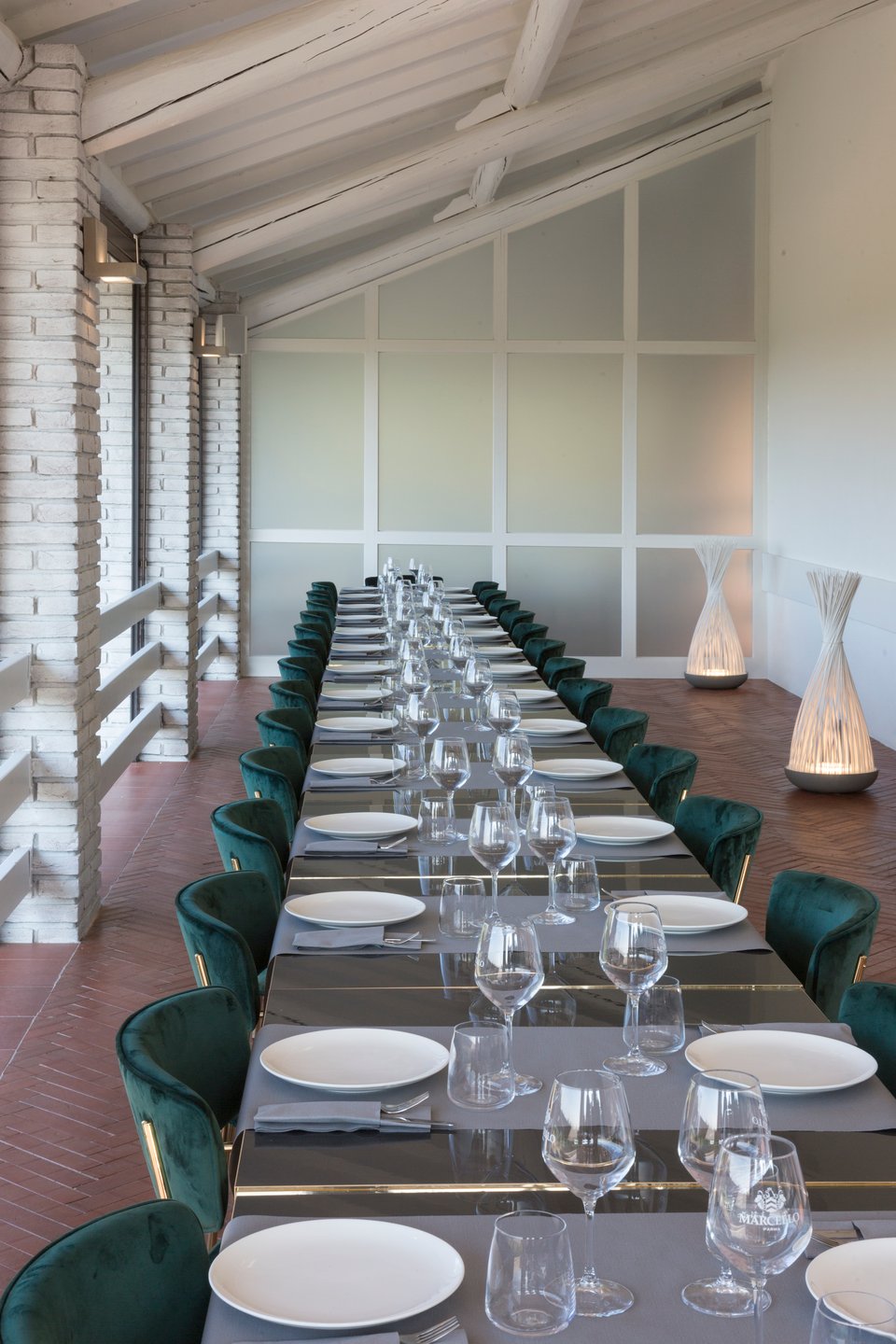 Don't Touch
4. Do not use the same lamp models for different places
It is important to select appropriate lighting sources for each focal area. Therefore, we advise you not to use the same lighting design solutions for different places.
Each lamp has its own functionality and structural features that make it suitable for specific spaces to a greater or lesser extent.
For example, to give ambient lighting and task lighting to an orangery or a small gazebo, you could use suspension lamps.
Despite being extremely versatile both in a technical and aesthetic sense, this particular model may not be suitable for illuminating passage areas. In this case, it would be better to choose floor lamps or standard lamps.
5. Create the atmosphere by experimenting with lights of varying intensity
To create the right atmosphere experiment with lights of varying intensity. If positioned correctly, the various lighting sources will instil a welcoming and intimate atmosphere, and at the same time stimulating and energetic.
These are some basic tips that will help you create a flawless outdoor lighting project that is technically and aesthetically appealing.
Decorative lamps suitable for outdoor design lighting
Now that you have the right guidelines to improve your outdoor lighting design achievements, we will show you the most suitable decorative lamps for outdoor lighting, as well as the best solutions for 2019, taking into consideration their functionality and decorative potential.
Porch or canopy entrance? Choose suspension lamps
If you are looking for the most suitable lamp to illuminate a porch, once in stone or a small canopy entrance, you could select a suspension lamp with a white glazed ceramic shade.
In addition to bewitching the observer's gaze, this type of lamp would guarantee directional and intense light. If the customer wants a lighter and more diffused type of lighting, you can get it with a white linen shade.
Either way, this type of suspension will clearly express the mood of the entire home, immediately creating a welcoming atmosphere.
Table lamps in satin glass for a "candlelight" experience
Try to imagine your clients having dinner with friends and relatives in the garden in the open air or protected under a gazebo without the right dose of task lighting ideal for functional and decorative brightness.
At the table, it is always important to guarantee a degree of lighting that can ensure excellent visibility and, at the same time, establish an intimate and comfortable atmosphere.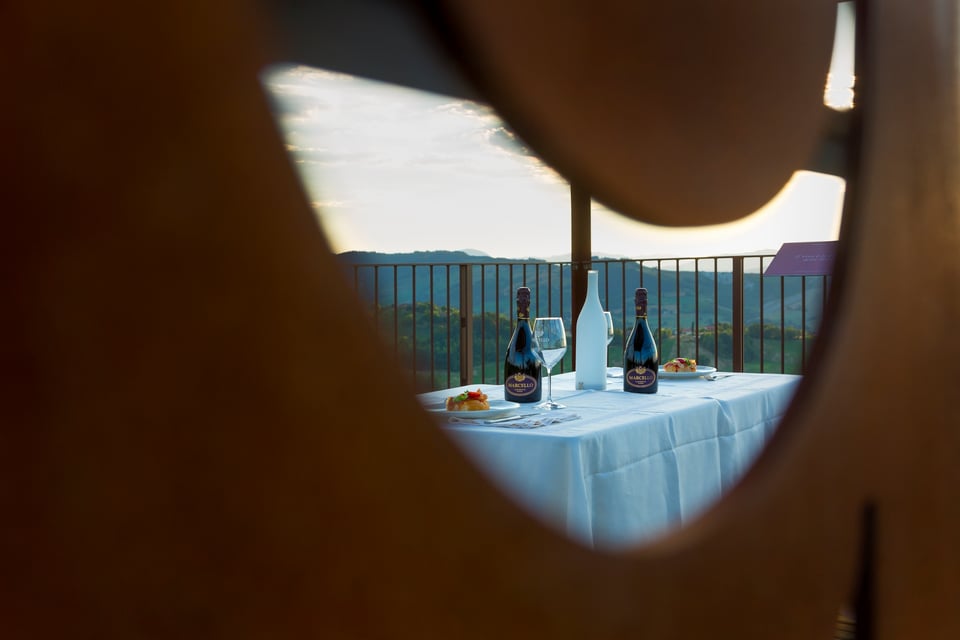 Bacco
To achieve this, we recommend selecting white satin glass table lamps. This particular model will give the spaces the right level of lighting without giving up a stimulating "candlelight" experience.
Suspension lamps made with white fibreglass wire: light patterns that are never the same, always surprising
Are you dealing with the outdoor lighting for an important home with a large and spacious loggia? In this case, we again recommend suspension lamps, perhaps opting for models with a more sophisticated design.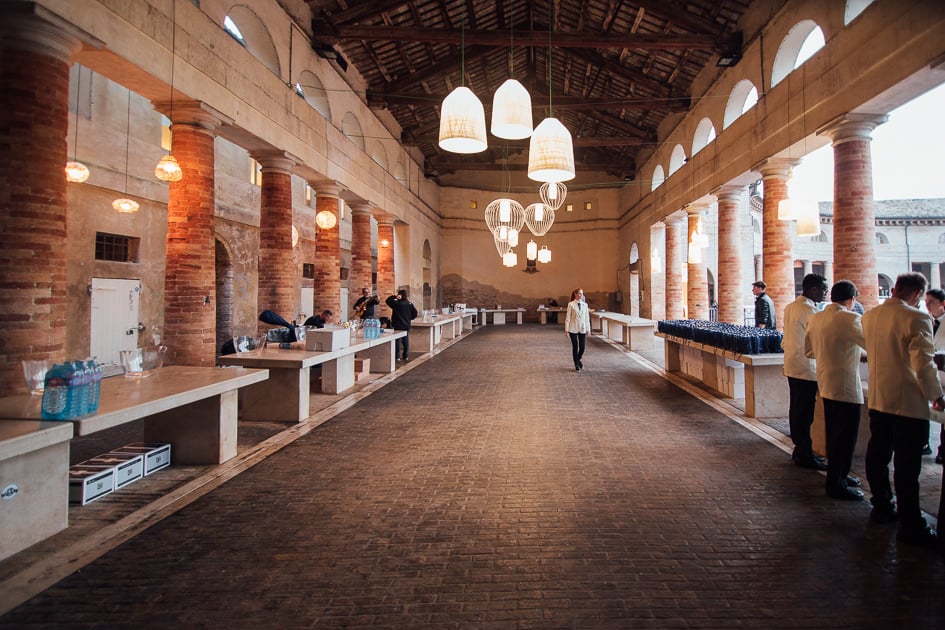 Black Out and Cell
In this regard, you could choose lamps with a lampshade made with white fibreglass wire. The thread, wrapped around the structure, creates thick plots that never the same, thus always guaranteeing different and surprising light designs.
To add an additional decoration while at the same time ensuring greater stability to the lamp you can attach a white ceramic candle holder.
Floor lamps or suspension lamps? It's your choice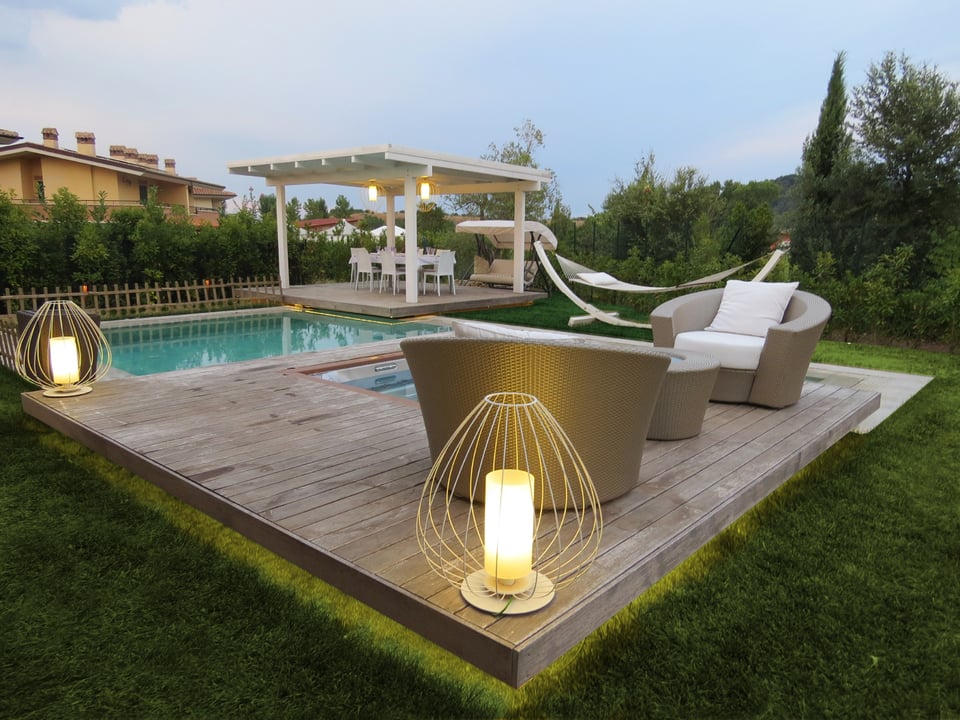 Cell
To create an impactful lighting design composition, you could combine the model mentioned before with a white or bronze wire frame, based on the stylistic concept designed for the location. You can still install them individually and get a final result with a great visual appeal.
This model is available both as a suspension and a floor lamp, therefore functionally versatile and suitable for different lighting contexts.
You could place them by the pool, on the ceiling of a modern style gazebo or a luxury pergola or in a small outdoor living area.
Stripped of any ornamental excess, the lamps with a metal wire structure renounce to the lampshade, but not to aesthetics and functionality, guaranteeing excellent stage presence and diffused and homogeneous brightness throughout the environment.
Appliqué lamps with a minimal design for stylish outdoor lighting
In an outdoor lighting complex, it is essential to include more lighting design solutions to ensure a variety of style and light intensity.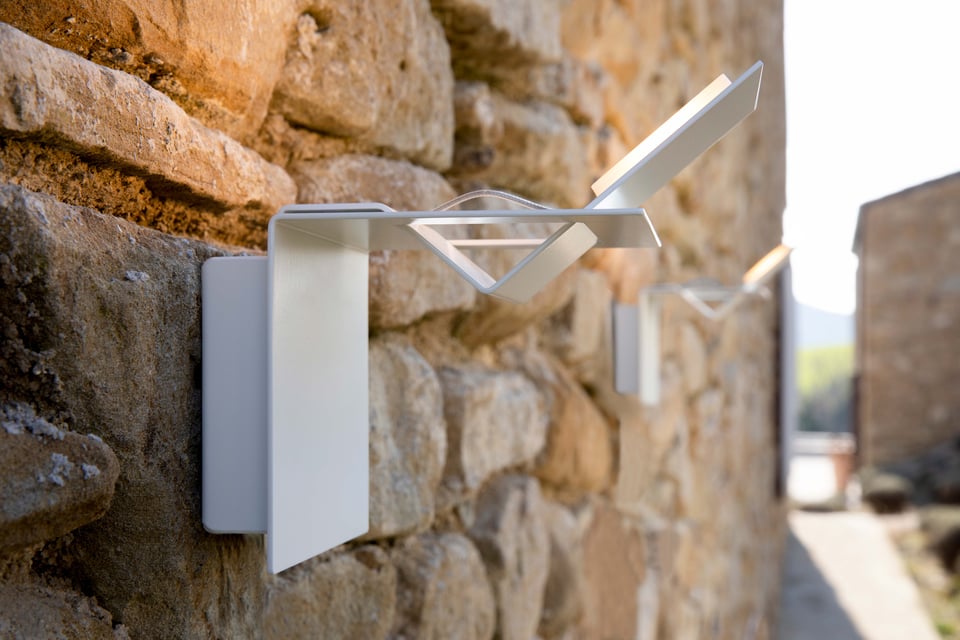 Lamina
To introduce optimal degrees of task lighting and accent lighting, you could install matte white aluminium appliqué lamps outside the villa or private home you are working on.
Two aluminium sheets cross in a geometric design with a linear and decisive cut.
Applied along the external walls or along the walls adjacent to paths and walkways, these lamps guarantee light points that can guide the observer and at the same time highlight architectural details or decorative details placed outdoors.
Decorative light wells: outdoor floor lamps that you can't go without
Outdoors, in the evening, the atmosphere is filled with stimulating sensory vibrations. The look is at the spasmodic search for decorative light wells, as well as energetic lighting sources able to decorate the room and give brightness to the surrounding areas.
To keep the eye entertained and, at the same time, ensure an excellent evening view, we recommend selecting standard lamps or floor lamps for the outdoors. The choice of the model depends exclusively on the concept designed for the exterior of the house and the type of atmosphere you want to convey.
Don't Touch
If you want to add a decorative touch in a modern style and create a light atmosphere, choose grey-white technopolymer lamps with white PVC rods. An outdoor design solution with an evocative shape, which with its slender and refined profile, similar to that of high hedges, teases sight and touch.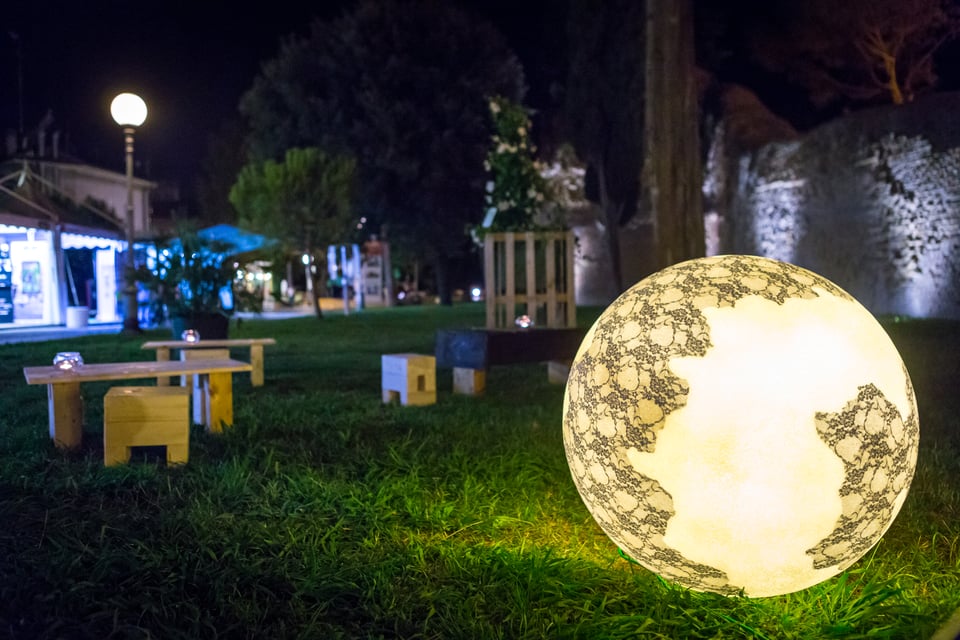 Ululì Ululà
If, on the other hand, you want to disseminate outdoor spaces with objects of great aesthetic presence, choose spherical lamps in fiberglass and lace. The light passing through the muffled material, interspersed with fabric inserts, will spread dimly throughout the environment, always providing different and haunting luminous patterns.
Suspensions made of glass or fibreglass: for each environment, its own atmosphere
Often, it is the material of the lampshade that determines the degree of light and intensity with which it is released into its environment.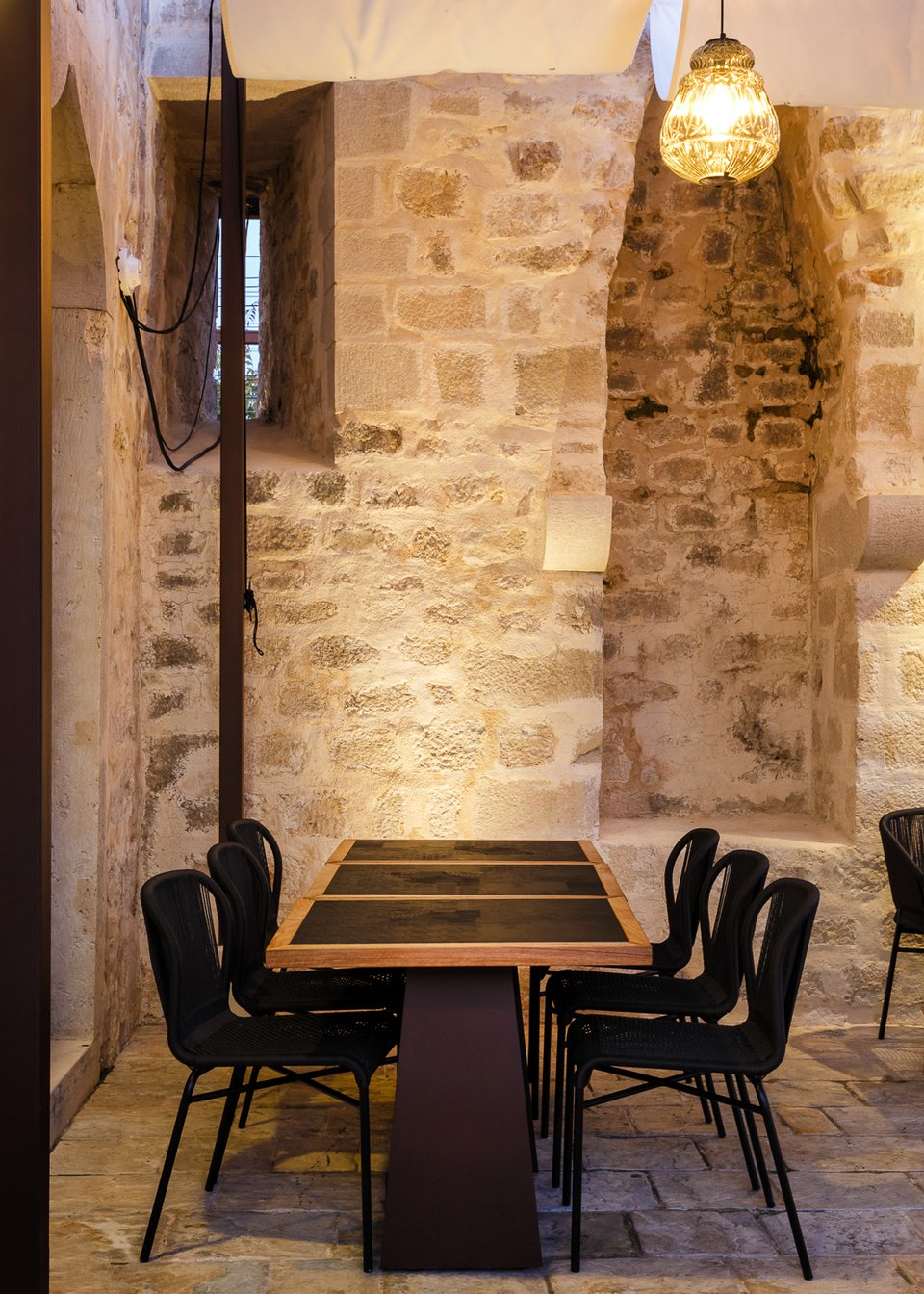 Ginger
If you want to create a relaxing atmosphere, almost fairytale, along a path in the garden or in a small open loggia, choose suspension lamps made of straw-coloured glass. The glass ripples of the lampshade with their retro charm and the colour of the light, as a whole, will ensure a peaceful and intimate atmosphere.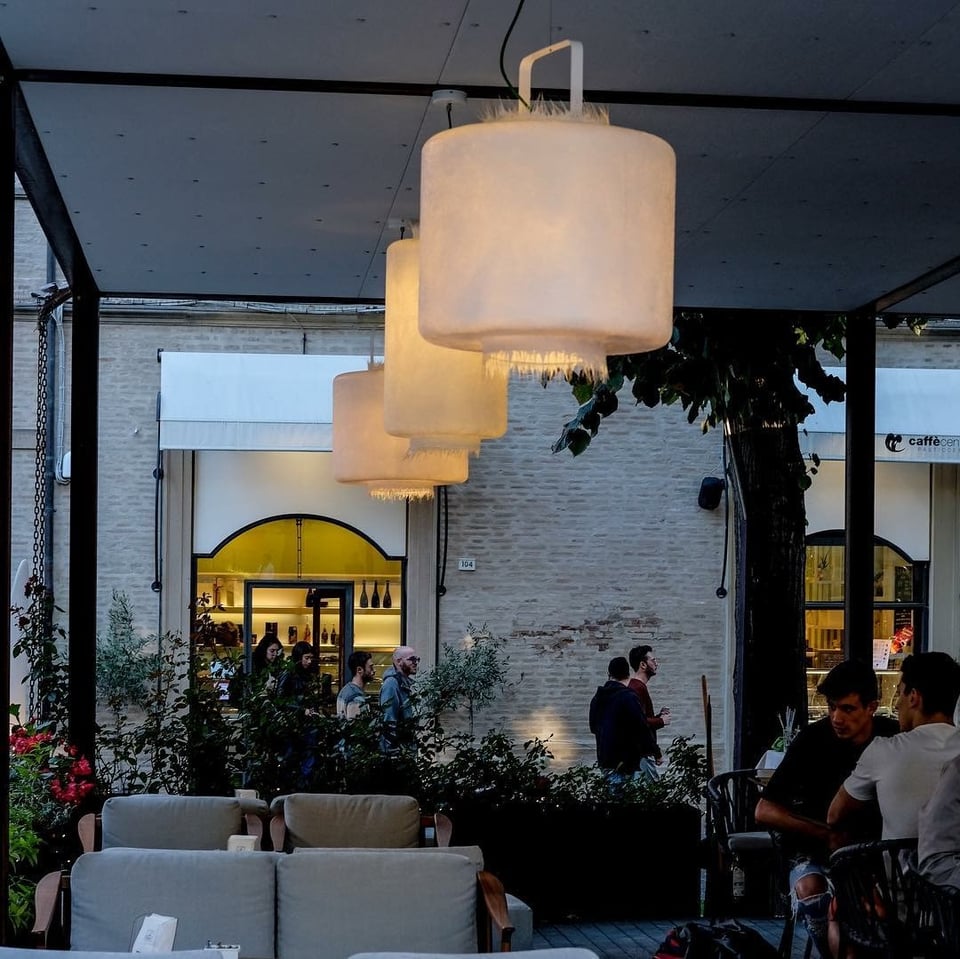 Kimono
You can get the same result by opting for white fibreglass lanterns, to be installed on the veranda or an extended porch. While if you want to make a style statement using a single solution, then select a white fibreglass chandelier.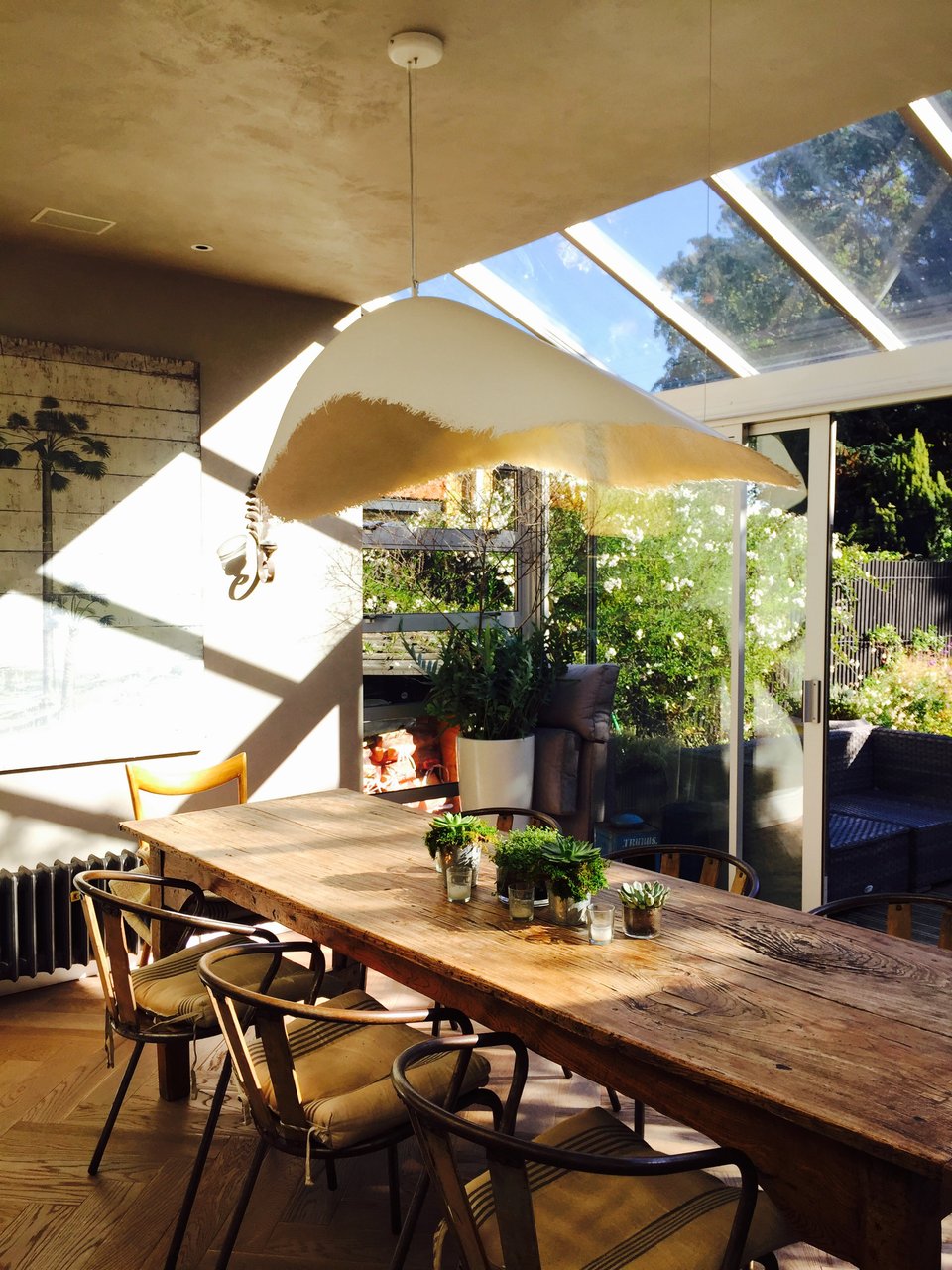 Moby Dick
With its sinuous lines poured into an unusual and captivating shape, this lamp will be able to amaze the viewer and always guarantee intensely diffused and functional directional light.
Outdoor lighting design: how to combine functionality and aesthetics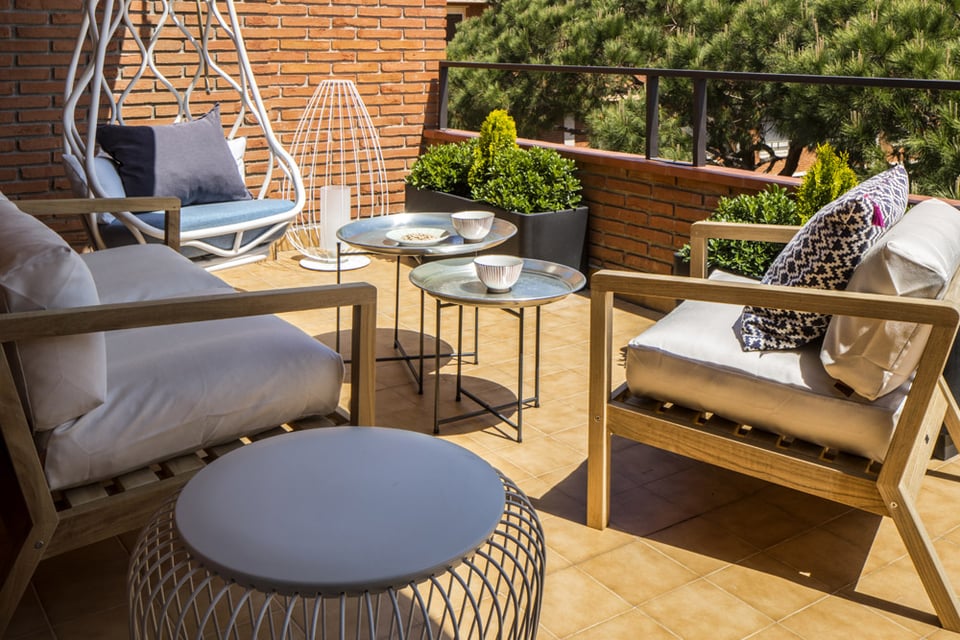 Cell
Creating an outdoor lighting design project means enriching the profile of private homes and residential structures with decorative lamps that do not compromise remarkable technical qualities.
Outdoor lighting needs solutions that combine functionality and aesthetics.
Follow our 5 style and design tips to create an evocative outdoor atmosphere through illumination, while making the whole location safe and well lit.
You will get an excellent result able to satisfy the functional and stylistic needs of your client.
For more information, support and assistance in implementing outdoor lighting design projects and choosing the most suitable solutions, do not hesitate to contact us at this link. We are at your complete disposal.