When dealing with the lighting of private homes, as well as hotels and outdoor restaurant environments, taking care of the outdoor lighting design details is essential to create a unique and stimulating atmosphere. To do this, it is also important to take care of poolside lighting.
But which lamps do you need to choose to ensure decorative and functional brightness around the pool?
In this article, we will show you some simple tips specifically designed to help you correctly illuminate the poolside. Let's discover the secrets for illuminating this important outdoor area.


Practical tips on the best way to illuminate the poolside
The external image of houses, hotels and clubs counts both in functional and aesthetic terms.
In fact, on the one hand, poolside lighting decorates the outdoor spaces, giving a new look to the location. On the other hand, each lamp, if well positioned outdoors, acts as a guide for the observer.
Below, you will find a list of 5 suggestions to provide optimal brightness to the pool environment:
Let's analyse each point in detail.
1. Set the mood
The best outdoor lighting design projects come from a careful study based on the creation of the most appropriate mood for the location. When it comes to illuminating the poolside, it is important to create an intimate and welcoming atmosphere, in which the light, in addition to decorating the space, is always pleasant.
2. Use various lighting design solutions
Don't be afraid to dare: use various lighting design solutions. In doing so, you will give creative variety to your project and, at the same time, provide a new image for the space around the pool.
Try to think of an outdoor scenario characterised by a single lamp. This would result in poor levels of functional lighting, such as ambient lighting, accent lighting and task lighting, essential for:
Creating the mood;
Facilitating movement outdoors;
Enhancing architectural elements and decorative details.
3. Choose lights with different temperatures.
Based on the mood designed for the location, carefully evaluate the lamp model and the corresponding light intensity. We advise you to choose lights with different temperatures and play with creative optical effects.
Warm and cold light together will create a more energetic atmosphere in some places and more relaxing in others.
4. Place the lamps around the pool
Illuminating the pool requires a strategic arrangement of the lamps to decorate the entire environment and make it unique, and to ensure excellent functional visibility.
For this reason, we recommend placing the chosen lamps around the pool. In this way, each solution will create a bright frame around the edge of the pool that will not only accentuate it but will guide the observer.
5. Use lights to highlight details and architectural elements
One of the best ways to decorate the pool with lighting in a new way is to think about the surrounding lighting, trying to use lights to highlight details and architectural elements.
Is your customer's pool on a large patio? You could opt for wall lamps to be placed within the patio area, obviously in perfect stylistic agreement with the solutions positioned along the edge of the pool.
Alternatively, if the pool is inside a luxury gazebo, you could place suspension lamps or floor lamps at the corners of the structure.
Or, if the pool is located in the middle of a spacious garden, use standard lamps to illuminate trees, plants or architectural details that characterise the house or structure you are dealing with.
Illuminate the poolside with Karman lamps
The unmistakable charm of Karman lamps adapts to any lighting context, always guaranteeing amazing visual effects and decorating each room with elegance and creativity.
Below, we have illustrated the most suitable lighting design solutions to illuminate the poolside according to Karman:
Black out;
Don't touch;
Cell.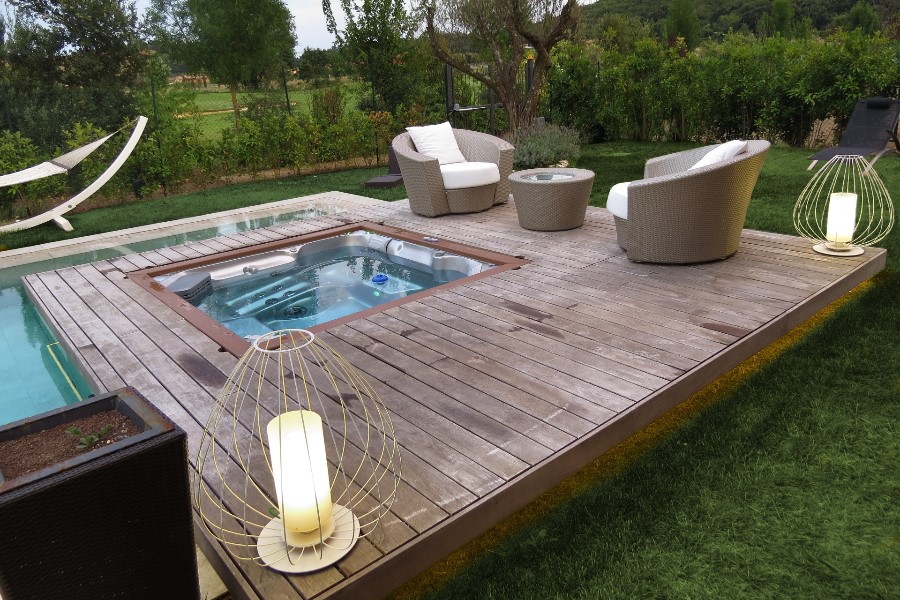 Cell
Black out: always new and surprising fantasies or light
Black out, born from the creative mind of designer Matteo Ugolini, presents an unmistakable texture given by the white fibreglass thread (or also in other colours) that surrounds the structure of the lampshade, generating different textures and, therefore, variegated, surprising light patterns.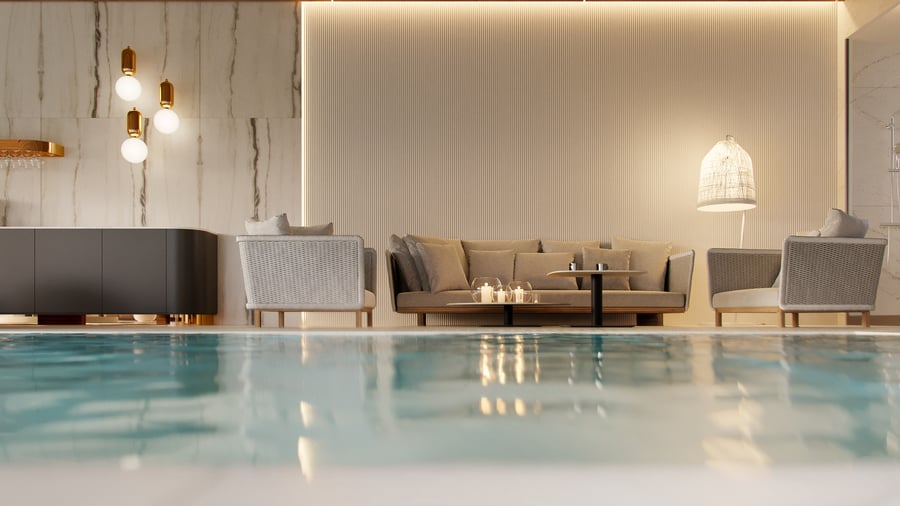 Black Out
Located along the pool, this standard lamp, with its innate aesthetic appeal, adapts to the calm and relaxed atmosphere typical of outdoor spaces, making it even more intimate and rarefied, thanks to intense streams of direct light.
Don't touch: unique visual and tactile perceptions
Another ideal solution to decorate and illuminate the pool could be Don't touch designed by Matteo Ugolini. We are talking about a floor lamp consisting of a base in grey technopolymer and white PVC rods: an evocative form that recalls the slender silhouette of garden plants.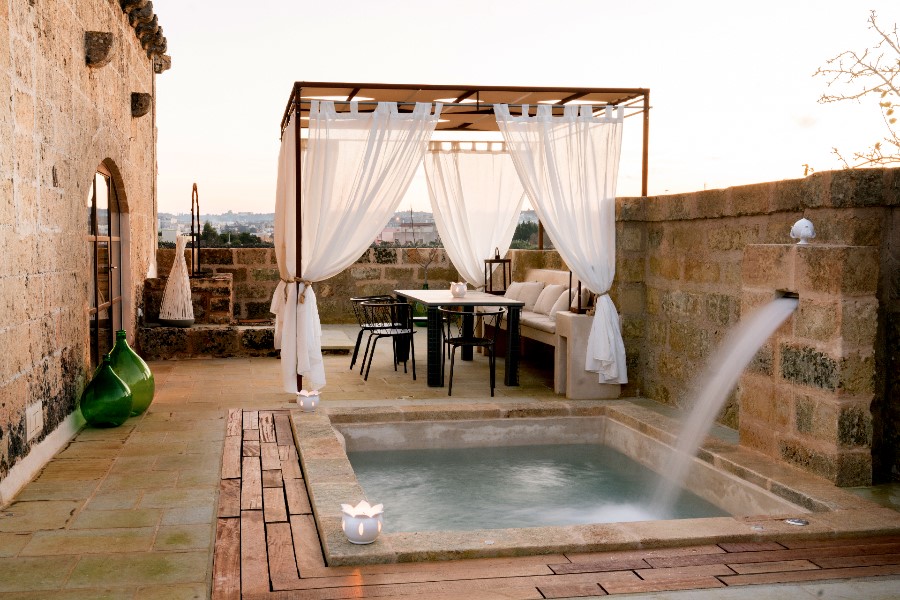 Don't Touch
Don't touch is an excellent source of direct light, as well as a solution with great decorative potential and an unusual design, whose name resembles a warning, hiding other intentions, inviting the observer to touch it.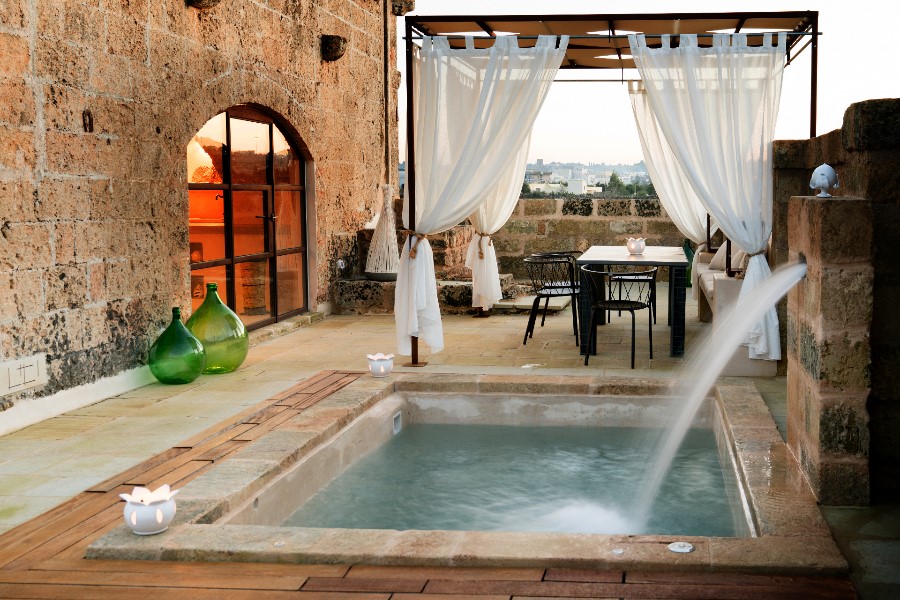 Don't Touch
The minimal charm of Cell
With Cell, light knows no boundaries and is free to spread throughout the atmosphere. In fact, this particular floor lamp model designed by Matteo Ugolini is stripped of any structural excess.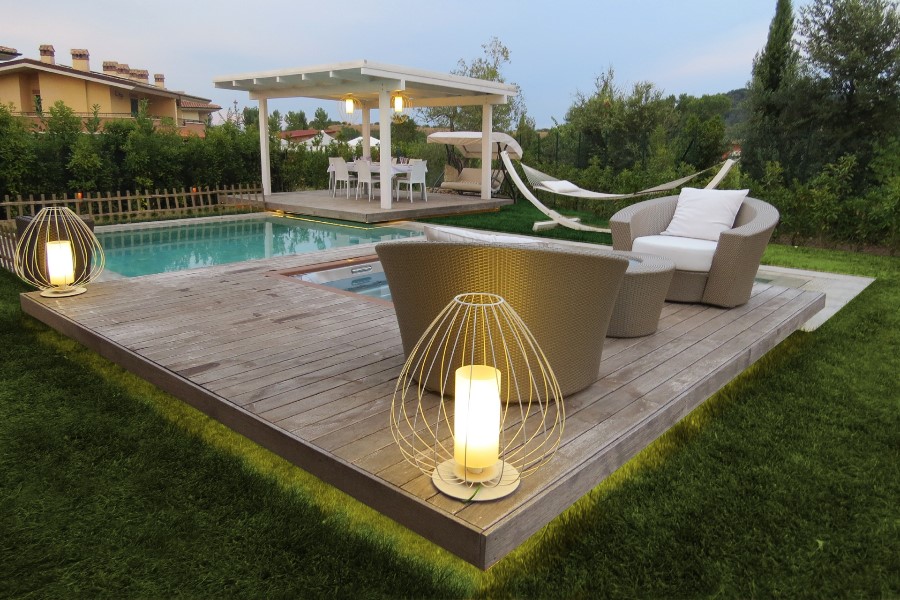 Cell
Minimal and elegant, Cell presents a small linen diffuser enclosed in a wire cage (rust or white) with a linear and clean profile.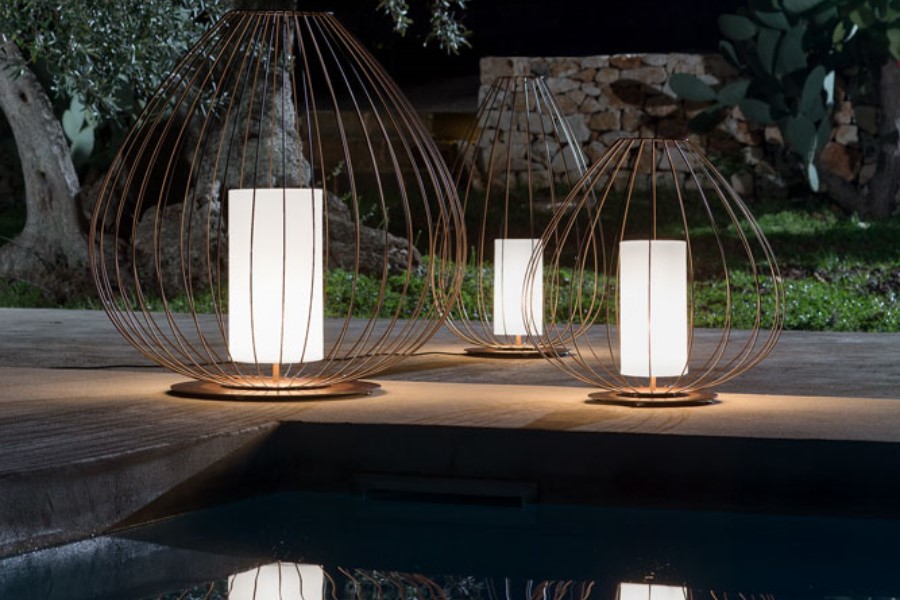 Cell
Illuminate the poolside in style: make your choice
To ensure a complete and efficient lighting design project, it is also necessary to deal with the poolside lighting.
In this particular outdoor setting, it is possible to create a pleasant climate with a captivating and creative concept thanks to Karman lamps.
Following our advice, you will transform the poolside into a vibrant and peaceful oasis, enlivened by unmistakable notes of design, a signature style that only lighting design solutions by Karman can guarantee.
For more information, support and assistance in choosing the most suitable lamps to illuminate the poolside of the house or accommodation you are working on, do not hesitate to contact us at this link. We are at your complete disposal.