The choice of outdoor lamps inevitably contributes to the improvement of the facade's appearance of your client's home or garden in the evening and at night. Even a careful choice of materials can make an outdoor lamp more or less suitable for the chosen context.
Nowadays, outdoor spaces are an integral part of both private homes and public places, which makes these spaces worthy of the same attention and care that usually lends itself to the choice of furniture and the lighting system of indoor environments: the entrance areas, paths, gazebos, terraces, or avenues require the use of different light sources.
The choice of adequate lighting in the entrance area makes your clients psychologically more relaxed and lowers the fear of aggressions and break-ins, especially when they happen to return home very late. The same applies to the paths or stairways preceding the entrances, which can be tricky follow at night, as there is a risk of tripping.
Adequate lighting through the choice of suitable outdoor lamps, therefore, allows you both to make the facade of your client's home more beautiful and luminous and to make the access routes functionally easier to travel in the dark hours for the owners and their guests.
For clients who have a terrace or garden at their disposal, perhaps with a pergola or a gazebo, it will surely be pleasant to spend a few hours outdoors on warm summer evenings for outdoor dinners or simple moments of rest. The most suitable outdoor lamps in these cases are those that can offer a diffused, warm, soft, and non-invasive light, leaving the surrounding environment dimly lit.
It is always important to take into consideration the decorative aspect of the lamps. In this case, through the choice of lanterns and ceiling lights whose materials and colors are suitable for the facade of the house, with a positioning effect of the lampposts, or stakes, inside the garden.
Materials for outdoor lamps
Outdoor lamps are characterized, precisely, to remain in the open, outside the home and, therefore, are continually subject to the weather and temperature changes. For these reasons, the materials used in the manufacturing of outdoor lamps must be resistant to atmospheric agents. The body of the lamps is usually made of die-cast aluminum, stainless steel, or PVC, while glass or polycarbonate is used for diffusers.
Outdoor lamp materials, in any case, are different according to their intended functions: to outline paths, stairways, or the edge of the swimming pool, path marker lamps are mainly used because they facilitate movement when visibility is poor.
The so-called walkable lamps emit a non-glaring light, are usually small in size and are installed at ground level. In the presence of exteriors bordered by walls, you can consider the idea of adopting wall lamps. As for large spaces, such as avenues, the use of lampposts is preferable, with essential or artistic workmanship, depending on your client's tastes.
Wall lamps, generally appliqués or lantern models, are often an ideal solution for entrances. On the market, there are different versions: rustic, modern, or classic so that you can combine them with the various styles of homes.
Lanterns, for example, are generally more suitable for old and rustic houses, while many modern models use appliqués; spotlights, in particular, are always suitable for the modern style: you can choose between various styles of adjustable spotlights, to be installed on the ground or on walls.
In areas dedicated to relaxation, such as terraces or gazebos, ceiling or table lamps are often used, which can be powered by electricity or solar energy.
If your client prefers lampposts for their garden, you are really spoiled with choices, starting with the material with which they are made: from plastic—cheap and less pleasing to the eye—iron—more resistant and decidedly more elegant—to garden lamps in aluminum and brass, widely used in modern gardens.
The decision depends on your client's furnishing needs, personal taste, and financial resources.
When considering the choice of outdoor lighting, it is important to know the differences between the materials with which the various light fixtures are made. We often make the mistake of choosing outdoor lamps based on their appearance and the type of light source without paying attention to the type of material that is being subjecting to the external environment.
That is why outdoor light installations are generally made of aluminum, steel, brass, and copper.
Aluminum lamps
The lamps made with aluminum are economically convenient, but the quality of the metal is the lowest, so they are not designed to last outdoors for a long time, as over time, aluminum oxidizes, and the paint tends to fade.
Luminous fixtures made of stainless steel look beautiful in modern structures—especially in the industrial style—as they reflect the sun. We must remember that steel outdoor lighting fixtures constantly need to be cleaned so that they can keep the chromium oxide layer intact, which is useful for preventing corrosion.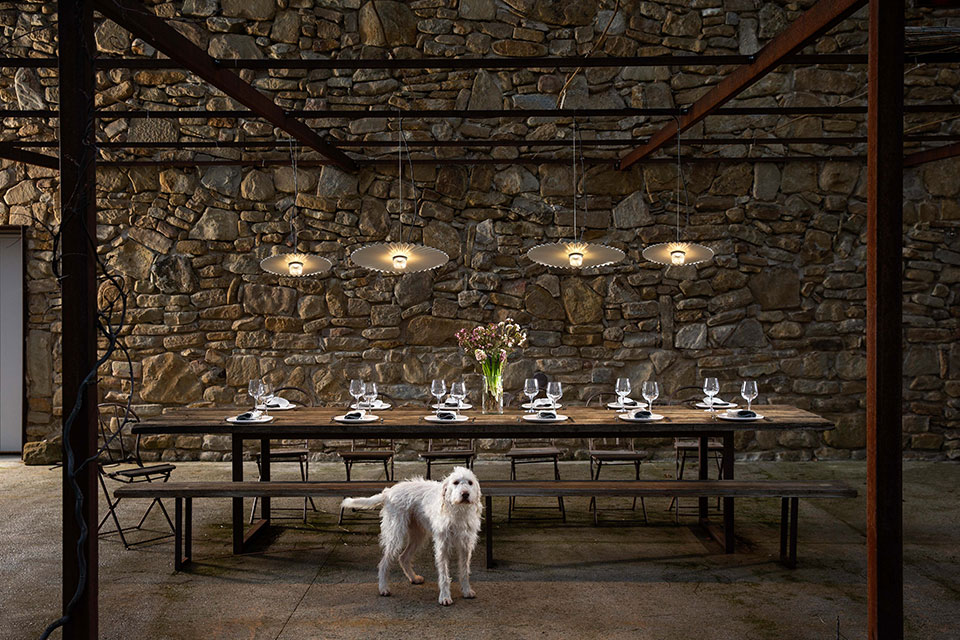 Gonzaga
Brass lamps
As for brass lamps, it is useful to say that this is a hard metal, which holds up well in all environments and is composed of a combination of copper and zinc.
Therefore, brass lamps will last for many years, which is why numerous manufacturers offer extended warranties on their brass products.
Over time, brass does not corrode but tends to become darker or have a patinated appearance: it is the best quality and most durable metal that will last longer, making it a great option for outdoor lighting.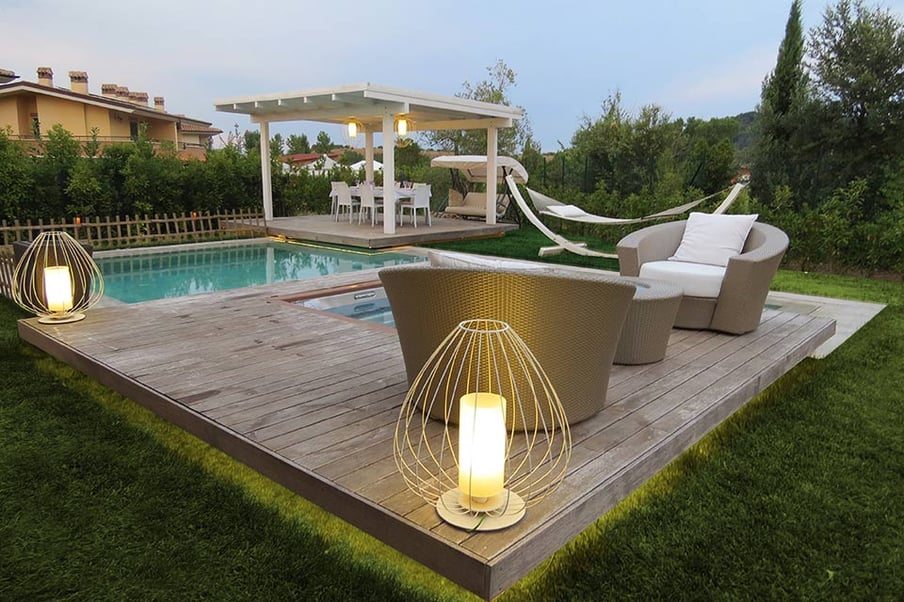 Cell
Copper lamps
Another high-quality option for outdoor lighting is copper.
Since copper is not as solid as brass, some manufacturers produce brass installations and then coat them in copper. In this way, it is possible to have the union of the best characteristics of the two materials, namely the longevity of brass and the beauty of copper. Copper also darkens over time.
In addition to these materials—and their combinations—Karman manufactures outdoor lamps using other very valid types of material, such as ceramic, cement, and fiberglass.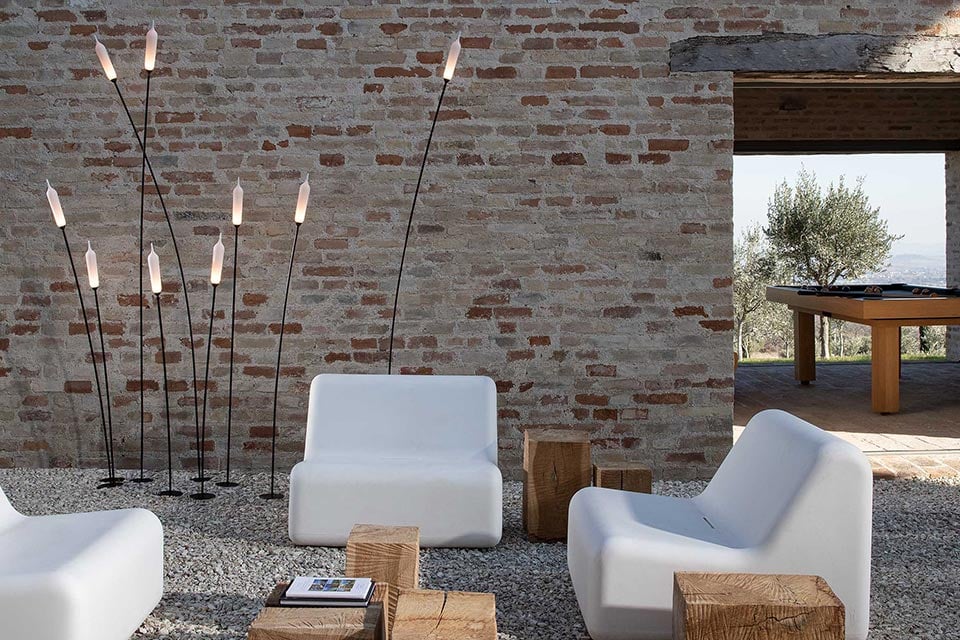 Nilo
Fiberglass lamps
Fiberglass outdoor lamps have several advantages, such as the lightness deriving from the glass fibers of which it is composed, which are light and resistant at the same time, as it is very solid. And thanks to this quality, it is practically immune to impacts of any kind.
The resistance of fiberglass is combined with the great flexibility of the product, which, when accidentally hit or manipulated, returns to its original form without suffering any damage.
Another important advantage is that it practically does not need maintenance, as fiberglass is a very resistant material. Therefore, it is not subject to deterioration over time, nor can it be attacked by mold or bacteria.
In addition, it also has excellent resistance to atmospheric agents, because its thick and dense composition of glass fibers prevents the infiltration of both water and air, avoiding malformations, cracks, and so on.
Fiberglass outdoor lamps not only resist heat and cold, adapting to any environment, but thanks to further processing, also resist fire—given that fiberglass is not flammable.
Fiberglass, therefore, for its benefits and properties, has an indisputable quality/price ratio, so much so that it is the best-selling and most used material on the construction market: choosing this material means investing in a product that over time will bring significant savings.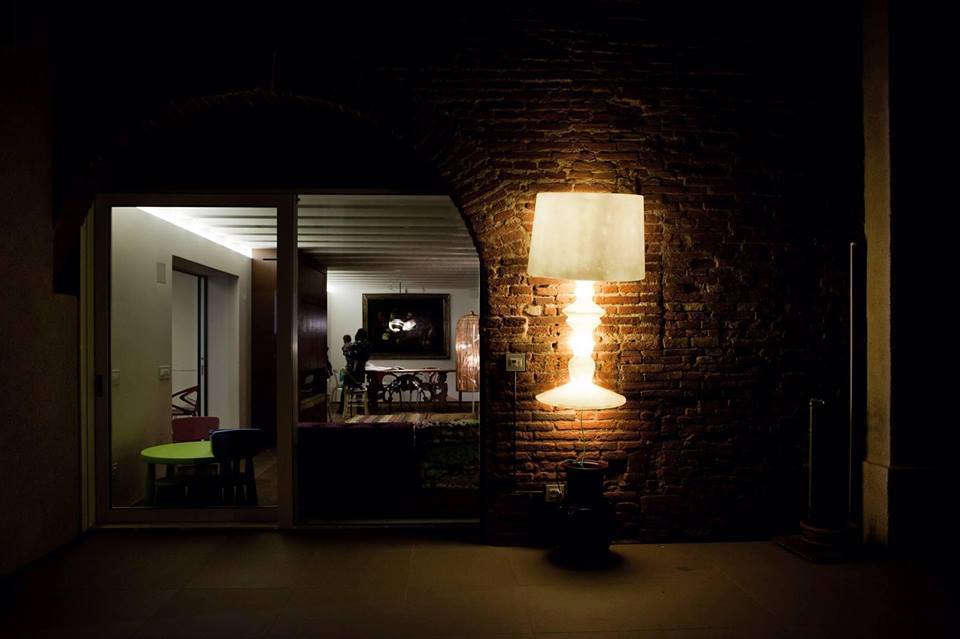 Alibabig
Concrete lamps
Concrete lamps are used outdoors because they are resistant to compression and traction and are able to protect themselves from fire for long periods.
In addition, concrete requires low maintenance, as it is designed to be reliable, using low-value materials such as sand and water that do not require thorough maintenance, which also makes it an inexpensive material.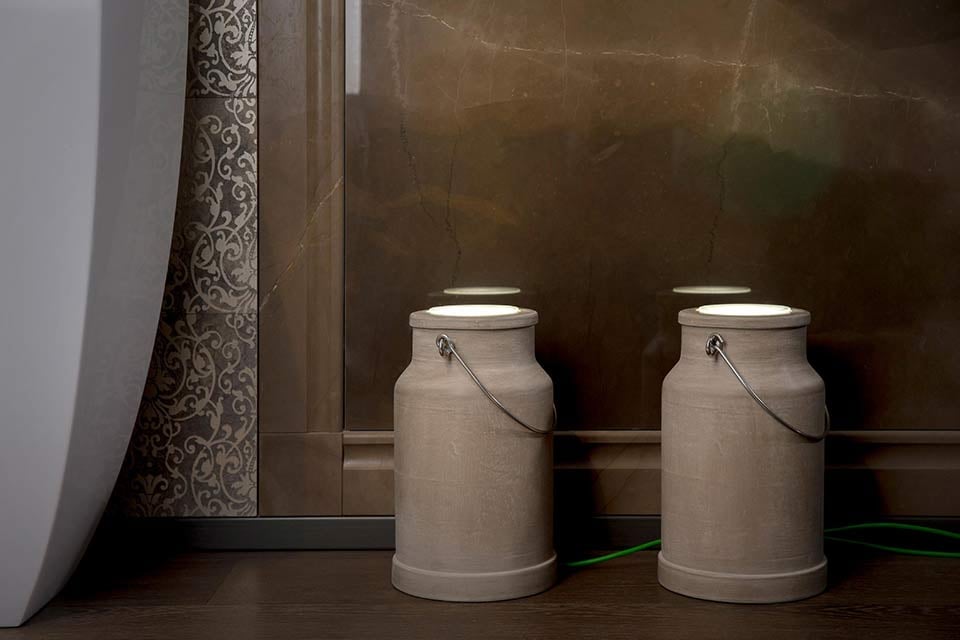 Via Lattea
So, what is the best material for outdoor lamps?
Having analyzed the main characteristics of the various materials with which outdoor lamps are made, we certainly cannot choose a single material that is the most suitable for outdoor use.
Nevertheless, among those analyzed, it is good to opt for the more resistant materials, given that the lamps will be permanently exposed to atmospheric agents.
Therefore, materials for outdoor lamps in ceramic, fiberglass, and cement are the most suitable choice both from the point of view of resistance and maintenance.
Naturally, the last word is always up to the client, depending on the type of exterior and their personal tastes.
For more information, support, and assistance in choosing the right lamp models for your decorative lighting project, do not hesitate to contact us at this link. We are at your complete disposal.