What is the goal of an outdoor lighting project? To outline the mood of the location precisely and accurately, decorating it with light that guarantees ambient, task, and accent lighting.
Whether it is a private home or, even better, a contract context, this is what a lighting designer must achieve to create a unique and evocative environment without neglecting the functionality necessary for carrying out activities in the different outdoor areas (entrance, swimming pool, dining area etc ...).
In this regard, walkway lighting plays a crucial role and should be brought to your client's attention.
These transit areas should welcome guests and must be adequately illuminated to create a unique setting. Moreover, they should allow people to move easily and safely, so they don't trip or bump into flowers and plants that brush them as they walk by.
Reconciling aesthetics and functionality is possible if you choose the right lighting for outdoor walkways.
For example, the decorative lamps proposed by Karman, where shape and design join technology.
In this article, we will take a look at: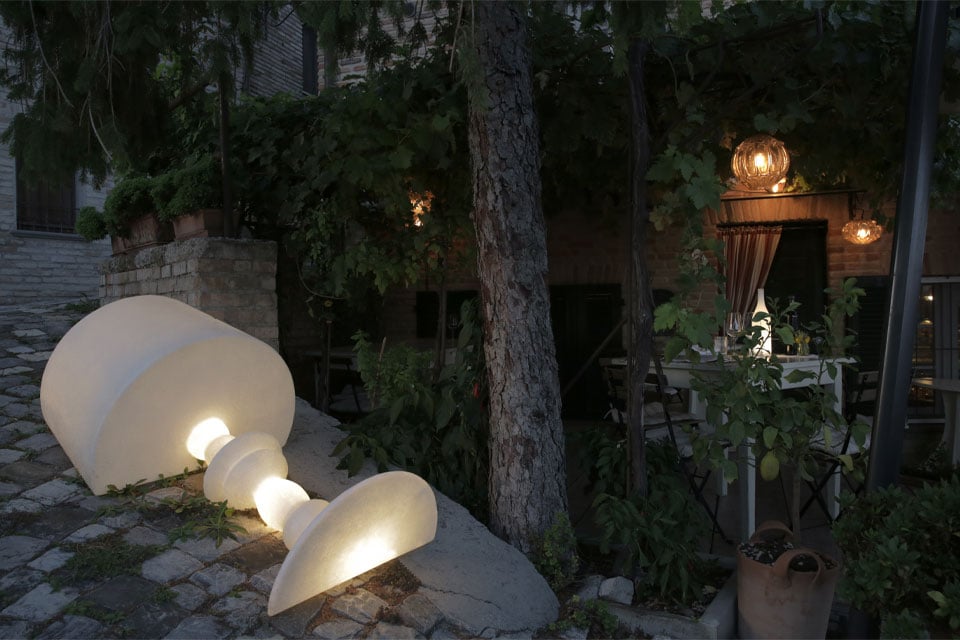 Alibabig
How to choose outdoor walkway lighting
When it comes to designing outdoor lighting there are several aspects to consider to ensure that the solutions adopted are both beautiful and functional to carry out activities with the right visual comfort and in complete safety.
Specifically, when choosing lighting for external walkways, particular attention should be paid to:
The style, which must be consistent and in line with the overall concept of the

home or accommodation facility based on the atmosphere you want to create;
The choice of outdoor materials. In fact, outdoor lamps are made to be put outside and are therefore at the mercy of temperature changes and bad weather. As a result, they must

guarantee durability and resistance to atmospheric agents.


Carry out the necessary assessments and take into account your client's taste and their propensity to dare. Then you can proceed with the proposals of the lighting fixtures most in line with the mood.
9 Karman lamps perfect for lighting outdoor walkways
The uniqueness of the shapes is combined with the careful choice of the most advanced materials to give life to original and unprecedented lamps that play with light and create an unexpected glow able to amaze even the most demanding client.

Let's find out which Karman proposals are perfect for lighting outdoor walkways.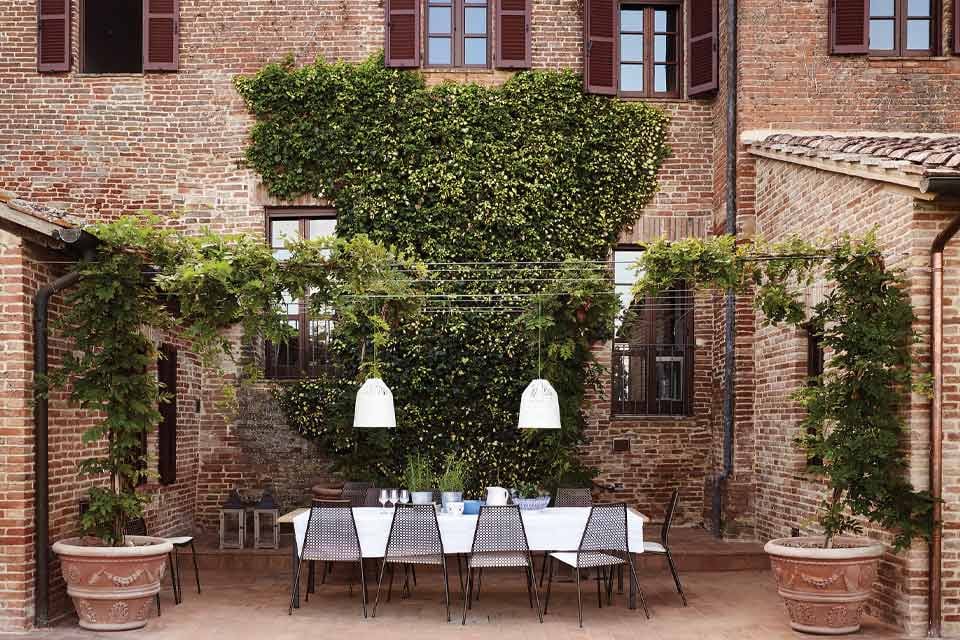 Blackout
1. Abachina: small spheres that play with light
Two small spheres in white blown glass, anchored to the opaque aluminum structure in the shape of a parallelepipedon, Abachina will give the external paths a romantic and playful look at the same time.

The surprise effect is given by the apparent floating, as if suspended in a void, of the luminous spheres.

Several lanterns of two different heights on the ground, positioned along the path excite and guide guests while ensuring the right visual comfort.
2. Pois: fireflies that illuminate the path
If the path is lined with bushes, Pois is the surprising solution.
The pegs in matte black aluminum, available in three different heights, carry a spherical diffuser in white resin.
Positioned, dense or rarefied, to outline the path of a walkway, they will summon little fireflies on a summer evening.
This lamp takes you by surprise thanks to its ability to "blend in" without losing sight of the luminous efficiency, and, while giving functional lighting to the outdoor paths, it delicately highlights the architecture and natural elements.
3. Alibabig: lighting for external walkways from "One Thousand and One Nights"
Its shape and name recall the oriental tales of "One Thousand and One Nights".
Alibabig, available in a wall or floor lamp version, is a fiberglass lamp perfect for illuminating walkways with class and elegance without going unnoticed.
In addition to providing task lighting, installed, for example, on a stone wall, it becomes an intriguing source of accent lighting.
4. Cell: an ancient lantern in a modern key
It recalls the structure of the ancient Chinese lanterns, reinterpreting it in a modern way.
Cell is a floor lamp formed by a metal wire structure, available in white or bronze, and an opal plexiglass diffuser.
It is ideal for illuminating a walkway of a home or accommodation that seeks the perfect balance between design and elegance.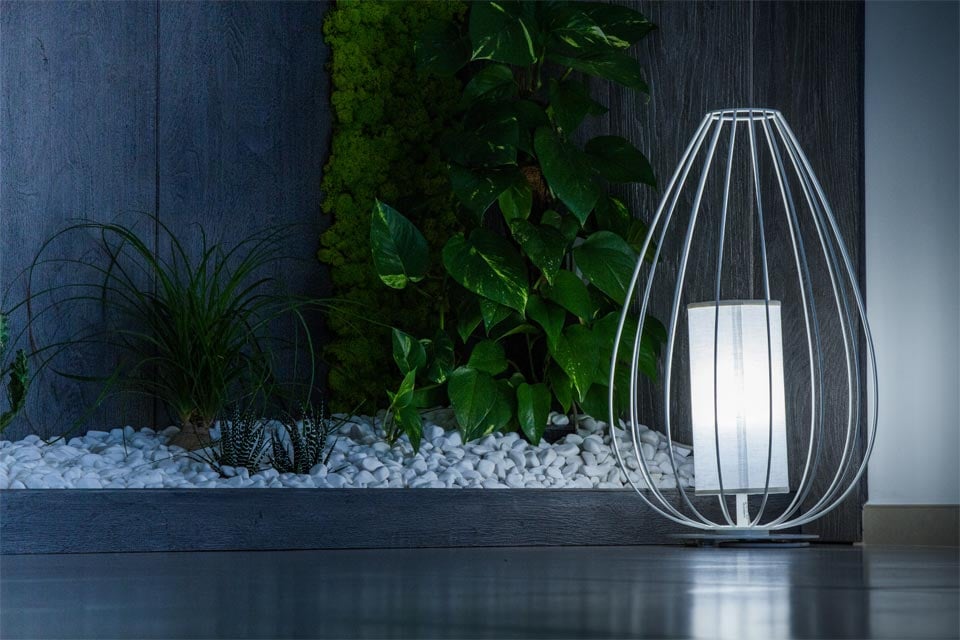 Cell
5. Don't Touch: impossible not to touch it
Don't Touch is a prohibition that calls into question a new sense in the world of lighting: touch.
This original lamp does not just illuminate but arouses an irrepressible desire to touch it; that is how great its decorative potential is.
This floor lamp, with a gray technopolymer base and bright matte white PVC rods in the center, is perfect for a client who wants to dare with class.
6. Nilo: rushes that illuminate the path
Walkways and paths become like a river with reeds surrounding them.
Nilo is a black aluminum stem with a matte white resin diffuser.
In the picket version, which emerges from the greenery, or floor lamp version, this lamp illuminates and enriches both the most classic and the most modern outdoor contexts.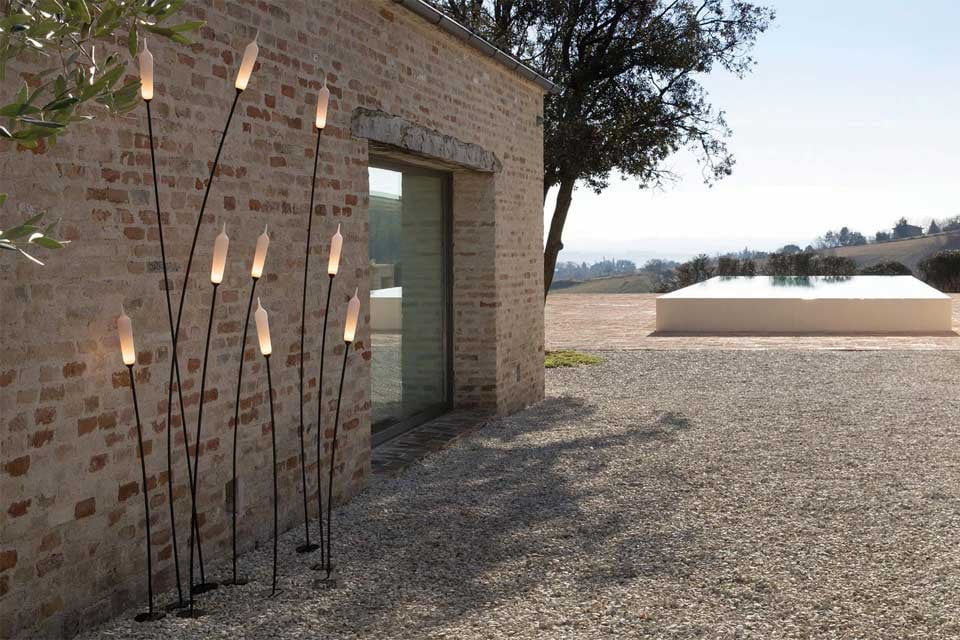 Nilo
7. Xana: the seduction of fairies and water nymphs
A creature of extraordinary beauty which, according to Asturian mythology, is believed to be alive in fountains, rivers, waterfalls, or wooded regions with pure water.
Xana is a floor lamp composed of an aluminum stem and a disc with an LED light in the center.

Refined and elegant, it is the ideal solution for illuminating outdoor paths for those who love a minimal style without giving up amazement.
8. Agua: light as a drop of dew
For a demanding customer, attentive to details but with discretion, Agua is an outdoor wall lamp with a structure in matte black aluminum and a circular-shaped mouth-blown glass spot that evokes a drop of dew.

Simple without being banal, it is perfect if the walkway runs along the perimeter of the house, restaurant, or hotel.
Installed in a series on the external walls, in addition to guaranteeing functional light, they are perfect for highlighting a stone wall or a particular architectural structure.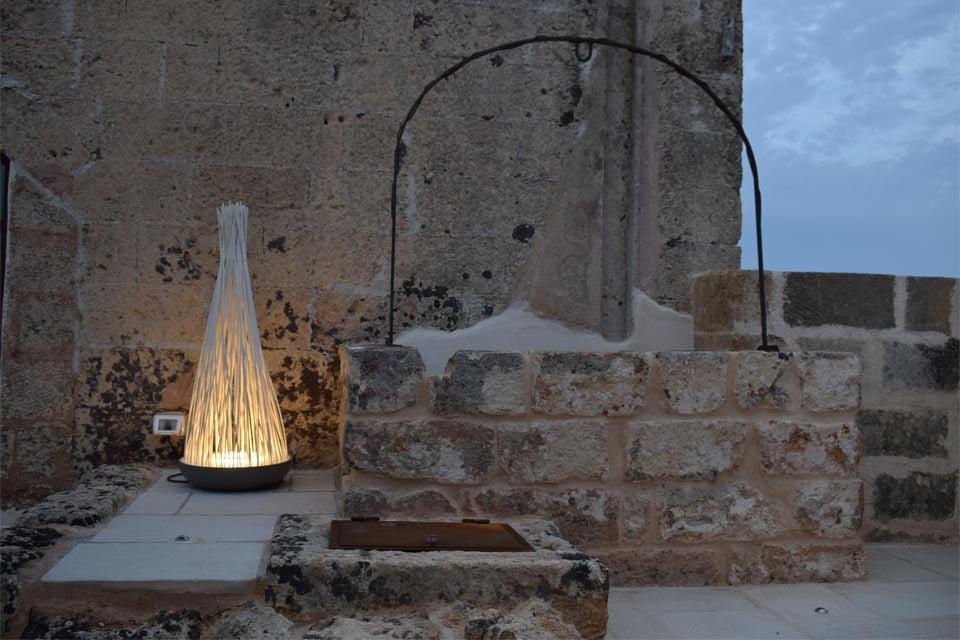 Don't Touch
9. Leda: between art and technology
This structure alternates cylindrical bars and small spheres in gold or black anodized aluminum with a LED strip wrapped in a transparent and flexible silicone tube.
Leda is a collection of modular lighting elements capable of transforming into a suspension lamp, floor lamp, or an arrangement of lamps.

If your client wants to dare with futuristic lighting, Leda will not disappoint expectations.
Karman outdoor walkway lighting: functionality and design
We have seen how an outdoor lighting design project, especially when it comes to illuminating passageways such as paths and outdoor walkways, must take into consideration, in addition to the choice of an attractive design, in line with the overall mood of the location, the functionality of the lighting to ensure good visibility and safety for guests.

Karman decorative lamps are able to meet both of these needs by combining aesthetics and technology and design and efficiency, responding to the expectations of the most demanding client.
If you wish to receive information and support while choosing lighting for outdoor walkways for your lighting project,
contact us at this link.

We are at your complete disposal.