In a restaurant, in addition to furniture, lighting plays a decisive role in creating the right atmosphere. In this sense, Karman designer lamps are perfect for the most peculiar contract lighting projects for restaurants, as they are inserted with innate aesthetic versatility.
Each solution, with its own decorative potential, is able to perfectly align with the mood of the room, enhancing its perceptive and visual impact and, at the same time, respecting its general stylistic concept.
Let's take a closer look at the characteristics of the lamps selected for contract lighting projects.
Karman lamps in contract lighting projects for restaurants
Bietigheim, Altamura - Italy
Les Amis de Messina, Paris - France
La Ménagère, Florence - Italy
Central Market, Rome - Italy
Bietigheim, Altamura - Italy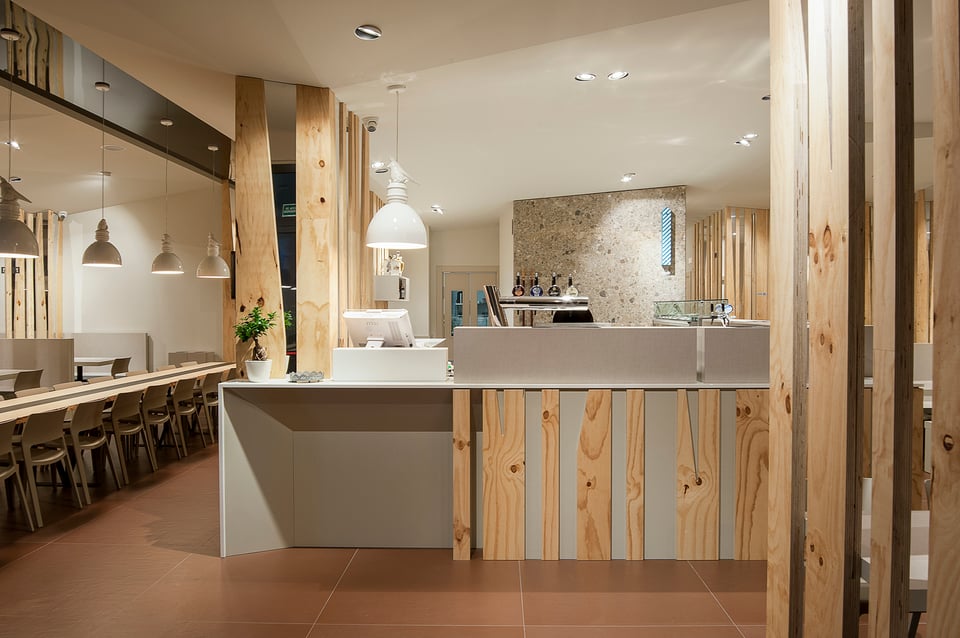 Via Rizzo 7
Bietigheim is an intimate little restaurant located in Altamura. The restaurant's name is inspired by a small town in south-west Germany, located north of Black Forest nature park.
The concept of the restaurant's furnishings seems to recall the pure and pristine atmosphere of the natural park with pure elegance, through the use of natural wood and white walls.
To complete the restaurant's aesthetic picture the Via Rizzo 7 lamp was chosen, placed above the tables in the centre of the main room.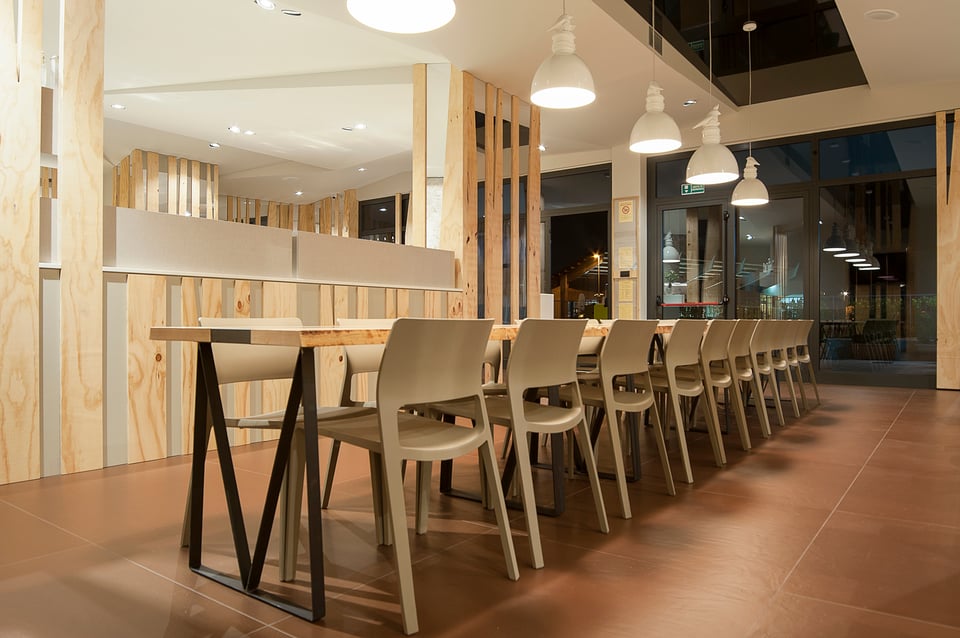 Via Rizzo 7
A suspension lamp by designer Matteo Ugolini, whose simple but evocative design recalls the typical rounded shape of old street lamps. It has a white ceramic structure, accompanied by small decorative accessories: Pepo and Maio, two small birds made of opaque white ceramic.
Les Amis de Messina, Paris - France
Les Amis de Messina is a restaurant located in Paris. This venue, which echoes the industrial style in every furnishing context, makes design and cuisine its priority, so much so that each of the three main rooms is characterised by a different, inimitable style of furnishing.
Pastry shop, cafeteria and "fine épiceries", as well as the central areas of the restaurant, boast different and stimulating atmospheres, created by Karman lamps. In particular:
Gangster
Lucilla
Biancaluce
1. Gangster
Gangster, a suspension lamp by Matteo Ugolini, illuminates the restaurant's wine cellar, fitting perfectly into the furnishing context.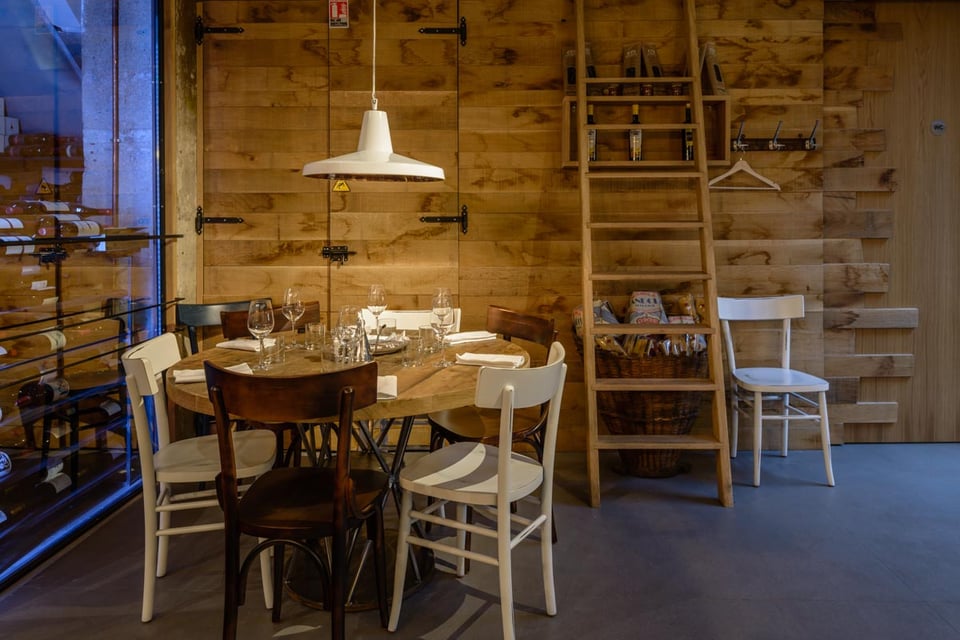 Gangster
It is a structure made of white ceramic, and with its white exterior and bronze interior, it seems to echo the characteristic features of the copper containers used for viticulture.
2. Lucilla
Specially chosen by architect and designer Farinella, we find Lucilla in the restaurant's private area.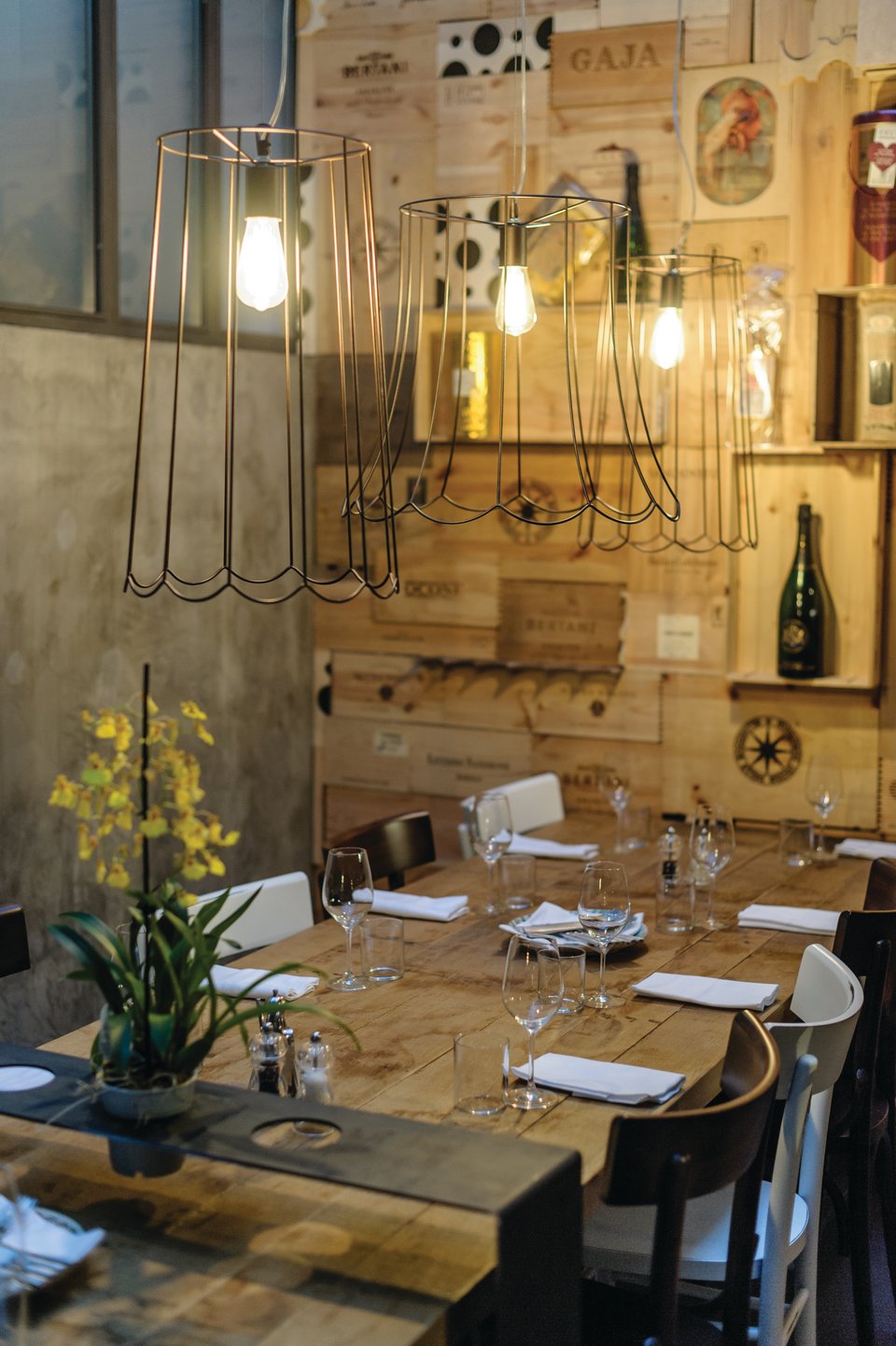 Lucilla
With its linear and defined profile, this suspension lamp, realised by Matteo Ugolini, dominates the atmosphere with sobriety giving precious streams of intense light to the environment. A refined solution that combines aesthetic and technical qualities, as it is an excellent source of ambient lighting and task lighting.
3. Biancaluce
Biancaluce, belonging to the Settenani Collection suspension line, gives direct and intense brightness to the restaurant tables, at the same time, instilling an intimate and welcoming atmosphere.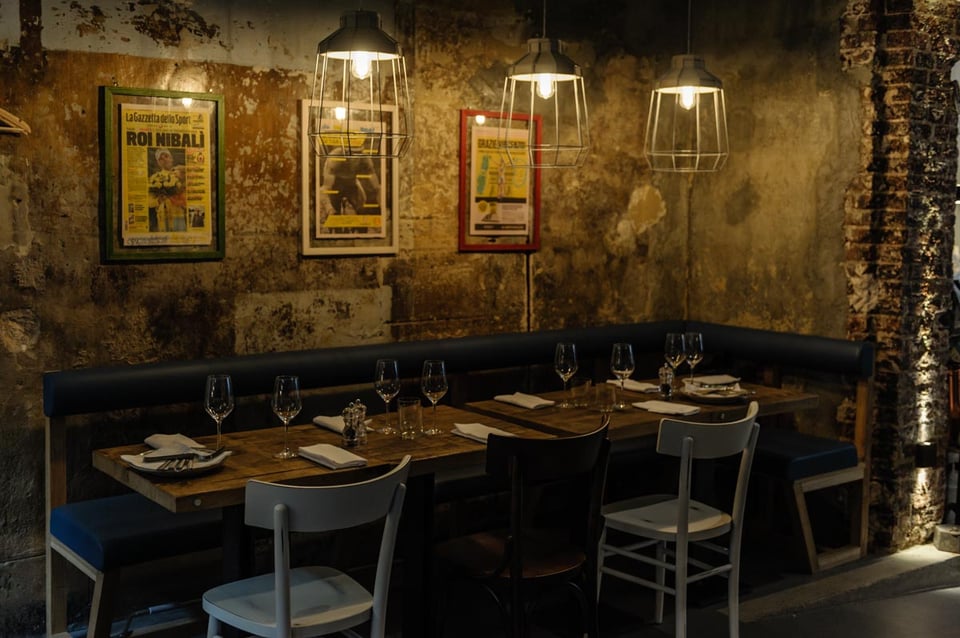 Biancaluce
A solution designed by Matteo Ugolini that partly embodies the salient features of the collection to which it belongs: a matte raw body completed by a skirt in a white metal wire that gives lightness to the structure.
La Ménagère, Florence - Italy
La Ménagère, a concept restaurant in the centre of Florence, houses 130 Karman lamps with a great aesthetic presence. Each solution has distinctive features in perfect stylistic harmony with the inside of the restaurant in which they were arranged:
Mek
Settenani Collection
Kimono
Déjà-Vu Nu
Au Revoir
Nando
Life
Alì e Babà
Lucilla
Via Rizzo 7
Sisma
1. Mek
Mek
A suspension lamp in white ceramic designed by Bizzarri Design, consisting of rings of different diameters with a decisive stroke inspired by mechanical forms. We find Mek in a total white version hanging above the display units and shelves of the restaurant. An unusual and bold task lighting solution, in perfect industrial style.
2. Settenani Collection
The concrete suspension line designed by Matteo Ugolini: seven lamps with a common structure but different personalities.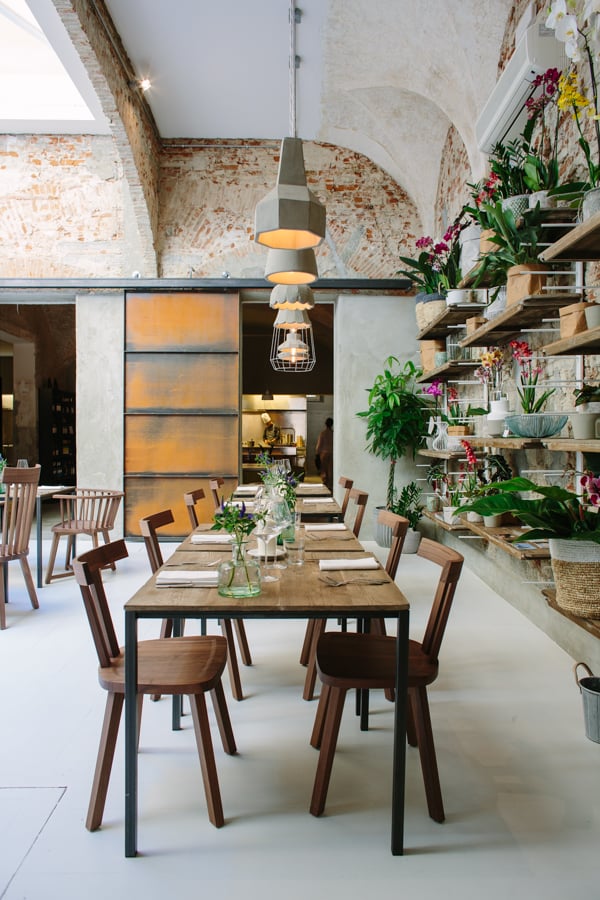 Settenani Collection
Each of these solutions aligns with the stylistic concept designed to delineate the decorative character of one of the most enchanting rooms in the restaurant. Used as task lighting sources Settenani lamps also contribute to the creation of a soft and comfortable atmosphere.
3. Kimono
In a room invaded by dim natural light, we find Kimono, a suspension lamp in fibreglass created by Matteo Ugolini.
This lamp takes on the characteristic features of ancient lanterns, and it is no coincidence that it seems to float lightly throughout the room, instilling an atmosphere of peace and serenity.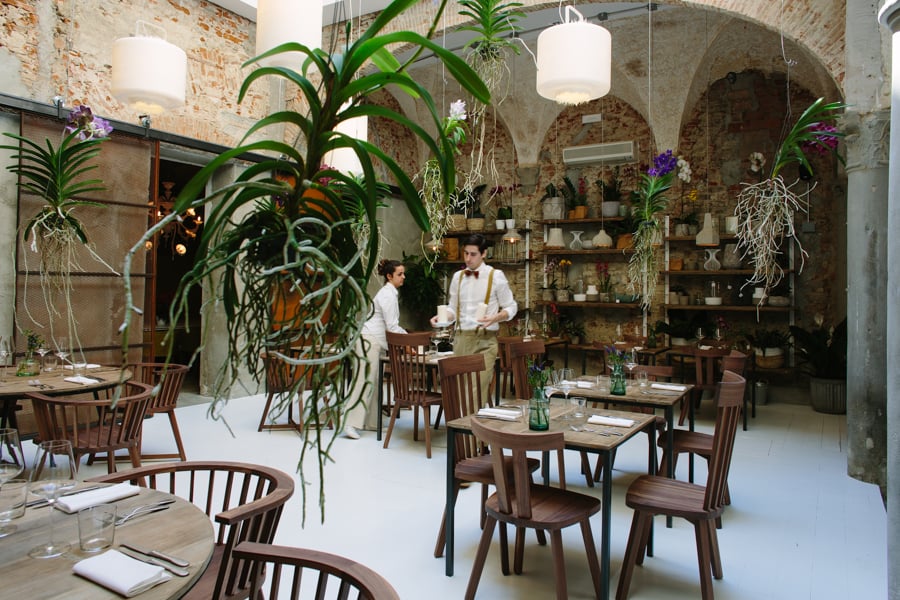 Kimono
The light passes through the wadded material, freeing itself into the soft and filtered environment. Therefore, Kimono is an excellent ambient lighting solution, also ideal for providing optimal levels of task lighting to the tables.
4. Déjà-Vu Nu
To illuminate the 18-meter long table in the gallery, Déjà-Vu Nu was chosen, a suspension lamp by Matteo Ugolini, that introduces evenly distributed points of intense light into the room.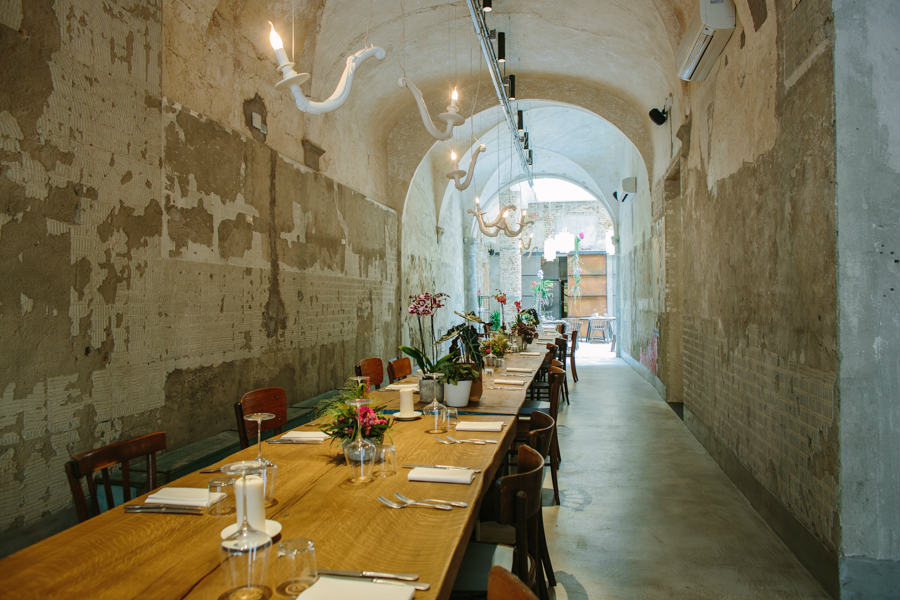 Déjà-Vu Nu
The sinuous arms are made of ceramic and finished with white satin paint. To complete the image there are small decorative blooms in relief on the surface.
5. Au Revoir
Au Revoir is located in a private room of the restaurant. It is an 11-arm chandelier in white opal glass created by Matteo Ugolini. An element of lighting design, which evades conventional schemes, designed to illuminate the table in the centre of the room and define its mood.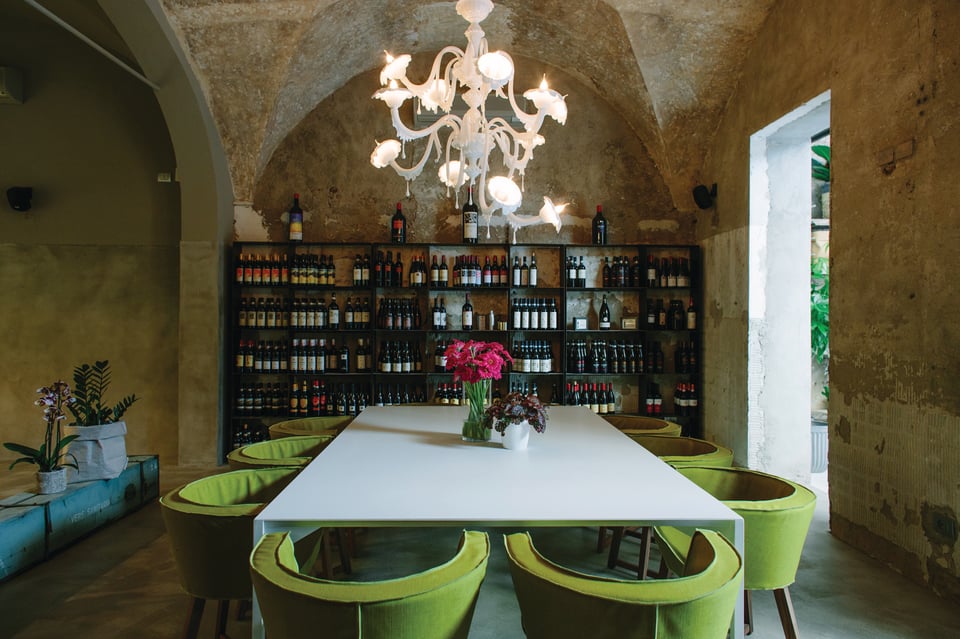 Au Revoir
If, on the one hand, the corolla-shaped lampshades seem to echo the design of antique chandeliers, on the other hand, the shape and the unusual line express a surreal aesthetic style, more in step with the times.
6. Nando
We find Nando in a suspension and appliqué version in the entrance and other dining rooms dotted with direct and intense light. We are talking about one of the industrial style lamps with the greatest aesthetic appeal created by Luca De Bona and Dario De Meo.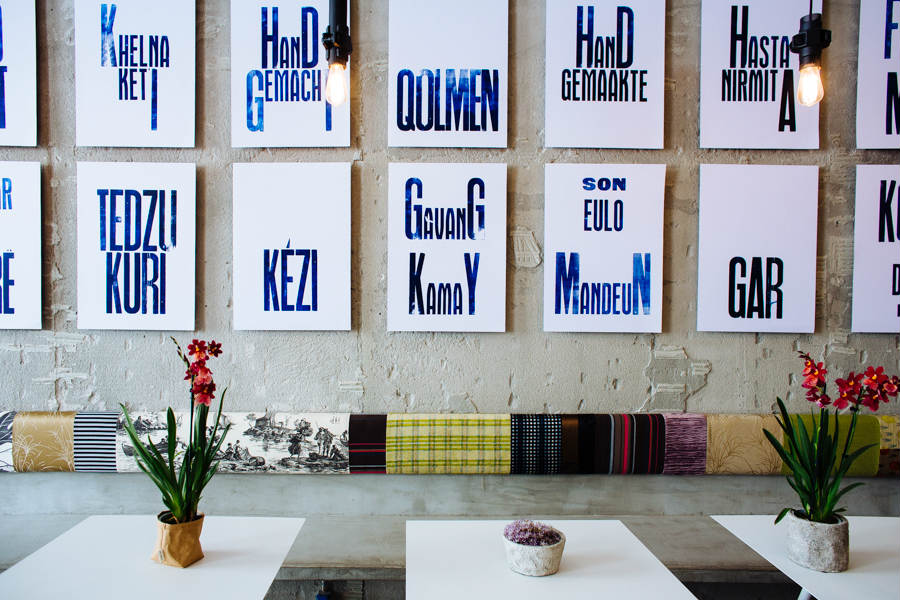 Nando
A lamp with a clean and decisive line, consisting essentially of a metal joint and a micro-perforated tubular, in this case, lacquered in the colour anthracite.
7. Life
Life is one of the suspensions created by Matteo Ugolini that fully embodies the essence of retro taste. It is a lamp of great stylistic charm and has remarkable technical qualities; it floods the small coffee room with warm and intense light, creating, at the same time, an intimate and rarefied atmosphere.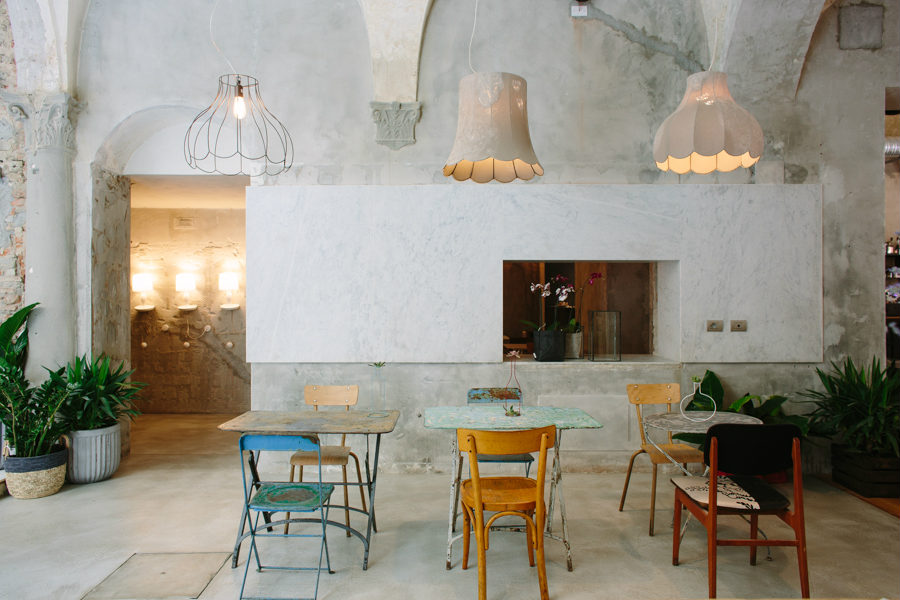 Lucilla and Life
The structure, made of rust-coloured iron, pours into a curved, sweet and sinuous line, emphasised by vintage-finish denim fabric.
Along the fabric, we find tears and wear, hand-made specifically to give each model a new look, providing a magical light that is never alike.
8. Alì e Babà
Inevitable in the best decorative lighting projects for restaurants, the Alì and Babà suspension lamps are combined in composition with remarkable decorative potential.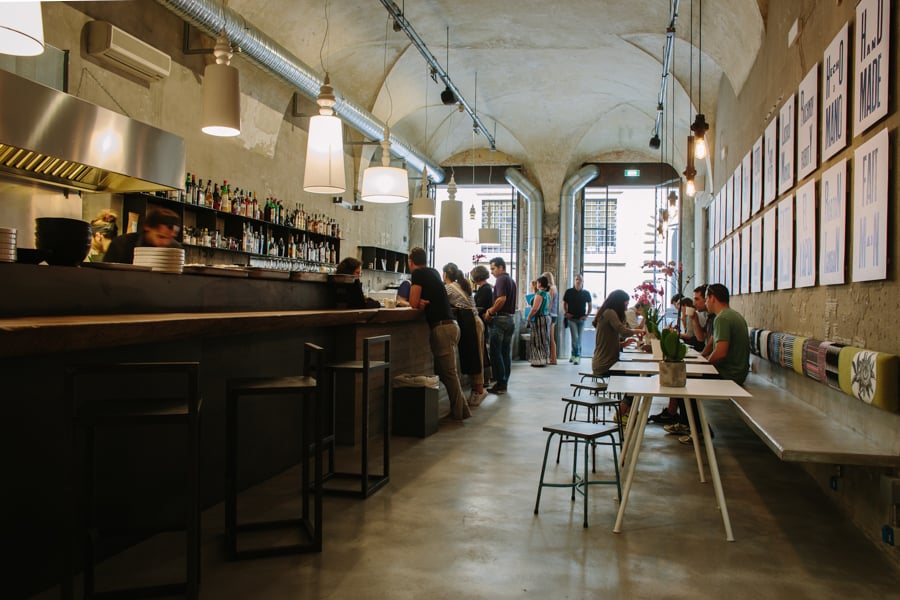 Alì e Babà and Nando
The bar area illuminates thanks to Alì and Babà in a play on material and formal contrasts impossible to miss. A design solution born from a dreamlike idea by Matteo Ugolini, proposed in this context in several formats, with a white or ceramic lampshade.
9. Lucilla
In complete harmony with the floral mood of the restaurant, we find Lucilla, another lovely creation by Matteo Ugolini. A lamp capable of rendering an aesthetic picture with a bucolic character enriched by blooming plants with energetic and lively colours that is more sober and refined.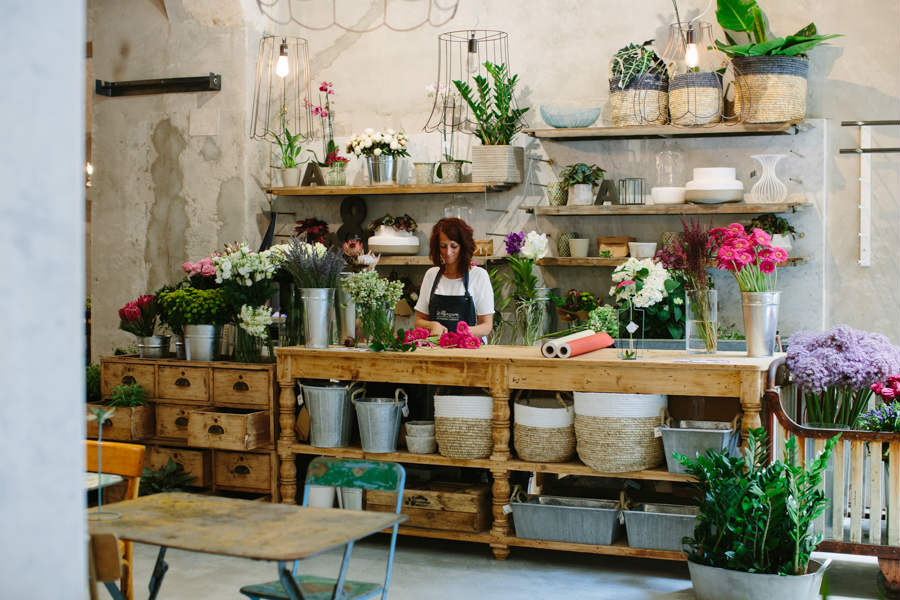 Lucilla
Lucilla shares the same structure as Life but is completely stripped of the denim fabric. With this model, the light is free to radiate into the space, illuminating the entire room.
10. Via Rizzo 7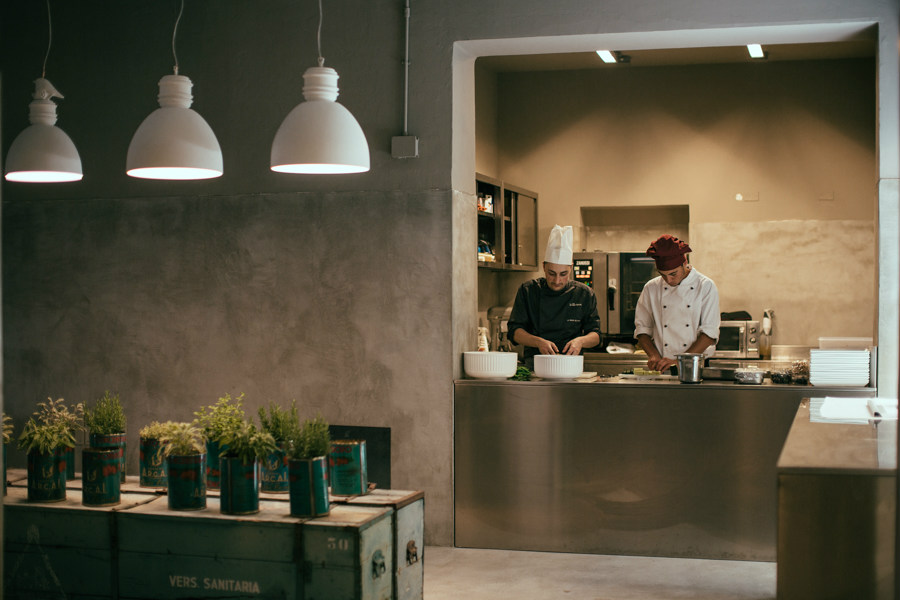 Via Rizzo 7
Inside La Ménagère, we find the Via Rizzo 7 suspension lamps in front of the open kitchen. A design lamp that confers accent lighting and, at the same time, adds a decorative note to the room.
11. Sisma
Sisma fits with sophistication into the aesthetic composition of La Ménagère. Also, this lamp, without a lampshade, offers the environment direct and homogeneous lighting with ever-changing light designs.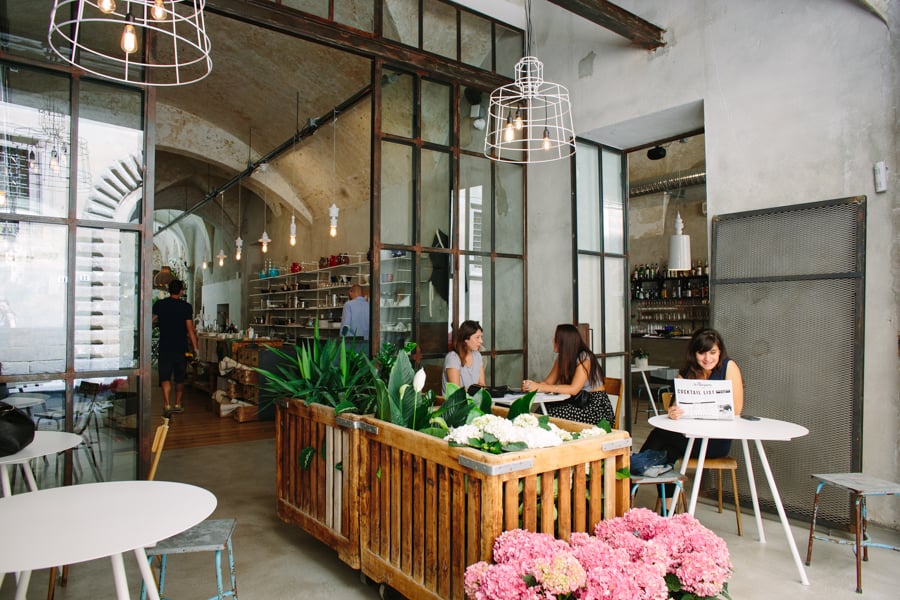 Sisma
In fact, the white metal rod body houses three light bulbs hanging from black cables to hang and place in the positions you prefer. Sisma offers functional brightness and industrial aesthetics in a single solution.
Central Market, Rome - Italy
The Central Market of Rome hosts numerous shops, each with a different mood that tells a story.
In this sense, Karman lamps become spokespersons for the daily stories of a place that is always busy and full of movement, aligning itself perfectly with the concept of each area. For this contract lighting project for restaurants, the following were chosen:
Ceraunavolta
Work In Progress
Ginger
Gangster
Déjà-Vu Nu
Settenani Collection
MakeUp
Lucilla
Scrivimi
1. Ceraunavolta
Ceraunavolta welcomes visitors to the Central Market of Rome with a design statement. It is a composition of hanging lamps in different sizes made of blown glass.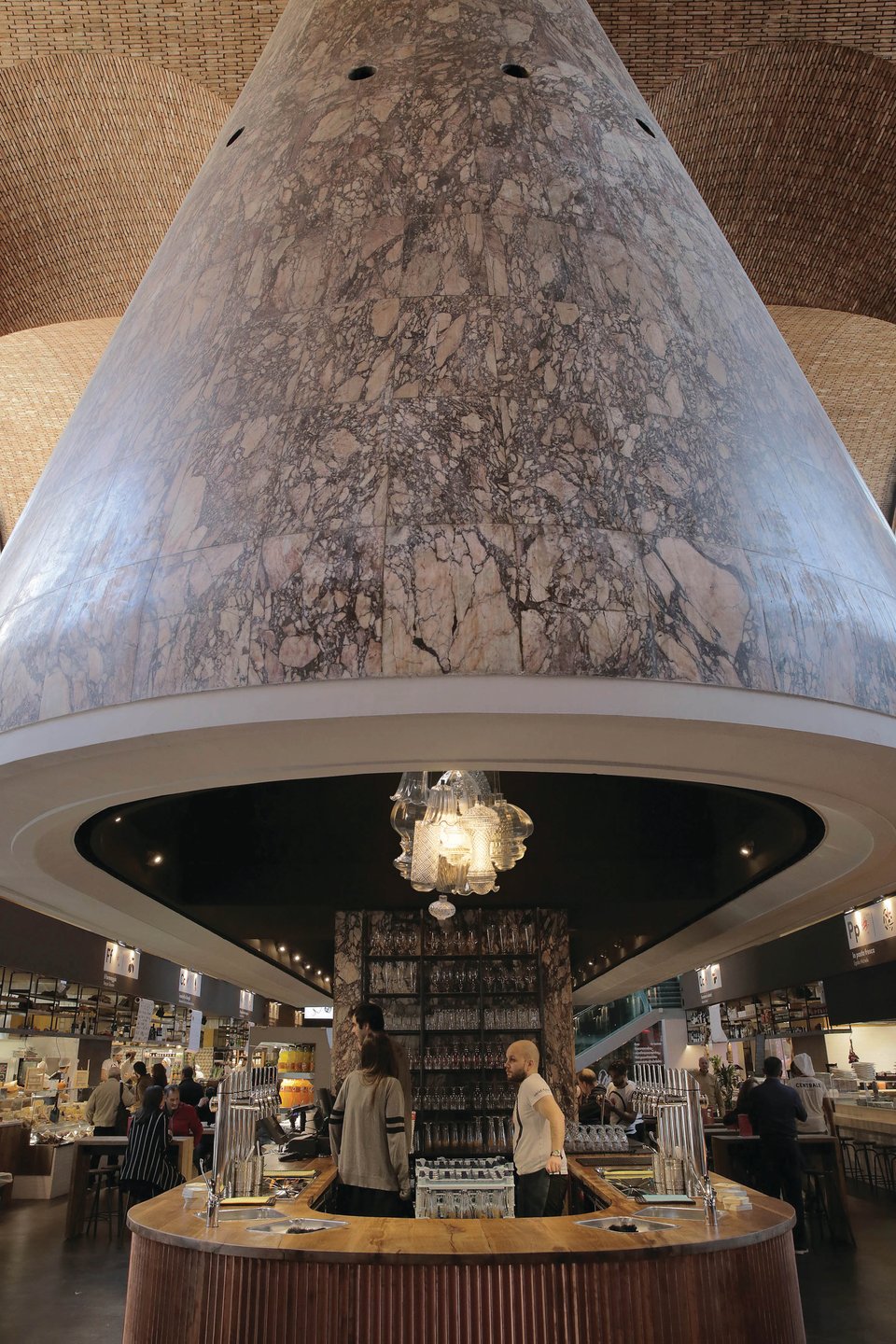 Ceraunavolta
Created by Edmondo Testaguzza and Matteo Ugolini with a high scenic appeal that leaves an inimitable style imprint, illuminating the heart of the market with diffused and soft light.
2. Work in progress
The industrial taste of Work in progress, a lamp by Matteo Ugolini, emerges above the kitchen area of one of the Central Market's shops.
We are talking about a suspension lamp that partly resumes the appearance of a construction lamp but wears a more elegant and graceful look.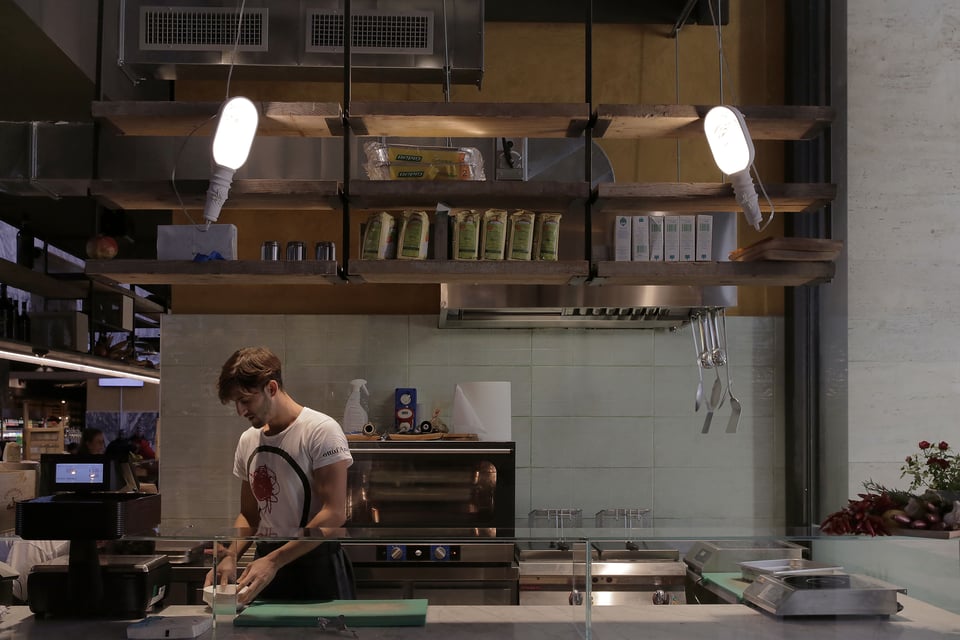 Work in progress
Structure in opaque white ceramic and revived with floral patterns in relief in the interior part of the lamp. It is a solution that combines design and functional lighting, suitable for providing the visible kitchen with task lighting.
3. Ginger
Blown glass takes on soft forms, with a retro taste, with Ginger. Edmondo Testaguzza's creation with a straw yellow glass structure modelled along curved lines is enlivened by glass ripples.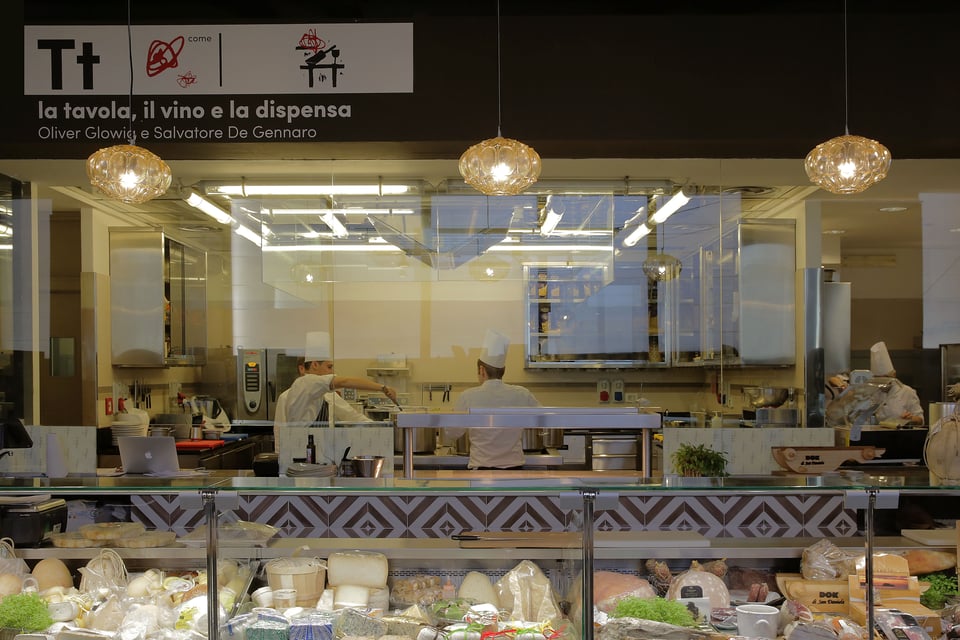 Ginger
Ginger gives functional brightness to the task surfaces of the deli counter while showing great stylistic personality: an indispensable feature for a designer lamp.
4. Gangster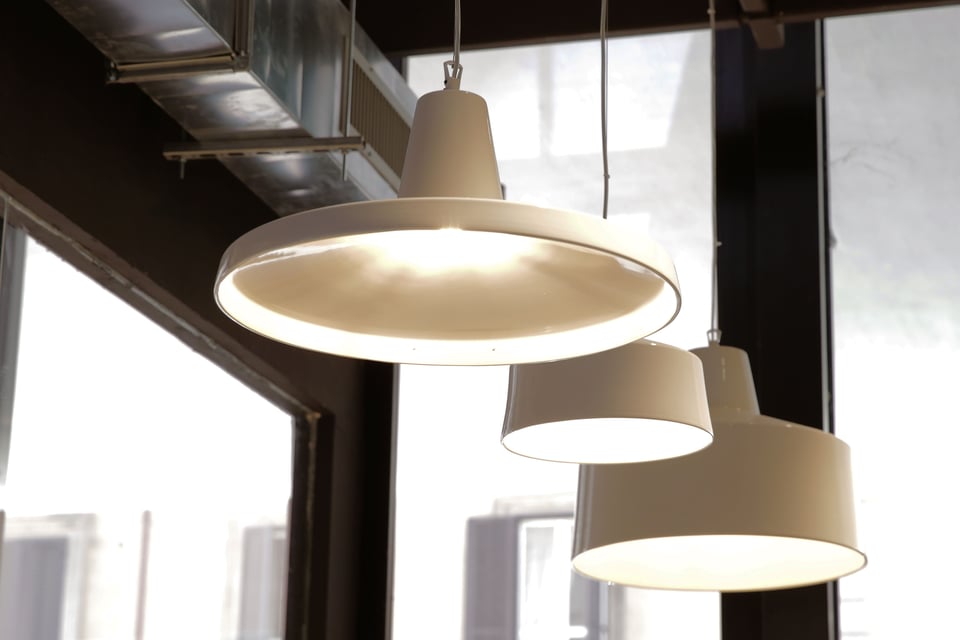 Gangster
We find Gangster in a total white look also in the Central Market Project. This time proposed in three different sizes, Gangster finds a place in a restaurant with large windows and illuminates the adjacent tables.
5. Déjà-Vu Nu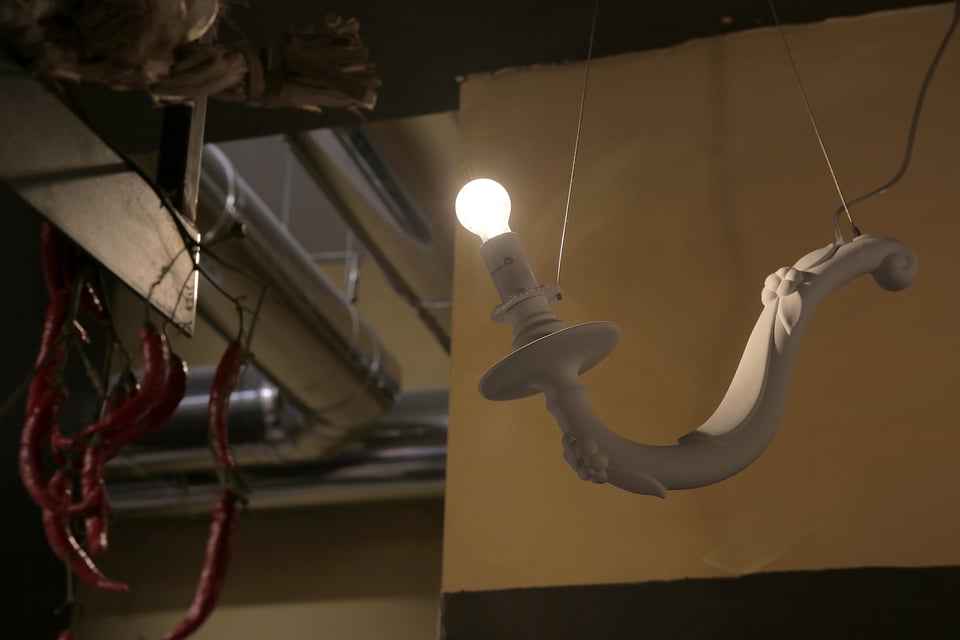 Déjà-Vu Nu
The functional lighting of Déjà-Vu Nu this time is oriented towards shelving for product display. A suspension lamp that fits perfectly into this aesthetic composition with an urban character, without losing its elegant charm.
6. Settenani Collection
We meet the Settenani Collection again, in this case, positioned next to wooden storage shelves.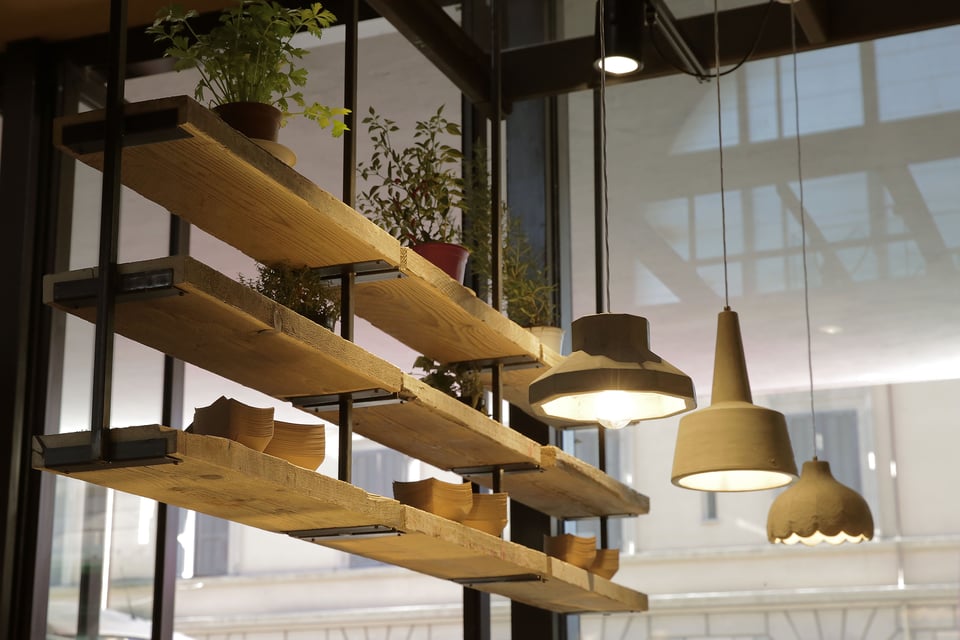 Settenani Collection
The material strength of cement combined with the magic of light gives, to one of the shops of the Central Market, elements of lighting design with an excellent technical and aesthetic value.
7. Make up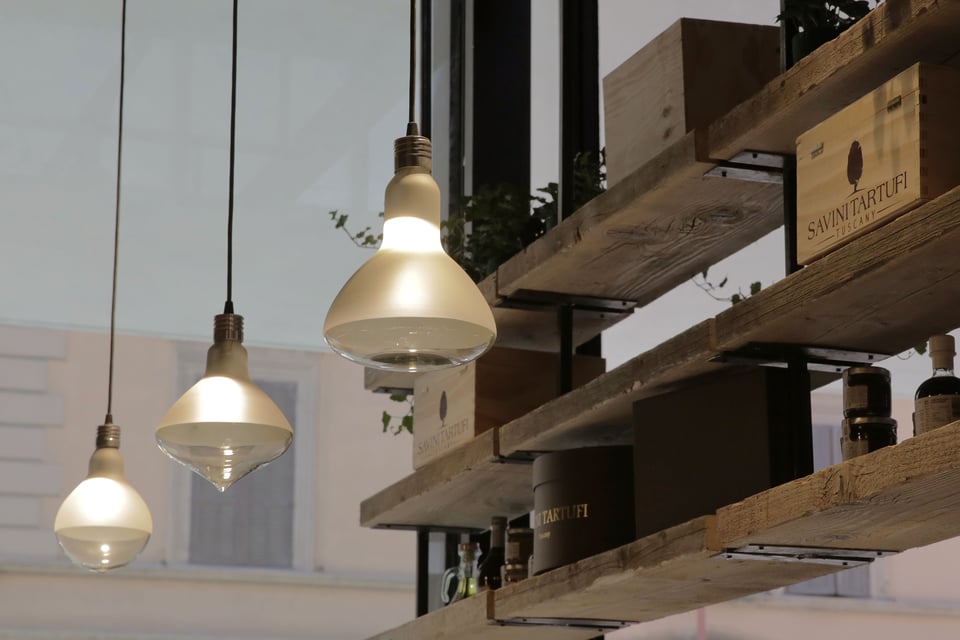 Make Up
Next to the wooden shelves is Make Up, a suspension lamp in transparent satin glass, created by designer Matteo Ugolini. The shop's shelves are dressed in bright and energetic light, useful for illuminating products but above all to accentuate the furnishing details of the room.
8. Lucilla
The subtle silhouette of Lucilla's metal wire also reappears in this contract lighting project.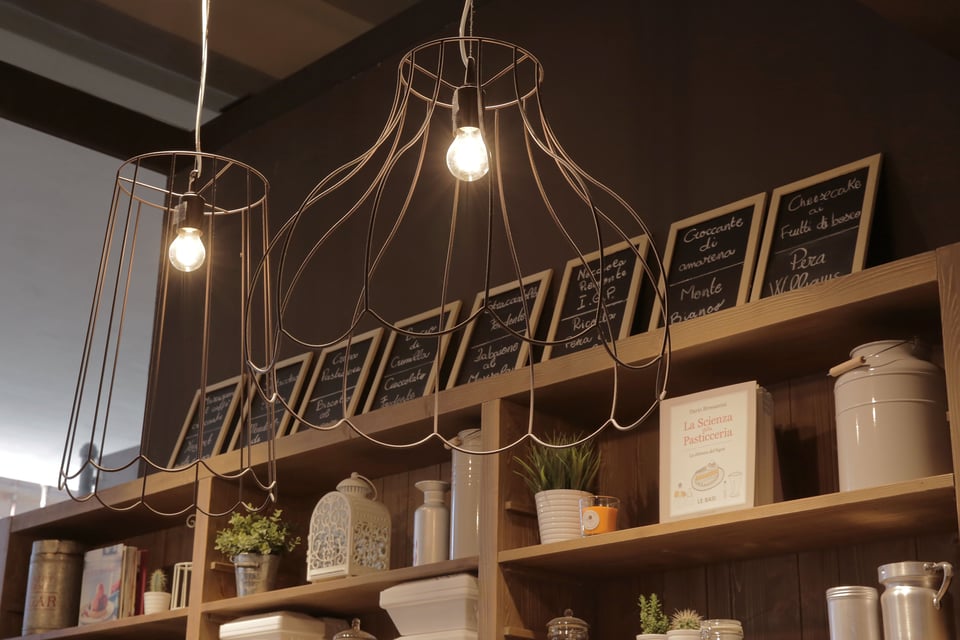 Lucilla
With its sweet curves completely bare, without a lampshade, they decorate the ceiling giving way to light, free and unchallenged, to flood the shop.
9. Scrivimi
Last but not least: Scrivimi finds a place in a small bakery at the Central Market. The flat lampshade allows light to be aimed in specific directions onto surfaces, thus effectively illuminating pastry and gastronomy products.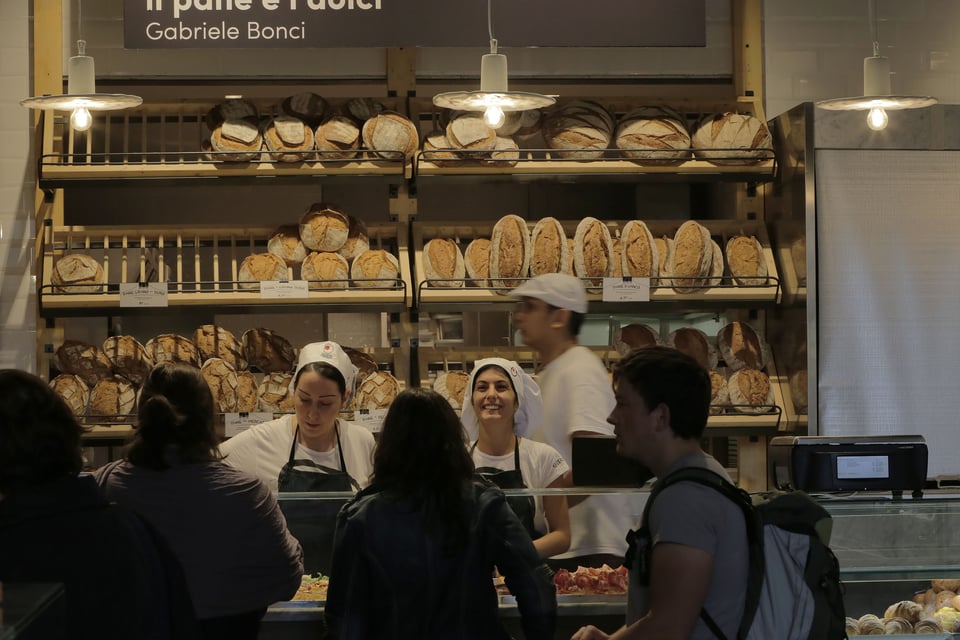 Scrivimi
Also, in this case, with Scrivimi, the white ceramic confirms its aesthetic potential.
Contract lighting for restaurants: an unmistakable signature style
Where there are design and light, there is a Karman lamp: the concrete union of refined style and functionality.
A winning combination that makes these lamps the best for contract lighting projects for restaurants.
For more information, support and assistance with the contract lighting projects for the restaurant or venue you're designing, don't hesitate to contact us at this link. We are at your complete disposal.