In the field of lighting design, the modern style is distinguished by sobriety and elegance. Modern designer lamps are characterised by clean lines, simple geometries and neutral colours, so they are extremely versatile and suitable for lighting projects for private homes, accommodations and restaurants.
In addition to creating an impactful effect, modern style lighting solutions ensure direct and uniform light for the whole space and are also suitable for providing the right brightness to workstations and decorative elements.
Modern style lamps are true stylistic statements that fit into any furnishing context, without making a disturbance, as they are devoid of any aesthetic mannerisms.
The essential shapes and the sculptural linearity fascinate the observer's gaze and satisfy the stylistic requirements of modern taste.
Let's take a look at how the modern lamps designed by Karman can help you create cosy atmospheres with a distinctive touch.
Modern designer lamps by Karman
Karman's lamps present a modern taste in new and surprising shapes while maintaining a refined and minimal look.
Karman's unique style takes on different types of lighting with originality, reinterpreting the modern style in a creative, yet classy way, adding value to the lighting project.
Below are the modern designer lamps by Karman's designers, suitable for the main rooms.
Private homes
We would like to present some lamps designed for the most important areas in the lighting design of private homes: bedroom, kitchen, living room and living area.
1. Dies Nox in transparent glass
Dies Nox is a suspension lamp, halfway between industrial and modern style, created by Laura Alesi and Silvia Braconi, that is suitable for the illumination of even the most intimate and private corners of a private home.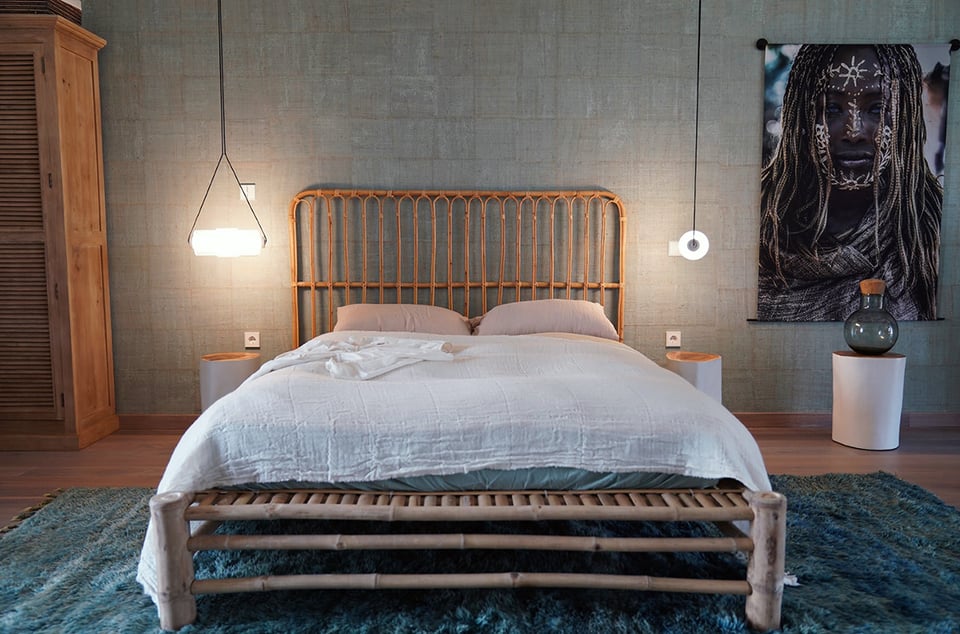 Dies Nox
For example, positioned on the sides of the bed this suspension lamp provides excellent levels of task lighting.
2. Mek
Mek is another lamp by Bizzarri Design that adapts to the home environment due to its refined but essential design and its ability to provide direct light to workstations.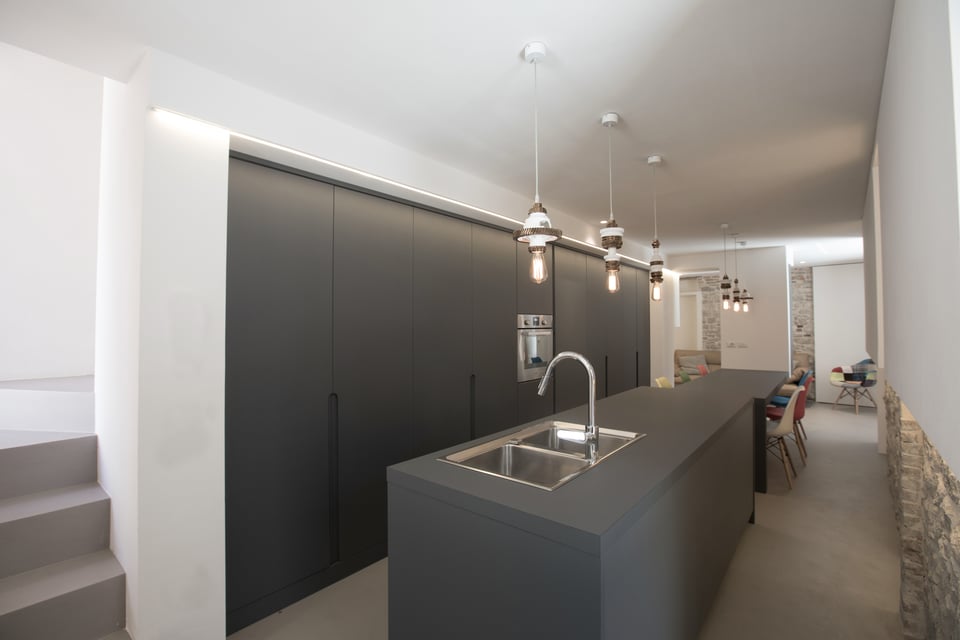 Mek
It is a ceramic industrial style suspension lamp available in white and bronze, black or white and in three different shapes. The industrial style of this lamp shines through the mechanical shapes of its rings that have different diameters.
3. Snoob
Snoob, created by designer Matteo Ugolini, is a chandelier with a renewed concept and silhouette. We are talking about an impressive suspension lamp that is graceful in its clean and slender shape, which lends itself to the illumination of living rooms and meeting rooms.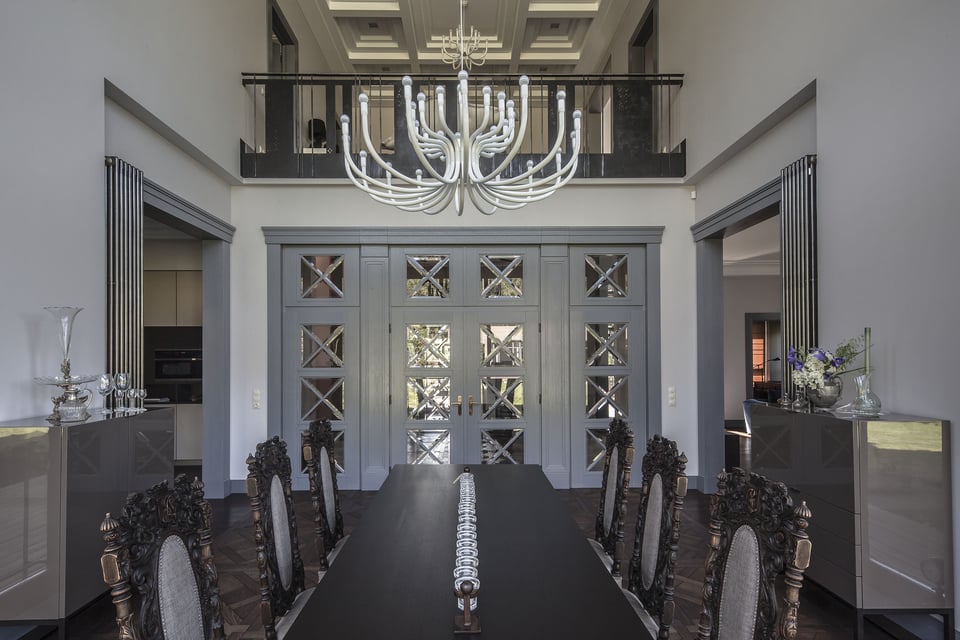 Snoob
For other lighting ideas for private houses, we suggest you read this article: Decorative lighting for the home: giving light to every room.
Restaurants
For the lighting design projects of bars and restaurants, it is necessary to select modern lamps able to provide functional and diffused light throughout the environment. Here are some examples.
1. Bacco
Located on the tables of an outdoor or indoor venue, Bacco is a customisable lamp which reaches its maximum expression, granting guests a pleasant "candlelight" stay.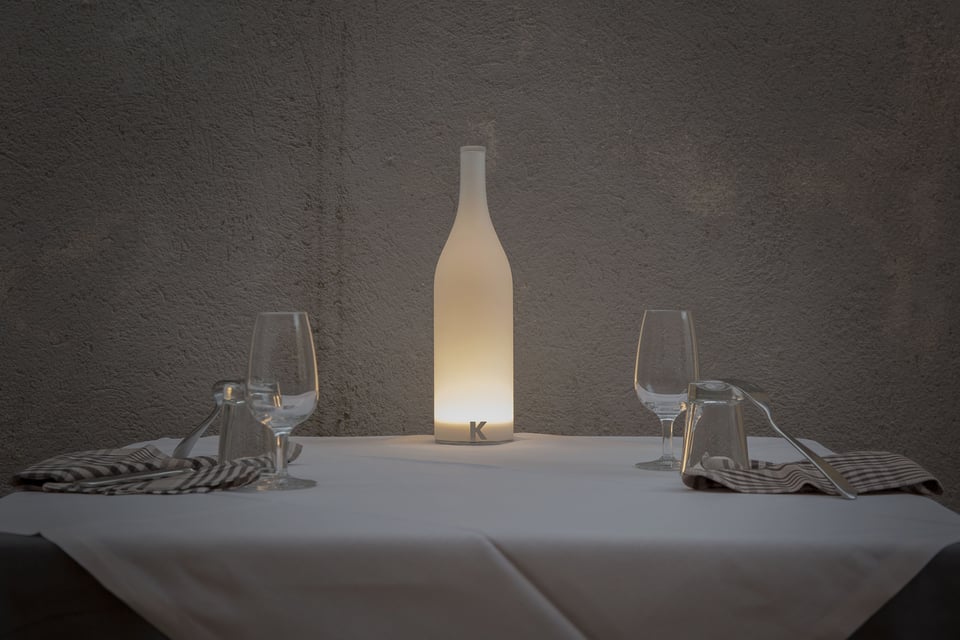 Bacco
This table lamp, created by Matteo Ugolini, provides filtered lighting to the tables for a private and romantic atmosphere, yet highly functional to illuminate the food and dishes.
2. Tobacco-Coloured Dies Nox
The amber colour of Dies Nox, in a tobacco-coloured version, lends itself to the illumination of daytime areas and dining rooms of restaurants and clubs.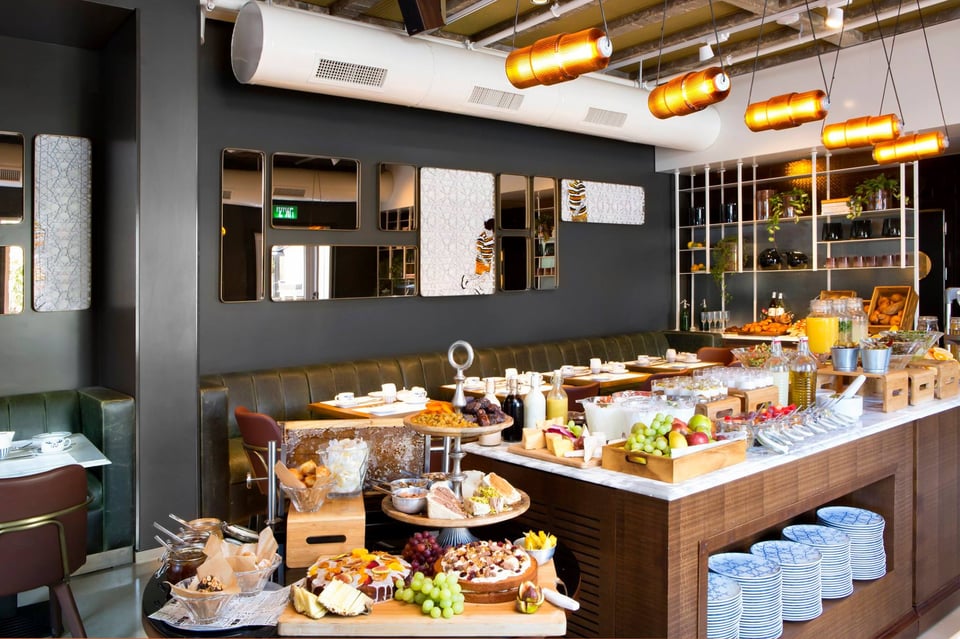 Dies Nox
The texture of striped and mesh glass, combined with the warm colour of the lamp, guarantees filtered brightness and essential light points to supply the area with both ambient lighting and task lighting.
3. Don't Touch
With Don't Touch, a solution created by Matteo Ugolini, the modern style fills the corners of bars and restaurants, illuminating the room with beams of direct and filtered light.
Don't Touch
One or more of these floor lamps not only introduce bright points of reference in a room but also serve as elegant and classy furnishings.
4. Sisma
Sisma is an industrial style suspension lamp by Matteo Ugolini, whose decisive and essential shape is suitable for ambient lighting and task zones in a restaurant.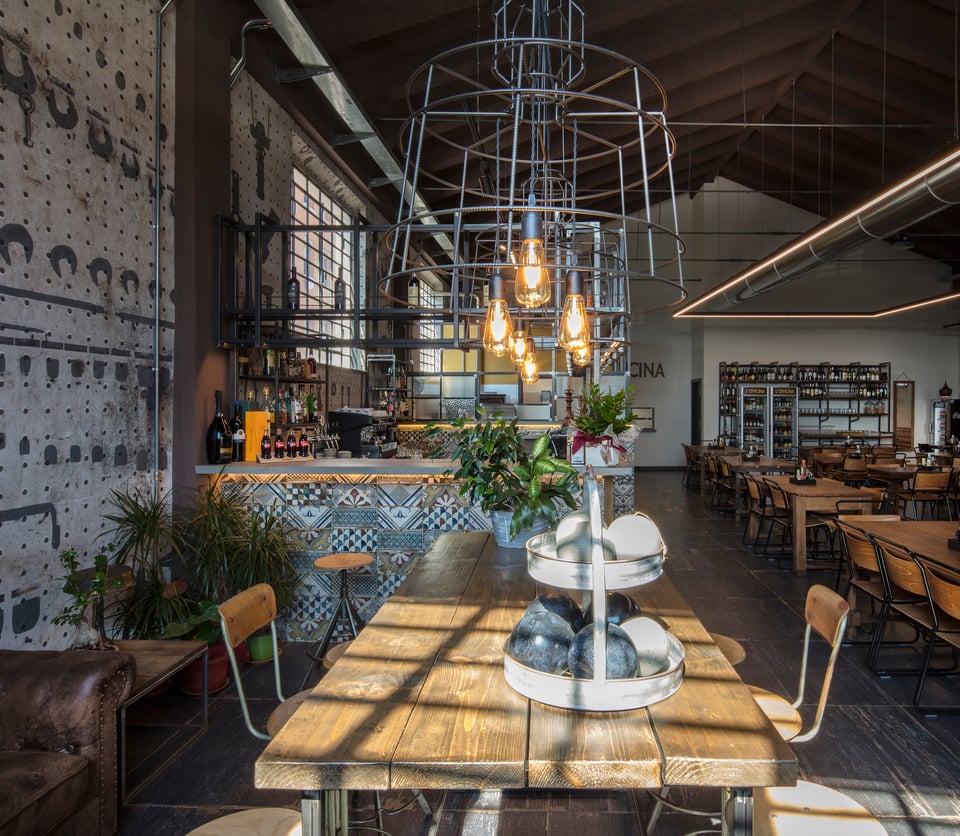 Sisma
The structure, composed of metal rod, black or white, actually houses three bulbs of warm and intense light suitable for the illumination of the tables in the room, and perfect for creating a comfortable atmosphere.
Here are some tips for properly illuminating a restaurant.
Hotel
Finally, a selection of lamps designed to illuminate the outdoor and indoor spaces of hotels and accommodation facilities.
1. Alfred
Alfred is an interior lamp created by Bizzarri Design to guarantee order and practicality both in terms of space and pure aesthetics.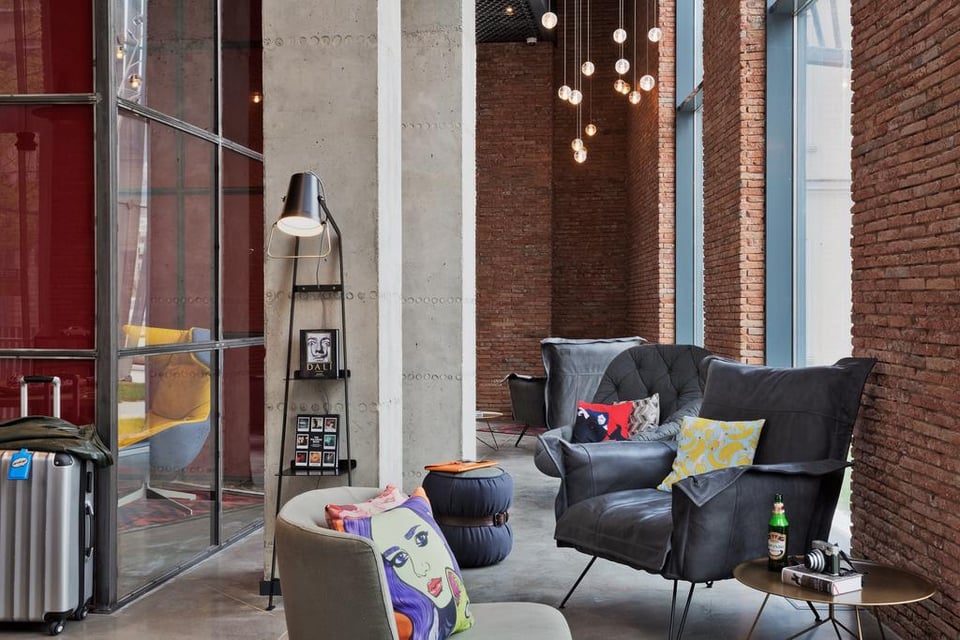 Alfred
It is, in fact, a standard lamp, in black or white lacquered metal, composed of convenient shelves and adjustable light. Minimal office style, practical space-saving structure: Alfred furnishes the hotel lounge area ensuring comfort and functional lighting.
2. Don't Touch
The decorative ability of Don't Touch is reconfirmed and is also suitable for outdoor spaces in hotels and accommodation facilities.
Don't Touch
For example, more solutions positioned on the sides of a path or at the edges of a swimming pool spread out expanses of bright light wells, useful for moving easily even in the dark hours, and perfect for framing characteristic corners of a place.
3. Notredame
From an idea by Luca De Bona and Dario De Meo, a simple ceiling lamp is created. It takes the form of a Gothic rose window, from whose luminous core radiates flares of subdued and soft light. We are talking about Notredame, available in white or gold and in two sizes with elaborate lines.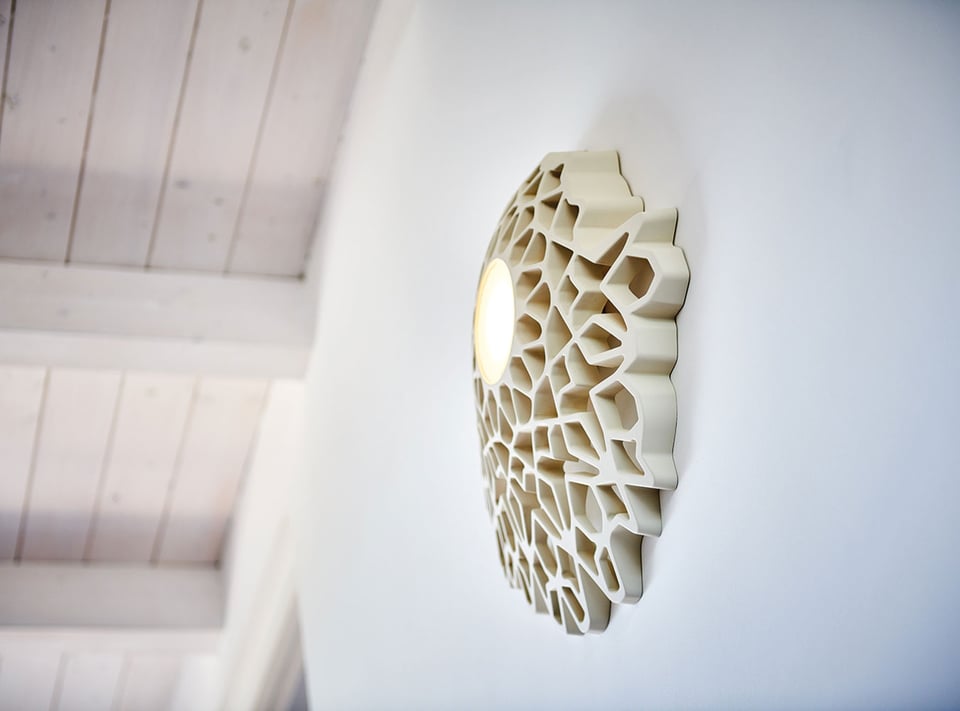 Notredame
The brightness of this modern lamp, with a decorative and refined design, could fill open spaces and large lounge areas, as a source of lighting for luxury hotels.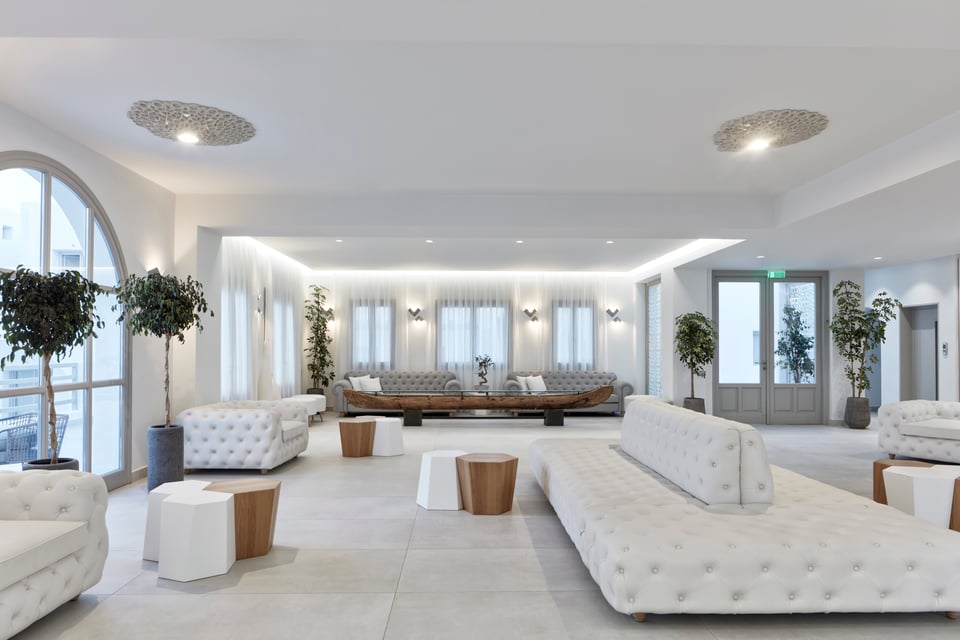 Notredame
4. Nando
The simple and versatile design of this suspension lamp, designed by Luca De Bona and Dario De Meo, allows it to be placed in the hall of a sophisticated and modern hotel.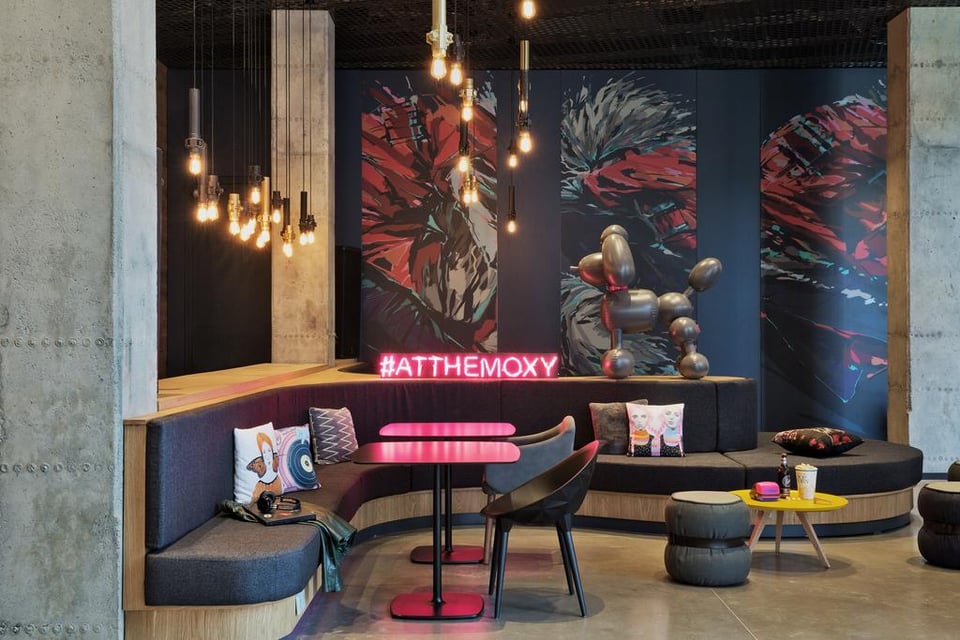 Nando
Nothing but a metal joint that tightens and shapes a micro-perforated tubular lacquered in gold, black and white: Nando, an idea of lighting resulting from the union between industrial style and clean lines.
Modern designer lamps: 4 factors to consider
To choose the modern designer lamps that best fit the lighting project you are working on, you should consider 4 basic points:
1. Room size
The first step in setting up your lighting design project correctly is to select lighting solutions based on the dimensions of the interior where they will be installed.
A lamp of ample size or, on the contrary, too small would not blend harmoniously with the room and its spaces, overloading or reducing the aesthetic charge of the environment.
2. Ceiling height
In addition to the dimensions, the ceiling height is also an important element to consider when choosing the right lamp model.
Suspension lamps are suitable to fill spaces with a high ceiling, while rooms with low ceilings should have ceiling lights, intuitive and small.
3. Energy saving: LED
Modern style lighting is devoted to saving energy and therefore to the frequent use of LED lights.
Using LED lamps means lower energy consumption and lower costs: choosing them or not as lighting sources depends on the client and the type of solution they choose.
4. Silhouette, material and colour of lighting fixtures
Finally, it is necessary to identify lamps that meet the stylistic and functional characteristics of the modern style.
Choose lamps with linear silhouettes and sober colours, made with shiny and resistant materials, such as glass, metal and steel, to mention those used the most.
Why you should choose modern designer lamps for your project
Solutions with a functional design and bare of any aesthetic excess, devoted to extreme cleanliness, but still of great ornamental presence. Modern designer lamps are the concrete result of mature stylistic research based on elegance and simplicity.
The refinement of the shapes and the sharp but sophisticated lines are singular characteristics that make these types of lamps versatile and, as a result, able to merge with the furnishing complex in any context.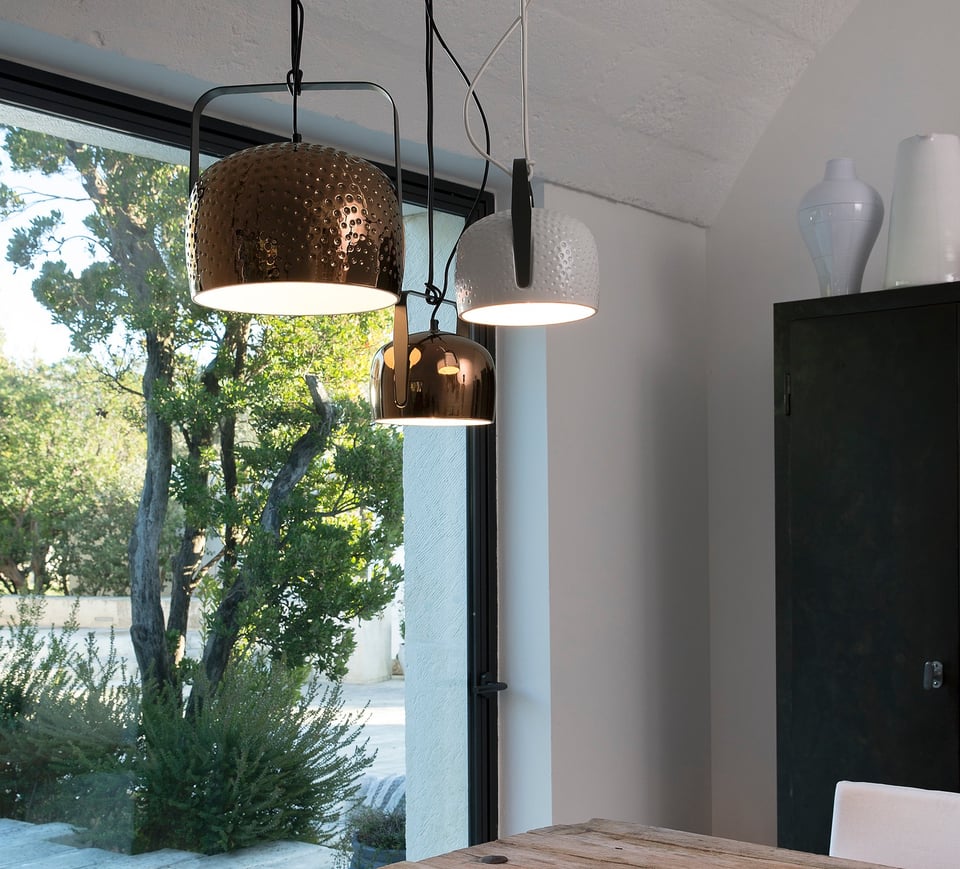 Bag
The modern style is often associated with neutral sensations, not very stimulating, and the cold and aseptic perception of a space. That is an incorrect and misleading conception because modern-style lighting solutions are able to communicate in a special way through light, infusing a pleasant and welcoming atmosphere.
When Karman's creative design blends with modern style, surprising lighting ideas are born, distinguished by originality and innovation.
The added value given by the unique stylistic touch of Karman's designers respects the aesthetic needs of modern taste without distorting the essence, indeed enhancing its uniqueness.
Include modern designer lamps by Karman in your lighting design project for hotels, private homes or restaurants, with the ultimate aim of giving light to every environment in a simple, fresh and elegant way.

For more information, support and assistance in correctly selecting modern designer lamps, do not hesitate to contact us at this link. We are at your complete disposal.