In the best wellness and spa areas, an unmistakable climate of total peace and relaxation reigns. These sensations outline the sensory and perceptive profile of these particular environments dedicated to comfort and well-being. As you well know, to emphasize the concept of spa and wellness areas and also instill a relaxing and intimate atmosphere, it is important to create an ad hoc luminous choreography that is captivating and functional to the spaces.
How? We will show you in this article. Below you will find some useful tips on choosing the ideal solutions for your project and their correct positioning in the various focal areas.
6 tips for creating a relaxing atmosphere in wellness and spa areas through lighting
Your main goal should be to make guests feel completely comfortable right away.
To do this, you should choose solutions with a strong aesthetic personality, as well as soft and indirect light sources, suitable for "painting" an intimate and comfortable atmosphere inside the wellness center.
Below are 6 useful tips designed to help you instill a relaxing atmosphere in spa and wellness areas through lighting:
Let's proceed step by step.
1. Get off on the right foot: don't add too many lighting fixtures
As they say: quality not quantity. In a spa or wellness center's lighting design, the most common mistake is adding too many lighting fixtures that diffuse an excessive amount of light.
In addition to making the final visual effect intense, it interferes with the main objective of a wellness and spa area: to ensure total relaxation and comfort for the customer.
A very bright environment is not necessarily a good thing. In fact, to illuminate these particular environments, it is essential to focus on the quality of the light sources rather than quantity. The whole environment must be welcoming, comfortable, and intimate and must help guests feel at ease.
It is enough to install a few lamps to outline a pleasant but impactful setting with a few LUX each to allow guests to relax and move around in total safety. Specifically, light sources between 10 to 20 lx will be sufficient.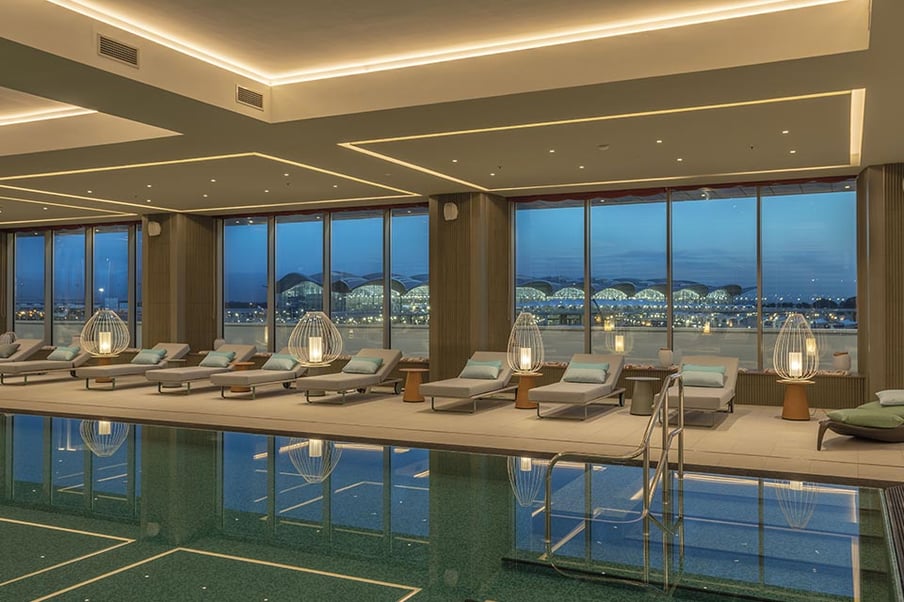 Cell
2. Give the relaxation areas soft, indirect brightness
If you want to create a relaxing atmosphere for wellness centers and spas, start with the relaxation area/lounge.
This specific area is used for small breaks or moments of relaxation where guests relax by lying on comfortable beds and sipping healthy, refreshing drinks.
This is why it is necessary to create indirect light in this space, favoring soft lighting gradations. In this case, we advise you to choose warm light sources, with temperatures between a minimum of 2200 K and a maximum of 3000 K.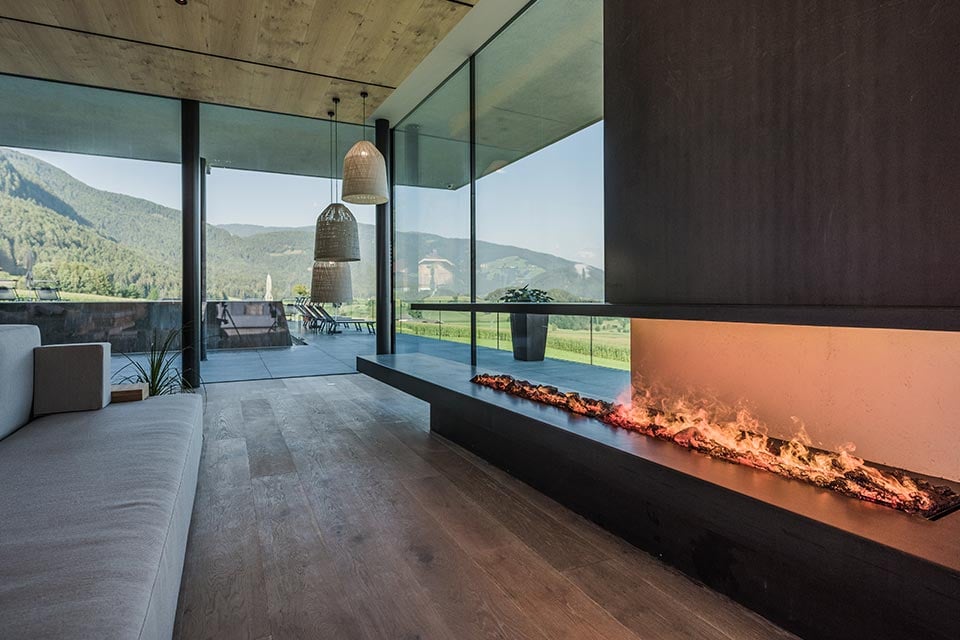 Black Out
3. Use reflective lights in the showers
Inside the showers, the lighting fixtures must have a higher degree of IP protection.
Therefore, if it is not possible to obtain indirect light, we advise you to opt for adjustable light sources—such as wall lights—that allow you to direct the streams of light towards the walls.
In this way, you can create a unique setting with a comforting and rarefied aspect without compromising the spaces' visual comfort and functionality.
Choose designer lamps in tune with the spa concept and use RGB LED lights—red, green, and blue—for chromotherapy if requested by your client.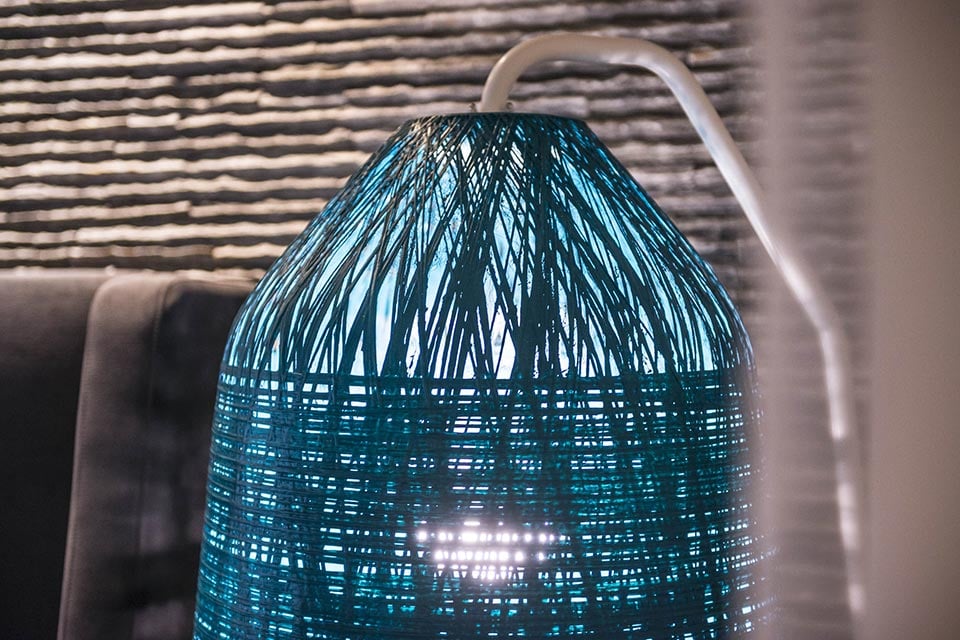 Black Out
4. Use focal points of light around the pool
The lighting design for swimming pools in wellness centers and spas needs special attention.
In addition to underwater lighting—preferably colored LED lights, RGB, or ideally RGB + W that allows you to diffuse white light when needed—you should introduce guiding light points around the perimeter of the pool.
In this way, the lamps will act as a visual, orienting, and spatial reference and also give an extra decorative touch to the environment.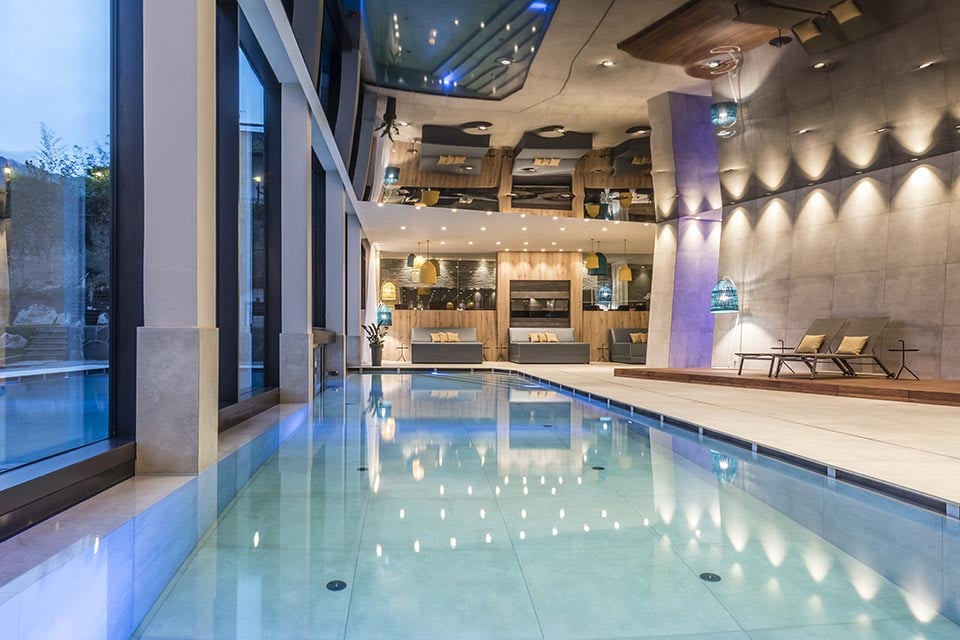 Black Out
5. Choose low-intensity lights for the massage room
The massage room is a real oasis of relaxation, which is why it would be better to opt for low-intensity lights here, too.
For this space, choose warm lighting supported by indirect or filtered and soft LED light at a low intensity. It is important that the customer feels relaxed and at ease.
For the staff to fulfill the guests' requests regarding the intensity of the light, we recommend selecting solutions with a dimmable device.
In doing so, massage therapists can choose the most appropriate atmosphere for a room used for massages and treatments.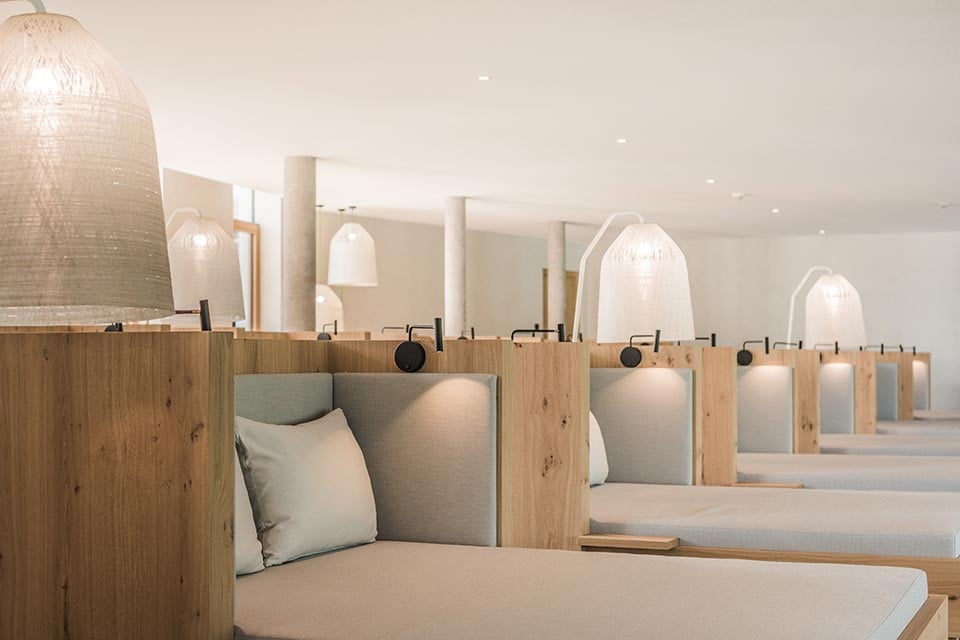 Black Out
6. Corridors and walkways: guide guests with the lights
Along the corridors, the light should help guests find their way without tiring their eyes or blinding them.
Ceiling lights, suspension lamps, or even floor lamps would be ideal for providing dim and soft light because they are functional to these transit areas.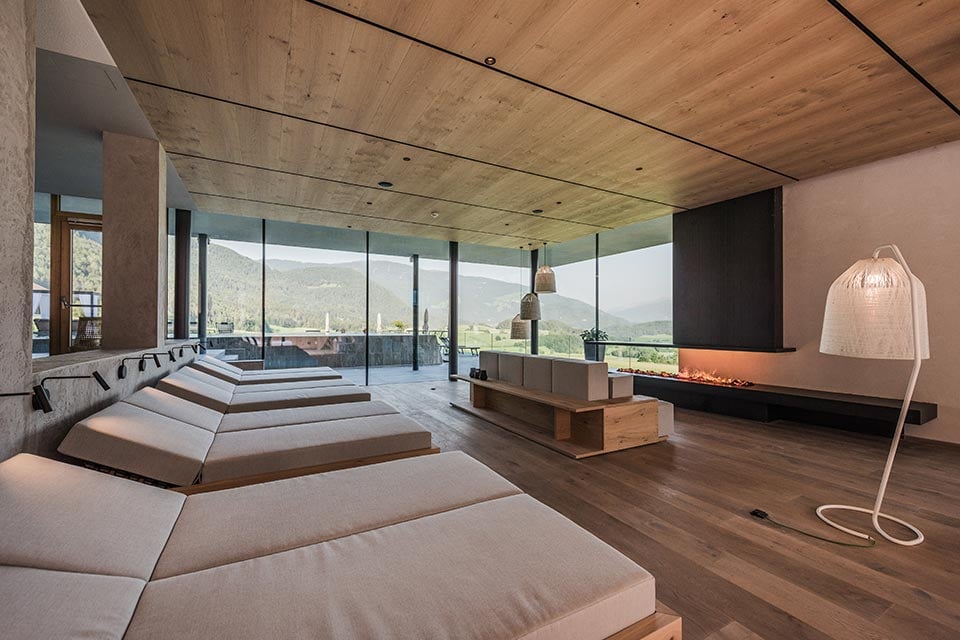 Black Out
Karman lamps ideal for illuminating your project's wellness and spa areas
Versatility, high performance, visual appeal, and considerable decorative potential are the outstanding features of Karman lamps. These design solutions are able to adapt to any stylistic concept and setting.
For the particular context of wellness centers, wellness areas, and spas, lamp models with a strong aesthetic character and functionality are needed. Here are the ideal lamps for these locations:
Below is the technical description of each lamp.
Black Out: optimal lighting in floor and suspension versions
It is impossible not to recognize Black Out, with its solid structure in white painted metal and lampshade in transparent fiberglass filament. It is a refined creation by the designer and art director Matteo Ugolini.
The woven material allows light to filter through tiny holes in the weave, thus always creating new and seductive light designs.
Naturally, the lamp can be customized at the customer's discretion and according to the environment's furnishing concept. You can have it in blue, yellow, purple, or the shade that the customer most desires.
It is available in several solutions. It is available in a floor and suspension version.
The first option would be perfect next to conversation chairs in indoor and outdoor lounge areas or on the sides of the loungers in relaxation areas where guests can comfortably lie down to rest, drink a hot drink, or leaf through a magazine.
The second option is ideal for illuminating the dining area and the swimming pool, thus providing clear and directional light, designing a luminous path that is easy to follow and beautiful to see.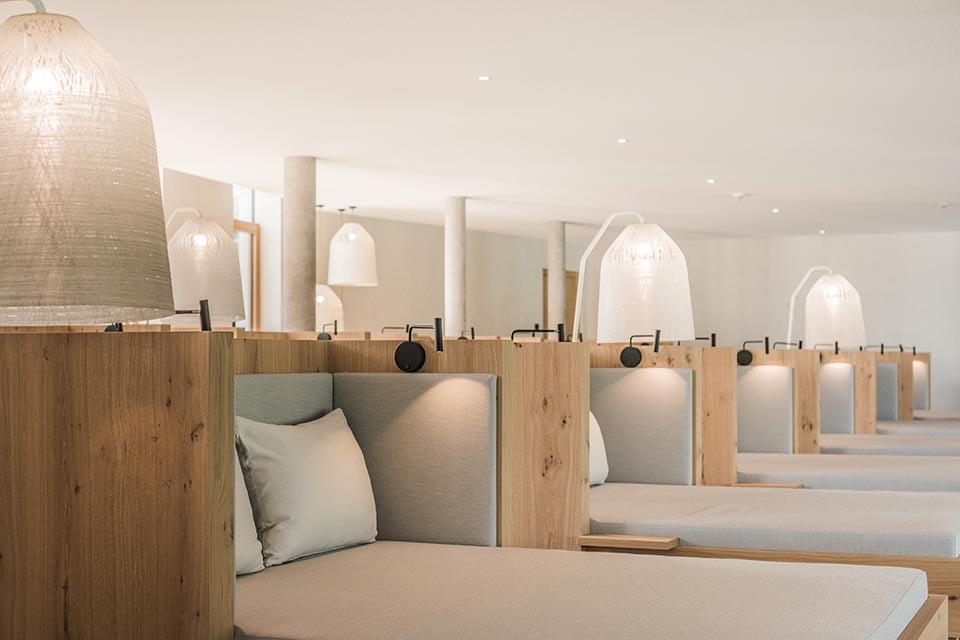 Black Out
The unmistakable minimal taste of Cell adapts to any space
Cell has the sober and solemn spirit of ancient Chinese lanterns with a renewed design made with a white metal wire structure—or in the new bronze version—and a linen or opal plexiglass lampshade—respectively designed for indoor and outdoor settings.
This is the pure essence of Cell: a lamp with an unmistakable minimal taste designed by Matteo Ugolini. Stripped of any ornamental excess, it integrates perfectly into any lighting scenario.
The suspension version is impactful—with a small silk tassel attached—and can be placed along the spa's corridors or inside the beauty center cabins.
The floor lamp version plays the role of an authentic piece of furniture that also provides energetic and well-diffused light. It can be highly functional and decorative by the pool, positioned next to the sun loungers.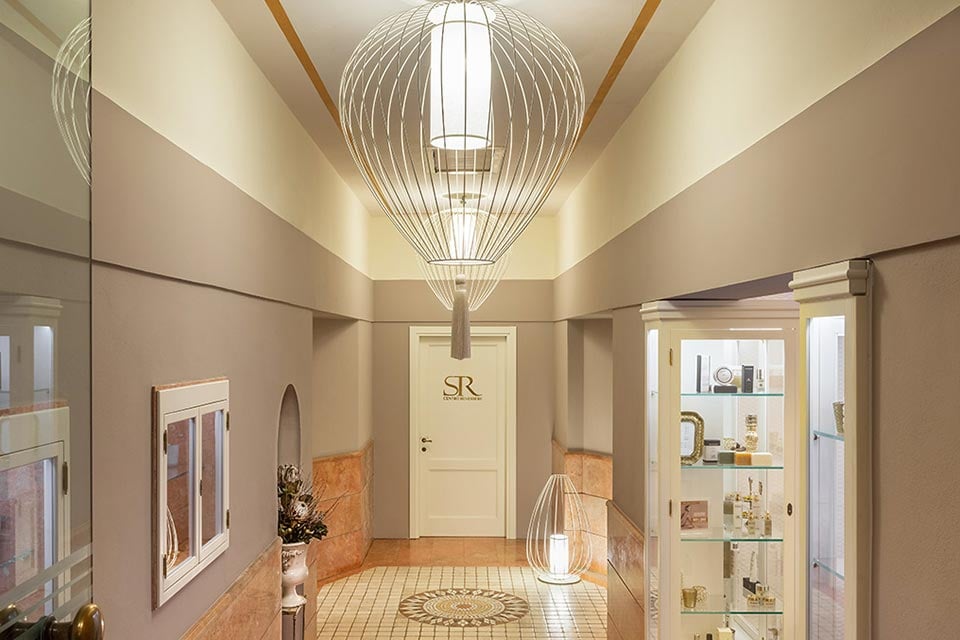 Cell
Moby Dick: an elegant and majestic suspension lamp
Born from the creative mind of Matteo Ugolini, Moby Dick is the right lighting solution to give a touch of decoration and personality to the refreshment areas. It is ethereal and refined, majestic in size, and high performing.
The fiberglass lampshade embraces the light, directing it vertically onto the tables. As a result, it makes consuming meals and reading menus practical and convenient, and also gives the entire room a more comfortable and welcoming look.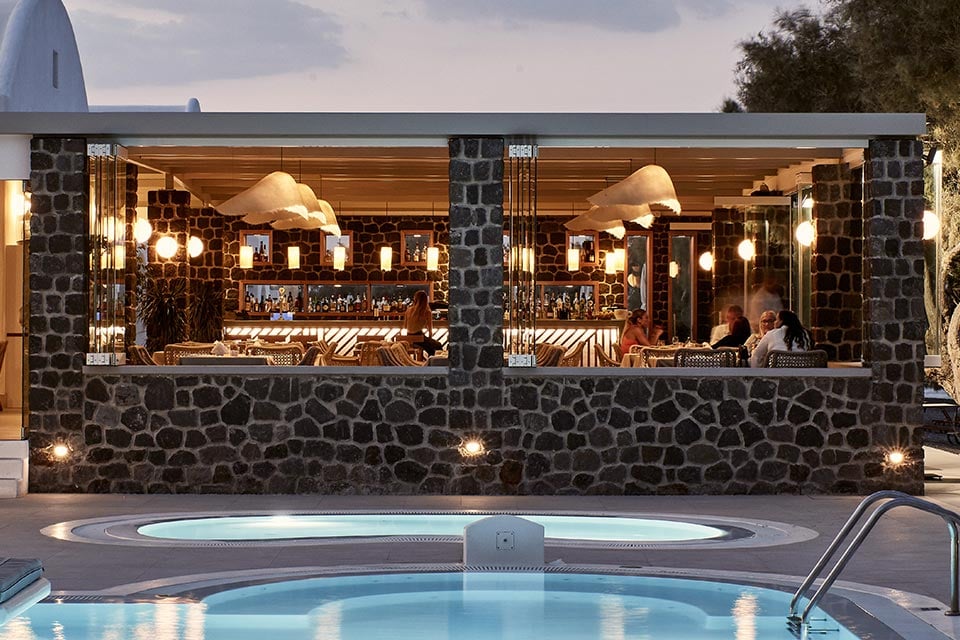 Moby Dick
Create a relaxing atmosphere in wellness and spa areas by installing creative designer lamps
Light can influence our state of mind and change our perception of space. That's why lighting design plays a key role in your wellness center's success.
Each light source plays a decisive role in the lighting context designed specifically for the designated wellness and spa center.
In addition to guaranteeing an optimal degree of brightness for the practical and safe use of the spaces, the project's solutions must adapt perfectly to the structure's concept.
To make your project a real success, choose the Karman collections: style and performance guaranteed in models of great visual and decorative impact.
By choosing the Karman models, you will give personality to the environment, give a sense of aesthetic continuity to each room, and still ensure that the pure essence of relaxation remains intact in every area.
For more information, support, and assistance in choosing the correct lamps for your project, do not hesitate to contact us at this link. We are at your complete disposal.