To illuminate a shop, the decorative designer lamps used must be in total harmony with the mood of the commercial space you are dealing with. Caring for a retail lighting design project in detail means paying attention to numerous technical and aesthetic factors.
Attention to detail will not go unnoticed if each solution is selected with discernment, with the aim of recreating a unique and welcoming atmosphere for customers.
In fact, when illuminating a clothing store, not only do you illuminate items and goods on display but you outline the environment's atmosphere and aesthetic character.
A well-lit shop attracts new potential customers and encourages them to buy.
To understand how to illuminate a store correctly, we advise you to follow our 5 practical suggestions. Let's discover them together.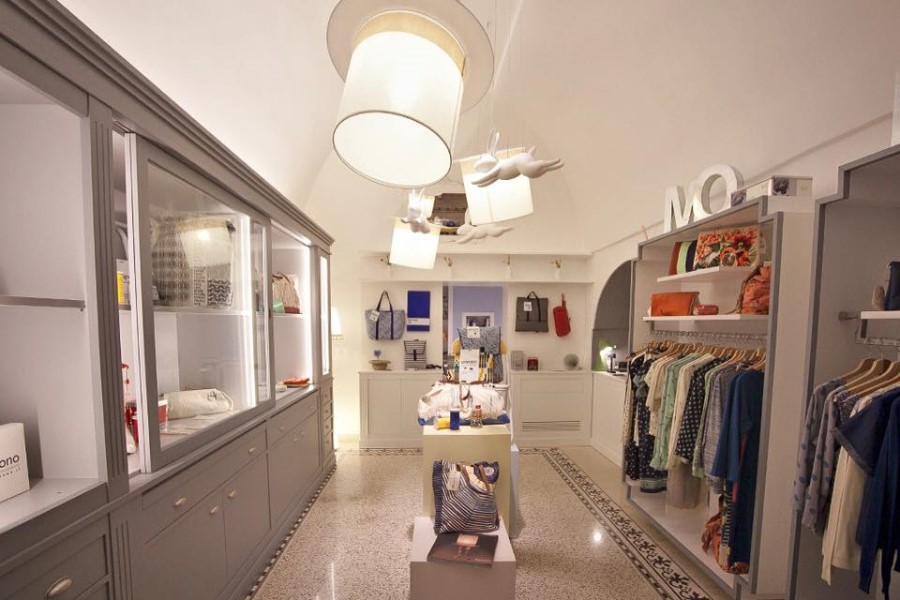 Wow
5 tips on how to illuminate a shop
To guide you in the realisation of decorative lighting projects for retail spaces, we have made a list of suggestions to guarantee a flawless lighting design for your customer:


Let's analyse each point.
1. Consider the shop's concept and the mood you want to create
First, we advise you to take into consideration the shop's concept and, consequently, the mood that the manager wants to set.
Are you dealing with a small vintage clothing workshop? Or are you designing lighting for a chic and modern shop?
It is imperative to give a sense of stylistic continuity. Therefore, we suggest you select the most suitable lighting design solutions for the context.
2. Combine the use of multiple models of designer lamps
In addition to a feeling of harmony and stylistic continuity, it is essential to confer aesthetic variety to the lighting complex.
For this reason, it would be better to combine multiple models of designer lamps.
Keeping in mind the concept designed to furnish and decorate the store, you will be able to combine each solution with taste, creating a unique composition.
3. Introduce the main functional lighting levels
It is essential that the lighting in the shop is always impeccable and guarantees full visibility of the clothing and items displayed.
To ensure an excellent view at every corner of the shop, it is necessary to introduce the main functional lighting levels, namely:
General lighting will give the store a welcoming, smooth and functional appearance.
The most suitable solutions to offer excellent gradations of ambient lighting are suspension lamps or ceiling lights. Vertical light sources work as well and can be applied in composition in the centre of the ceiling or individually in sequence.
Beyond ambient lighting, it is advisable to ensure excellent visibility for both the staff and customers.
Therefore, install task lighting solutions at workstations, such as cash register and counter, and in dressing rooms above the mirror. Respectively, for these cases, you could use one or more suspensions, recessed lamps or, why not, even a modern chandelier.
The sources of accent lighting play a fundamental role in creating the shop's mood.
Sources of side and low-level light, such as appliqués or floor lamps, are ideal for accent lighting.
The right balance between lighting levels will ensure full visibility in every area of the shop.
4. Opt for gradations of cold and stimulating light
To best illuminate the entire store, it is important to create a fresh and energetic atmosphere, opting for shades of stimulating light.
In this sense, we advise you to opt for cold light sources, as well as sources capable of filling the spaces with white and bluish tones, outlining a climate charged with vibrations.
Remember that light has the power to connect the observer to a place and to change the spatial and emotional perception of its environments.
This is why it is essential to attract the eye of the observer and potential customers, who prefer effective lighting that guarantees excellent visibility and is favourable for making purchases.
5. Place each lamp in the main task areas of the store
Ensuring uniform and well-distributed lighting in every area of the shop is a decisive step, the final step that will determine the degree of functionality of the environment.
To offer full visibility of the items and merchandise on display, you should make a list of the main task spots of the shop. In particular:
Display racks
Shelves
Shop windows
Clothing racks
By installing functional light points in each of the areas mentioned above, you will ensure an excellent view of the spaces and guide the clientele, facilitating their orientation within the shop.
The best way to illuminate a shop with Karman lamps
Now that you have all the basic steps for correctly illuminating retail spaces, all you have to do is choose the right designer Karman lamps for your project.
Solutions with an unmistakable aesthetic appeal that do not renounce functionality. Here is the profile of Karman lamps, solutions that never cease to surprise and are extremely versatile and adaptable to any context.
To give a new image to shop lighting, Karman recommends these lamps:
Domenica;
Cubano;
Bacco and Ti Vedo;
Life and Sisma;
Le Trulle and Wow!;
Settenani Collection;
Ginger;
24 Karati.
We check out the aesthetic peculiarities of each solution.
Domenica: elegance and material contrast
Domenica is a suspension lamp made up of a plaster body, completed at the end by a narrow metal mesh.
It is ideal as a source of task lighting and ambient lighting. Matteo Ugolini, the designer, made the material contrast an unmistakable signature style, giving the room streams of energetic light.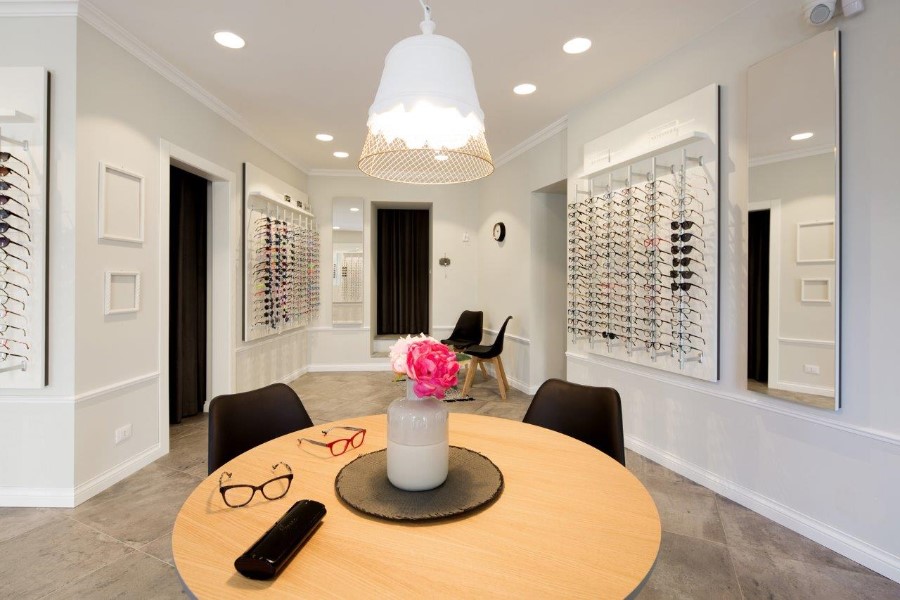 Domenica
The evocative features of Cubano
A lamp like Cubano knows how to combine decorative potential and functional lighting for clothing racks and displays.
This opaque white ceramic wall lamp has curious evocative features that echo the characteristics of a toucan with a luminous and penetrating "look".
This is a creative design solution by Matteo Ugolini and fully fits into the family of lamps called "Karman's zoo".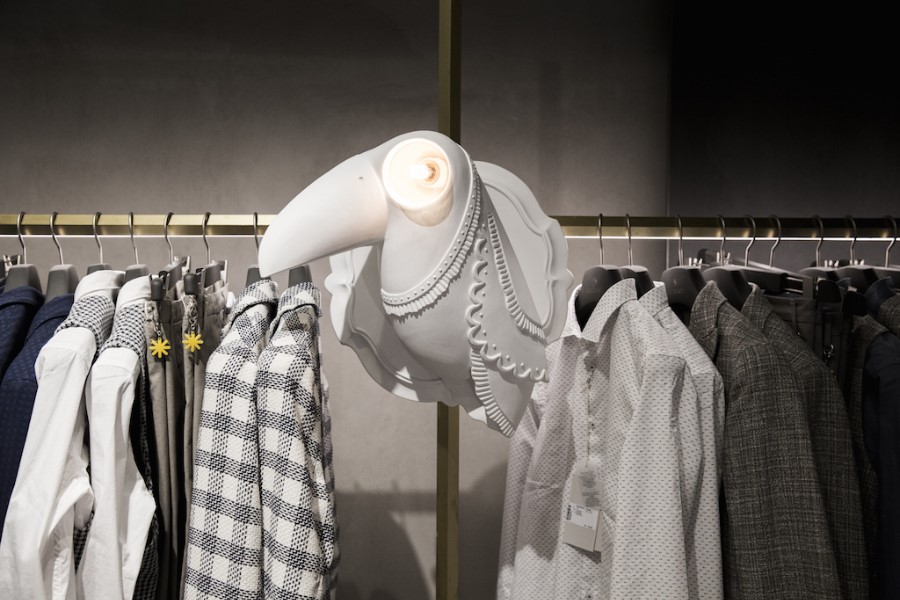 Cubano
Bacco and Ti Vedo: effective sources of functional light and great decorative character
To ensure that the various accessories and clothing items on display are visible, you could introduce floor lamps like Bacco and Ti Vedo, solutions designed by Matteo Ugolini.
On the one hand, we have Bacco, with a frosted white glass diffuser that lets light filter softly and dimly into the room. On the other hand, Ti Vedo is a lamp with a white ceramic structure that takes the form of a curious perched little owl.
Both will offer distributed brightness, full visibility and decor to the shop.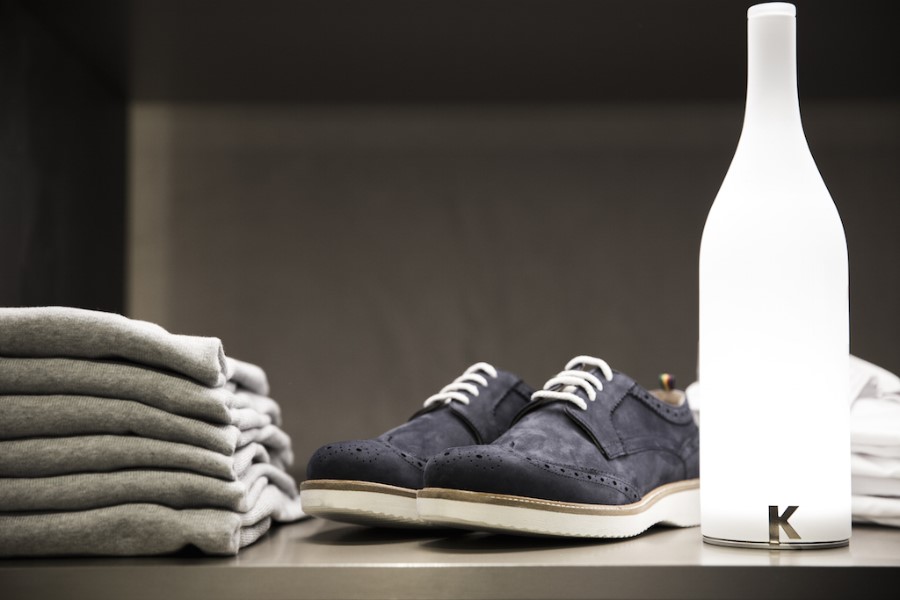 Bacco
Life and Sisma: different styles, unique aesthetic presence
Combined into a single composition or individually installed, the Life and Sisma lamps, both designed by Matteo Ugolini, will bring an added aesthetic value to the shop's atmosphere.
On the one hand, we have Life with a metal wire frame covered with vintage-finish denim fabric. The fabric, punctuated by tears and wear, allows light to free itself into the space, creating luminous patterns that are new and seductive every time.
On the other hand, we have Sisma, a suspension lamp characterised by a structure made of round metal with clean and rigorous lines. It has no lampshade, but in the centre are three bulbs to hang and knot at will.
Two design solutions with different styles and a unique aesthetic presence: ideal for making lighting an authentic style statement.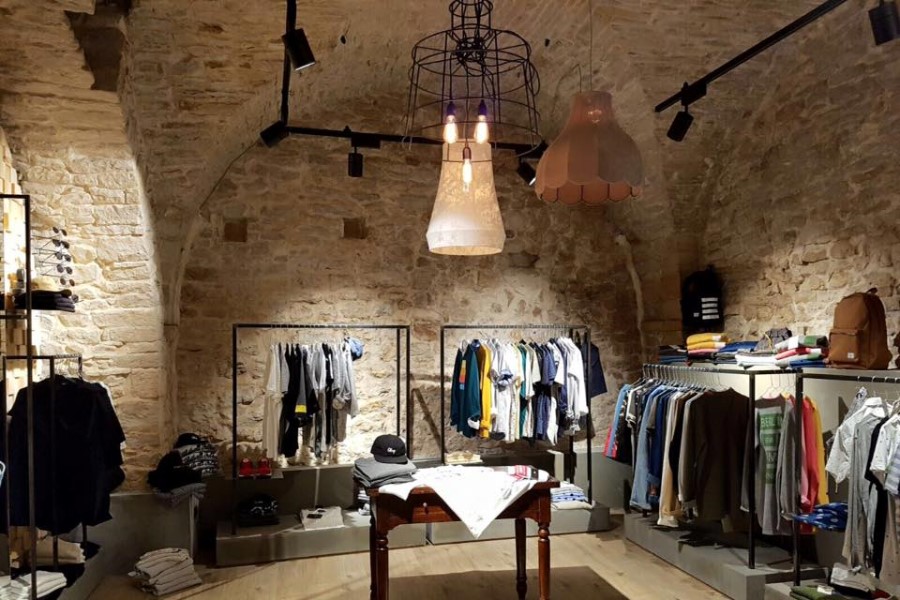 Life & Sisma
Le Trulle and Wow!: the evocative power of light
Le Trulle and Wow! could be the ideal solutions both to illuminate shop windows and to give light to the different departments of the store.
On the one hand, we have Le Trulle: suspension lamps designed by Edmondo Testaguzza, with a natural ceramic lampshade and soft and gentle lines.
On the other hand, Wow!, a creative designer lamp with an amazing, evocative character. In fact, this suspension lamp, created by Matteo Ugolini, takes the form of a magic cylinder from which innocent white ceramic bunnies emerge.
An unusual game of materials and light, with an impact. Both solutions will guarantee directional and uniform light to the different areas of the shop.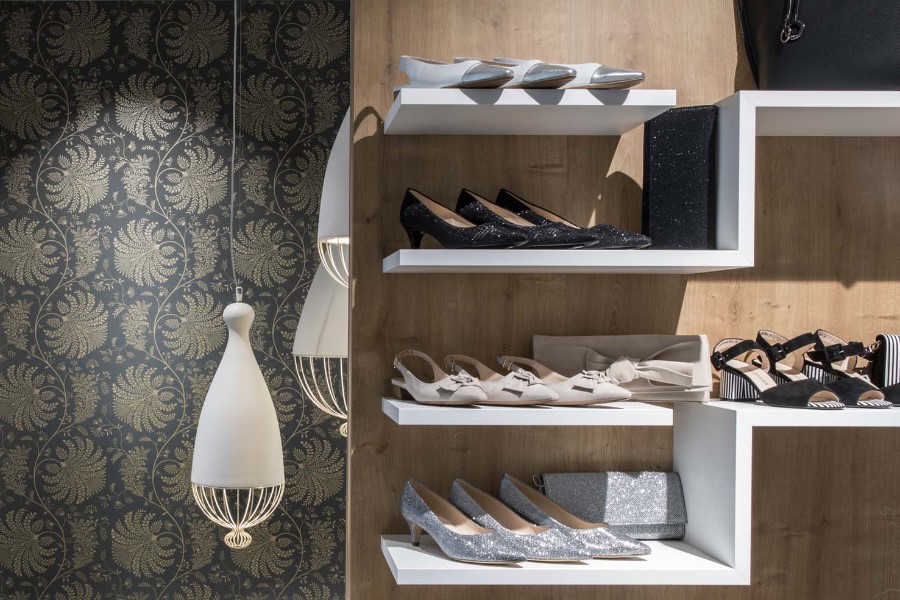 Trulle
Settenani Collection: material elegance
By opting for the installation of a suspension lamp arrangement, such as the Settenani Collection, you will guarantee that the entire space has guided light points, as well as directional and well-distributed lighting.
Moreover, you will give stylistic variety to the lighting design complex of the shop.
This is because, in fact, Settenani Collection, conceived by designer Matteo Ugolini, consists of seven lamps with different aesthetic shapes and characters, with a single commonality: a rough concrete structure.
An ideal solution for your retail space, whose material elegance will certainly not go unnoticed.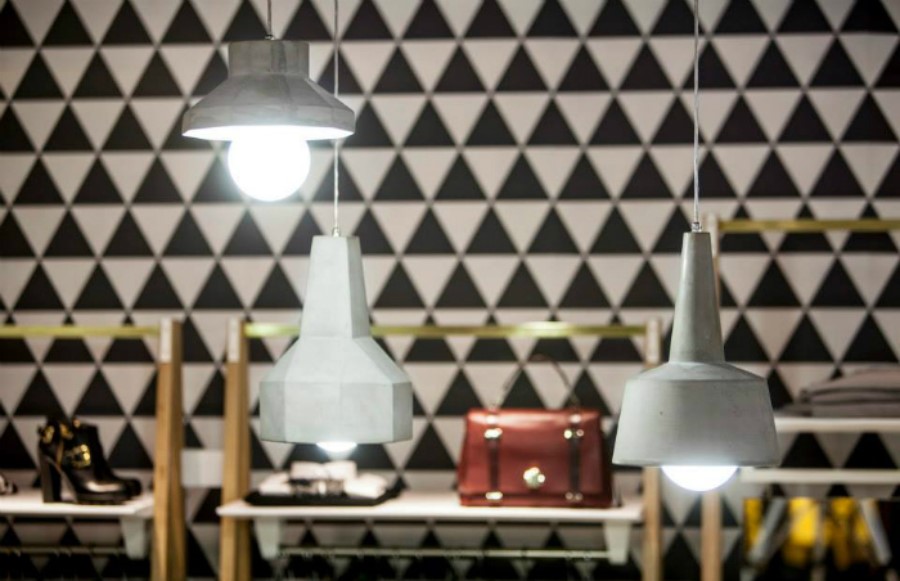 Settenani
Ginger's grace and elegance
Ginger, with its graceful and elegant stage presence, could be an excellent solution to give a touch of decorum to the store's exhibition spaces without sacrificing functionality.
It is a glass lamp with a retro taste designed by Edmondo Testaguzza, which fits with versatility into the lighting context of the most fashionable shops.
With Ginger, the light passes through the vitreous matter, filling the space and giving it clear and uniform brightness.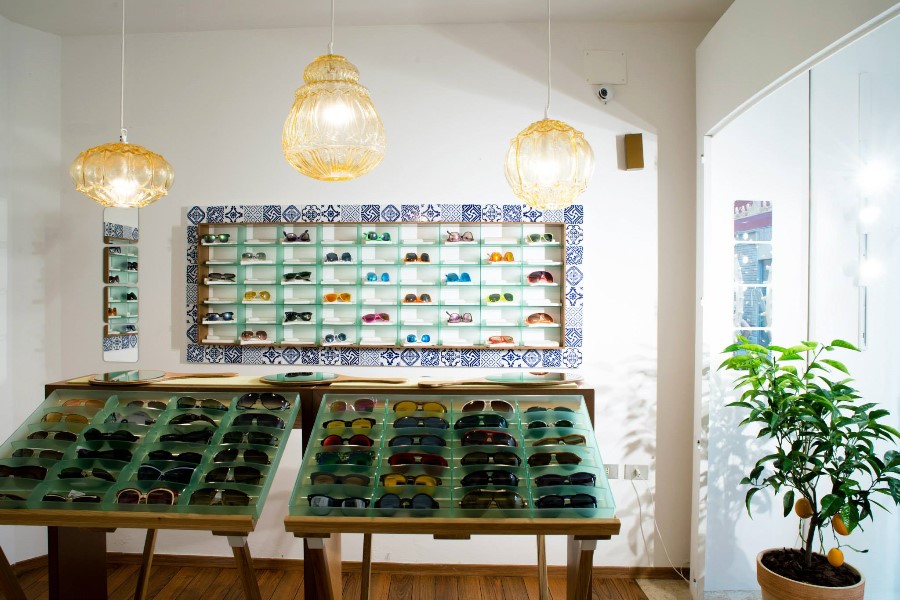 Ginger
24 Karati: refined and precious like a diamond
Finally, 24 Karati is a lamp in transparent straw-coloured glass with a refined geometric cut that is well defined like a diamond.
With 24 Karati, another enchanting creation by Matteo Ugolini, thanks to the transparency of the vitreous material, the light is free to spread evenly throughout the environment, effectively illuminating every corner.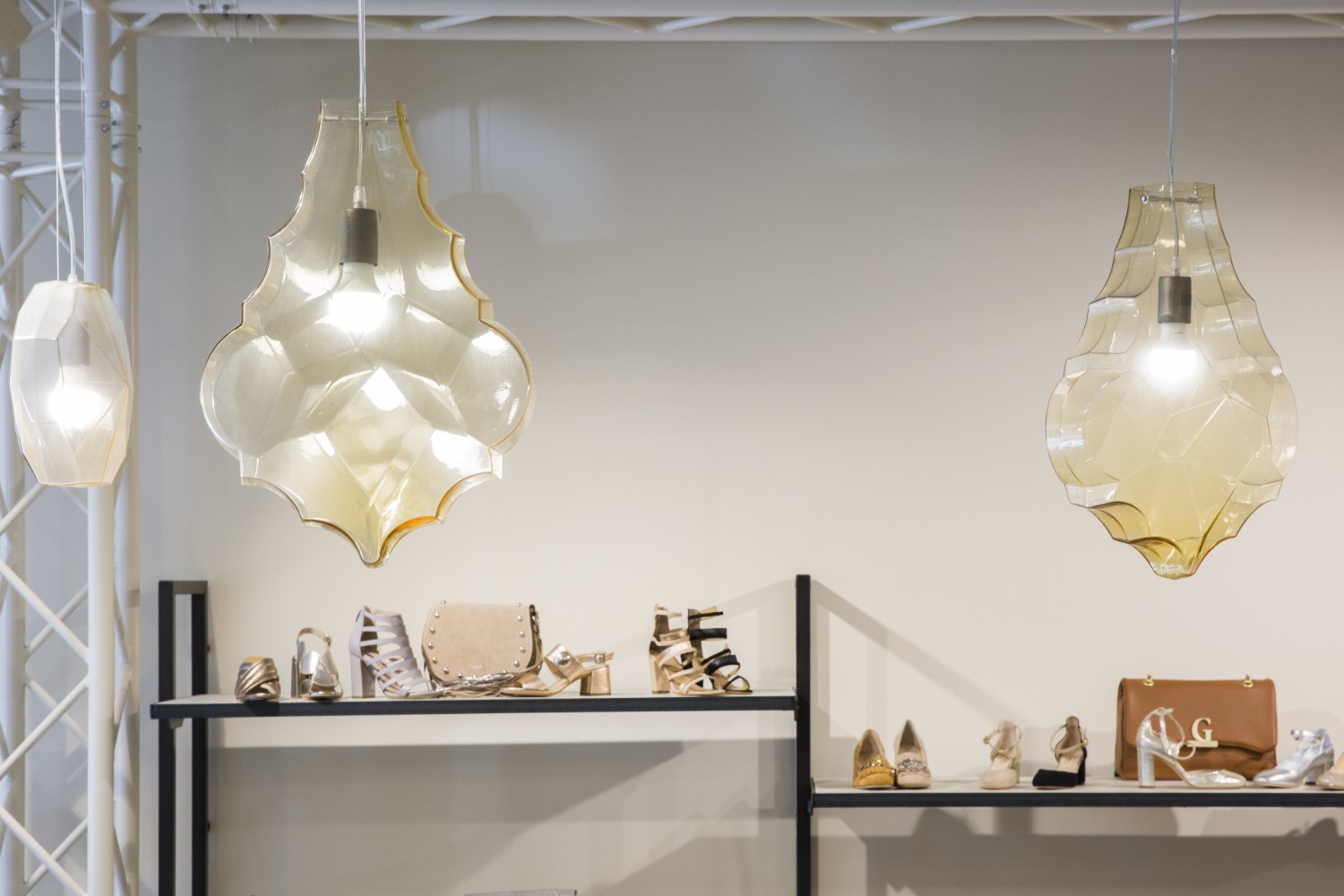 24 Karati
Follow the advice by Karman on how to illuminate a shop and retail space
Taking care of the aesthetic and functional aspect of the entire environment in detail implies the choice of creative designer lamps with great decorative character and remarkable lighting abilities.
In this sense, Karman lamps are ideal for giving an unmistakable touch of style to your project.
Make your choice and follow our advice: in this way, you will ensure comfort and a new image for the shop.
For more information, support and assistance in choosing the right lamps for the high store you are dealing with, do not hesitate to contact us at this link. We are at your complete disposal.