Your project can create welcoming and familiar atmospheres or more formal environments. However, it is important that it makes up for the lack of light and provides decorative lighting well.
To achieve these objectives, you must be mindful of the wall color, the style of the environment, the type and design of the furniture present, and the results that your client desires.
Analysing these factors can help you find the most suitable lighting. Now we will take an in-depth look at indoor wall lamps. This much-loved lighting element is able to create appealing plays of light and is an excellent solution that makes up for a lack of light where needed.
Naturally, even in this case, you should know how to choose the proper types of wall lamps, both in terms of intensity and design.
In this article, we will take a closer look at: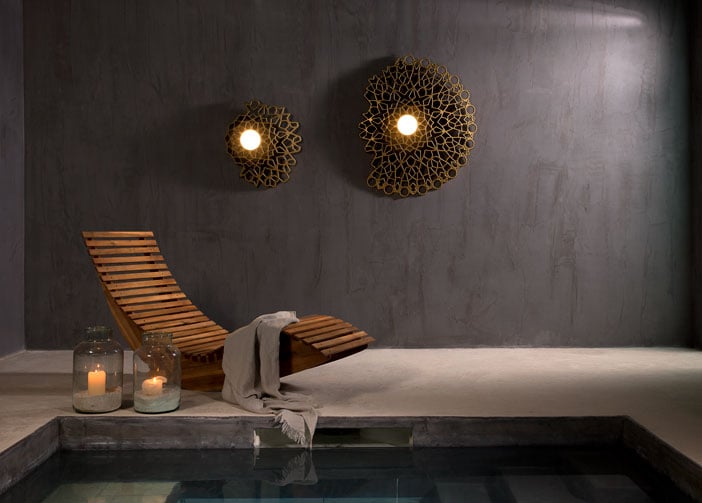 Notredame
4 steps for choosing the indoor wall lamps for your lighting project
No matter where you are, you will surely feel the different sensations they arouse in you, both visually and, consequently, emotionally.
This helps you understand how fundamentally important it is to illuminate indoor environments in a studied and conscious way. Lighting is able to change the nature of any environment, arousing sensations that can be positive or negative, depending on the design strategy adopted.
So let's take a look at the steps you should follow to evaluate how many and what types of wall lamps are available and choose the perfect indoor wall lamps for your lighting design project.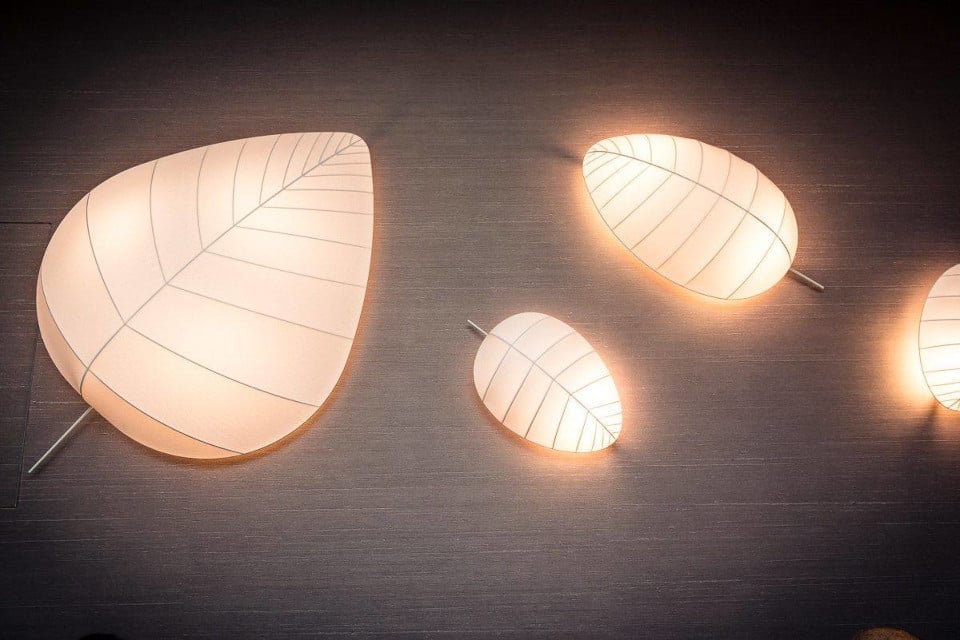 Eden
1. Map out the wall lights' installation points
Wall lamps give interiors complete and well-distributed lighting, especially when combined with other light sources such as chandeliers and floor lamps.
In particular, they are the ideal solution for illuminating small homes. They occupy little space and are visually more suitable than a suspension lamp, which would be too bulky.
When installing wall lamps, you must include a well-defined project that shows how the light points will be distributed.
In the project, it is essential to know exactly how the other furnishing elements will be arranged, such as the furniture and any accessories like paintings and statues. Moreover, you should also know which functional areas each space is divided into.
This point is very important, as once the lighting points have been established, it will be more difficult to change the furniture arrangement.
In principle, the optimal height for wall lamps must be higher than human height, that is, exceeding 180 cm from the ground and, in any case, no more than 220 cm. In this way, you will avoid possible glare.
These directions are ideal for wall lamps that are likely to have general lighting purposes in your project.
When it comes to wall lamps that perform specific functions, such as illuminating a mirror, replacing a bedside table lamp, or enhancing a picture or a valuable object, the indications vary; it depends on their intended use.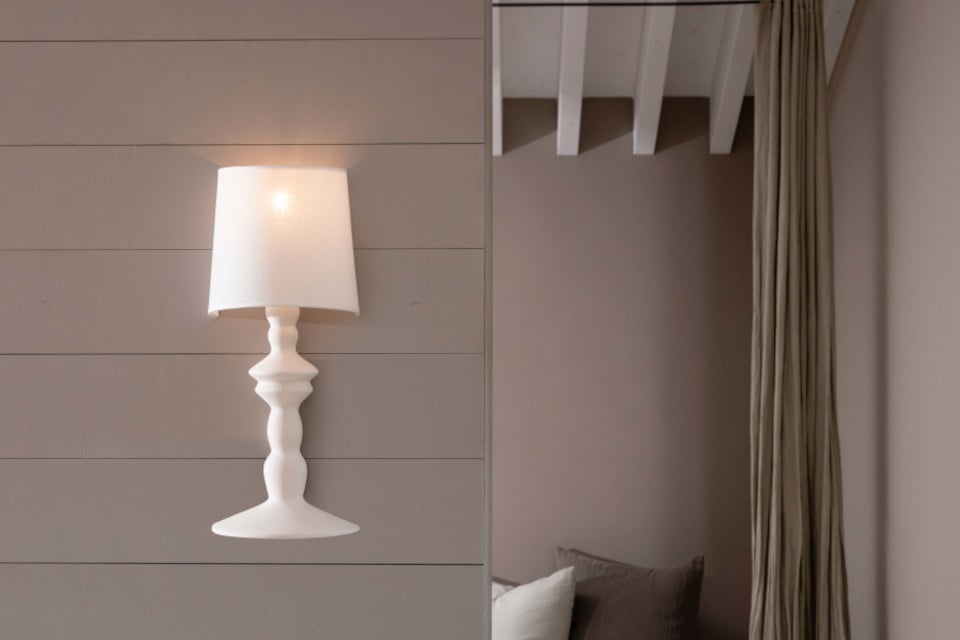 Alì e Babà
2. Choose the types of wall lamps based on the furniture's style
In terms of design, you can find a wide variety of solutions and styles of designer appliqués for the indoors ranging from classic and retro to more modern and contemporary styles.
A strategy that has always been valid is to follow a logic consistent with the mood of the furniture and design in every environment.
However, this does not mean that you have to give up more contrasting solutions, especially if you like the idea of experimenting with combinations that give the interiors greater identity and personality.
Indoor wall lamps are mostly used in the living area, although they can be used in practically any room.
The classic wall lamp is a lighting fixture that best fulfills the role of complementary lighting, contributing to creating a very visually and emotionally remarkable atmosphere.
A classic indoor wall lamp usually consists of a lampshade, fixed support generally made of metal, and, depending on its function, can be equipped with a bulb with a large (E27) or small (E14) socket.
As mentioned previously, you can take advantage of a wide range of wall lamps thanks to their numerous designs and functions.
Wall lamps for display furniture
This type of wall lamp can enhance a painting, a photograph, a statue, or any other object adjacent to or forming part of the wall your client wants to highlight.
When using a wall lamp for display furniture, it must be installed above the object that you want to highlight.
A useful piece of advice is not to focus only on the design. It is necessary to take into account the best type of wall lamp, especially in the presence of paintings. UV rays can cause damage in the long run, depreciating the work of art and also ruining it.
Therefore, it is better to opt for LED lighting. However, you should choose a light that is not too cold so it doesn't alter the colors.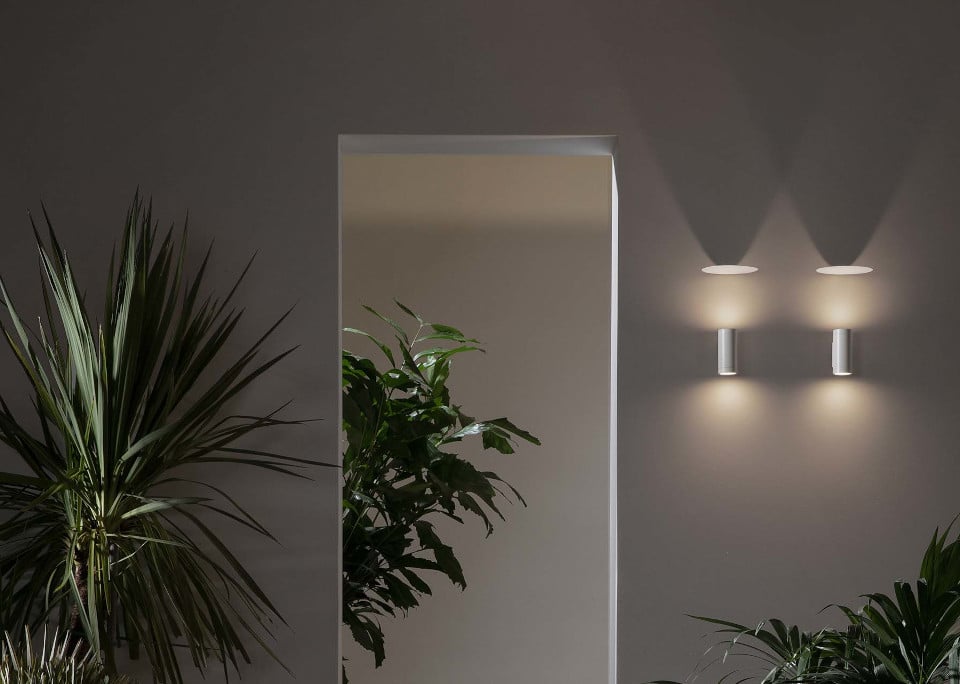 Movida
Bedside table wall lamps with a reading light
Bedside wall lamps have become increasingly popular.
This solution usually offers a dual light source, although it is also possible to opt for a normal wall lamp with one light source.
The proposal with a dual light source is practical because one beam of light provides general lighting, illuminating the environment, while the smaller and more adjustable beam is ideal for directional lighting when needed for activities such as reading.
This is why the bedside wall lamp with a reading light, instead of a classic lamp, turns out to be a very functional alternative and occupies less space.
Wall lamps to illuminate the bathroom mirror
We perform many daily actions in the bathroom, for example, shaving, putting on make-up, and so on.
Therefore, the whole area around the sink and the mirror requires good lighting.
In this case, a wall lamp is a functional light capable of illuminating a person's face uniformly and not just the mirror, without creating dark areas.
Of course, the wall lamp should be put in an optimal position, but above all, the shade of the chosen light is crucial because it must be able to illuminate without blinding you and/or tiring your eyes.
Generally, the ideal places for wall lamps are:
directly on the mirror

on the cabinet

on the wall
As for the shower and the bathtub, the best solution is beautiful designer wall lamps with warm light. You can put them on the wall above the bathtub or around the shower to create a SPA-style atmosphere that will allow you to enjoy the moments that you dedicate only to yourself in absolute relaxation.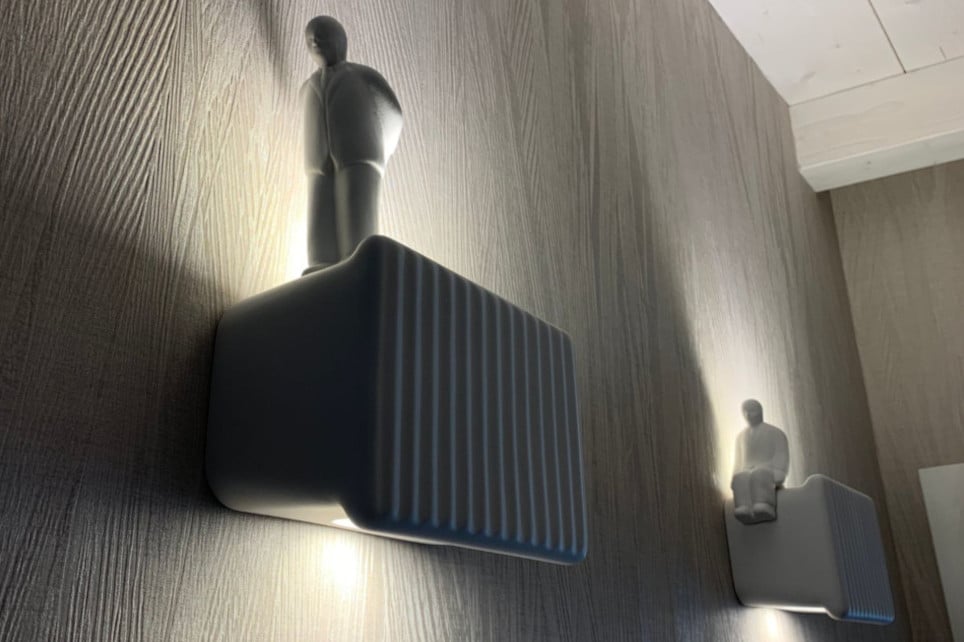 Umarell
3. Choose the material and design of the wall lamps best suited to the environment
When choosing a wall lamp, you must also be able to evaluate the materials that are best suited to its environment.
Modern design
If the style of the environment is modern, it is ideal to opt for glass, fiberglass, chromed metals, and plastic, choosing a design with simple and essential shapes.
However, in a room with a classic style, you should create a warmer and more romantic visual effect by using ceramic or iron and bronze wall lamps.
As for the design, you can opt for a wall lamp that can more or less strengthen the visual impression of modernity.
Not sure which one to choose? Remember that the simpler and more essential the design, the more modern the applique will be. On the contrary, a shape with flowers or other decorations will have a more classic appearance.
Classic design
If you want to opt for a purely classic style, the most suitable wall lamp will have a lampshade, which softens the light.
This type of wall lamp has more than anything else a decorative and atmospheric function and is perfect, for example, in an entrance, to illuminate the path to other areas of the house and make the home welcoming.
A classic wall lamp can also be used in the bathroom, as long as it complies with safety parameters, or the bedroom, perhaps near a dresser, a mirror, or on the sides of a wardrobe.
Binarell
Contemporary design
However, if you aren't a fan of the classic style, you can use a contemporary design. This style plays on the purity and essentiality of lines, often minimalist, up to the industrial and technical style.
This wall lamp's light is precise and very useful like a directional light. In fact, it allows you to concentrate the light beam in a precise spot, making it suitable for highlighting certain architectural details and indicating the various areas throughout the space.
You can also use them as a path marker in hallways and corridors, or as a reading lamp above a headboard, in place of the bedside lamp, or integrated into it.
If, on the other hand, you decide to use wall lamps to illuminate paintings, you must respect specific features suitable for this purpose, and therefore consider that they must be:
positioned above the picture

rigorously

equipped with LED lighting

, with an intensity of

approximately 4500°K

, which is the closest to the solar spectrum, to ensure that the original colors of the work of art are not altered by the light
One last piece of advice regarding the type of wall lamp you choose is to select dimmable wall lamps, so you can adjust the light intensity and, consequently, recreate different atmospheres based on your needs at the moment, especially in the living area.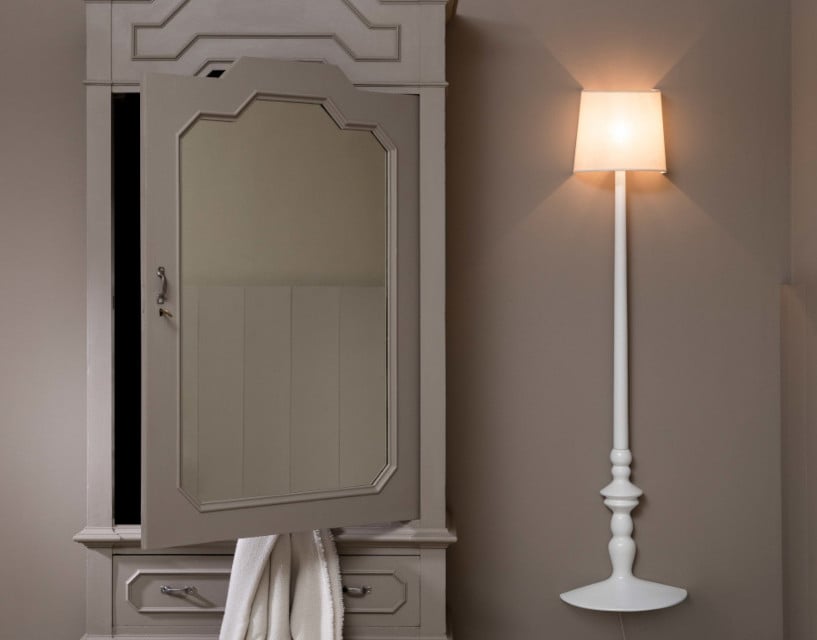 Alì e Babà
4. Choose the most suitable bulb for your indoor wall lamps
Another important element is the light bulbs.
Generally, the bulbs are supplied with the wall lamp, but it is always a good idea to know which bulbs are best suited for your indoor wall lamps.
Let's take a look at the alternatives below.
Incandescent light bulb
Incandescent bulbs are among the most classic and are suitable for wall lamps with a screw lightbulb socket.
This bulb gives off a soft, warm, slightly yellowish light.
Being informed about these elements is fundamental for your project, because the intensity and heat emanating from the light bulb determines its effect on the wall paint, in particular, white walls and, in general, enhances colors.
One tip is to opt for energy-saving light bulbs, especially in environments such as the kitchen where the light stays on longer than in other areas of the house.
Halogen bulb
This is a particular incandescent lamp often used in small wall lamps and differs from the previous one for some fundamental characteristics such as:
Better luminous efficiency
Significantly longer lifespan

than conventional bulbs

Light is much warmer and more intense

, much more similar to natural light

Manageable by dimmers

, useful for adjusting the light intensity
LED bulb
LED bulbs consume little, do not heat up, and have a considerable duration over time.
The feature of LEDs that you must take into consideration in your lighting design project is that these bulbs make the colors of walls and objects appear cold.
For this reason, you should know how to use them wisely according to the wall color and the colors of the decor.
LED bulbs are now present in all homes and environments, especially modern buildings and new renovations.
The reasons why they are so successful is because of their peculiar characteristics:
Energy saving

Very long life

High light output

Absence of dangerous substances, therefore non-polluting

Cold light

No maintenance

Compatibility with all connections
Neon lamp
The great advantage of neon lies in providing very wide illumination and high luminous efficiency.
For these reasons, neon is used as a display light above a painting, an art object, or a mirror.
Widely used in the 80s and 90s, neon today is experiencing its second youth, making it the protagonist in other functions, such as in suspension lamps and wall lamps installed in different environments, such as living rooms, bedrooms, and corridors.
In any case, remember to choose the right light bulb based on the environment and the function to which you plan to allocate the various wall lamps, so you don't alter the rooms but instead embrace them with light, supporting and enhancing their style.
For more information, support, and assistance in choosing the right lamp models for your decorative lighting project, do not hesitate to contact us at this link. We are at your complete disposal.