Light is able to revolutionise our visual and emotional perception of space, dressing every place with unique shades and tones. In addition, combined with the most creative lighting design concepts, light acquires a strong capacity to create an environment's atmosphere.
Designer lighting systems, in fact, continuously propose lighting concepts in new forms. Private homes, hotels and restaurants often host a combination of different types of lighting:
Each of these models is designed for illuminating every environment with the primary objective of offering special, unrepeatable visual and sensory experiences.
Let's take a look at how light, thanks to the most original models of designer lamps, presents itself every time with new materials.
How the light changes according to the models of designer lamps
Before we begin talking about wall lamps, in this case, the object of our interest, it is important to get to know the properties of the different types of lighting to understand how each one provides light to the environment in special and different ways.
Materials, form, style and structure are decisive characteristics that decisively influence how the designer lamps communicate through the light. Each lamp guarantees different sensations and atmospheres.
Suspension lamps
This is a very versatile type of lamp in terms of lighting. Suitable for any environment, suspension lamps are excellent sources of ambient lighting, ideal for delineating the mood of the setting; but also provide a good solution for task lighting and accent lighting.
Table and floor lamps
In addition to providing light to activities and workstations, table and floor lamps can be placed on desks or in the corners of hotels, homes and rooms, as original furnishing accessories, filling the spaces with decorative and functional light points.
Recessed lamps
Recessed lamps ensure direct and homogeneous light to spaces. Therefore, they are ideal as primary light sources.
Ceiling lamps
With these particular lamps, the light diffuses softly into the air, creating a bubble of intimacy in the room.
Standard lamps
Suitable for setting a relaxed atmosphere and at the same time ideal for comfortably performing daily activities.
Applique lamps
Last, but not least, the appliqué model. These designer wall lamps, distributed on the walls of a room, create a light and welcoming atmosphere. Individually they guarantee accent lighting, illuminate details and furnishings, and also offer high levels of functional lighting.
Designer wall lamps by Karman: classic and original solutions
Karman offers a wide range of designer wall lamps that can accompany guests and observers along an unparalleled emotional journey.
When style meets functionality, lighting ideas of the highest level are born, combining to create appliqué models with both a sober design and more eccentric silhouettes.
Wall lamps are the ideal solutions for any place, whether they are lighting systems with a classic concept or models with evocative and less conventional shapes.
Wall lamps with a classic and elegant design
Below is a selection of wall lamps by Karman with a sober look but an exceptional ornamental capacity.
1. Life
Among Karman's proposals, we find Life, designed by Matteo Ugolini. It is a designer wall lamp characterised by sweet lines with a vintage flavour, with a torn and manually ruined fabric shade, washed with the modern stone-washing technique.
Life
You could place Life in the bedrooms of hotels and private homes. In fact, this appliqué model guarantees beams of direct light, ideal for providing optimal task lighting levels and filtered light perfect for a generally relaxing and comfortable atmosphere.
2. Amarcord
With Amarcord, Matteo Ugolini proposes the traditional oil lamp renewed in style and form.
Among all the designer wall lamps, this appliqué stands out for its clean and essential glass lines (available in smoky or transparent) and its base in unpolished cement or white concrete.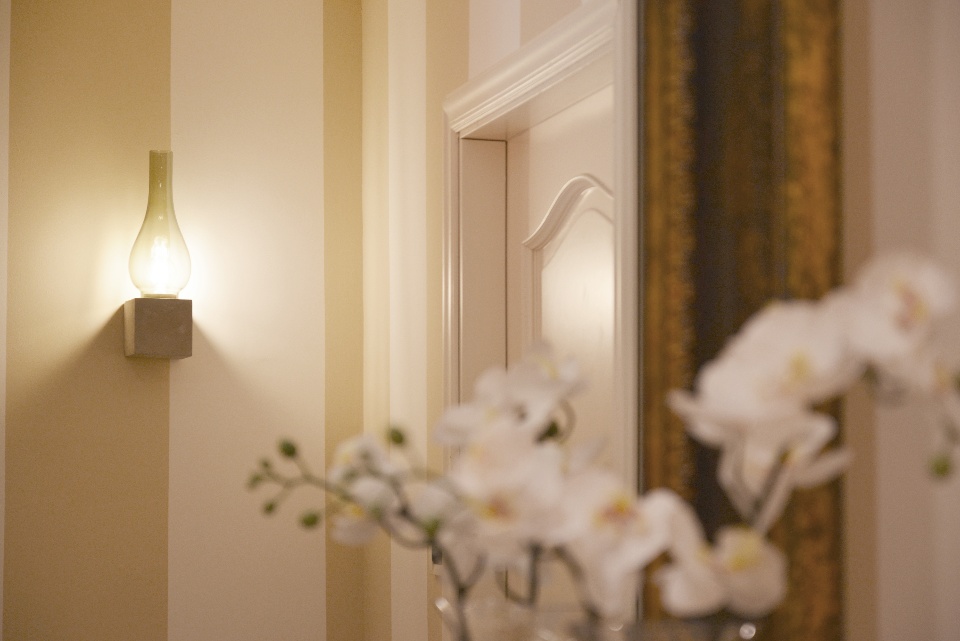 Amarcord
Amarcord adapts perfectly to hotel and accommodation areas of transit, illuminating spaces directionally and homogeneously.
3. Domenica
Domenica is a bell-shaped wall lamp with a white or gold lacquered metal mesh structure, covered in white plaster.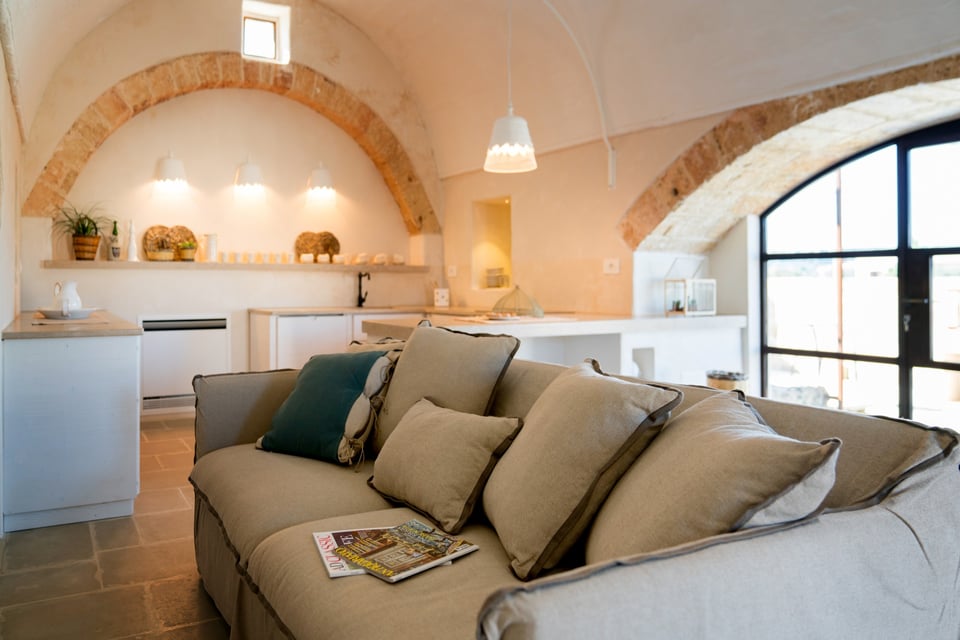 Domenica
Designers Luca De Bona and Dario De Meo give life to a unique-looking appliqué that breaks out of the box and breaks the monotony of an environment without light, providing brightness and a cheerful feeling of serenity, like on a day of celebration.
4. Alì and Babà
Designer Matteo Ugolini created this designer wall lamp inspired by the fascinating oriental tales of The Thousand and One Nights, unsurprisingly naming it Alì and Babà.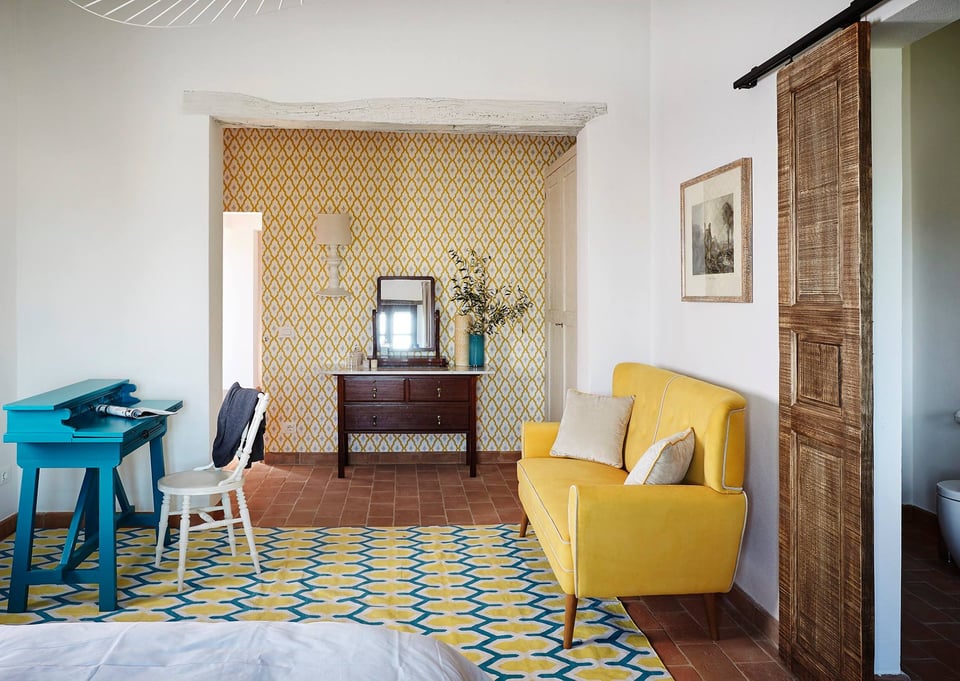 Alì e Babà
It is an appliqué lamp with a lampshade in natural or enamelled ceramic (otherwise available in white linen, to guarantee more diffused brightness), simple and versatile.
It could easily be placed either on the walls of a private home or at the top of the hotel stairs to accompany guests to their rooms.
5. Notredame
Luca De Bona and Dario De Meo baptised this appliqué with an important and evocative name: Notredame, the Parisian cathedral emblem of the Gothic style.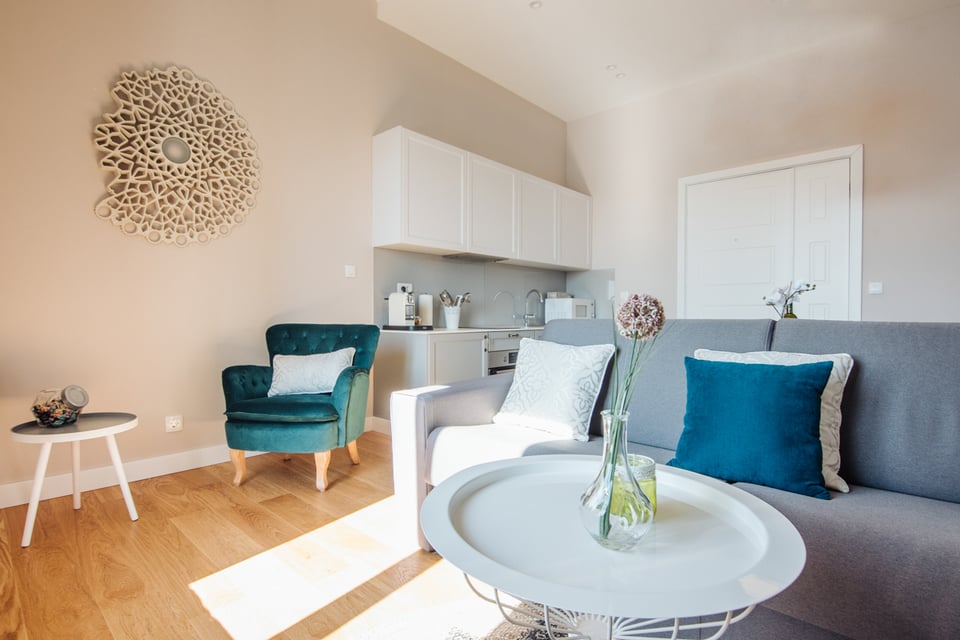 Notredame
We are talking about a wall lamp in marble dust that emulates the elaborate geometry of a rose window, with a luminous core in the centre. Notredame provides suggestive magical lighting and is perfect for illuminating the living area.
The appliqués of Karman's Zoo
The allure of the Animal Kingdom comes to Matteo Ugolini and undermines his creative mind. The designer is profoundly inspired and creates striking designer wall lamps with an animal-like appearance.
From his creations, Karman's Zoo takes shape: a world where no cages or restrictions exist, since the art of creation is free to express itself in every possible way through the light.
The appliqués of Karman's Zoo have crossed the sea, reaching as far as Sicily. The observers, amused and amazed, have been able to see the concrete lighting ideas up close, extraordinary and original, the result of creativity and boundless creativity.
The Sicily Market Experience catalogue documents, image after image, the best moments of an unforgettable journey. Below are the designer wall lamps that animated the streets of Palermo.
1. Cubano
A designer wall lamp with a curious appearance that amazes. A large-billed toucan and plumage reminiscent of lace, is perched on the wall and catches the eye of the observer.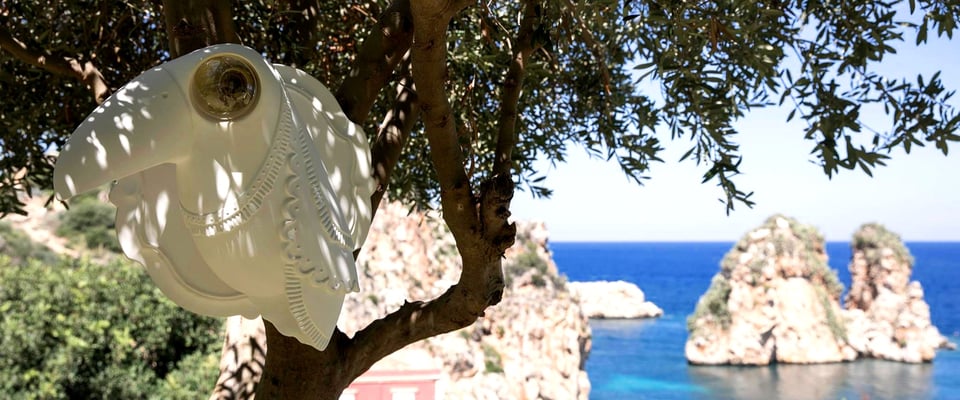 Cubano
Cubano is an appliqué in opaque white ceramic that, when turned on, illuminates the room with intense and direct light and when switched off, decorates the wall in an original way, like a real piece of furniture.
We are talking about a lamp with an unmistakable style, able to move anywhere, even hang on the walls of a chic restaurant.
2. Marnin
Another fun and playful design is Marnin, an appliqué that takes on the role of a curious reindeer that emerges from the wall and illuminates the room with direct light. This lamp fits perfectly in children's bedrooms.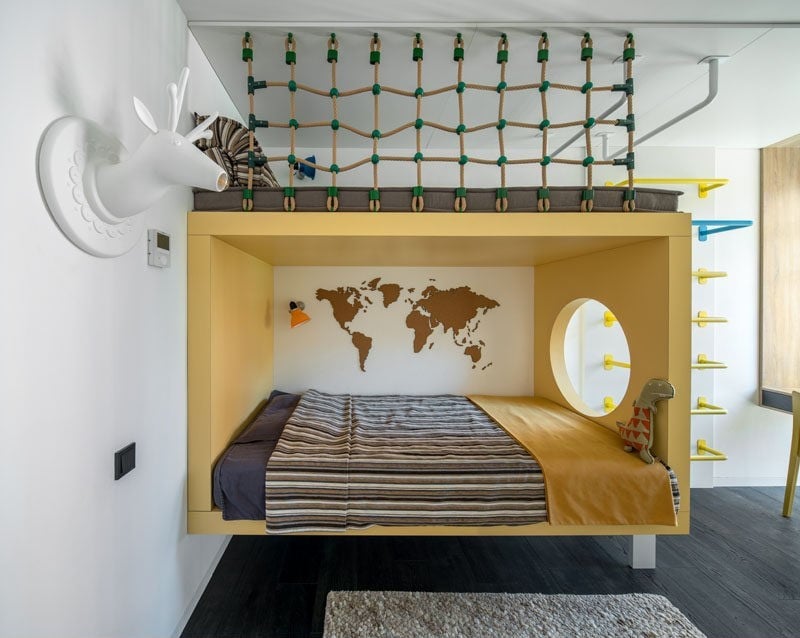 Marnin
3. Ti Vedo
Ti Vedo is a little owl, in white ceramic, that timidly observes its surrounding environment, providing floods of light to the spaces.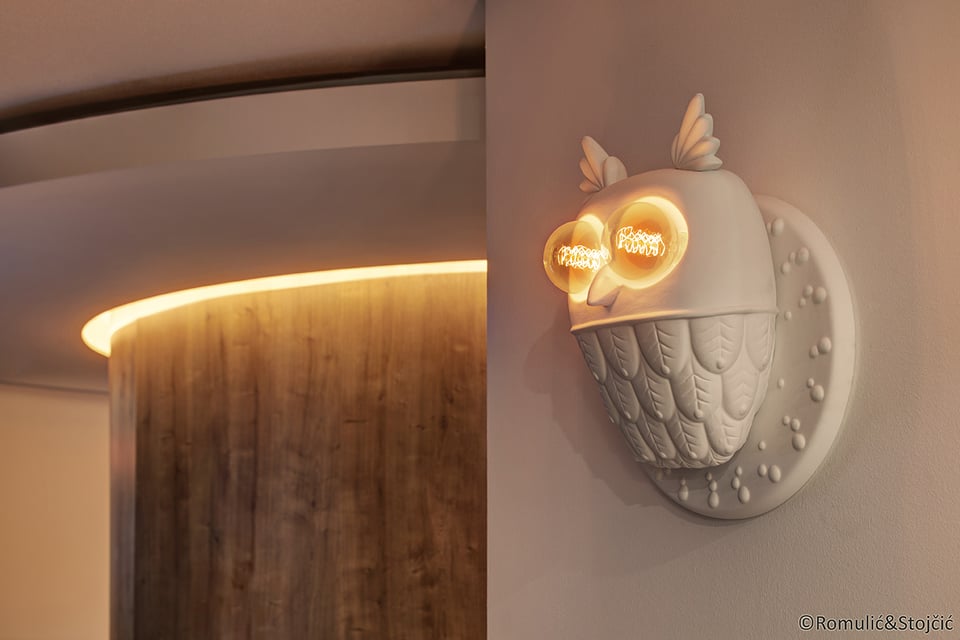 Ti Vedo
Once again Karman offers an inimitable lighting design object, suitable for both the interiors of a restaurant and for home environments.
4. Aprile
A mantle of leaves and floral decorations covers April, a white ceramic appliqué in the shape of a fish. It is a wall lamp suitable for illuminating the rooms of a restaurant.
5. Ugo Rilla
Ugo Rilla is the star of Karman's Zoo. This eccentric appliqué, in opaque, black or white ceramic, imitates the features of one of the most famous icons of Hollywood cinema.
The king of the jungle grips onto three LED bulbs of different shapes (black or total white), the result of human technology, and enters man's habitat with a threatening demeanour, illuminating spaces and restaurants.
Designer wall lamps: original and versatile solutions
Behind an original and successful lighting project, creative design ideas and unique and fascinating magical light are always hidden.
Whether they are classic or modern, the designer wall lamps are suitable for illuminating quality spaces and enriching the interiors of restaurants, private houses and hotels with imagination. In fact, these appliqués represent a practical and versatile solution, never taken for granted.
From the walls of a kitchenette to the corridors of a hotel, up to adorning the walls of fashionable restaurants, this type of lamp provides essential focal points for both illuminating the environment and providing light to workstations and furnishing details.
We have found that each lamp model has its own way of communicating and setting the atmosphere through kaleidoscopic light designs.
Each designer lamp can bring an added and different value to the space's lighting complex, just like the wall lamps: comfortable, direct, essential.
Choose the Karman designer wall lamps you prefer and enrich your lighting project with originality and style.
For more information, support and assistance in correctly selecting designer wall lamps, do not hesitate to contact us at this link. We are at your complete disposal.