Lighting is a fundamental element for any environment, whether indoors or outdoors, as it gives a unique and personalised atmosphere to each location, in addition to its necessary functions.
It is not just a question of providing light but also and, above all, creating a specific style in each room, using ideal lighting that is comfortable and efficient. That's why strategically positioning designer appliqués indoors and outdoors on the wall, can transform these spaces into elegant and exclusive scenographic projects, in which light and colours are studied in detail to meet both visual and functional needs.



If you are looking for an innovative and elegant way to furnish and brighten up the rooms of an indoor or outdoor space, you will find that the Karman collection has a wide range of high designer appliqués to choose from, which will give more life to both the indoors and outdoors.
Appliqués indicate wall lamps that, more than other lighting sources such as chandeliers, table lamps, suspension lamps and floor lamps, offer great flexibility.
They are wall lamps par excellence, depending on the wall on which they are placed. Indoor and outdoor designer appliqués perform different functions, representing ideal solutions for various purposes. The appliqué lamp guarantees both an ambient light and a direct light for emphasising a particular detail.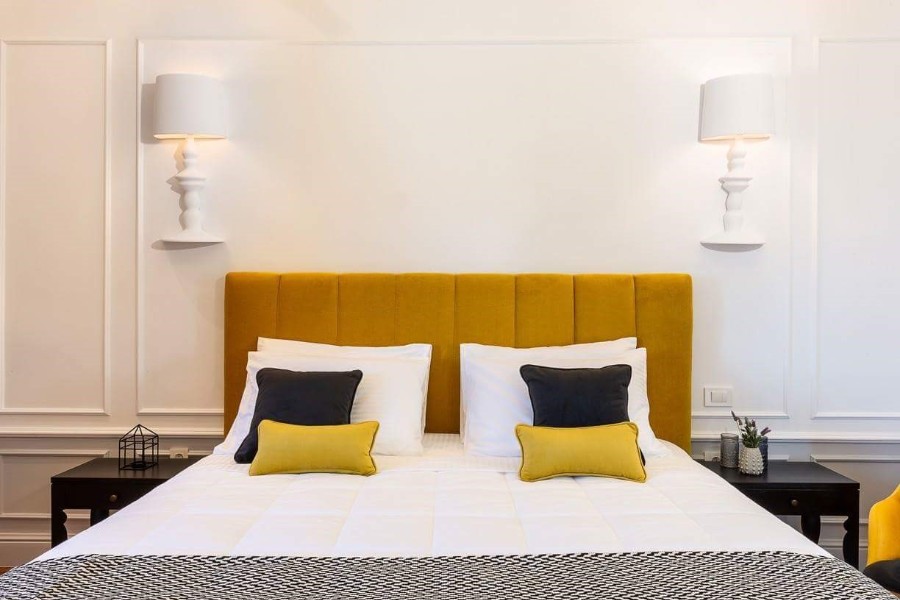 Alì e Babà
Designer appliqués are the perfect solution to satisfy multiple lighting functions for the indoors and outdoors.
Appliqués differ from LED spotlights in that, like chandeliers, they diffuse the light in different directions and radiate light throughout the space by taking advantage of the reflection off the wall.
Thanks to the most varied models and the versatility of these lighting tools, you can choose an appliqué depending on how you want each room to be illuminated, to get exactly what you want for each space, both inside and out.
Designer appliqués can transform the spaces of an interior, such as bedrooms, living rooms, kitchens or bathrooms, and change the appearance of any exterior through the simple light and design of a lamp.
Let's now take a look at some examples of lighting from the Karman catalogue of outdoor and indoor appliqués.
How to enhance environments with the designer appliqués for the indoors and outdoors by Karman
Designer appliqués stand out from other wall lamps because they make light the protagonist of the furniture.
Therefore, appliqués are not just lighting but also wall decor, just like a painting or a work of art.
In an interior such as the living room, you can replace the table lamp on a desk or a piece of furniture by placing a designer appliqué on the wall.
'Let's analyse some solutions that the Karman catalogue offers for outdoor and indoor lighting.
Outdoor lighting
Evening lighting for outdoor environments not only improves the aesthetics of the location, but it also becomes necessary for night security.
Outside, you can help your customer eliminate shadows by installing outdoor appliqués such as Lamina by Karman, a matte white aluminium structure. It is a minimal lamp designed to generate pure light, made of two thin metal sheets that meet and intersect and that, crossed by an electric cable, express a delicate harmonic bond through rigorous geometry.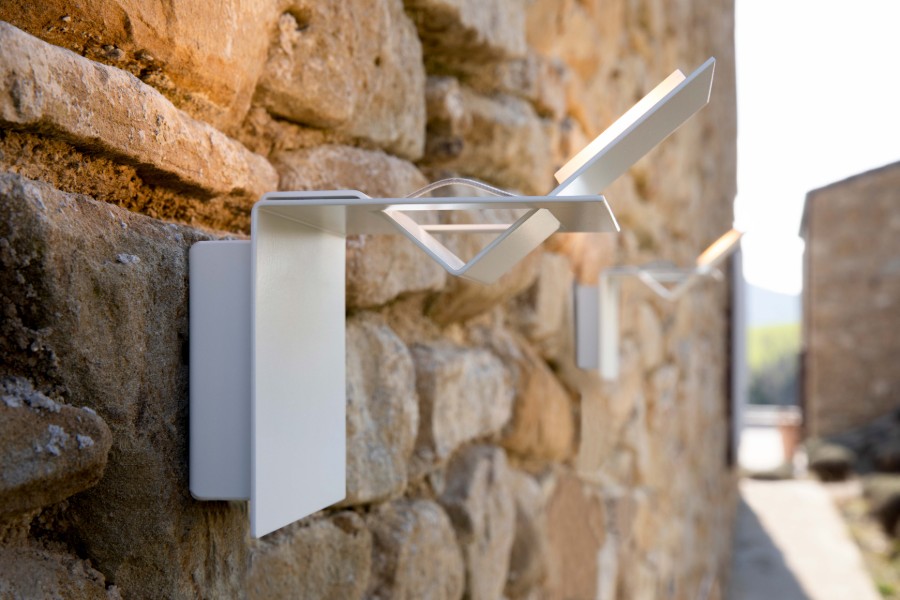 Lamina
Depending on the exterior that you intend to illuminate, you can combine the appliqué with street lamps, lanterns or other types of light sources.
Installing the right artificial outdoor lighting, especially in the evening, is essential for your customer to comfortably enjoy outdoor spaces, starting from safely reaching the entrance to their home.
External lights, however, must comfortably and never excessively illuminate the areas that your customer considers useful, never blinding or "wasting light" in the surrounding environment.
A designer appliqué such as Quarantasei by Karman, for example, in dove grey concrete and satin glass is an ultimate solution for illuminating doors, walkways, fences, terraces, stairs, etc. It can give a touch of class and suffused light to the outdoors, also useful for illuminating the house number with a high level of style and design that certainly does not go unnoticed, thanks to the numerical accessories in white satin steel available with this appliqué.
It is easy to understand the character that inspired the creator of this designer appliqué, from the name he decided to give this installation, Quarantase, which confirms its uniqueness and elevated creative value.
The beauty of these proposals, in addition to the design and style, follows the extremely versatile personality of their functionality, which allows each appliqué to be arranged in different ways and locations.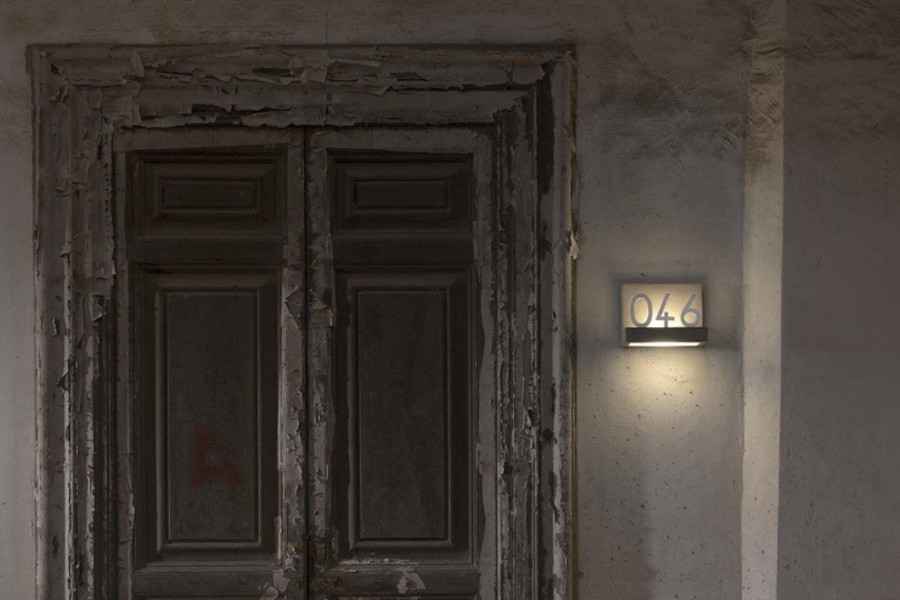 Quarantasei
Indoor lighting
If you can find different solutions for outdoor environments, the variety of designer appliqués available for interiors is even more extensive, and this means that you can indulge yourself in designing creative, functional and designer lighting for any environment.
Indoor designer appliqués can perform the function of general lighting but also specific light to illuminate something like a painting or other valuables in a particular way.
A house without light is dark, but a poorly lit house is worse!
Lighting a house inadequately makes it highly frustrating, which if not at all indicated for a private residence, is not at all for a tourist accommodation.
Furnishing an interior comfortably gives an emotional serenity, making it pleasant to live within.
As they say, the eye also wants its part, and this is even truer when it comes to the style of an interior. A designer appliqué that will immediately give a touch of style to the environment is Narciso by Karman. It is undoubtedly an ideal solution. In a game of mythological and luminous references, this light source reflects its own light like the image of Narcissus in the mirror, declaring its unique style from the first impact.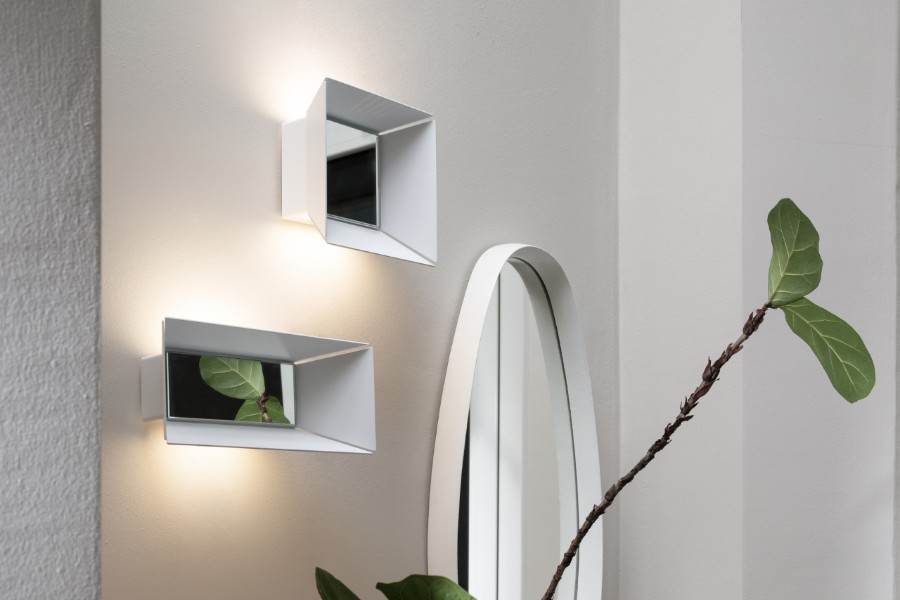 Narciso
To illuminate areas of junction such as corridors and staircases, Karman offers Umarell's design. Like the archaeological treasure that every old man dreams of finding on site under his careful supervision, the light emerges from a suspended block flooding the trusty Umarell with light.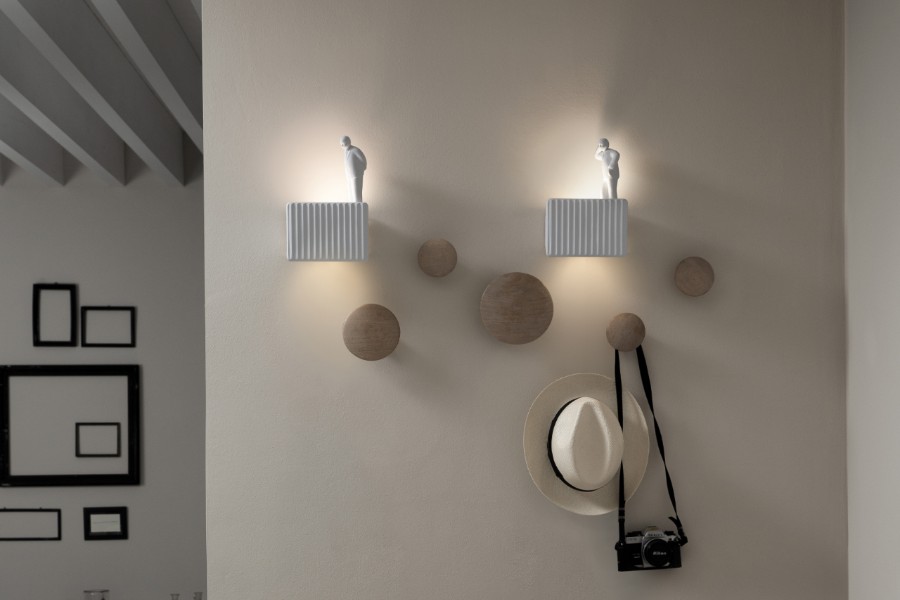 Umarell
The design of this appliqué will immediately present your interior artistically and creatively, worthy of an art gallery, just like the Binarell lamp by Karman: a double luminous block that, dividing, maintains the relationship between its component parts, in a constant functional dialogue worthy of the best illusionists. It is the artistic representation of the famous illusionists of the woman cut in half, luminous art with which to enhance spaces that constitute a junction between rooms but are also ideal for the bedrooms.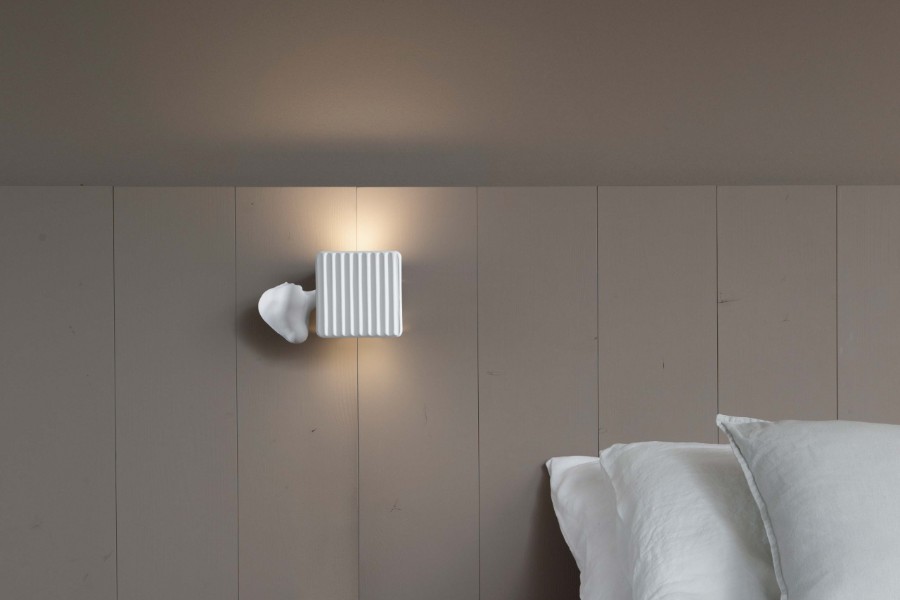 Binarell
The versatility and design of this type of appliqué make them functional for various environments indoors. Thanks to this feature, you can position them wherever you want, according to the bright furnishing project you intend to develop.
Another versatile artistic appliqué that you can place in the bedroom as well as in the living room is Giuspina by Karman. Evocative of a past memory, Giuspina returns to live with simplicity and character, transforming its defect into an added value. In fact, the design feature of this appliqué is a broken electric cable that remains suspended from the side of the lamp, giving it a flavour that is as vintage as it is contemporary for furnishing the different rooms.
These solutions are simple examples that can give you an idea of ​​how the unique and particular style and design of Karman appliqués can be optimally adapted to each of your lighting projects and how designer lighting can perform the dual function of decor and lighting, without needing the help of other furnishings in the room, since it is enough to give style and personality to that specific space.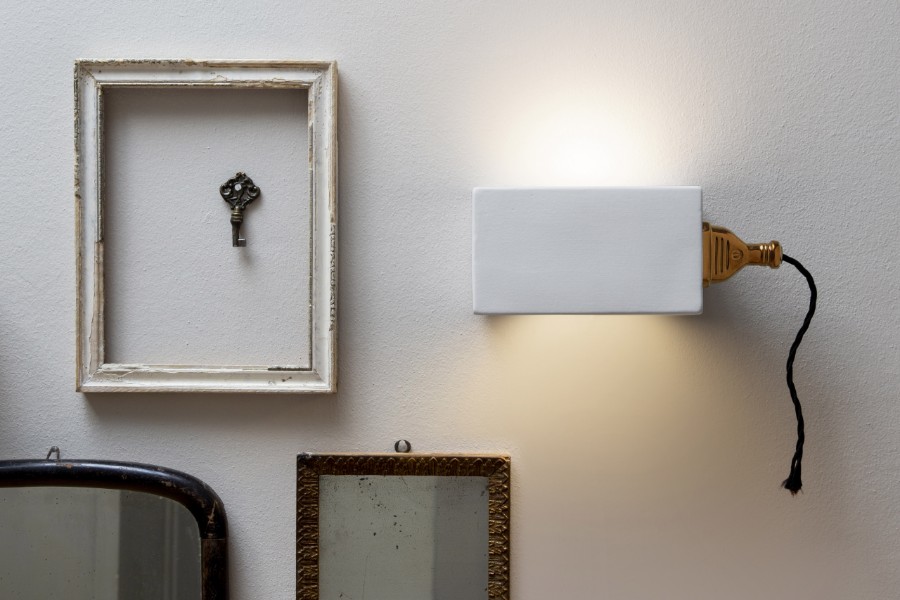 Giuspina
The solutions and styles of designer appliqués for the indoors and outdoors by Karman ad hoc for your projects
Those analysed in this article are just some of the solutions and styles of indoor and outdoor appliqués that the Karman collection offers. Looking at the entire collection, you too can be illuminated and have other ideas for your bright designer furniture.
Depending on your design and lighting project, Karman designer appliqués will surely be an ultimate solution to support your available indoor and outdoor spaces. Not only that, these high design installations will suggest the most suitable application solutions for your needs.
So let yourself be inspired by Karman creations and let your imagination run wild with the style and creativity that Karman products can offer, without ever neglecting functionality.
Quoting the hermetic poet Giuseppe Ungaretti:
"True love is a bright stillness"
about the importance of lighting for any environment, especially when you have to illuminate the apartments and spaces where we spend most of our time.



For more information, support and assistance in choosing the most suitable lamps for your lighting design project, do not hesitate to contact us at this link. We are at your complete disposal.