Outdoor lighting offers many advantages, because it can illuminate the path your client takes towards the front door, help them organize evenings with friends in the summer, highlight some particularly "beautiful" areas of the garden and also discourage thieves from committing crimes or, at the very least, does not make their lives easy.
Illuminating the outdoors efficiently means being able to make the most of the garden and create extraordinary visual effects of light and shadows.
Having fun with outdoor lighting will give your project a touch of personality and style, which will clearly distinguish your client's outdoor space.
Before evaluating the various ways you can illuminate your project's outdoor space, let's take a look at the safety rules that you and your client must take into account:
Before starting any electrical work, get an electrical tester (or voltage tester for lighting circuits), to be used in the power outlets to check if there are anomalies in the circuit, so that you can work in complete safety.
Make sure to install all products in accordance with local building codes. All information is available online or from local authorities.
Disconnect the main power supply of the consumer unit/fuse box; isolate the circuit you intend to work on by removing the circuit fuse. Put it in your pocket to avoid accidental replacements, or turn off the switch and, if you can, lock it.
Attach a note to the local unit to notify others that you are working on the circuit.
Once these few but essential points have been clarified, let's take a look at how to ideally set up the outdoor lighting, so that each of your lighting design projects can be perfectly combined with your client's tastes.
Install outdoor lighting
Installing outdoor lighting will help your client to illuminate the front and rear doors, create an illuminated path, and shed light on the areas of the garden they want to emphasize.
A good idea is to use an RCD differential switch: a safety device capable of interrupting the electrical flow in the circuit, so that the system switches off immediately in the event of a fault or current overload.
Some modern units already incorporate a differential switch, but you may need to connect an additional one if you have an older model.
RCD protection is now mandatory for some electrical devices, so check with an electrician if you are unsure whether your client has it or not.
When you install outdoor lighting, make sure to use lamps with the IP (International Protection or the degree of protection of a luminaire against atmospheric agents) suitable for their location.
To properly design outdoor lighting, it is essential to know how to strategically enhance the various areas, so that you can enrich the moments of conviviality with elegant and refined scenarios.
Outdoor lighting has aesthetic importance but also plays a fundamental role at a functional level both in the outdoor space and in the safety of the home.
Therefore, having fun with outdoor lighting correctly means enhancing spaces and their tonalities through the various alterations and shades of lights and shadows.
Ultimately, we can distinguish two ways of conceiving outdoor lighting, aesthetically and functionally.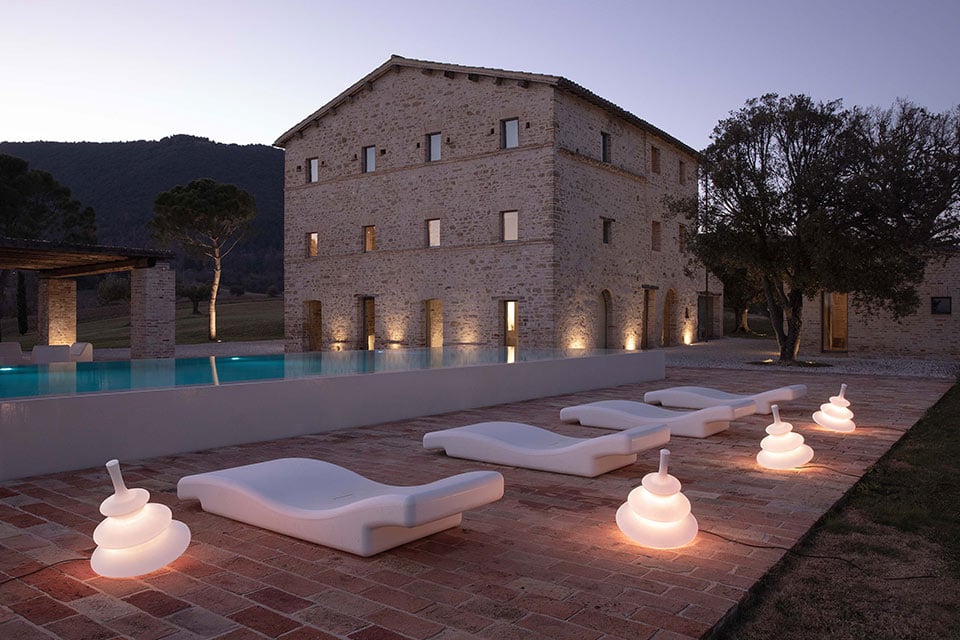 Aesthetic lighting characteristics
Aesthetic lighting is a type of scenographic lighting that is characterized by lighting fixtures that substantially highlight elements that usually characterize the outdoors, such as the vegetation of the garden, walls, the possible presence of a swimming pool, a fountain and so on.
This type of scenographic lighting uses the visual effects offered by the various ways we play with light and shadows to create characteristic and truly suggestive atmospheres.
These guarantee a very particular and personal flavor to the external environment of your client's property.
An example of aesthetic outdoor lighting may be the lights that illuminate the swimming pool, but installations that allow lighting obtained through the furnishing elements, such as vases, tables, seats and sculptures, are also spectacular.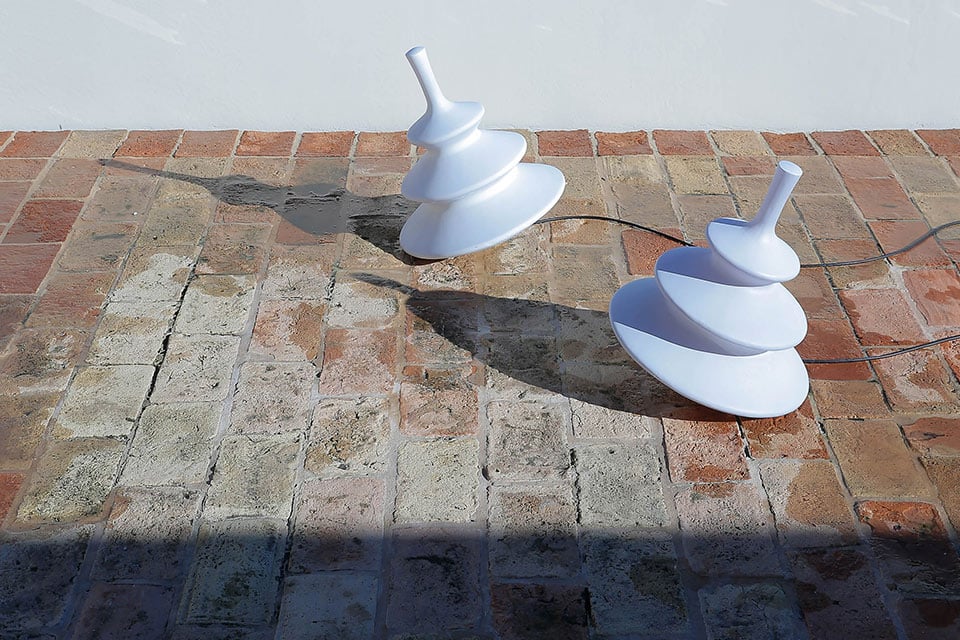 Functional lighting characteristics
Functional lighting concerns the type of lighting that is necessary to make the outdoor space safe and livable in the evening hours.
An example may be the correct lighting of the paths, but it is also important to functionally illuminate the areas that include the patio, swimming pool, gazebo, and the threshold of the entrance door.
More generally, it is important to functionally illuminate all those areas that your client has set up to be experienced not only during the day, but also in the evening.
For this reason, each space must be clearly visible, so that they can move easily and safely from one part of the garden to another.
In addition, do not forget that certain areas of the outdoor space require lights of different intensity, functional to the specific use to which your client has dedicated that specific space, such as the area set up for the gazebo or barbecue.
Usually, for functional lighting, light installations that exploit LED technology are preferred: this type of lighting represents a more than valid solution for enhancing spaces in an ideal way and with limited energy consumption.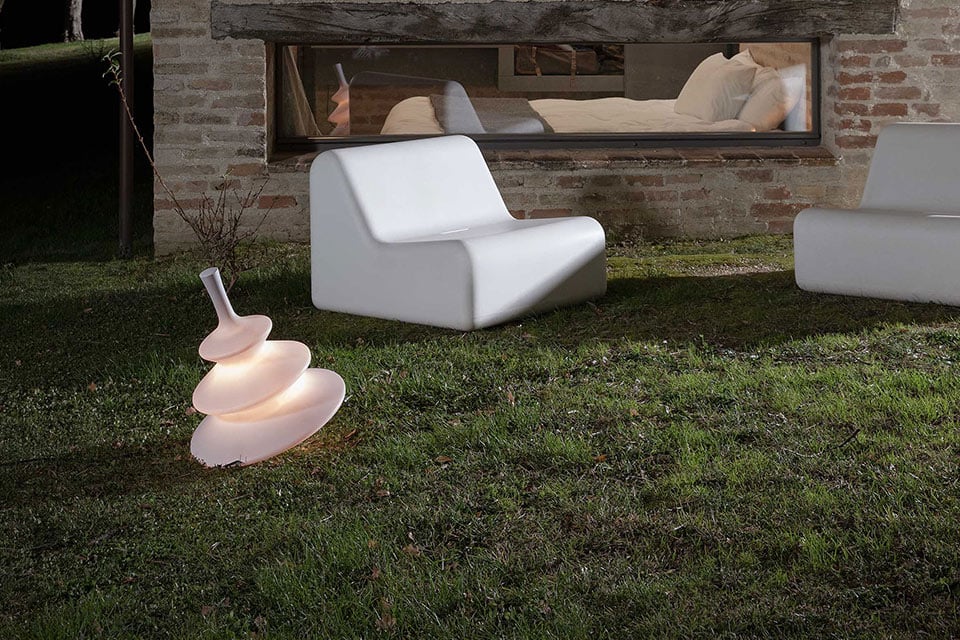 How choose the right outdoor lighting
There are many types of light installations that allow you to have fun with outdoor lighting, so that it can be both scenographic and functional, and the supports to choose from vary in function and design, from spotlights to pegs to street lamps, from luminous pots to solar devices, from path lights to street lamps, and so on.
You can view the whole range of Karman designer outdoor lights, to choose the most suitable light installations to enrich your outdoor lighting project.
Surely, the element that will fundamentally make the difference will be your creativity with the outdoor lighting. Have fun with it to recreate suggestive outdoor settings.
Each Karman collection makes your life much easier, offering you different creative and original ideas that will be able to stimulate your creativity, suggesting games of outdoor lighting with a unique design, without ever neglecting a strategically accurate functionality.
Let's take a look at one of the flagships of the Karman 2020 collection for outdoor lighting: the Pirla lamp.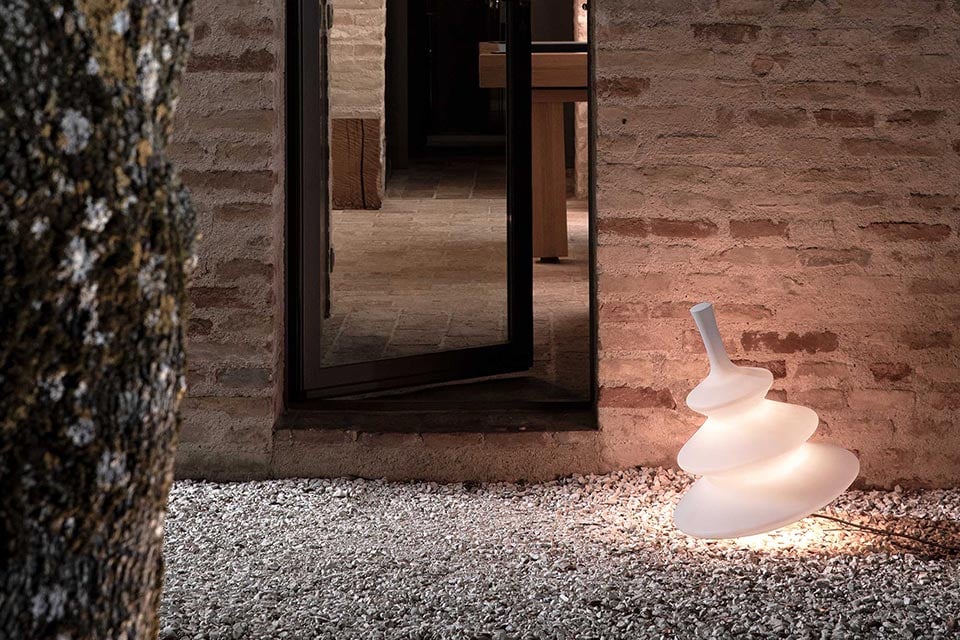 Pirla by Karman: having fun with outdoor lighting by combining design and high functionality
The Pirla lamp by Karman, is a very particular light installation, designed by Bizzarri & Cinti: its name already tells us that it is a unique, provocative and fun lamp, with a light flavor like the breeze blowing on the beach during summer evenings. This lamp allows you to recreate a scenographic suggestion in your client's garden.
The design of the Pirla lamp recalls the shape of a spinning top that turns and turns, like a whirlwind, and intoxicates the viewer, taking them back to a time of pure joy and light-heartedness.
The material that makes up this wonderful lamp with a highly suggestive flavor is a white opaque resin, worked up to the size of 55 x 45 cm.
The particular shape of the Pirla lamp by Karman allows you to have fun with the outdoor lighting in a sober way, but it is also particular and has a high visual impact.
This can be perfectly combined with other types of outdoor lamps, creating an atmosphere that harmoniously embraces the external environment.
Lamps like this are very striking even when hanging in groups, as if they were festoons. They create a pleasant and intimate atmosphere and are powerful enough to provide light without blinding.
If you want to give more brightness to the space, you can always add some floor lamps, in order to create a truly unique scenographic effect.
Through the guidelines regarding safety regulations and the description of the different types of outdoor lighting seen in this article, you can start from solid foundations for the design of a functional and high-impact lighting system.
In addition, the tip on the new Pirla lamp by Karman is an excellent starting point for your outdoor lighting design project because it is an excellent way to have fun with outdoor lighting and create suggestive combinations.
We would like to remind you that, to ensure the success of your lighting project, you can take advantage of the advice of a lighting design expert, who will be able to direct your choices optimally, ensuring that they do not interfere with your creativity and, above all, with your client's personal taste, who naturally has the last word.
For more information, support, and assistance choosing the right lamp models for your decorative lighting project, do not hesitate to contact us at this link. We are at your disposal.