In a lighting design project, both for private homes and contract environments, lighting plays a decisive role. Not only does it have a functional role but it also clearly outlines the location's style and mood.

If you are dealing with a client who loves to dare and whose intent is to leave their guests speechless, you will certainly not disappoint expectations with the Karman Zoo decorative lamps.
In this article, we will discover one by one the seven elements that make up this eclectic collection. Moreover, we will provide you with some useful tips on where to place them by showing you seven projects they have been used in with a surprising result.
In particular, we will see: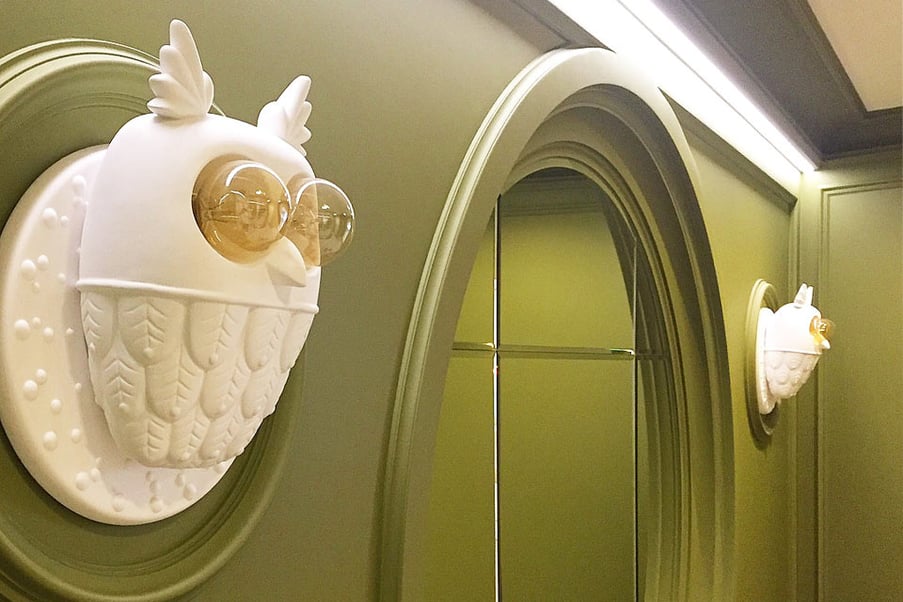 Ti.Vedo
The Karman Zoo: animals dressed in light
Fruit of the creativity of designer Matteo Ugolini, the shapes and movements of the animal world become light sources of great expressive value.
The Karman Zoo has seven protagonists, each of which can be used as either task lighting or accent lighting. And they are all capable of enhancing architectural details while at the same time acting as a piece of furniture that embellishes the environment.
Amsterdam: the bulldog keeper of the light
Inspired by a bulldog at home in the Dutch capital but famous all over the world, Amsterdam amazes with its strength and incredible realism of shapes.
This wall lamp is available in both a white or opaque gray ceramic version and has three lamps that descend from the animal's mouth, like precious prey that he does not intend to give up. It will not fail to surprise those who are lucky enough to be illuminated by its glow.
Aprile: the fish that illuminates with its gaze
The name evokes the famous April Fools day but its design and originality are no joke.
This wall lamp's white ceramic structure reproduces the shape of a fish, covered with lush leaves and magnificent flowers.
Children will love it in their bedroom, but it will also cheer up restaurant guests with its unmistakable presence.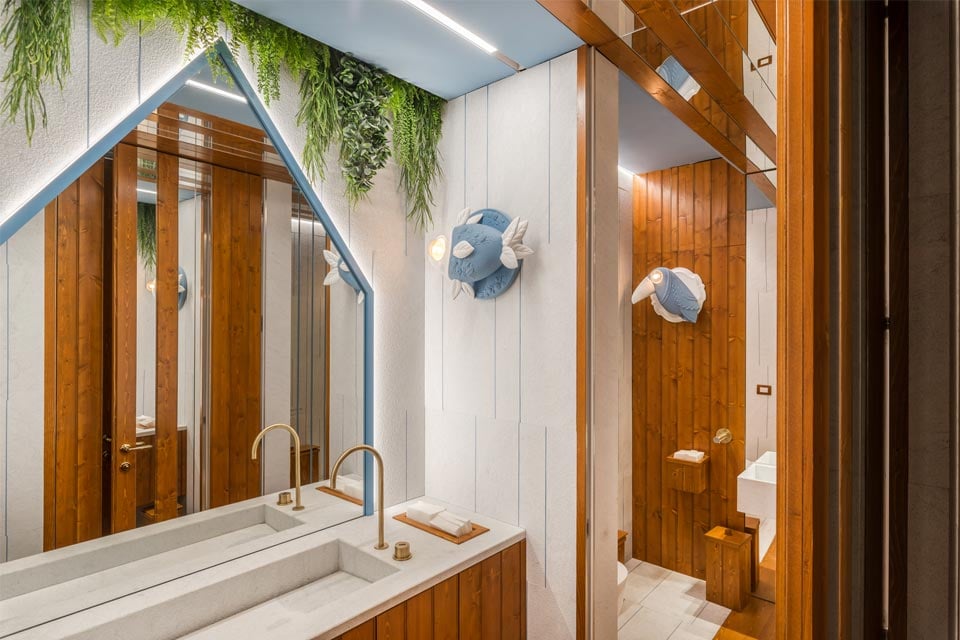 Aprile and Cubano
Corrado: the power of light
The bull symbolizes virility and strength.
Thus Corrado will be able to overwhelmingly define the mood of every location.
Sacred and profane and ancient and modern styles merge to create an innovative and out-of-the-box design.

An antique classic chandelier takes possession of the horns of this matte white, gray, or velvety black ceramic wall lamp, almost as if to recall an ancient candelabra.
Corrado is the perfect solution, for example, to illuminate an entrance because it makes an immediate style statement.
Cubano: a journey to distant lands
This decorative lamp, inspired by distant lands, certainly does not leave us indifferent.
A toucan, with a large beak and finely decorated plumage, rests, as if perched, on the wall.
Cubano is an opaque white ceramic wall lamp whose eye is able to illuminate its environment with intense and direct light.
Even during the day, when the light is off, it will be able to excite guests in a private home or a hotel or restaurant with an exotic atmosphere.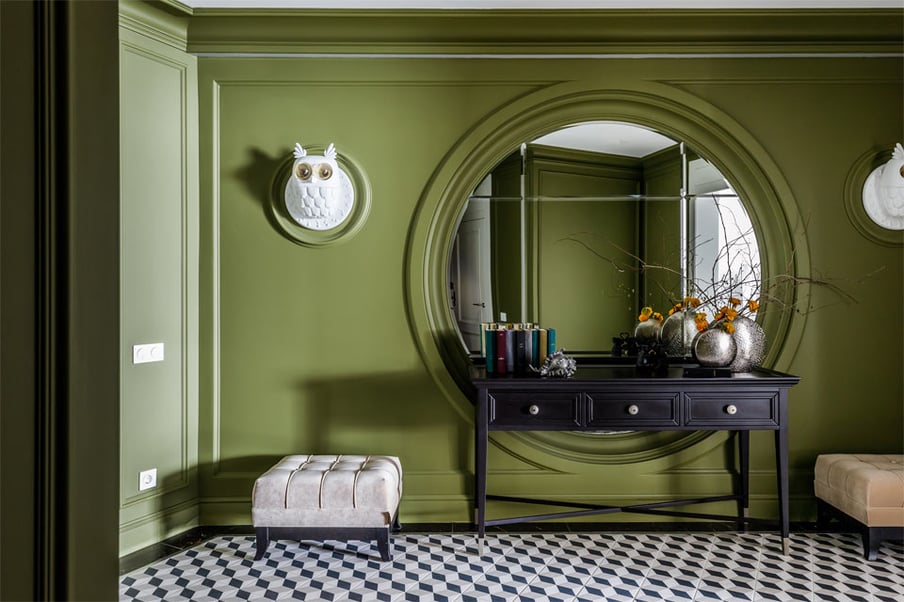 Ti.Vedo
Marnìn: a fairytale light
The deer, Marnìn, was the first to inaugurate the Karman Zoo collection.
This opaque white ceramic wall lamp is in the shape of a deer with a candid mantle that seems to peek out from the wall. It is capable of illuminating a room with direct light and makes kids want to return.
It is perfect for creating a magical and dreamy atmosphere, both in the children's bedrooms but also in a shop, small café, or to lead guests through the corridors that become enchanted forests.
Ti.Vedo: light that looks at us
Symbol of good luck, the little owl Ti.Vedo seems to look its observer straight in the eye.
In white ceramic and available in the wall, floor, and table lamp versions, it is perfect for illuminating, for example, the bedside tables of a bedroom. And it is not only a design object that illuminates but also keeps you company and brings you good luck.
Ugo Rilla: light that provokes
A great protagonist of the Karman Zoo, Ugo Rilla breaks any pattern.
The gorilla is a strong image that, with anger, seems to rip apart one of the greatest inventions of man: the light bulb, like the three he holds tightly in his jaws.
This wall lamp in white or opaque gray ceramic provokes you with its threatening behavior, infusing atmosphere into every room.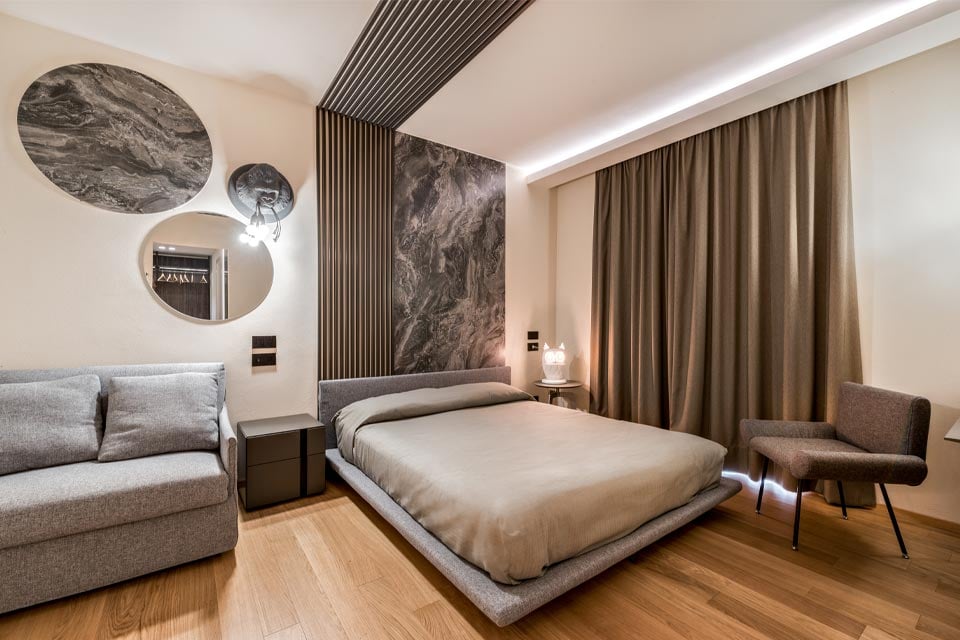 Ugo Rilla and Ti.Vedo
Where should you place the lamps from the Karman Zoo? 7 projects for different rooms
Choosing lamps from the Karman Zoo means making a strong and decisive style choice.
Their originality and unique designs are chosen by architects and interior designers for the most prestigious private homes and contract contexts all over the world.
1. Hotel Miramonti: Aprile, Ti.Vedo and Ugo Rilla to illuminate the bedroom
Hotel Miramonti has chosen to give each bedroom its own personality with the Karman Zoo lamps, individually or combined.
The Aprile and Ugo Rilla wall lamps and the Ti.Vedo table lamps were used to provide task lighting to the bedside tables, offering guests the right visual comfort.
2. Idea 18 Boutique Hotel: several Zoo elements to create an atmosphere in the lobby
A refined and exclusive environment like that of Idea 18 Boutique Hotel has chosen to create the right atmosphere in its lobby, to welcome guests in a sophisticated and original way.
Aprile, Cubano, Ti.Vedo and Ugo Rilla were positioned, alternately, along the perimeter of the walls in bleached bricks, emphasizing the structure and giving importance to the ceiling with white exposed beams.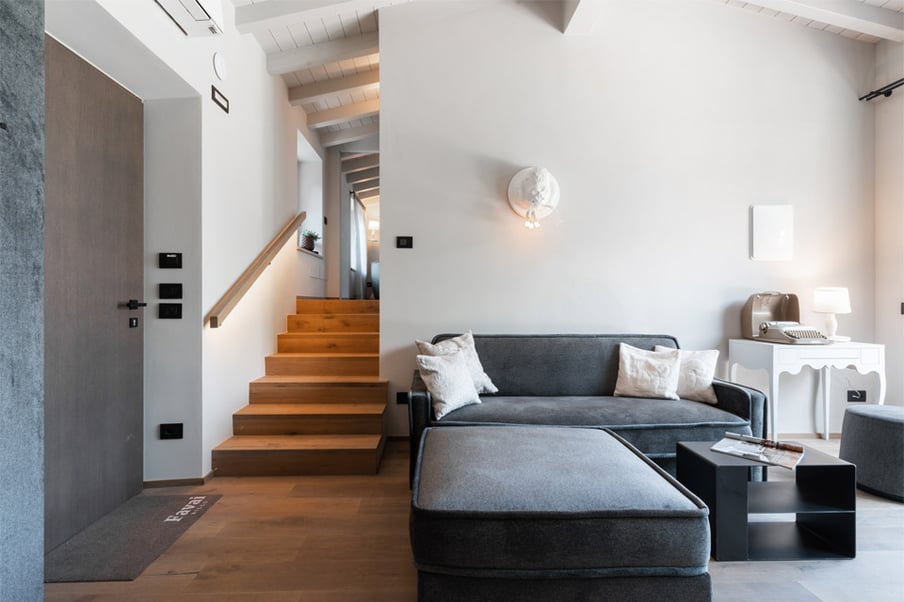 Ugo Rilla
3. Moxy Hotel: Aprile enhances the bar counter
The April fool's fish arrives in Tbilisi, Georgia, in the setting, between vintage and industrial, of the Moxi Hotel.
The designer highlighted it by choosing pure white, making it a fun piece of furniture, which has been placed on the dark wood wall behind the bar counter.
4. La Terrazza: the Zoo animates the restaurant
The friendly Marnìn and the curious Ti.Vedo animate the restaurant The terrace of Sochi, Russia.
Wood is king at this location, accompanied by industrial-style details.
While spotlights and LEDs provide ambient lighting, Marnìn and Ti.Vedo, positioned at different heights, emerge from the walls creating a sensation of movement and providing task lighting to the tables.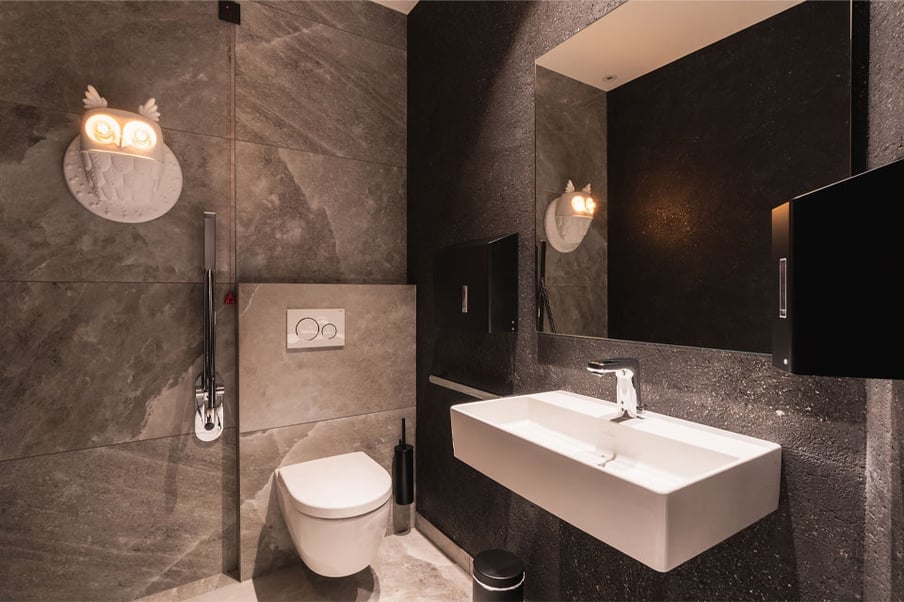 Ti.Vedo
5. Maitò: Aprile is tinged with blue
A chalet by the sea where white and hazelnut wood meets the blue of the sea on the walls and details, with attention to the smallest detail, even in the bathroom.
It is precisely here that Ti.Vedo and Cubano, in an unprecedented white and light blue version, light up the mirror to provide guests with good visibility while at the same time giving an exotic and fun note.
6. Pullman Timi Ama Sardegna: the Zoo entertains children in the Kids Corner
Who more than children loves to be surrounded by curious little animals?
For this reason, the Hotel Pullman Timi Ama Sardegna has chosen the owl Ti.Vedo, in the wall version, to illuminate the dining area dedicated to younger guests.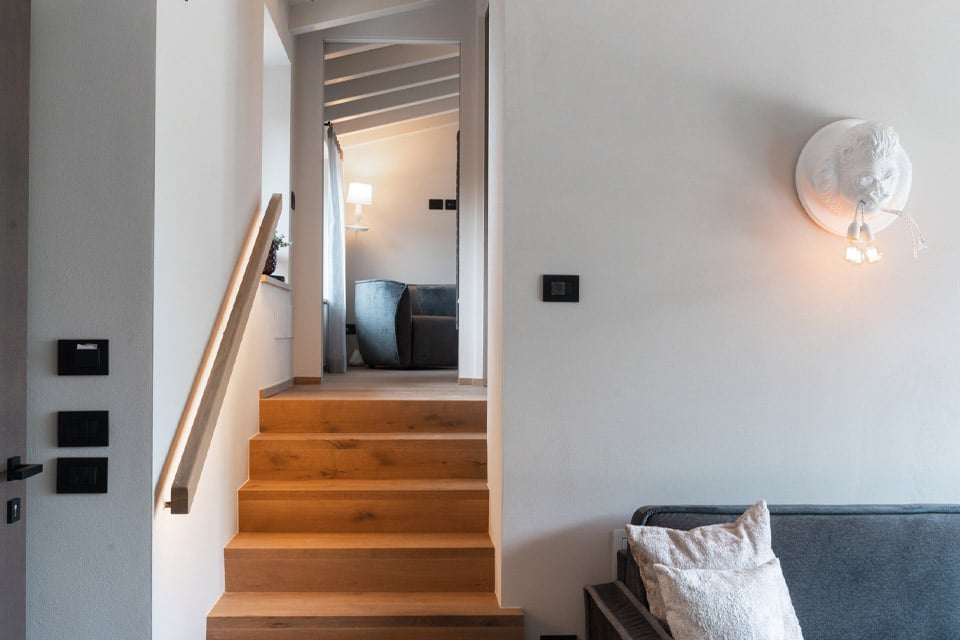 Ugo Rilla
7. Private homes: the Karman Zoo for those who love to dare
The lamps from the Karman Zoo have also been chosen for prestigious private homes, to illuminate and decorate different environments.
Like Blue Harmony where two imposing Amsterdam lamps were positioned at the entrance, on a white stone wall, for a total white effect with a strong aesthetic impact.
Aprile and Ti.Vedo are perfect for creating a fairytale environment in children's bedrooms, positioned just above the bed, as in this residential project.
Two elements, positioned on the sides of a large mirror, on the other hand, have embellished the living area of this house in Sochi, Russia.
Marnin, positioned at the end of a long and narrow corridor, as in this project, will illuminate the guests' path.
Amaze with lamps from the Karman Zoo
We have seen how with the Karman Zoo the surprise effect is guaranteed.
If you are working on a private or contract project and want to impress your client, contact us.
We will provide you with all our support to strategically choose and position the Karman Zoo lamps that best suit your environment.