Karman designer lamps, thanks to their unparalleled stage presence, always know how to animate the most evocative settings of the best lighting design projects.
For years, Karman has been dealing with projects of a varied nature: from commercial spaces to restaurants, from hotels and accommodation facilities to more personalised projects in private homes and any context. They know how to leave that unmistakable mark of style and creativity... even in the lighting for villas, for example.
That's right: the solutions created by the Karman designers, unquestionably versatile and with great visual impact, are ideal for any scenario.
The Villa Simona project is concrete proof of their innate adaptability. Immersed in centuries-old olive trees, covered with water, strong lines and lovely colours, Villa Simona was born in the Versilian countryside just a step away from Forte dei Marmi.
Let's discover together the background of this extraordinary realisation of decorative lighting.
Lighting for villas: Karman lamps illuminate Villa Simona
Light is a fundamental part of this project, and those who love light and design, love Karman. Three Karman lamps have been selected for Villa Simona:
Sisma
Notredame
Don't touch
Let's take a look at the places where each of these solutions were placed within the property.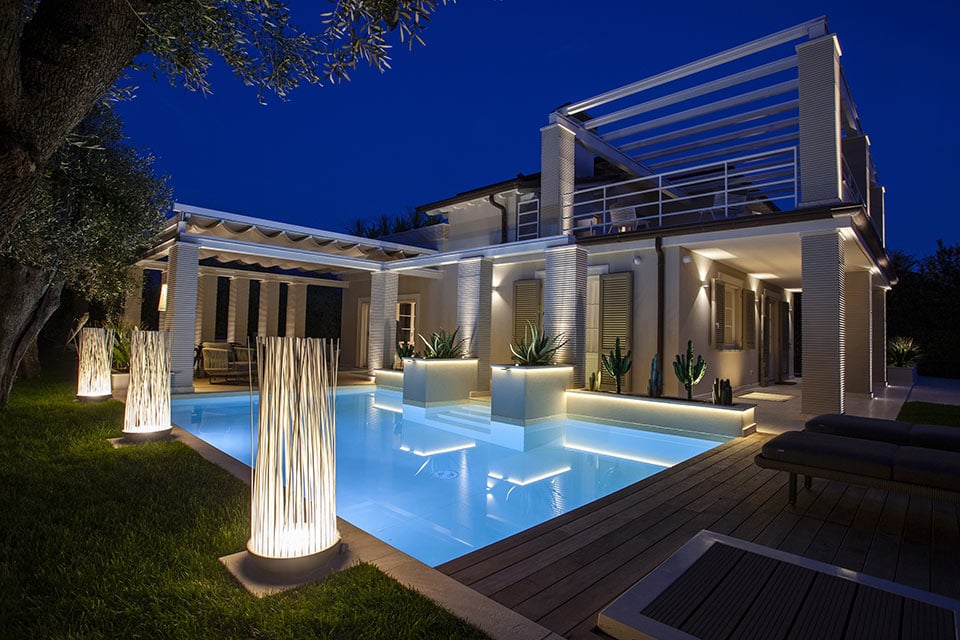 The vibrant charm of Sisma
Sisma is a floor lamp with a minimal taste designed by Matteo Ugolini. Clean, linear, bare of ornamental excesses, it is perfect as it is: with a skeleton in black metal rod, whose profile recalls old living room lamps, but with a renewed concept.
Sisma not only illuminates the large open living area but becomes an integral part of the setting, furnishing the room with elegance and sobriety. A solution that combines design and lighting in a perfectly balanced formula.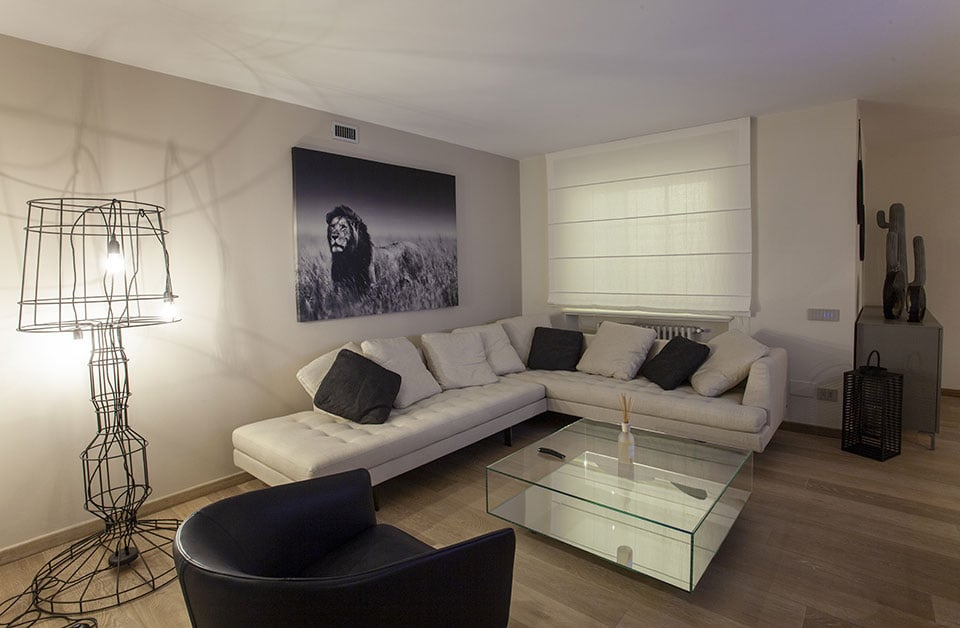 Sisma
Notredame: Gothic elegance
Inside of Villa Simona we also find Notredame, a wall lamp with a great decorative potential created by Luca De Bona and Dario De Meo.
Geometry with a gothic line weaves around a heart full of light, placed right in the middle. A solution, perfect in every corner of the house, that expresses its essence even more in the gold version.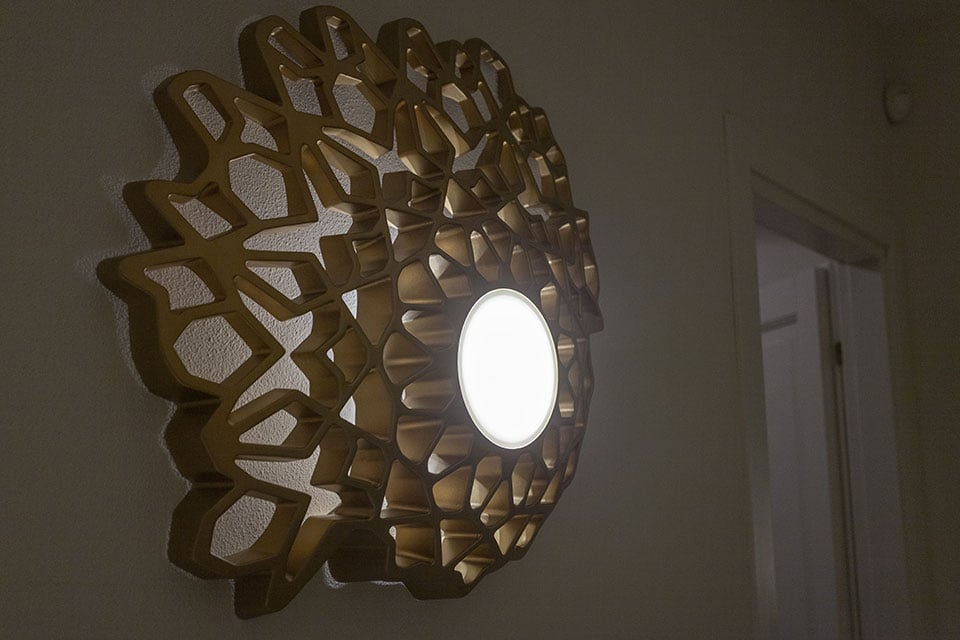 Notredame
Don't touch: minimal design and great aesthetic personality
Designer Michele Vitaloni was looking for an outdoor lamp with a strong personality that would fit well with the building's clean lines and the location's setting. It was also important that it stood out at night and during the day but also blended in with the charm of the water and the mood of the pool.
For this reason, to enhance Villa Simona, Don't touch was chosen, a unique lamp designed by Matteo Ugolini, which, caressed by the wind, moves its "hair", coming alive with dynamism, becoming one with the surrounding nature.
Don't touch, the true protagonist of Villa Simona's outdoor spaces, has fully satisfied all these demands: simple, fresh, innovative and full of itself. The project included three lighting solutions, dividing the side of the pool adjacent to the olive grove.
For the installation of this lamp, three travertine bases of the same size as the lamp base were specially created, to enhance and integrate them into the project.
Linear, clean, decorative: the desire is always the same, day or night: to touch it ... even if its name says not to.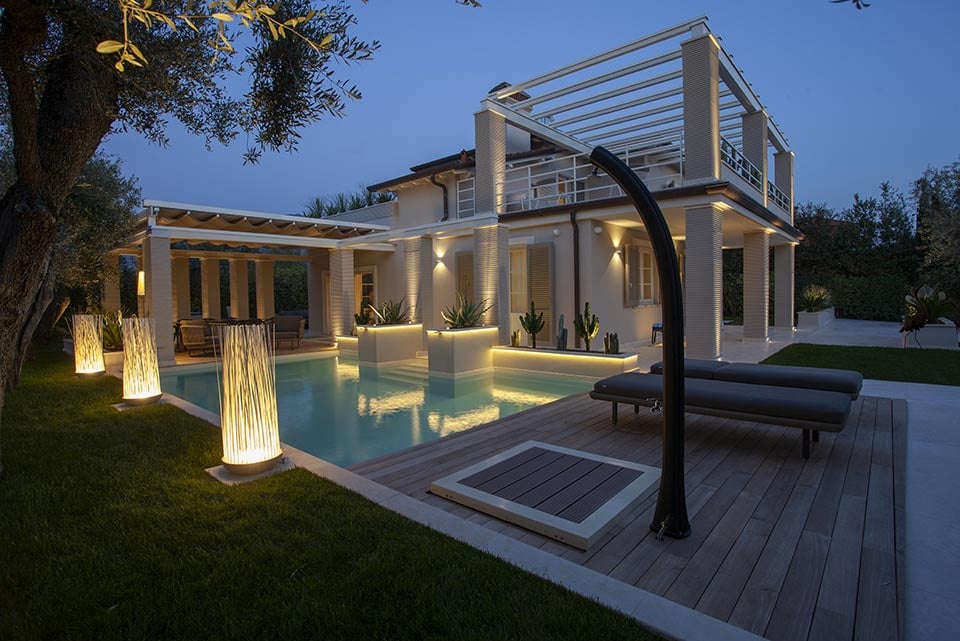 Don't Touch
Villa Simona Project: let's give the floor to architect Michele Vitaloni
Behind every winning collaboration lies the basis for a successful lighting design project. In other words, behind each project, there is a story, a story in which creative affinity and different know-how are intertwined, giving life to final results with a high stylistic profile.
Below, Michele Vitaloni, the architect who lead the Villa Simona project, tells his story in a brief interview, as well as details of the design and collaboration with Karman.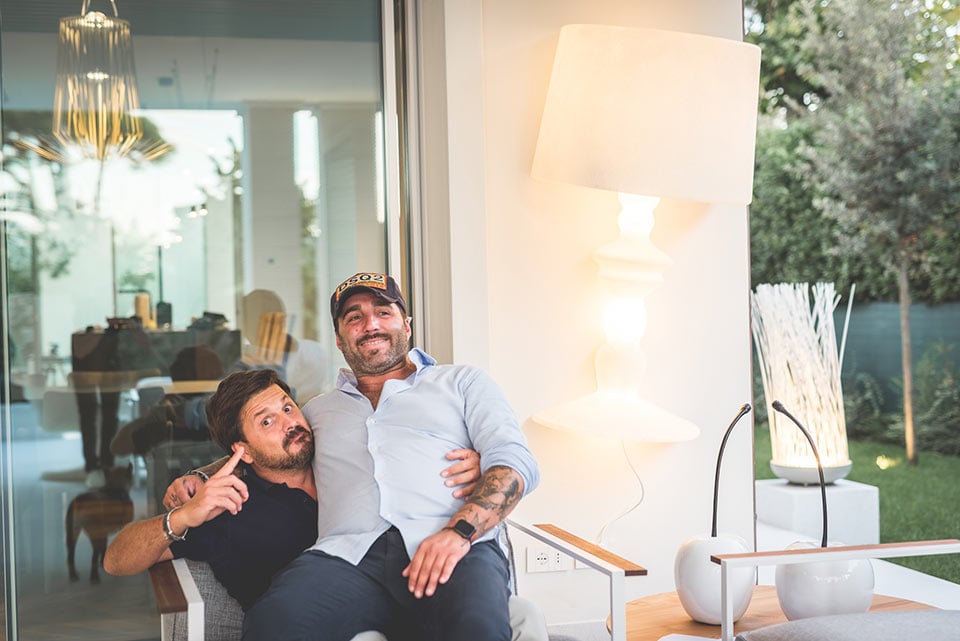 How and when did your collaboration with Karman begin?
With Karman, it was love at first sight — declared the architect.
For years, I have been collaborating with Giulio Naldi, friend and owner of Naldi Illuminazione and StudioNit, leading companies in Tuscany and Liguria in the lighting industry, who showed me the company's catalogue about 3 years ago.
The cover, which featured a somewhat curious character in the foreground, intrigued me immediately. So, I appropriated the catalogue—the designer continued—and began to leaf through it with the same enthusiasm as a child. From that day on, I fell in love with Karman.
Why did you choose Karman for the Villa Simona project?
I remember very well—for Villa Simona, I chose Karman because I basically fell in love with this brand's lamps—declared Vitaloni. In particular, I was immediately interested in Notredame and Don't touch.
Notredame by the designers De Bona and De Meo, managed on its own to embellish an anonymous space like a simple hallway close to the stairs, a place where I decided to leave a single point of light.
Notredame: elegant with its gold finish and great personality, is characterised by a vibrant design but is not too kitsch; it matches perfectly with travertine and wood, the villa's interior materials.
On the other hand, Don't touch, a fantastic lamp, created by top player designer Matteo Ugolini was inserted by the pool to tie the water, earth and olive trees together. It has a fascinating design and is a decorative element that conveys the desire to touch it and feel it.
I certainly have a weakness for it—he confessed jokingly—and every time I see it, I wink at it.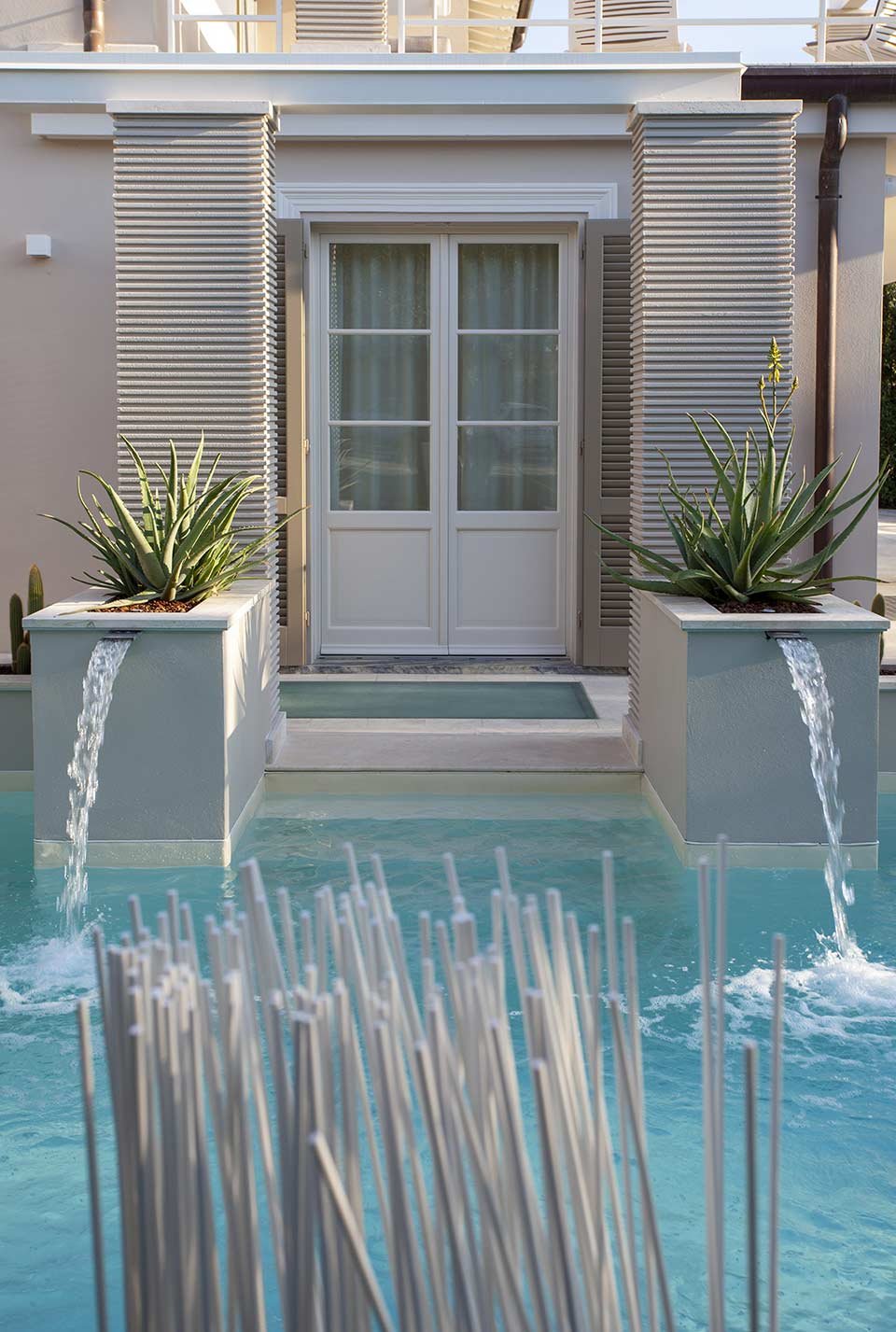 According to your design vision: how would you define the style of Karman lamps?
Karman lamps are contemporary, innovative and visionary.
I had the pleasure of getting to know the company—he said—and some representative members, always available for any request.
Karman is a family, a cohesive specialised team that works to achieve a common goal: to surprise.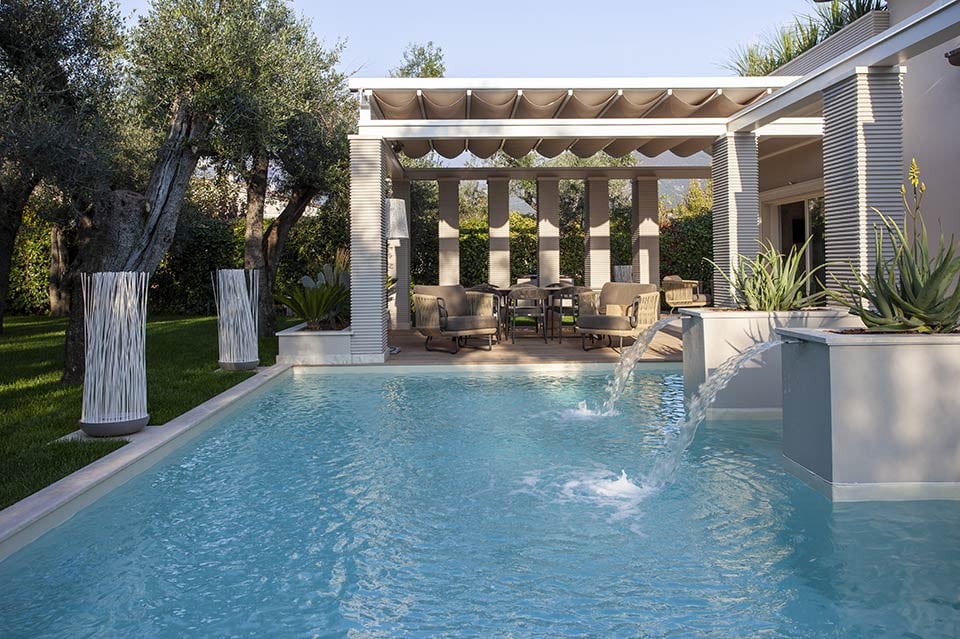 From an aesthetic point of view, do you think that the brand's lamps can adapt to any interior design project?
The aesthetic is Karman — said Vitaloni—each lamp has its own story and life.
Both in outdoor and indoor environments, the brand offers a series of highly valid decorative products, able to adapt to any mood. This—added the architect—is all thanks to the strong personality that every single lamp possesses.
How important do you think decorative lighting is in interior design?
Decorating is certainly one of my strengths in the design field. I believe that light is a special material capable of enhancing various elements within a project.
I see lamps as decorative elements, furnishing pieces, that complement an environment. This is why I often insert various light points into my projects, making them dimmable—the designer explained—thus creating the desired atmosphere depending on the intensity.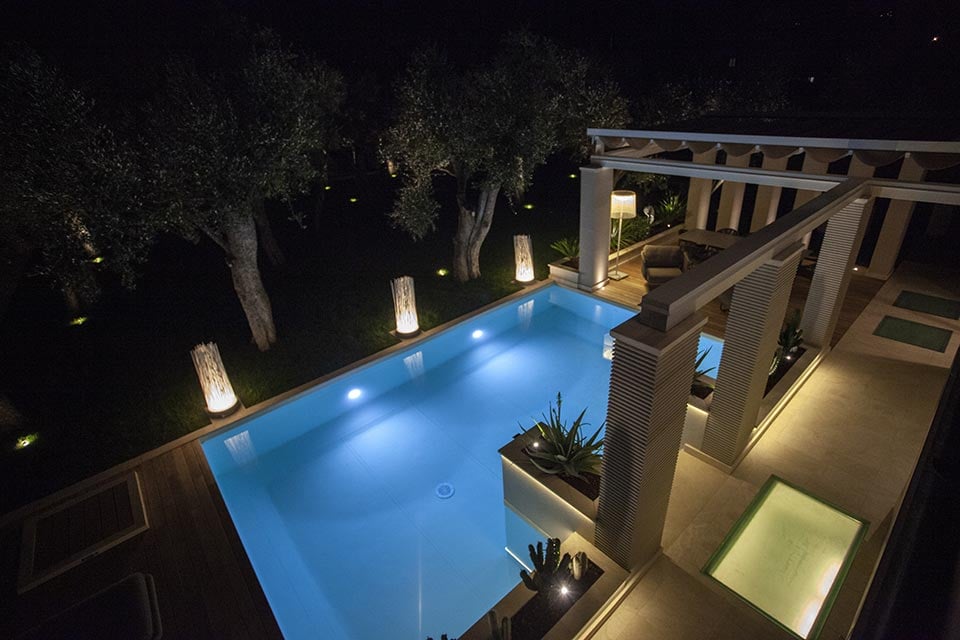 Lighting for villas by Karman: a touch of original creativity for your project
Choose Karman: the ideal supplier for your lighting design project.
Discover our collections and select the decorative lamps that you think are best suited to the lighting context for villas.
The final result will be a perfect synthesis between high aesthetic performance and technical value.
For more information, support and assistance in choosing the appropriate lamp models with the right impact for the villa you are designing, do not hesitate to contact us at this link. We are at your complete disposal.