The accurate design of indoor lighting for a venue is essential in terms of functionality and style. In addition, it is necessary to find the most suitable lamps for each room. The same goes for outdoor lighting.
Developing an outdoor lighting design project is more difficult because the outdoor spaces — being of a varied nature, with different connotations — require demanding care and specific solutions.
Outdoors, the lighting complex must not only guide customers and ensure safety and freedom of movement but must create a magical and inviting atmosphere while maintaining an aesthetic continuum with the indoor lighting concept.
In this article, you will find some tips on how to create an outdoor lighting project for bars and restaurants with a surprising effect.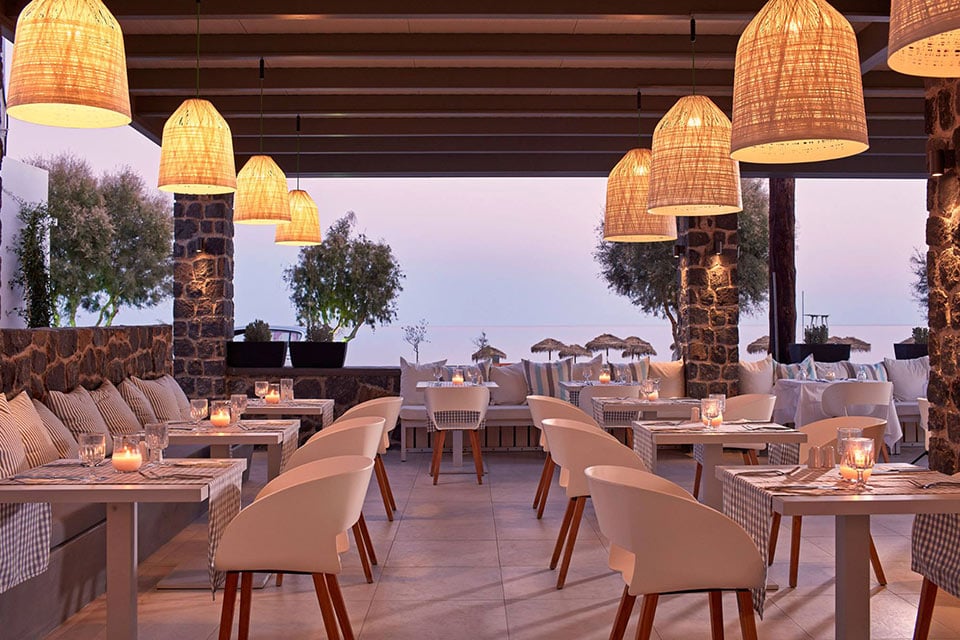 Black Out
How to take care of the lighting of outdoor bars and restaurants in detail
To take care of every detail in your outdoor lighting design project for bars and restaurants, you should keep 8 steps in mind.
These key steps will help you identify the most suitable solutions for each space and find a suitable atmosphere for the venue. Specifically, it is necessary to:
Let's proceed step by step.
1. Think about the atmosphere that the client wants to create
It's important to clarify immediately with the client what kind of atmosphere they want to create outside the venue. Do they want a type of lighting more suitable for an exclusive and intimate climate, or do they want to instill an energetic and stimulating mood?
This step will help you determine the client's objectives in terms of style and functionality. In addition, you will be able to outline the personality of the venue together with the client.
Identifying the concept that best suits the client's needs is essential. The lamps will have to adapt to the bar or restaurant's furnishing context because as a whole they will have to restore the atmosphere that the client wanted to recreate from the beginning.
2. Consider the layout of the entire location
For the second step, it is essential to observe the environment and take into account the conformation of the outdoor spaces.
First, it is necessary to assess the height of the gazebo, pergola, or veranda that will house the bar or restaurant's outdoor rooms and, from there, identify the solution that best suits the structure's characteristics.
Next, it is necessary to focus on the structure's perimeter. A more intimate space will have different lighting needs than a larger area.
As you well know, each location has its own lamp model, which is why respecting this second step is decisive.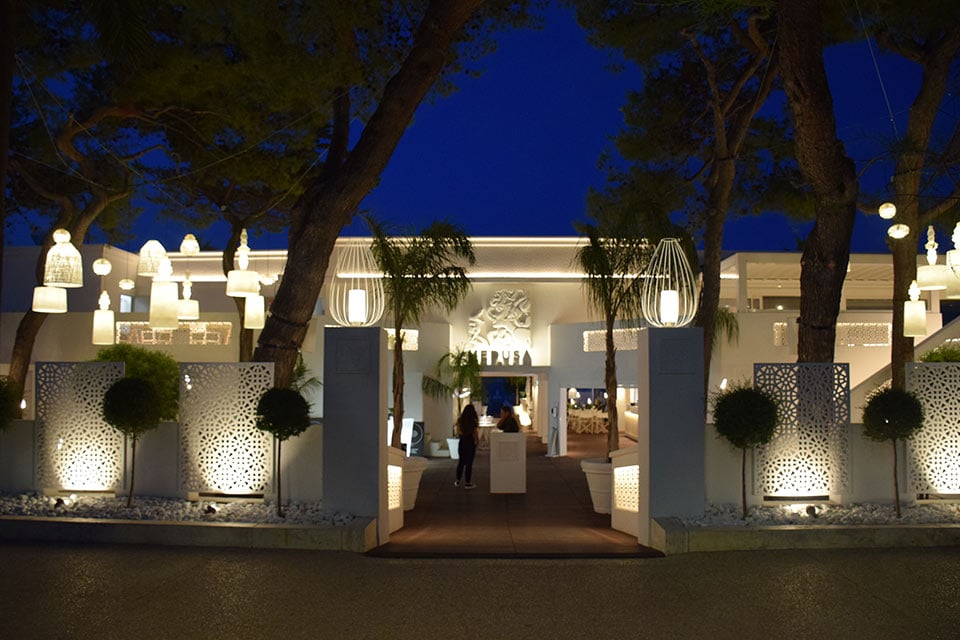 Cell and Black Out
3. Calculate the number of lamps needed for the project
Once you have considered the bar or restaurant's various outdoor areas, you can make an accurate calculation of the lamps needed to illuminate each outdoor corner.
In this design phase, the most suitable models for illuminating the counter, entrance, tables, lounge, and conversation areas outside the room will be evaluated.
These are task stations whose lamps, however—as a whole—manage to generate what we know as ambient lighting. In the next step, we will address the topic in more detail.
4. Deal with ambient lighting first
Ambient lighting plays a decisive role in the illumination of bars and restaurants, as it instills a clear style statement.
For this reason, it is advisable to select lighting design solutions that can immediately reflect the soul and character of the venue.
If you are dealing with the lighting design of a romantic and refined location, you could choose Domenica or Ginger.
On the one hand, we have a suspension lamp in transparent straw-colored glass with an unmistakable vintage charm that, once suspended above small coffee tables, will be able to provide incredible magic.
Ginger is ideal with Bacco: a table lamp in satin white glass that echoes the features of a glass bottle capable of illuminating and creatively decorating the mise en place.
On the other hand, we have a solution that plays on a bold and elegant material contrast: a white plaster bell lampshade with metal mesh. It is ideal in the breakfast room and outdoors for cocktail hour to illuminate the tables clearly and uniformly.
For a bolder and more elegant touch, however, you could opt for Moby Dick or Cell. The first is a white fiberglass lamp with an evocative silhouette that refers to its name. It guarantees a surprising scenic effect and provides dim and intimate lighting to the environment.
The second has a luminous body with a minimal concept: a white metal wire lampshade with a luminous heart inside, free to radiate throughout the entire area. This solution is perfect both as a suspension lamp and a floor lamp, perhaps placed at the sides of sofas and armchairs in a sophisticated lounge area by the pool.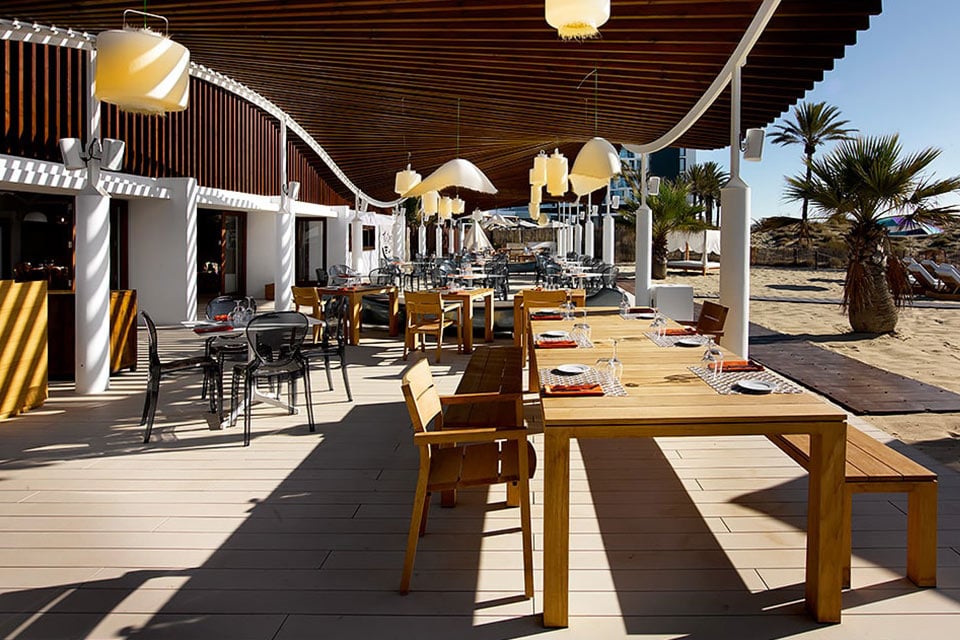 Moby Dick and Kimono
5. Move on to the lighting of the task areas
Task areas require functional, clear, and uniform light. But even in this case, you can dare, selecting lamps with an attractive design made with plastic and unusual materials.
Specifically, you can choose Kimono and Black Out. The first one is a suspension lamp with a linear lampshade and a fascinating presence, clear and diffused lighting, ideal above the tables in the hall or above small private rooms and outdoor lounges at the bar.
The second one has a lampshade in fiberglass wire—customizable in color—and is ideal as a suspension lamp and maybe a floor lamp next to the tables at an outdoor restaurant.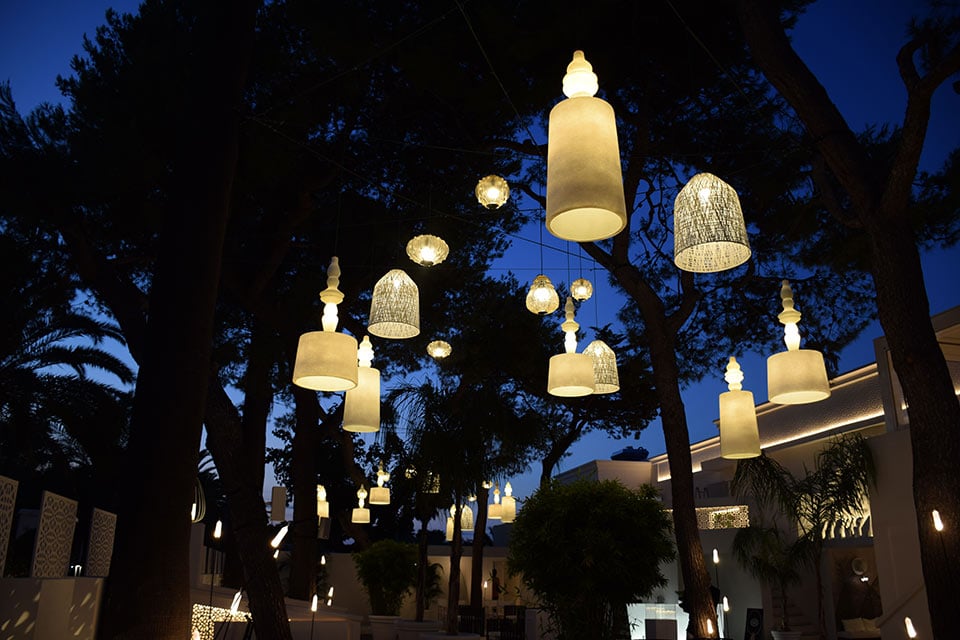 Black Out and Alibabig
6. Complete the composition with accent lights
To add a finishing touch to the entire lighting ensemble, you could place small accent lighting sources along the walls or next to paintings, ornamental details, and design elements.
If the client wants to dare with a model of considerable visual impact, choose Alibabig: a floor lamp with impressive dimensions but no less graceful, actually...
Its fiberglass body allows light to float lightly throughout space, without blinding anyone, guiding the observer into the outdoor spaces of the venue. It is Ideal on a large lawn or in a large picnic area in a country restaurant.
The entrance to the restaurant also needs accent lighting to "welcome customers". In this case, we recommend Don't Touch. This floor lamp is made with matte gray technopolymer and rods in matte white PVC: a model with a contemporary look that introduces energetic light points at the entrance to the room.
To highlight architectural elements and structural details, on the other hand, we recommend Tobia: a floor lamp with a bold design that recalls the shape of old work tools. Perfect in a bucolic context, perhaps leaning against a stone wall or at the foot of a centuries-old tree, or even leaning against an olive tree in a modern location.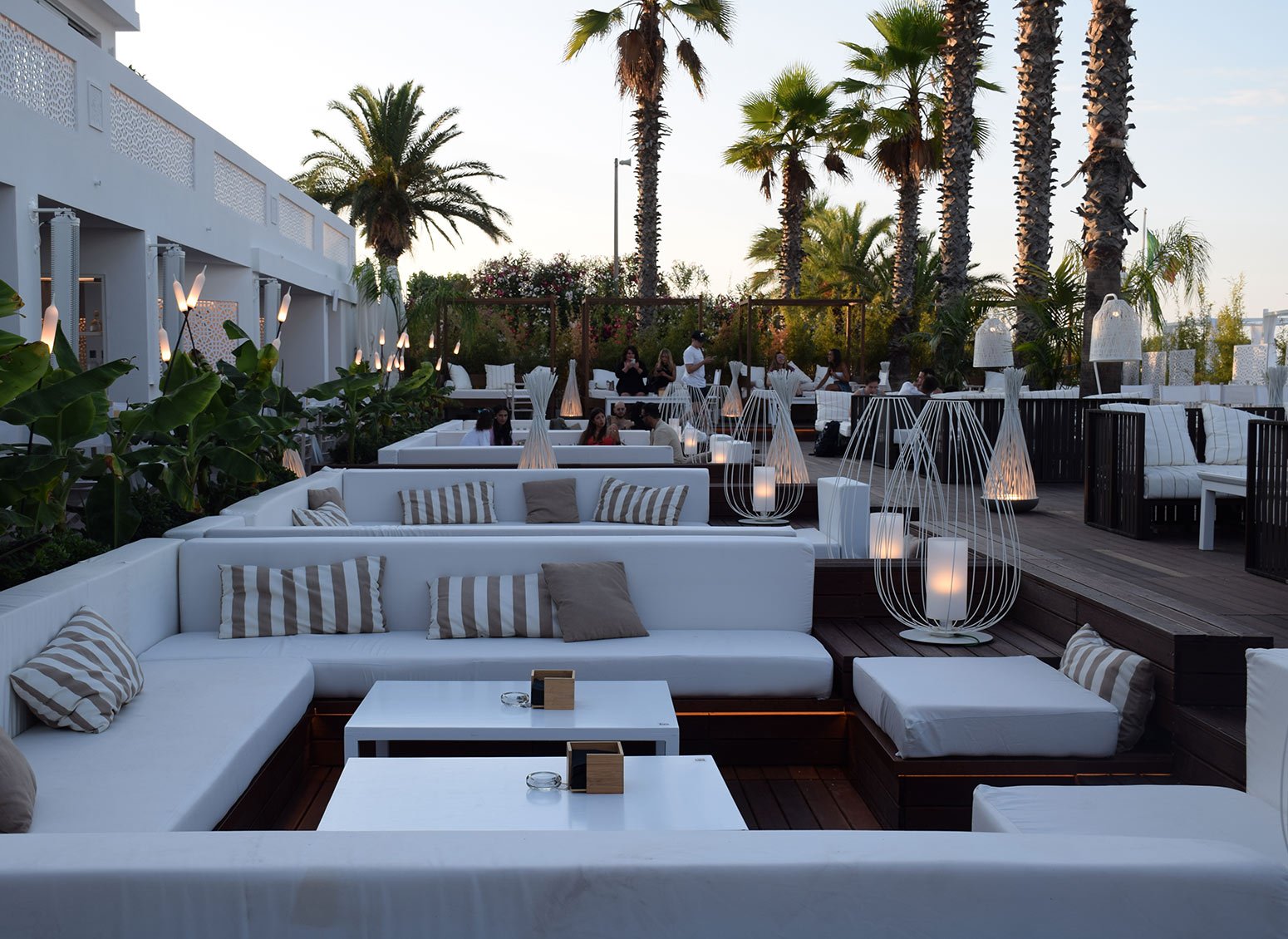 Cell and Don't Touch
7. Opt for dimmable solutions
Lamps equipped with dimmers are extremely versatile in any context and allow those who use them to adjust the light intensity of the light sources at will.
Opt for dimmable solutions so that you can create a different and always pleasant atmosphere every time.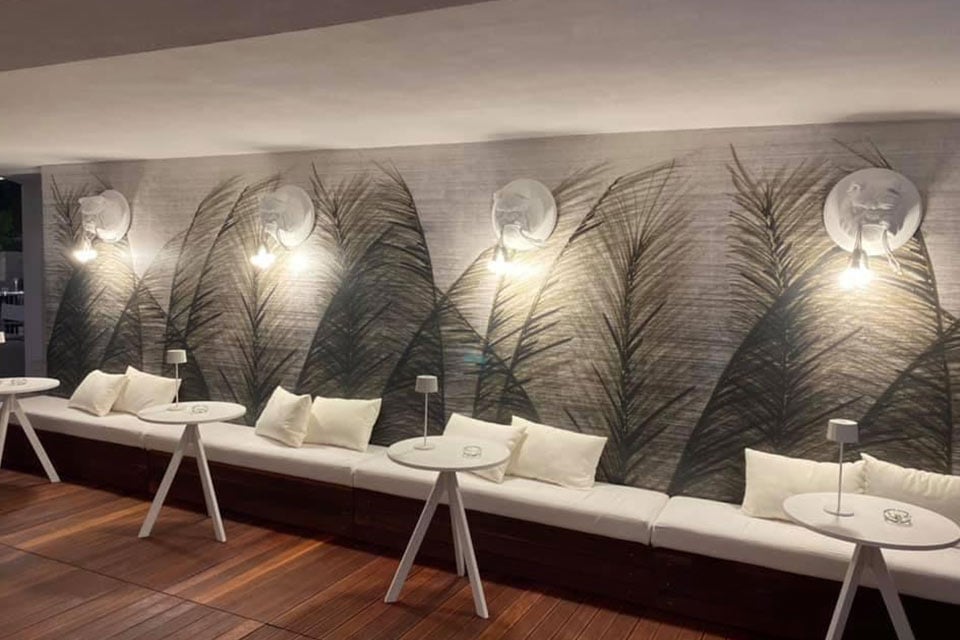 Amsterdam
8. Create plays of light of different temperatures and intensities
Playing with lights of different temperatures and intensities will help create a special atmosphere outside the location and will give the various illuminated areas a unique look.
For counters and entrances, it is advisable to choose cold, energetic, and bright lights, while for more intimate areas, such as tables, sofas, and small lounge areas, it would be better to opt for warm light sources.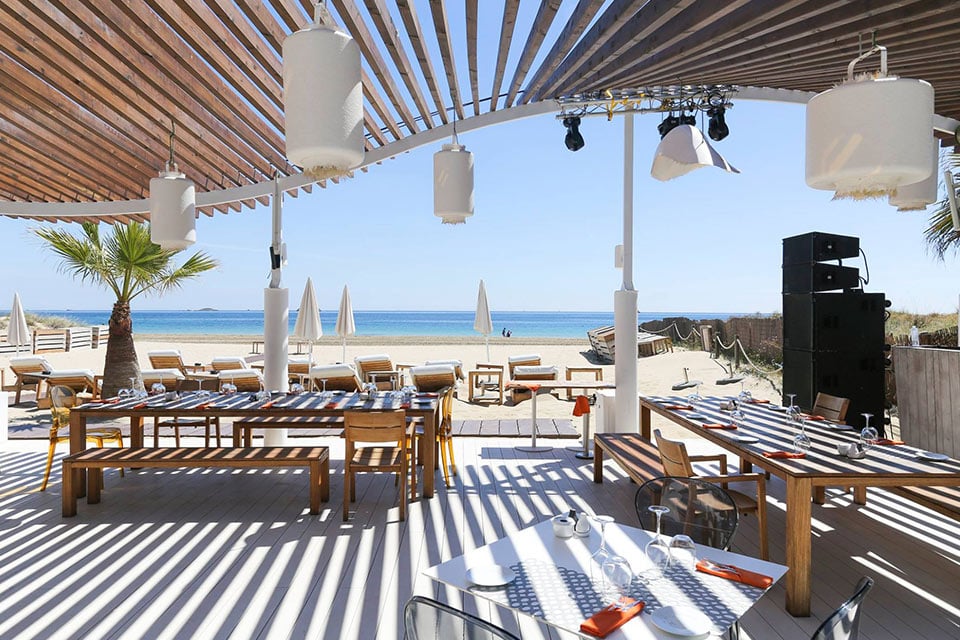 Moby Dick and Kimono
Outdoor lighting for bars and restaurants for a perfectly executed project
In this article, we've provided you with a brief step-by-step guide to outdoor lighting design for bars and restaurants.
To create a state-of-the-art composition, it is necessary to follow each step and give each area proper attention and aesthetic care.
By combining design and technical qualities, you will obtain a final result of great technical-stylistic content.
For more information, support, and assistance in the implementation of your outdoor lighting design projects and in choosing the most suitable solutions, do not hesitate to contact us at this link. We are at your complete disposal.