In a restaurant, every workstation and room used for guests needs to be illuminated in the best way possible. Corridors, dining areas, bars, cash registers, lounges and toilets are the main areas where lighting plays a decisive role.
The lamps chosen to illuminate each of these areas should ensure a brightness that enables the performance of activities in total comfort and gives a unique and characterising aspect to any environment.
Let's examine the bar lighting, specifically the countertop. In this case, the areas used for the service and the worktops should have adequate task lighting, to allow staff to work smoothly and respond to customers' needs.
Customers sitting at the bar expect to have their drink immersed in a comfortable atmosphere.
Finding solutions that meet these needs may seem difficult, but it's not impossible. With our advice, you will be able to select the ideal lamps for this location.
Restaurant lighting: lamps to choose from for the bar counter
The use of a specific lamp model varies depending on the design of the bar area and the type of lighting desired for the countertop. In fact, this station can be conceived in different forms, each of them designed to accommodate customers differently.
Specifically, we are talking about the countertop:
A straight bar
An "L": consisting of two shelves arranged precisely in an "L"
A "U": classic horseshoe shape
Corner bar: structure similar to the "L" with the addition of a shelf at 45° between the two main bars.
Naturally, the number of light points needed increases or decreases based on the extension of the bar's worktop. However, this task area should enjoy distributed lighting along the entire surface.
Alì e Babà and 24 Karati: designer suspension lamps
Suspension lamps are among the most used solutions to provide lighting to the bar counter in a restaurant. They are excellent sources of directional light, hanging from the ceiling becoming pleasant decorative elements. For this reason, they are the most versatile and adaptable solutions for any furnishing configuration of the bar.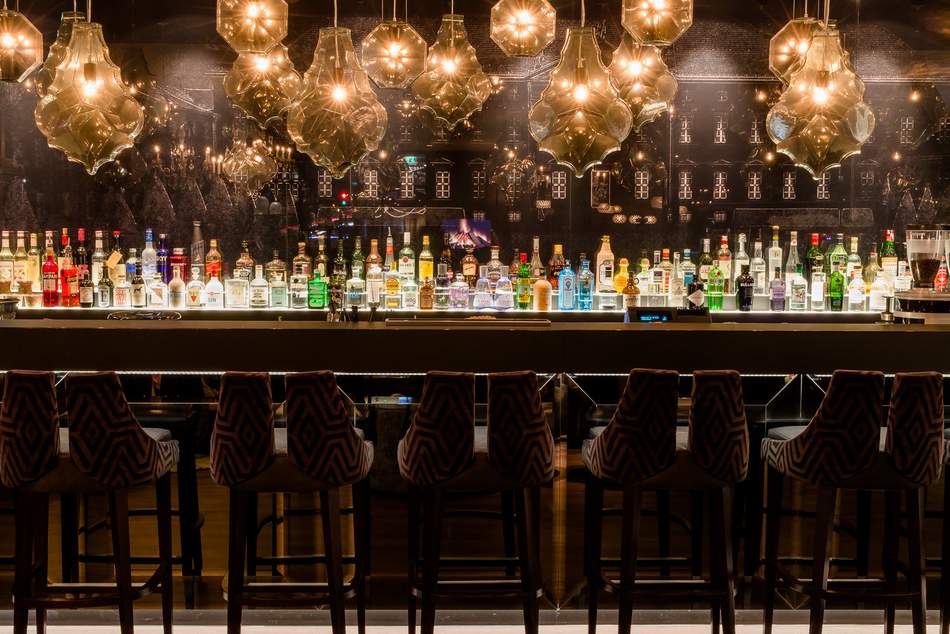 24 Karati
A 24 Karati suspension cascade lends itself perfectly to the lighting of the straight bar counter, giving the viewer a visual impact. The different shapes of the lamps made by Matteo Ugolini, in transparent straw yellow glass, dominate the environment with elegance and create a dynamic atmosphere. The light passes through the fine vitreous matter and diffuses soft and subtle light, illuminating the workstation optimally.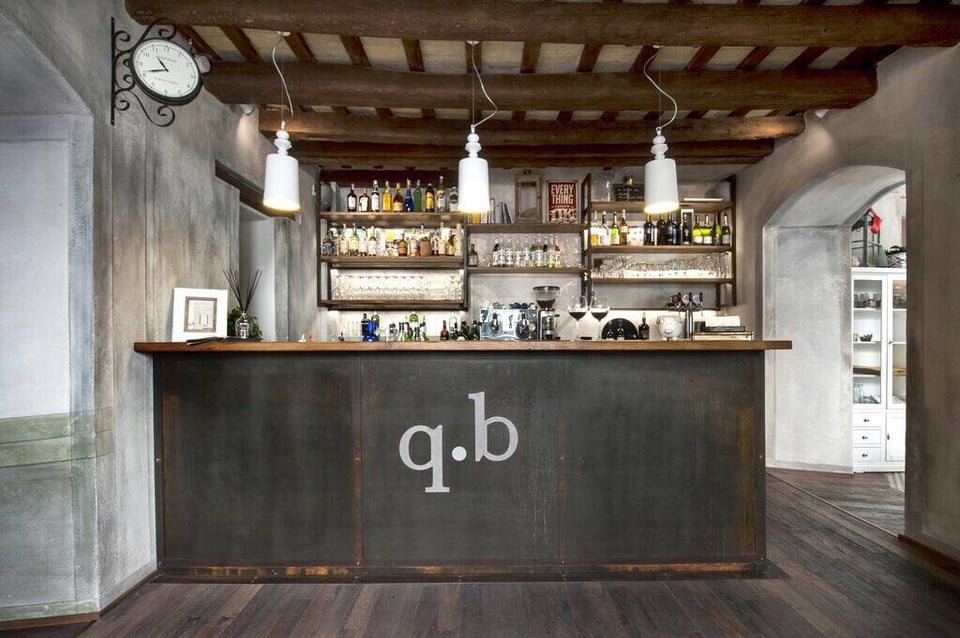 Alì e Babà
Also, Alì and Babà, with its simple, material structure, is perfect for this workstation. The white ceramic lampshade with an elongated shape directs the light onto the work surface, ensuring clear and direct illumination. This suspension model, designed by Matteo Ugolini, in addition to illuminating the counter, acts as a sophisticated decorative element.
Illuminate the countertop in style: choose Life, Moby Dick or Le Pupette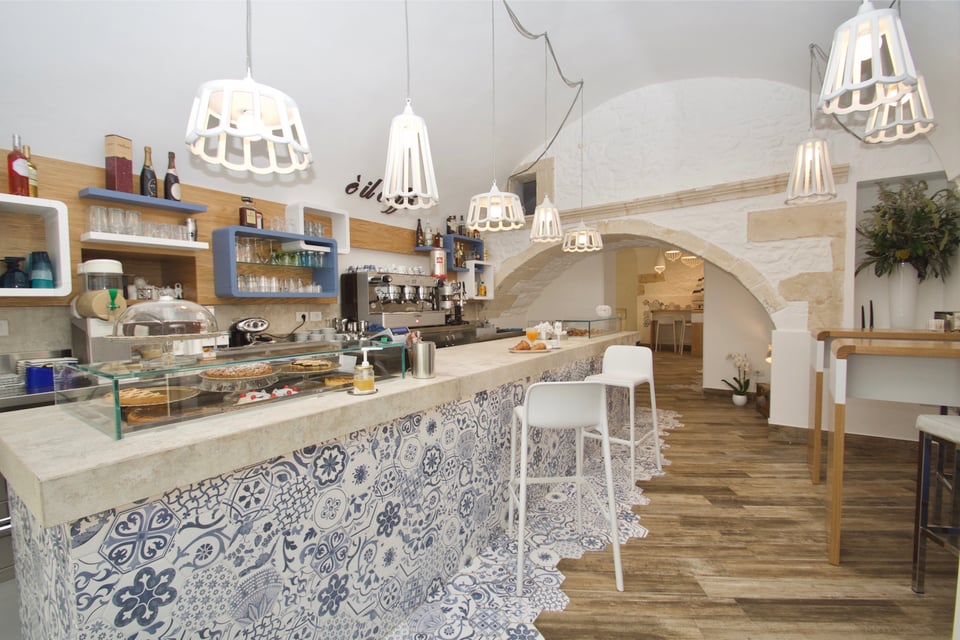 Le Pupette
Ceramic returns to enrich the corner bar with Le Pupette, suspensions designed by Edmondo Testaguzza, whose vintage silhouettes bring back a retro taste, always current and suitable for any environment. Le Pupette, in three different shapes, suspended above the countertop, provide different and playful lighting designs, enriching the entire bar with an innate ornamental capacity.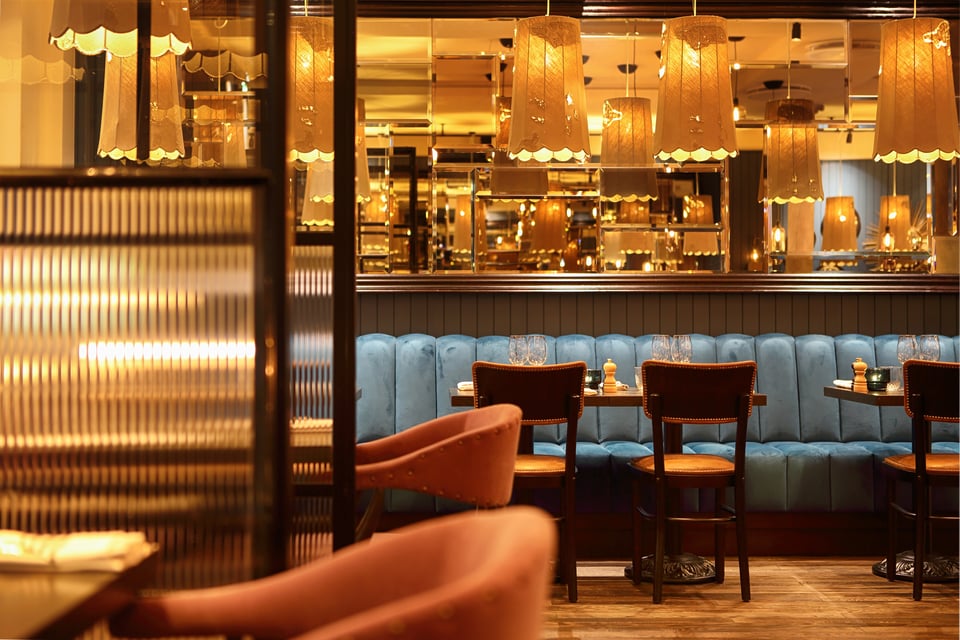 Life
If you wish to instil an intimate and reserved atmosphere in the restaurant's bar corner, we recommend Life, a suspension lamp by Matteo Ugolini with ancient charm. A warm light beam crosses the slender structure of the denim fabric shade with a vintage finish, offering excellent levels of task lighting. At the same time, small surges of light penetrate the torn parts of the worn fabric, freeing themselves into the atmosphere delicately.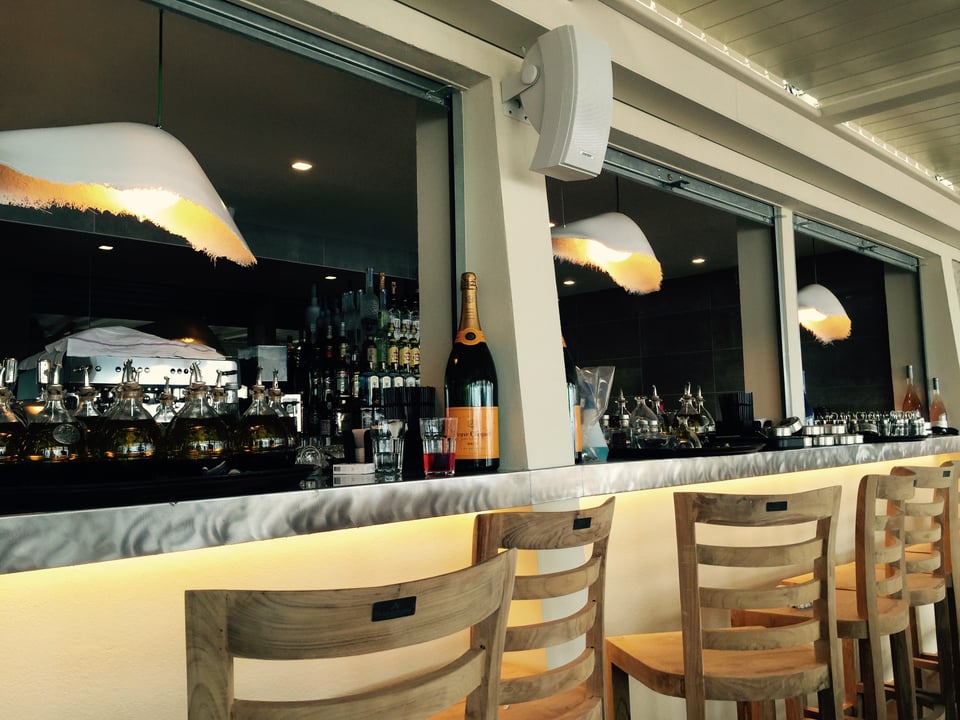 Moby Dick
When selecting lamps for the bar counter, you can definitely consider Moby Dick, designed by Matteo Ugolini. It is a suspension lamp in white fibreglass with a unique and unusual shape that is so sinuous and fascinating that it can capture the observer's gaze and seduce the senses. This solution is able to provide both direct and functional lighting to the countertops and decorate spaces with class and sophistication.
Industrial or classic lighting: the choice is yours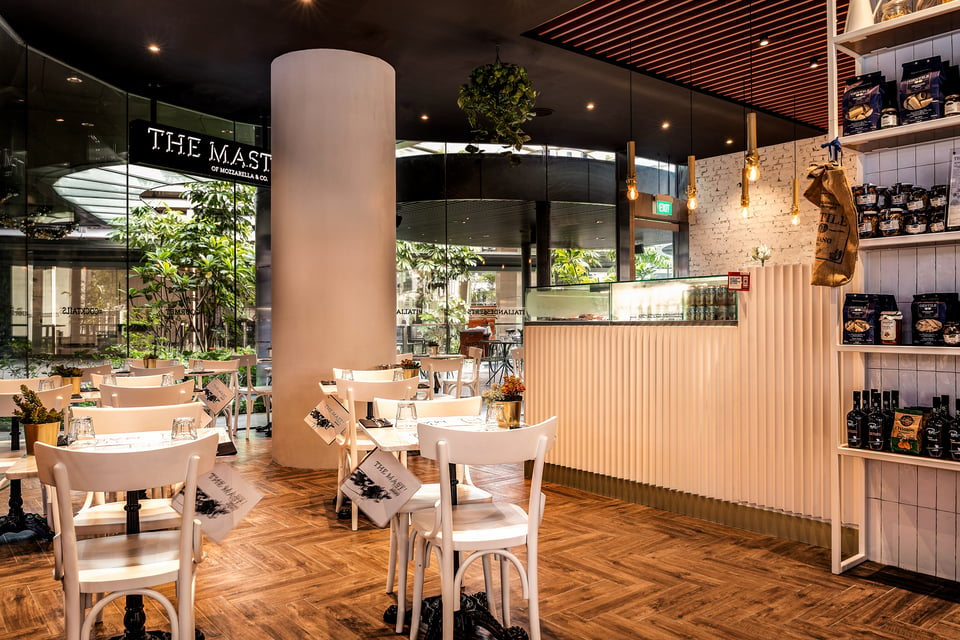 Nando
Industrial-style suspension lamps can happily marry any interior design concept and are therefore extremely versatile. Let's take a look at Nando, a suspension lamp designed by designers Luca De Bona and Dario De Meo; it has got a minimal design as it is made of a micro-perforated tube and a metal joint.
This solution, installed individually or in composition above the countertop, provides the entire surface with functional light points and, thanks to its inimitable decorative capacity, gives a new and refined look to the room.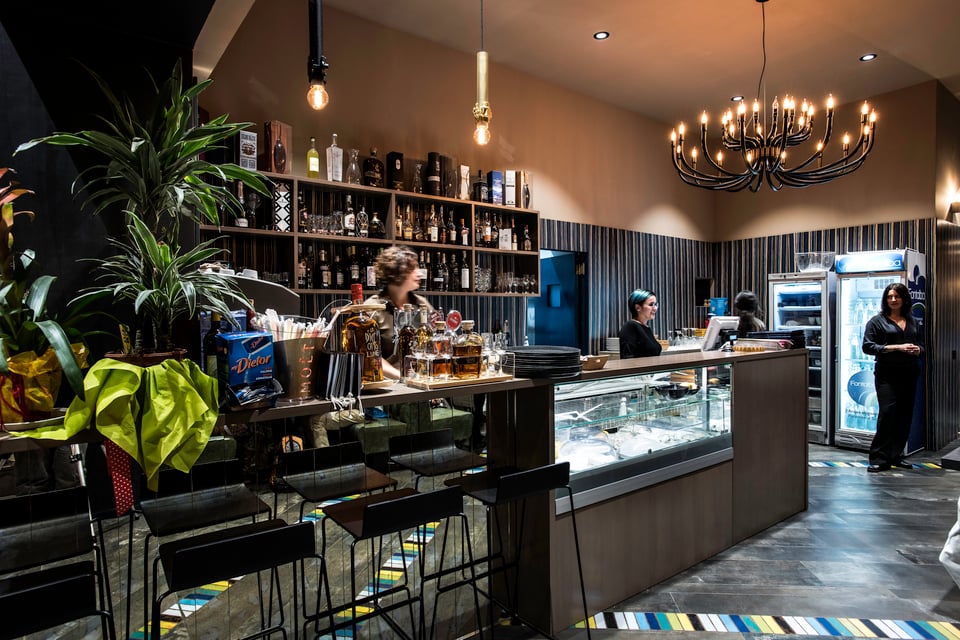 Nando and Snoob
Nando can be combined with other lamps with a creative design, such as Snoob, for example. We are talking about a chandelier with an imposing shape, made by Matteo Ugolini, whose sinuous arms, without any excess, are the product of careful stylistic research aimed at extreme cleanliness and essentiality.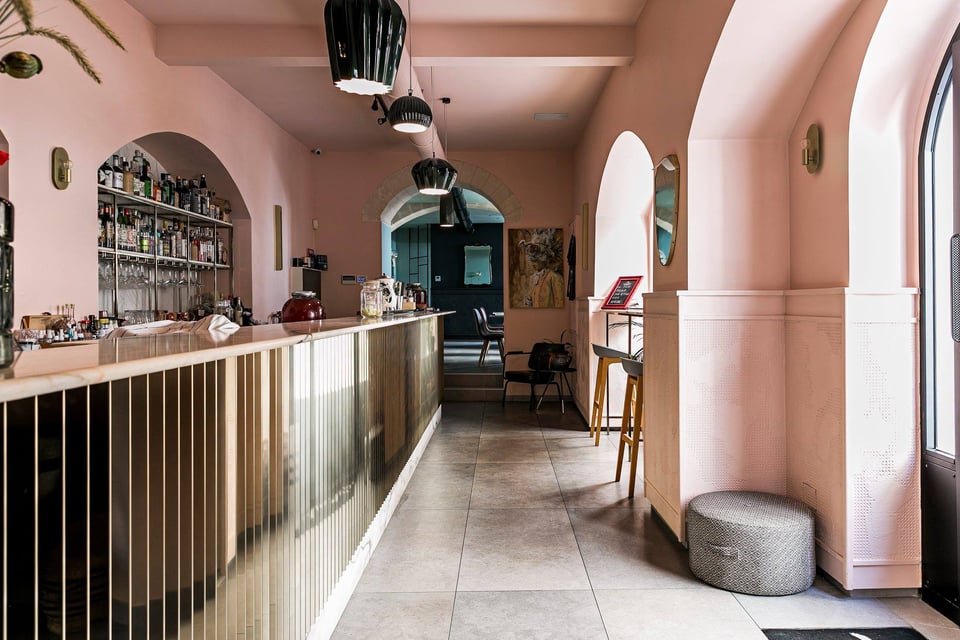 Sahara
If you are looking for more classic and evocative forms, choose Sahara, a suspension lamp with a robust, material structure by Matteo Ugolini, able to better illuminate the counter's task surfaces. Suspended from the wide ceiling, with its copper-green ceramic body, Sahara decorates the room and adds an elegant touch of intense colour.
Set the mood of the environment with Sunday, Ginger and Ceraunavolta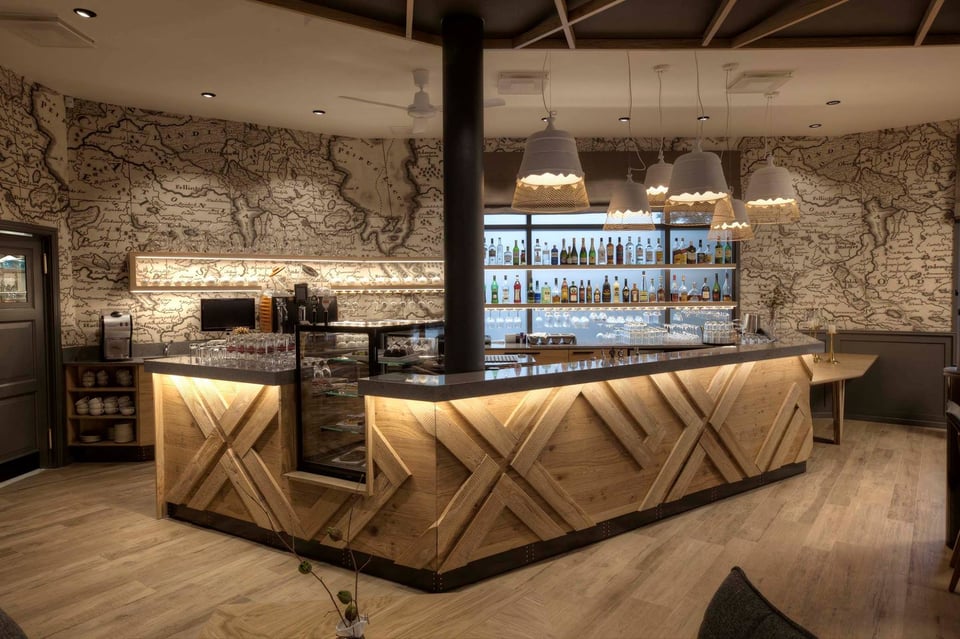 Domenica
Domenica is a suspension lamp with a great aesthetic value conceived by Luca De Bona and Dario De Meo that, with its characteristic bell shape, adapts to the "corner bar" and provides special, magical light. Warm and intense brightness escapes from the white plaster lampshade and seems to radiate along the golden metal mesh, spreading directly onto the work surface.
For an authentic note of class and style, we suggest you choose Ceraunavolta for the angled, straight or "L" bar. Clouds of transparent blown glass with an enchanting look, conceived by Edmondo Testaguzza and Matteo Ugolini, that can be used individually or in composition, sparkle like real crystals above the countertop and guarantee decorative and functional lighting for the entire area.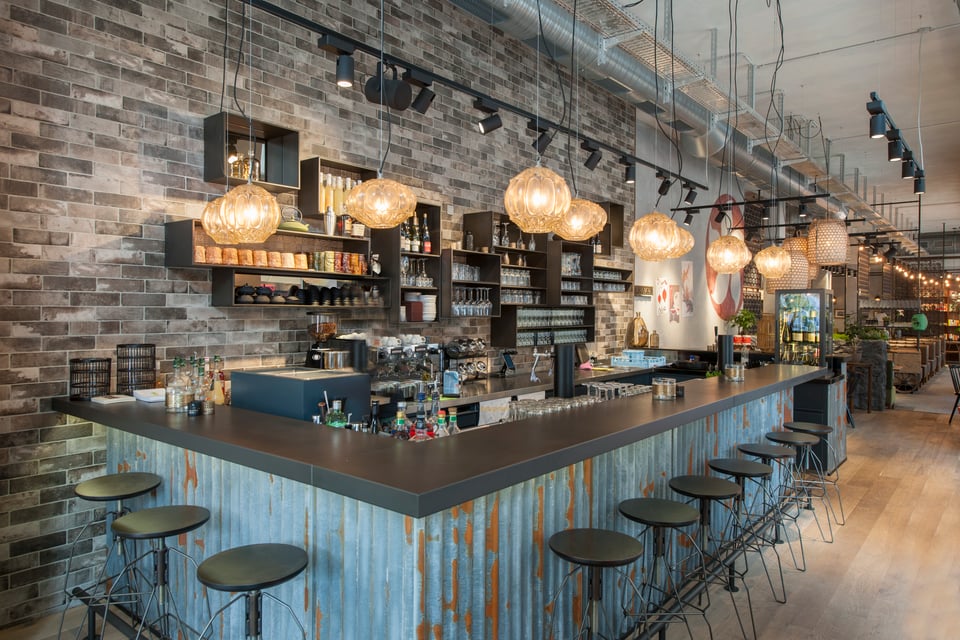 Ginger
With Ginger, by Edmondo Testaguzza, glass takes on shapes with a retro flavour, tinged with straw yellow. This suspension lamp ensures direct and filtered light, delineating a comfortable and ideal climate in order to spend time sitting at the counter enjoying excellent visibility.
Lamps for the bar counter: functionality and creative design
The restaurant's bar corner should enjoy optimal light, ensuring an undisturbed performance of activities, and at the same time, a persuasive and vibrant atmosphere from an aesthetic point of view.
Suspension lamps are, in this sense, the most valid solutions, because they fill spaces, enriching the environment in style and taste, like real design accessories, also providing essential levels of task lighting to the entire countertop.
The lighting design of this station, as well as the main scenario of conviviality and exchange between client and staff, needs to be studied in detail from a structural and aesthetic point of view.
The ideal solutions for this area not only combine functionality and style but also have essential features to ensure quality interior lighting:
They create atmosphere
They illuminate the entire surface
They guide guests to areas of interest
They adapt to environments
To transform your lighting design project into a successful undertaking with great technical value, choose lamps suitable for decorative lighting for the restaurant and its main areas, capable of responding to the practical and stylistic needs of the entire area.
For more information, support and assistance in choosing the right models of lamps to illuminate the restaurant bar counter you are designing, do not hesitate to contact us at this link. We are at your complete disposal.