La Ménagère in Firenze, now a concept restaurant, was founded in 1896 as the first Florentine home store (not by chance, the name means "housewife" in French). Today this large room of 1500 square meters, divided into two floors, looks like a real treasure chest full of curious objects, plants and flowers with bright colours, special furnishing elements and Karman designer lamps.
Almost wanting to recreate the atmosphere once reigning in the shop: the full shelves, tints and shades of the walls, images hanging on the walls, illumination and decorated spaces, coexist in harmony and make this place unique and inimitable.
The architecture and interior design studio Q-bic thought to illuminate the main areas of the room, selecting 12 particular Karman lamps.
Each of these lamps for concept restaurants, with different shapes and materials, contribute to making each room in the restaurant original and sophisticated, characterised creatively.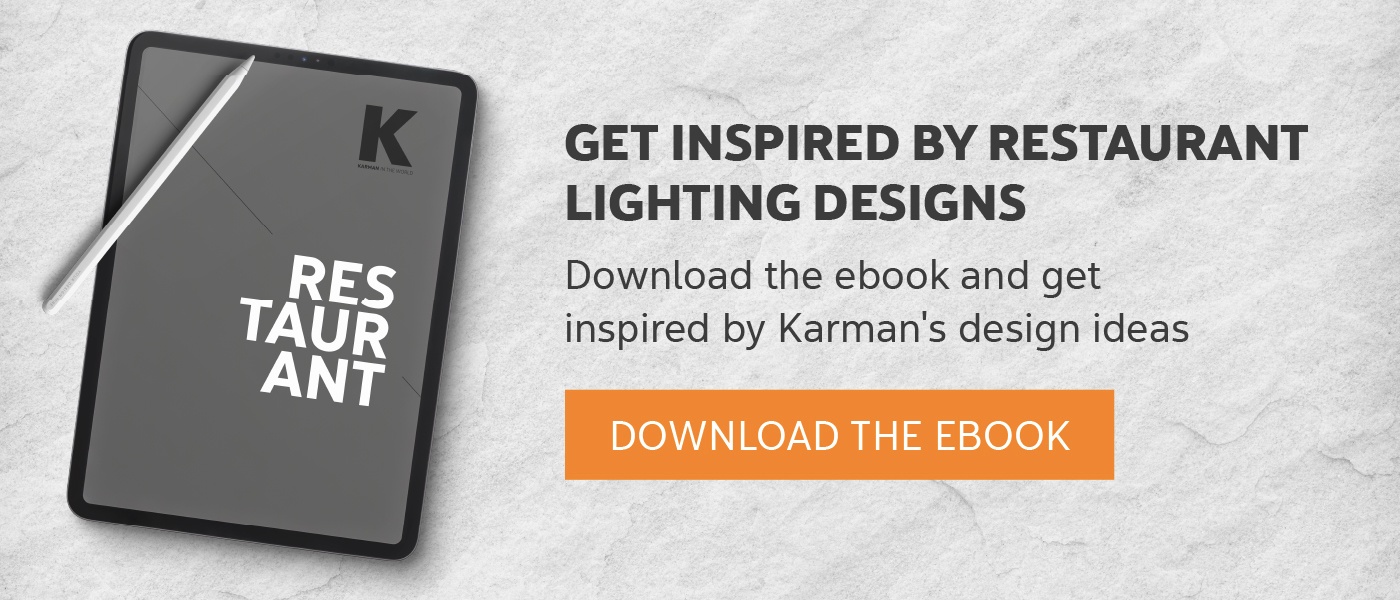 Lamps for concept restaurants by Karman
In La Ménagère's lighting project we can find suspension lamps and appliqués created by Karman designers, each with distinctive features, designed to illuminate specific areas of the restaurant.
1. Settenani Collection
Matteo Ugolini has created a line of suspension lamps united by the great ability to give direct light to the spaces and, from the sturdy and material matter, i.e., the raw cement.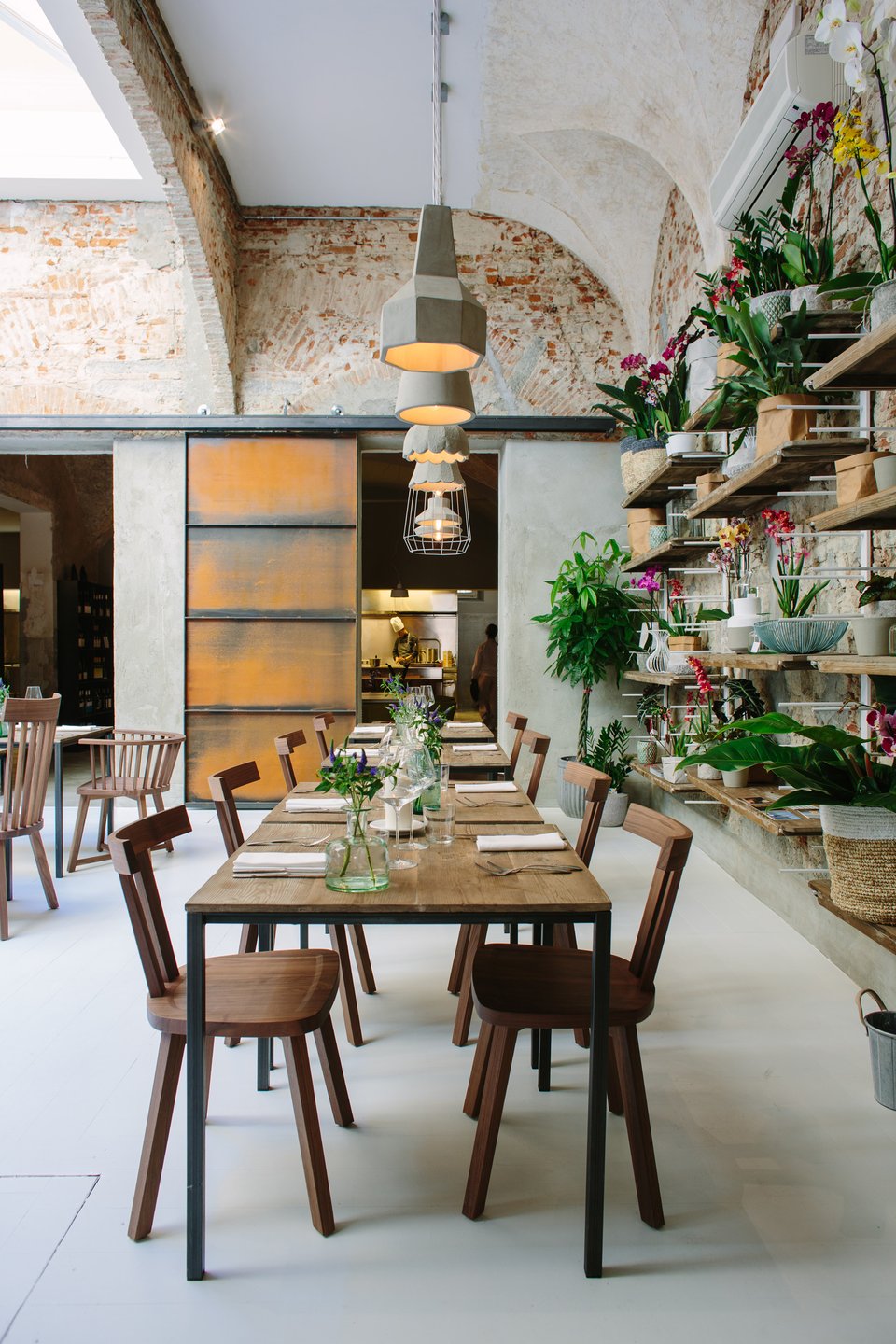 Settenani
With the Settenani Collection, concrete takes on seven different forms, each with a different and particular soul. To complete the collection, we can find Biancaluce, another concrete suspension lamp that is more graceful and light with its metal wire skirt.
In the restaurant, Settenani and Biancaluce were placed on small aligned wooden tables for excellent levels of task lighting.
2. Dharma
Edmondo Testaguzza, a designer from Karman who designed Dharma, another suspension lamp in rough concrete, is also passionate about the cement processing.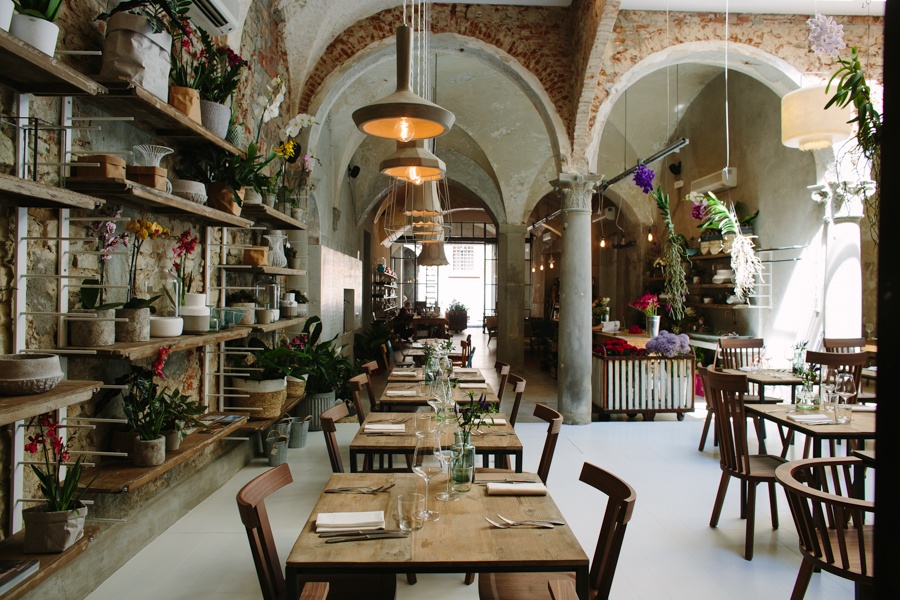 Dharma
With its material structure and simple silhouette, Dharma finds its place next to the Settenani Collection, illuminating the tables.
3. Kimono
Its body in white fibreglass filters the light and provides the environment with diffused and soft illumination.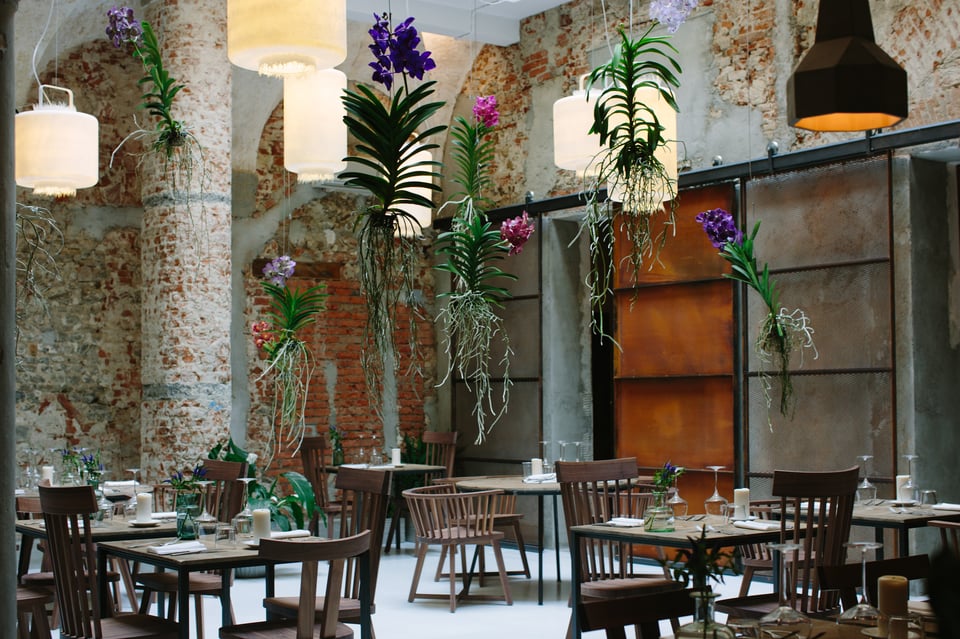 Kimono
Kimono is a lantern with an unmistakable texture, created by Matteo Ugolini, ideal for decorative lighting in restaurants.
We can find it in two different sizes, dotting the wide ceiling of one of La Ménagère's dining rooms.
4. Déjà-Vu Nu
To illuminate the 18-meter long table in the gallery, we can find Déjà-Vu Nu, an enchanting suspension lamp designed by Matteo Ugolini. These are single-composition arms in ceramic with a white satin varnish and meticulous floral decorations along the curves.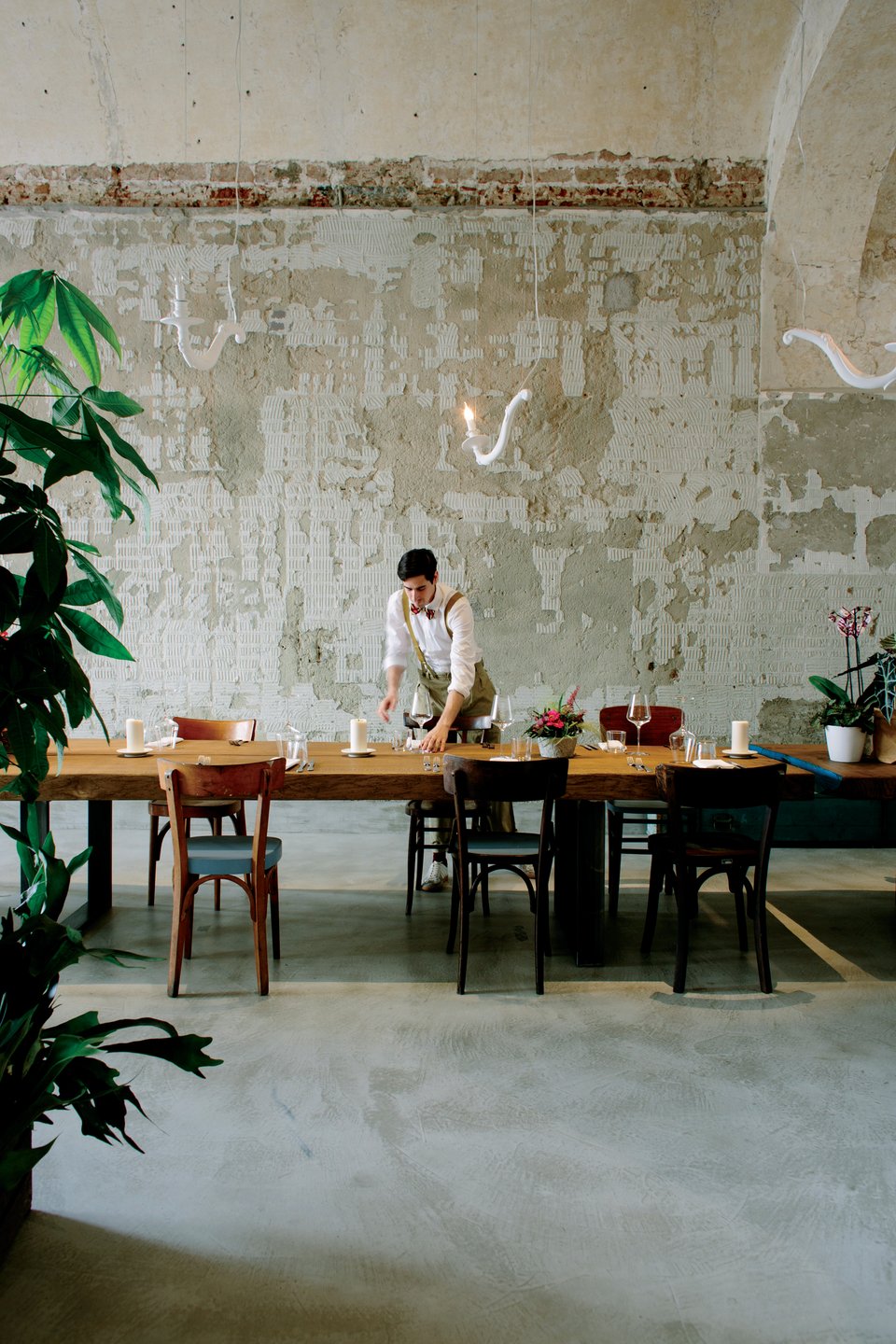 Déjà-Vu Nu
Déjà-Vu Nu floats from the ceiling, providing decorative lighting points of filtered light.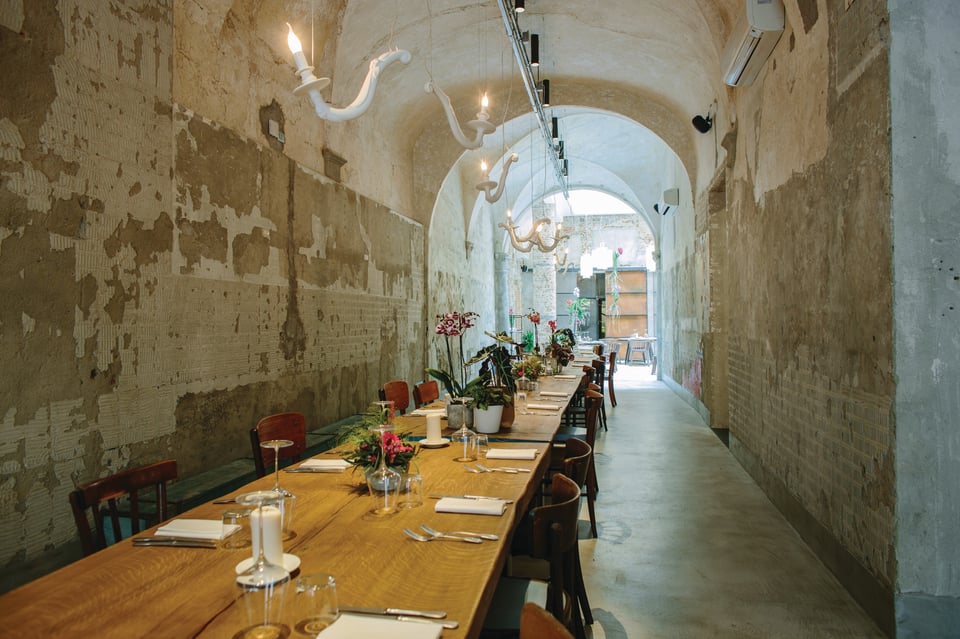 Déjà-Vu Nu
5. Au Revoir
An 11-arm chandelier in a white opaline coated glass, with a majestic and nonconformist structure, stands in the centre of the restaurant's private room, illuminating it with direct light. This is Au Revoir, a highly aesthetic solution designed by Matteo Ugolini.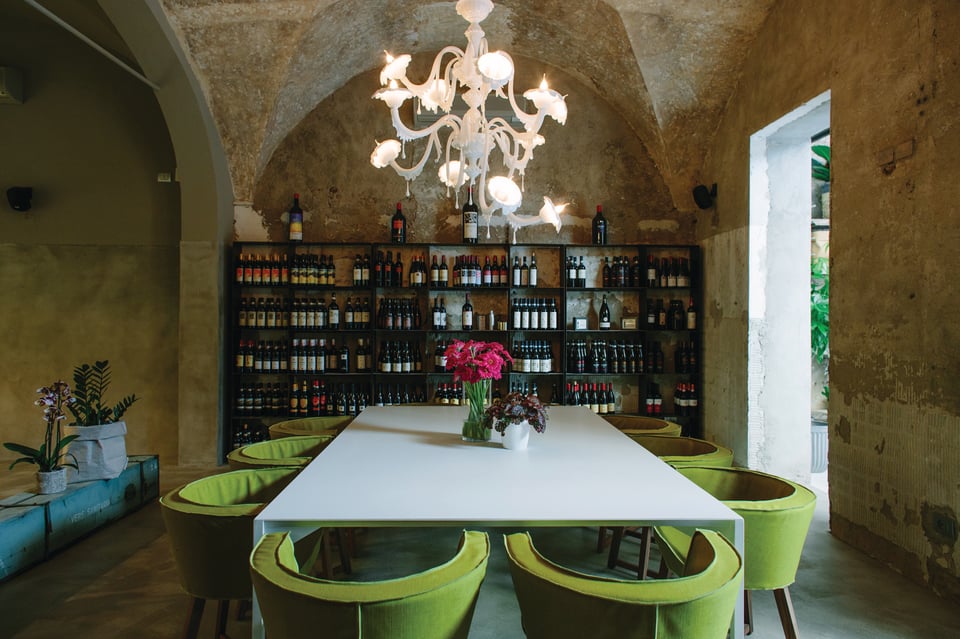 Au Revoir
With its corolla-shaped ends, the features of this chandelier seem to approach the glassmaking tradition, but at the same time, with its disjointed body, it seems to say goodbye to the conventional to approach an idea of light with an innovative design that breaks the mould.
6. Via Rizzo 7
A street, a street number, a thousand happy childhood memories: this is where Via Rizzo 7 comes from, a suspension lamp designed by Matteo Ugolini. Both in black and white, the graceful rounded shape of this lamp recalls that of the street lamps that once lit up the alleys of towns and small cities.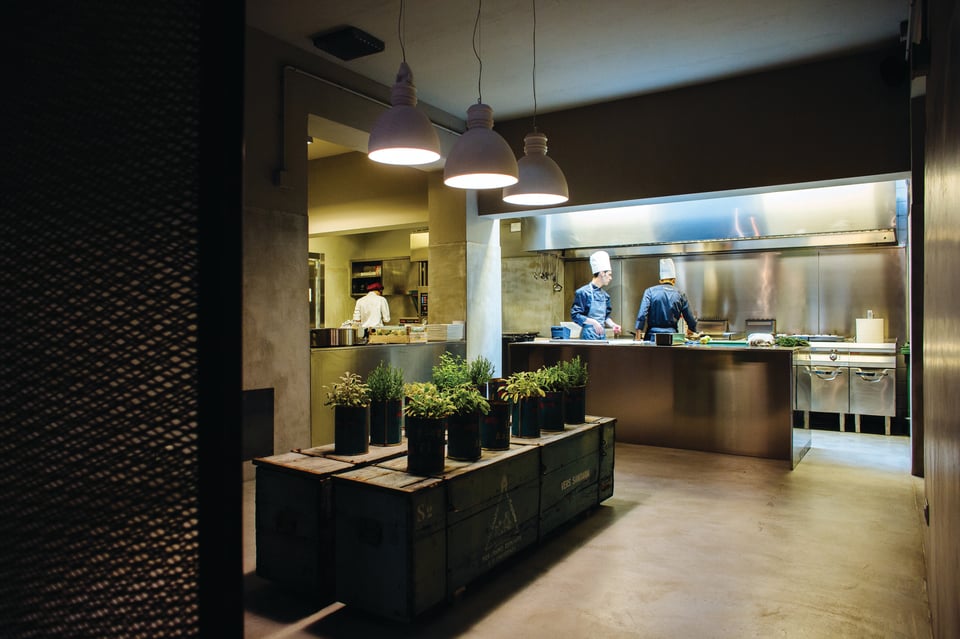 Via Rizzo 7
Inside La Ménagère, we can find the Via Rizzo 7 suspensions in front of the open kitchen, designed to illuminate pots with aromatic plants, ready to give flavour to the typical dishes served in the restaurant.
A small detail jumps out to the most careful observer: Pepo, the opaque white ceramic bird perched on the lamp, which adds a nice decorative note.
7. Life
A design with sweet curves, embodied in a rust-coloured iron structure, wrapped in denim with a vintage finish.
The distinctive characteristics of the Life suspension lamp by Matteo Ugolini give it a retro taste, able to instil a romantic and comfortable atmosphere in the environment and provide luminosity in ever-changing fantasies.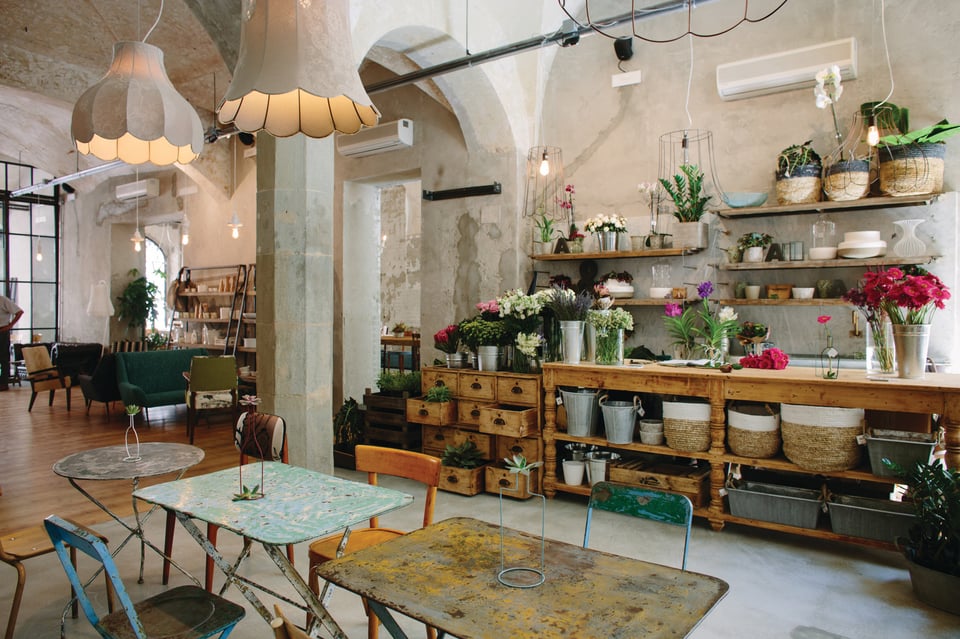 Life
Life illuminates the coffee table stations located in a secluded dining room.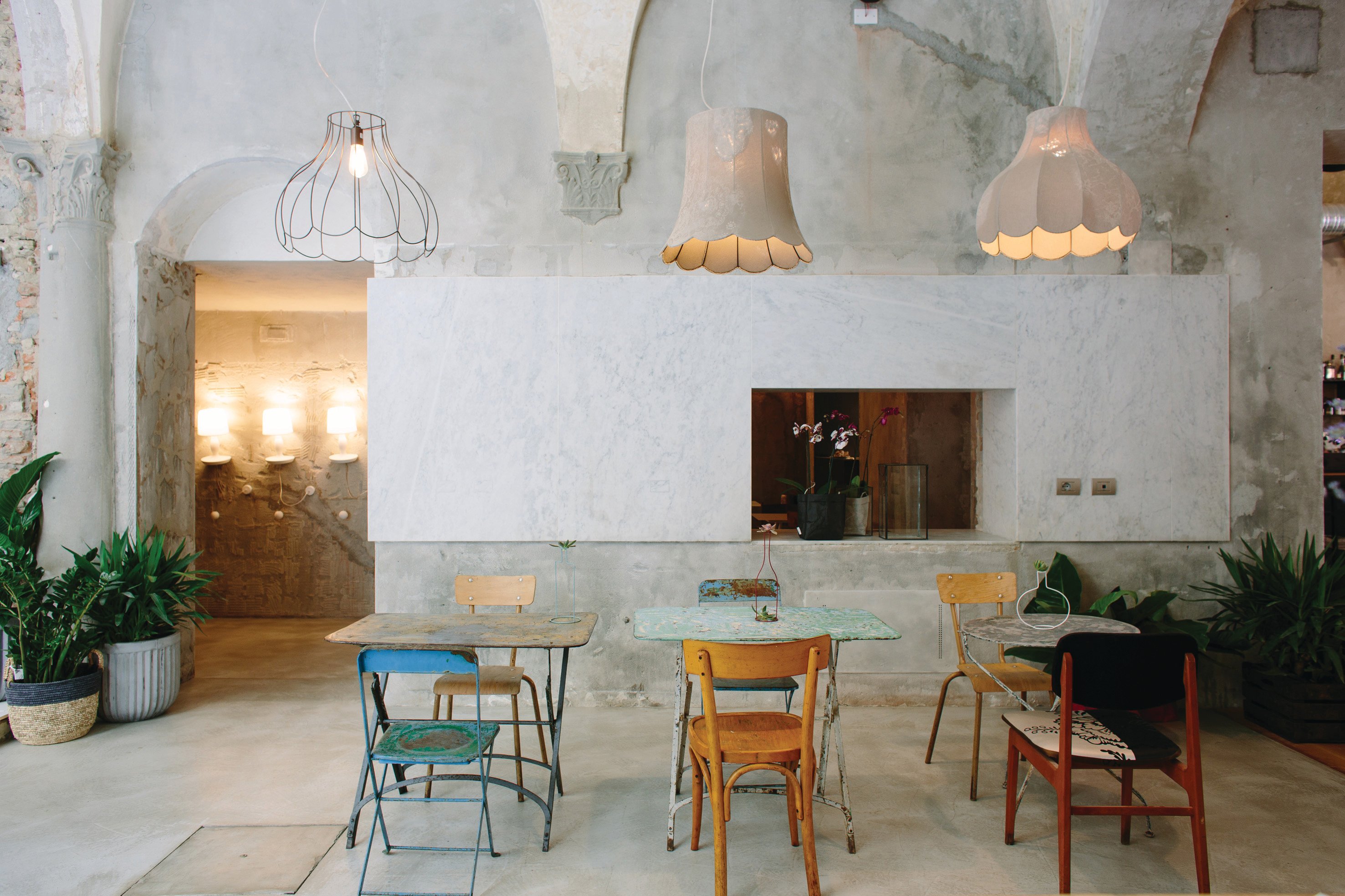 Life And Lucilla
8. Lucilla
Inside the restaurant, there is also a counter dedicated to floral design compositions. The bright colours of flowers and plants come to life with Lucilla.
It is a lamp designed by Matteo Ugolini that follows the contours of Life, stripping the denim fabric that covers the structure. Lucilla does not have a lampshade but is perfect both for illuminating workstations, given its direct brightness, and diffusing soft and filtered light in the room.

9. Sisma
The white and decisive lines of Sisma stand out in the rooms of La Ménagère. It is a suspension lamp with a metal rod structure, essential and with an industrial taste, that fits with elegance and a great aesthetic presence into the stylistic context conceived for the restaurant.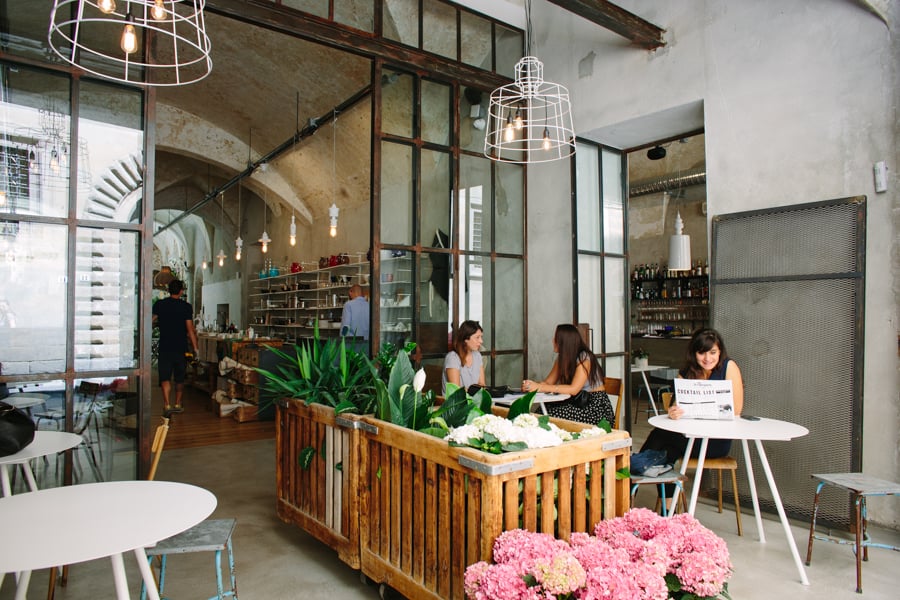 Sisma
Sisma guarantees direct and uniform lighting on different levels, thanks to the flexibility of the lamp's black cables which, being hung on the structure, take on dynamic and functional positions.
10. Alì e Babà
The suspensions Alì and Babà, in their simplicity and refinement, are excellent lamps for concept restaurants.
In a sometimes elongated or more compact form, with a lampshade in white linen and ceramic, the Alì and Babà suspension lamps illuminate the entire perimeter of the bar area, occupying a central position inside the restaurant.
11. Nando
Nando is one of Karman's industrial-style lamps par excellence.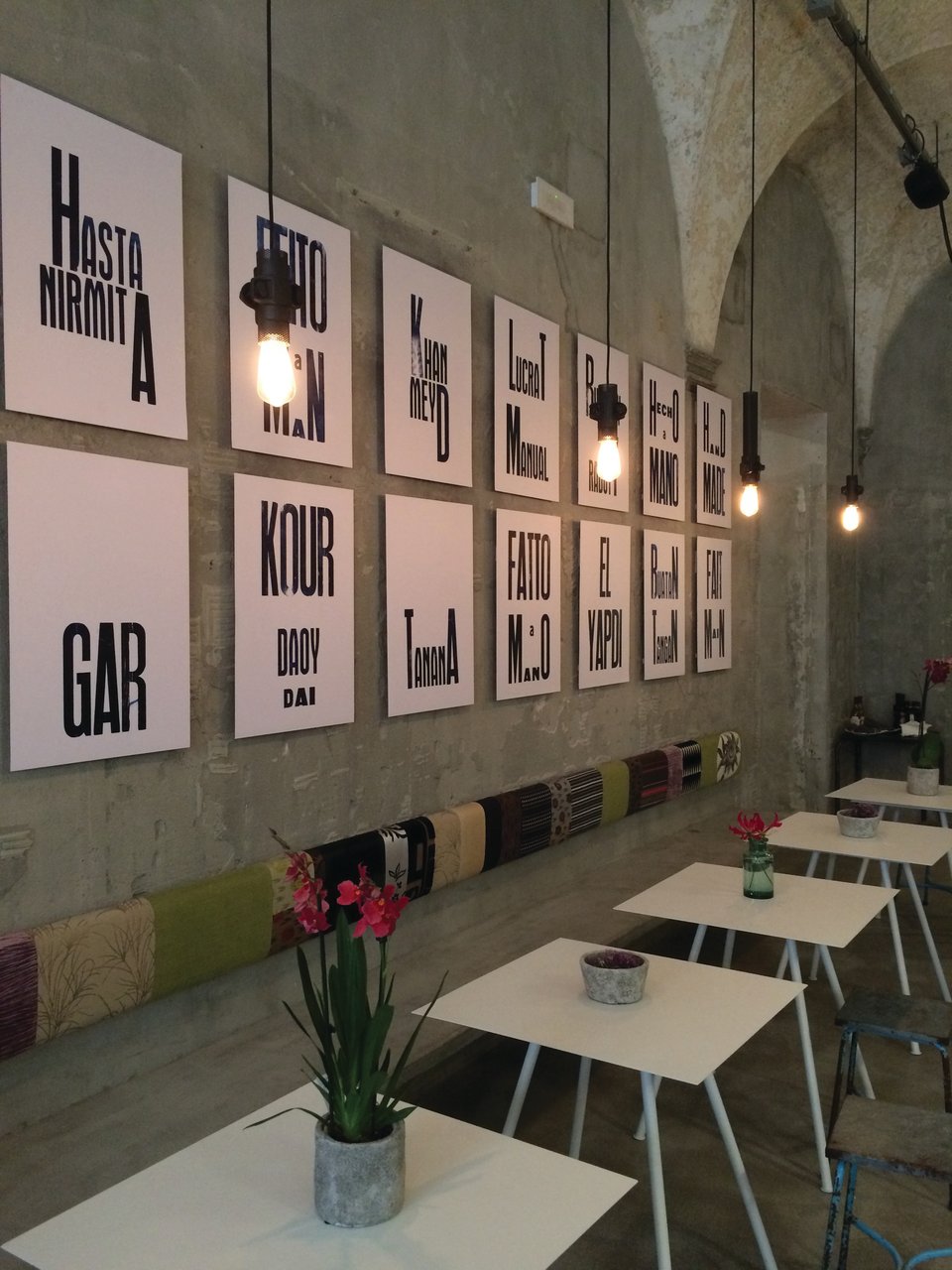 Nando
Originating from the creative minds of Luca De Bona and Dario De Meo, it is minimal and sophisticated in every respect, as it consists solely of a metal joint and micro-perforated tubular lacquered in white, gold and anthracite.
Nando, in the appliqué and suspension version, guarantees optimal lighting points to illuminate the tables at the entrance of the restaurant.
12. Mek
The delicate white ceramic follows the decisive and detailed aesthetic lines of the mechanism with Mek, suspension designed by Bizzarri Design.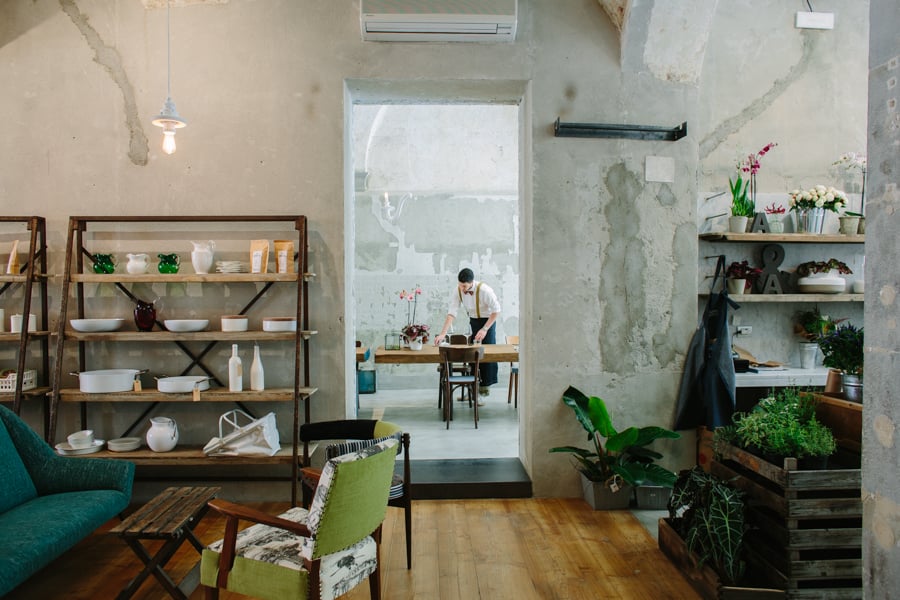 Mek
Mek comes in three sizes, in this case, in white (it is available in black and white/bronze), hanging above the restaurant's displays and shelves, to give bright and direct light to products and workstations.
Lamps for concept restaurants: the central role of lighting
Lighting is the turning point in an interior design project for restaurants.
Light is able to set the atmosphere that you breathe in any setting and amplify our perception of space, ensuring unique experiences and sensations. For this reason, it is necessary to carefully choose the lighting solutions in harmony with the stylistic mood that outlines the profile of the restaurant.
Each lamp chosen for La Ménagère's lighting project is able to customise rooms, bars and intimate corners of the restaurant with surprising optical effects, conferring functional and decorative lighting.
The lamps for concept restaurants by Karman, with a creative and versatile design, dress every room of the restaurant with new light and unmistakable style, permeating every room with refined taste and elegance.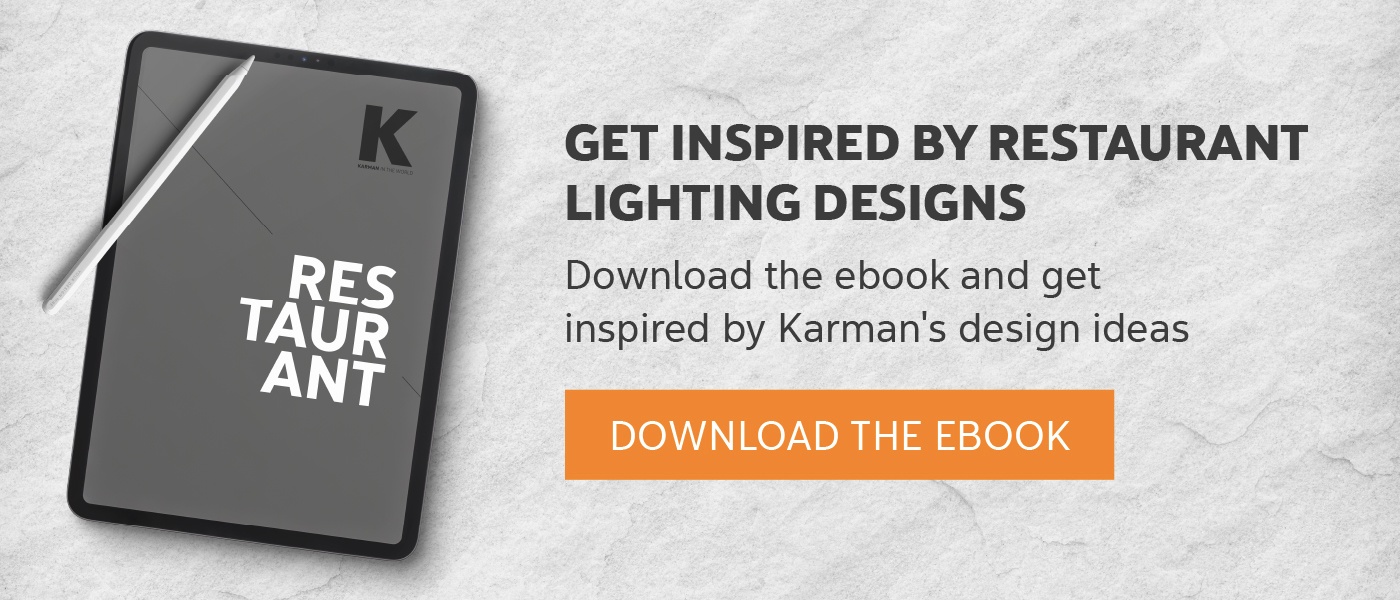 For more information, support and assistance in correctly selecting the lamps for the concept restaurant lamps you are designing, do not hesitate to contact us at this link. We are at your complete disposal.