The success of a lighting design project for private residential complexes, as well as for restaurants and hotels, derives from the care of indoor and outdoor lighting, which both actively influence the creation of the location's atmosphere. In particular, outdoor lighting design deserves specific aesthetic and functional care.
This is the ultimate goal: giving light to every outdoor location and making it unique, guaranteeing a perceptive and emotional experience, always sensational for your client.
In this article, we will show you Karman's ideal solutions for giving a new image to your outdoor lighting design project.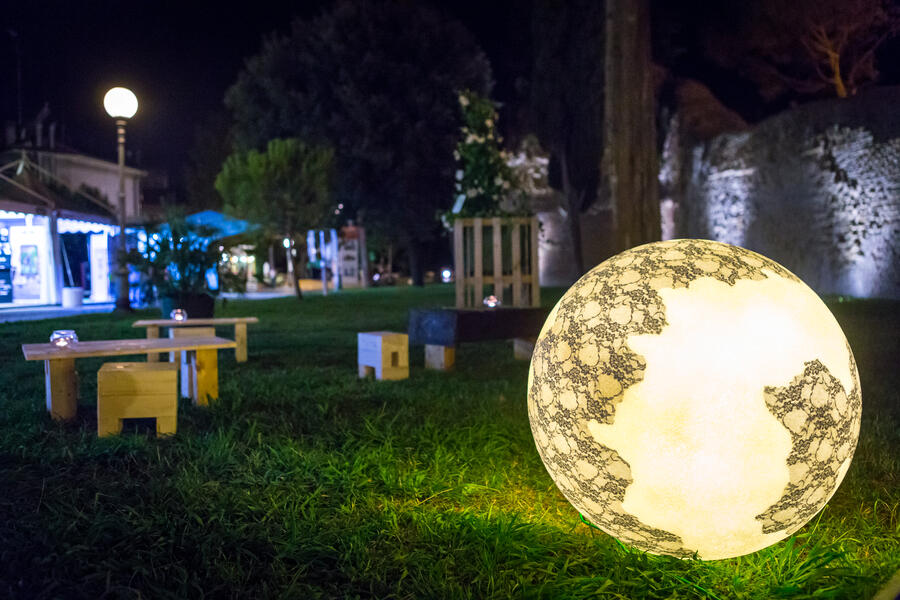 Ululì Ululà
Outdoor designer lighting: the locations that deserve the right light
In decorative lighting projects for homes, outdoor lighting plays a decisive role concerning the image of the housing complex itself.
The most important areas that deserve adequate lighting are the:
Veranda
Pool
Patio
Garden
Conservatory
Although each location has different characteristics, they need the same care and attention to design to create a unique climate, designed specifically for the home you are dealing with.
Let's take a look at how we can enhance each location the best way possible through the correct choice and positioning of lighting design solutions with creative charm.


Karman lamps perfect for your designer outdoor lighting project
Each location has its own atmosphere, an incomparable mood outlined by decorative lamps with great aesthetic content that do not give up functional qualities.
In this sense, Karman lamps could be the ideal solutions for your lighting project. In fact, each model has stylistic-functional characteristics suitable for providing lighting to each of the areas listed above.
Specifically, to illuminate the garden:
Tobia
Ottavo
Alibabi
Ululì Ululà
For the lighting of the veranda, patio or conservatory:
Ginger
Moby Dick
Via Rizzo 7
Bacco
To illuminate the pool:
Let's continue in stages.
Tobia
If you are looking for a lamp with an evocative shape that can provide the garden with decor and lighting, Tobia could be the ideal solution.
This is a floor lamp in white technopolymer, created by Matteo Ugolini, that echoes the appearance of ancient tools used in the cultivation of the land.
You could use Tobia to highlight architectural elements, passages or grandiose centuries-old trees. In this way, in addition to making the entire location more intimate and fairy-tale, you will introduce excellent levels of accent lighting.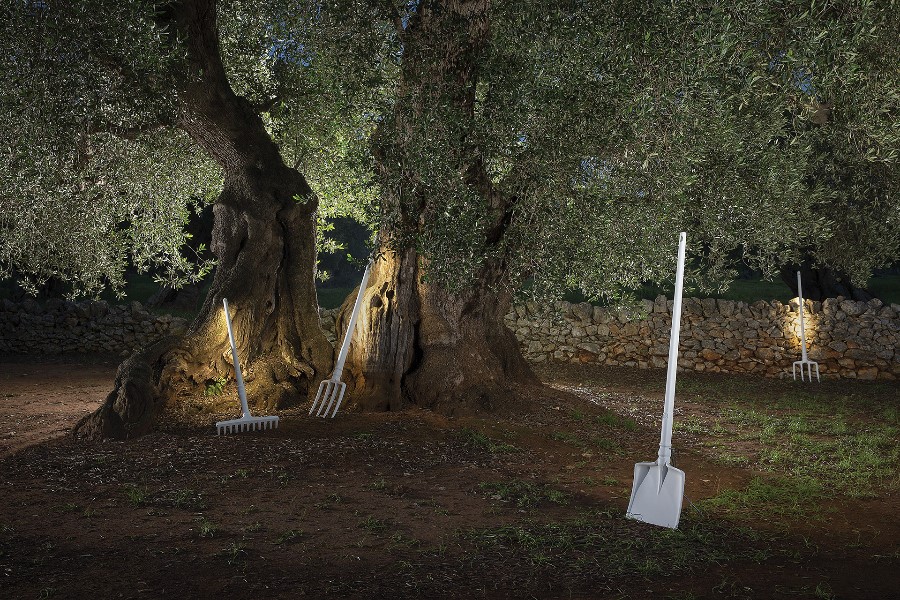 Tobia
Ottavo
Another solution with a decidedly evocative and curious character is Ottavo. It is a floor lamp in opaque white technopolymer, created by Matteo Ugolini, which recalls in all respects the physical features of a classic garden gnome, this time holding a torch: a valuable source of direct light.
To be placed in random order in the garden or next to a flowerbed strewn with flowers and lush plants, Ottavo will always fascinate the observer.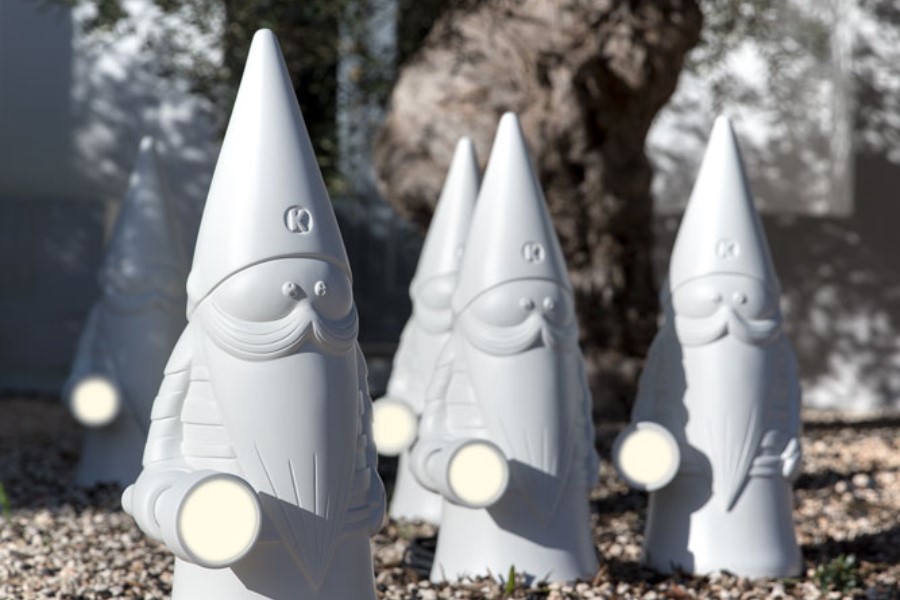 Ottavo
Alibabig
With its unmistakable stage presence, Alibabig could be perfect for illuminating the garden. It is a floor lamp, designed by Matteo Ugolini, designed ad hoc to give optimal light to outdoor spaces and outline the atmosphere.
The structure, entirely made of fibreglass, allows light to filter through intensely and free itself throughout the atmosphere, creating luminous points ideal for decorating the area and at the same time guiding the observer.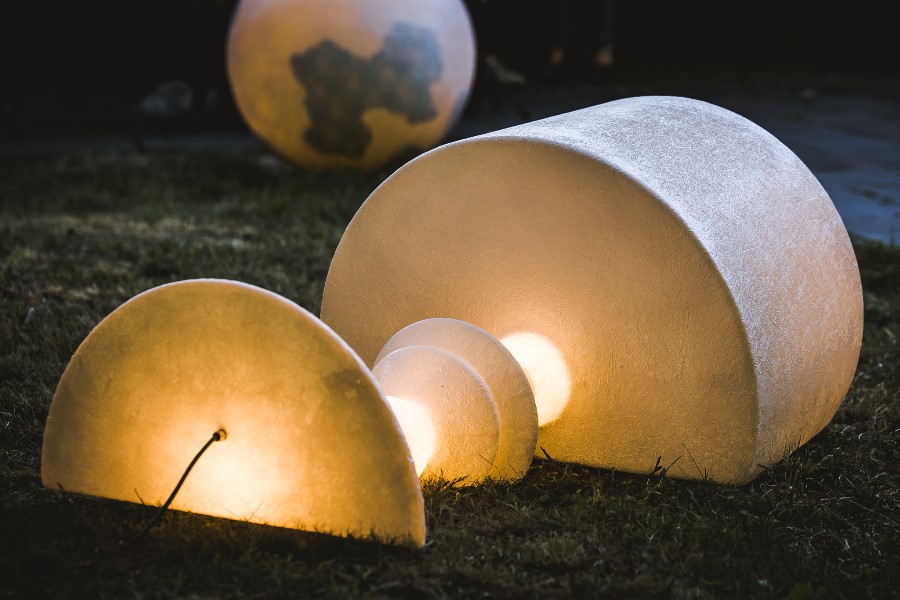 Alibabig
Ululì Ululà
Ululì Ululà also presents the right aesthetic presence for defining a picturesque atmosphere in the garden. It is a floor lamp, designed by Matteo Ugolini, with a spherical shape made of fibreglass and finished with lace inserts.
Warm light filters through the padded material and is released into the environment, becoming pure suggestion. Ululì Ululà is a globe of intense light, perfect if placed in large gardens and grassy expanses.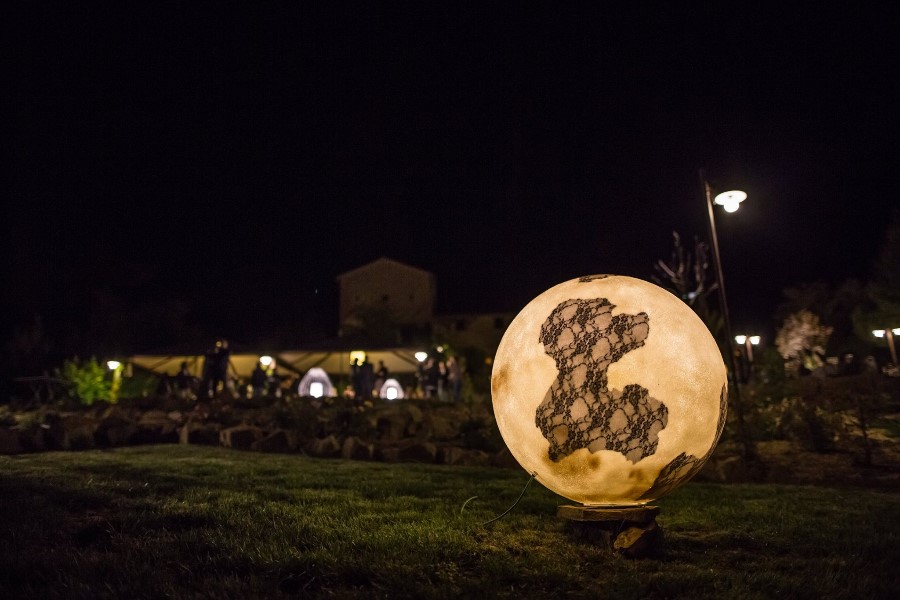 Ululì Ululà
Ginger
To provide veranda spaces with dim and soft light, choose Ginger.
With a play on shadows and reflected light, you could revive a small courtyard at the back of the house or a summer garden.
This unique structure has retro charm and is enlivened by vitreous ripples with a great stylistic impact. Edmondo Testaguzza designed this suspension lamp, which achieves full stylistic expression immersed in greenery or even in contemporary furnishing contexts.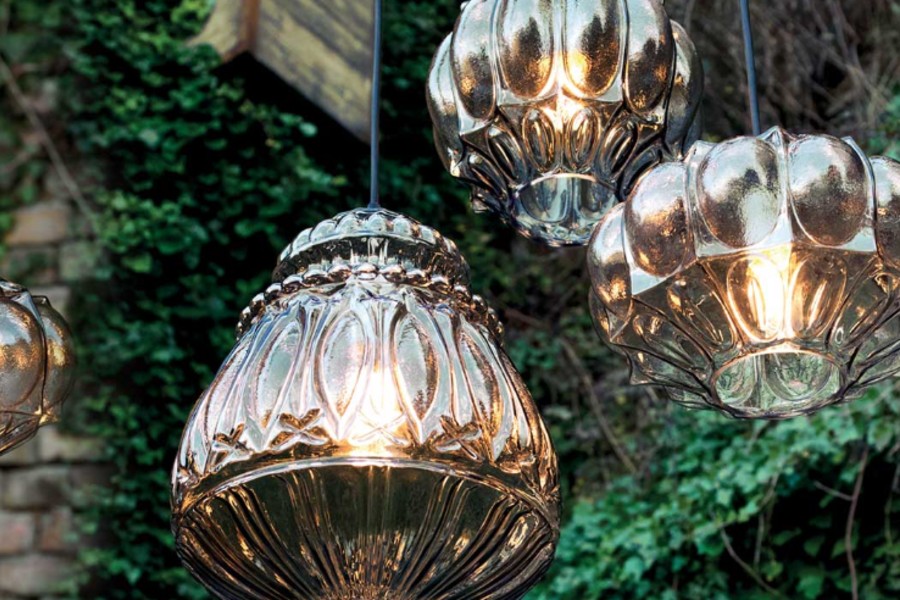 Ginger
Moby Dick
If you prefer other materials and textures, you could opt for Moby Dick and place it on the table in the middle of the patio. The soft curves of this lamp, created by Matteo Ugolini, will perfectly adapt to the spaces of pergolas and porches outdoors.
This decorative lamp is able to attract the observer's gaze. Moreover, it presents a remarkable stylistic versatility, which allows it to be included in the most varied furnishing compositions: country or rustic, chic or modern.
It is a creative solution that offers new lighting fantasies and guarantees both ambient lighting and task lighting on the veranda.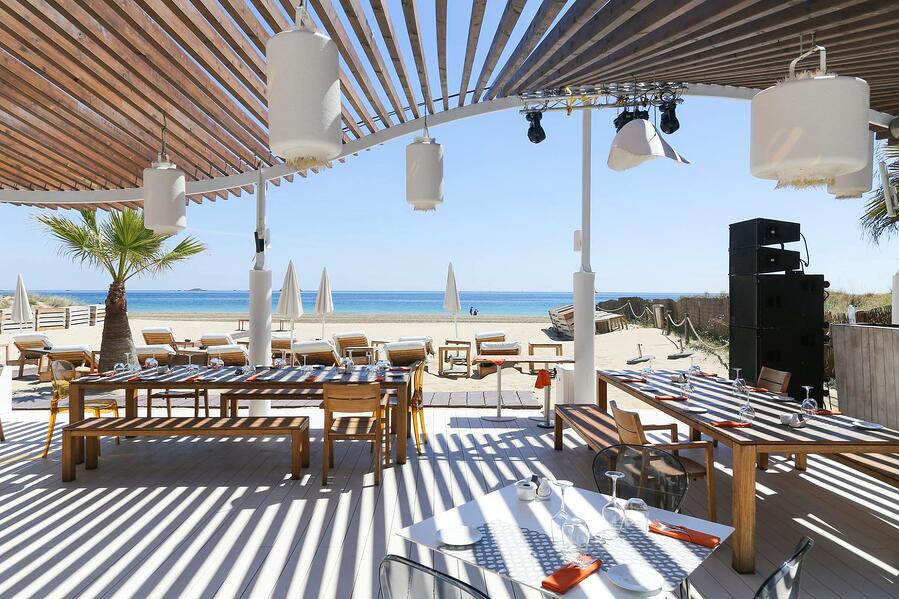 Moby Dick & Kimono
Via Rizzo 7
If you are looking for a lamp with a material spirit and evocative forms, opt for Via Rizzo 7. It is a white ceramic suspension lamp designed by Matteo Ugolini and accompanied by small decorative accessories. You could place several models of this lamp in a small orangery or from the porch ceiling.
This lamp, both in black and white, is able to decorate outdoor environments with elegance by filling them with directional and intense light.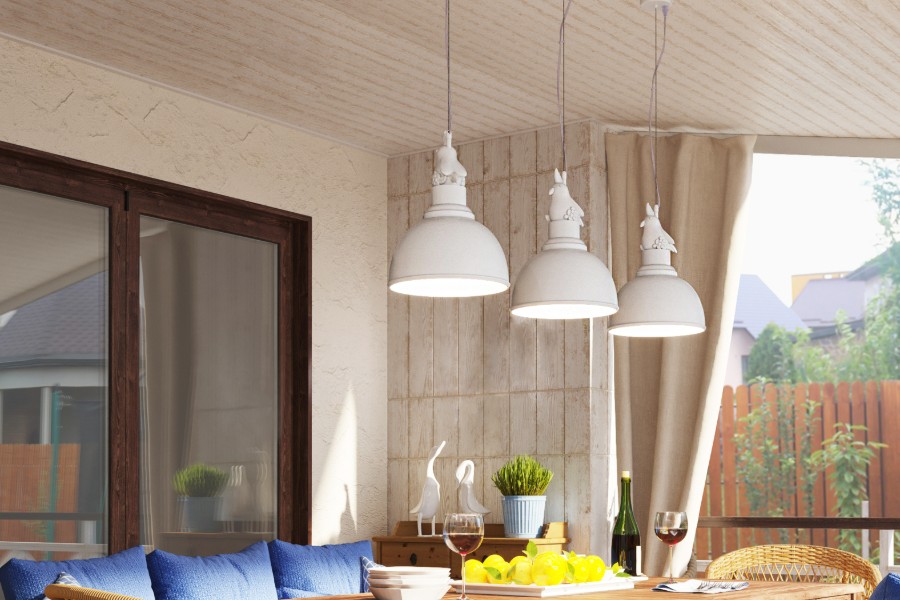 Via Rizzo 7
Bacco
To avoid giving up the essential notes of bright accent, place table lamps like Bacco on small coffee tables under the loggia. The opaque texture of the glass favours the dispersion of soft light reflections, ideal for creating an intimate and rarefied atmosphere.
Table lamps like Bacco, indoor solutions that can find space even outdoors, can combine the luminous potential of a typical lighting solution and the decorative character of an authentic design object.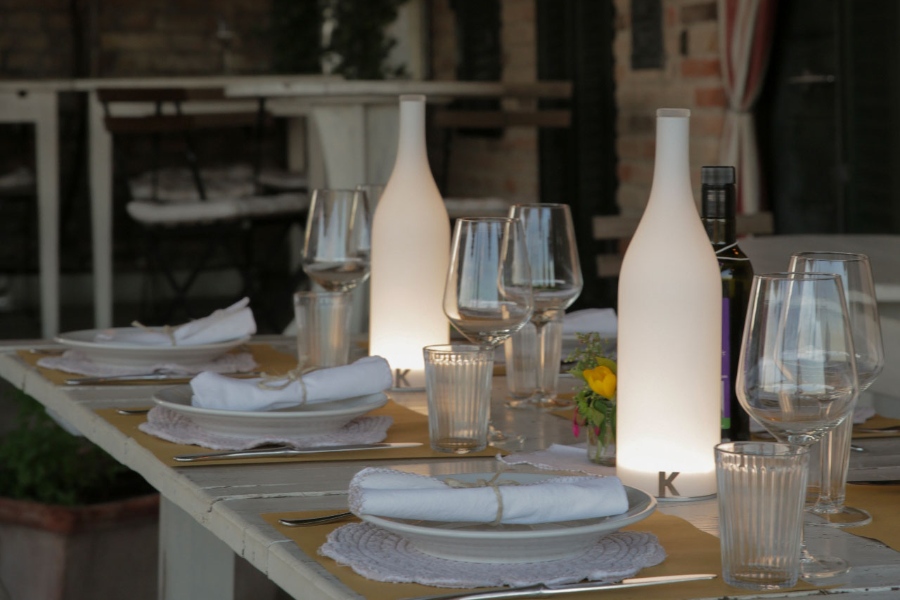 Bacco
Cell
With Cell, light knows no boundaries and is free to spread throughout the atmosphere, giving functional and decorative lighting to the pool, in a single solution.
This particular floor lamp model, designed by Matteo Ugolini, is stripped of any structural excess. With a minimal and elegant character, Cell presents a small linen diffuser enclosed in a wire cage (rust or white) with a linear and clean profile.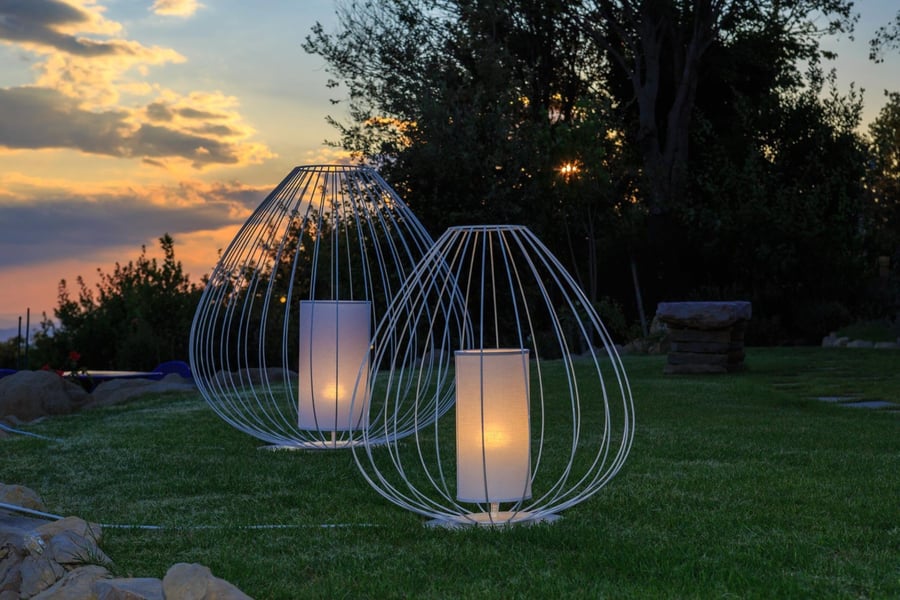 Cell
Don't touch
Don't touch would be perfect for decorating the poolside in the back of the house and frame the area with intense brightness. Aesthetic charm and functional lighting come together in an ideal solution for outdoor spaces.
This particular model, designed by Matteo Ugolini, is characterised by white PVC rods that involve sight and touch, almost inviting you to touch it. An excellent task lighting solution that, like an authentic design object, has a strong stylistic character.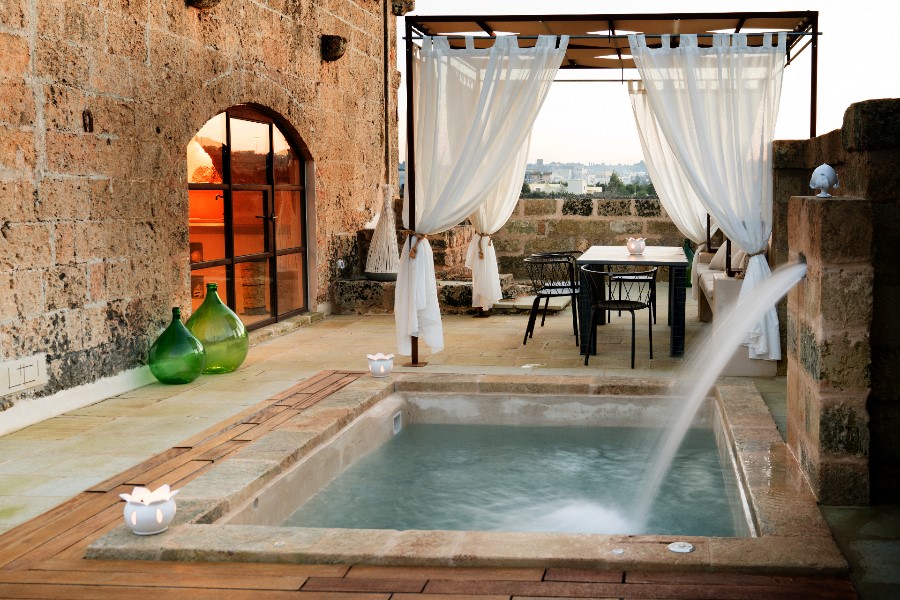 Don't touch
The decisive role of designer outdoor lighting
Outdoor lighting is just as important as indoor lighting.
To give new light to the external locations of homes, select the Karman lamps that favour your customer's taste the most, without neglecting the functional side.
In this way, your project will be impeccable from an aesthetic point of view and will guarantee comfort and full visibility in the various outdoor areas of the property.



For more information, support and assistance in the realisation of designer outdoor lighting projects and in choosing the most suitable solutions, do not hesitate to contact us at this link. We are at your complete disposal.