Outdoor lighting determines the appearance and atmosphere of homes. For this reason, it is essential to take care of the entire design in detail, paying particular attention to the choice of the most suitable designer garden floor lamps.
In decorative lighting for the home, it is essential to introduce this particular type of lamp, since floor lamps are extremely versatile in functional and aesthetic terms.
Making mistakes in the choice and positioning of the latter could compromise the image and mood of the entire location.
To avoid making mistakes, we have put together a brief guide on how to choose the most suitable lighting design solutions for your project and where to place them.



Cell
Designer garden floor lamps: advice on choice and positioning
Creating a decorative lighting project for outdoor locations means choosing the right lighting design solutions and, above all, knowing how to position them correctly, satisfying each space.
To do this correctly, we have compiled a list of 5 tips on the choice and placement of designer garden floor lamps. In particular:
Now let's take a look at each point.
1. Map out the perimeter of the garden and evaluate the available space
To get started on the right foot, it is necessary to evaluate the space available in the garden, performing site inspections, and then mapping out the perimeter.
By doing this, you will have an idea of the extent of the location you are dealing with. Furthermore, you will be able to identify the passage areas and the strategic points in which to place the designer garden floor lamps that your client has chosen. To be precise and detailed, the design must include:
The layout of the house, of course;
Every type of decoration and/or architectural element present in the garden;
Plants and trees;
Benches;
Paths, walkways and small paths (including the respective height and length measurements).
2. Make a layout of the lighting by choosing where to place the lamps
Once the locations have been defined and the main areas to be illuminated have been identified, it is possible to make the lighting layout and choose where to place the lamps.
On the sides of a cobblestone path or perhaps at the foot of a picturesque natural stone staircase or, very simply, in the centre of an elegant outdoor sitting area sheltered under a luxury gazebo would be ideal.



3. Select the appropriate temperature of the lights based on the location
Now that you have decided together with your customer where the lamps will be positioned, you will know which type of light source (warm or cold light) will be necessary to illuminate the areas in question.
To be clearer, in every lighting design project, be it indoor or outdoor, it is important to ensure excellent visibility and safety. For this reason, it is essential to include the three main levels of functional lighting, namely:
The temperature of the light, in fact, is in close contact with these types of lighting, since each degree of brightness is suitable, respectively, for:
the creation of the atmosphere;
carrying out daily activities and guaranteeing freedom of movement;
the enhancement of architectural details and decorative elements of the home.
4. Don't forget about aesthetics
As you well know, light has not only the task of illuminating, already important in itself, but it must also know how to decorate and entertain. This is why we advise you to choose lamps with a creative design, as well as lighting solutions that adhere to the aesthetics without giving up the functional side.
5. Create the right mood around the areas of interest
To create a fresh and daring mood, it is advisable to guide your client during the selection process, so that he or she can choose lamps in an aesthetic harmony with the furnishing of outdoor spaces (such as gazebos, swimming pools, patios, outdoor kitchens, bars) or simply more in tune with the surrounding environment.
In this way, the entire project will be complete and permeated by a sense of stylistic continuity: a characteristic that will certainly not go unnoticed.
Designer garden floor lamps by Karman
When design meets light, Karman lamps are born.
Karman's designer lamps present an inimitable creative charm, capable of standing out with elegance in various locations and making the atmosphere of each room unique.
With reference to these tips, we would like to show you the most suitable lighting design solutions for garden lighting according to Karman. In particular:
Alibabig
Tobia
Don't touch
Ottavo
Cell
Ululì Ululà
Let's continue analysing the technical-aesthetic characteristics of each lamp.
Alibabig: the floor lamp designed for outdoor spaces
With its unmistakable stage presence, Alibabig would be perfect for illuminating the garden. It is a floor lamp, designed by Matteo Ugolini, designed ad hoc to give optimal light to outdoor spaces and delineate the atmosphere.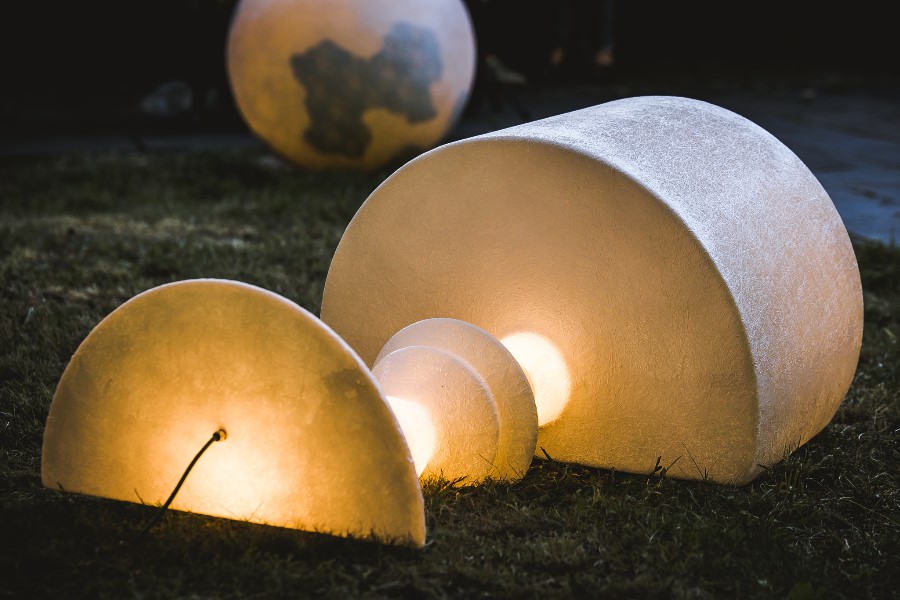 Alibabig
The structure, entirely made of fibreglass, allows light to spread intensely throughout its environment, creating luminous points ideal for decorating the area and at the same time guiding the observer.
The evocative charm of Tobia fills the garden with light
If you are looking for a lamp with an evocative shape and that can give decor and lighting to the location, Tobia could be the ideal solution.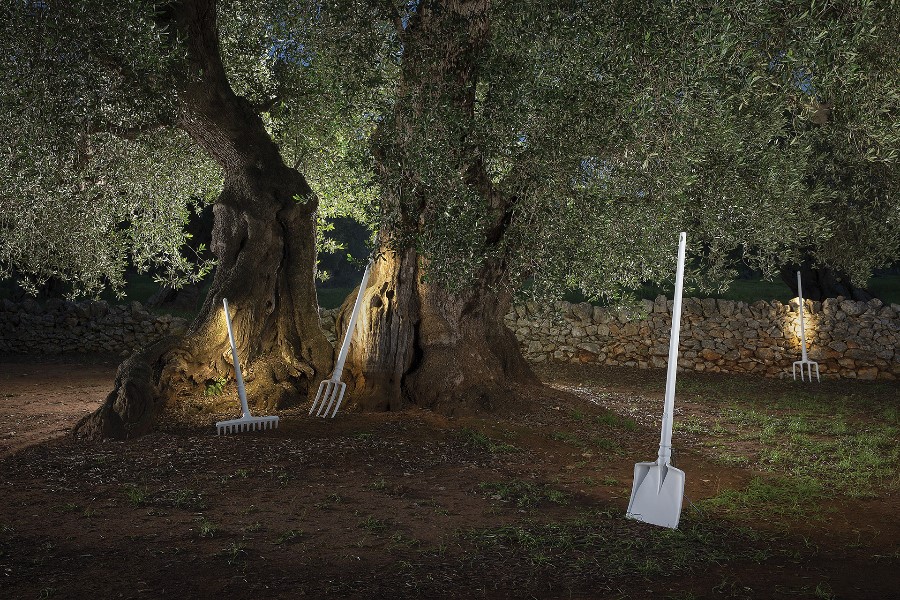 Tobia
We are talking about a floor lamp in white technopolymer, created by Matteo Ugolini, which echoes the appearance of ancient tools used in the processing of the land. That's why this lamp is perfect for illuminating the garden, remaining in total harmony with its bucolic atmosphere.
You could use Tobia to highlight architectural elements, passages or grandeur century-old trees. In this way, in addition to making the entire location more intimate and fairytale-like, you will introduce excellent levels of accent lighting.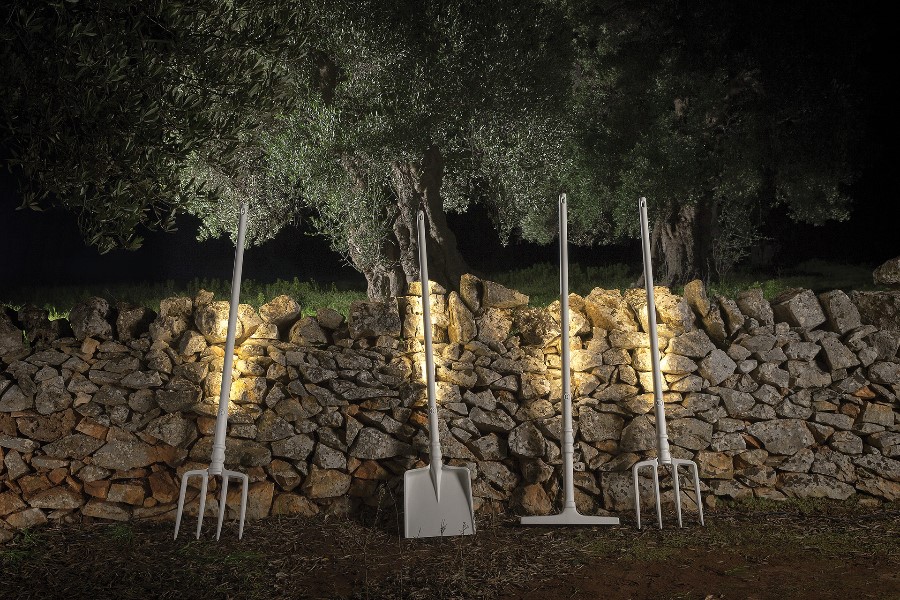 Tobia
Don't touch: design and lighting come together
Don't touch presents itself as an elegant solution able to offer functionality and decorative potential. It is a floor lamp designed by Matteo Ugolini, consisting of a grey technopolymer base housing long PVC rods, designed to preserve the intensity of the light source in the centre.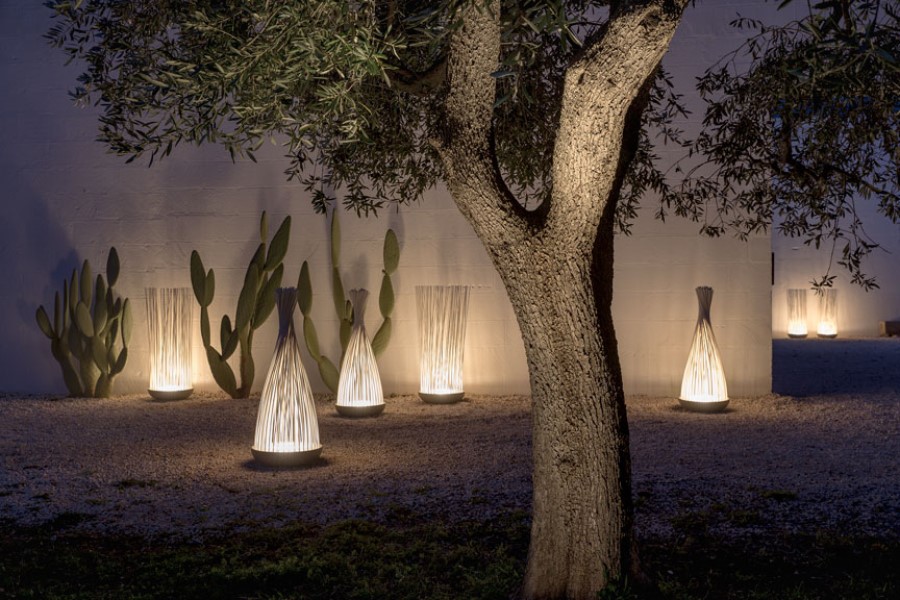 Don't touch
To be placed along the edges of a swimming pool, a fountain or next to a small stone pond, in any case, this lamp will give a new image to the space it occupies.
Ottavo: the garden gnome discovers light
If you want to make illumination pure attraction, you need to select solutions with a creative and unusual design like Ottavo: a floor lamp, created by Matteo Ugolini, with a decidedly curious look.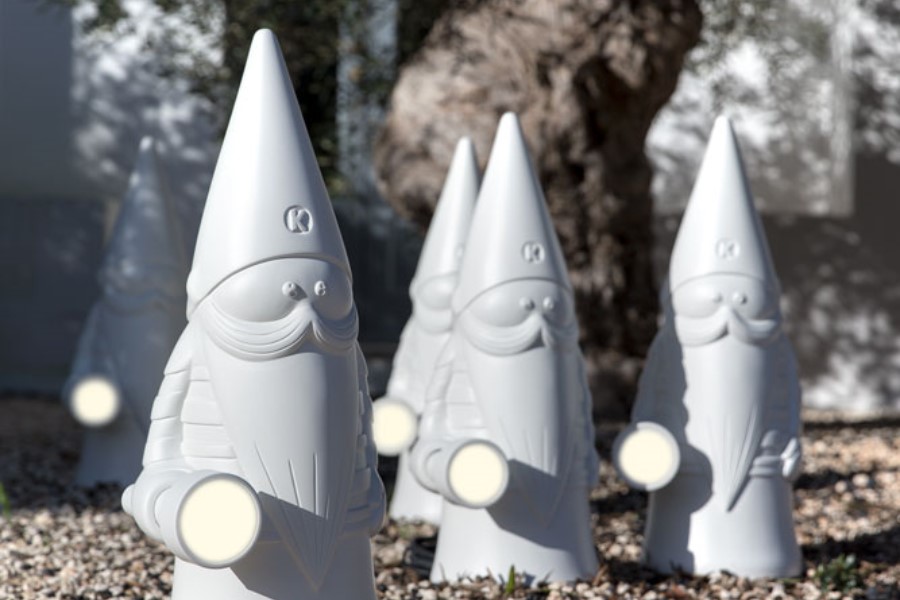 Ottavo
It is a lamp in opaque white technopolymer that recalls in all respects the physical features of a classic garden gnome, this time holding a torch: a precious source of direct light. To be placed in random order in the garden or next to a flowerbed strewn with flowers and lush plants: Ottavo will always fascinate the observer.
Cell: modern spirit and ancient charm
To set up a more sophisticated mood outdoors you could choose Cell: a floor lamp, created by Matteo Ugolini, which reinterprets the aesthetic language of ancient Chinese lanterns in a modern way.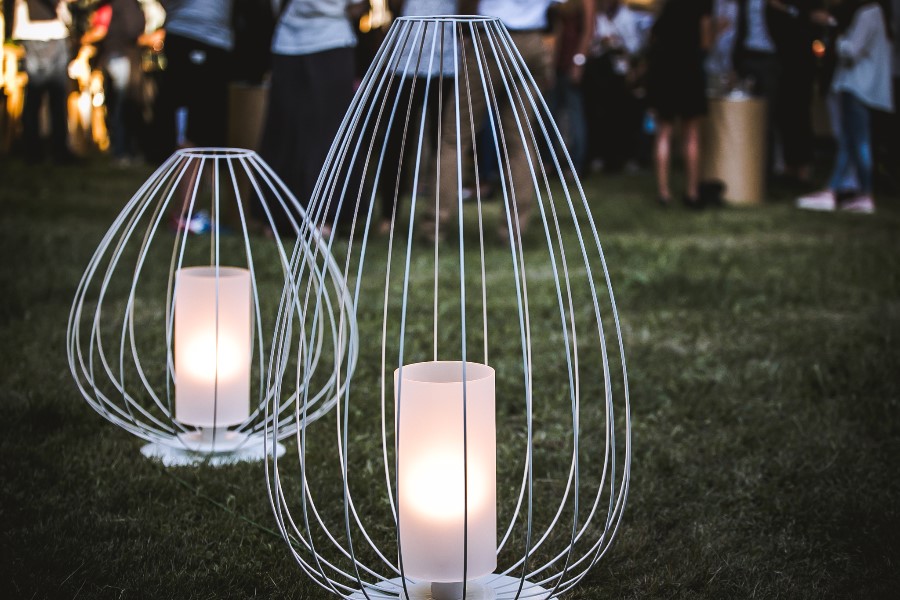 Cell
Consisting of a metal wire frame (white or rust colour (at the customer's discretion) and a white linen diffuser, it allows pure and intense light to be released into the environment. Cell can be placed in large areas of the garden or beside benches, ornamental plants and around the pool.
Ululì Ululà
If you want to outline a picturesque atmosphere in the garden, choose Ululì Ululà. It is a floor lamp, designed by Matteo Ugolini, with a spherical shape made of fibreglass and finished with lace inserts.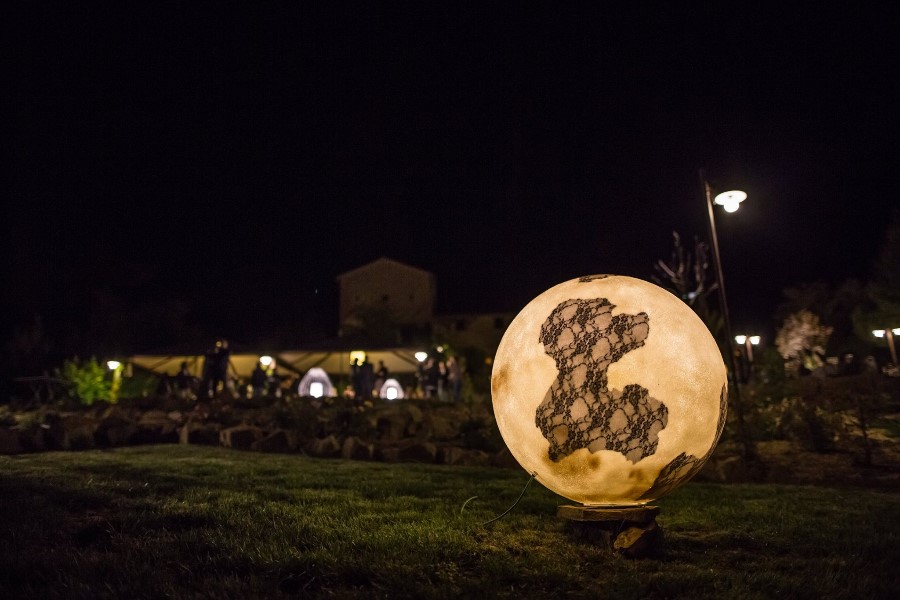 Ululì Ululà
Warm light filters through the padded material and is released into the environment, becoming pure beauty. The vast grassy expanses are the natural habitat of Ululì Ululà: not a simple floor lamp, but a real globe of intense light.
Designer garden floor lamps: a touch of decorative light for the outdoors
In the outdoor lighting of homes and private homes, it is essential to pay attention to every detail.
For this reason, we have compiled a small list with some practical tips to guide you in the selection and positioning of designer garden floor lamps.
Select Karman lamps and rely on our suggestions: in this way, you will realise a decorative lighting project with attention to detail and great aesthetic value.
For more information, support and assistance in choosing the most suitable lamps for your lighting design project, do not hesitate to contact us at this link. We are at your complete disposal.