Furnishing a restaurant's outdoor space with ad hoc decorative lamps gives you that added value that will make your place even more suggestive, inviting, and welcoming.
But how do you design the right outdoor decorative lighting and best illuminate the restaurant's open spaces for any type of evening?
In this article, we will take a closer look at:
How to illuminate an outdoor restaurant
If you want to create an intimate and evocative environment to pleasantly impress customers at first glance, then designer outdoor floor lamps are a good solution.
You can place a floor lamp at each table to ensure non-dispersive and sufficient light to allow customers to read the menu and see their dishes clearly.
If your restaurant has a minimal and modern style, you can easily achieve the same effect by opting for table or floor lamps, thus providing the right lighting for each table and maintaining the suggestive atmosphere you want to reproduce.
We have just mentioned some tips you can take inspiration from to start giving an initial generic setting to your decorative lighting project for outdoor restaurants.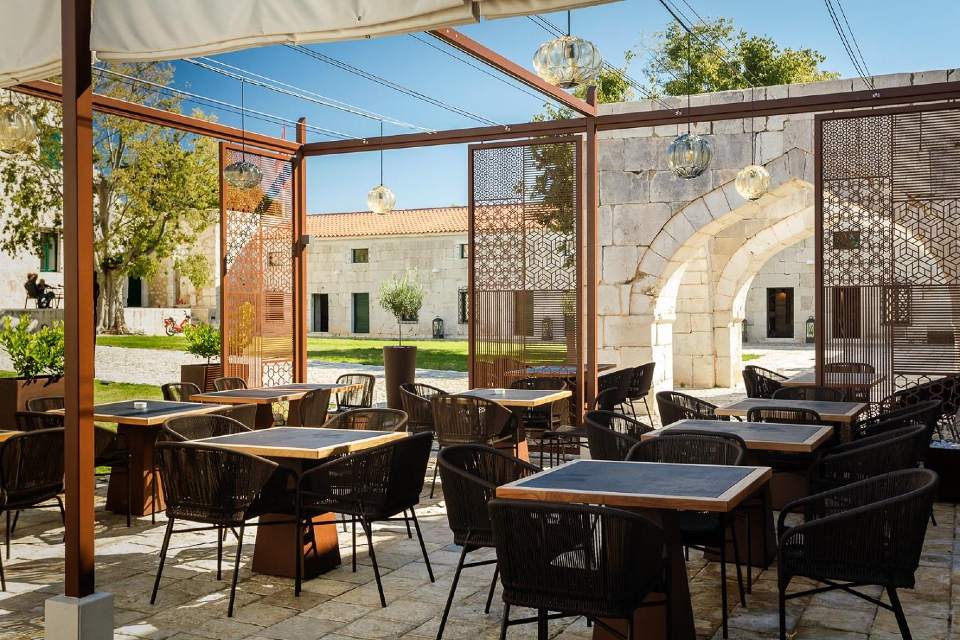 Ginger
5 factors to consider when decorating an outdoor restaurant with light
Before listing the factors that will lead you to the most suitable choice, it is essential to state that a restaurant's outdoor lighting must necessarily have a flexible and dynamic character.
In this way, you can diversify the type of lighting to your liking to create the settings that best suit the type of environment.
This means that you have to choose a type of lighting that can enhance the outdoor space, from the garden to the paths or the pool.
However, be careful not to overdo it with the number of light fixtures and the intensity of the light beams: proper lighting of the outdoor space must include warm tones and moderate intensities.
Let's look at the 5 factors to consider for perfect decorative lighting for an outdoor restaurant in detail.
1. An outdoor restaurant's atmosphere
A restaurant's atmosphere can affect the emotional state of its customers. For this reason, it is one of the aspects they notice from the first moment they enter the restaurant.
In your lighting project, you must keep in mind what kind of atmosphere you want to give your outdoor restaurant. The lighting you choose will, in fact, be essential to recreate the right atmosphere that will attract customers who want to spend that type of evening at your restaurant.
There is an atmosphere for every type of customer, but you have to be precise: if you mix styles and lights, the success of your outdoor restaurant will suffer, even if it is in the most beautiful place possible.
Before you plan your project, make sure the atmosphere characterizes your outdoor restaurant, because it will be the element that will distinguish you.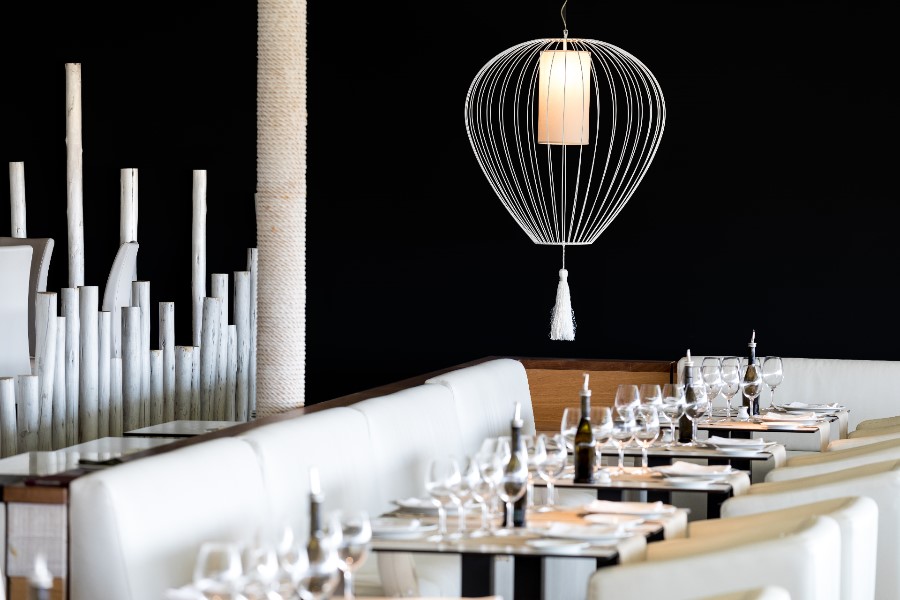 Cell
2. Careful planning of the lighting project
Start planning your lighting project by choosing all the solutions that fit the style of the restaurant in question and the pre-established objectives.
Therefore, the decorative lighting project must be planned according to the functionality you intend to give to the outdoor restaurant and must include:
Cozy light, able to offer quality service during dinner;
Presence of color, preferably warm and determined to attract customers;
Space optimization, so as not to run the risk of exaggerating with light installations.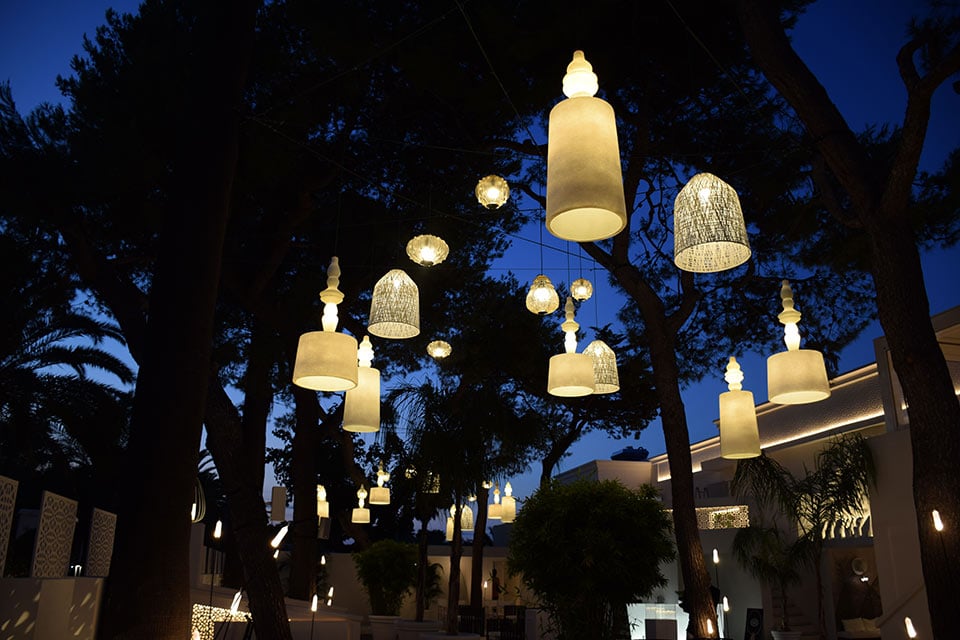 Blackout and Alì Babà
3. Positioning of outdoor lamps with respect to tables
One of the most popular solutions is to integrate the floor lamps with the wall lamps and table lamps.
You can position them on the room's external walls and direct the light beam towards a series of tables. In addition, to give an extra accent to the lighting, you could place a floor lamp at every two or three tables.
One last aspect not to be overlooked is the lighting at the dining table. For example, you can place a table lamp in the center, like Bacco, to illuminate the menu and courses, without sacrificing the intimate atmosphere that summer evenings require.
For the intensity of the table lamp, you should orient yourself towards a soft light. In this case, however, care must be taken not to make the environment too dark.
You can choose different shades of light, both cold and warm, for all the lamps, depending on the type of light beam you want to direct in a particular area, or if you want to highlight an exterior detail such as a garden or illuminate the swimming pool area.
In this way, your lighting project will enjoy different layers of light that will give your outdoor restaurant movement and personality.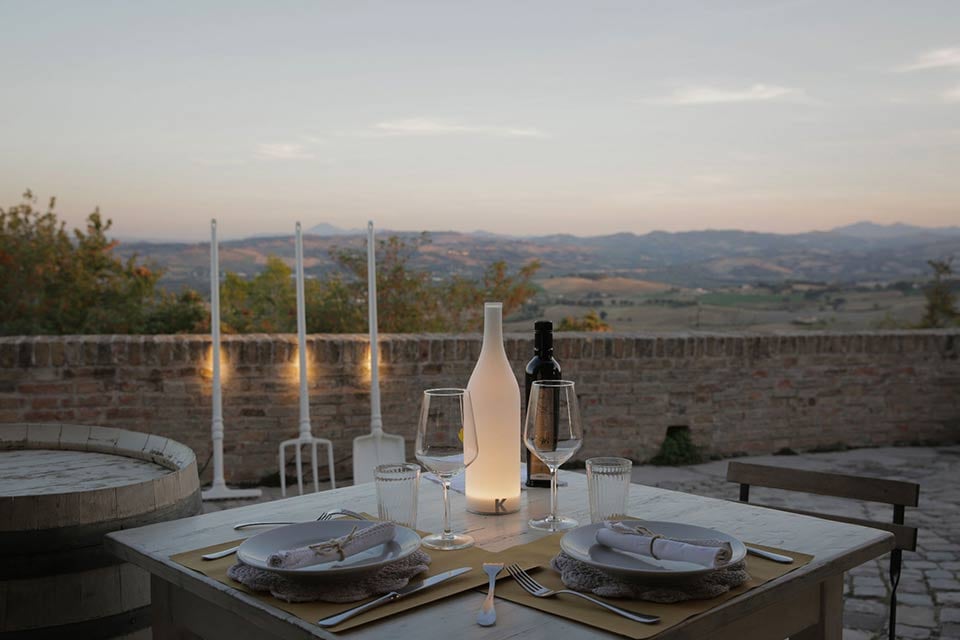 Bacco and Tobia
4. Creation of a path of light that guides customers in the restaurant's outdoor spaces
To accompany customers from the restaurant entrance to the tables without making them feel disoriented, it is essential to provide lighting that traces the path well.
For this purpose, you could illuminate and decorate the paths with design solutions that recall greenery, such as the Xana lamp, to integrate them as part of the garden next to the path.
Another original design solution is choosing installations that recall typical gardening tools, such as the Tobia lamp.
Also, in this case, you can create a very particular and original lighting effect, combined with punctual and effective functionality.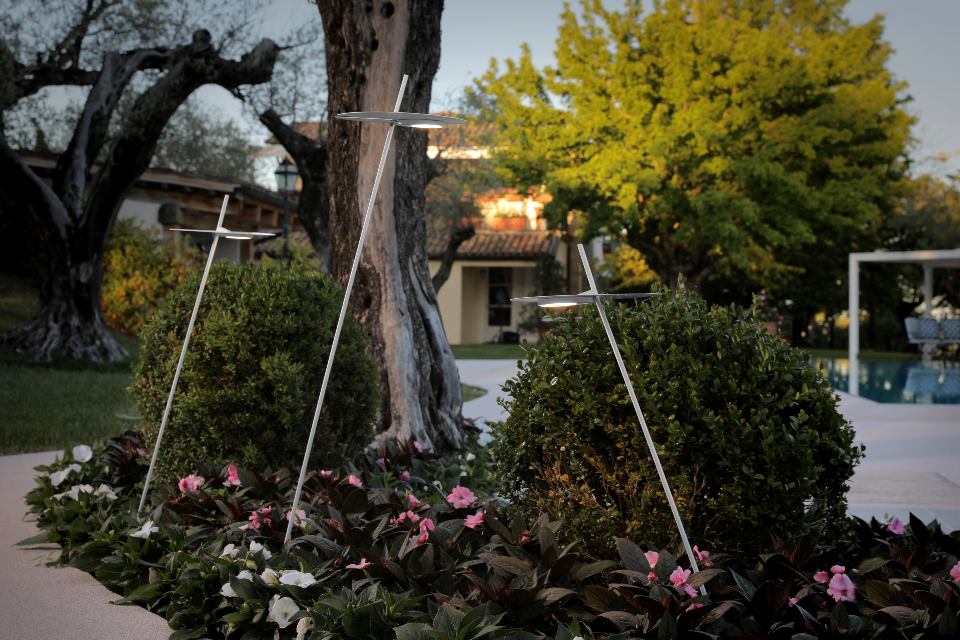 Xana
5. Intensity of outdoor restaurant lamps
Choosing warm or cold light depends on several factors: first of all, on the stylistic choice and personality you have established for the outdoor restaurant in question.
In general, you can keep in mind that:
Warm lights guarantee a romantic atmosphere and, therefore, are more suitable for a more chic and elegant restaurant;
Cold lights, on the other hand, lend themselves perfectly to an environment with a more modern and minimalist effect.
Both choices adapt to different styles, but the important thing is never to overdo it with the intensity of light.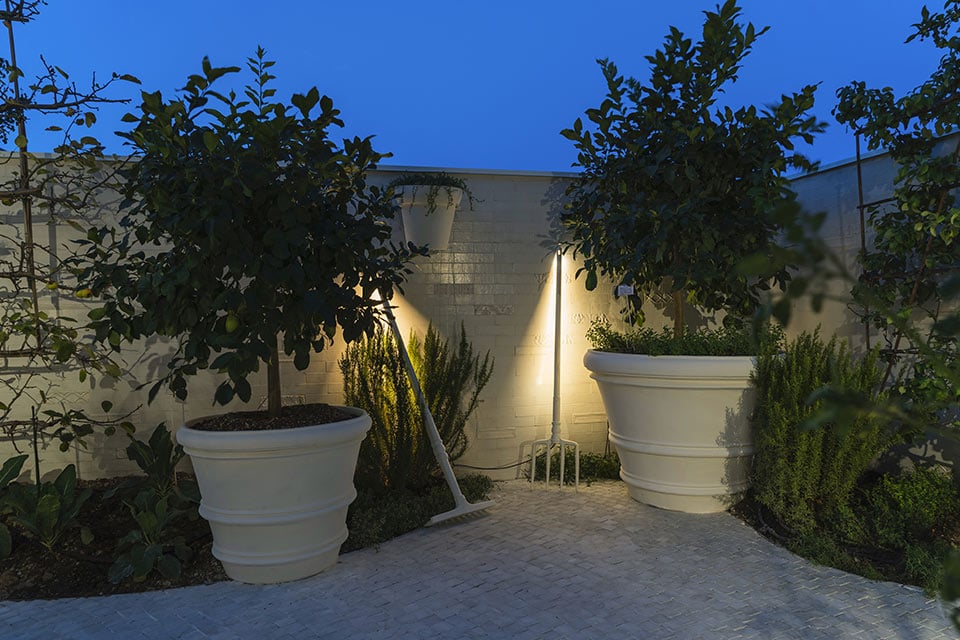 Tobia
Outdoor restaurant lighting: decorate with light
The right decorative lighting in a restaurant is what gives prominence to the chef's dishes: a lively and brilliant light transforms the table into a real scenography of taste.
In fact, under the correct shade of light, the colors of the dishes become more intense, making the dishes immediately more appealing to the eye.
Furthermore, light transforms any space making it ideal for any occasion, whether it's a business dinner or a romantic dinner.
That is why it is advisable to include a flexible lighting system in your lighting project. In this way, you will be able to create the right atmosphere for any type of event, satisfying customers with different light scenes that transform the restaurant into an always different, original, and refined place.
A restaurant's success is directly proportional to its ability to amaze and stir up emotions: giving the customer the feeling of being in an exclusive, refined place, which wisely integrates taste and charm, means convincing them to come back and talk about it to others.
The lighting helps to distinguish the room, making it recognizable and unique, also thanks to the use of decorative design lamps, which are not anonymous or standardized.
For more information, support, and assistance in choosing the right lamp models for your decorative lighting project, do not hesitate to contact us at this link. We are at your complete disposal.