Large suspension lamps are lighting complements that characterise certain indoor and outdoor areas, adding colour, cheerfulness, and personality even to duller environments.
Despite being a valid indoor solution, large suspension lamps are ideal for public places such as hotels, discos, restaurants, bars and so on.
These peculiar lamps are an ideal solution for spaces that need broad and diffused lighting, such as staircases or rooms with very high ceilings.
Suspended lamps, whether modern, classic or rustic, are presented with different characteristics and styles. However, they all share an important role; they can be considered the real protagonists of the room, especially when they are of considerable size. Suspension lamps provide light and beauty to the environment, giving it a different face and value with their presence.
Of course, large suspension lamps need rather high ceilings; otherwise, they run the risk of being unpleasant, as well as bulky and uncomfortable.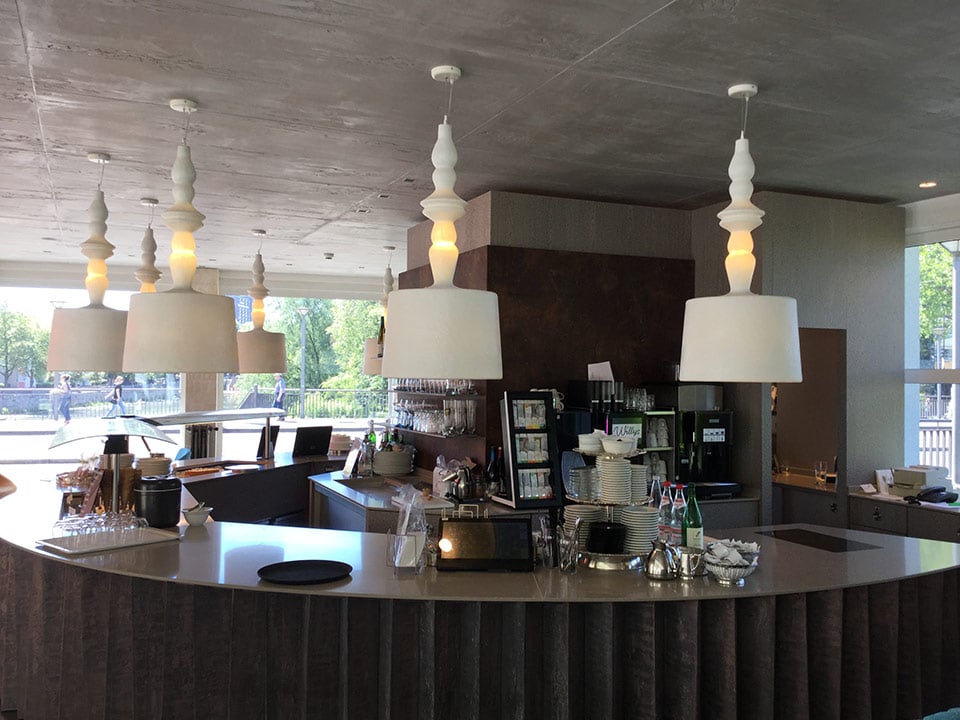 Alì e Babà
Where should suspension lamps be placed?
One of the main features to consider is the size of the lamp: The choice depends on the style, surface and brightness of the room.
Location is also a factor to consider.
However, modern, classic and innovative lamps must be taken advantage of, whether they are located above a dining table, placed in a living room or a bedroom.
Suspended lamps provide more impact lighting than other light sources.
In the main room, as in the living room, their ideal position is precisely in the centre, to illuminate the whole environment.
There is an exception to this generic rule: since suspension lamps are usually used to illuminate the dining table, whether in the kitchen or the living room, if the suspension lamp is off-centre, it must be moved to the centre of the room, to illuminate the centre of the table.
The ideal height of the suspension lamp depends on the width of the room in question.
Take into consideration that the minimum distance is at least 80-90 cm if there is a table, otherwise 2/2.5 meters from the floor.
As an indication, the distance from the ground to large suspension lamps is about 80 cm if the ceiling is at least 3 meters high, or 50 cm if the ceiling height is less than 3 meters.
The guideline you can follow to understand how high the lamp falls is at the height of no less than 1 between the ceiling and the floor.
Avoid positioning the lamp above passageways. Seeing that we usually tend to lower our head when passing under a hanging lamp, even if it is 20 cm higher, it could cause a sensation of discomfort.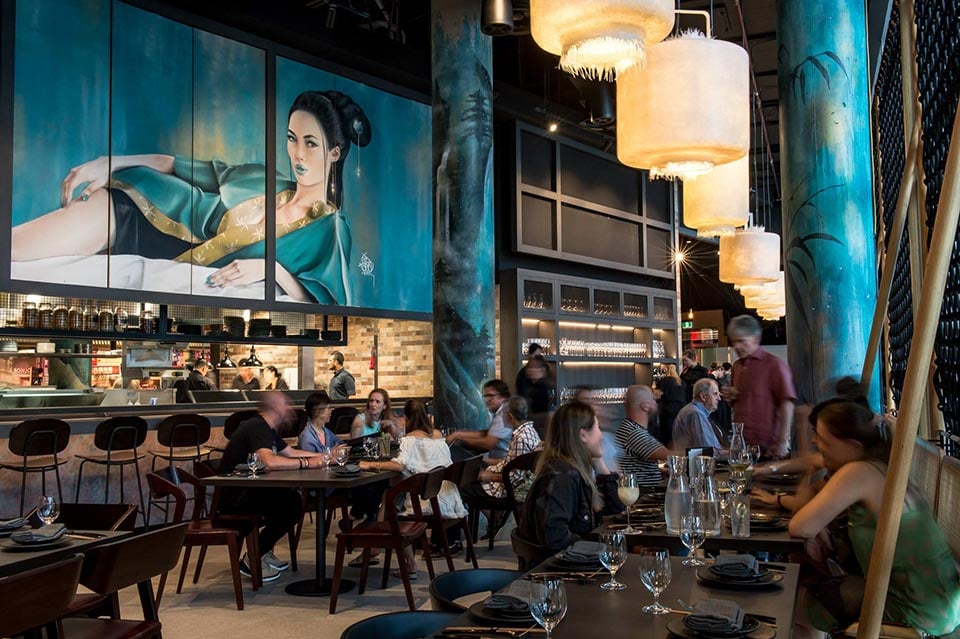 Kimono
Which solution should you choose? Examples of 5 large suspension lamps by Karman
Karman lamps are very versatile, and the hue of light they emit varies according to the different materials used in their realisation.
The models in the catalogue have different styles and designs, guaranteeing a choice more in line with your needs.
Karman not only offers you the best solution but guarantees the high-quality of all the products it creates.
The chandelier is one of the most important elements in any room; it must match perfectly with the environment's decor. Let's take a look at 5 examples of large lamps by Karman that are ideal for illuminating the most important settings.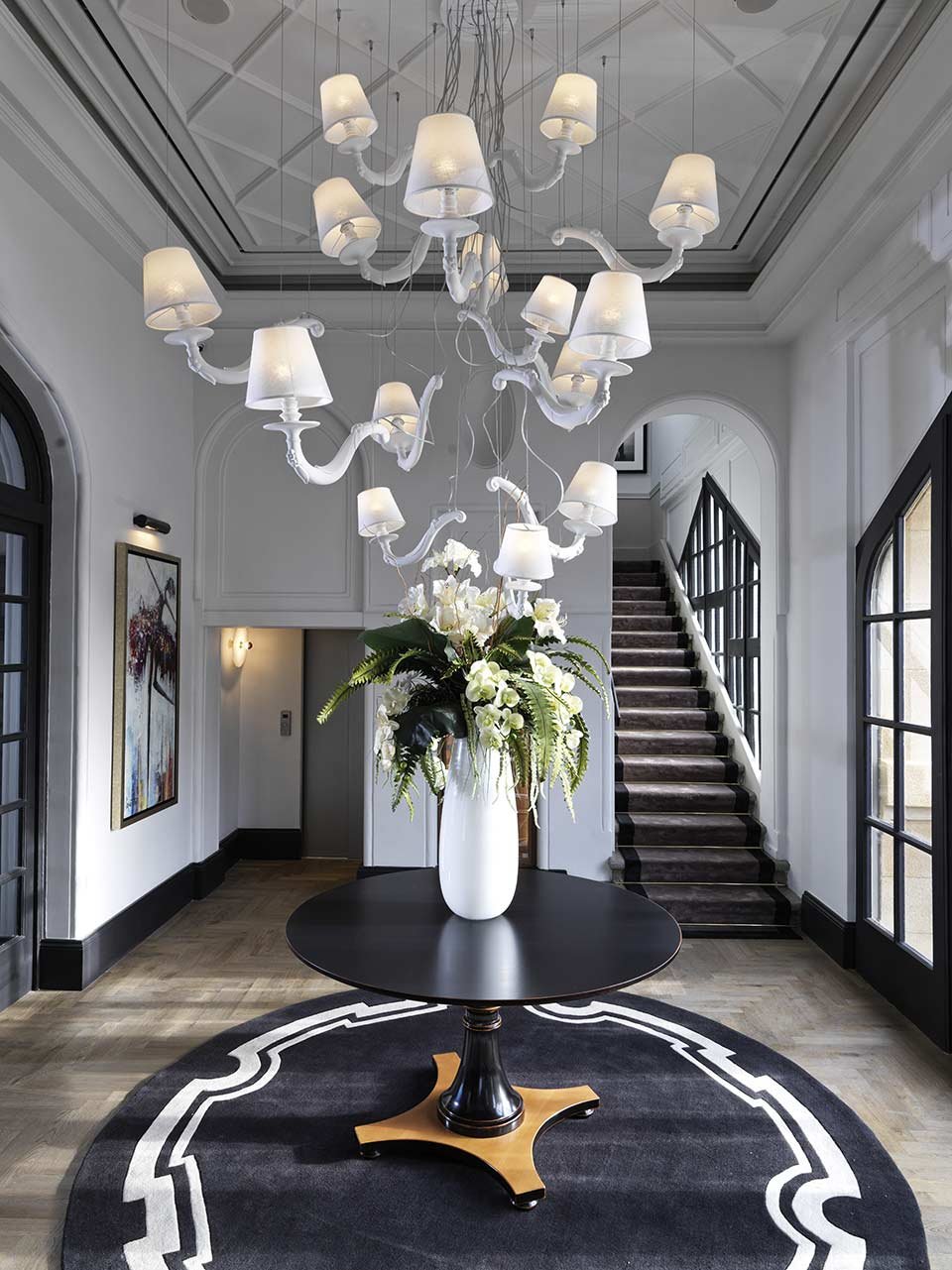 Déjà-vu
1. Déjà-vu
Like an old ceramic lamp, exploding with light, Déjà-vu by Karman suggests something you've already seen but weren't unexpecting, a surprise. The design of this chandelier recalls something that belongs to you and, at the same time, escapes you: tradition is revisited and left floating in the air, going beyond the past without forgetting it.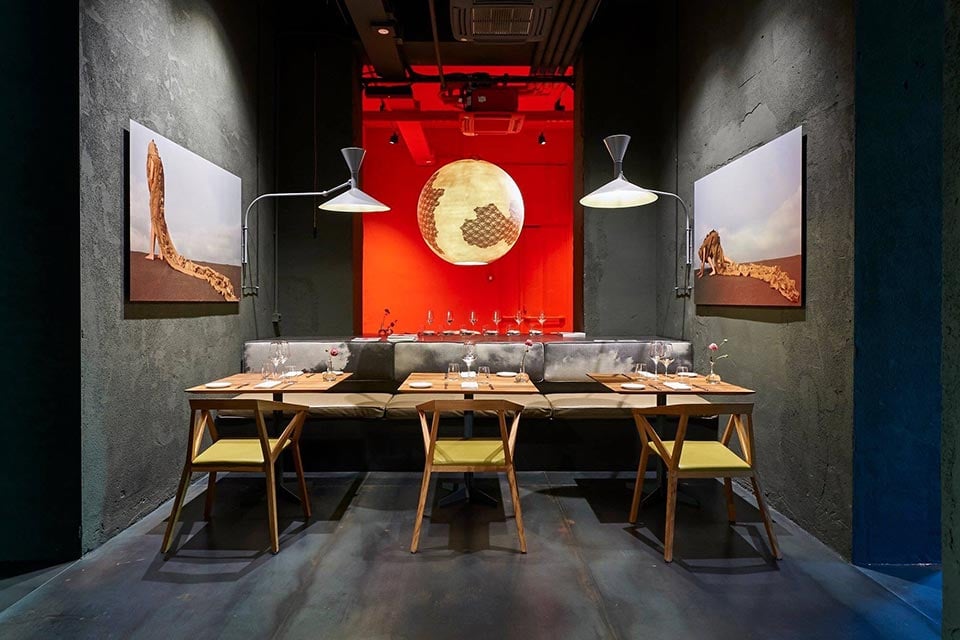 Ululì- Ululà
2. Ululì- Ululà
Your clients are difficult to satisfy, and they ask you for the moon? Karman also offers this!
With a structure in white fibreglass with lace inserts, Ululì- Ululà by Karman is an impressive lamp. It has a design that does not go unnoticed for its beauty, recalling the face and the poetry of the moon that observes us in silence. It is reflected in our faces and in our eyes, awakening our most intimate emotions.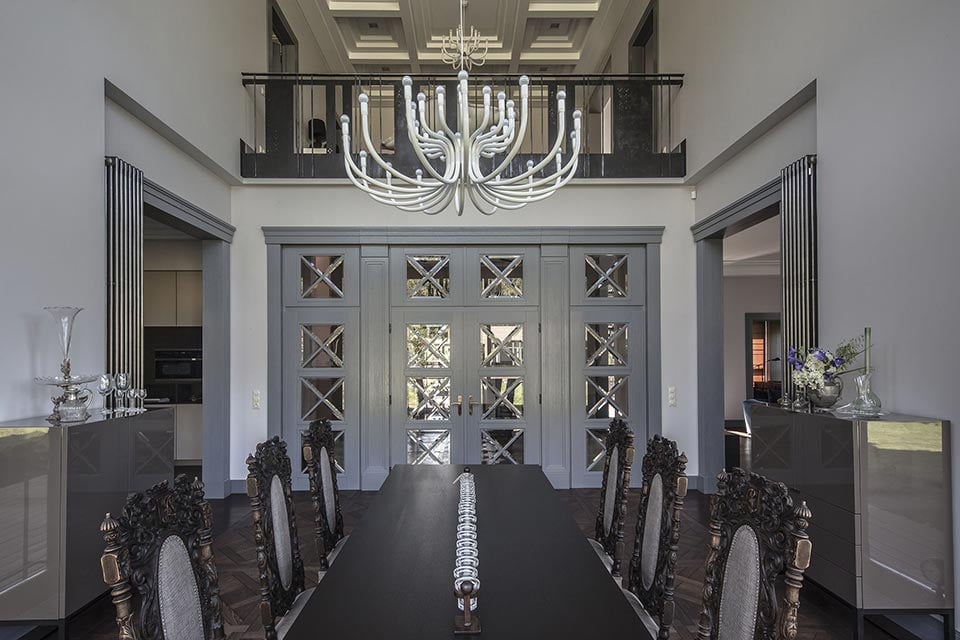 Snoob
3. Snoob
For a style solution that, with its design, resembles one of the chandeliers that stand out in the richest and most baroque palaces, the Snoob chandelier by Karman is the most suitable suspension installation. Its contour and design go well with the most classic and traditional environments, but its metamorphosis towards extreme cleanliness makes it suitable for any setting, never losing its grandeur.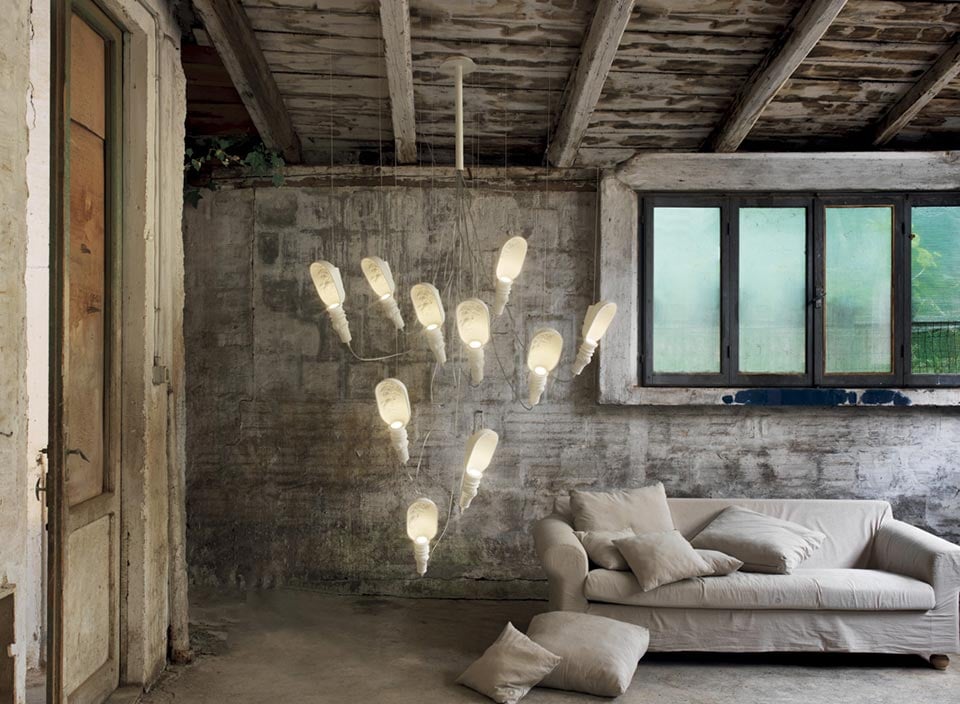 Work in progress
4. Work in progress
With its white ceramic structure, Work in progress by Karman is a modular suspension lamp that allows you can create the form of a chandelier with a unique and modern design. It comes from a model used to illuminate the most extreme sites, while the Work in progress suspension lamp, on the contrary, is invaded by candid white and romantic floral decorations. These unique and delicate characteristics enable us to place this lamp in the most intimate and refined environments.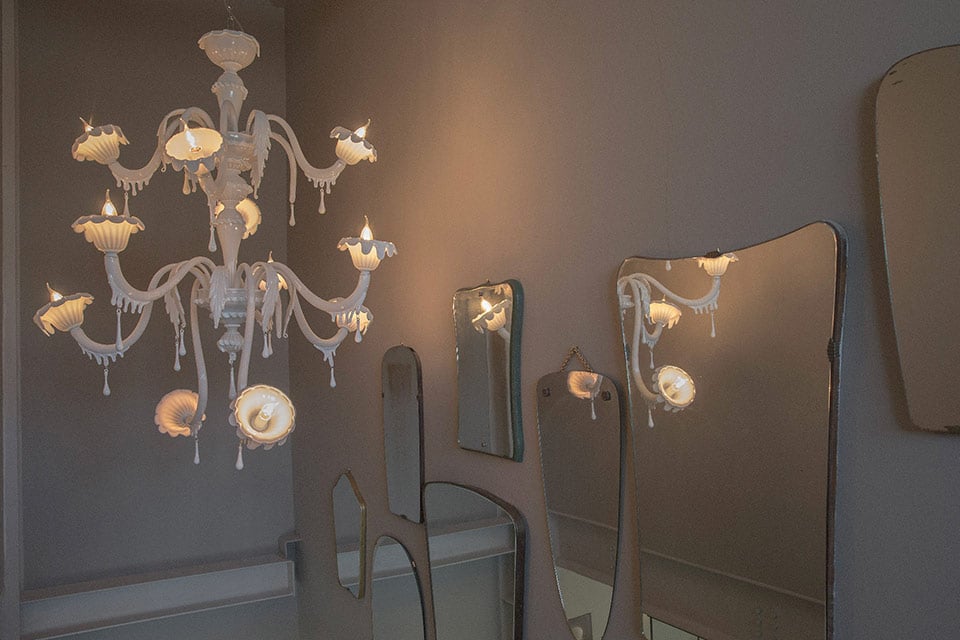 Au Revoir
5. Au Revoir
Created in layered, opal white glass with a modular design, the Au Revoir by Karman chandelier is elegant and melancholic. It is like observing a candelabra consumed with wax dripping from candles. It is a very suggestive and poetic chandelier, which recalls the emotion of a fleeting extraordinary moment but will remain forever in our memories.
Karman's characteristic feature, in addition to its unique style and design, is to make each solution adaptable to various situations, both indoors and outdoors.
Therefore, no matter the style of the areas in question, thanks to Karman's rich selection of suspension lamps, you will be spoiled with choices and find the perfect one for you.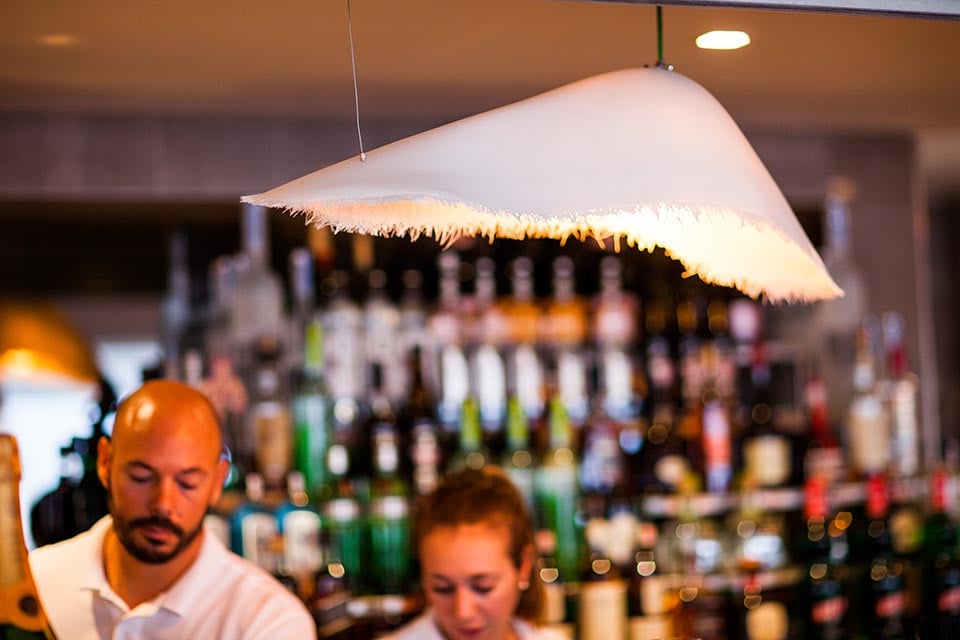 Moby Dick
Your idea of lighting
Whatever your lighting idea, you can find the right solution for your needs in Karman products.
We have only seen 5 of the large suspension lamps that Karman has to offer. However, all of them have a unique and particular design that will make your rooms special, giving them a characteristic light and supporting the style of each environment.
Whether it's the kitchen or the living room, the table you will be dedicating one of these suspension lamps to will undoubtedly be well lit and certainly won't go unnoticed, although not cumbersome, since all Karman lamps are both of great design and highly functional.
The same applies to other environments such as the entrance or bedroom, or the various outdoor spaces that you intend to illuminate with a diffused light source that can radiate light throughout the dedicated area, giving the right lustre to their unique, funny, sparkling and never banal shapes that only Karman can pull out of the cylinder of its creative laboratory.
So, all you have to do is take a look at the various solutions that Karman has to offer, select the ones that best reflect your taste and the style you intend to create to give life to your project, relying on the experience, competence and inventiveness of a company that makes creative quality its flagship, making it as bright as its creations.
For more information, support and assistance in choosing the most suitable lamps for your lighting design project, do not hesitate to contact us at this link. We are at your complete disposal.