New year, new creations by Karman. Again, for this season, Karman's creative team has worked on new projects, designing decorative lighting solutions with an evocative and ironic character.
2020 began with the company's desire to write a new chapter, to tell, through original and evocative light sculptures, the essence of the philosophy that is so dear to you: free your style, a motto which revives the attitude of Karman designers.
Making your daily life and modus vivendi a source of inspiration and converting it into something tangible and eternal has always been the goal that moves and stimulates Karman's creative minds. This common feeling has been materialized in the creation of a new line of decorative lamps with a strong aesthetic presence.
The 2020 Collection by Karman is founded on three solid ideological and stylistic pillars: irony, veiled minimalism, and an incurable audacity.
Combined with the technical-aesthetic rendering of high-performance materials, chosen with attention and the knowledge of the best lighting technologies, they shape a new lighting concept that best expresses the company's creative soul.
In this article, we will "narrate" the stories hidden behind the creation of each lamp and illustrate their aesthetic characteristics and technical value.
2020 Collection by Karman: new grandeur gives light to evocative creations
The lamps of the 2020 Collection by Karman are a guarantee of style and functionality, as well as extreme versatility as some are ideal for indoor environments and others for outdoor, therefore, ideal for decorative lighting in homes, clubs and restaurants, hotels, accommodations, and shops.
Below are the light sources of the new collection:
NILO;
Y;
Accipicchio;
R.O.M.A.;
Pirla.
Let's take a closer look at the peculiarities of these new lamps.
The evocative spirit of NILO
Nilo seems to allude to "everything flows", like the large Egyptian river, The Nile, which has been narrated in fairy tales. It is the watercourse par excellence, the "living" symbol of the continuous flow of things: panta rei.
It is from this aphorism that the idea of Matteo Ugolini's new project was born.
It is a lamp that echoes the shape of river reeds authentically and realistically: a flexible aluminum stem with a diffuser in opaque white resin, a light source, placed on top.
Available in a wall, picket or outdoor floor version, Nilo is able to illuminate and adorn outdoor spaces, in any location, making them exotic, even warmer and more welcoming.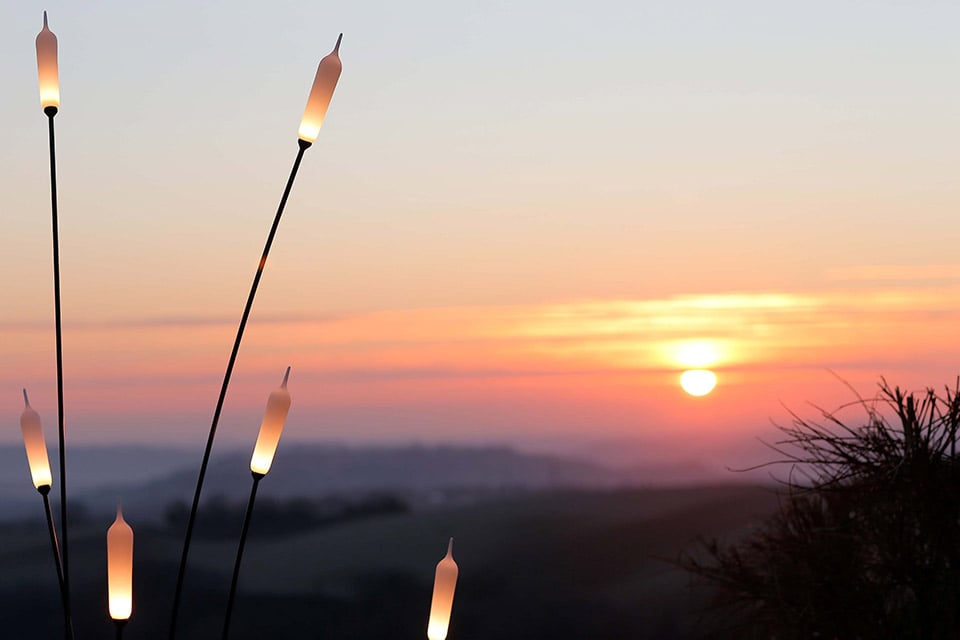 Y: born from three converging lines
Y : a grapheme consisting of three essential lines that converge into one point, becomes a new starting point, and takes the form of a lighting solution with a simple, linear, and clean soul.
The three axes that come together seem to symbolize the three creative dimensions of the designers who worked together in the design of this indoor floor lamp, designed for sophisticated contract environments: Lennart, Edmondo Testaguzza and Matteo Ugolini.
Minimal and sober charm, versatile and discreet: the stylistic code of Y, a lamp that, with subtle shyness but strong presence, energetically illuminates every location.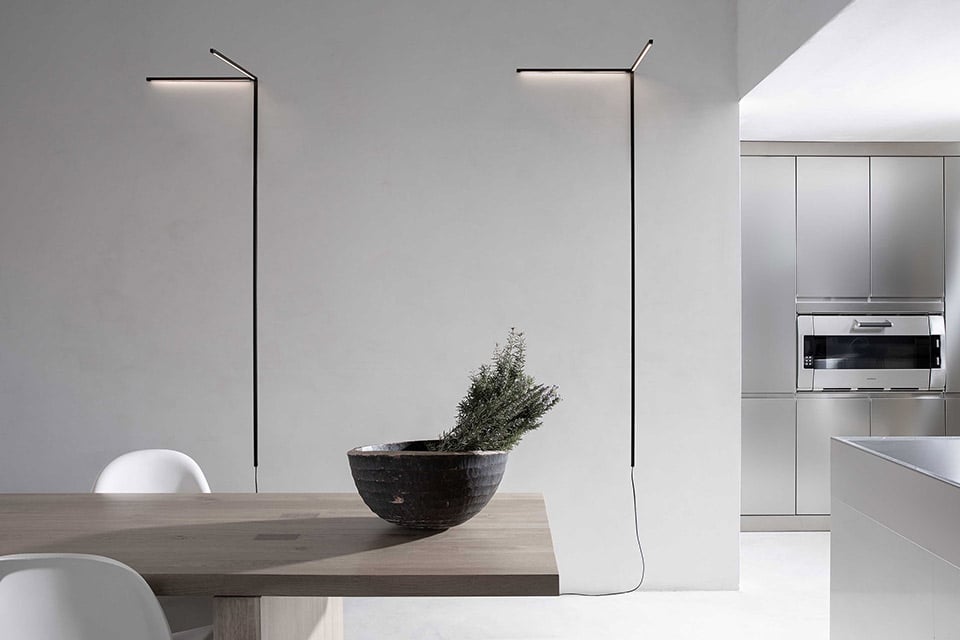 Accipicchio: when nature becomes inspiration
Accipicchio is a play on words that, through the disenchanted gaze of Matteo Ugolini, comes to life and form, becoming an original lighting fixture capable of evoking the fauna of the woods with a sophisticated and ironic effect.
It is a stalk of light on which a curious woodpecker sinks its pointed beak, perhaps in search of refuge or attracted by the intense light emanating from the light source.
Again, Matteo Ugolini managed to convey an evocative message through a new creation that brings back memories related to nature and the world of childhood.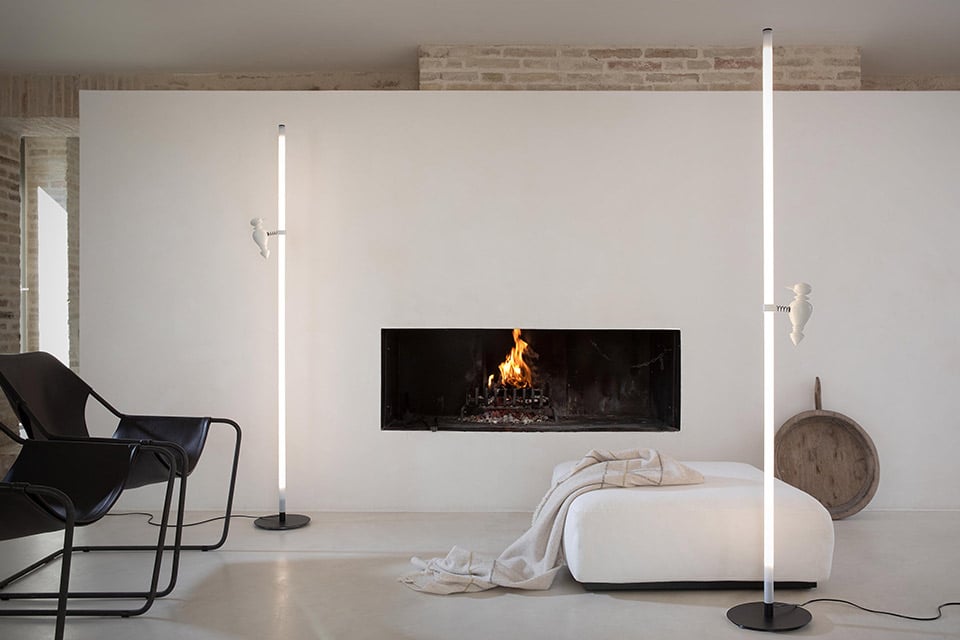 R.O.M.A.: beautiful and lively like the eternal city
R.O.M.A., an indoor ceiling light designed by Debonademeo, with its lively but at the same time romantic structure, reflects the energy of the eternal city and seems to echo the architectural silhouette of some of its historical monuments.
Concentric circles in plaster leave an empty space in the center, but when it is lit, it fills with a heart of liquid and intense light that guarantees direct lighting, spreading and reflecting in concentric circles on the lamp's surface.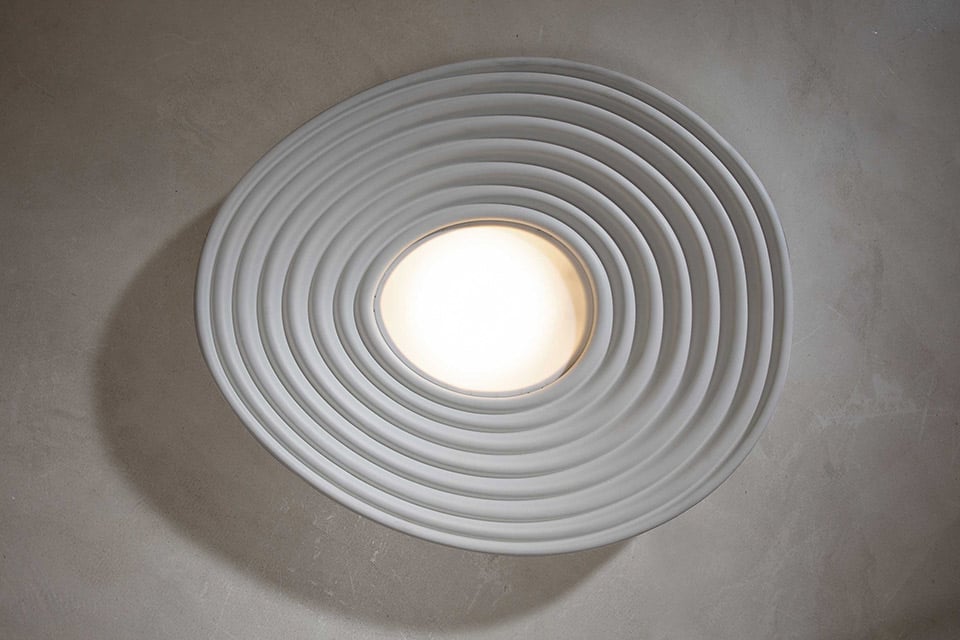 Pirla: a game of the past that illuminates memories
Pirla is a tribute to forgotten games, the simple ones that fascinated us as children.
It is a floor lamp with a refined and audacious concept, ideal for indoor and outdoor environments by Bizzarri Design Associati.
It is a white transparent resin structure, lying on one side as if it has just finished spinning, an allusion of the movement of the old spinning top.
The evocative design is reminiscent of the profile of a spinning top, one of the most mesmerizing and fun toys, which appeared in everyone's childhood, whose dance is summed up in a continuous turn and whirl: it intoxicates and captivates the gaze of young and old.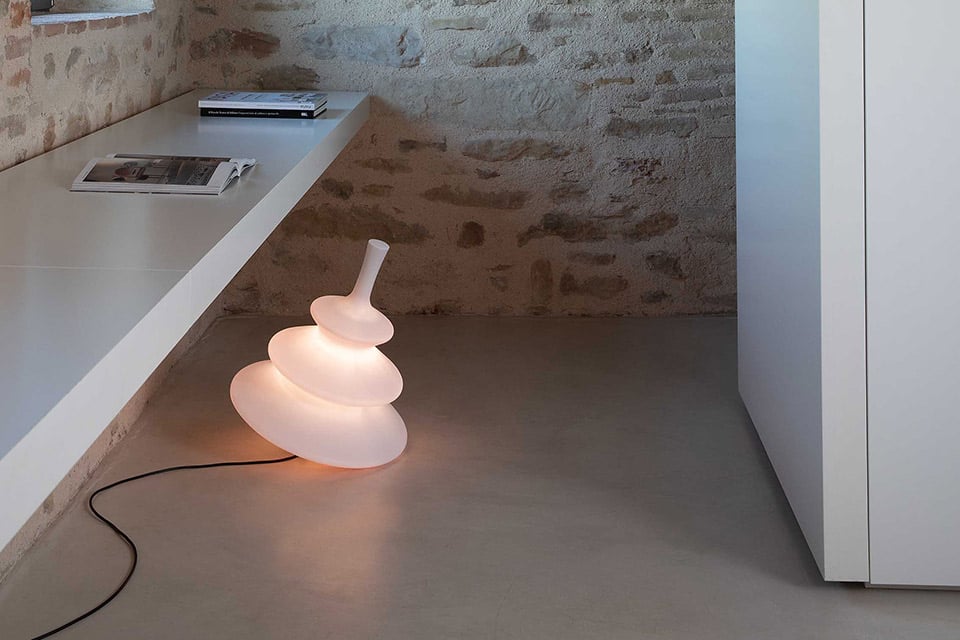 2020 Collection by Karman: feel the style of the new lamps with your bare hands
Here is the 2020 Collection by Karman: new proposals for lamps that reinterpret the concept of minimalism and sobriety by inverting its sign to an ironic and creative key, drawing inspiration from experience and nature.
For more information, support, and assistance in the correct choice of the right lamp models for your decorative lighting project, do not hesitate to contact us at this link. We are at your complete disposal.