From the ashes of the historical 1500 square metre space on two floors in Via de'Ginori 8 where, from the end of the 19th century, Florentine ladies could once find all they needed to lay their elegant tables, La Ménagère is now born, a unique space in the centre of Florence fully lighted up by Karman lamps.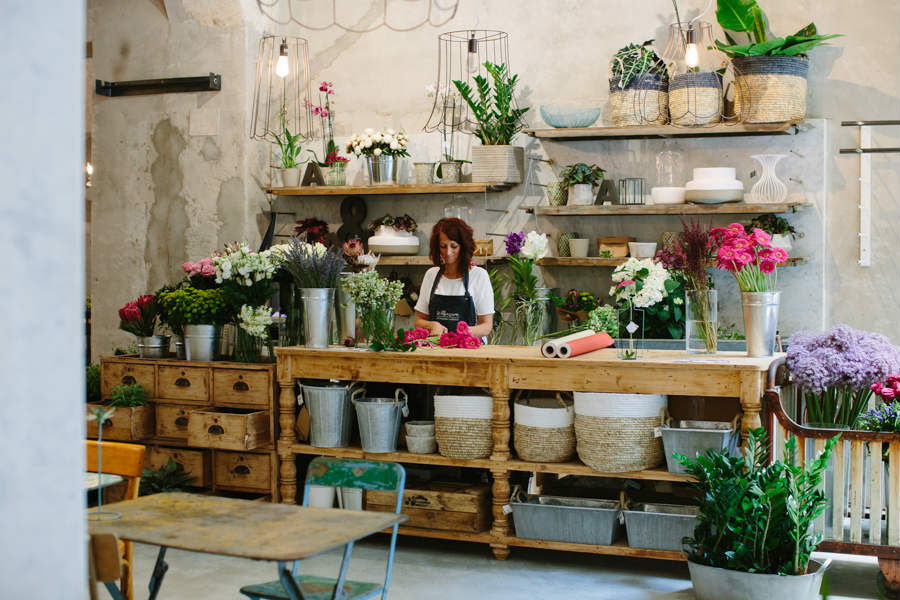 It is called a concept-restaurant, but is much more than that: a collection of tastes, flowers, fragrances, design items and live music; an unconventional space bringing several spirits together, where the architecture and interior design office Q-bic selected the brand Karman to light up the ten and more areas the large space is split into.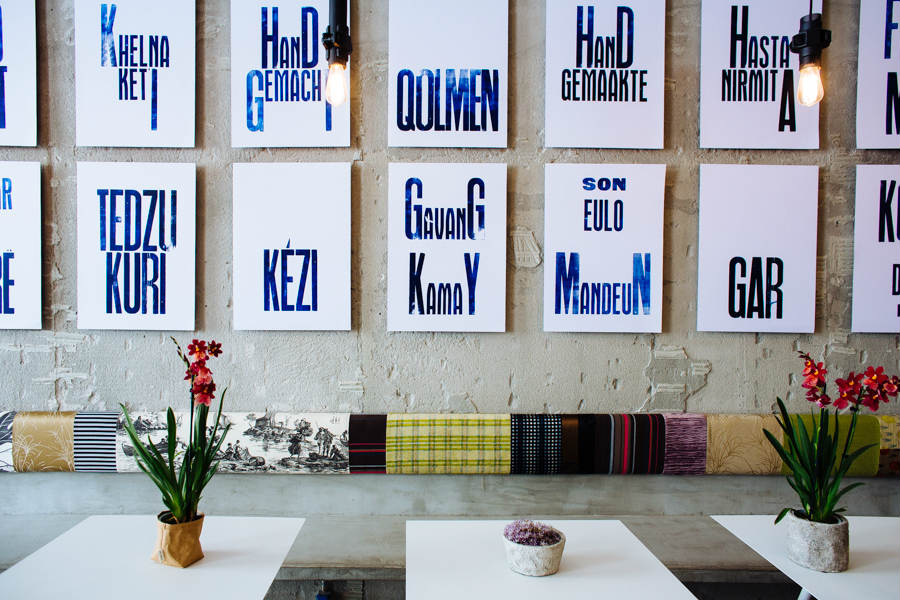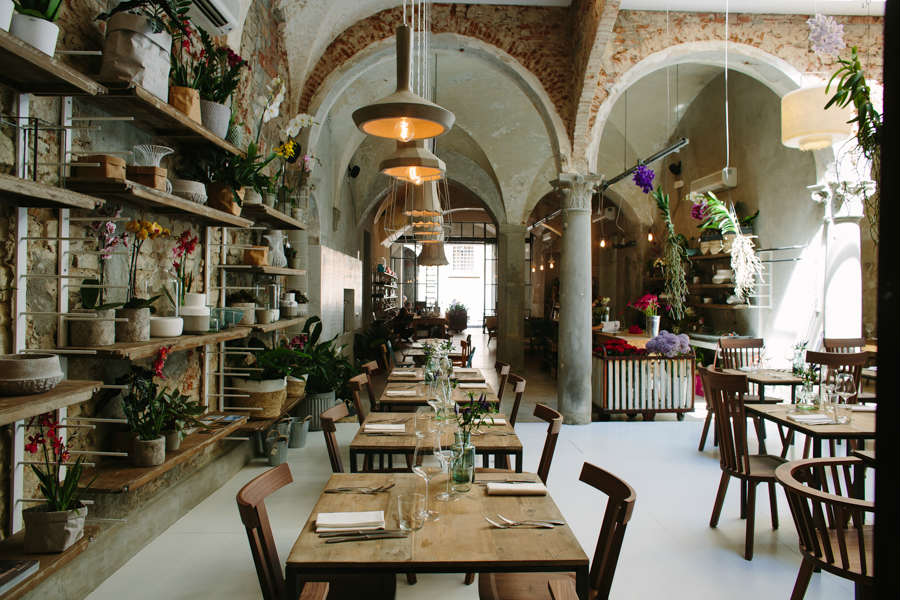 So many different environments under the high vaulted ceilings, all using industrial material, all united by a retro - thanks to vintage and recovered items - yet modern taste, thanks to supercool design furnishing and items including many Karman fixtures used - mainly suspended, but also table, wall and some floor lamps.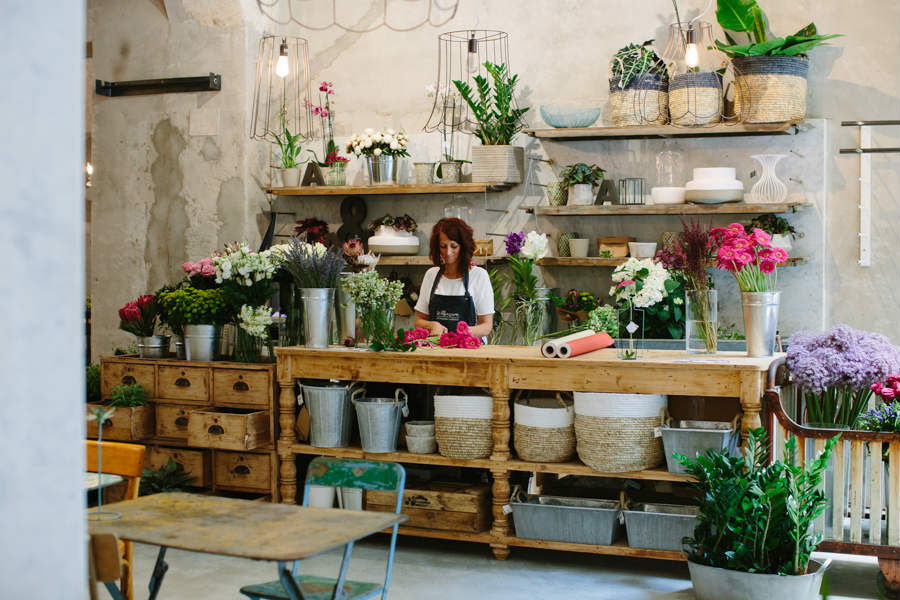 The large hall is lit by essential Kimono lanterns in white fiberglass and Settenani pendants in rough concrete. The model Dharma, designed by Edmondo Testaguzza has been wonderfully matched to that collection. The gallery's 18-metre long table is lit up by Deja–vu Nu, single arms in white ceramic covered in acanthus leaves as suspension lamps; while to the private room has been assigned Au Revoir: the majestic, white glass chandelier, all designed by Matteo Ugolini.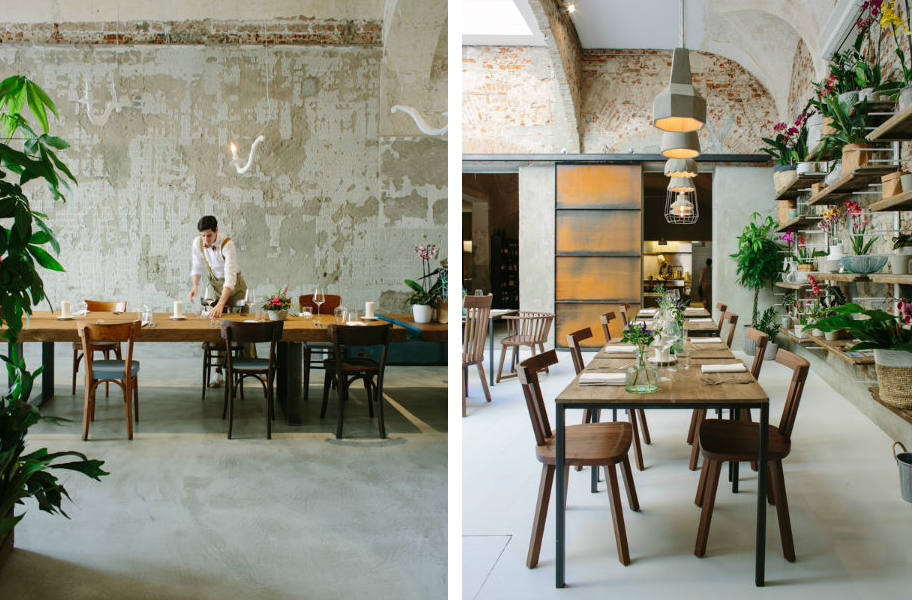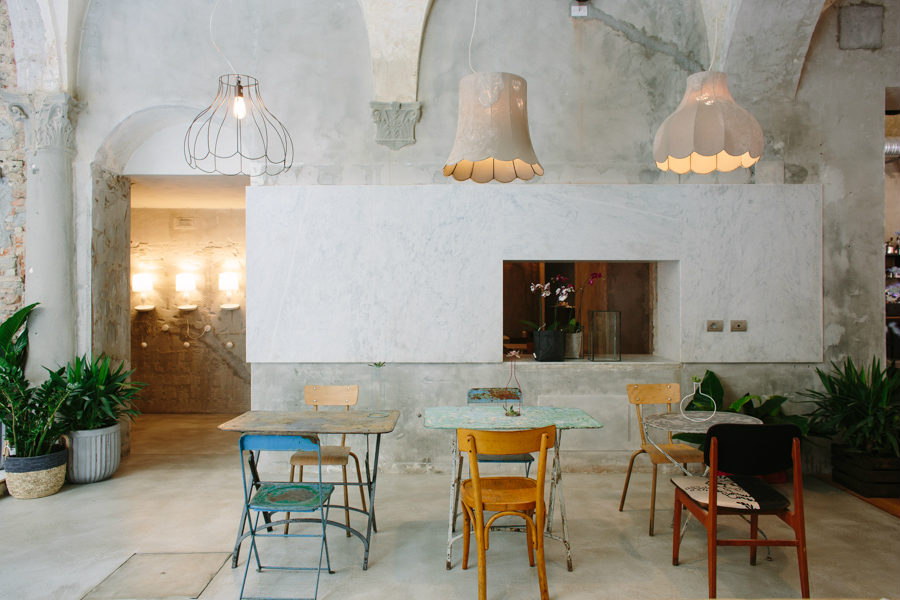 Shiny white ceramic for Gangster hanging over the kitchen and matt ceramic for Via Rizzo 7 reminding of old, roundish street lamps to light up the way to show cooking space.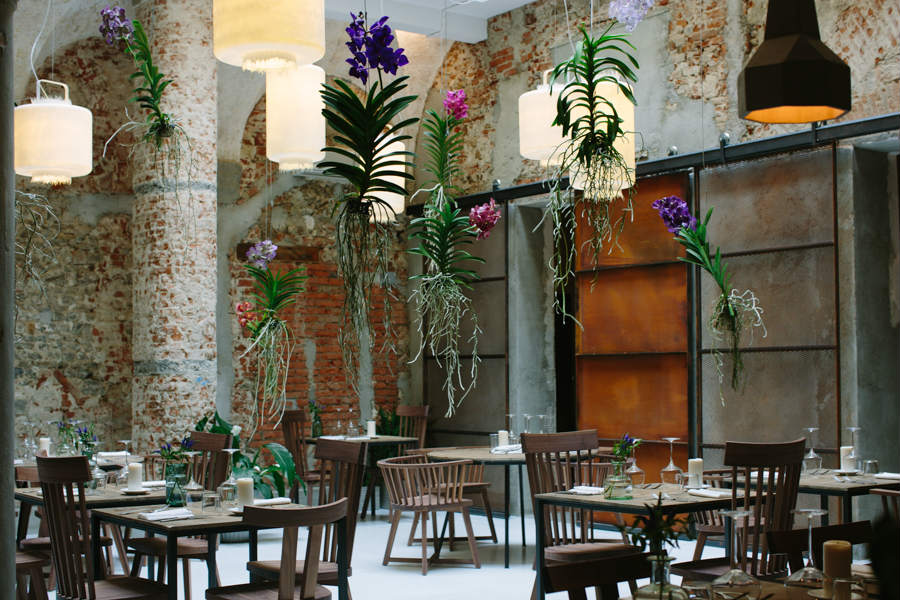 )" width="900" height="600" />
For Artemisia, the flower corner where you find rare plants and fresh bouquets following the rhythm of seasons: Lucilla, the suspension lamp with its bare iron structure and Life covered in denim with a vintage finish, also designed by Matteo Ugolini.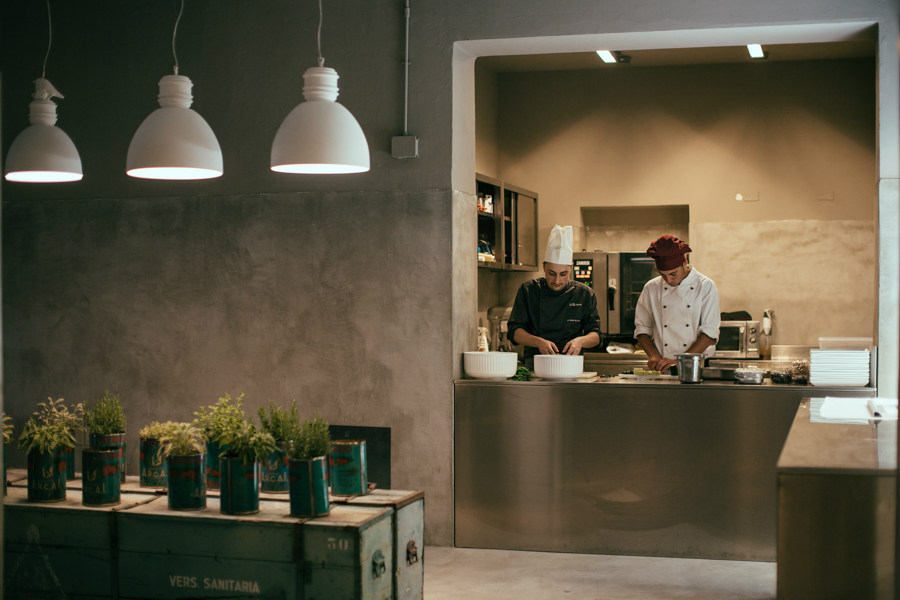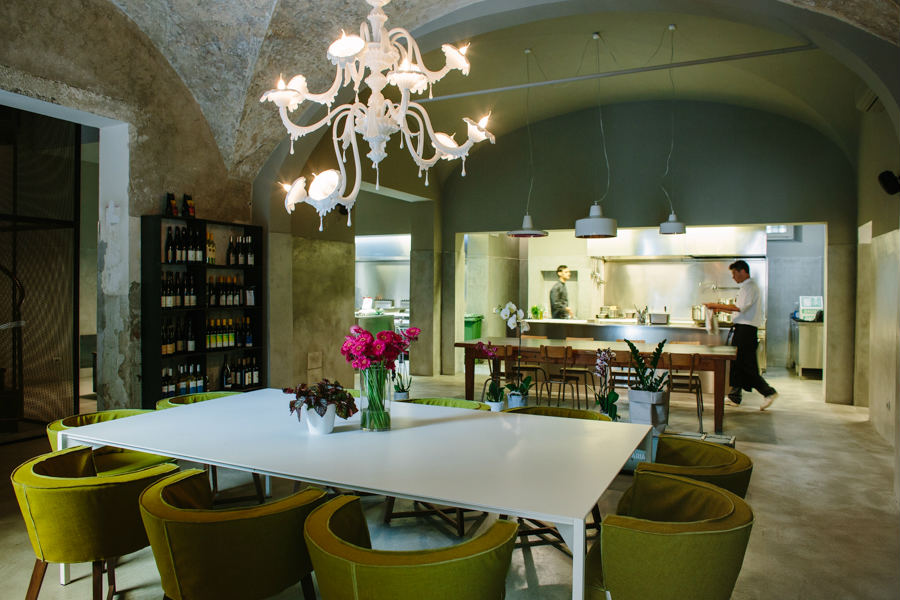 Then the Bar area, with its counter lit up by the oriental shapes of Alì & Babà, where Cristian Guitti, an international barman, offers his 'cuisine in a glass' - a lab for new alchemies and to experiment with the different preparation techniques for infusions, smoothies, smoking processes and much more still.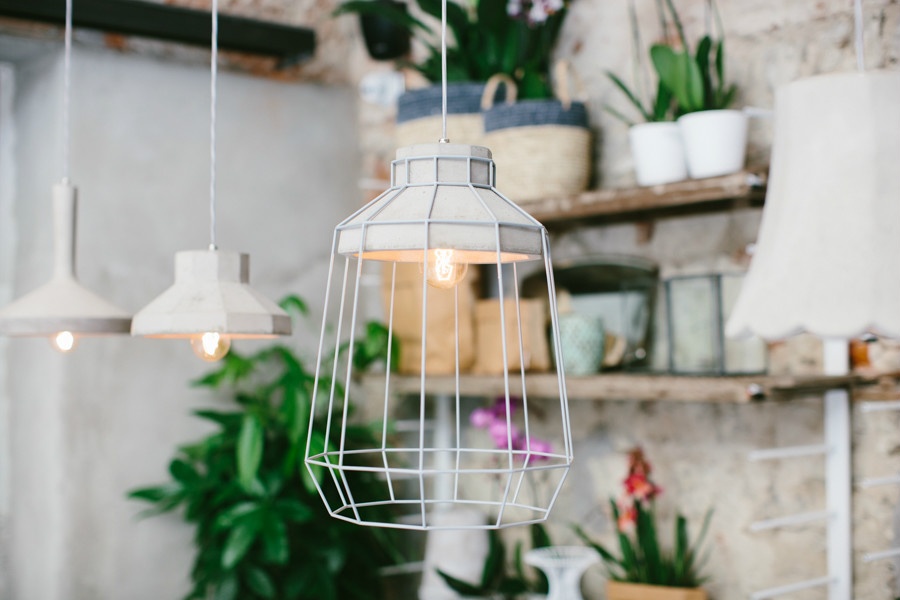 Coffee and pastries have their special space too: the caffè, lit up by industrial Nando, a metal joint grasping a micro-holed tube, designed by Luca De Bona and Dario De Meo a place where you can drink coffee with an international touch, but with care taken over the typical Italian taste blend.
There was no way to inherit the historical Ménagère spirit without paying homage to its DNA: that is why you can still find the store selling tableware, kitchen tools and a selection of really special items for home, all lit by Mek, Meccano-shaped hanging lamps, designed by Bizzarri Design and truly consistent with the spirit of the entire space and its taste.
Indeed a magic and unique place that make Florence more charming.