In the process of creating a lighting design project for private homes, it is essential to combine aesthetics and functionality to obtain a high-performance result, without giving up that touch of style that makes each atmosphere unique.
One of the most popular lighting styles at the moment, and the most popular for home settings given its technical-aesthetic versatility, is modern design.
It is the perfect aesthetic genre for the elegant and practical illumination of rooms in the chicest residences. Bedrooms, entrances, the living room, stairs, outdoor spaces: each location is suitable for hosting lighting fixtures with a contemporary charm.
In this article, we will take a look at the specific elements needed to realize a lighting project for a modern living room.
The 4 elements that cannot be missing in a lighting project for a modern living room
The modern style has always been a symbol of sobriety, minimalism, and formal refinement: characteristics that can be ascertained by closely observing modern designer lamps.
A silhouette stripped down of any ornamental excess, with clean lines, simple geometries and neutral colors, details that make each solution a real stylistic statement tool and extremely versatile and suitable for any context.
That being said, let's take a look at what can't be missing in the lighting complex of a modern living room:
Below, we will examine each point in more detail.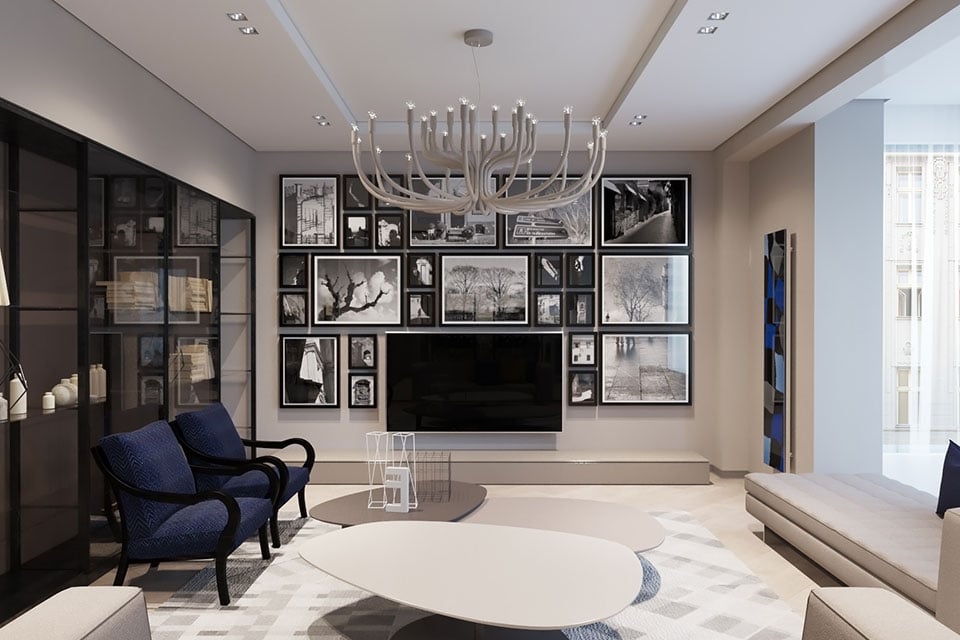 Snoob
1. A chandelier or central suspension in accordance with the table
First of all, to remain totally faithful to the modern style, we suggest choosing solutions with linear silhouettes and sober colors, made with shiny and resistant materials, such as glass, technopolymer, metal, and steel, for example.
Secondly, it would be appropriate for the chosen chandelier or suspension lamps to match the table in terms of style and materials.
Regarding the dimensions, consider the size of the table. If your client wants to play on the dimensional contrast, opt for an important light source, but still refined, otherwise, select a medium or small lamp.
For your project, you could choose Scrivimi: the right compromise between a refined taste and modern style. It has a white ceramic structure with a bold texture that echoes the typical ripples of paper. A lamp with a bold but classy design.
Alibabig has equal stage presence but is made with different materials. The fiberglass structure allows light to shine through and spread throughout the space softly and lightly.
If your client wants an authentic design object to illuminate the living room and complete the furnishing composition, opt for Snoob.
It is an impressive but sober chandelier, reminiscent of an antique chandelier but purged of any excess decoration, with arms that have clean and harmonious lines that bloom upwards, directing light into every corner of the room.
If, on the other hand, the client wishes to dare and create a composition of several lamps, you could rely on the stylistic compatibility of Gangster and Sisma, two luminous bodies with different styles that match perfectly.
On the one hand, the vintage charm of Gangster with its white ceramic structure and bronze-colored interior, on the other hand, Sisma with its impressive silhouette and the decisive stroke of its black metal rod structure.
Does your client prefer glass lighting solutions? Choose Ginger, a suspension in smoked transparent glass, ideal for a furnishing context with a modern taste.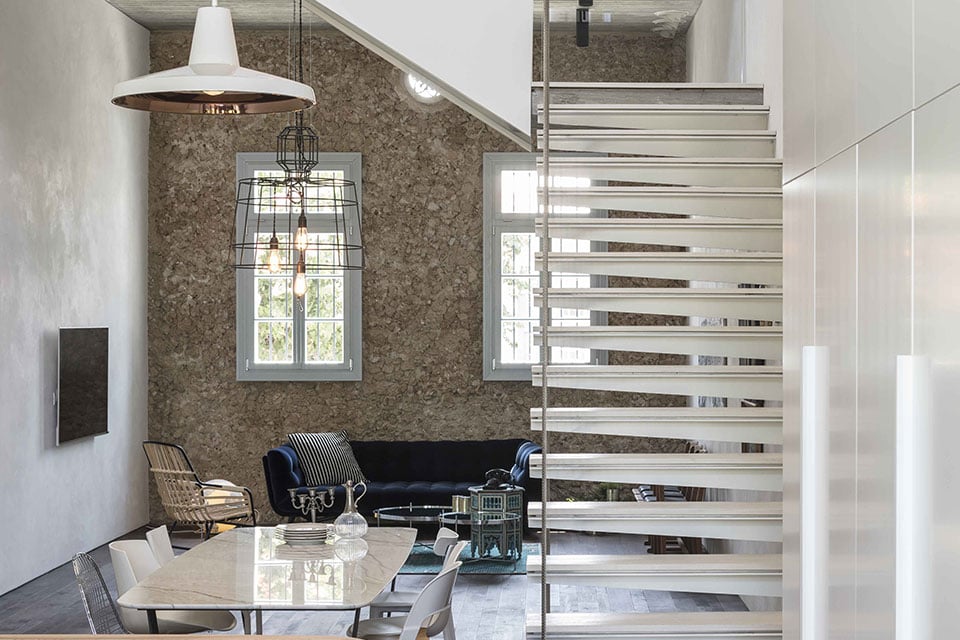 Gangster and Sisma
2. Table lamps on furniture to introduce scattered light points
We know that the best lighting projects for a modern living room involve the use of multiple solutions, both to introduce additional design elements and provide greater luminosity to activities in different corners of the room.
Therefore, we advise you to use modern table lamps, perhaps on TV furniture or a table.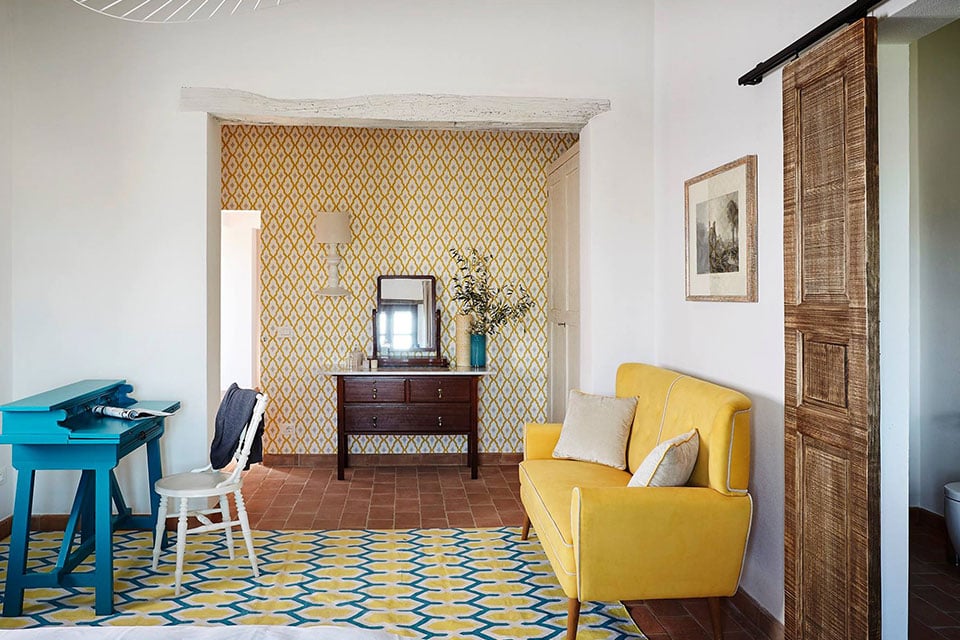 Alibabig
3. Standard lamps and/or floor lamps beside reading armchairs and sofas
To add more focal points of light and make the atmosphere even more stimulating and welcoming, select standard lamps or floor lamps to place next to elegant wing chairs or poufs, or simply on the sides of a comfortable sofa.
Ideal for this task is Black Out: a floor lamp with white painted metal structure and white fiberglass shade that offers ever-changing and enchanting patterns of light while guaranteeing functional lighting suitable for each location.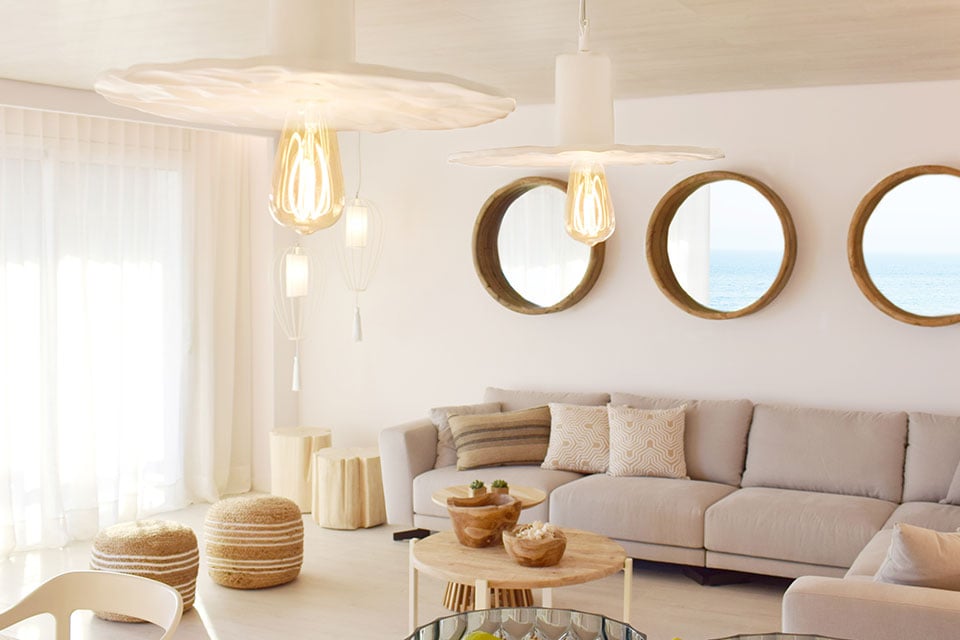 Scrivimi
4. Appliqués or built-in solutions to provide accent lighting
Finally, to highlight the wall decorations or ornamental details in the living room, install some appliqués or built-in solutions. In this way, you will give accent lighting to the details of the furnishing atmosphere.
In this case, you could select the Alì and Babà applique version and install it on the living room walls, to highlight the bold fantasy of the wallpaper or enhance the decorations hanging on the wall.
Alì and Babà has a matte ceramic structure and a simple but evocative design that is extremely versatile and functional.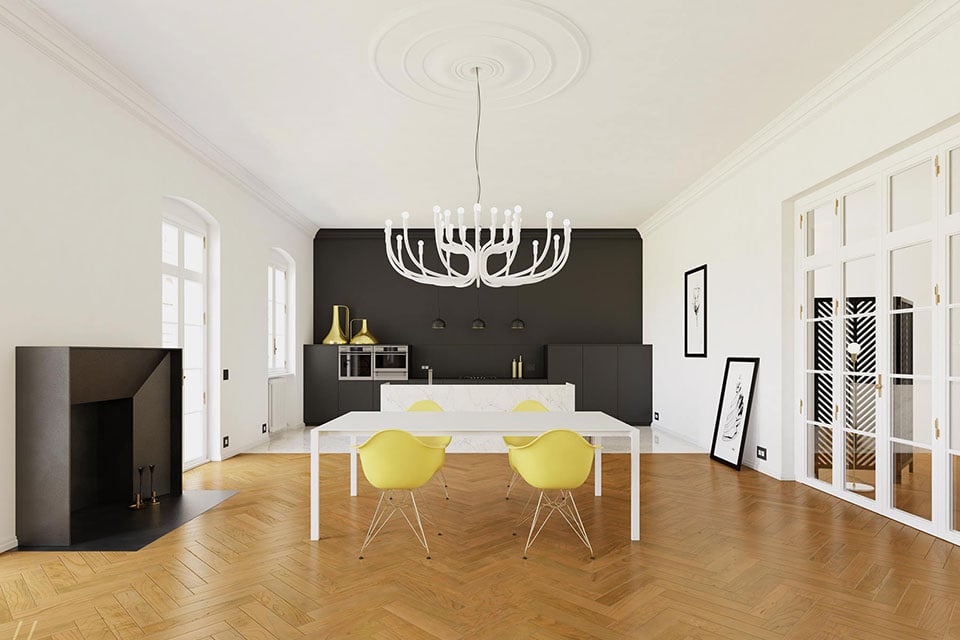 Snoob
Karman lamps in your lighting project for a modern living room
The solutions of modern lighting design stand out for their refinement and extreme cleanliness, giving the environment that they occupy a sober and sophisticated image as well as a highly functional lighting degree.
In this article, we have illustrated the essential elements for your lighting project for a modern living room. Now, you know that to satisfy your client, you won't be able to turn down Karman's modern designer lamps.
By choosing our creations, you will find the right inspiration to create an attractive lighting composition with great aesthetic appeal, giving the living room a fresh and elegant look.
For more information, support, and assistance in choosing the right models of lamps for your decorative lighting project, do not hesitate to contact us at this link. We are at your complete disposal.