Eclectic design is one of the best ways to decorate spaces with a bold style and creativity. It is one of the most popular genres of interior and lighting design at the moment because it can mix multiple styles and trends, giving us a result that has a great aesthetic impact that is never too obnoxious.
Dealing with a decorative lighting project for a home with eclectic aesthetics means choosing lighting fixtures with an original design that harmonize with the furnishing context created by playing on the contrasts of textures, shapes, and lines that are always different, but combined with taste.
In this article, we will give you some key tips for selecting the right lamps for a room with an eclectic style.
Lamps for a room with an eclectic style: 3 tips for making the right choice
As has already been said, the eclectic stylistic code in lighting design, as well as in interior design, is based on the bold combination of different motifs and decorative materials that at first glance seem to clash with each other, but, in the end, give the environment a fresh and dynamic appearance.
To achieve a surprising result, we recommend following our 3 key tips for choosing lamps for a room with an eclectic style:
Let's analyze each point in detail.
1. Choose suspensions with sinuous lines
Eclectic lamps, in addition to illuminating the environment they occupy, should act as real design objects and decorate every corner of the room. To make a style statement, choose suspensions with sinuous lines such as Ghebo by Luca De Bona and Dario De Meo or Déjà-Vu by Matteo Ugolini.
On the one hand, we have Ghebo, made with chromed metal and transparent artistic glass, whose sinuous shape echoes the features of the meandering pattern of the Venetian canals that line the lagoon—a bright body with a decidedly captivating design that combines style and technical quality to perfection.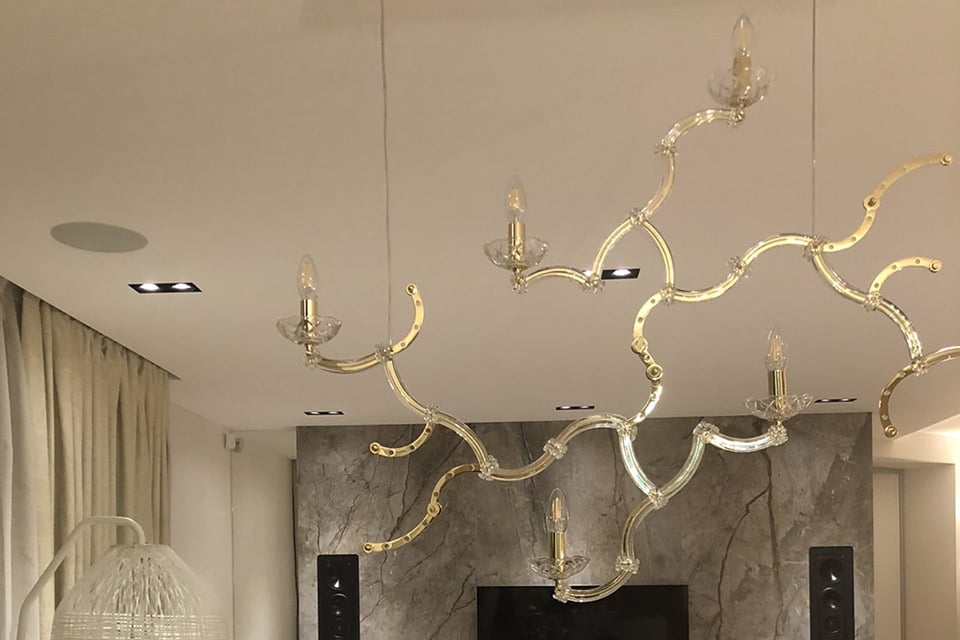 Ghebo
On the other hand, we have Déjà-Vu with a retro character, which, with its curvilinear arm enlivened by floral bas-reliefs and its linen lampshade, is able to provide light and decorate the rooms with innate elegance.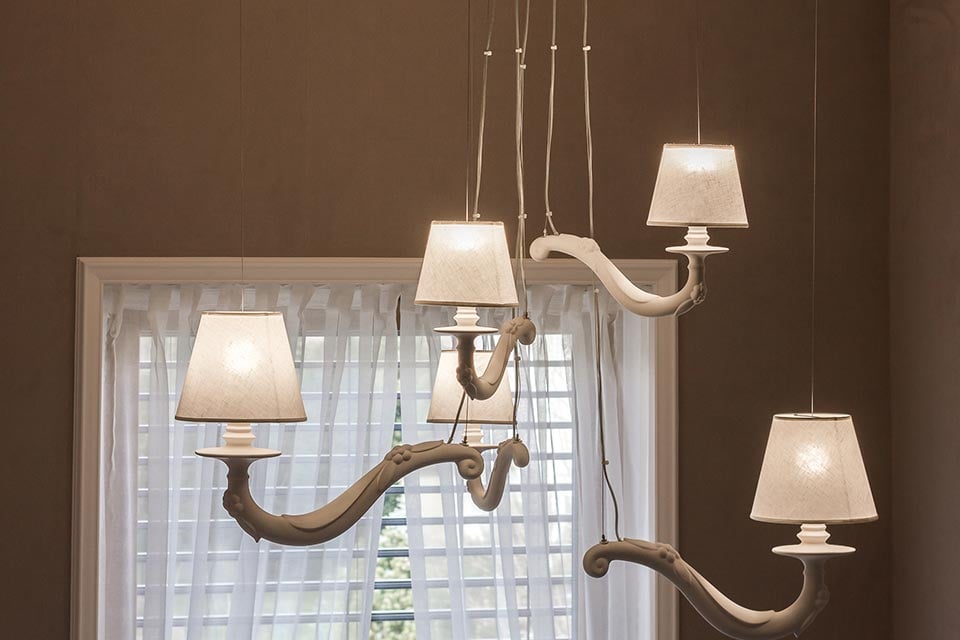 Déjà-Vu
In any case, whatever your final choice for the project you are working on, these solutions will create a point of detachment with the rest of the furniture but without departing too much from the eclectic mood; on the contrary, they will highlight it boldly.
2. Introduce table lamps with an evocative shape
Decoration and a touch of accent lighting? Why not.
Lighting is synonymous with style but also with functionality. To guarantee both in equal measure and introduce an element of decoration with an evocative shape, we recommend choosing Ti.Vedo.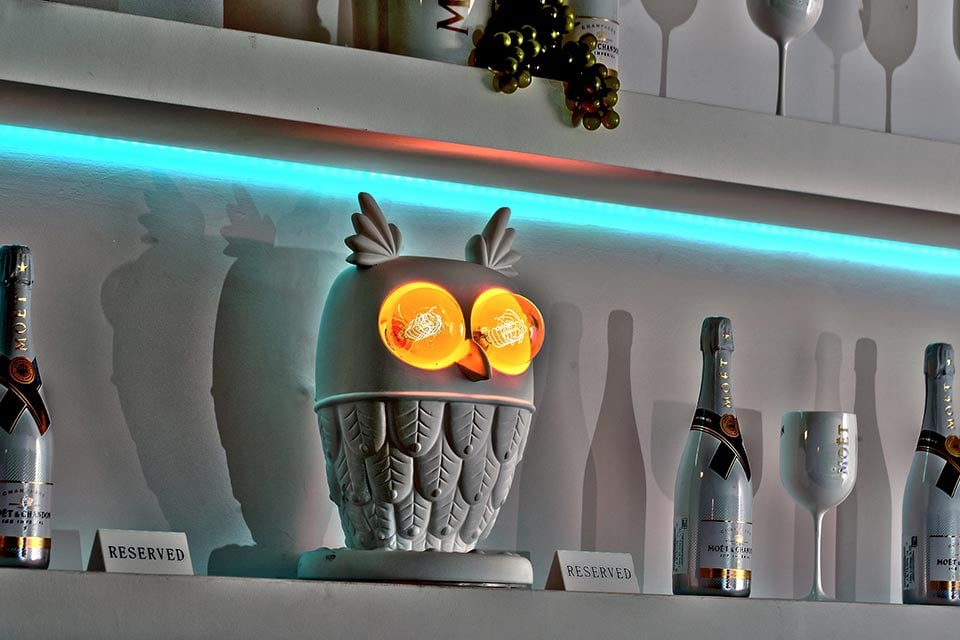 Ti.Vedo
It is one of the table lamps from "Karman's Zoo" whose aspect is reminiscent of a curious perched owl intent on scrutinizing and illuminating spaces. The white structure is made of ceramic, the ideal material to highlight the details that make this solution an authentic ornament.
3. Opt for large ceiling lamps with a geometric cut
If the client prefers models with more marked lines, they should opt for ceiling lamps with a geometric cut such as Notredame by Luca De Bona and Dario de Meo.
It is an ideal lamp for a room with an eclectic style, with its rose window in white technopolymer with a Gothic inspiration, renewed in the most decisive taste and shapes.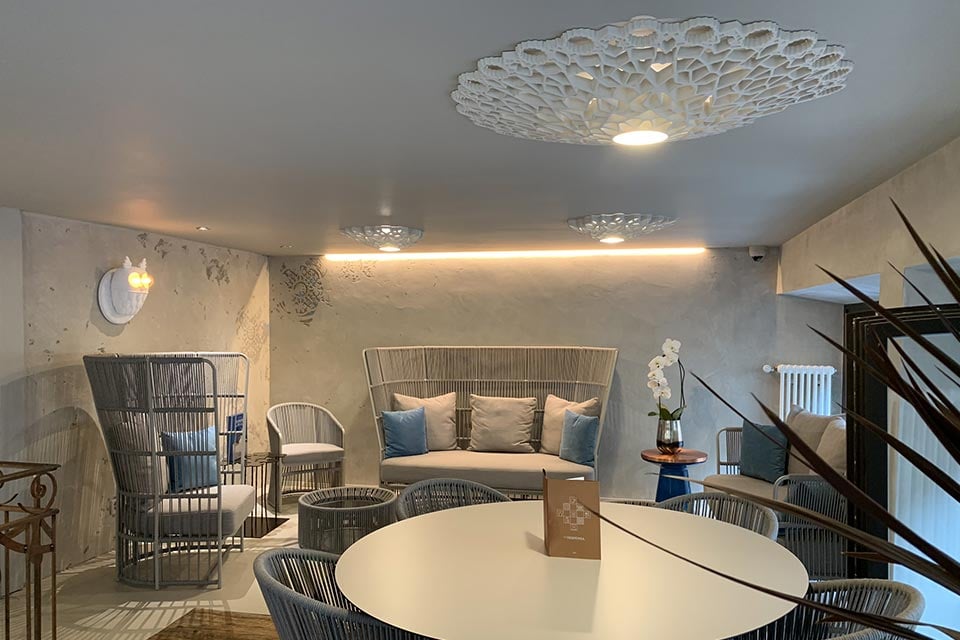 Notredame and Ti.Vedo
Karman: the ideal lamps for your project's eclectic room
The lamps for a room with an eclectic style can come in various looks and silhouettes: in any case, it is essential to choose the most suitable model for the furnishing atmosphere.
You will know that you have chosen the perfect solutions because, once installed, they will instill a pinch of personality in the room and add an intimate touch.
Giving new light to the interior of an eclectic home is not entirely easy since there is such a fine line between too much and too little in such a context...but in the end, it is not impossible as you might think.
To create a lighting design composition with a perfect eclectic style that respects the client's personal taste, follow our suggestions, and you will get an impeccable result!
For more information, support, and assistance in choosing the right lamp models for your decorative lighting project, do not hesitate to contact us at this link. We are at your complete disposal.