Passion for creativity and evocative charm, tradition, and innovation and love for made in Italy: these are the factors that make up the aesthetic and qualitative figure of Karman, the Marche lighting design brand that has made its lamps instruments of stylistic expression as well as real industry-inspired icons.
A light forever is the creed of every member of the company staff, especially the designers who make up the creative team: the true custodians of the eternal, poetic, and suggestive message that each Karman lamp is able to transmit.
With countless collaborations and projects in Italy and abroad, this time, Karman goes to Emilia-Romagna in Italy in miniature, the theme park that displays the Italian artistic and architectural beauties that aim to entertain and educate a large audience of visitors.
In this article, we will talk about the highlights of this new and stimulating experience--Karman lamps illuminating and becoming active participants in the most extraordinary Italian architectural landscapes and measuring themselves with their innate magnificence, enhancing them with a new light.
The signature of Karman's Made in Italy at Italy in miniature
Italy in miniature preserves, in 273 small-scale faithful reproductions of the major cities of the Bel Paese, the essence of our cultural heritage, which made the names of the greatest Italian artists and architects great and indelible in history all over the world.
To complete the miniature scenarios, Karman lamps have been added: perfect variations of creative design and Made in Italy manufacturing. With great versatility and elegance, each solution stands soberly next to important monuments, palaces, and architectural structures.
With simplicity and transparency, each luminous fixture gives a new image to the iconic scenographies without disturbing their contemplation or distorting their poetry, but rather enhancing them, creating new stories and visual suggestions.
Bacco illuminates the Trevi Fountain and the Spanish Steps in Rome, two of the most extraordinary views of the eternal city. A veil of opaque luminosity crosses the satin glass structure giving soft and tenuous light to the spaces.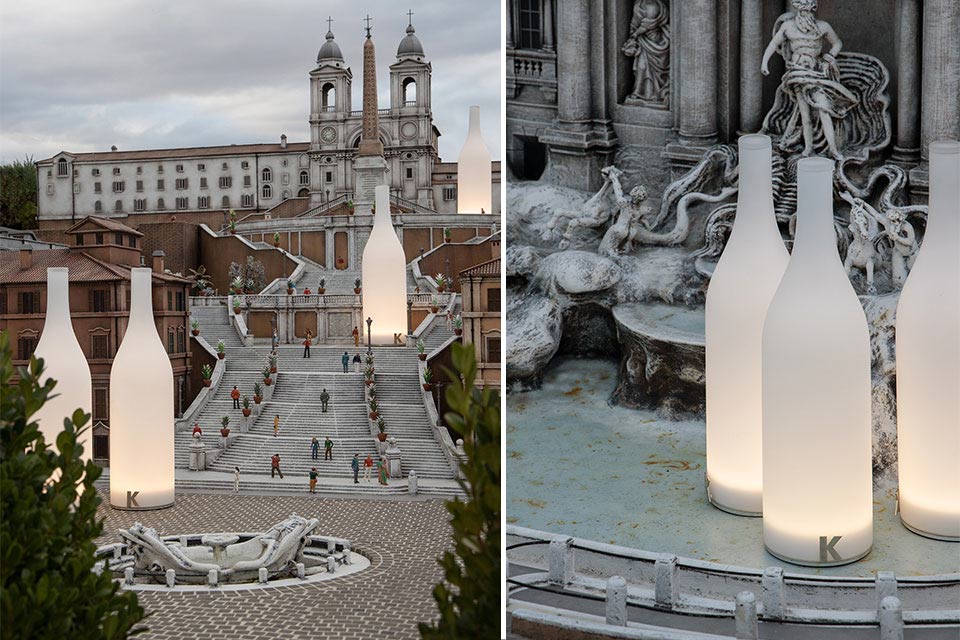 Bacco
Ululì-Ululà, a fiberglass globe with lace inserts, illuminates the Basilica of San Pietro, like a small sun. It is a religious place known all over the world, often crowded in reality, which finds its solemn spirit thanks to one of Karman's proposals with the greatest stage presence.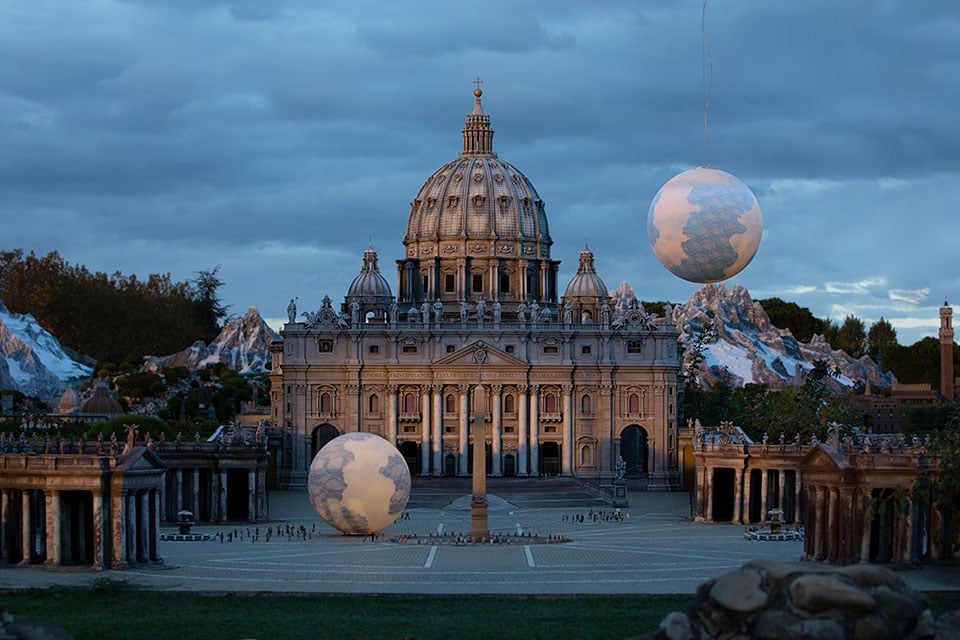 Ululì-Ululà
Cell, in the suspension version, floats gracefully over the Colosseum, one of the most ancient and precious treasures of the Italian cultural heritage. It is a surprising scenario in which history meets modernity materialized in a lighting design solution with minimal and sophisticated charm. Versatile and refined, we find Cell, in a floor lamp version, also in Piazza del Plebiscito.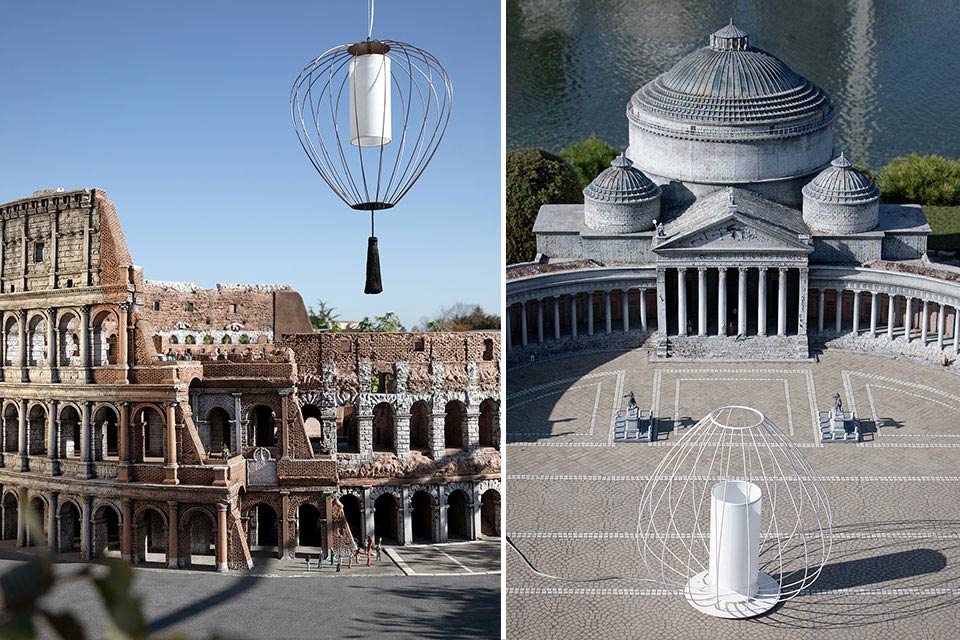 Cell
Norma M is near the Tower of Pisa, almost as if it were walking, this curious lamp, reminiscent of a vintage style lampshade, scatters light throughout the surroundings of Piazza dei Miracoli.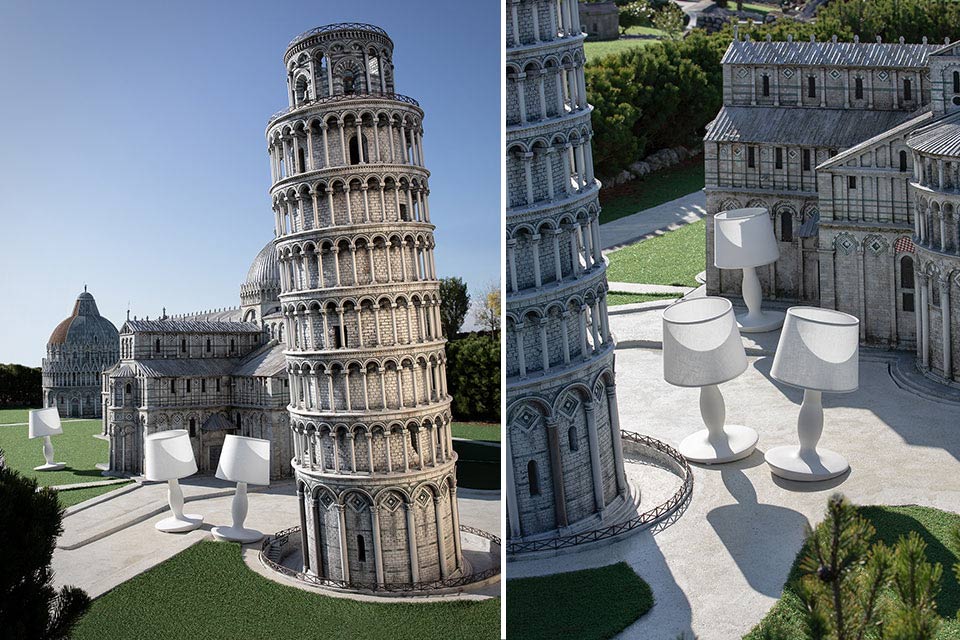 Norma M
Ottavo also appears in some of Italy's best-known landscapes. The evocative shape of this lamp recalls in all respects the most famous characters of the fairy tale "Snow White and the Seven Dwarfs" and as one of them seems to be wandering here and there, exploring and illuminating St. Mark's Square in Venice.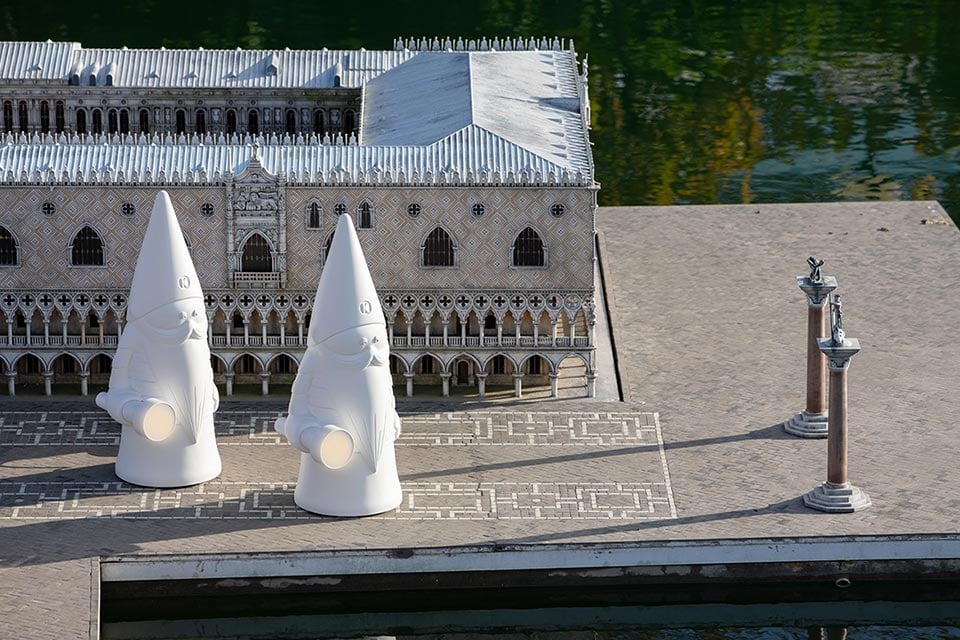 Ottavo
We see Don't touch in all its elegance next to the Milan Cathedral. The linearity of its structure and candid color make this lamp an almost inevitable element in this iconic scenario of the Milanese city, almost as if it has always been part of it.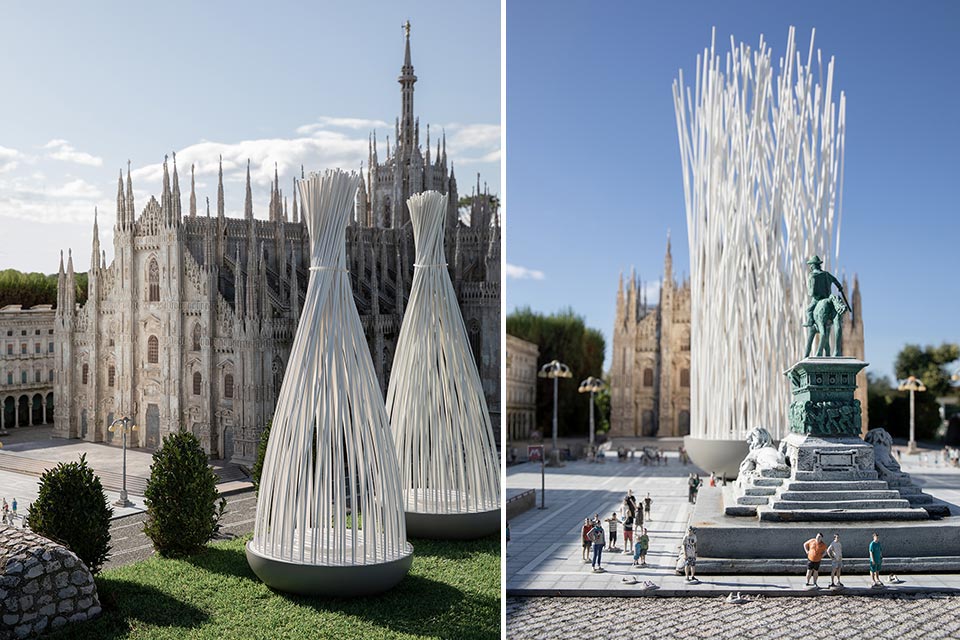 Don't Touch
With its structure in white metal rod, linear and with a decisive stroke, Sisma stands out in the center of Fiumicino Airport in Rome. The combo of this industrial-style lamp in the center of a vast airport area seems to convey a message with a subtle allegorical character: tall and slender like a lighthouse, Sisma stands outside, next to the boarding gates and illuminates the runways are are widespread and homogeneous.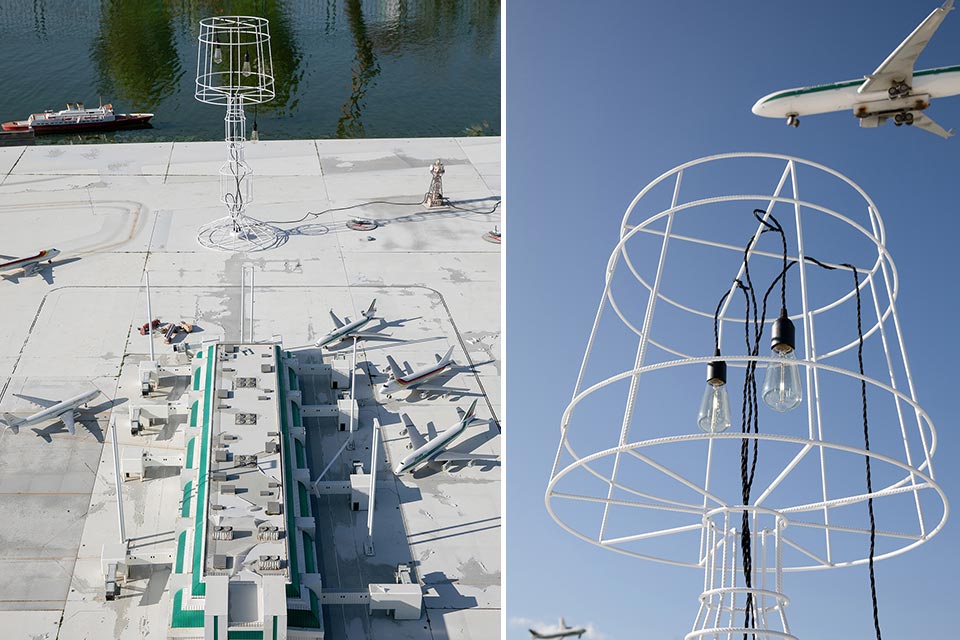 Sisma
Tobia "leans" against the Pirelli skyscraper in Milan and near the Central Station. The Milanese city in miniature dominated by what looks like a pitchfork: the most modern places in the Lombard capital seem to have been visited by a huge creature who, in a hurry, seems to have forgotten about a curious work tool, capable of emitting light and surprise with its luminous magic.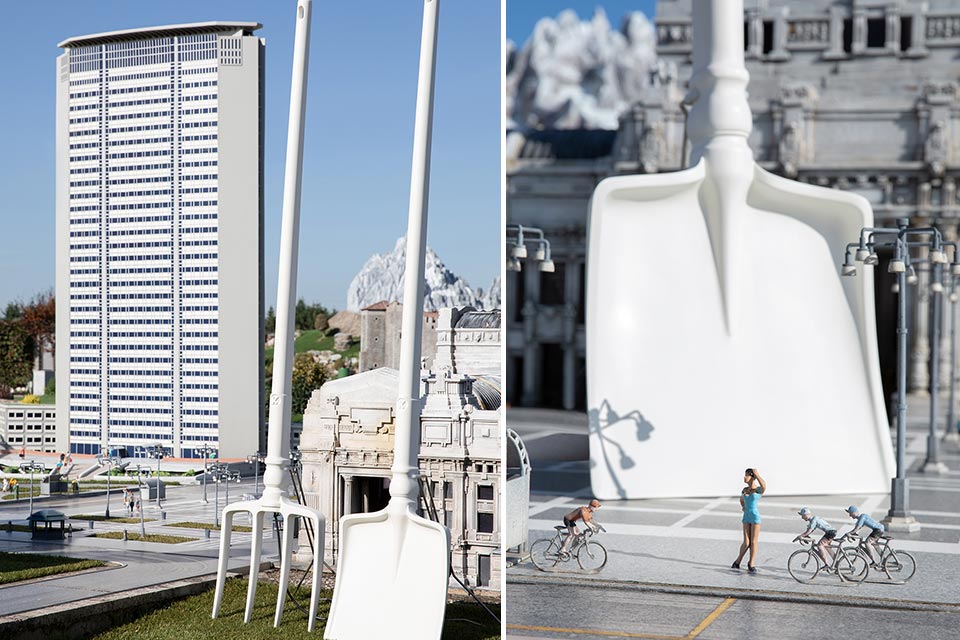 Tobia
Seen from above, the Eden lamps are majestic, but at the same time graceful, in the gardens of the Royal Palace of Caserta. The slightly arched and curvilinear shape of these lamps follow the silhouettes of stylized leaves, and they lie quietly next to one of the most sensational attractions of the architectural panorama of Italy, giving the miniature a vaporous and soft brightness.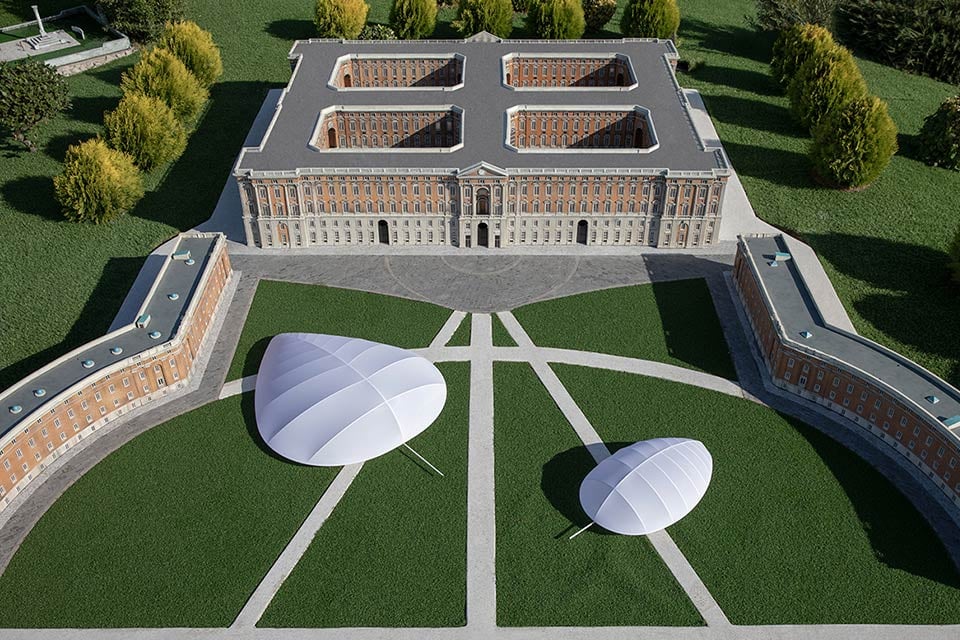 Eden
Like a spotlight on an old-time diva, Bag illuminates Castel del Monte in Puglia with a beam of bright and energetic light. It is an octagonal mass built in antiquity that still stands solid and majestic and stands out for its undeniable stage presence and magnetic visual potential and, thanks to one of the Karman design solutions, rediscovers light and charm.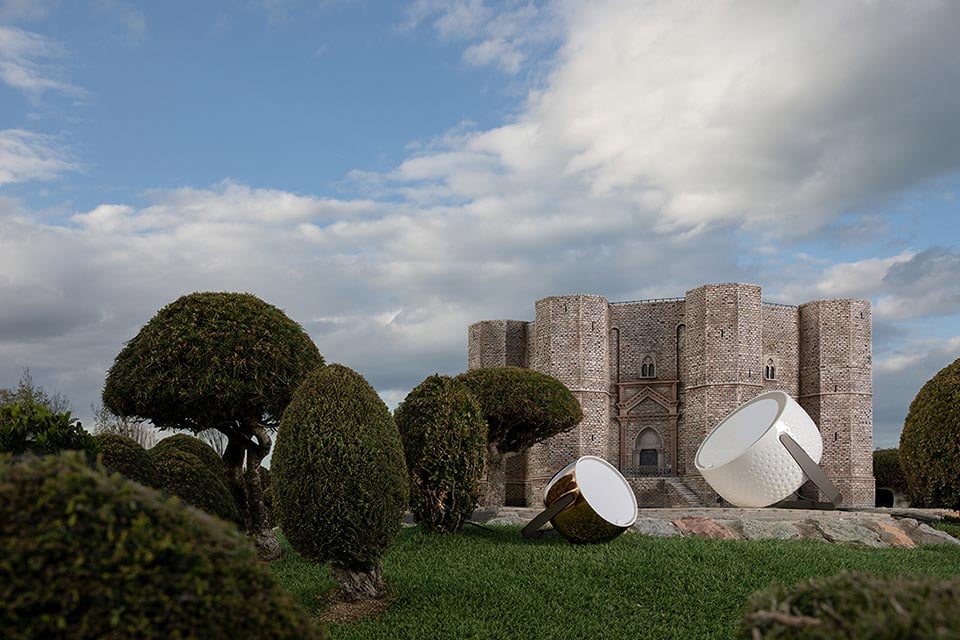 Bag
Cultural heritage and made in Italy design: a sublime union
With this collaboration, thanks to the Karman lamps, as if by magic, new realities have emerged: the boundless charm of the major Italian artistic and architectural attractions is brought alive and focused through a new light combined with the creative design of Karman.
A professional experience of the union and synergy between art, architecture, and design: ancient Italian splendor meets the new--the Italian modernity that does not lose value in any way since it is Made in Italy.
For more information, support, and assistance choosing the right lamp models for your decorative lighting project, do not hesitate to contact us at this link. We are at your complete disposal.