The passion and desire to continuously evolve push the Karman designers to tell a new story through lighting. Light and matter merge, giving life to lighting fixtures with a bold design, high performance, and a strong aesthetic impact.
In this combination of characteristics, the synergy between innovation and lighting design resides: decorate and create beauty without sacrificing functionality and visual comfort.
Karman zoo lamps: original essence, eclectic soul
The brand's decorative lighting solutions are concrete proof that, through the fusion of light and design, it is possible to create something new and original, drawing from everyday life and memories and finding inspiration from objects, symbols, and details that often elude us.
From standard and ordinary things, the most surprising and innovative splendor arises. Karman zoo lamps are abstract ideas that have become concrete creations: original light sculptures with an eclectic soul that echo the features of some of the most curious creatures from the animal kingdom.
We are talking about lamps by the designer and art director Matteo Ugolini that animated the streets of Palermo and that we can find in the Sicily Market Experience catalog. In particular:
Let's take a closer look at the peculiar characteristics of each lamp.
Cubano
This lamp has a curious aspect that amazes the observer. A toucan with a large beak and plumage reminiscent of lace perches on the wall and catches the observer's eye.
Cubano is a matte white ceramic wall lamp that, if turned on, illuminates its environment with an intense and direct ilght. When it is turned off, it furnishes and decorates the wall in an original way like a true furnishing element.
This lamp has an unmistakable style that can excite observers in any location: from a private home to a chic restaurant.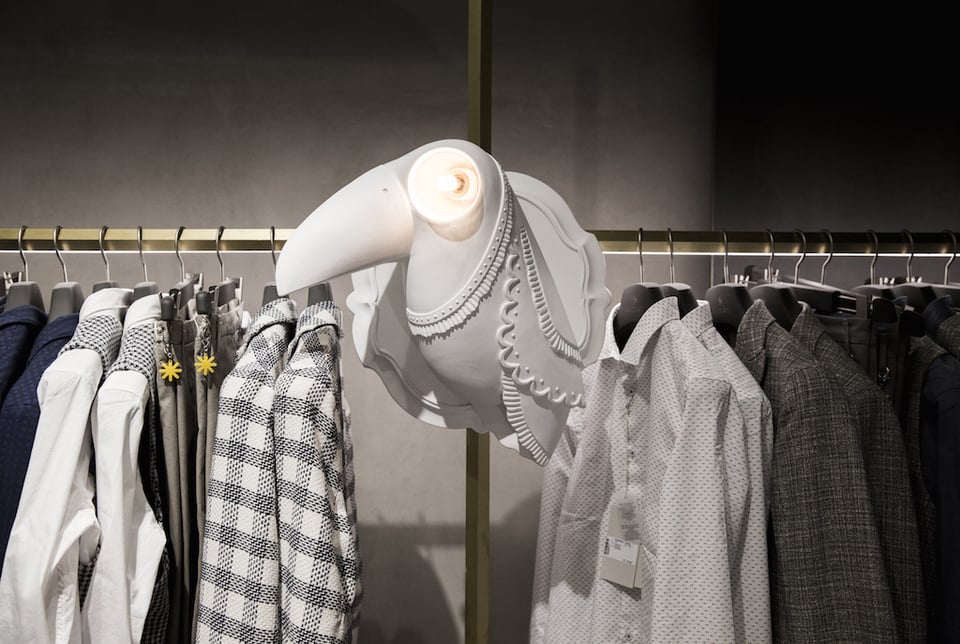 Cubano
Marnìn
Marnìn is another playful and fun realization. This wall lamp plays the role of a curious reindeer that emerges from the wall and illuminates a room with direct light.
Its versatile model adapts to any setting: the children's room, a clothing store, a small café or even in the transit areas of a hotel.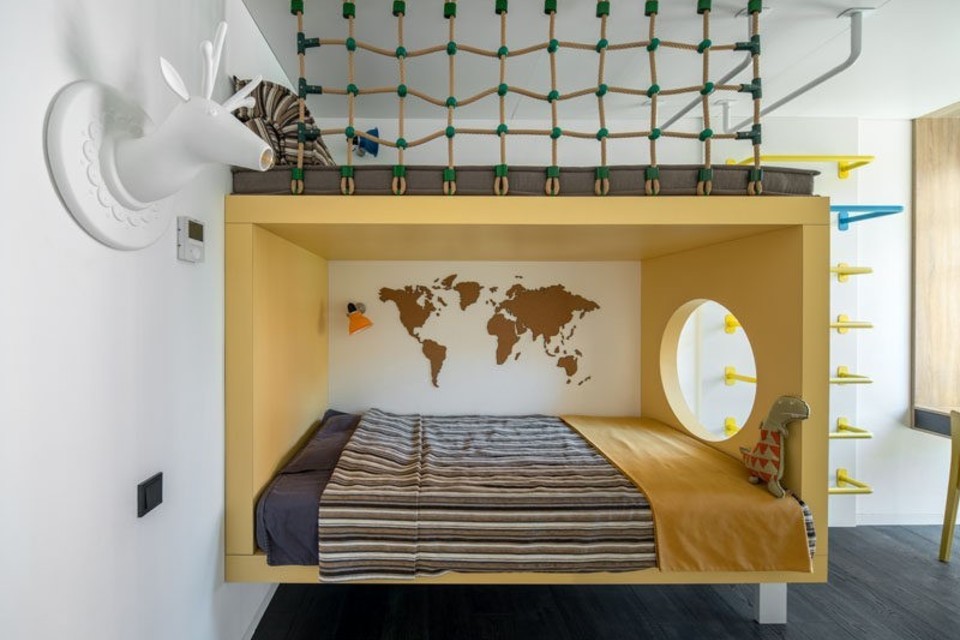 Marnìn
Ti. Vedo
Ti. Vedo is a white ceramic owl that observes its surrounding environment with curiosity, providing spaces with streams of direct light.
Once again, Karman has given us an object that plays on innovation and lighting design: perfect for various environments within bars, restaurants, and even homes.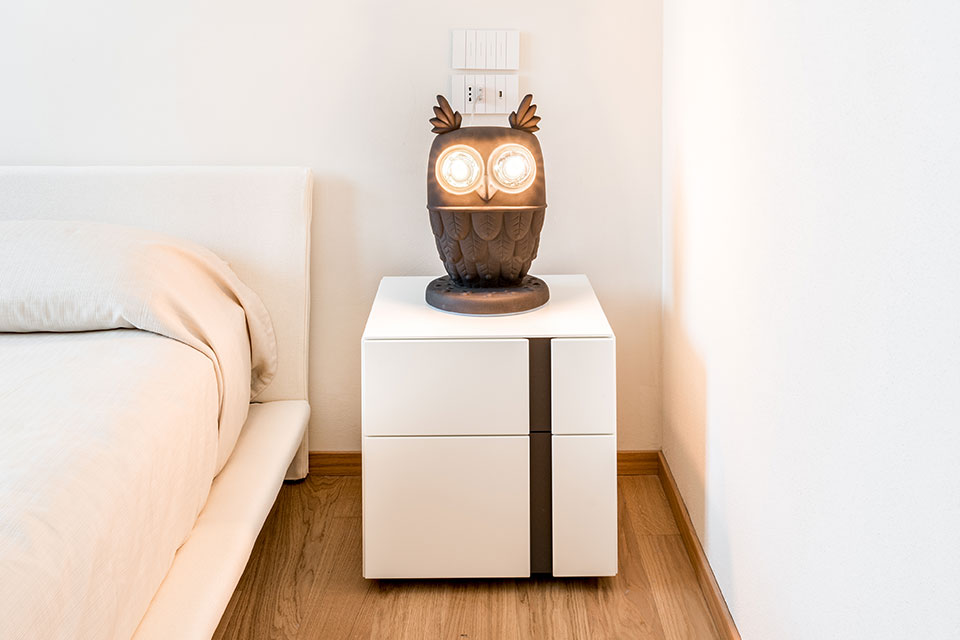 Ti.Vedo
Aprile
Aprile is covered with leaves and floral decorations and is a fish-shaped white ceramic wall lamp.
This light source is suitable for restaurants and can also be a playful and decorative element in children's rooms.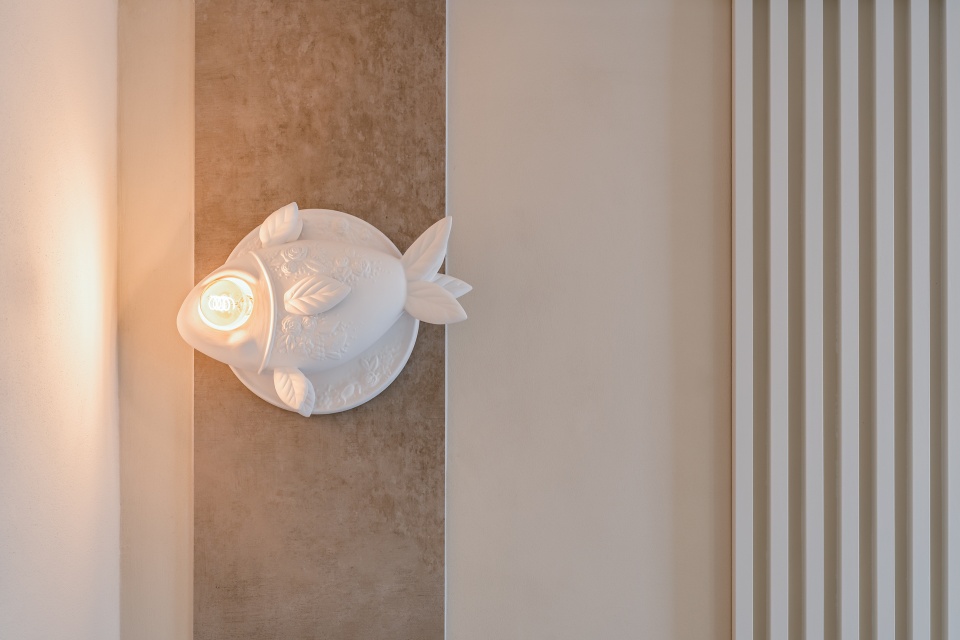 Aprile
Ugo Rilla
Ugo Rilla is the undisputed protagonist of this collection. This wall lamp has an eccentric and strong personality. It comes in white or matte gray ceramic and traces the features of one of the most iconic animal figures of typical Hollywood imagery.
The king of the jungle bites into three LED bulbs with different shapes (black or total white), the result of human technology, and enters the human habitat with a threatening manner, illuminating bars and restaurants.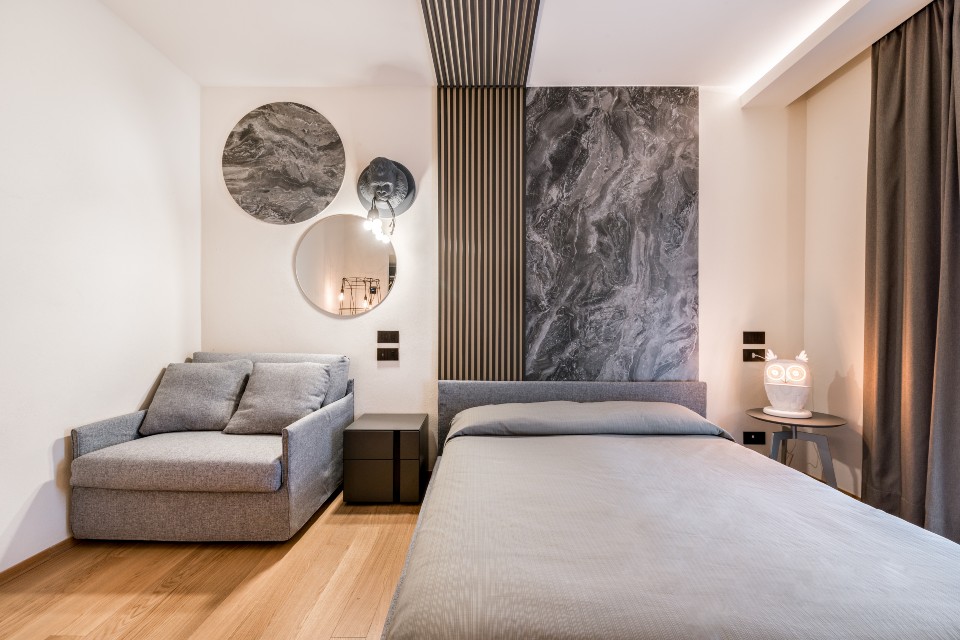 Ugo Rilla e Ti.Vedo
Amsterdam
Amsterdam is another member of the collection. It is a white or matte grey ceramic wall lamp that embodies the quintessential symbol of the well-known Dutch city.
It has a whimsical and unconventional character that adapts to both the most contemporary and the most minimal environments that need a bolder decorative touch.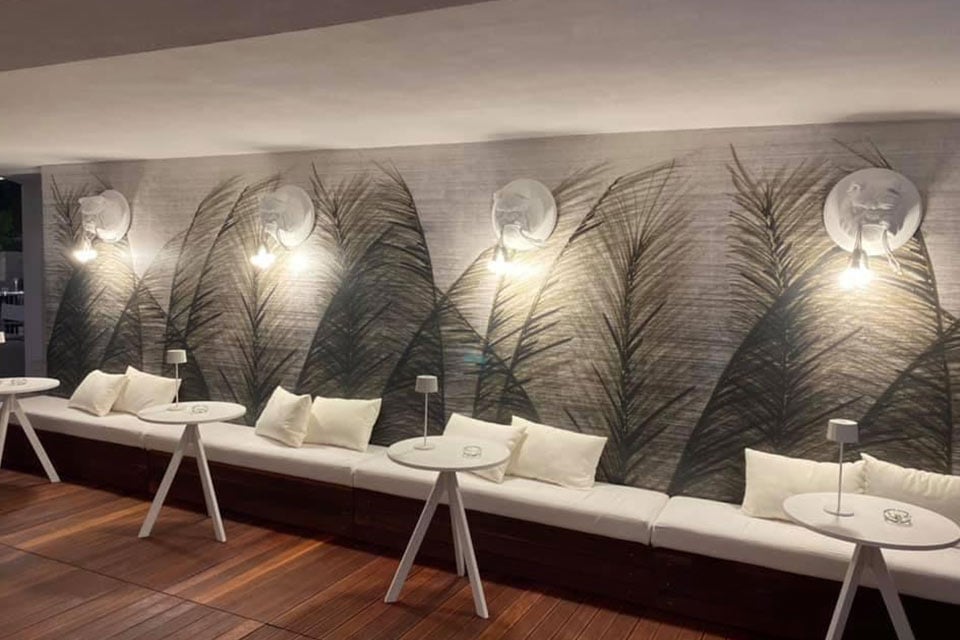 Amsterdam
Karman lamps: original and versatile solutions
Each one of these lamps is a star in the Karman universe.
This dimension of lighting design creates lighting solutions with a captivating and versatile style that is functional and has great visual appeal thanks to creativity, passion, grandeur, and inspiration.
Karman zoo groups together models with a strong unconventional personality that fully embrace the philosophy of our new claim.
Don't miss out on Karman's new collections: be fascinated by new innovative lighting concepts.
For more information, support, and assistance in choosing the correct lamps for your project, do not hesitate to contact us at this link. We are at your complete disposal.