Among all the novelties in the catalog, in this article, we will dedicate ourselves to Fireman: a designer floor lamp of great technical-stylistic value.
Fireman by Karman: essentiality in all its charm
Fireman was born from the creative mind of Marc Sadler: a French designer specializing in 'esthétique industrielle' and constantly searching for innovative materials and cutting-edge technologies.
The name and design of this floor lamp are an authentic tribute to the telescopic aerial ladder of the fire brigade.
The structure in matte black aluminum gives, on the whole, a sense of lightness and makes the silhouette of the lamp slim and tapered.
Fireman is equipped with a movable and adjustable pin that rises and extends, reaching a height of 3 meters and 20.
Furthermore, it is composed of two adjustable LED lighting fixtures of different diameters, which can be dimmed separately via the "Karman app".
The light source gives the environment both filtered and direct light, thus offering optimal lighting for any environment.
In fact, Fireman has technical features that allow you to place it in various design interiors. Thanks to its versatility, it can find a place:
in homes or elegant restaurants
in accommodation facilities or bars with a more informal atmosphere
Let's take a look at the most suitable positions for this lamp.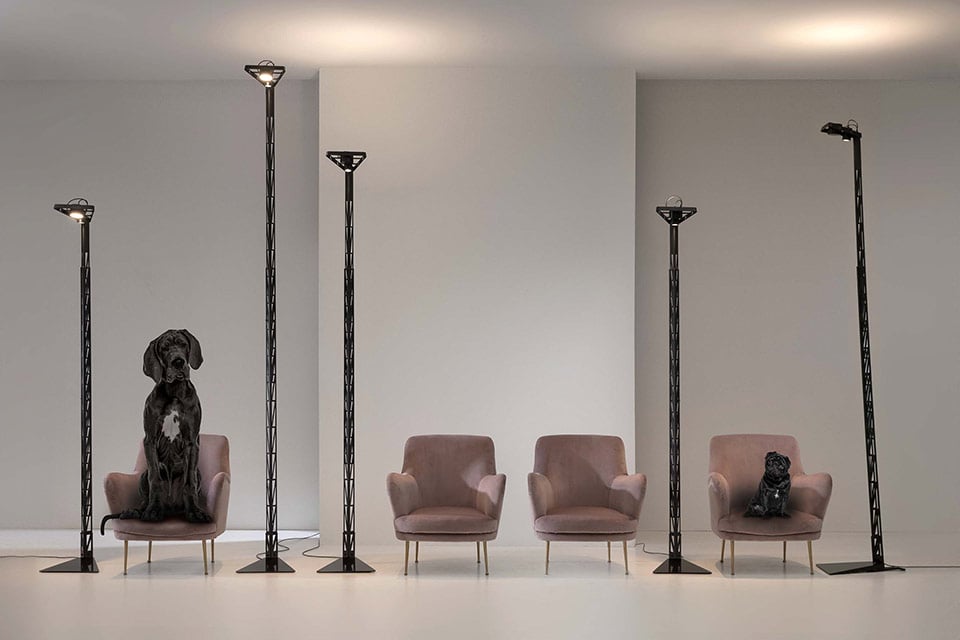 Fireman
Where to place Fireman inside private homes and chic restaurants
Floor lamps are useful for providing both accent lighting and task lighting, so they must be positioned in suitable locations.
For example, in the context of decorative lighting for the home, Fireman could be placed next to the sofas and armchairs of a cozy living area, inside a study, or in a small library.
Direct light is ideal for working, studying and reading without tiring your eyes.
While as decorative lighting for a restaurant, it could act as a furnishing element and at the same time a light source to highlight decorative objects or architectural details.
The right place for Fireman in a bar or hotel room
Among the lighting of an accommodation facility's room, floor lamps should never be missing. In this case, Fireman would be perfect in a reading room, a lounge area, bedrooms, or even next to the armchairs of a reception area.
On the other hand, in the lighting scenario of a bar it could complete the composition of industrial-style furnishing and offer directional brightness to tables and coffee tables inside the venue's rooms.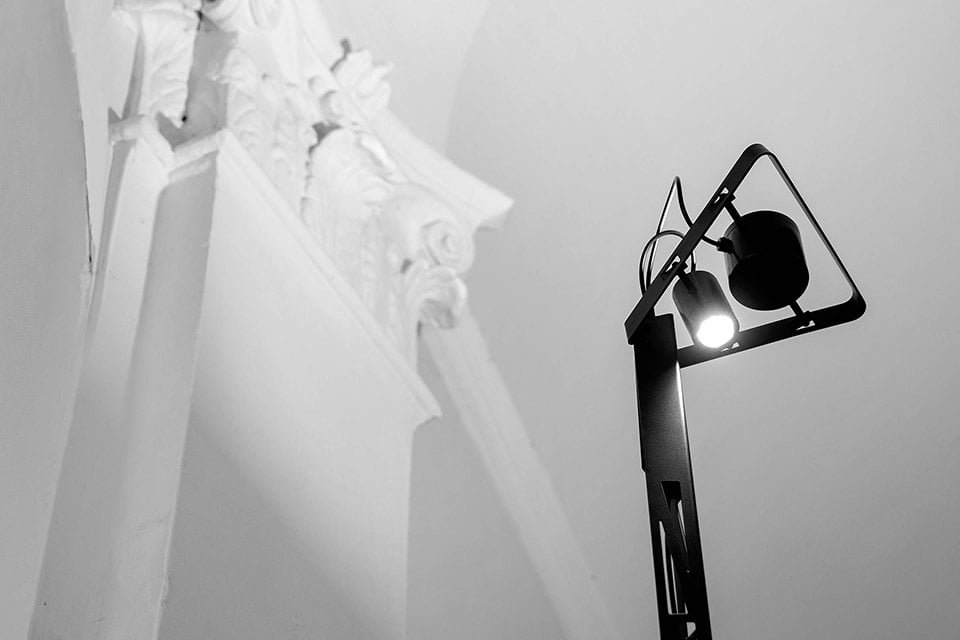 Fireman
The innate versatility and minimal style of Fireman by Karman make it suitable for any context
Karman talks about itself through new ideas of light that come to life in bold collections with unusual aesthetics that, for this reason, never lose their authenticity.
Fireman by Karman is perfect for any furnishing and design context.
Choosing this lamp for a high-profile lighting design project means investing in a quality product that perfectly combines performance, style, and functionality.


For more information, support, and assistance in choosing the correct and most impactful lamp models for your decorative lighting project, do not hesitate to contact us at this link. We are at your complete disposal.