Lighting is undoubtedly the element that furnishes the bathroom more than any other. So we should pay more attention to the bathroom: in principle, it is a not very large room capable of providing various services and full of objects.
For these reasons, the bathroom needs different light sources, positioned in different areas such as the ceiling for general light or around the mirror to help you put on makeup or shave. And it is also necessary to place them in all the areas used for other activities.
Lighting plays a significant role in your bathroom style, so choose the right lamps to enhance your spaces: the material, shape, and color must reflect your taste and, at the same time, be truly functional.
Karman's materials are resistant to humidity and vapors deriving from water and are corrosion resitant. You will find many designer lamps to choose from, so you can coordinate them with your bathroom furniture.
Natural light is certainly always preferred throughout the house. However, since we are talking about the bathroom, like in the kitchen, you will need to take advantage of precise, specific lighting. So, it is of fundamental and functional importance to choose the right lighting fixtures.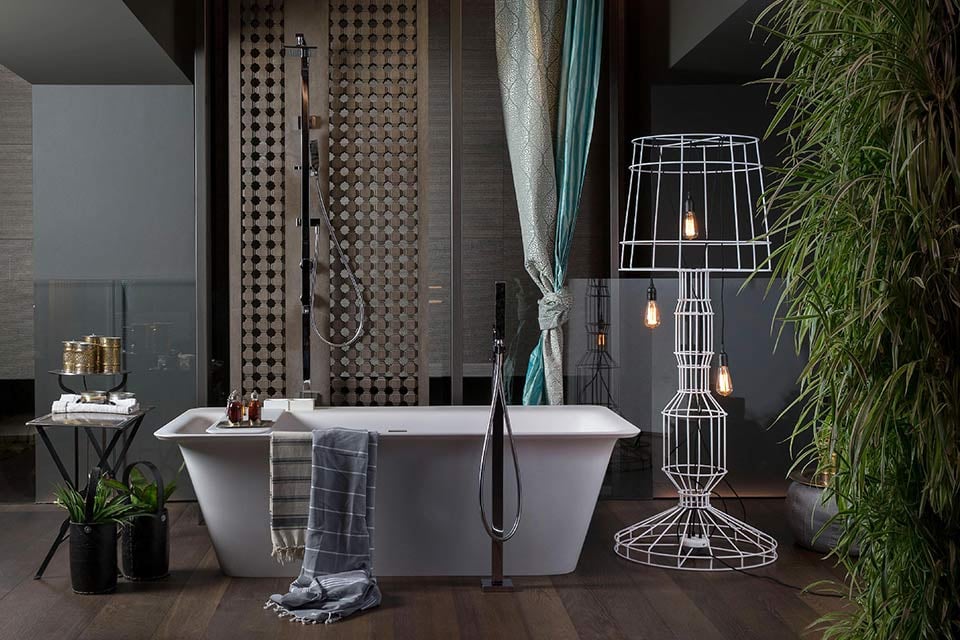 Sisma
How to perfectly illuminate your bathroom
There are often small windows in the bathroom and, in some cases, they are completely absent.
You may not be able to enjoy natural light at all. However, even if it is present, it will not be sufficient to carry out all your activities, especially those where certain precision and attention is required.
Therefore, for general lighting, you can choose a soft, white light, similar to natural lighting; this effect can be obtained with designer ceiling lamps, such as Karman's R.O.M.A. lamp.
It is made with white plaster and a white satin PMMA structure and has a unique shape that recalls ripples in water, the perfect metaphor for a room like the bathroom.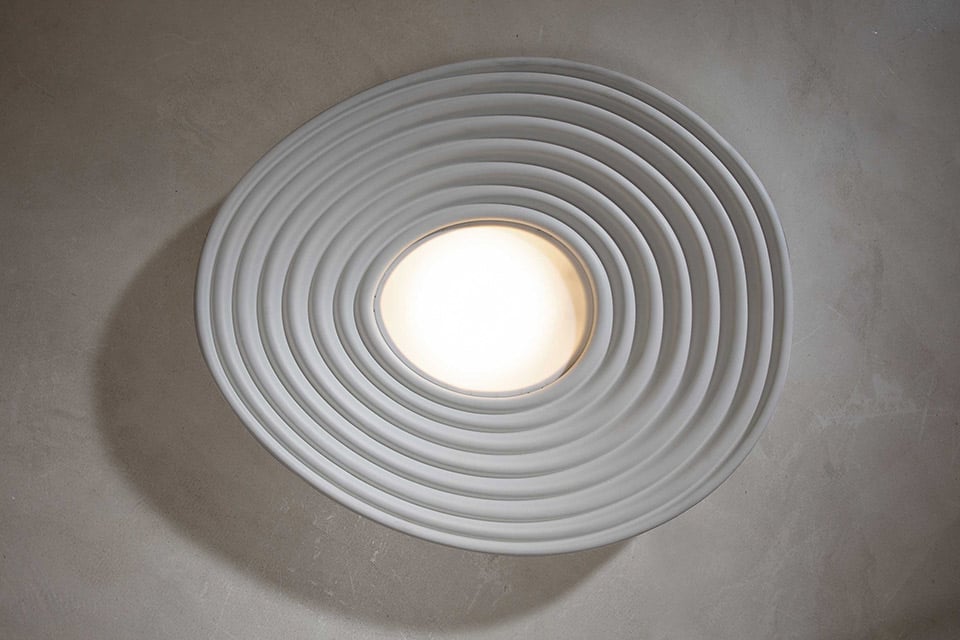 R.O.M.A
You can also integrate a beautiful suspension lamp into the ceiling. If the style of your home or only your bathroom is fresh and modern, the Karman suspension lamp Cell in shiny bronze metal wire with a white linen lampshade is perfect for you. Its shape reminds us of candles lit around the bathtub, which provide a very intimate and romantic atmosphere.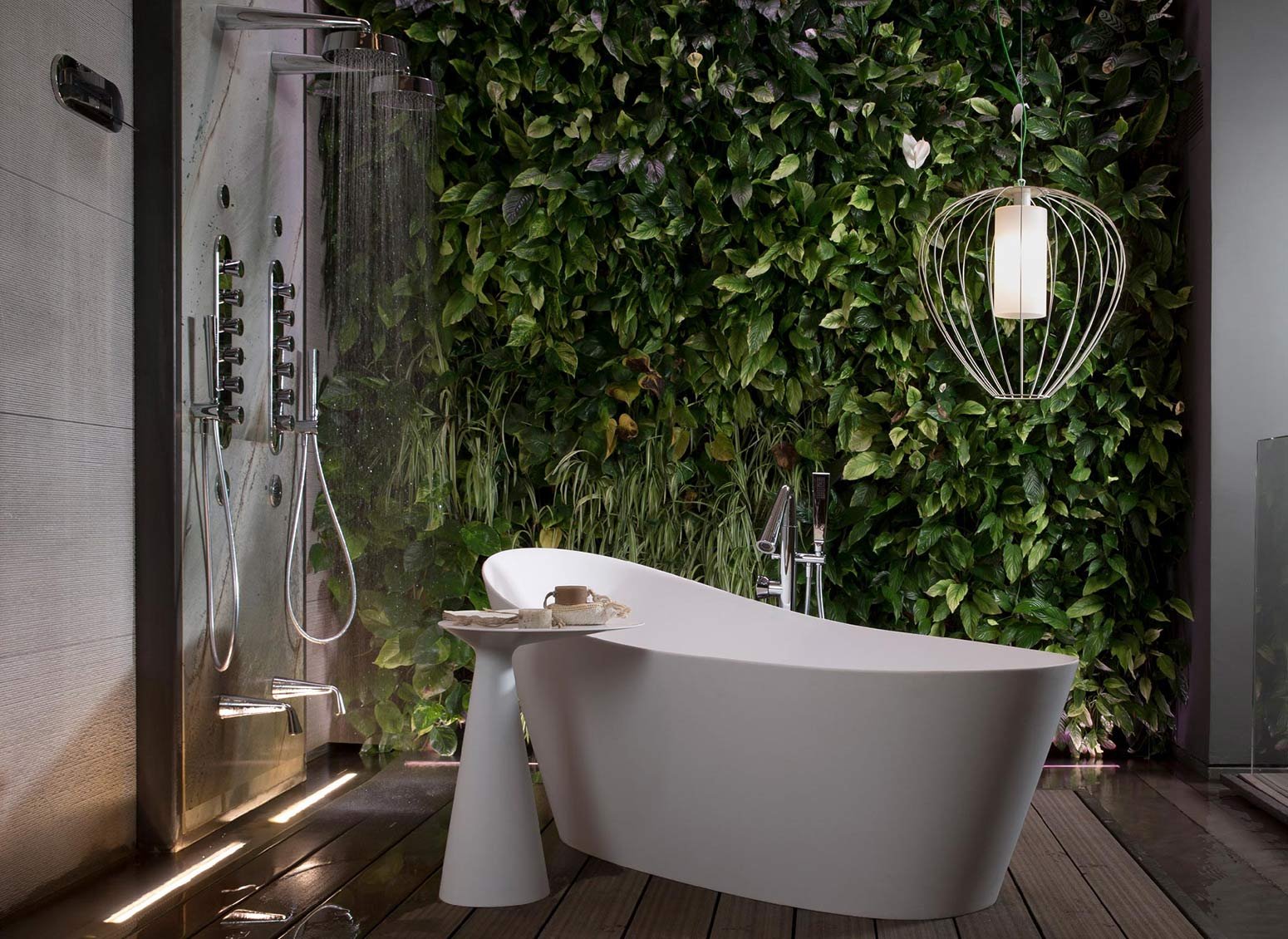 Cell
You can also use indirect light in your bathroom: for example, wall lamps such as Karman's Work in Progress, made of white ceramic, can be turned towards the ceiling in different directions to create diffused "reflection" lighting that envelops the whole bathroom like a warm embrace.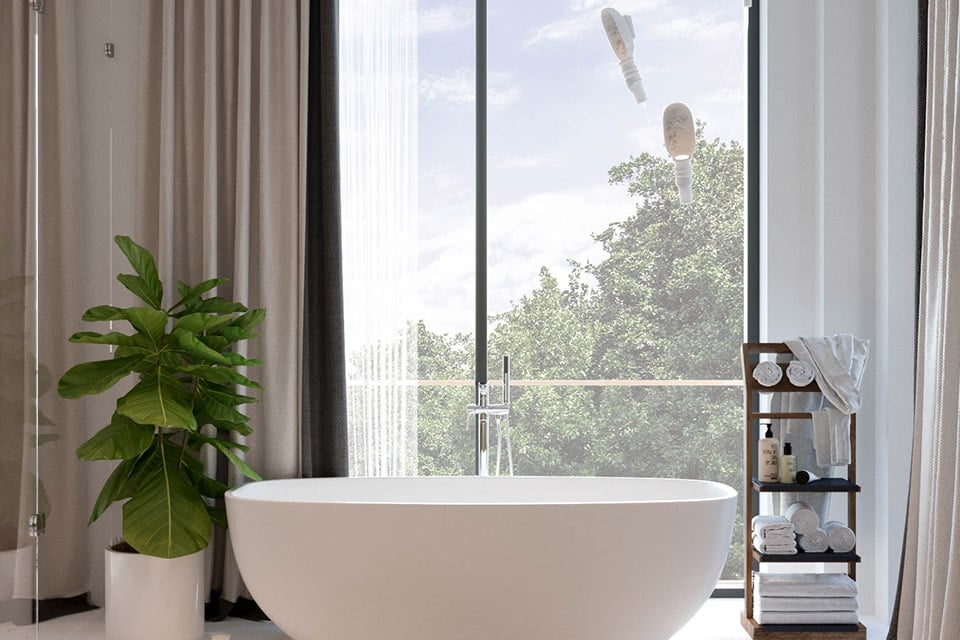 Work In Progress
Concerning the type of lights, you can opt for LED lights, which are particularly suitable for this area of the house, because they do not heat up. They are not affected by humidity, are available in different colors and allow you to create the atmosphere that suits you best.
Having solved the general lighting, you can devote yourself to functional lighting, which is necessary for other areas of the bathroom, such as the bathtub (or shower) and the sink and mirror.
Whether your bathroom has a shower or a bathtub, or maybe both, consider the possibility of adjusting the lighting with a dimmer (intensity regulator). This will allow you to keep it at a low intensity when you want to enjoy a relaxing bath, perhaps with the addition of some scented candles, and also have good lighting when you need to take a quick shower before work.
If you have a large bathroom, you could use a floor lamp such as Karman's Black Out lamp. It is made of white painted metal and a white fiberglass filament lampshade, which can be positioned as you wish to illuminate the shower/tub area.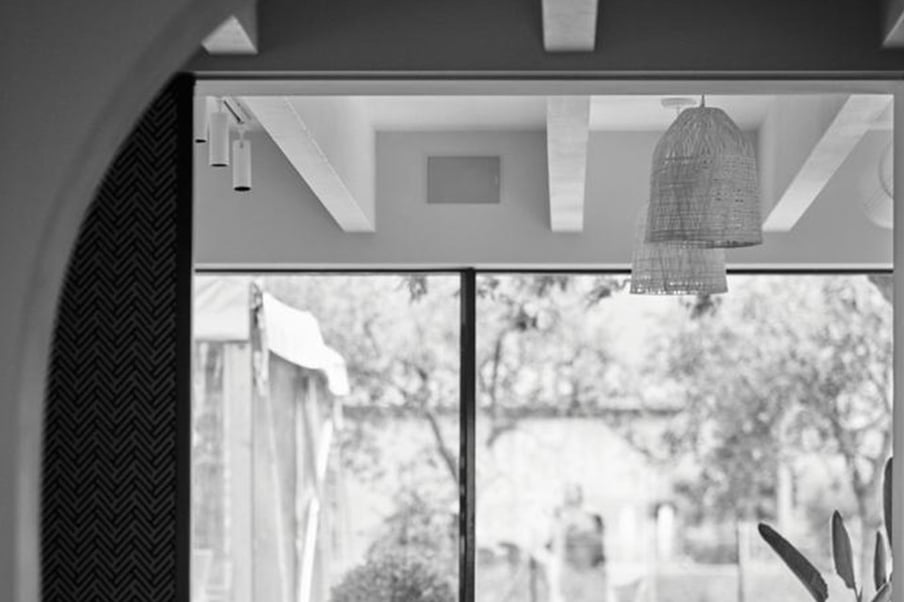 Black Out
Another idea could be the use of a designer floor lamp such as Karman's Cupido lamp, which is a matte black aluminum and dove gray concrete structure that can also be placed in the corner of your bathtub or shower to illuminate the space optimally and, at the same time, furnish that area of your bathroom with style.
The sink area is primarily dedicated to self-care, where we look at ourselves, put our makeup on, shave and look at each other while we take care of our appearance.
That's why it is necessary to have good specific lighting that doesn't create shadows and that allows you to adjust the intensity according to your needs.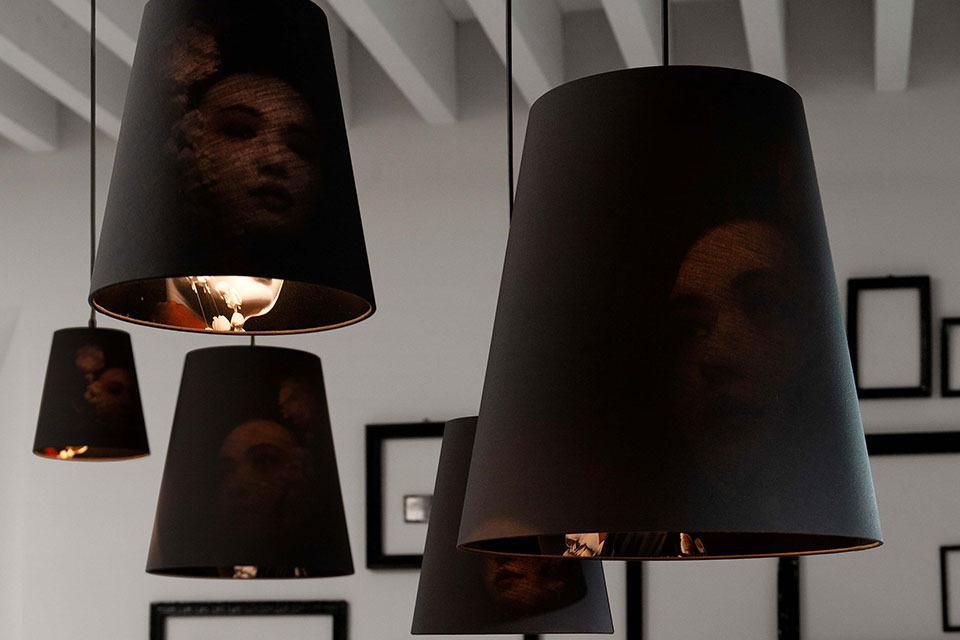 Cupido
To obtain optimum illumination in the sink area, it is best to direct the light toward the mirror. However, we must specify that using a single light source from above would only create annoying shadows, so it is better to resort to indirect lighting on the mirror to avoid irritating reflections. Through the skilful use of lamps such as wall lights, directional spotlights, and mirror backlighting, which are best on the sides of the mirror, you can illuminate your face without creating shadows.
You can use Karman's AMARCORD wall lamp with a white concrete and transparent glass structure on the sides of the mirror or Karman's DIES lamp in transparent glass on the upper and lower sides of the mirror to create a stereo light effect.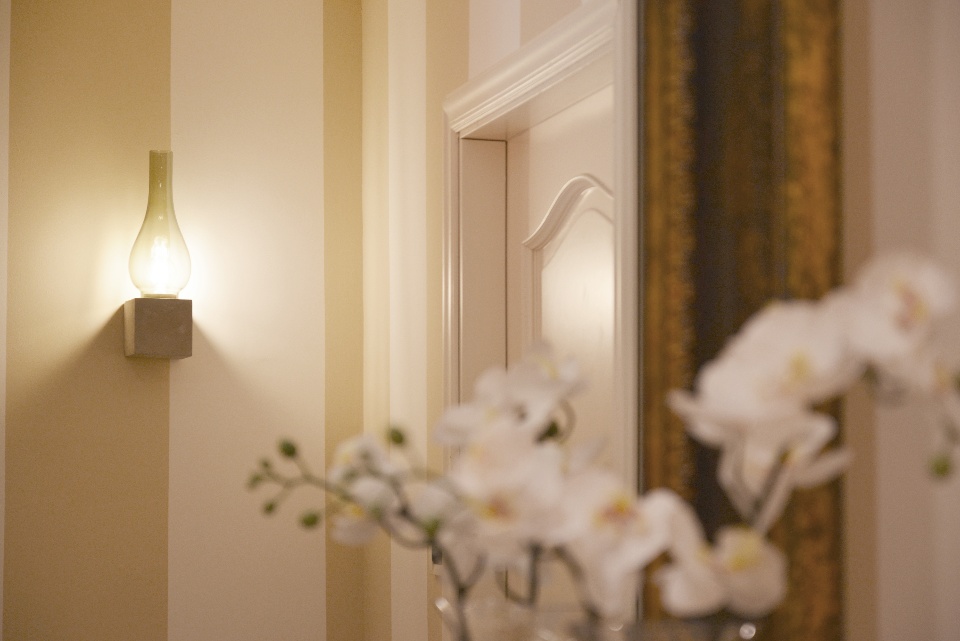 Amarcord
When choosing lighting, always keep in mind that it is easy to come into contact with water in the bathroom, so you will have to comply with the important safety rules.
The ideal lighting for small bathrooms
If your space is small, you can follow the general rule of two illuminations, that is, general lighting and a light on the mirror to illuminate the room adequately.
To illuminate a small bathroom well, you should try to enhance the limited space available, which means not leaving dark corners and using lamps that take up a minimum amount of space.
In this case, it is better to avoid direct lights such as spotlights. Instead, you should choose shielded solutions, such as Karman's EDEN lamp, an iron structure with a white lycra diffuser. Or you could use reflected lights on the ceiling, especially if the ceilings are low, for example, Karman's ALFRED lamp, a lacquered metal structure.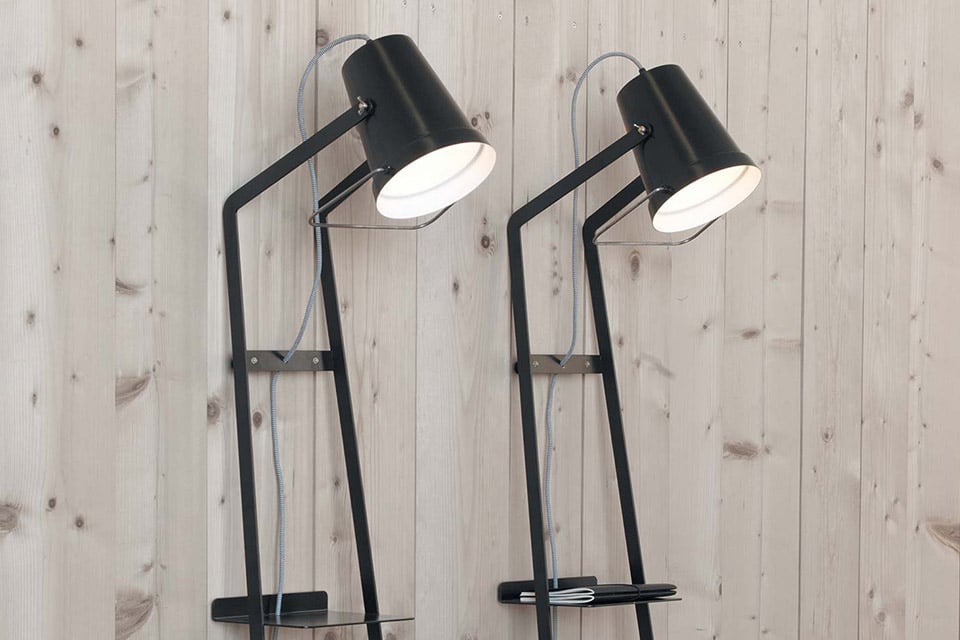 Eden
The latter is a very suitable solution for this purpose because you can direct the spotlight towards the ceiling or the top of the opposite wall. Moreoever, it acts as useful piece of furniture for storing objects, or as a towel holder, and so on, all integrated with a design able to furnish your bathroom with simplicity and originality.
In the case of narrow and long bathrooms, it's best to provide a double light source so the general light is distributed correctly.
Finally, in small service bathrooms, it may be a good idea to only illuminate the sink area through the skillful use of lights on the mirror.


The right bathroom lighting for the right comfort
It's quite obvious that artificial light cannot replace natural light, but you must always keep this in mind because natural light can be an excellent ally. It can create comfortable bathroom environments for psychophysical well-being.
In this sense, lighting design is fundamental. The bathroom lighting must support its dedicated functions, which are not necessarily the same for everyone, with the exception of its most obvious functions.
Light is a key element in any environment, especially for areas as intimate as the bathroom, as it acts directly on your emotional sphere, from which your perception of stress or comfort derives.
Therefore, visual comfort is often overlooked in architectural design, but being of fundamental importance, we advise you not to run into this problem. Choose from Karman's vast offers to perfectly illuminate your bathroom.
Ideal bathroom lighting must be able to produce light and shadows and favor some areas of light over others. That is why positioning the lights correctly to illuminate the bathroom is not a simple task. Each area is intended for a specific function, and you have to take into account specific lighting strategies for each one.
We have seen how creating an optimally designed lighting project for your bathroom is not such an easy process.
For this reason, our advice is to always take advantage of the collaboration of our Karman experts who, through the skillful use of lighting technology, will guide you in creating the perfect lighting project for you.
For more information, support, and assistance in choosing the right lamp models for your decorative lighting project, do not hesitate to contact us at this link. We are at your complete disposal.