Open spaces have become a priority in modern home renovation projects. In general, open spaces create a unique environment between the kitchen and dining room, dining room and living room, kitchen and living room, and even the bedrooms.
As a result, when the walls are knocked down, there is a significant expansion of the perspectives and, at the same time, the perception of spaces so that even small spaces are large and airy.
As for lighting, open spaces also allow for a flood of natural light, which leads to a crucial question: how do you create a natural atmosphere in an open space even with artificial light?
Since illuminating an open space is not simple, let's clarify some fundamental aspects through a few effective guidelines, which will lead you to the most suitable type of lighting for your open space.
Open space: room for creativity
Open spaces are most often created in the living area, to create a unique environment that accommodates different living functions, without separating partitions or structural elements.
For example, an open kitchen often coexists with the living room, even rooms are quite large.
Hence the challenge is properly illuminating both the kitchen area and the living area, making sure that the two different types of lighting can coexist without overlapping and creating confusion.
Sometimes you have to illuminate an open space inside a two-room apartment or a rectangular open space. In the first case, you create a clear division of the rooms. However, in the second case, the space will be particularly long and narrow, so the best strategy would be to give continuity to the different environments, exploiting the length and the walls.
Whatever the size, an open space offers you a series of advantages because it allows you to use your creativity regarding both the furnishings and lighting. You can play much more with the furnishings and, above all, with furnishing accessories and lights.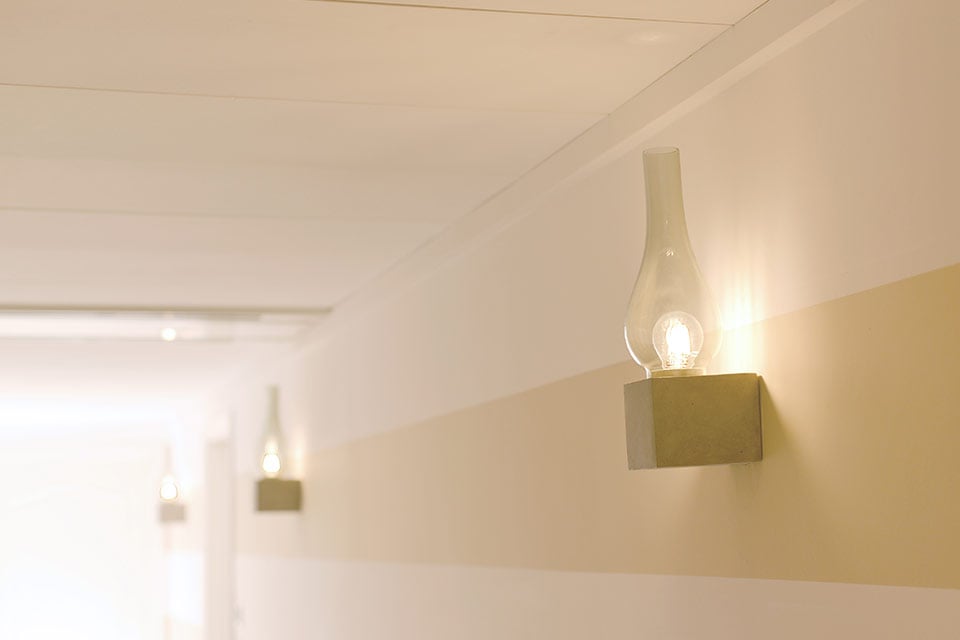 Amarcord
Generally, uniform lighting is best suited for an open space, which is especially true during the day, as the natural light from outside isn't blocked because there are no structural elements that hinder it.
General lighting should be uniform throughout the day, but you can no longer enjoy natural light when evening arrives. So, it would help if you choose specific lighting for the various areas included in the open space.
Through specific lighting, it will be much easier for you to create a welcoming atmosphere, especially in the living room, the heart of the house. Here, you can decide whether to set up more space for reading, rather than watching movies and TV series, or listening to your favorite music, by placing accent lights around the room where needed.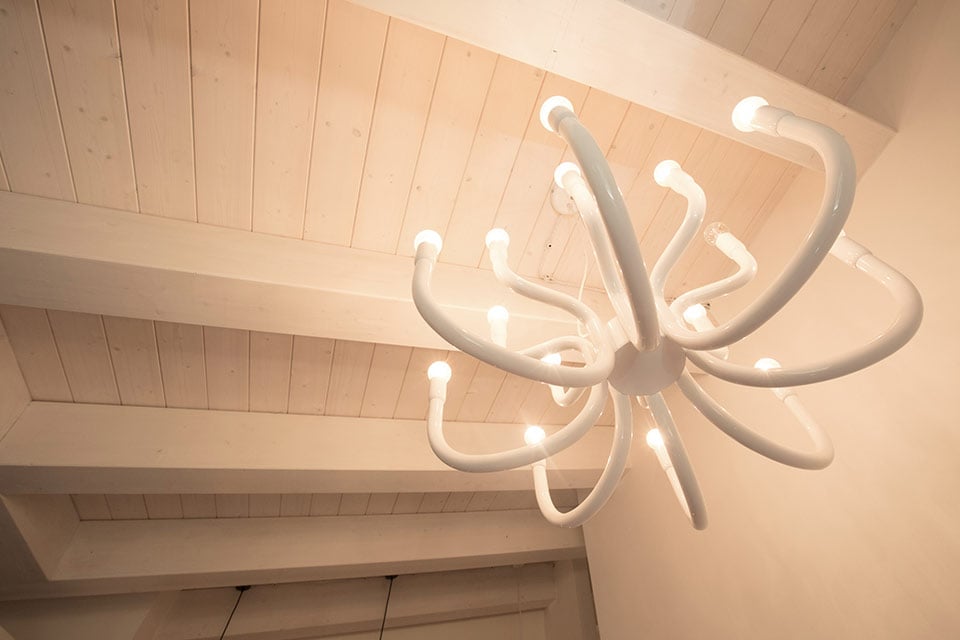 Snoob
You can use different types of light sources for this. For example, you can place a floor lamp next to the armchair or sofa: this is a good solution for reading and having a background light while watching TV.
Suppose you don't want to fill the spaces with floor lamps. In that case, you can turn to wall lamps, which are being used more and more in modern homes. This is true especially for open spaces, due to their characteristic versatility, in terms of style and design, and because you can position them at the height you want.
If you need a more specific source of light for your activities, you can install accessory lights, which can be integrated with other light sources.
Nothing prevents you from integrating all these solutions, allowing your imagination and creativity to run wide. When creativity is combined with functionality, you will create a customized environment, and this environment will reflect who you are, your tastes, and your habits.
Therefore, an open space is understood not only as a physical space but as a space open to interpretation: lighting following this precept will certainly give you the most suitable solutions.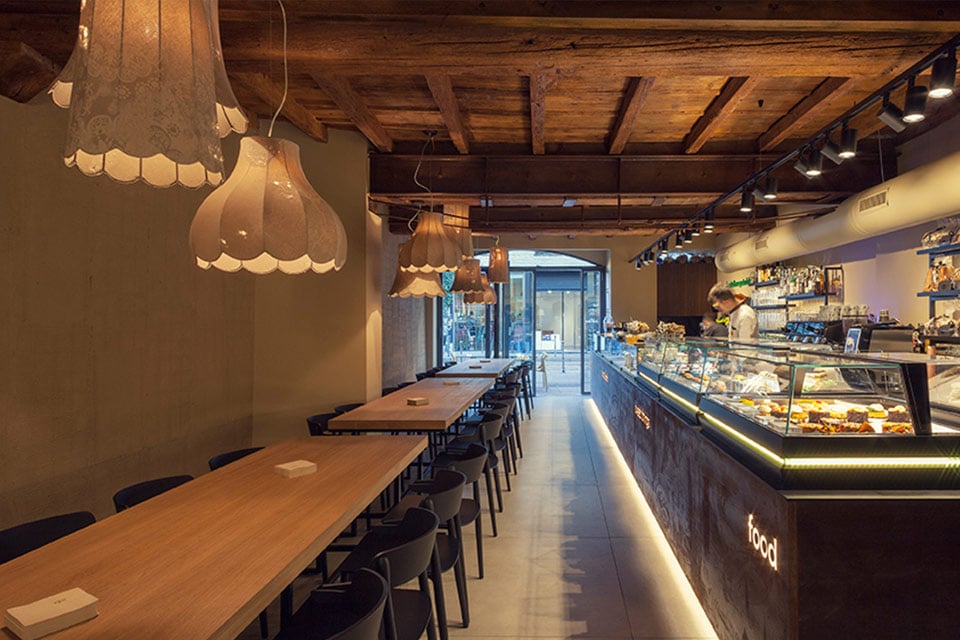 Atelier
How to design the lighting for your open space
If you want to illuminate your open space in a functional and well-organized way, the design is essential. You will have to study every corner of the space and define the actual functions of the lighting.
Arranging the fixtures according to this is fundamental.
As for the style, make sure that the materials, finishes, and colors of the lighting fixtures align with the rest of your open space. If you decide to use lighting fixtures with a different design from the rest of the space, you should do it consciously: the lights can be in stark contrast or reference the style of the open space.
But pay attention to the final visual effect because you could risk making a stylistic error that is not beautiful to look at and annoy the viewer, including you.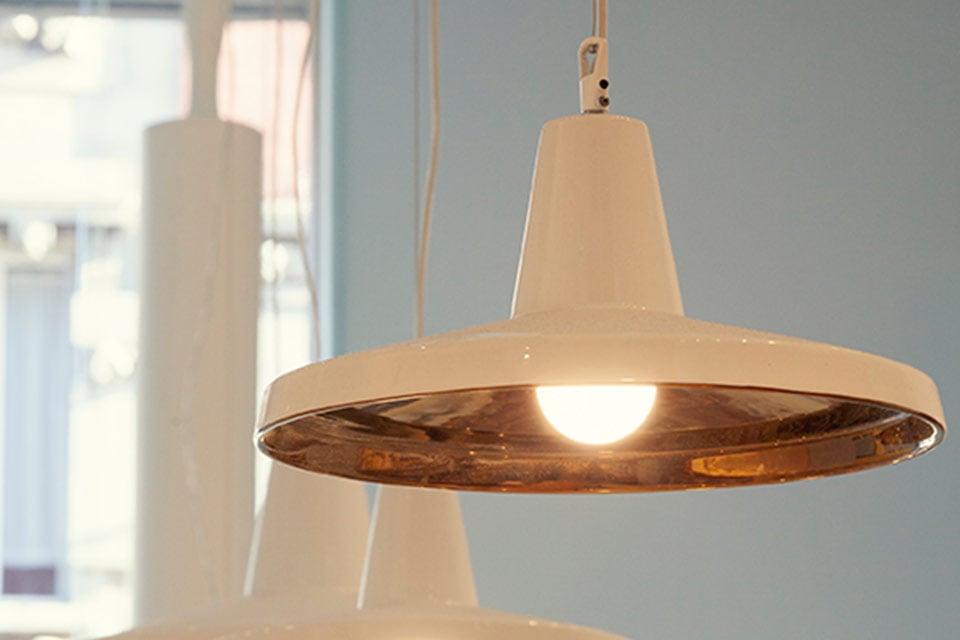 Gangster
Therefore, yes to the combination of styles, as long as they are harmonious.
Naturally, there is no instruction manual, but you need to rely on consistency and good taste, decisive factors to help you balance the design in the best possible way, finding the right compromise with functionality.
Going deeper into the subject, trying to rearrange ideas among the myriad of proposals that you will surely find in terms of lighting design for an open space. The first difficulty you may encounter is being able to imagine a layered lighting environment.
By layered lighting, we essentially mean ambient, functional, and mood lighting.
Let's take a look at them in detail.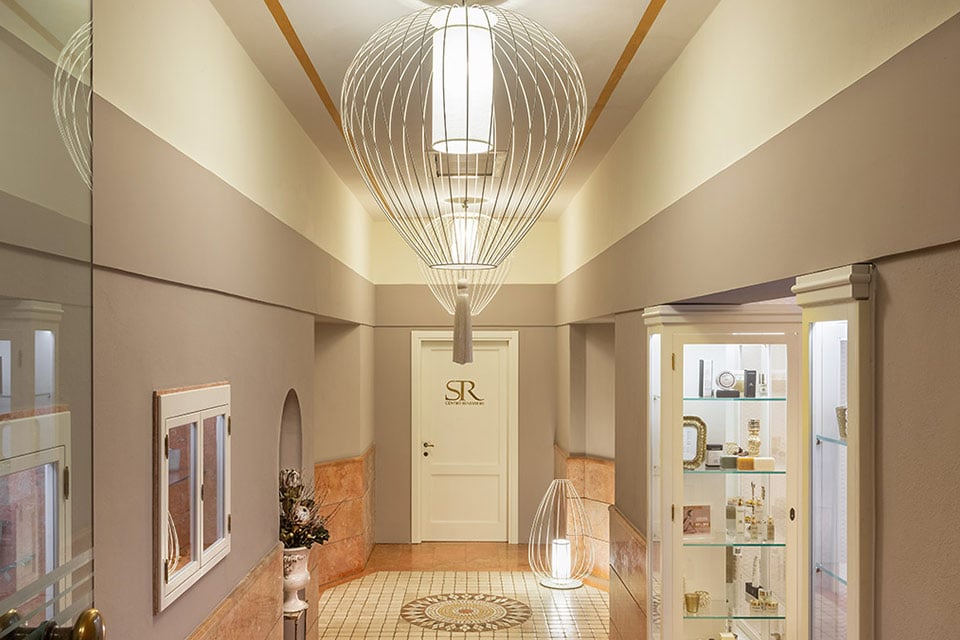 Cell
Ambient lighting
Ambient lighting, also called general lighting, is the first source of lighting you need to pay attention to, as it is the lighting that your entire open space will enjoy.
For adequate general lighting, using recessed, linear, and pendant lighting fixtures is a good choice because they guide you throughout environments when moving from one area to another.
Those who have large spaces tend to transform the ceiling into an expanse of spotlights, which is not recommended because it is more appropriate to let the ceiling and false ceiling breathe. And if your open space is a living room adorned with special furnishings, it is worth highlighting them with a beautiful chandelier.
The risk of giving an open space a monotonous look, especially when it is large, is always a possibility.
For this reason, for example, if your ceiling is uneven, sloping, or high, you could use the cable lighting with smaller, designer lighting fixtures, with different and varying shapes, to avoid the "office lighting" effect.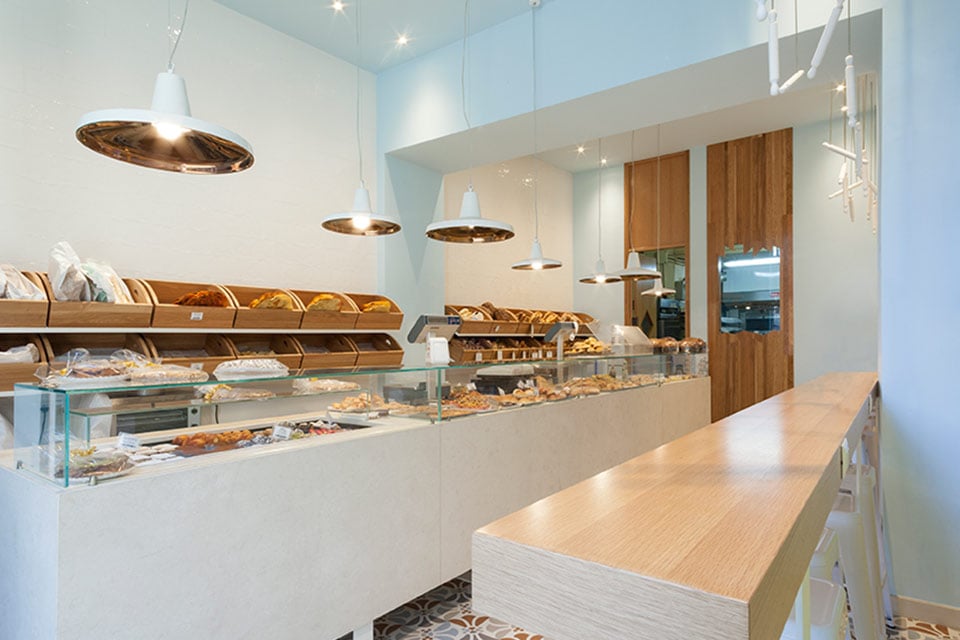 Gangster
Functional lighting
Functional lighting is the light you need to carry out your daily activities.
It is a layer of lighting, therefore, you must foresee where routine activities are carried out, such as in the study area and the kitchen, to illuminate the work area and the sink.
This is why, for effective functional lighting, it is necessary to position the lighting fixtures around the cabinets, above the worktops, on the table or desk, and so on, since you cannot get this comfort only from general lighting.
For this purpose, you can opt for the now-classic LED spotlights, but beautiful table and floor lamps and designer floor lamps can also help you avoid filling your open space with spotlights.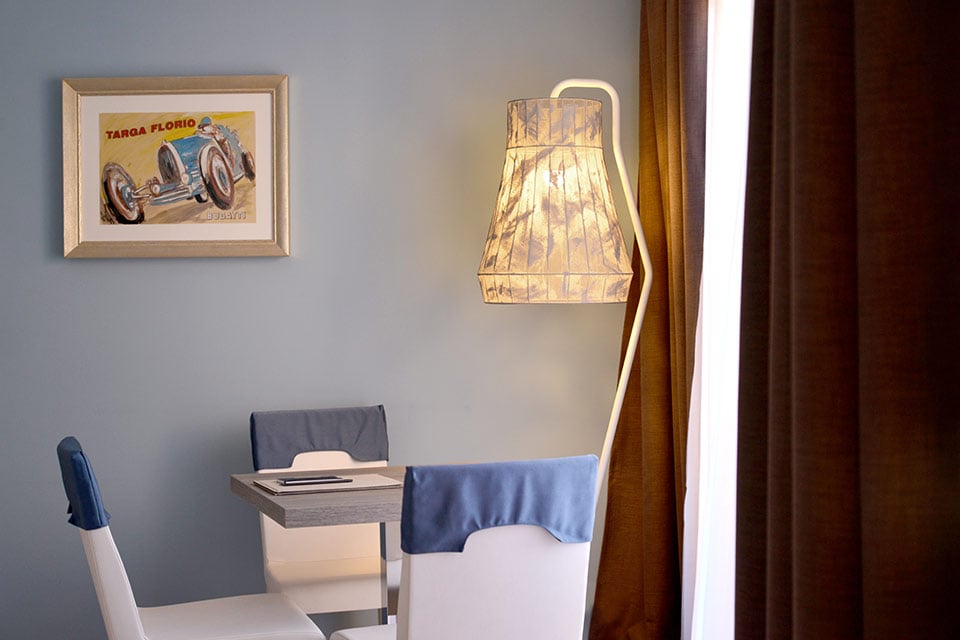 Atelier
Mood lighting
This lighting concerns the emotional side because mood lighting gives a certain "taste" to your open space.
Through the right combination of light, you can soften the environment to make it enveloping and comfortable.
It is the lighting layer with a purely aesthetic character, but it is no less important. General and functional lighting are more technical. Mood lighting is able to warm the heart and help you enjoy your open space, making you feel at home both physically and emotionally.
For these reasons, let yourself be guided by your taste and style, by what inspires you most and makes you feel good, to achieve a beautiful atmosphere with the right light: for example, designer wall lamps, even with up and down lighting.
Here, too, you can use table lamps or floor lamps equipped with dimmers, which allow you to adjust the intensity of the light, so you can easily switch from ambient lighting to mood lighting.
A design tip to give a touch of personality and originality to your open space is to illuminate the base of furnishings. This solution defines and enhances your furniture, inducing the optical illusion of "suspended furniture". Moreover, it is a useful lighting solution even in the presence of a beautiful floor or a special rug, helping to enhance its value, and can also be a night light.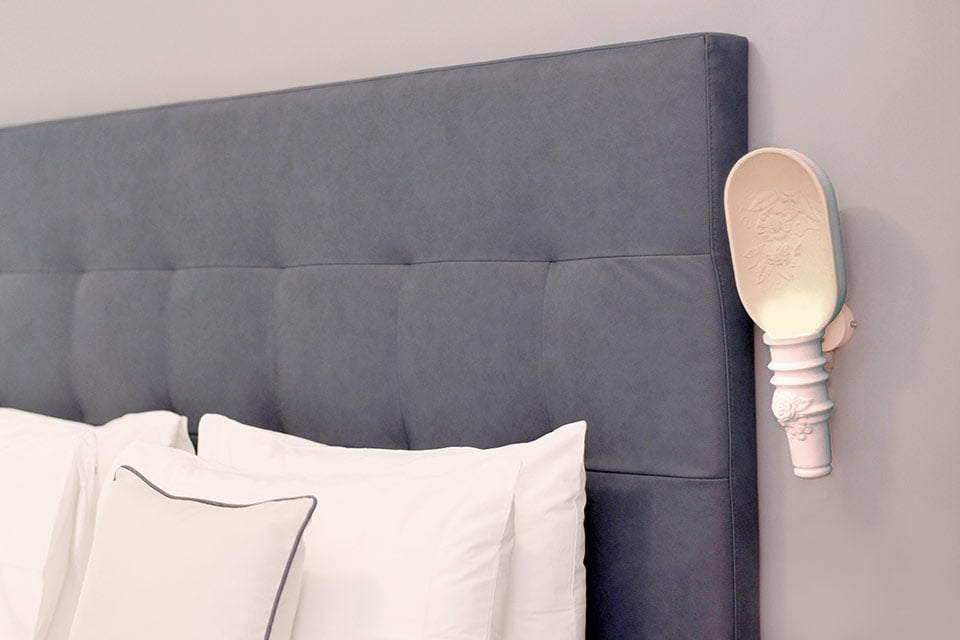 Work in Progress
The key is not to be monotonous
We have seen and evaluated some options and guidelines that will give you an idea of how to illuminate your open space in the best possible way and without incurring the most common risks.
Speaking of risks, our final advice to always keep in mind is: consider as many options as possible.
Naturally, this is also risky because you could create a jumble of different lights that don't go well together.
You can avoid this problem by layering lights. By carefully following these 3 steps, you can evaluate all the options you want without risking a mix without rhyme or reason.
With the help of these guidelines, you can choose, for example, the moldable LED strips instead of the spotlights; or you can choose between recessed and adjustable spotlights, voice-activated lighting fixtures, and so on.
There are so many possible lighting combinations to choose from, so let your creativity flow!
For more information, support, and assistance in choosing the right lamp models for your decorative lighting project, do not hesitate to contact us at this link. We are at your complete disposal.