Every lamp plays a central role in the characterisation of a location. Choosing to customise every element of the lighting system for the hotel, restaurant or house you are designing means giving a personal and distinct touch to every environment.
Customising also means further diversifying the atmosphere of each room and thus giving rise to new sensations.
This fact should already persuade you to choose customised lamps to illuminate the structure you are designing. In any case, we will analyse in detail the advantages of choosing customisable lamps and the overall positive turn that they could give to the lighting system.
Perceive the atmosphere and spaces differently and uniquely with customised lamps
Light is closely connected with our senses because it is able to modify and emphasise our feelings and the perception we have of spaces, and thus influences our experience and memories.
Lamps help distinguish the place in which they are installed.
Personalising every element of a lighting system for an accommodation, restaurant or house means giving a personal and original touch to each space. Customising also means further diversifying the atmosphere of each room.
Lighting is one of the main elements in every interior design project. For this reason, the lamps you use must be selected with care and attention, because the lamps will not only illuminate the rooms but will create a unique context that you won't find in other settings.
Choose customised lamps to create exceptional atmospheres
The primary objective in the lighting design of a specific location (for example, a restaurant, accommodation or private house) is to choose lamps that are:
suitable for the context in which they will be displayed
able to customise and decorate each space in a distinct way
Is it possible to find lighting solutions that combine these needs? We can assure you that customising the lamps selected by the client, could be a good starting point for success.
You can select colours, sizes and accessories based on the unique properties of your lamps, combined in such a way to satisfy the client's style and personalisation requests.
There are several valid reasons why you should choose customised lamps to illuminate spaces:
Add aesthetic value to the whole design and space
Express the idea of the client's style through lighting
Create a special and inimitable climate in every respect
If it is true, as they say, "the devil is in the details", those who will enjoy the view of the customised lamps you have chosen to satisfy your client will certainly not forget.
Accessories that make the difference in lamp customisation
Looking for uniqueness and diversity, something inimitable, a detail that gives originality to the lighting, is a designer's main objective (especially for a lighting designer).
Lighting design professionals are often faced with clients who require a distinctive type of lighting to express special and unique emotions. We know that sometimes it is difficult to identify lamps that can fully meet the client's needs and make them suitable for their use and location.
The ideal customisable lamps should be both functional and at the same time be able to arouse one-of-a-kind sensations in the observer.
We often focus on the models and the actual characteristics of the lamps, and we do not take into consideration the idea of enriching their style and functionality, personalising models with accessories or reinventing their use for the client.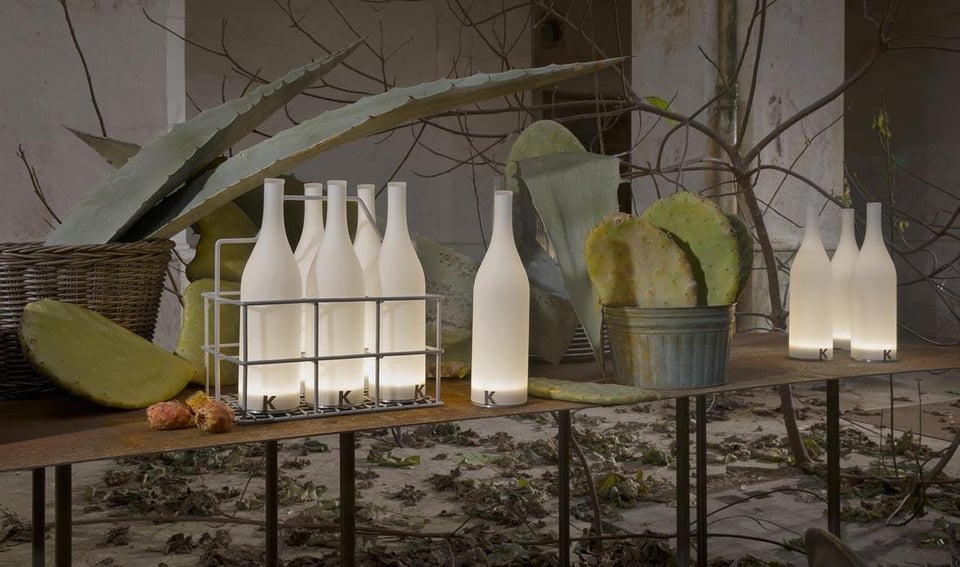 Bacco
Accessories reinvent the shape, style and practicality of a lamp, giving it a new look. The details complete the message you want to convey through the light and style of the lamp and add a special touch to the lighting project.
To correctly select a lamp that can be completed with the features and accessories for your project, consider these three design levels:
Ambient lighting: is the primary source of atmosphere light, which is why it should guarantee optimal vision, freedom of movement and total comfort.
Task lighting: specific lighting level for workstations or places used for activities, such as an office, study, walk-in closet, dining room and kitchen.
Accent lighting: ensures more intense light, creates focal points and gives depth to spaces. It can be used to highlight pieces of furniture and artistic details that generally decorate houses, hotels and restaurants.
In addition, it is necessary to consider the type of lamp:
And above all the space it will be displayed in:
Choose the size, colours and accessories you prefer
Karman has a wide and consistent range of high-quality decorative lighting solutions that can meet the functional and stylistic needs of the client you are working for: customised lamps and models suitable for any environment. In fact, you can choose colours and accessories that will give a personal touch and greater prominence to your lighting solutions.
If you are looking for a table lamp for a restaurant or dining room in a hotel, you might be interested in the innovative Bacco, designed by Matteo Ugolini. This rechargeable lamp guarantees a "candlelight" experience, but in an unconventional way and with a touch of originality.
At the centre of the table, in fact, guests will find a frosted glass bottle that will serve, both as lighting for the table, offering a good level of task lighting, and as the focal point in the room, emanating soft and delicate light.
You can also customise Bacco with a distinctive touch by applying the logo of the place on the base.
Bacco
If you wish, you can get a unique accessory in the shape of a bottle rack and a charger with twelve outputs to comfortably recharge more lamps simultaneously.
You want to replenish your accommodation with ambient lighting, and you are looking for the most suitable decorative lighting solution for your hotel's lobby and stairs, but you do not want to give into a predictable style and colour. You could choose a pendant lamp like Ali and Babà. Designed by Matteo Ugolini, it is available in many shapes and colours. In place of the conventional white, you could opt for a model in glossy black: an unusual colour, but with an original and captivating look.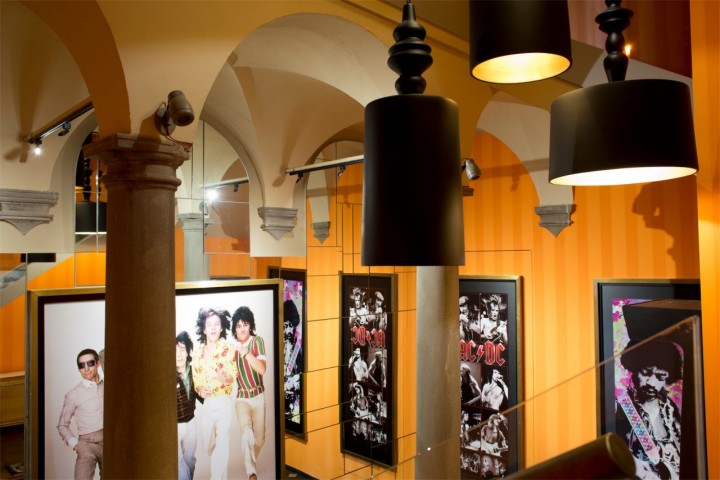 Alì e Babà
Another example of a custom lamp is Ululì Ululà, a model born from the creative mind of Matteo Ugolini. Suspended and customisable in size, it is suitable for lighting up tables, large rooms and outdoor spaces. Ululì Ululà is a fibreglass globe with inimitable and suggestive lace inserts, available in white and grey, that releases warm, amber light into the space.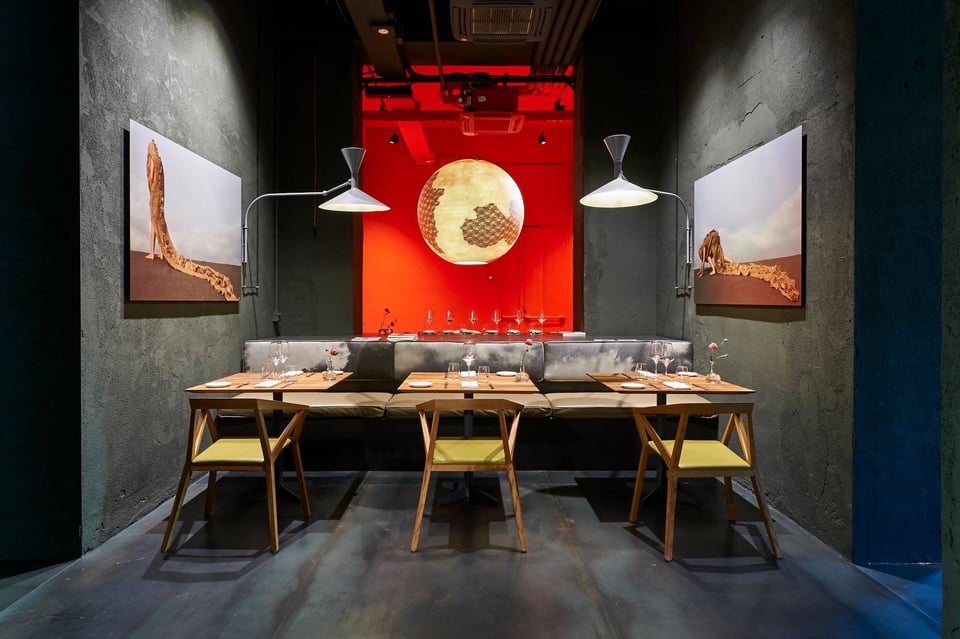 Ululì Ululà
Speaking of choosing lamps of different colours, perhaps more dynamic and eccentric lamps, combined with particular and sophisticated materials, like Black Out could be for you. We are talking about another jewel by Matteo Ugolini; a floor lamp with a fibreglass lampshade, able to provide both ambient lighting and accent lighting , that is suitable for both outdoor and indoor spaces.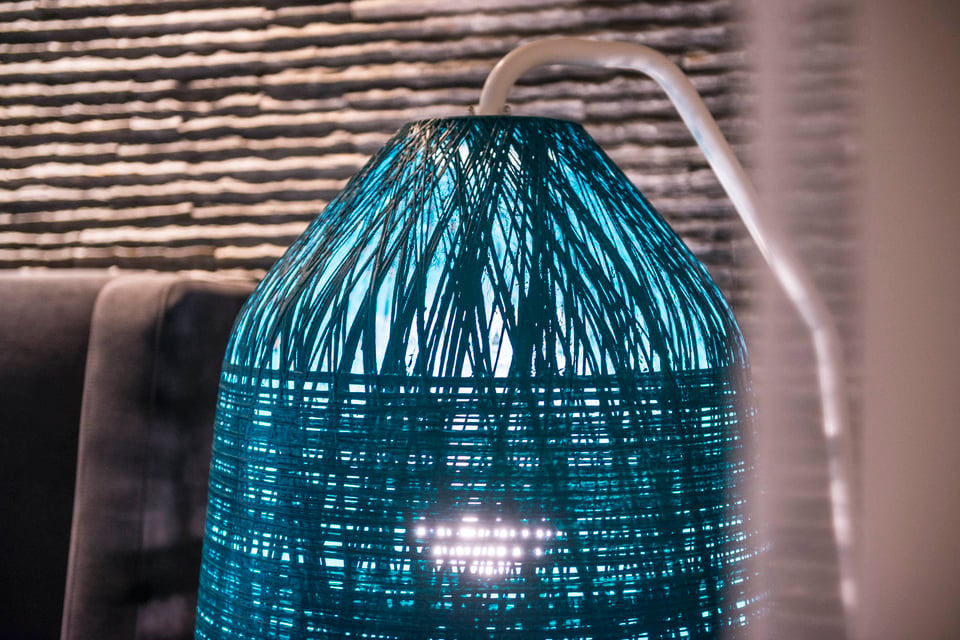 Black Out
You could customise this lamp by choosing a different colour for the lampshade, opting for cool shades of blue, for example, or adding accessories to the lamp.
For Black Out, only for the indoor version, you can get a ceramic pendant candle holder, which, in addition to enriching the appearance of the lamp, serves as a counterweight and thus ensures greater stability of the entire structure. This model is very suitable for different environments: relaxation area, spa and lounge, to name a few.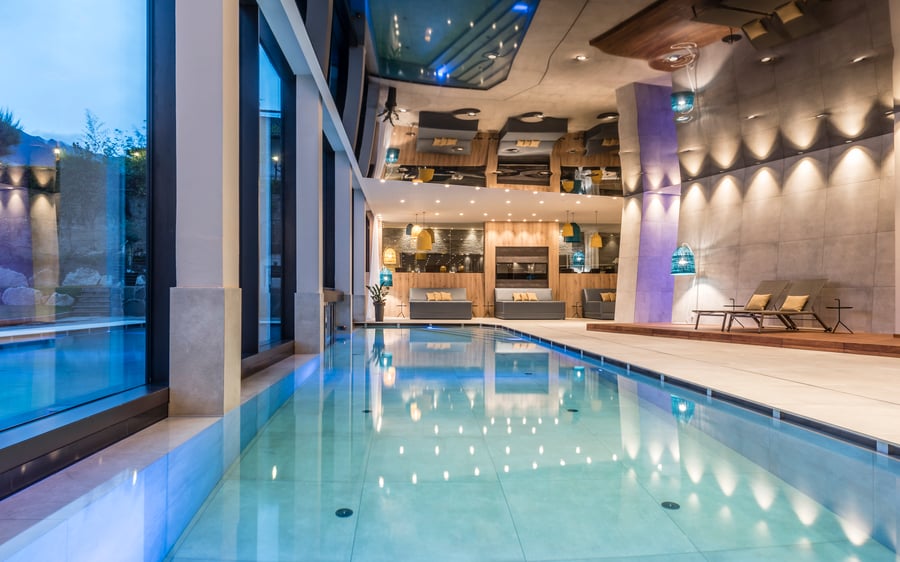 Black Out
You haven't been able to forget the beauty of Ceraunavolta, with unique shapes and lighting effects that only blown glass is able to give. Do you want to put this lamp in a different location instead of the living room?
Ceraunavolta, designed by Edmondo Testaguezza and Matteo Ugolini, is available in transparent, tiffany blue, but if you wish you can request it in other colours.
To guarantee an optimal level of task lighting, you could request it in the appliqué version and place it on the sides of a mirror in a walk-in closet or along the walls of a home.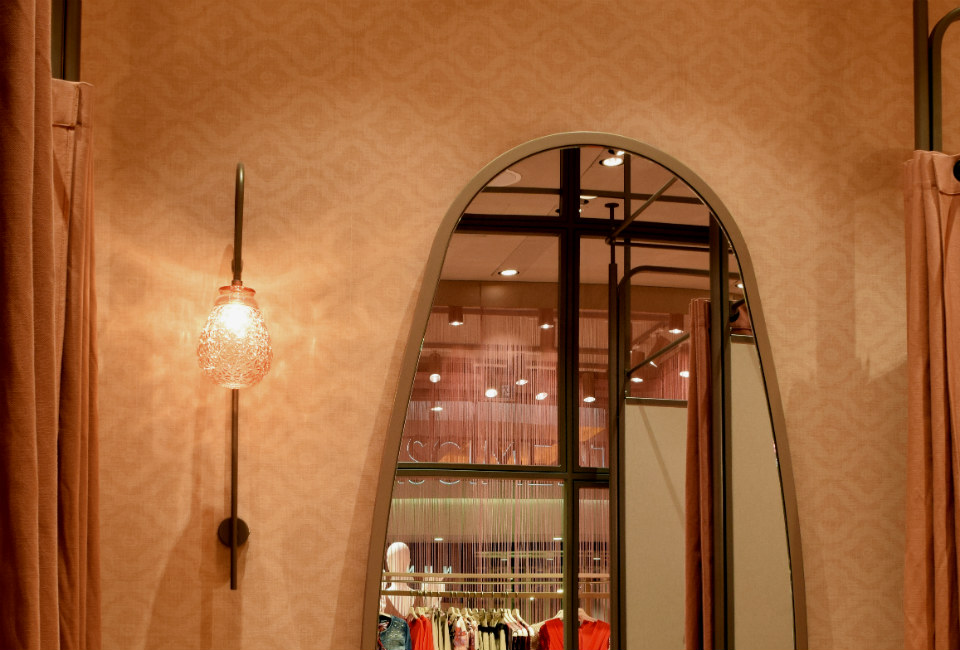 Ceraunavolta
Customised lamps: the right way to give a refined and original look to rooms
Dimensions, additional components and colour are the details that count more in a customisable lamp. These are very important details, which must be chosen carefully and strategically for each lamp, to ensure depth and personality to the rooms, as well as leave an indelible personal impression on those who will observe the lamps.
The secret to a successful and impactful lighting project is the customisation of the lamps.
Adding details to lighting solutions will make your lighting concept unique and tailored in every aspect. The design details you use to enrich and customise the lamps will make of your lighting project one-of-a-kind. By personalising your lamps with different accessories and colours, you will not only create an original mood and atmosphere, but you will give a totally unique nuance to each solution.
Customisable lamps guarantee singularity to the chosen lamp model and in general to the decorative lighting project. Choose the size, add components and accessories customised for your lamps based on the client's taste and the area that will be illuminated, so that you will give guests a unique and enjoyable visual experience.
Create customised and unique lamps to leave a personal and unmistakable impression in the spaces that will be illuminated.
For more information, support and assistance in choosing the right accessories and additional components for the lamps you are looking for, do not hesitate to contact us at this link. We are at your complete disposal.