Architects and interior designers know well that creating a precise, accurate, and detailed lighting design project is fundamental to ensure that the final result is perfect, both in terms of aesthetics and functionality.

Light is a crucial element that gives character and personality to its environment, making it welcoming by creating the right atmosphere.
This is true for both indoor and outdoor environments, private homes and, even more so, hotels and restaurants where everything, starting with the outdoor lighting that welcomes guests, must be perfectly consistent and in line with the concept.
Perfectly mixing the three lighting levels (ambient, task, and accent lighting) and choosing the right decorative lamps can make absolutely the difference.
An example is the Black Out lamp, where design and functionality come together to surprise guests both indoors and outdoors.
In this article, we will take a look at: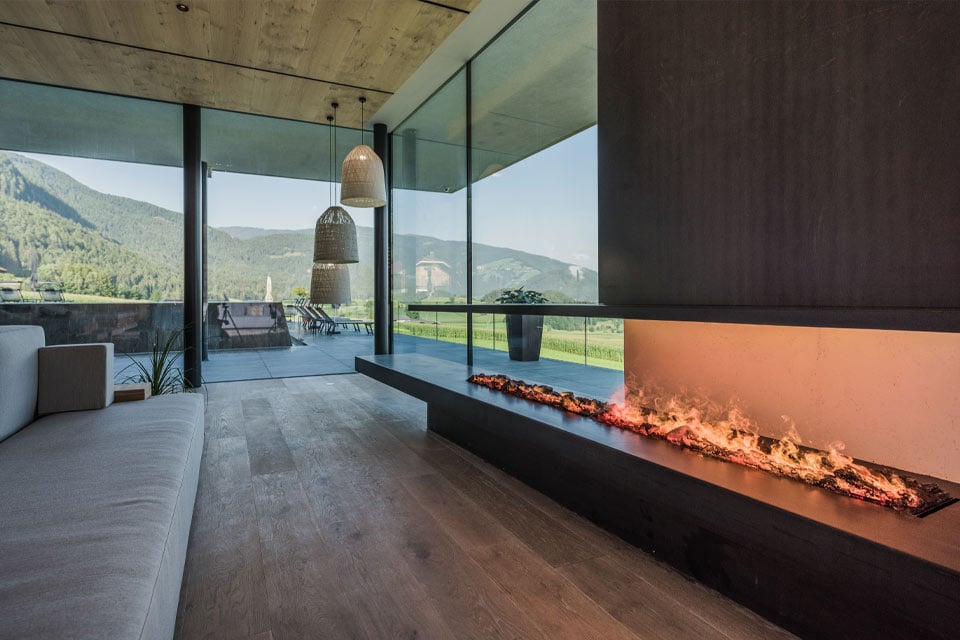 Black Out
Indoor lighting: the rules you should follow
As we have already mentioned, the role of lighting is decisive for giving any environment the right atmosphere.
A lighting design project will have to take into consideration a multiplicity of elements including: the surface to be illuminated and its light requirement, the height of the ceiling, the presence of natural light, the room's intended use, the overall concept, the style of the furnishings, and the color temperature best suited to each environment.
In general, a good lighting project, both private and contract, must be able to satisfy the 3 lighting levels:
Ambient lighting, that is, general lighting

that provides uniform light to the whole room
Task lighting, that is, the lighting for areas that require

a more direct and targeted light

due to their intended function (the dining table, restaurant tables, a hotel reception, just to name a few)
Accent lighting, as the term itself indicates,

aims to create a focus of attention on particular furnishings or accessories

(such as paintings, works of art, a wall, etc ...).
Having made all the necessary assessments based on the specific characteristics of your project, we will move on to the choice of decorative lighting based on the client's mood and taste.
The keyword here is AMAZE. Amaze with innovative designer lamps in shapes and materials that combine sophistication and high performance.
Karman's Black Out collection by designer Matteo Ugolini has a structure with a handmade white or transparent fiberglass filament lampshade and provides the possibility of adding an extra touch, an unexpected and romantic white ceramic candle holder that descends from the lamp, as if suspended in the air.
Outdoor decorative lighting: the calling card for guests
When it comes to designing outdoor lighting, it is essential to remember that the outdoor environment is a location's real calling card and that the first impression will have an important emotional impact on guests.

If this is true for private homes, it is even more important for an accommodation facility.
Choosing decorative lamps capable of surprising guests and arousing pleasant emotions and sensations in them is the goal.

Equally important is to ensure good visibility that allows them to move easily and safely between the different outdoor spaces.
Also, in this case, different levels of lighting must be provided for good general lighting and functional light sources where needed (the veranda table or outdoor restaurant tables, the barbecue, etc.), and accent lighting to highlight the location's strengths (a centuries-old olive tree, a particular architectural structure, a statue, etc.).
A lamp like Black Out, also available for outdoor use, both in the suspension and floor version, is the perfect solution to provide unique and sophisticated lighting to different outdoor environments.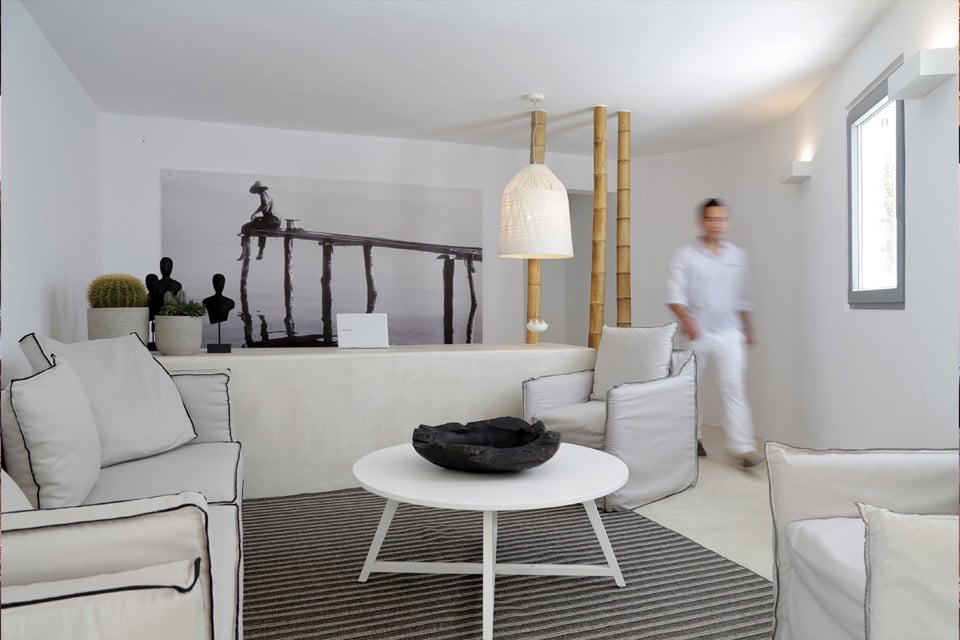 Black Out
Illuminate with Black Out: 5 ideas for private homes, restaurants, and hotels
With its simple but distinctive design and refined details, Black Out could be the right proposal for your project if your client is looking for a lamp that amazes with its play of fiberglass threads that intertwine creating splendid plays of light.
It is an elegant and innovative solution, especially thanks to the fact that it can be used indoors and outdoors. Therefore, it has the ability to create a common theme, just like the internal and external threads of the lampshade, whether they are rustic or modern.
Let's take a look at 5 ideas for using Black Out in different contexts, whether private or contract.
1. Use Black Out to tastefully illuminate restaurant tables
Creating the right atmosphere in a restaurant is essential to offer a unique experience to its customers.
At the same time, diners must be guaranteed the right amount of light to enjoy the food, read the menu, and fully enjoy themselves.
A suspension lamp like Black Out, positioned above each table, is a perfect source of task lighting that offers comfort and intimacy.
For a context that points to romanticism, the candle holder accessory anchored to the suspension will leave you breathless and will continue to illuminate the dinner even in the event of a sudden Black Out...
Is the restaurant outdoors? No problem. Just choose the outdoor version.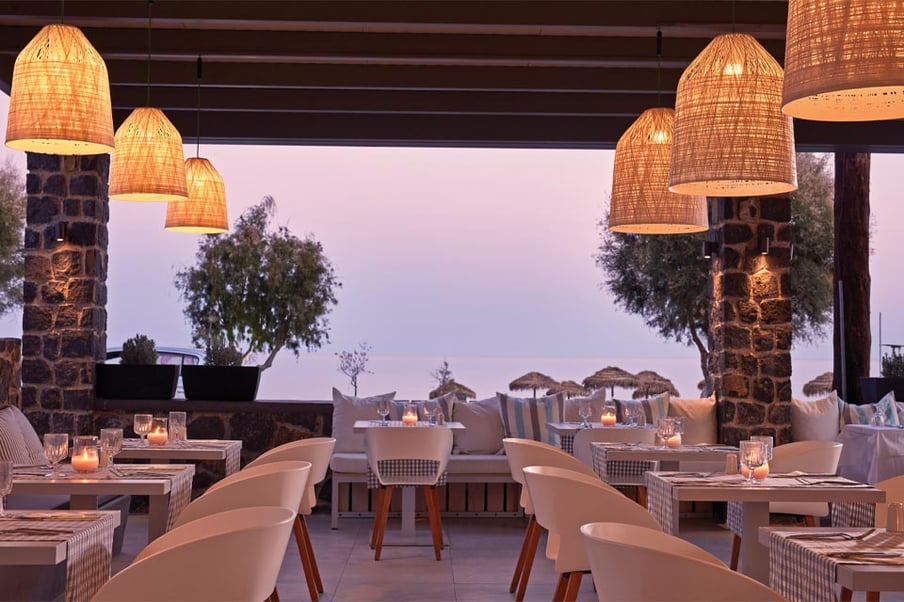 Black Out
2. Illuminate the hob
The hob represents one of the most important work areas in a home and must provide good visibility so you can carry out all the activities on the stovetop, without sacrificing design and elegance.
Based on the size of the cooking area, you can use one or more Black Out suspensions, perhaps positioned at different heights, to give the kitchen environment a unique personality.
3. Turn on the spotlights by the pool
The swimming pool, whether at a private home or hotel, is an added value that certainly deserves to be enhanced.
The Black Out floor lamp is the perfect solution. Thanks to its allure, placing it along the poolside will make guests' stay even more exclusive, creating a relaxing atmosphere and making this important outdoor area perfectly usable even at night.
4. Give the reception due importance
A hotel reception represents the first point of contact between guests and the staff. In this case, the lighting must guarantee a perfect welcome in terms of efficiency and courtesy.

Installing one or more Black Out suspensions above this station will not only guarantee the necessary task lighting but will also be a statement of style and attention to detail and to the guest.
Black Out
5. A touch of class on the veranda
If your project, private or contract, has a veranda, perhaps with a large table, it is a point of communication between the indoors and outdoors, so nothing can be left to chance.
Place a floor lamp from the Black Out collection at your entrance and use several suspension lamps from the same line to illuminate the dining table.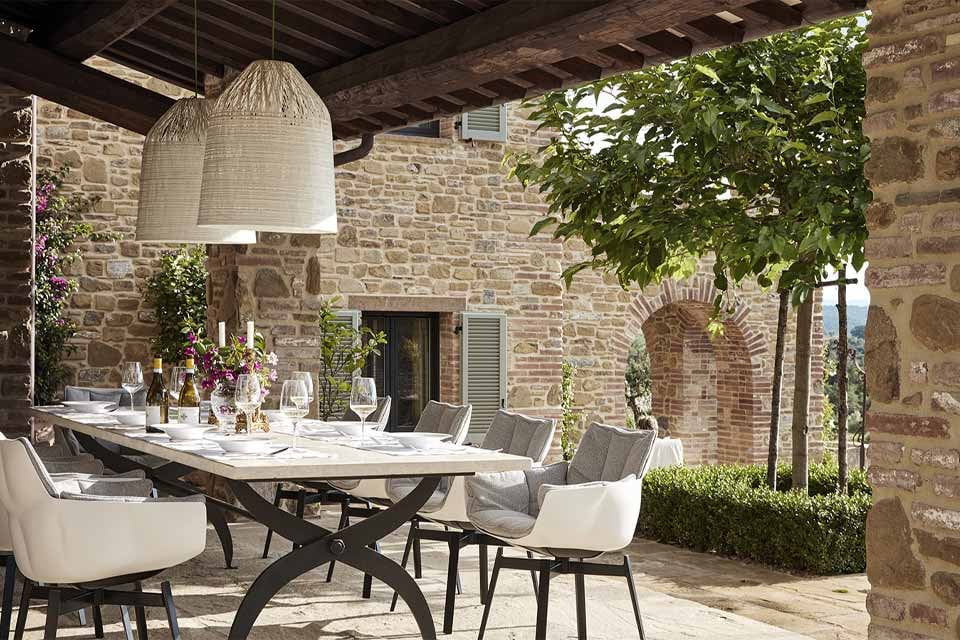 Black Out
Black Out: the perfect solution for the indoors and outdoors
We have seen how the choice of the perfect lighting is strategic for both indoor and outdoor environments, like private homes and, even more so, accommodation facilities.
Identifying decorative lamps capable of combining efficiency and design and functionality and aesthetics is a fundamental step to giving character and personality to the entire location and making the guests' stay comfortable and unforgettable.
If you are looking for an elegant, innovative, and easily adaptable solution to a multiplicity of indoor and outdoor contexts, the lamps from the Black Out collection are right for you.
We have only given you a few ideas but the possibilities are truly endless.
For more information, support, and assistance in choosing the most suitable lamps for your lighting project, do not hesitate to contact us at this link. We are at your complete disposal.